You all know I'm just as obsessed with the pumpkin spice craze as the next person (maybe even more-so, and my obsession started long before it was trendy!) but I think with all of that hype, another fall flavor combo often gets overlooked:  Apple-Cinnamon!  If you're a fan of fresh pastry, but too scared to ever attempt to make your own, this is for you.  Store-bought puff pastry dough (found in the freezer section of the grocery store) makes bakery quality delicacies totally doable at home.  This one has both a sweet cream cheese layer, and a layer of cinnamon apples tucked away inside, with a crunchy cinnamon-sugar topping.  If that doesn't scream fall is here, I don't know what does. So add this to your fall baking recipes list!
Start by rolling out your puff pastry and lining a baking sheet.  Take note of the pan size in the directions, it's a little smaller than a sheet pans most people use for cookies and baking so you might want to measure yours to make sure you're using the right size.
Bake it in the oven and it will puff up all over.  I would actually suggest using a fork to poke some holes in the pastry before baking to cut down on this a little.  If not, I poked a few after and it naturally sunk back down flat.
Next, you'll spread a cream-cheese-cheesy-cake-like mixture onto the pastry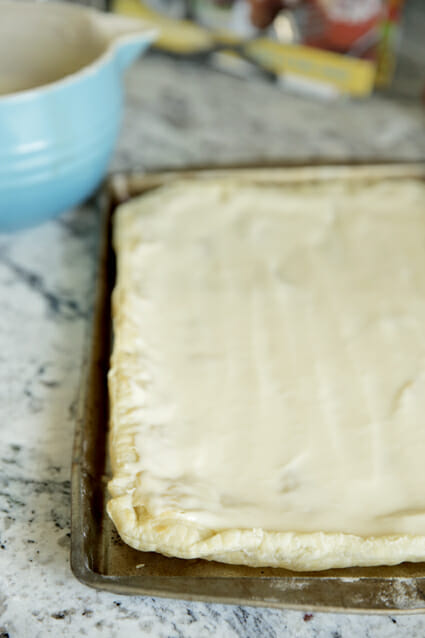 and on top of that goes a layer of sliced apples that have been sauteed with sugar and spices.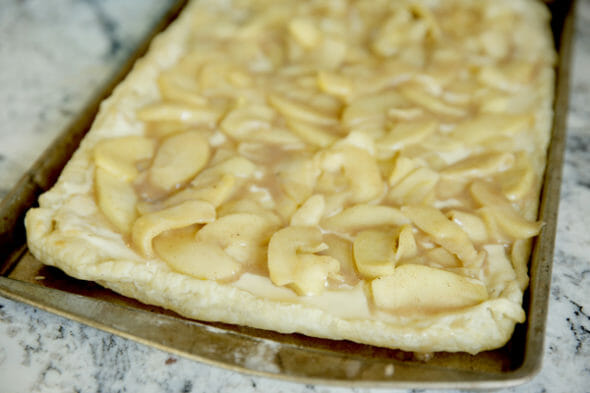 Use the second layer of pastry to cover that all up and seal the edges.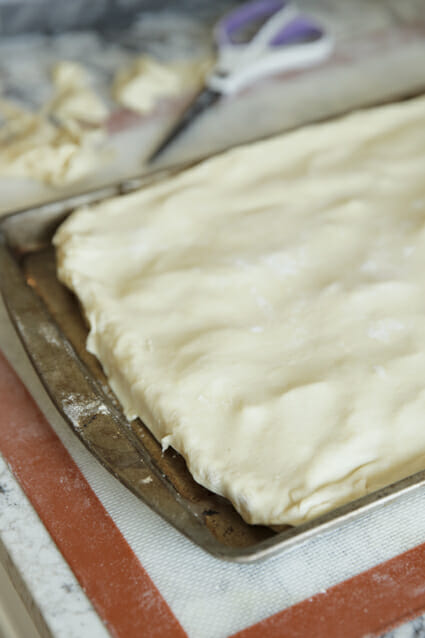 The top gets brushed with a little milk and sprinkled with cinnamon-sugar.  The addition of coarse sugar is awesome here.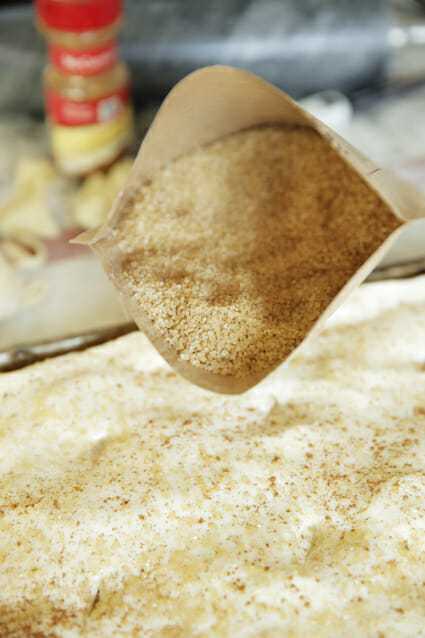 You can see how nice and thick those big granules of sugar are.  They add an amazing sweet crunch to the finished pastry.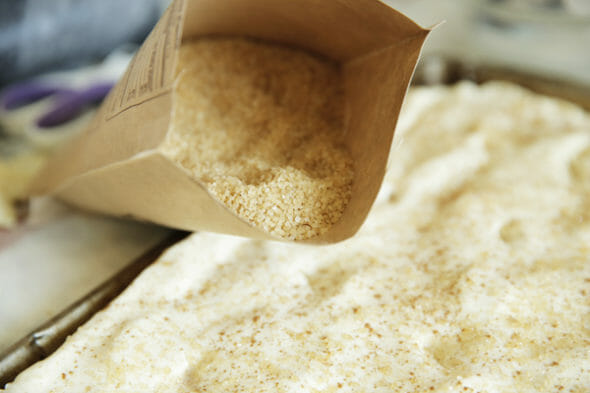 Once it's baked up for a final time, it will be beautiful and golden.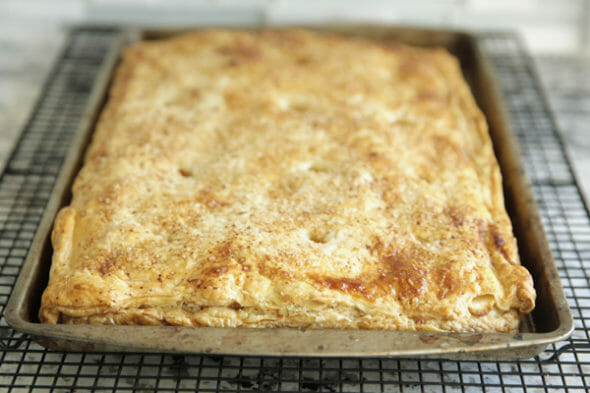 Slice it up any way you like.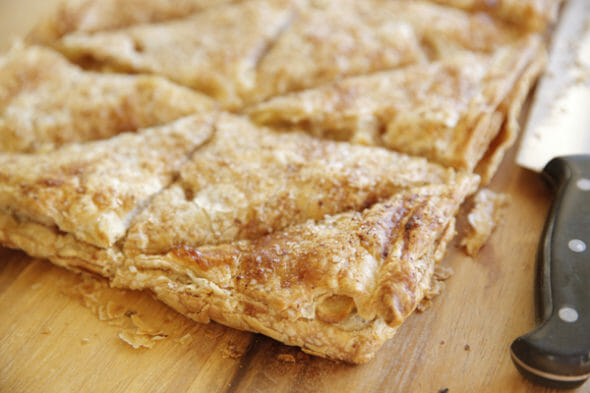 You can get 12 large size pastry triangles, or 24 smaller ones.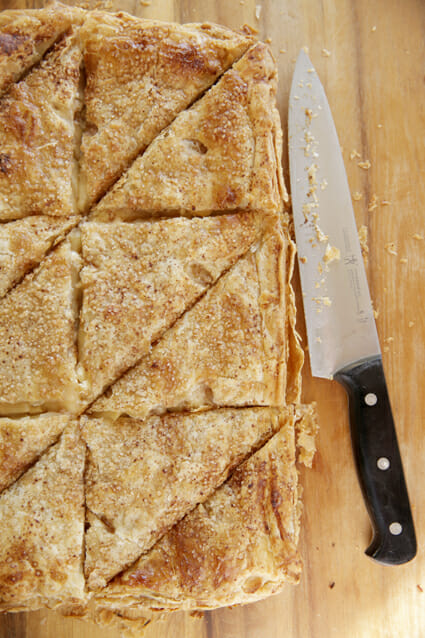 The outside is flaky and buttery, and the inside is sweet and creamy, with those sweet bites of cinnamon apples.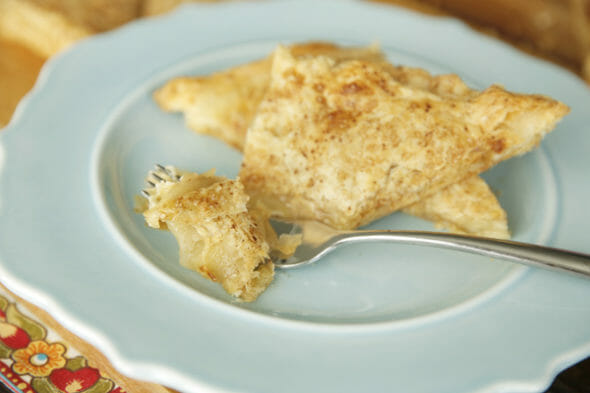 It's the perfect fall goodie!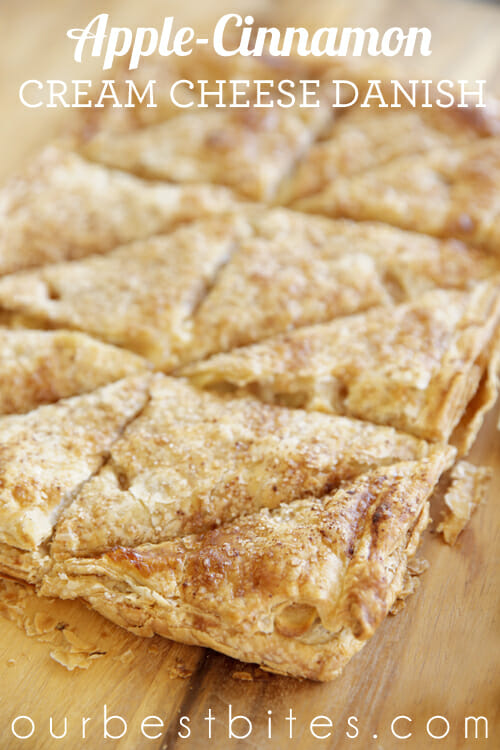 Print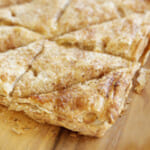 Apple-Cinnamon Cream Cheese Danish
---
Description
Add this to your fall baking recipes! This bakery-quality danish is the perfect combination of sweet apples and creamy cheese filling.
---
1

17.3 ounce package (

2

sheets) frozen puff pastry sheets, thawed

2 tablespoons

butter

1 1/2

pounds cooking apples, peeled (if desired), cored, and thinly sliced (about

7 cups

)

1 cup

granulated sugar

2 tablespoons

flour

1 teaspoon

ground cinnamon

1/8 teaspoon

ground nutmeg

1

8-oz package cream cheese, softened

1

egg, at room temperature

1 teaspoon

vanilla
milk

2 tablespoons

coarse sugar
---
Instructions
Preheat oven to 375 degrees. Lightly grease a 15x10x1-inch baking pan; set aside. On a lightly floured surface, unfold one pastry sheet and roll into a 15×10 inch rectangle. Transfer to the prepared baking pan, pressing pastry to edges of pan. Bake about 12 minuets or until golden (pastry will puff ad shrink from sides of pan). Cool on a wire rack.
Meanwhile, in an extra-large skillet heat butter over medium heat until melted. Add apples; cook about 8 minutes or until apples are crisp-tender, stirring occasionally. In a small bowl combine 1/2 cup of the granulated sugar, the flour, 1/2 teaspoon of the cinnamon, and the nutmeg. Sprinkle over apples. Cook and stir over medium-low heat for 2 minutes more. Set aside.
In a medium mixing bowl beat cream cheese and the remaining 1/2 cup granulated sugar with an electric mixer on medium speed until smooth. Beat in egg and vanilla just until combined. Carefully spread cream cheese mixture over baked pastry to within 1 inch of the edges. Spoon apple mixture over cream cheese mixture (I did not include the syrup/juices in the apples).
On a lightly floured surface, unfold the remaining pastry sheet and roll into a 13×10-inch rectangle (make sure pastry is large enough to completely cover apple mixture ). Place on top of apple mixture. Lightly press edges of top pastry to edges of bottom pastry. Lightly brush top pastry with milk. Using a sharp knife, cut a few slits in pastry to allow steam to escape. In a small bowl combine coarse sugar and the remaining 1/2 teaspoon cinnamon; sprinkle over pastry.
Bake for 35-40 minutes or until pastry is slightly puffed and golden. Cool on wire rack about 45 minutes. Serve slightly warm, or at room temp. Store leftovers in an airtight container in fridge for up to 24 hours.
---