Caramel.  Apples.  Cheesecake.  Shortbread.  Streusel.  Do I really need to write anything else here?  These bars take a few bowls to make a few layers, but they're worth the effort, I pinky-swear.  From the bottom up they start with a buttery shortbread crust, layered with creamy cheesecake,  soft-baked apples (like apple pie), then topped with crumbly sweet streusel, and drizzled with caramel sauce.  They're so, so good.  One of the favorite things that's come through my kitchen lately, and there's been a lot of baking going on around here as I stock up with holiday recipes in preparation for the arrival of our baby.
First layer is a buttery crust with just three ingredients: butter, sugar, and flour.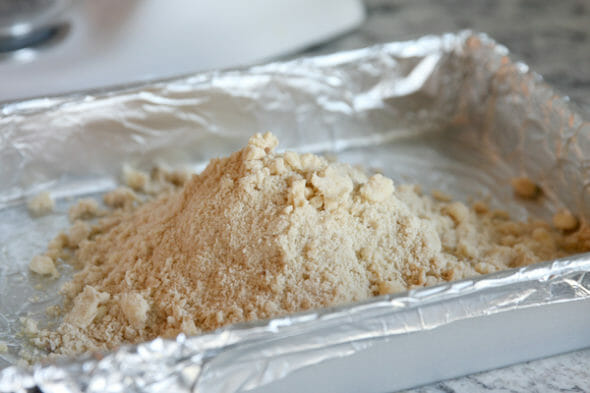 Press it down into a pan and bake it off for a few minutes to get browned and toasted.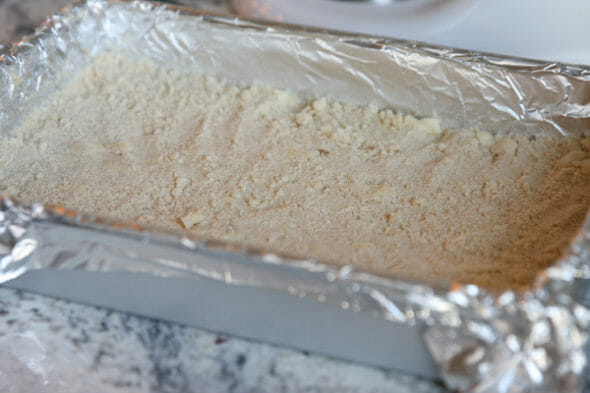 Then pour on an easy cheesecake layer: cream cheese, sugar, vanilla, and eggs.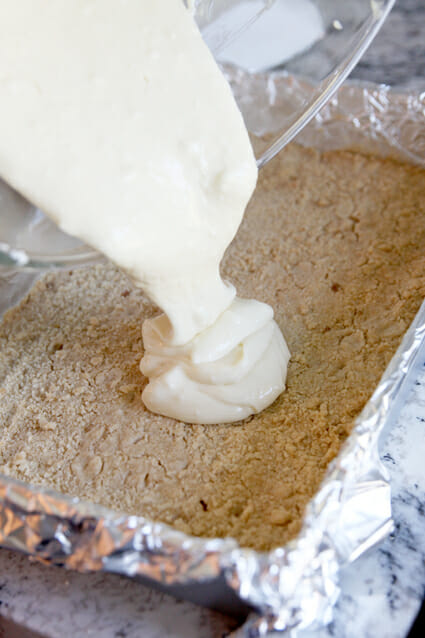 On top of that goes some diced, spiced apples.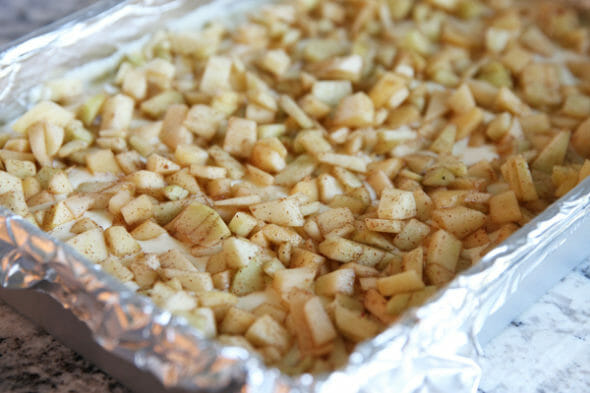 And last, but definitely not least, a streusel topping.
Pop the whole thing in the oven and bake it until the cheesecake is set, the apples are soft and caramelized, and the topping is golden and crunchy.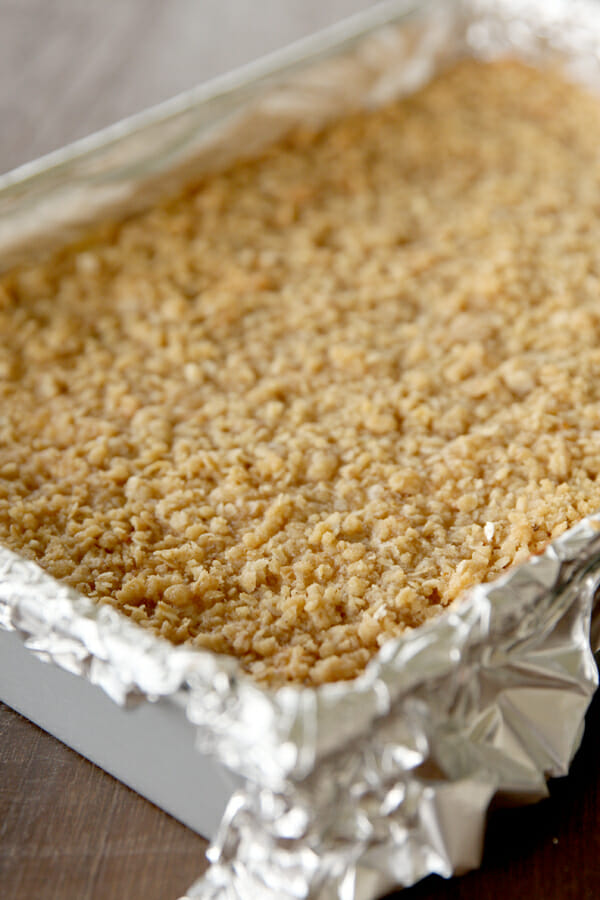 You can pour the caramel over the top of the whole pan at this point and let it just kind of set in there as they cool, or you can leave it off.  If I'm serving these on a platter for a grab-and-go kind of thing, I sometimes leave it off completely, because they stack nicely without it, kind of like a bar cookie.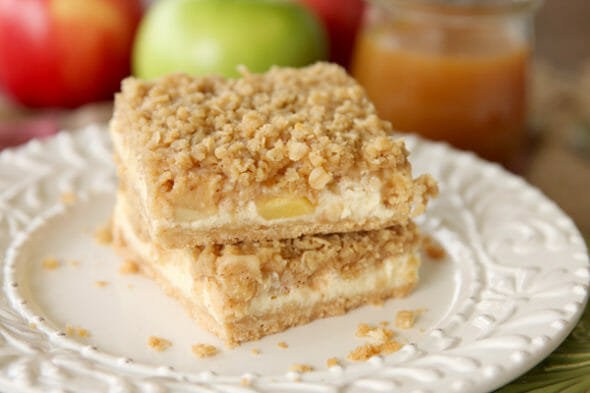 If I'm serving them for an after dinner desert, I like to bring out the caramel separately,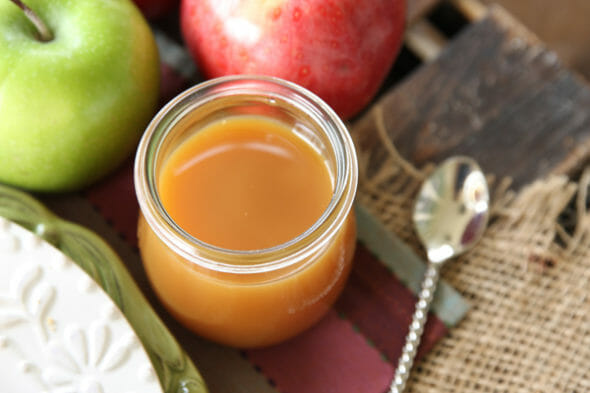 And drizzle it on the plate.  If you've got the time, definitely make our Buttermilk Caramel Sauce– it's freakin' amazing.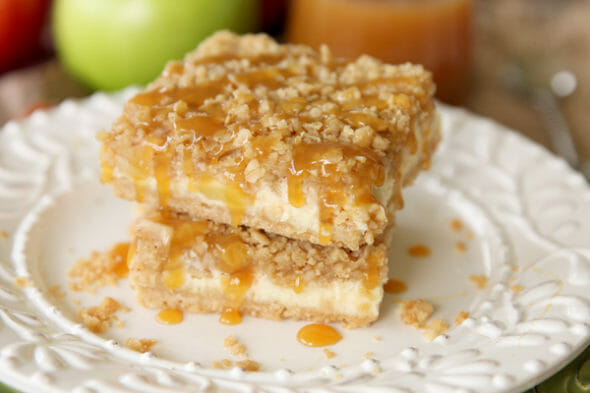 Either way works great.  These are so stinkin' good.  They'll keep in the fridge if you want to make them ahead of time; I actually think they improve after being chilled for a few hours.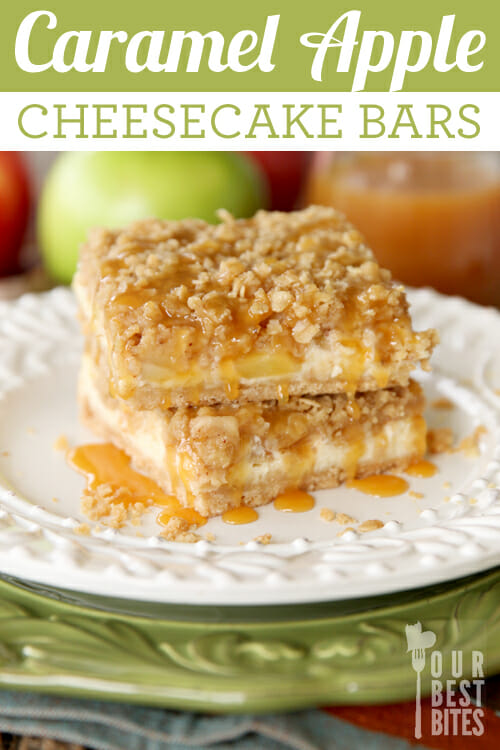 Makes a great buffet style dessert, looks adorable in a cute gift box for giving, and works awesome for a fun family treat.  They're kinda perfect.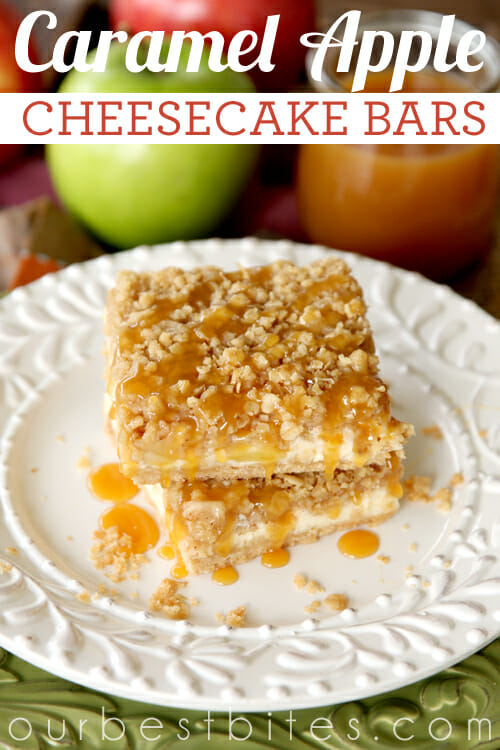 Print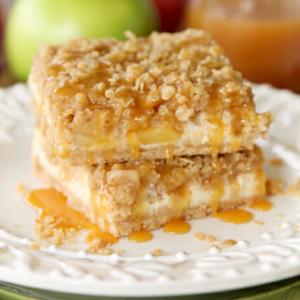 Caramel Apple Cheesecake Bars
---
Description
Caramel. Apples. Cheesecake. Shortbread. Streusel. Do I really need to write anything else here?
---
2 cups

flour

1/2 cup

packed brown sugar

3/4 cup

cold butter (

12 tablespoons

), cubed

2

8-oz packages cream cheese, softened

1/2 cup

plus 2 tablespoons sugar, divided

1 teaspoon

vanilla

2

eggs, lightly beaten

3

medium tart apples, peeled and finely chopped

1/2 teaspoon

ground cinnamon

1/4 teaspoon

ground nutmeg
Streusel
3/4 cup

flour

3/4 cup

packed brown sugar

1/2 cup

quick-cooking oats

1/3 cup

butter (

5 1/3 tablespoons

), cubed

1/3 cup

caramel syrup
---
Instructions
Preheat oven to 350 degrees. In a small bowl, combine flour and brown sugar; cut in butter until crumbly. Press into a well-greased 13×9 baking pan. Bake 15-18 minutes or until lightly browned.
Meanwhile, in a large bowl, beat cream cheese, 1/2 cup sugar and vanilla until smooth. Add eggs; beat on low speed just until combined. Spread over crust.
In a small bowl, toss apples with cinnamon, nutmeg and remaining sugar; spoon over cream cheese layer. In another bowl, mix flour, brown sugar and oats; cut in butter until crumbly. Sprinkle over apple layer.
Bake 25-30 minutes or until filling is set. Drizzle with caramel topping; cool in pan on a wire rack 1 hour. (OR reserve caramel for later. They can be served without caramel sauce, or sauce can be drizzled on before serving. ) Refrigerate at least 2 hours. Cut into bars.
---