We've got several Asian style salads on Our Best Bites and I love them all for different reasons!  Here's a love-list for this particular Asian Cabbage Salad:
It's flexible.You can toss anything in it that you think would be good.Whatever veggies you happen to have on hand. It's one of those 'clean out the fridge' salads.

It keeps well.Lettuce salads get wilted and gross the longer they sit, but this salad only gets better, which makes it a great option for a party, potluck, or picnic.

It's easy to make a huge batch or just enough for two.

It's quick.It starts with a pre-packaged bag of coleslaw, so you save time chopping.Plus you can prepare everything ahead of time and just throw it together when you're ready.

It's healthy. News flash: Not all salads are healthy. This one is full of fresh vegetables and the dressing has very little oil (pretty rare) so it's very low-calorie.
I love a great short-cut salad, so for this one you'll grab a bag of that pre-shredded cabbage mix at the store.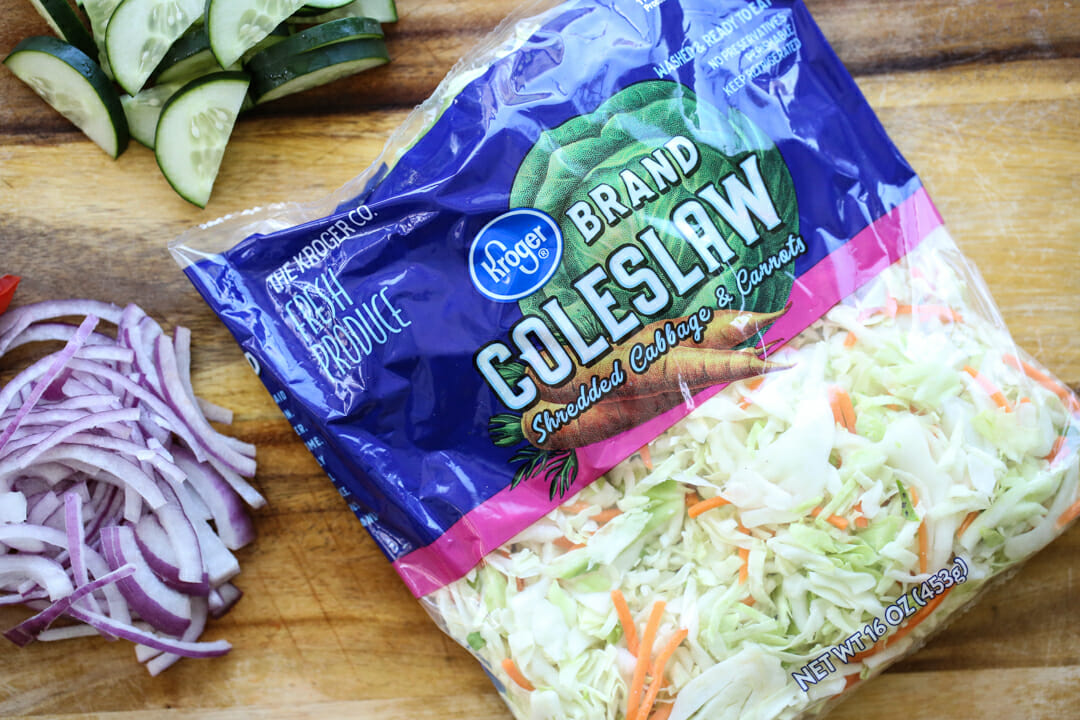 Then you'll add a bunch of fresh vegetables to it. I use celery, bell pepper, onion, cucumber, and snap peas but you can literally toss anything in here you like!
Just toss all of the salad ingredients together, and this part can totally be done ahead of time.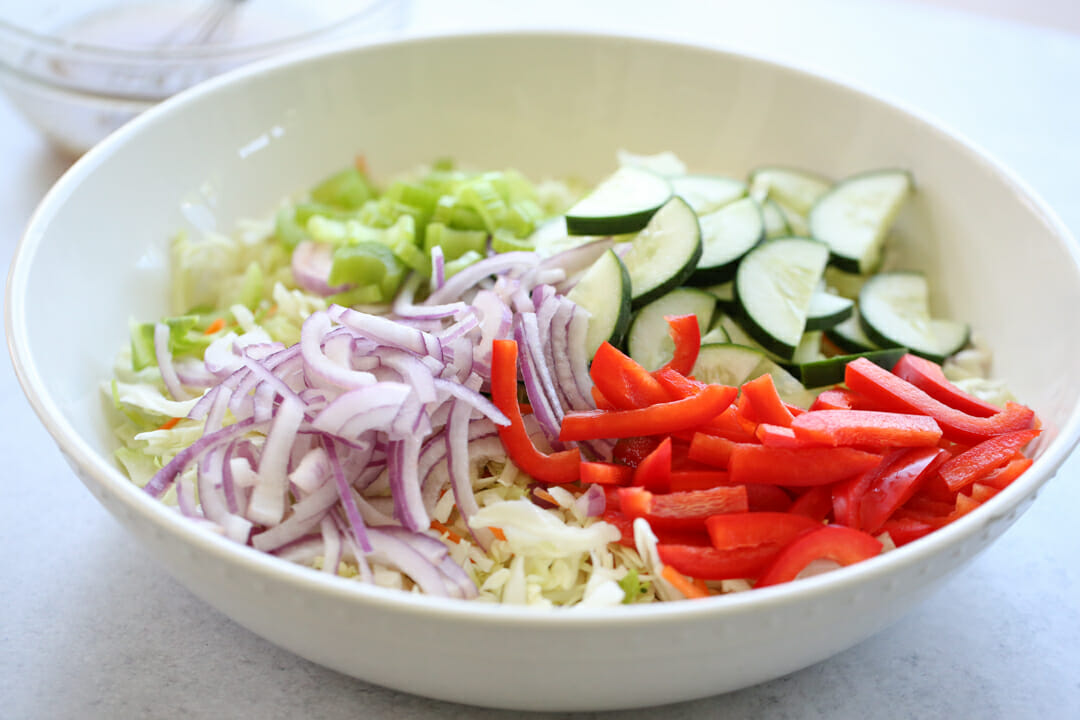 The super simple dressing has only a small amount of oil in it and it can be made ahead of time as well.  When it's ready, just toss everything together. It always feels like there's not quite enough dressing at first, but the trick is to let this salad sit and marinate for about 20 minutes or so (longer won't hurt it either!) and it all comes together.
Finish it off with some toasted almonds and sesame seeds right before serving.
You can eat this plain as a great side dish or add chicken to it for a main-dish meal.
I love it with grilled Asian BBQ Chicken!
Print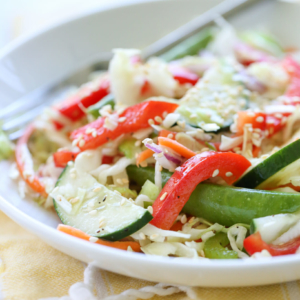 Asian Cabbage Salad
Yield:

4-6 Main Dish, 8-10 Sides
---
Description
An incredibly light, but filling cabbage-based salad filled with fresh veggies.
---
1 14-16 oz bag coleslaw mix
1 rib celery, sliced
1/2 cucumber, sliced
1 small handful sugar snap peas (about 20 baby ones)
1/2 red bell pepper, sliced
1/4 of a small red onion, thinly sliced
1 tablespoon toasted sesame seeds
1/3 cup slivered or sliced toasted almonds
Optional: 1 1/2 C cooked, shredded or diced chicken
Dressing:
2 T canola oil
2 T cider vinegar
1/4 C seasoned rice wine vinegar
2 T sugar (or equivalent of sugar substitute)
1 t kosher salt
2 t soy sauce
1/4 t garlic powder, or one small garlic clove, minced
1/4 t black pepper
1/2 t sesame oil
---
Instructions
Instructions:
Begin by making dressing. Combine all ingredients in a sealed jar and shake Store in the fridge until ready to use.
Place all salad ingredients in a bowl
For best results, pour on the dressing and toss to coat 20 minutes before serving. When you pour the dressing on you might think it's not quite enough, but just wait. When it sits and marinates, it combines with the veggies and draws out liquid and there will be more than plenty of dressing after it sits.
Right before serving mix in toasted almonds and sesame seeds.
---