Bacon Ranch Chicken Sliders make a filling, fun, quick and easy meal.  Served warm with melted cheese, chicken, bacon, and a creamy ranch spread, pair these with a green salad for an easy dinner- or whip them up for a fun appetizer or game day snack! 
I love the fun, relaxed attitude during the summer, where you lose track of what day and time it is, but it definitely messes with our meal schedules. My kids are usually on the fend-for-yourself lunch plan and I am constantly forgetting to cook dinner because it's so bright and hot out at dinner time, and my kids usually aren't home because they're off with friends, that lately I've been ALL about the quick and easy meals.  I've been making a better effort to plan more effectively and have my kids head home each day for dinner, but at least a couple days of the week I need something really fast.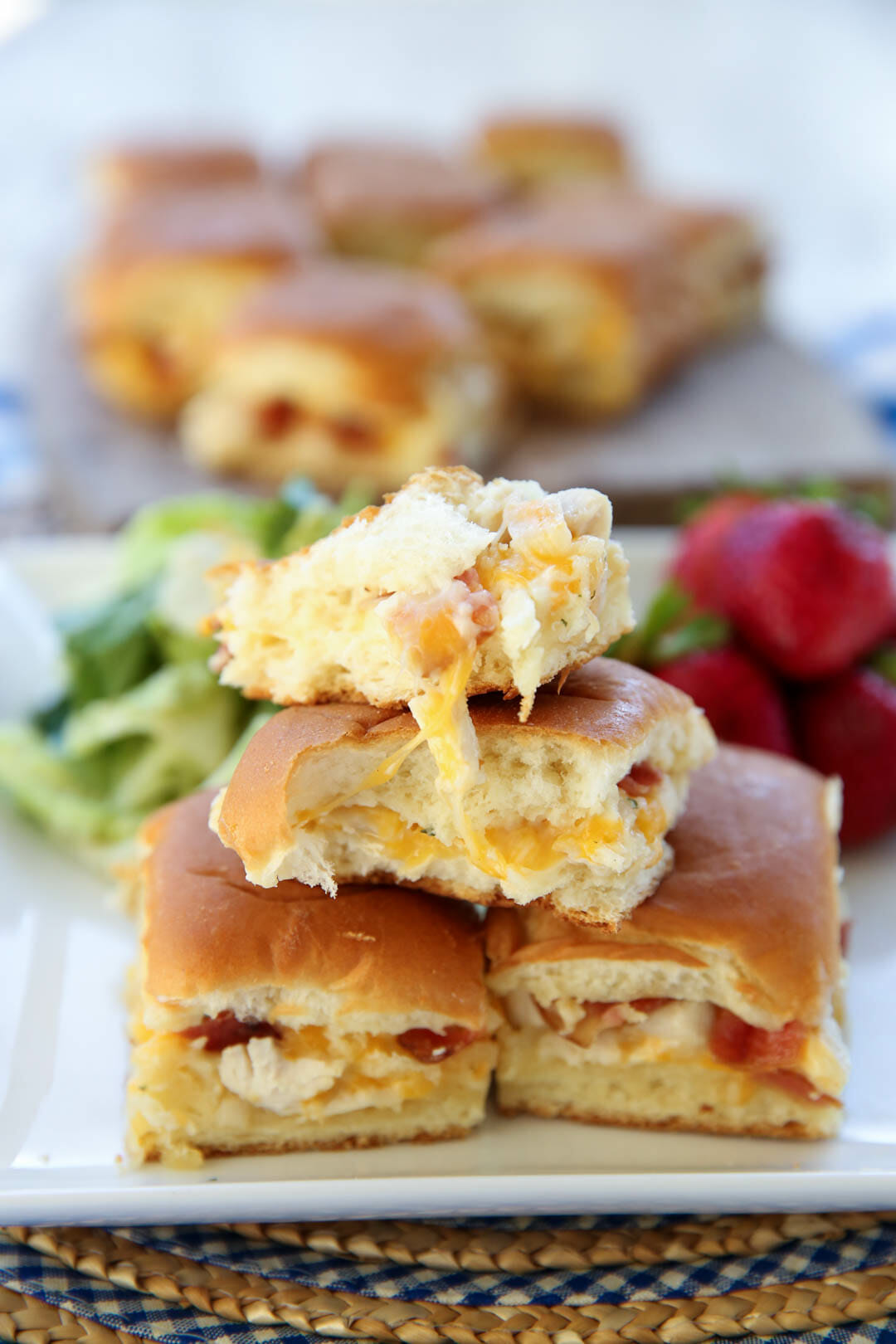 I whipped up these sandwiches last week simply because I needed to use all of these ingredients, and my kids loved them so much that they requested a repeat a couple of times since then!  So I figured I'd write up an actual recipe and share a few of my most favorite "quick-fix" shortcut ingredients.  I'm going to name-drop a bunch of brand names, but this isn't sponsored by any of them- just a few things I really love and use a lot so I thought I'd share so you can maybe love them too.
First up, you'll mix up a quick ranch-mayo.  It's simply mayo with ranch seasoning mixed it.  I love making homemade ranch (seriously nothing like it!) but when it comes to mixes, I am true and loyal to Hidden Valley Ranch.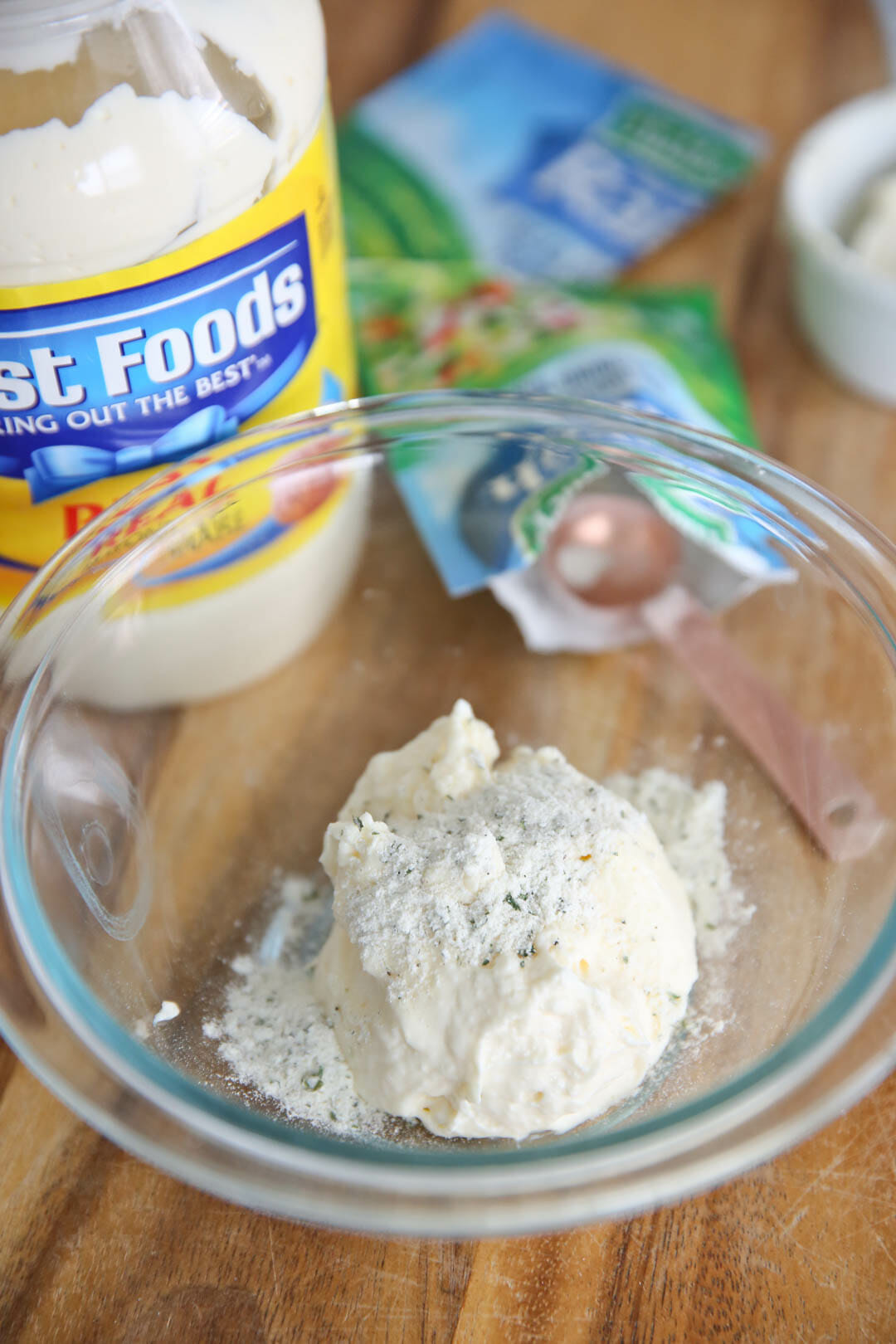 You'll spread that on a pack of King's Hawaiian sweet rolls.  I buy a few of these and just keep them in my freezer so I can pull them out for quick meals.  King's Hawaiian are our favorite!  Always so, so soft and the perfect sweet flavor.
Don't pull apart the individual rolls, you're going to slice it like  a giant sandwich.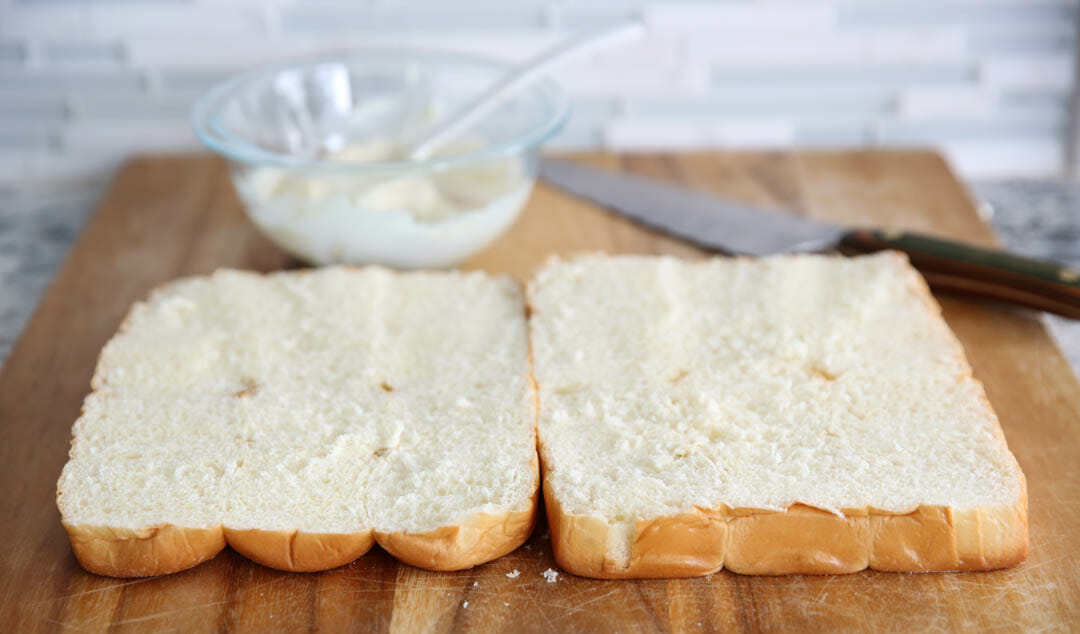 Spread on that ranch mayo,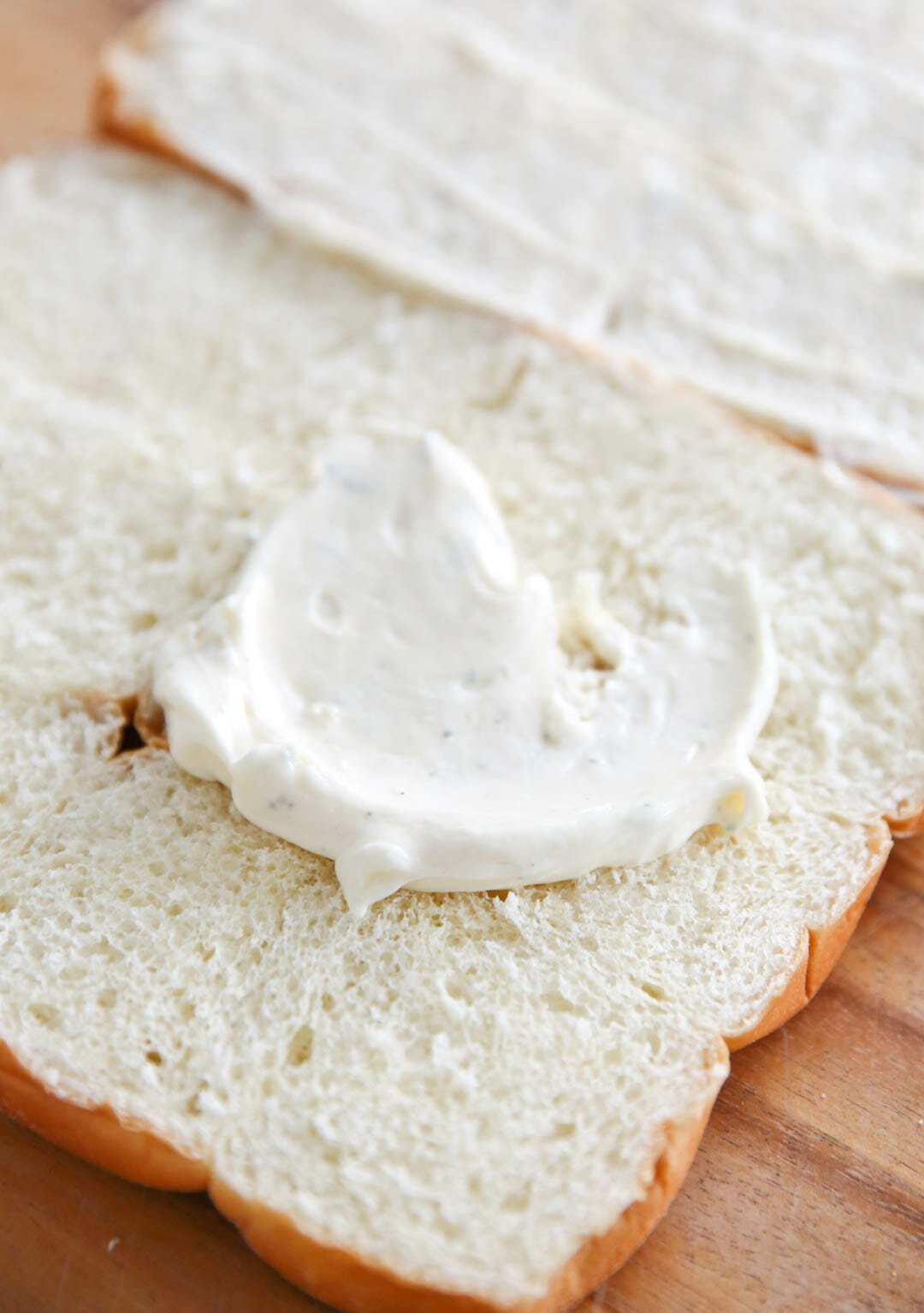 and then sprinkle with cheese.  When it comes to pre-shredded cheese, I only use a couple kinds.  Many brands have waxy additives to keep the shreds separated and it results in super weird stuff that doesn't even melt half the time!  This new-ish Tillamook farmstyle cut is phenomonal.  I usually keep a few different kinds on hand.  They also sell it in large bags at Costco- but if I'm going to Costco, the Kirkland brand shredded cheddar is fantastic (and cheaper) so I buy that one from Costco. It melts beautifully as well.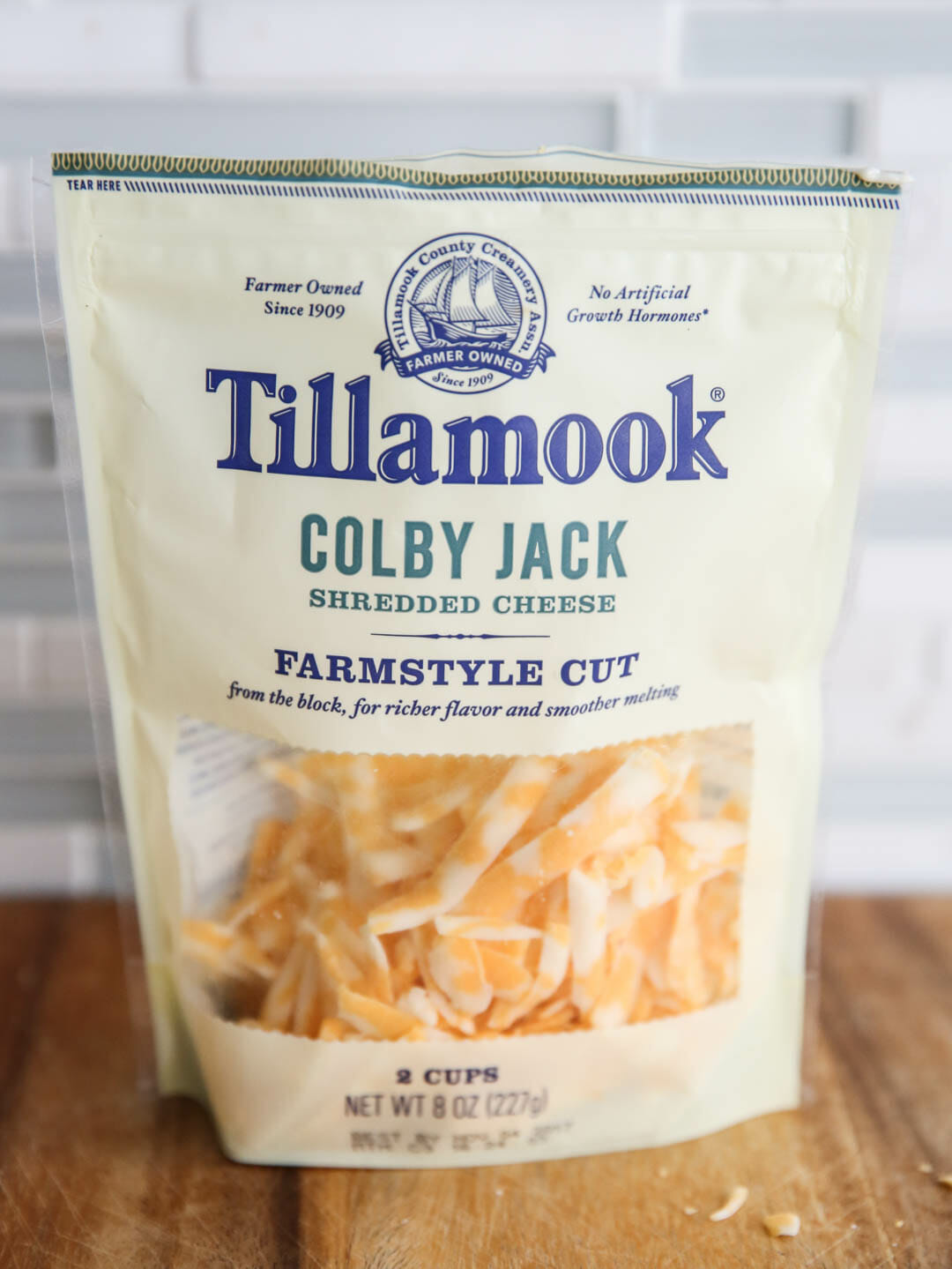 You can use any kind of cheese you like!  Then you'll add some diced chicken.  I cut it up in to really small bite-sized pieces because these are small sandwiches and you want all the ingredients really blending together and not falling out of the bread.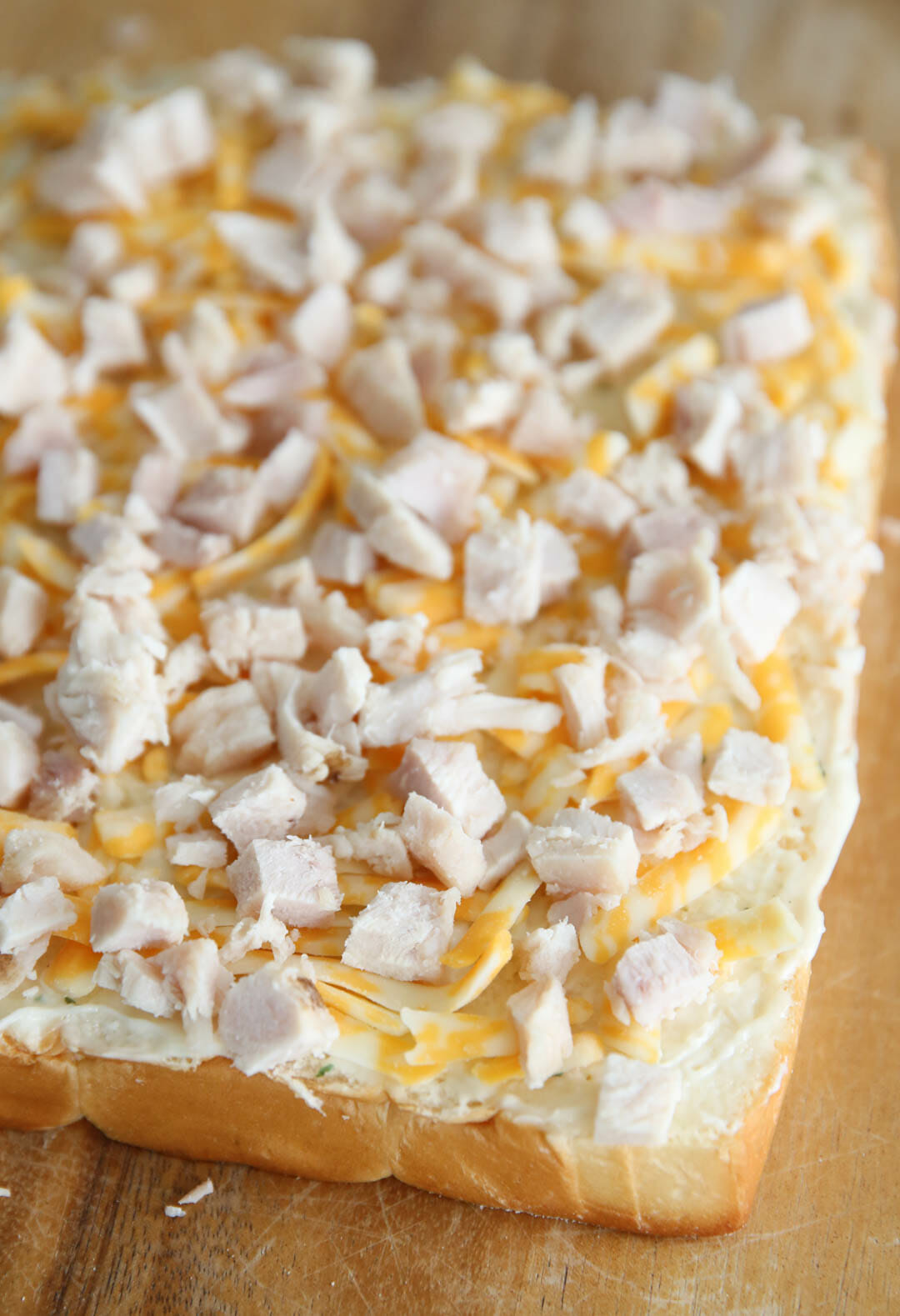 Rotisserie chicken works great here, or I also usually have bags of this chicken in my freezer.  Pre-cooked chicken can be super weird, and I've found I like this one.  I don't eat it plain very often, but I think it's great in recipes like this or my chicken taquitos, where you need plain chicken and you don't want to go cook some just for this purpose.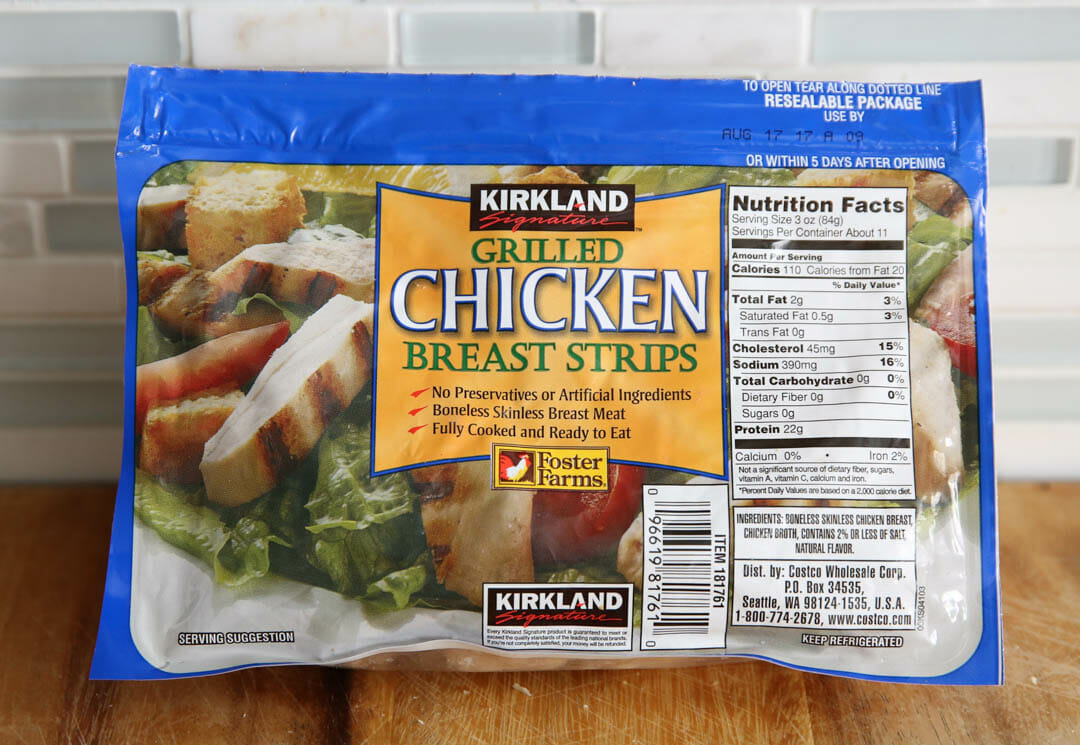 Then you'll top it with some cooked, cumbled bacon. Notice I try to cut both my chicken and my bacon in the same size pieces.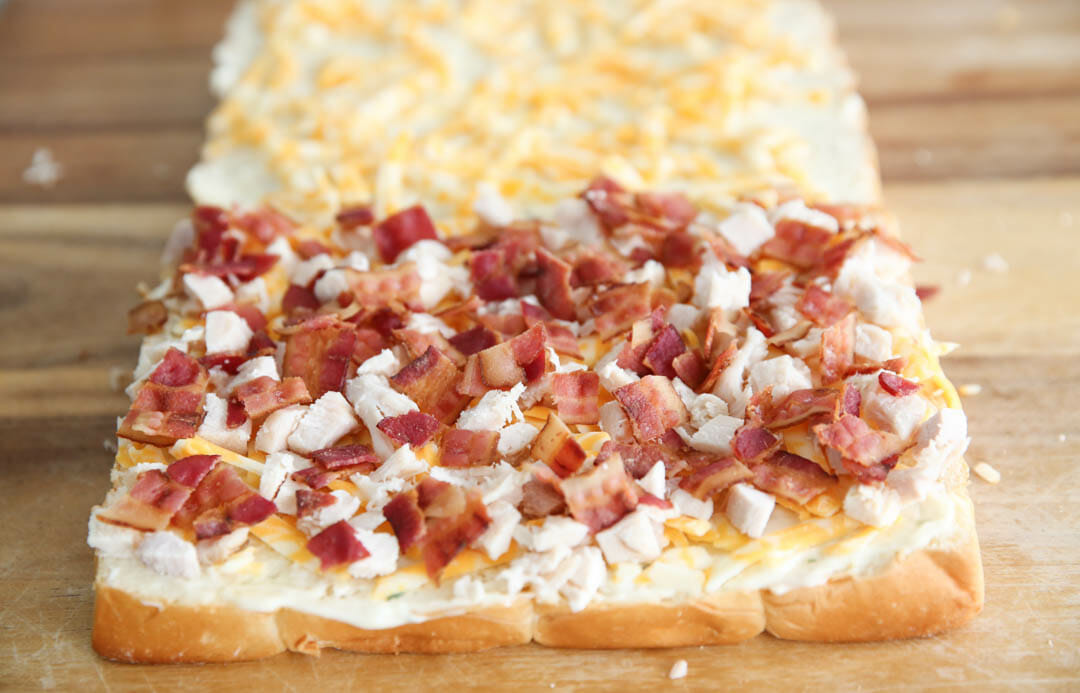 And you better believe I have a short-cut for this, too!  So many kinds of pre-cooked bacon available now.  We LOVE this Hormel one we buy at Costco.  It cooks up crisp in the microwave in an instant and is great when you need just a few pieces and you need them quick. Comes with a ton and freezes great.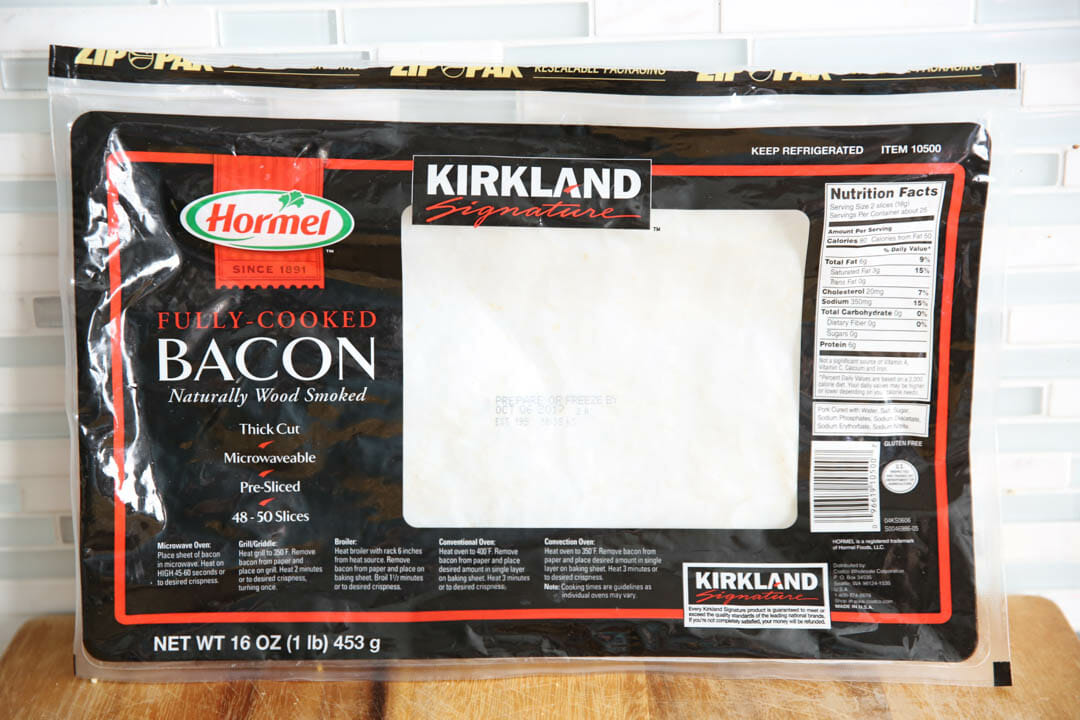 Alright, now that the sandwiches are done, you'll cover the pan with foil and pop them in the oven for 20-30 minutes, or until that cheese is melted all the way through.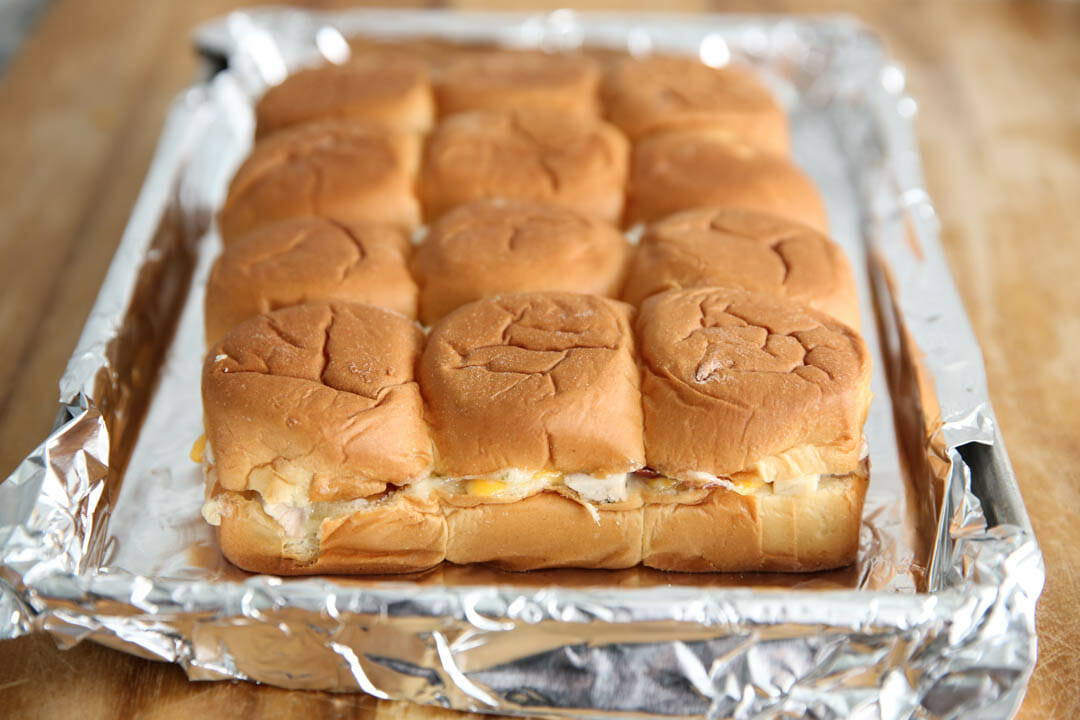 Then you can cut the rolls into individual sandwiches and watch them disappear in seconds.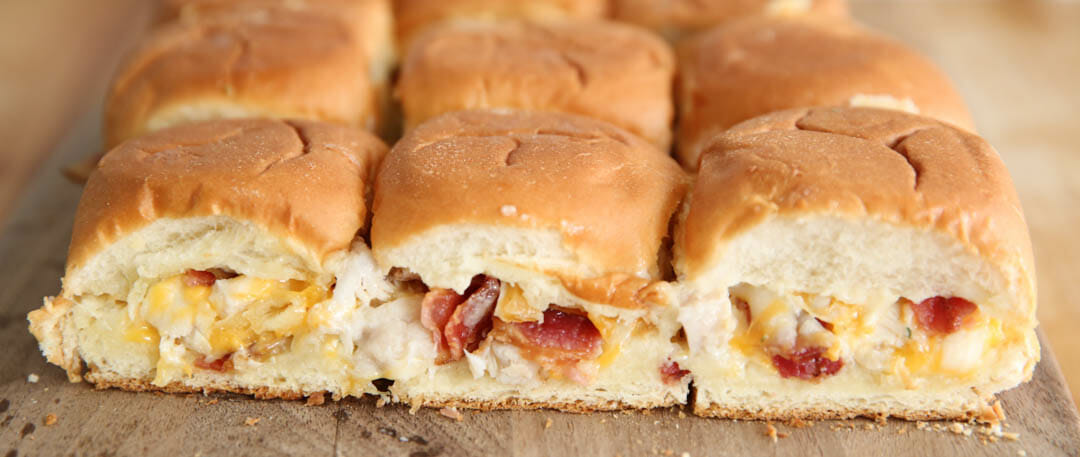 These make a great dinner, paired with a salad and some fruit, or a terrific game-day snack on a big platter.  You can easily prep them ahead of time and fit several roll packages on a baking sheet to make a ton at once.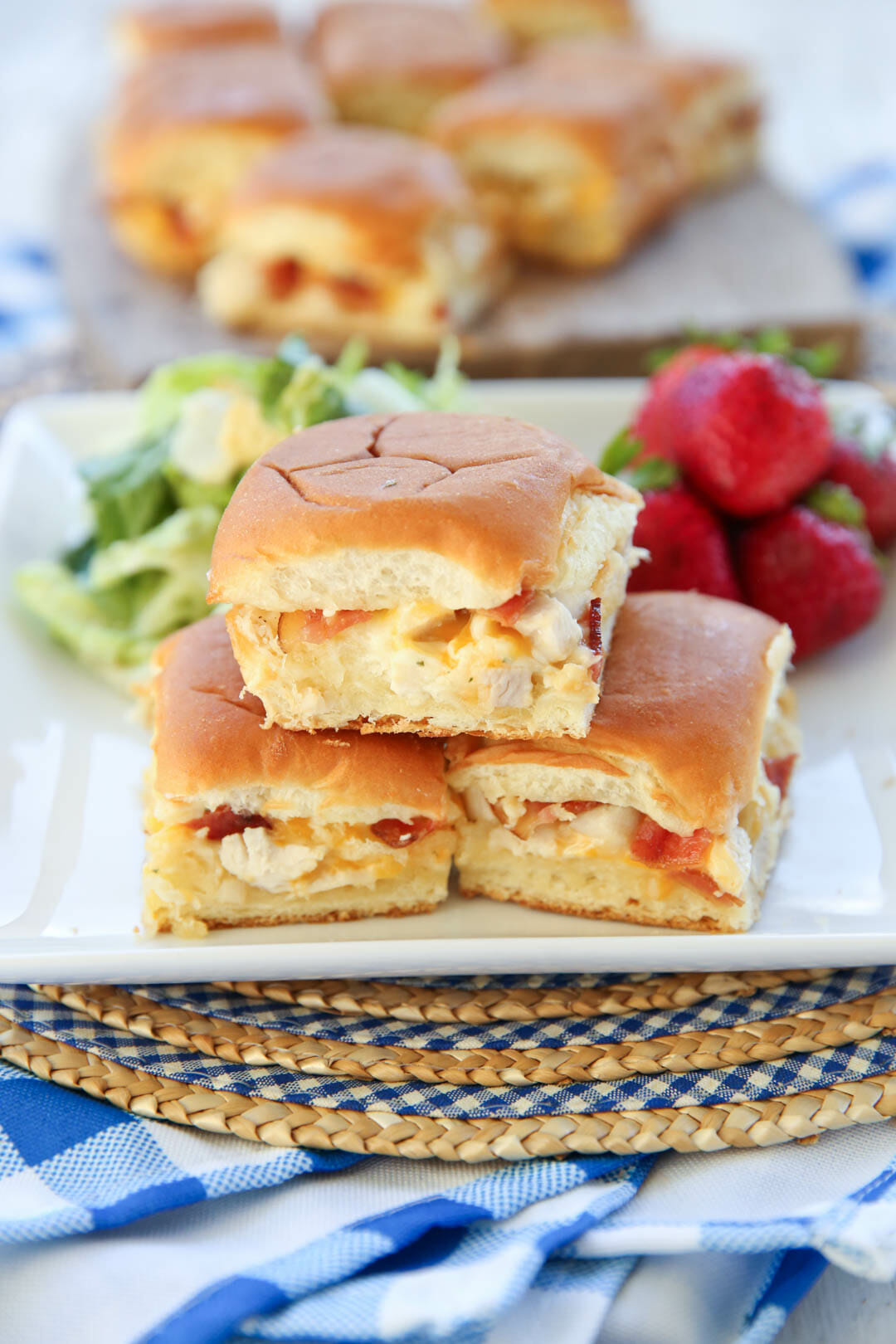 Check out some of my favorite short-cut ingredients.  Are any of those your favorites, too??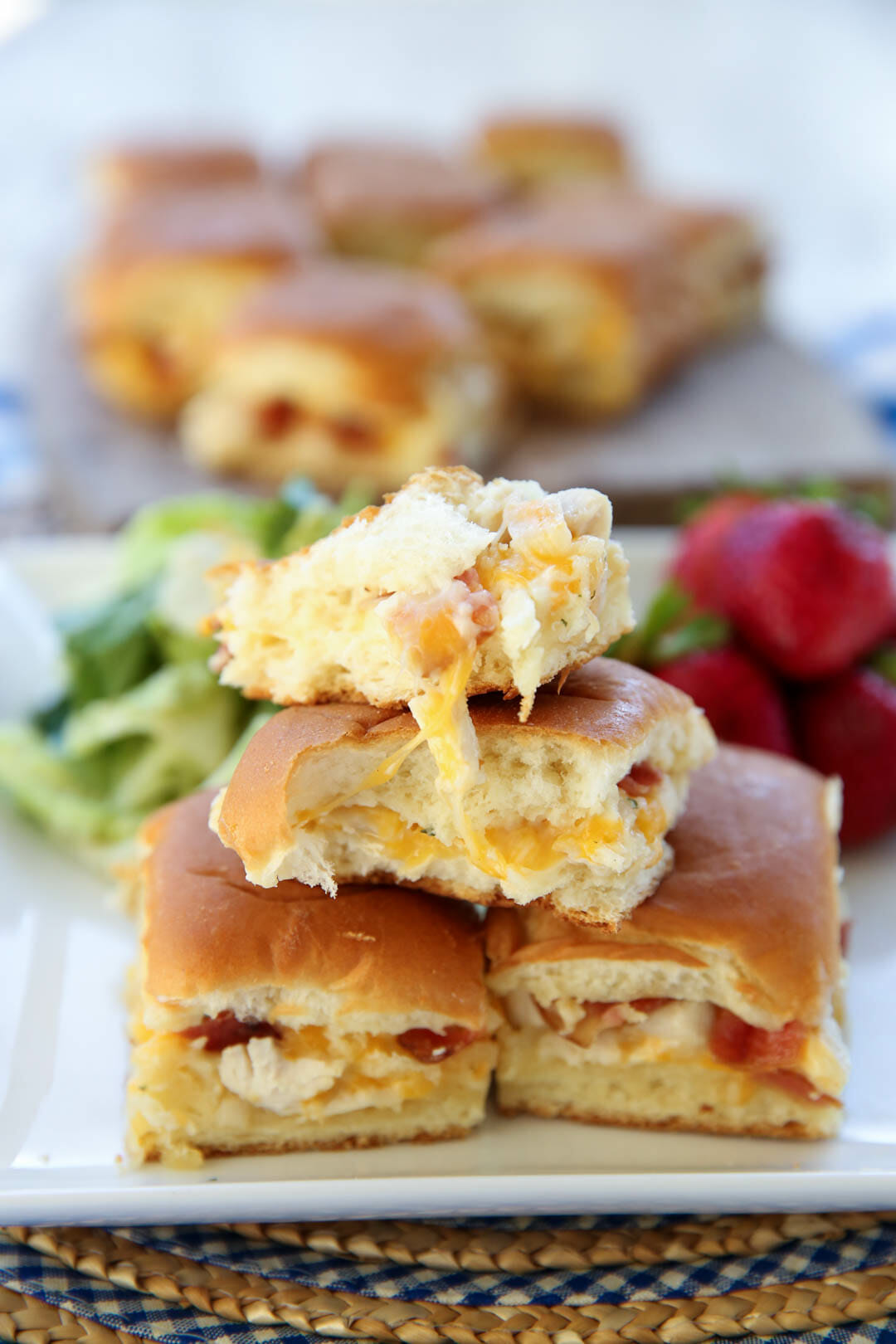 Try these and let me know how you like them!
Print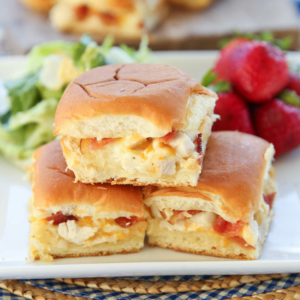 Bacon Ranch Chicken Sliders
---
Description
Easy and delicious small sandwiches with bacon, ranch, and chicken, perfect for a fun family meal, or a great snack for a potluck or football party.
---
1

package (12 rolls) Hawaiian Sweet Rolls

1/2 cup

mayonnaise

1 teaspoon

powdered Hidden Valley Ranch mix

1 cup

shredded cheese

3/4 cup

cooked, diced or shredded chicken

6

–

8

slices bacon, cooked and crumbled
---
Instructions
Preheat oven to 350 degrees. Line a baking sheet with foil.
Without separating rolls, cut entire "loaf" in half like giant sandwich and place open-side up on baking sheet.
In a small bowl, combine mayo and ranch mix. Spread mixture on both sides of rolls. Sprinkle half the cheese on the bottom half of the rolls, top with chicken, and then bacon, and then remaining cheese. Place top half of rolls on, sandwiching them together. Cover rolls with foil and place in oven for 20-30 minutes, until cheese is melted throughout.
Remove from oven and let cool for a few minutes before transferring them to a cutting board and slicing individual rolls.
---