Baked Potato Soup is my love language.  Also Bacon.  If you're a sucker for comfort food you can top with candied bacon and smoked cheese and sip with a spoon, then keep reading.  This has everything you love about traditional Baked Potato Soup, but with sweet and savory fall flavors.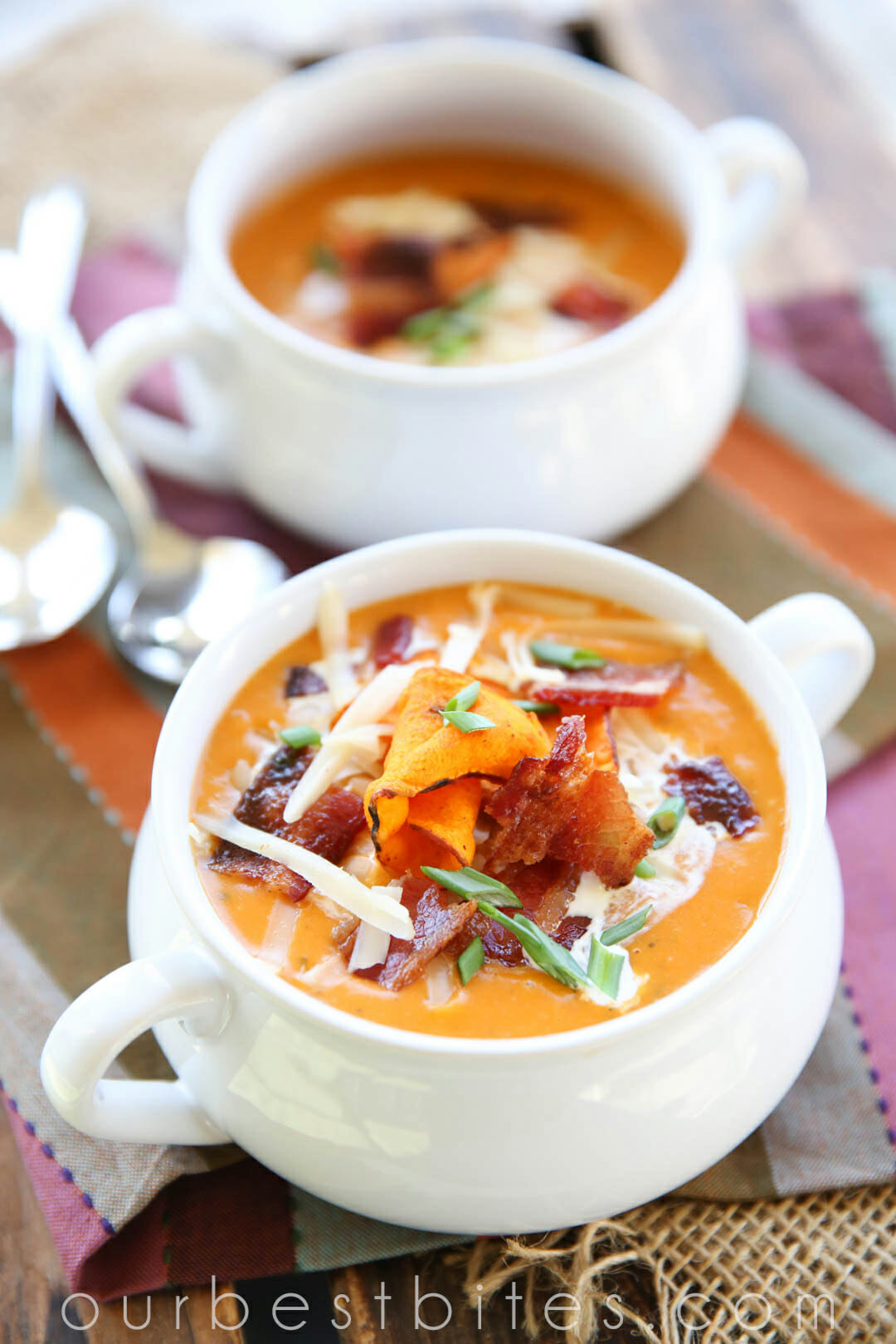 We're going to start here like most recipes should start: with bacon.  You can make plain bacon, but I'm playing up this sweet-savory thing here and I highly suggest you just go for it and do the same.  I'm rubbing mine with just a tiny bit of brown sugar, but you could also do this easy Maple-Glazed Bacon instead.  That would be amazing as well.  Sweet bacon caramelizes as it cooks and makes the most amazing concoction that's basically bacon candy.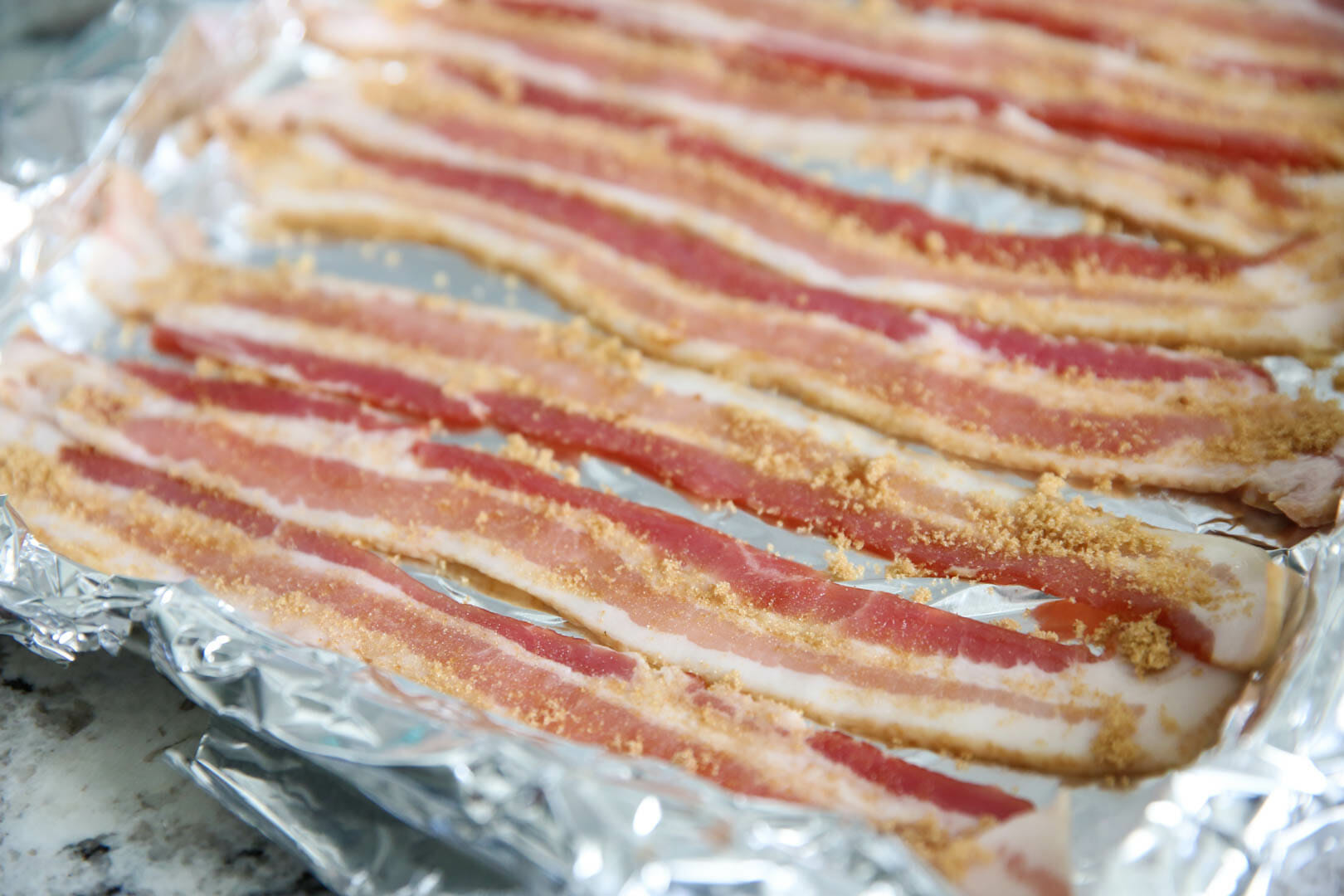 When the bacon comes out of the oven, reserve some of the grease and use that to saute the onions and garlic to start this soup.  I've said it a million times, but onions and garlic cooking in bacon grease is one of the best smells in the entire world.  I keep writing letters to Bath and Body Works to get it in a 3-wick candle. No dice.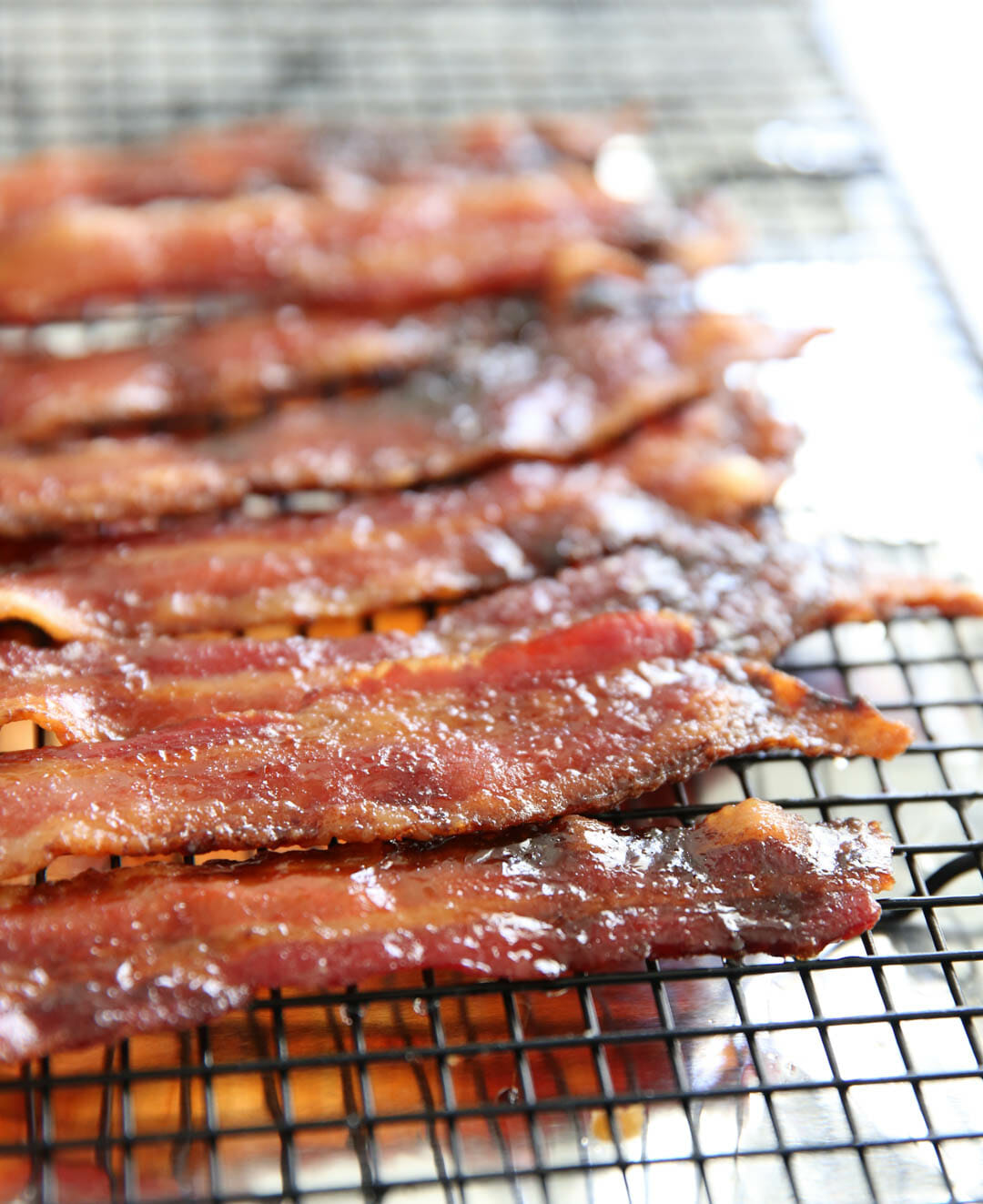 Next you're going to push the onions and garlic over to the side of your pan to start a roux.  A roux is a cooked mixture of a little flour, butter, and milk.  It's purpose is to thicken the soup.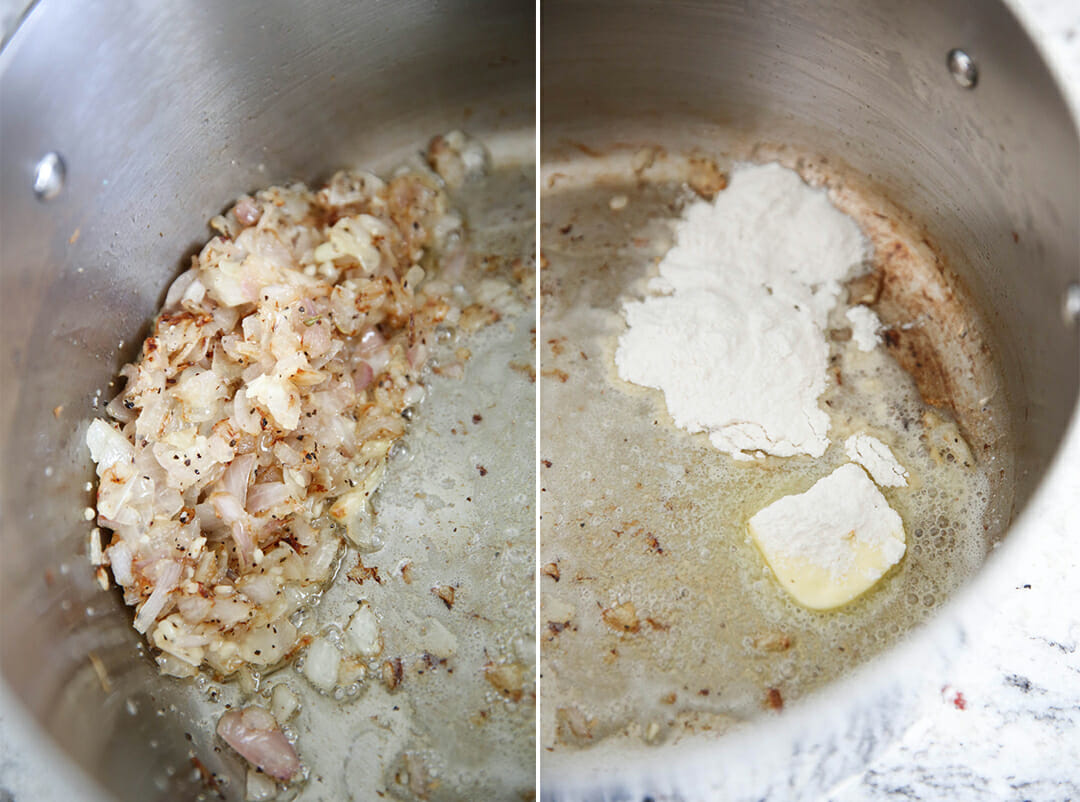 You'll then pour in chicken broth, salt and pepper, smoked paprika, and a little sage.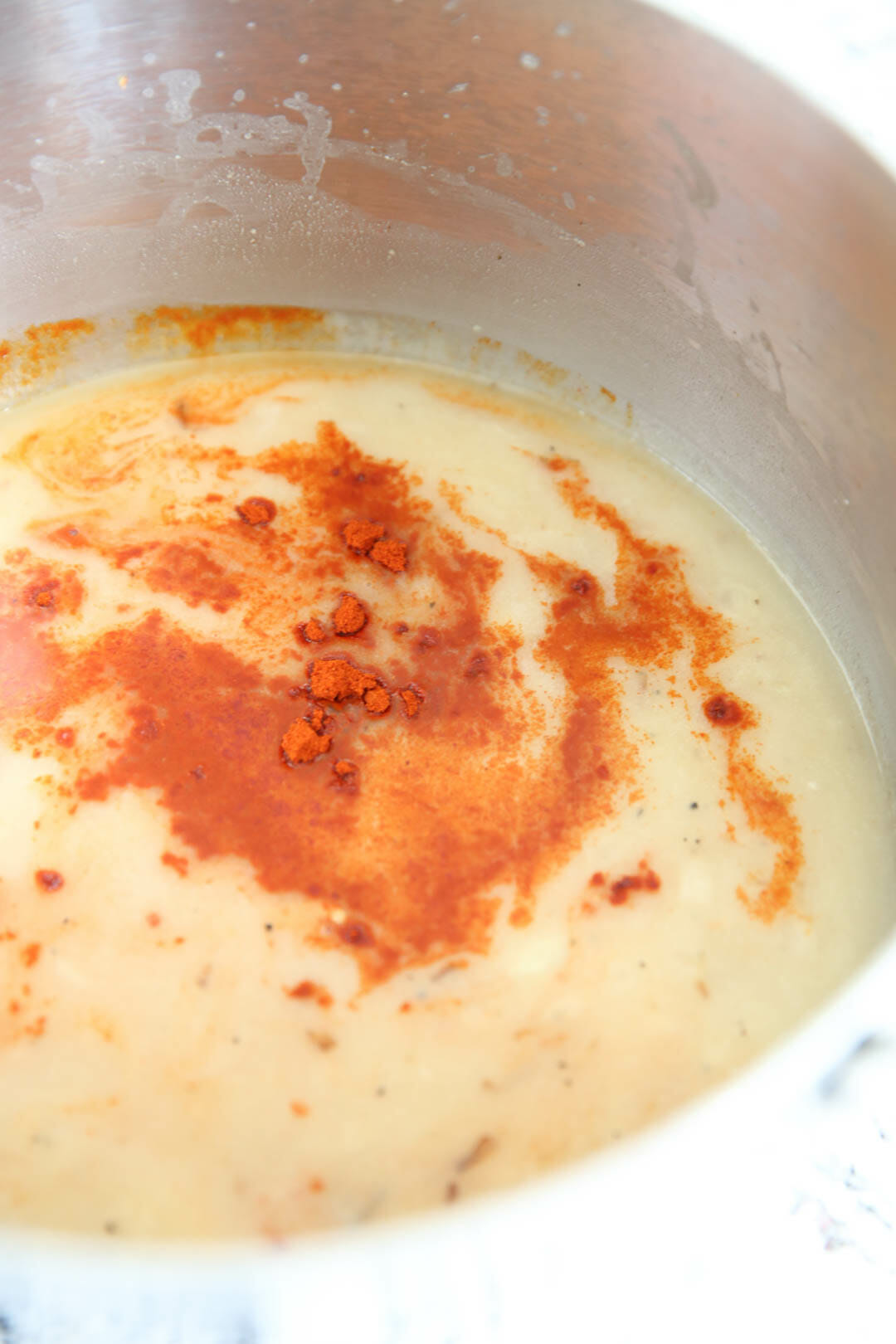 Then in goes your sweet potato.  You can cook these the day before, or use leftovers.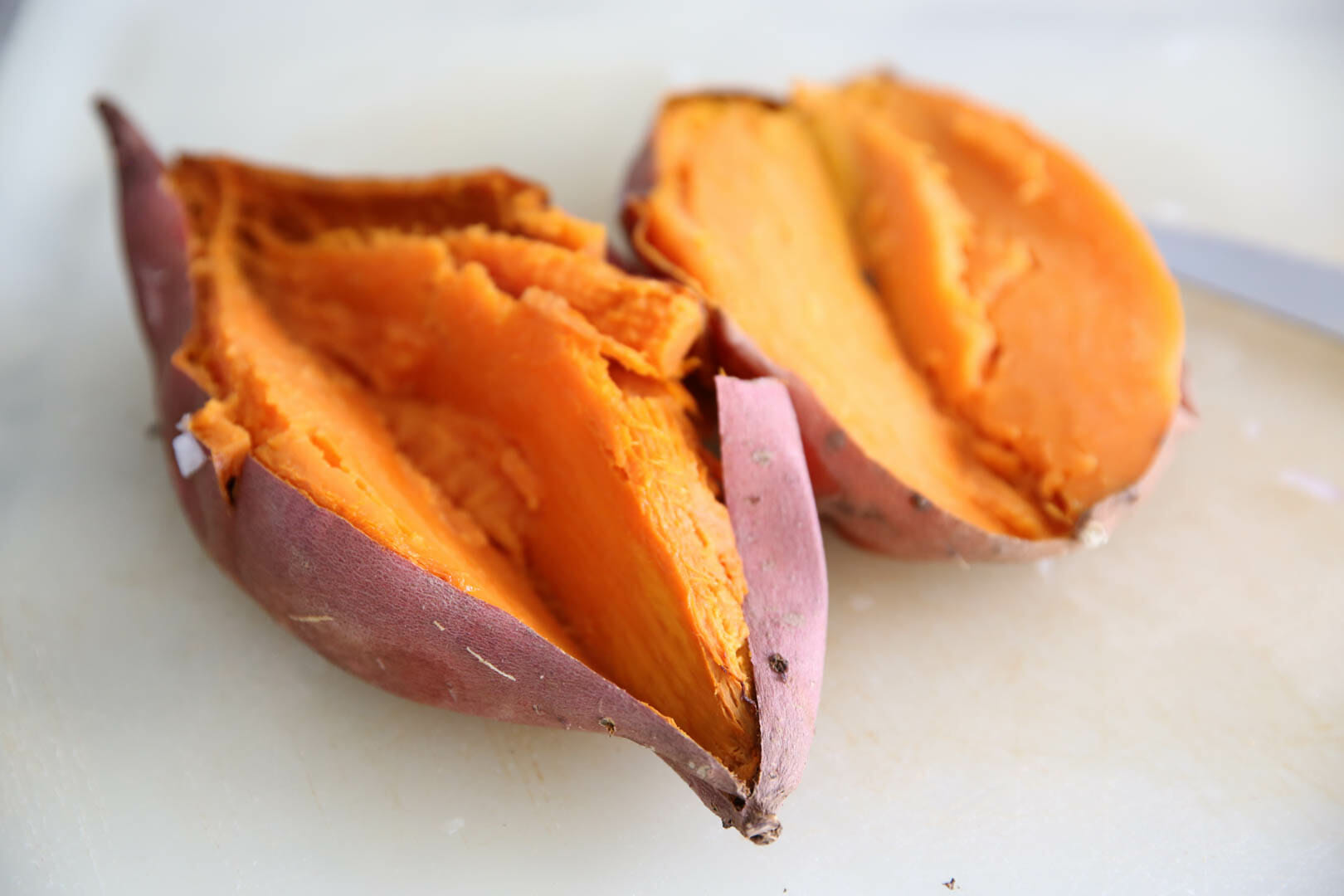 Turn off the heat and add the last flavors: just a hint of apple cider vinegar and some smoked cheddar.  You can usually find smoked cheddar in the deli area of the grocery store by the specialty cheeses.  This adds an amazing smoky flavor and adds richness.
With any soup, I'm all about the toppings.  I love more cheese, green onions, that candied bacon.  And for a little crunch, I sprinkled on a few sweet potato chips.  A drizzle of cream is also delicious in there.  We love soup like this served with a toasty grilled cheese sandwich. 
Print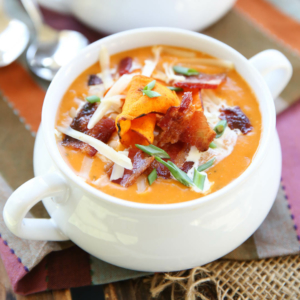 ---
Description
A beautiful soup bursting with the perfect combination of sweet and savory.
---
6

slices bacon

1 tablespoon

brown sugar

1

medium onion, diced (about

1

heaping cup)

4

–

5

cloves garlic, minced

1 tablespoon

butter

3 tablespoons

flour

32 ounces

chicken broth

1 teaspoon

kosher salt

1/2 teaspoon

pepper

1 teaspoon

smoked paprika

1 teaspoon

rubbed sage

1 1/2 cups

mashed cooked sweet potato (about

1

medium)

1 teaspoon

apple cider vinegar

1/2 cup

shredded smoked cheddar cheese, plus more for topping
Toppings (pick what you like!): sliced green onions, cheese, sweet potato chips, drizzle of cream
---
Instructions
Preheat oven to 375 degrees. Line a baking sheet with foil and lay bacon slices in a single layer. Rub about 1/2 teaspoon brown sugar over each slice. Bake until bacon is crisp (about 20-25 minutes) and then remove to cool. I usually place cooked slices on a baking rack over foil. Don't set on paper towels because the sugar will stick!
Place 2 tablespoons of the grease from the bacon pan in a soup pot over medium heat. Add onion and cook for 5-6 minutes, until onion is tender. Add garlic and cook for 30 seconds more.
Pushonions to the side and add butter to pan until melted. Add flour and cook mixture for about a minute until smooth. Mix around with onions in pan for another minute.
Slowly add in chicken broth and whisk until smooth. Add salt, pepper, smoked paprika and sage. Bring to a boil and then reduce to a simmer for 5 minutes. Add sweet potatoes, then turn off heat and add vinegar and cheese.
If desired (I personally like it smooth) place in blender or use an immersion blender to process until smooth.
Top with bacon and desired toppings (I use all of the ones mentioned!)
---
Notes
To cook sweet potato, you can prick and bake in the oven at 400 for about 45 minutes or until soft to the touch, or prick a few times and place in a bowl with a couple tablespoons of water and covered with plastic wrap. Microwave for 5 minutes or until completely soft.
Pin It!