These Chunky Monkey Pancakes were first posted back in 2010 (how has it been that long!) and they quickly skyrocketed to our list of all-time most popular recipes. I haven't made them in a really long time so when I whipped them up to refresh the photos and update the instructions I even surprised myself about how good they were! We've added some beautiful new photos and a video and I hope if you haven't tried this one, you'll put it on your list of things to make!
Have I ever told you guys that I often dream about food? I can't tell you how many recipes I've come up with because I cooked them in a dream and then woke up craving it. Such is the case with these pancakes! I woke up a couple of weeks ago and ran to the kitchen to see if they were as good in real life as they were in my sleep and I have to say- they even better. If only I had the body I have when sleeping, because I eat all I want and never gain weight when I'm dream-eating. These pancakes are light and fluffy and easy to make. They're dotted with bits of melted chocolate and chunks of sweet banana. And the best part is the syrup. When I was a kid my friend Jessica introduced me to peanut butter and maple syrup on pancakes. Ever tried it?? It's amazing. So that's the inspiration behind the syrup; a sweet and creamy blend of melted peanut butter and maple syrup that takes these pancakes next-level.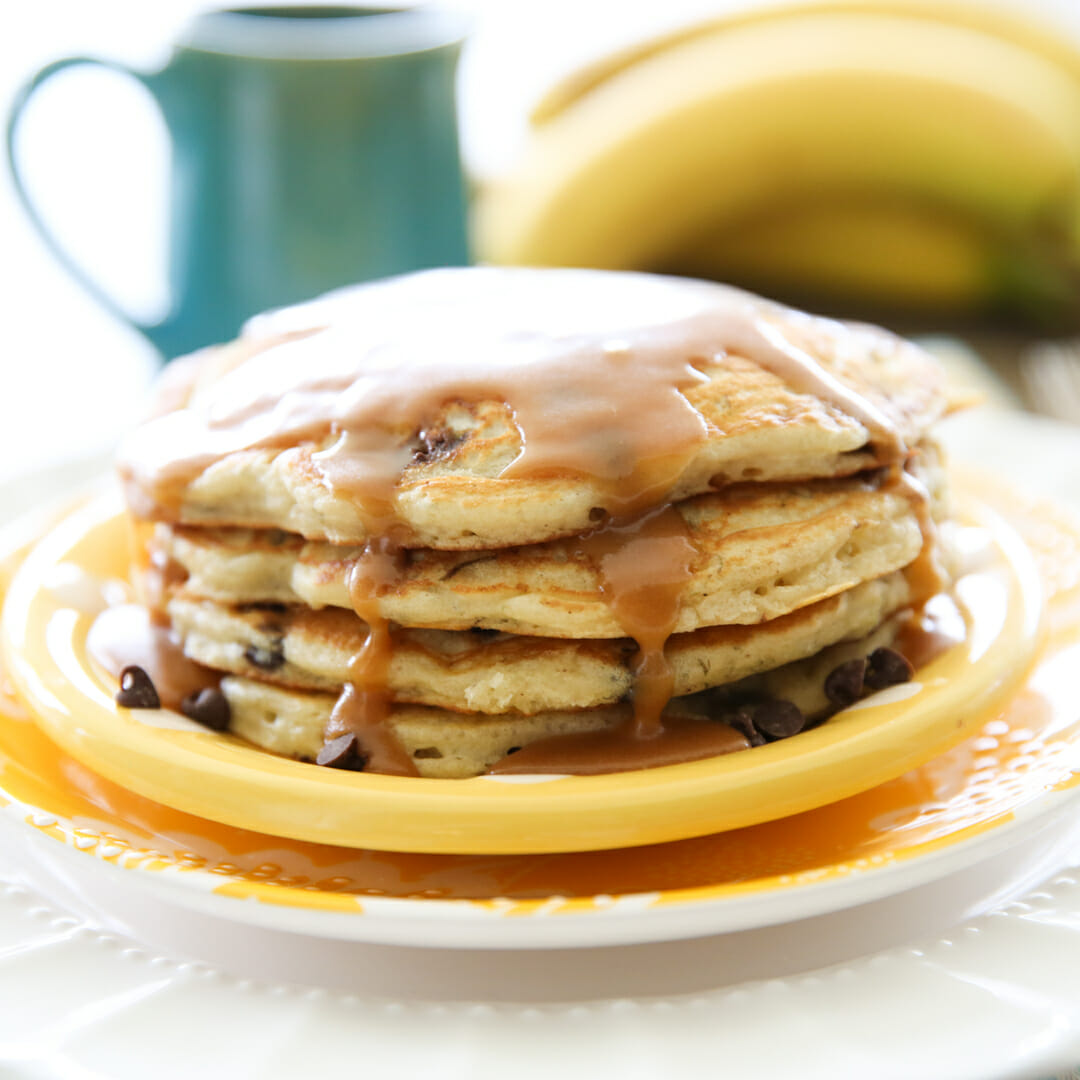 We start by combining your average dry pancake ingredients with your average wet pancake ingredients. Originally I had you mixing these in separate bowls but now that I've made these lots of times, I know it works great to just make a well in the center of the dry ingredients and whisk in the wet.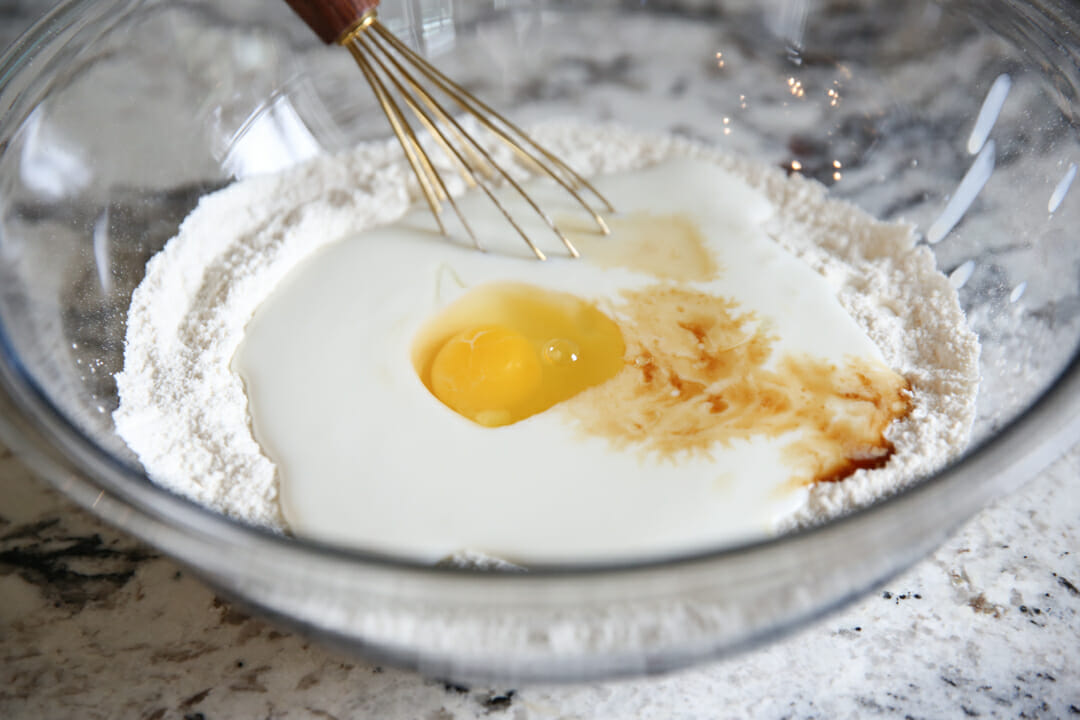 Just don't overmix. this batter is quite thick.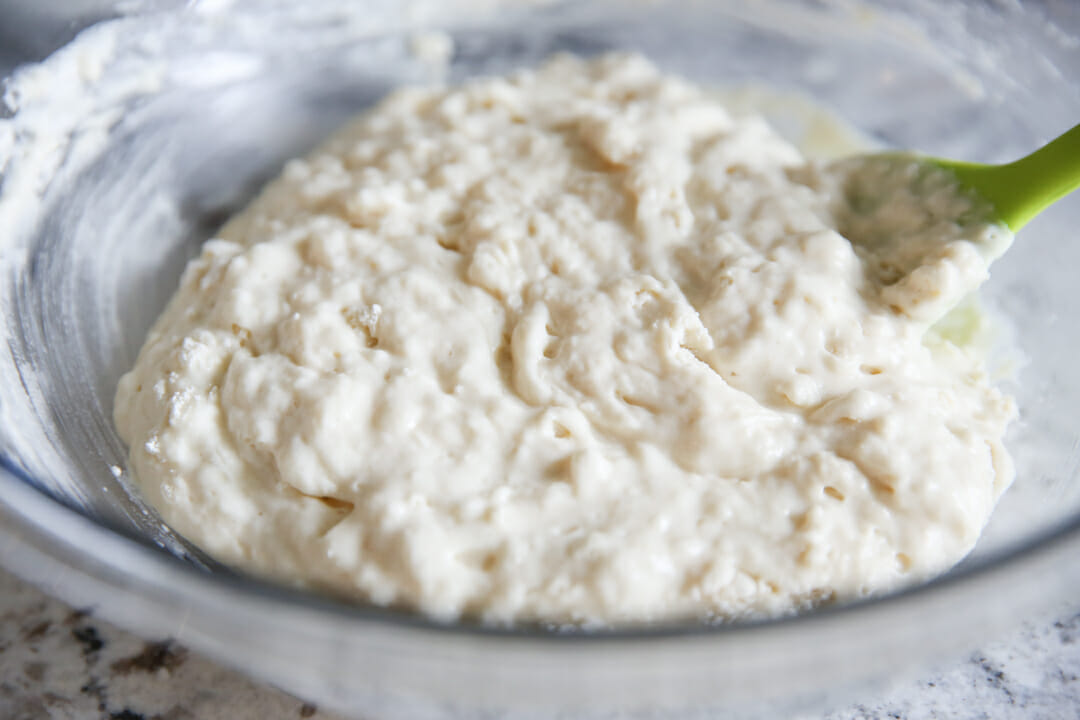 Next you'll add a couple of mashed bananas. I use bananas that aren't quite banana bread material. I don't want mushy brown banana chunks in my pancakes, just soft sweet ones. And you don't need to pulverize them either, leave some chunks in there.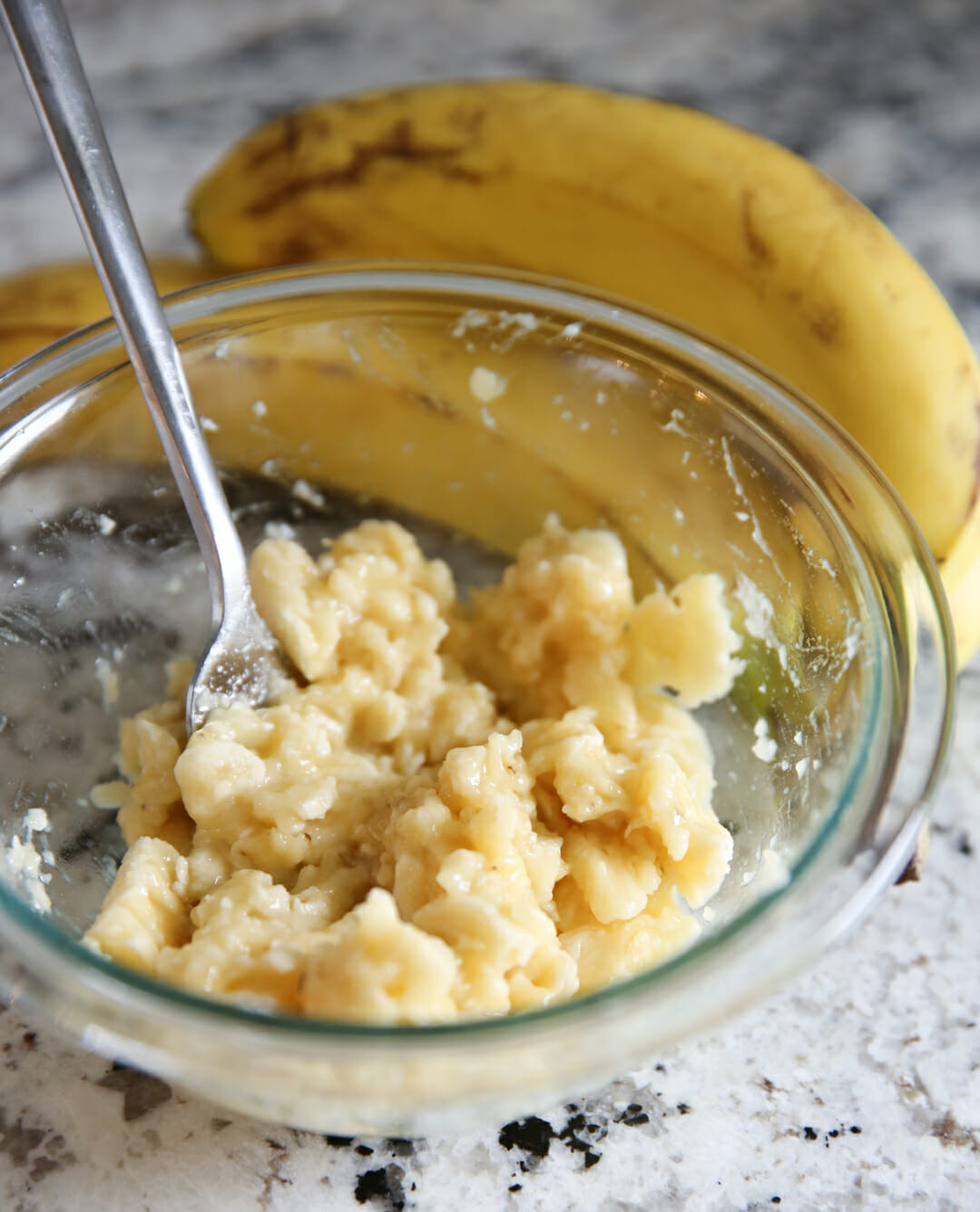 And everything is better with a touch of chocolate, right?? Use mini chips, or roughly chop some regular chocolate chips. The smaller bits distribute better in the batter, and tossing them with a bit of flour helps keep them from all sinking to the bottom.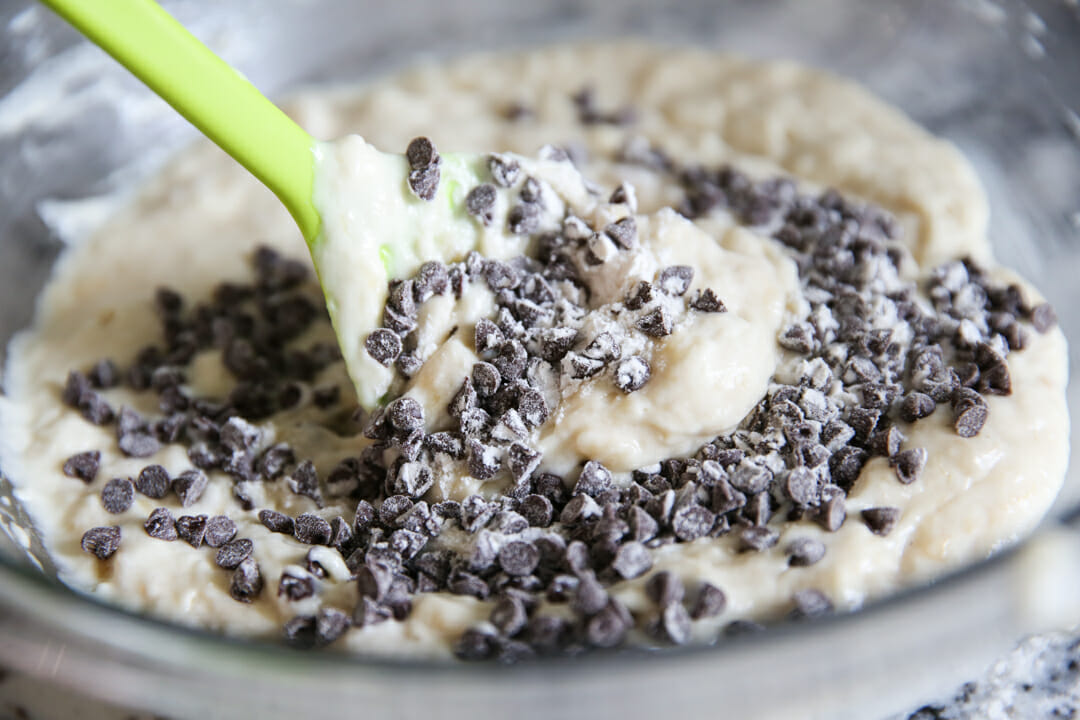 I think the best part about these pancakes is the syrup. And it only involves 2 ingredients: Creamy peanut butter and pure maple syrup.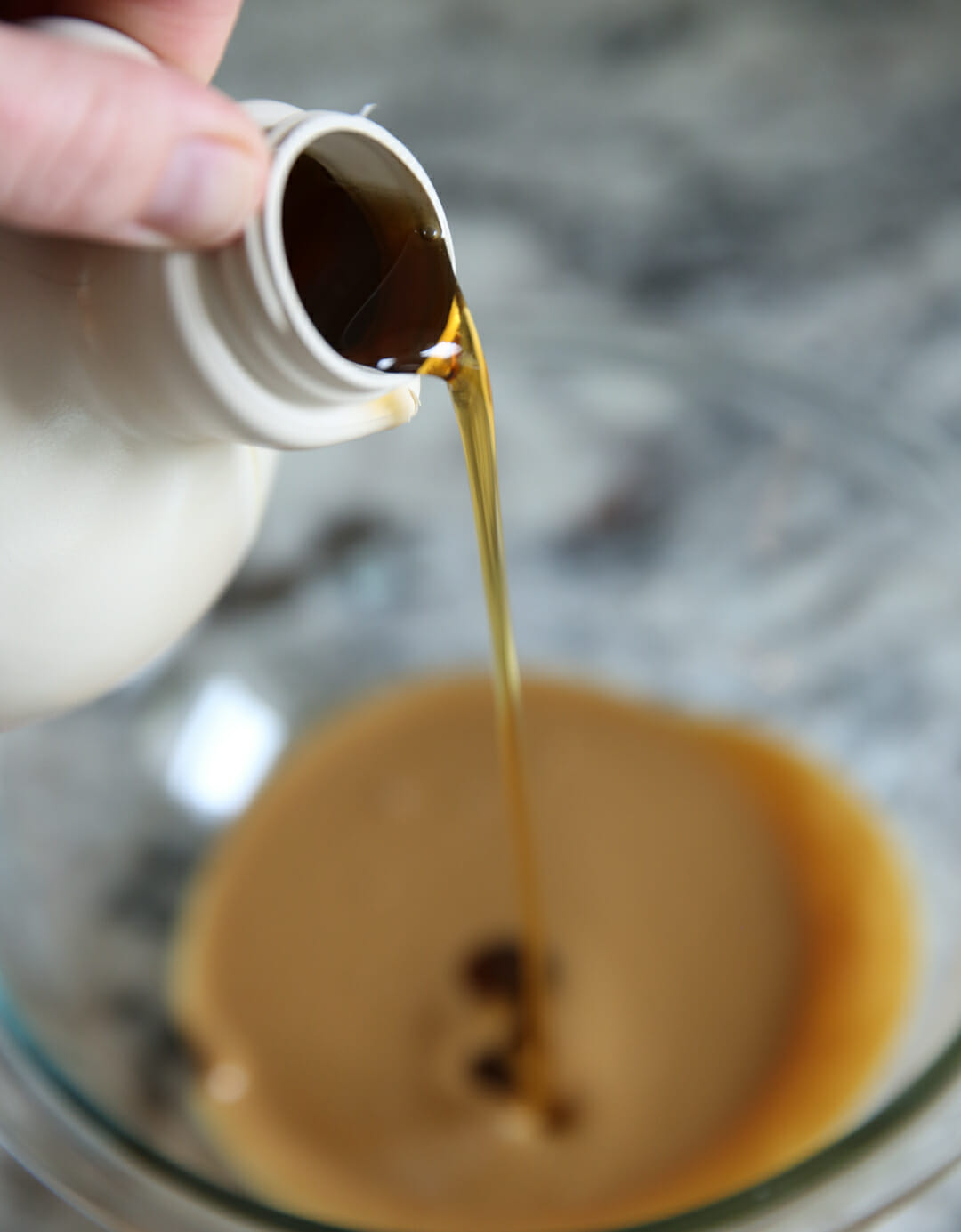 Heat them up together in the microwave and watch the magic happen. Okay, it's not really magic, it just tastes really really good. Trust me. It will be runny at first but as it sits it thickens quite a bit. If it gets too thick, just warm it up again in the microwave.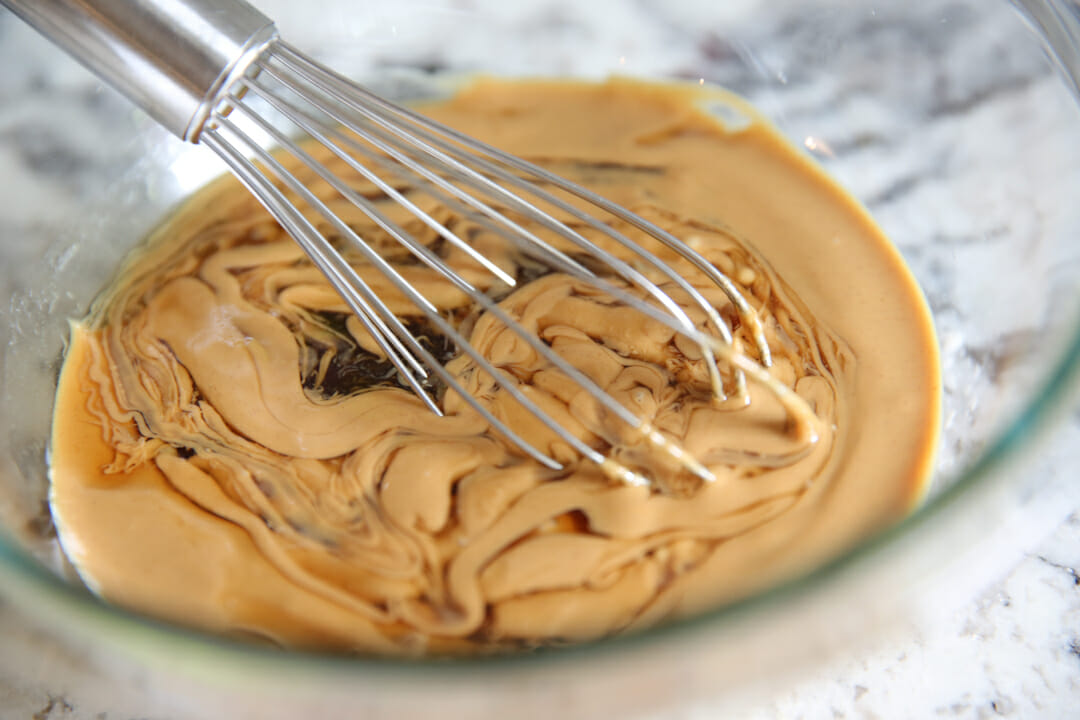 Spoon the batter out onto a hot buttered skillet to get your beautiful stack of chocolate banana pancakes.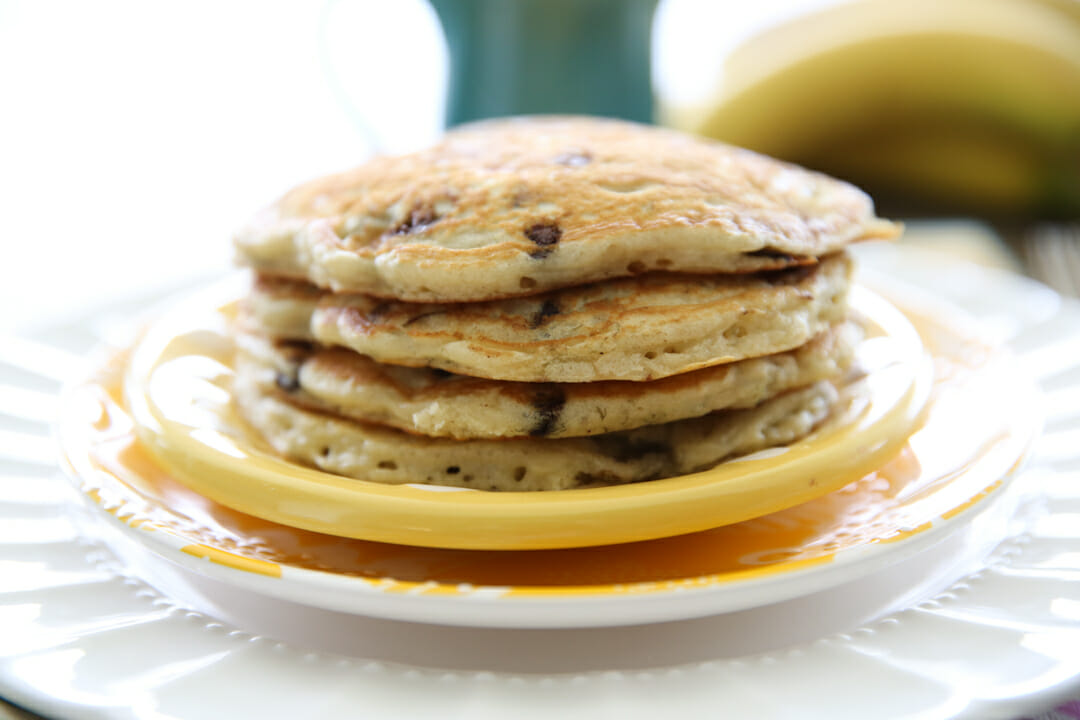 I like to slather on some butter and then pour on that glorious syrup.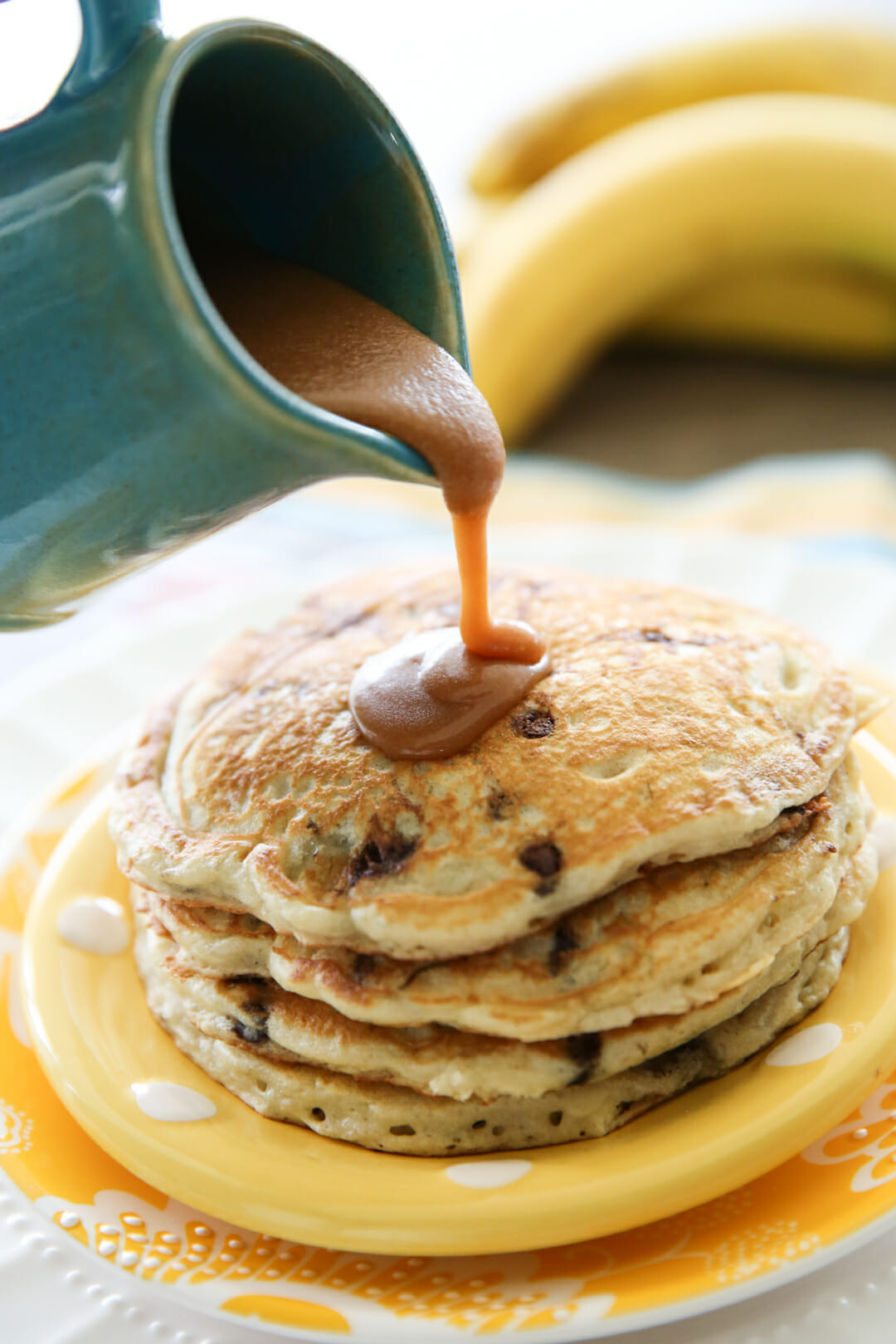 This syrup is EVERYTHING.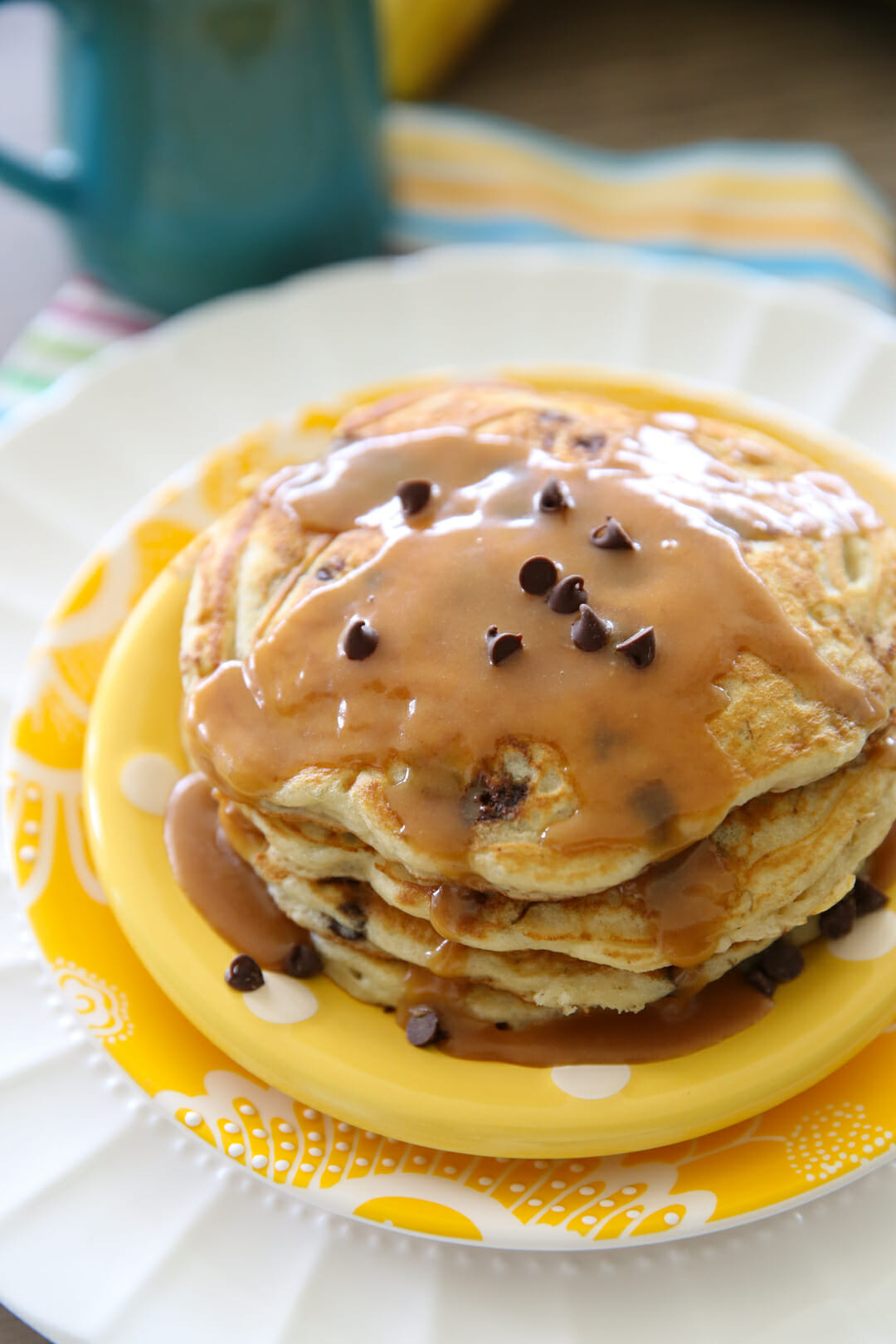 The sweet bites of banana aren't overwhelming; it's just enough to make the pancakes super soft with mild banana flavor and the little specks of chocolate are perfectly melted.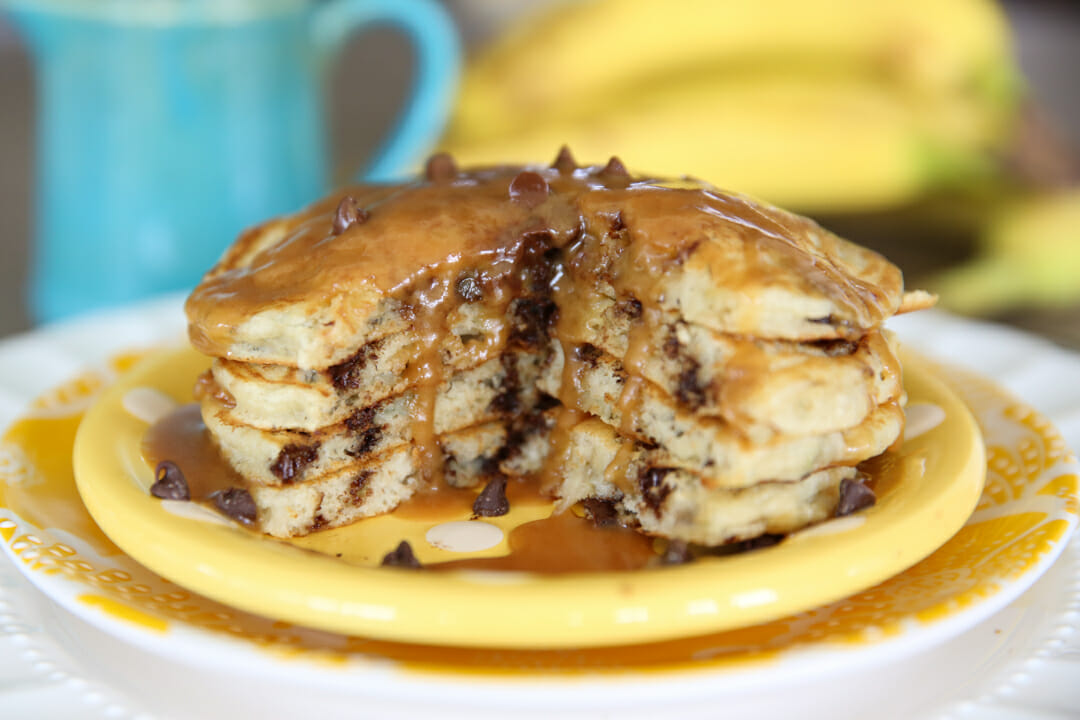 When you combine that perfect bite with the peanut butter maple syrup, it's perfection.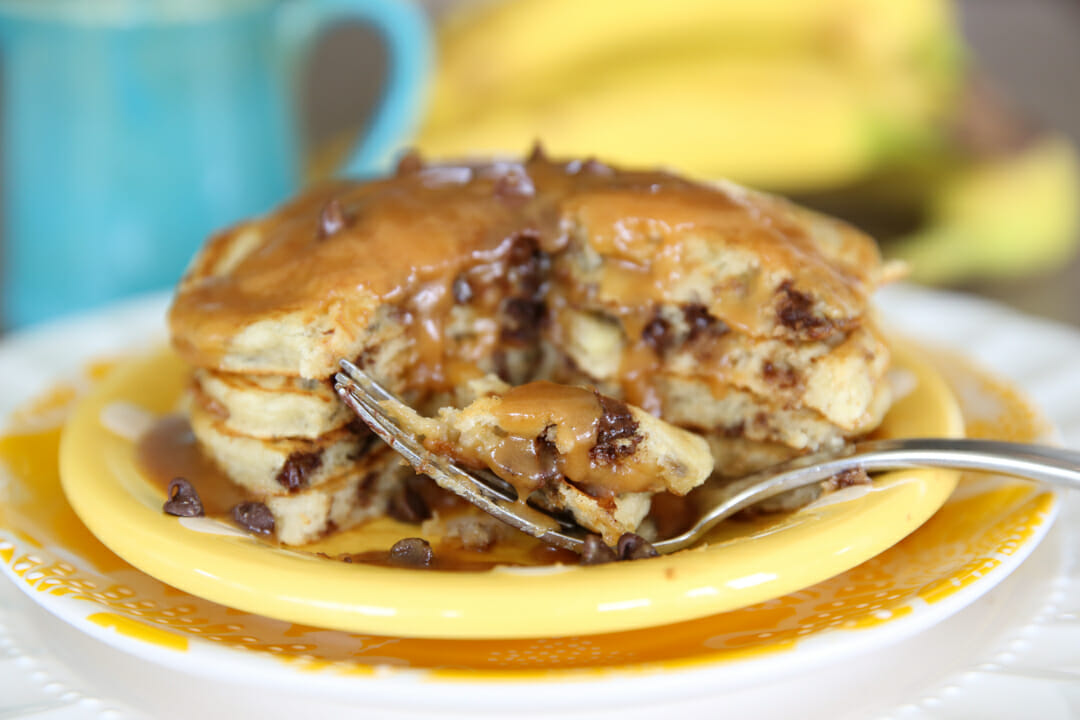 Print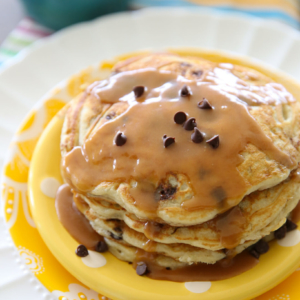 ---
---
1 1/2 cups

flour

3 tablespoons

sugar

2 teaspoons

baking powder

1 1/2 teaspoons

baking soda

1/4 teaspoons

salt

1 1/2 cup

buttermilk

1 teaspoon

vanilla extract

1 tablespoon

canola oil

1

large or extra large egg

2

small-medium ripe bananas

6 tablespoons

mini chocolate chips (or regular chips chopped up) mixed with 2 teaspoons flour
Cooking Spray or butter for pan
Syrup:
1 cup

100% real maple syrup

1/2 cup

creamy peanut butter
---
Instructions
Combine flours, sugar, baking powder, baking soda, and salt in a mixing bowl and whisk together. In a separate bowl combine buttermilk, eggs, oil, and vanilla and whisk well. Add the wet ingredients into the dry and mix just until moistened and combined. Place bananas in a bowl and roughly mash with a fork. Fold into batter. Add the chocolate chips that have been tossed with flour and stir.
For syrup, heat peanut butter in the microwave for 30 seconds. Add maple syrup and gently whisk to combine. Heat in the microwave for another 30 seconds, whisk, and then set aside.
Heat a nonstick griddle or skillet to medium heat. Coat pan with little butter and then pour on pancake batter. Use1/4 C batter for large pancakes (4-6″) and 2 T for kid-sized ones (2-3″). Wait until bubbles form and edges are set and then flip.
Reheat syrup if necessary and pour over warm pancakes.
Yield:
28-30 2-3″ pancakes (using 1/8 C batter measure)
14-15 4-6″ pancakes (using 1/4 C batter measure)
Freezer Instructions: Let cooked pancakes cool to room temperature. Place in a single layer in the freezer until frozen and then place pancakes in a ziplock bag or airtight container. Reheat in a microwave or toaster until heated through.
---
Notes
I've found the consistency of the pancake batter to change a bit depending on the size and specifics of bananas. If you find your batter is just too thick to really spread well, just drizzle in a few extra tablespoons of buttermilk or milk until it does.
Save