Of all the foods that make me feel most nostalgic of childhood summers, homemade ice cream has to be #1.  When I was a kid we had one of those big hand-cranked machines that you packed with rock salt.  Anyone else have one of those?  There is nothing quite like the taste of freshly made vanilla ice cream with summer fruit swirled in; it's seriously one of my favorite things in the whole world.  If you've never made your own, you need to get on this party train right now.  Kate and I both love to make homemade ice cream and we have some fancy ones and some easy ones, but this is ice cream in it's most basic form.  Plain and simple.  Three ingredients.  No cooking.  Of all the amazing ice cream recipes I love to make, this is the one I make the most.  It takes less than 60 seconds to prepare and you can add in absolutely anything to customize it.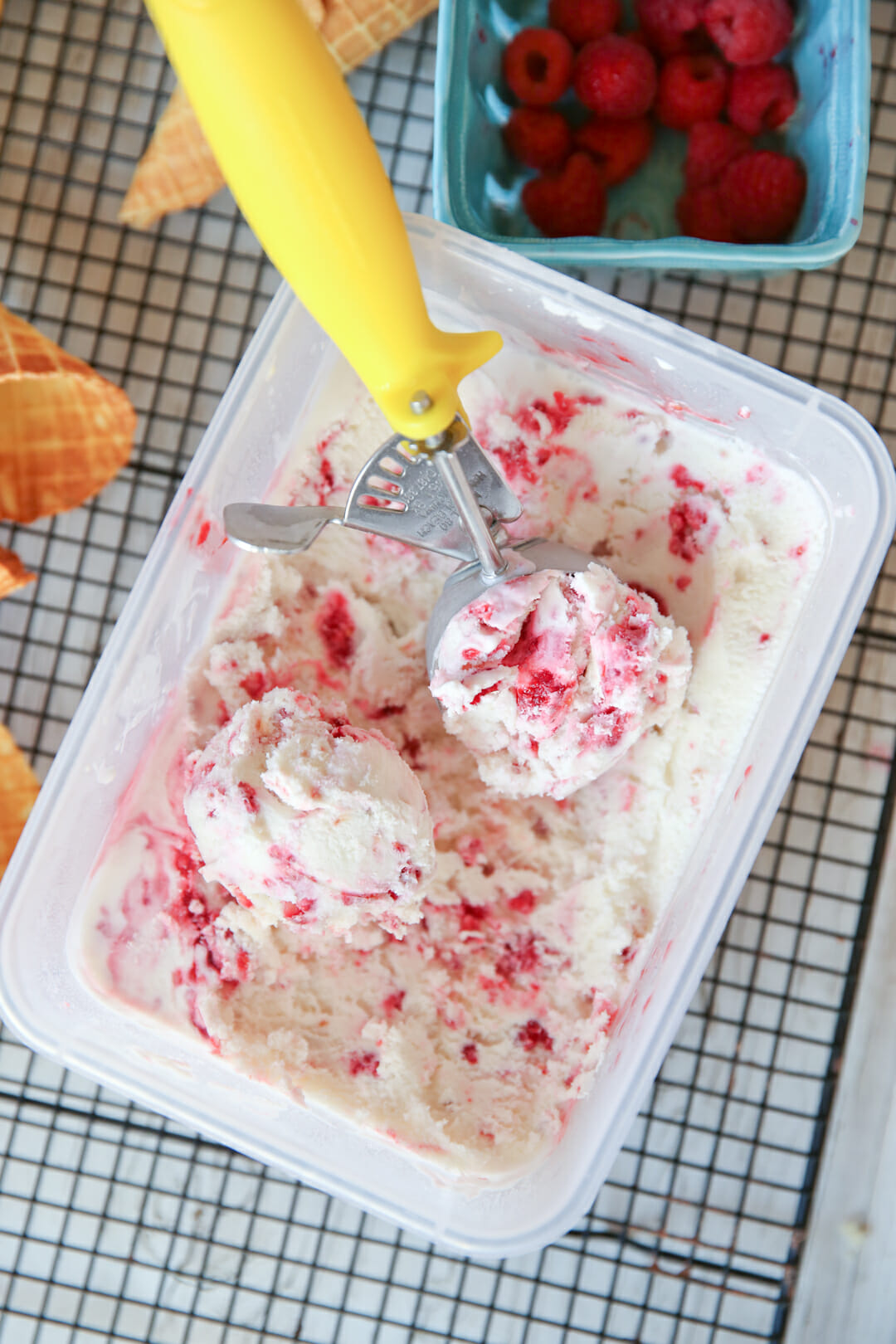 You only need 3 main ingredients to make this:  cream, whole milk, and sugar.  Also vanilla extract because, duh, vanilla.  The proportions are 2 parts cream to 1 part milk, plus sugar to taste.  I do more or less sugar depending on what I'm adding into my ice cream.  If I'm going to swirl in caramel or candy for example, I'll make the base a little less sweet.  If I'm adding in tart fruit or leaving it plain, I do a little more.  I'll tell you more about the ice cream maker I use, but any ice cream machine will do.  Give it a quick freeze and it's the perfect thick milkshake consistency.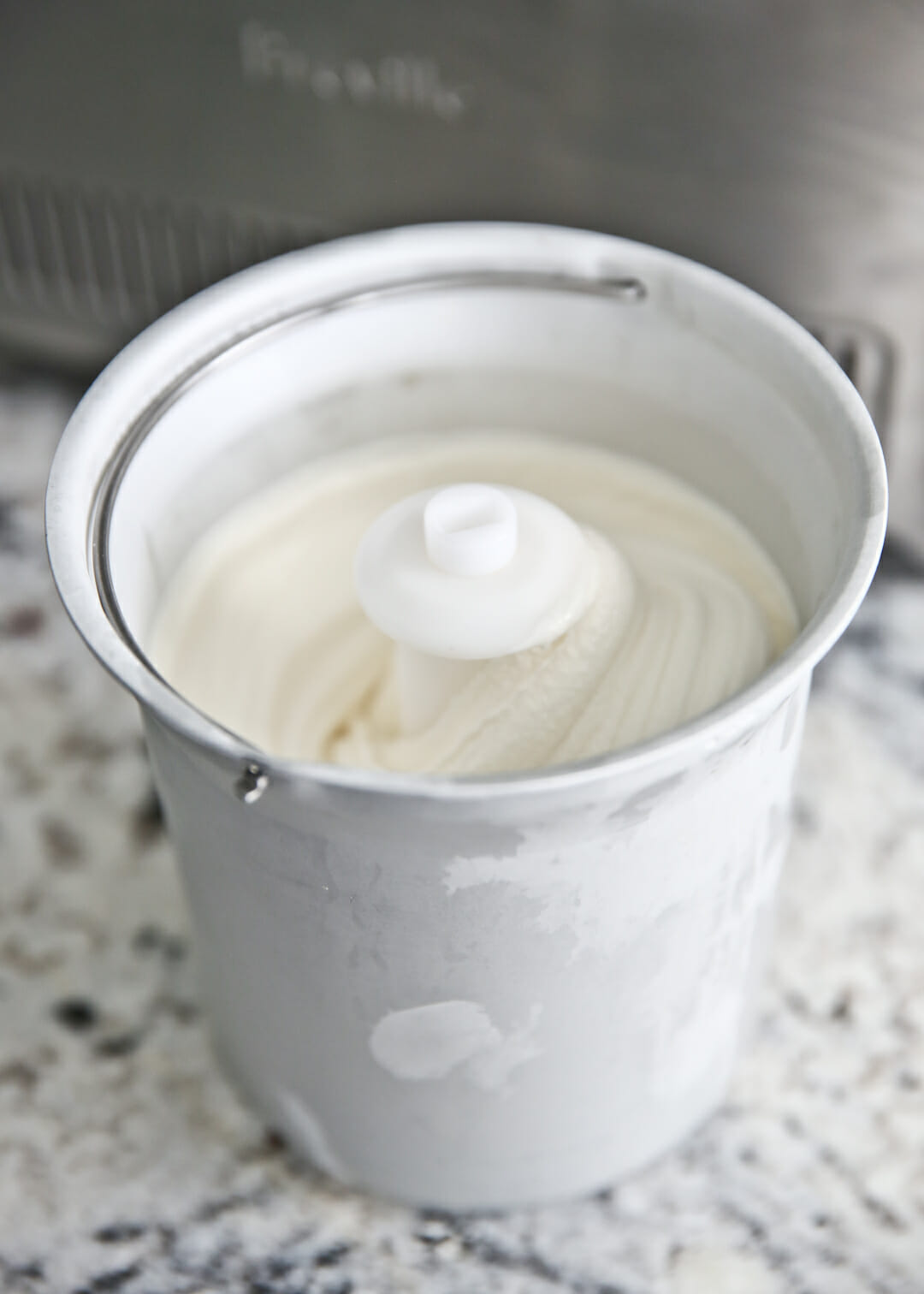 At this stage you can mix in any add-ins at the very end of churning, but I prefer to mix in by hand.  Usually as I transfer my ice cream from the machine to a freezer container, I layer in add-ins like this caramel sauce below:  a layer of ice cream, then swirl in some caramel, then another layer of ice cream, more caramel, repeat.  I feel like everything gets evenly distributed that way and instead of getting mashed into the ice cream and kind of pulverized, you get gorgeous, white, ice cream with pockets and ribbons of flavor.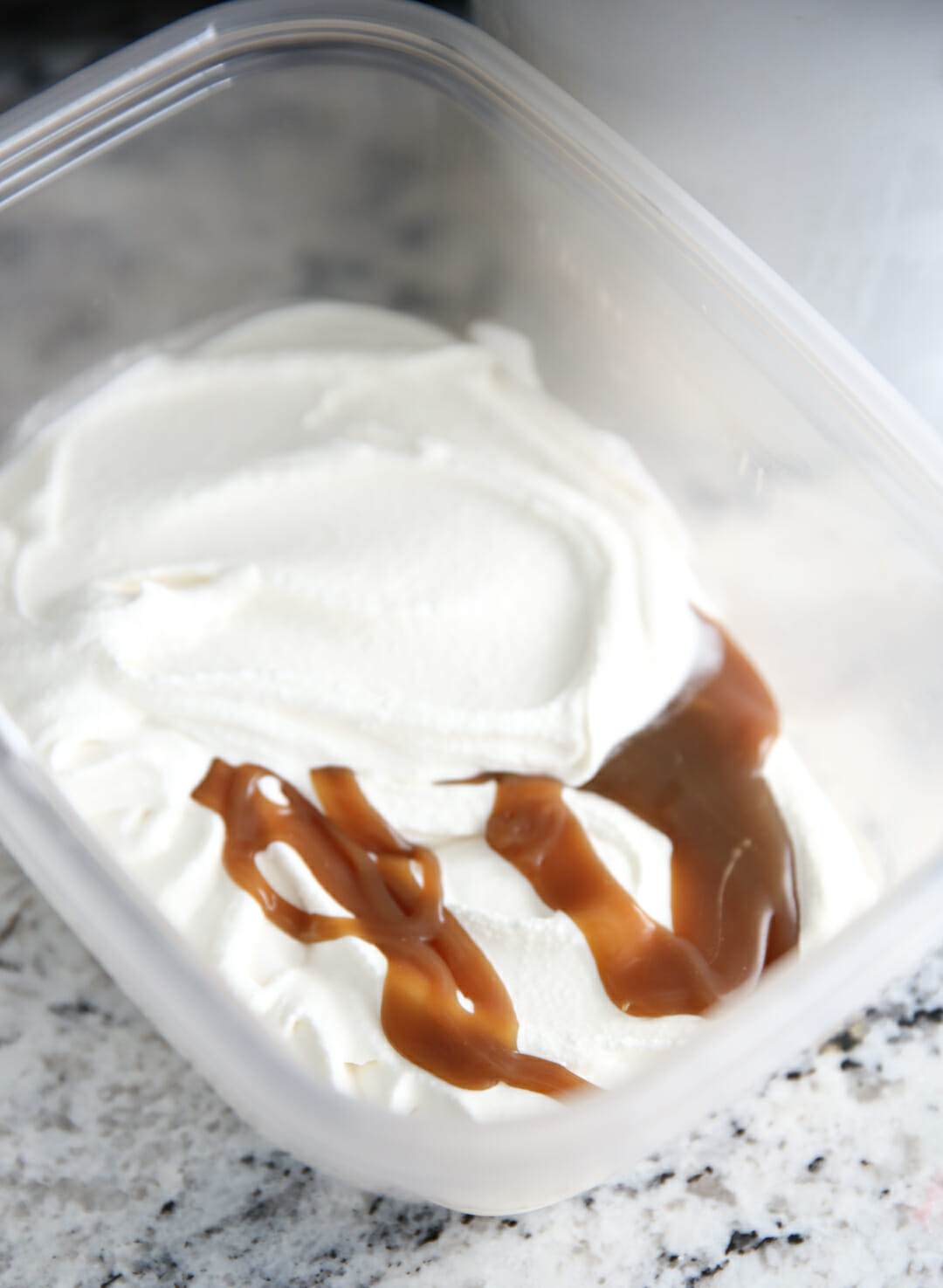 Our favorite thing to do is add in fresh fruit that we grow in our garden.  I take fresh raspberries and give them a quick mash with a spoonful of sugar and often a spoonful of raspberry jam (which gives them a nice smooth consistency when frozen).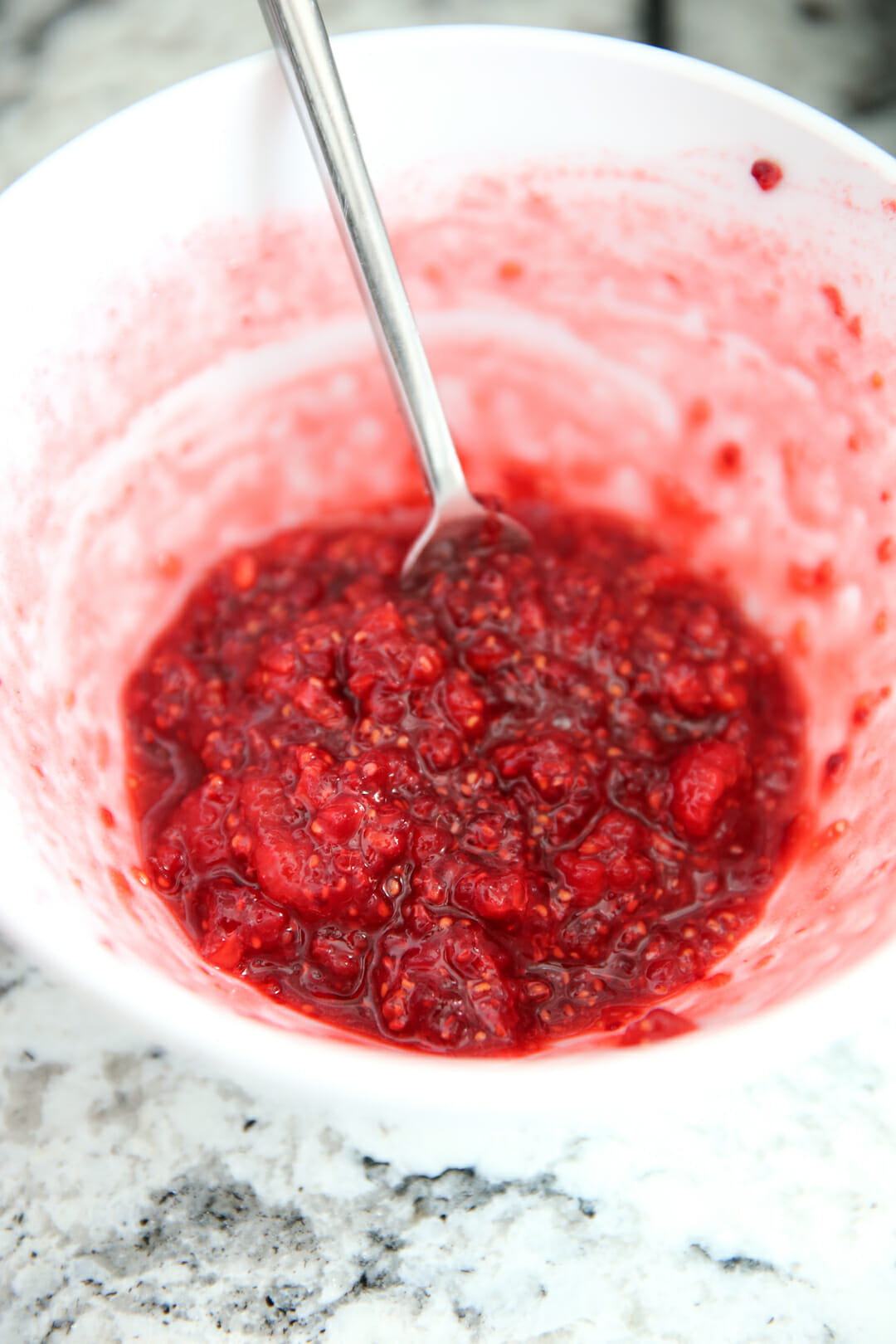 Layer it in the same style I described with the caramel and then let it firm up in the freezer.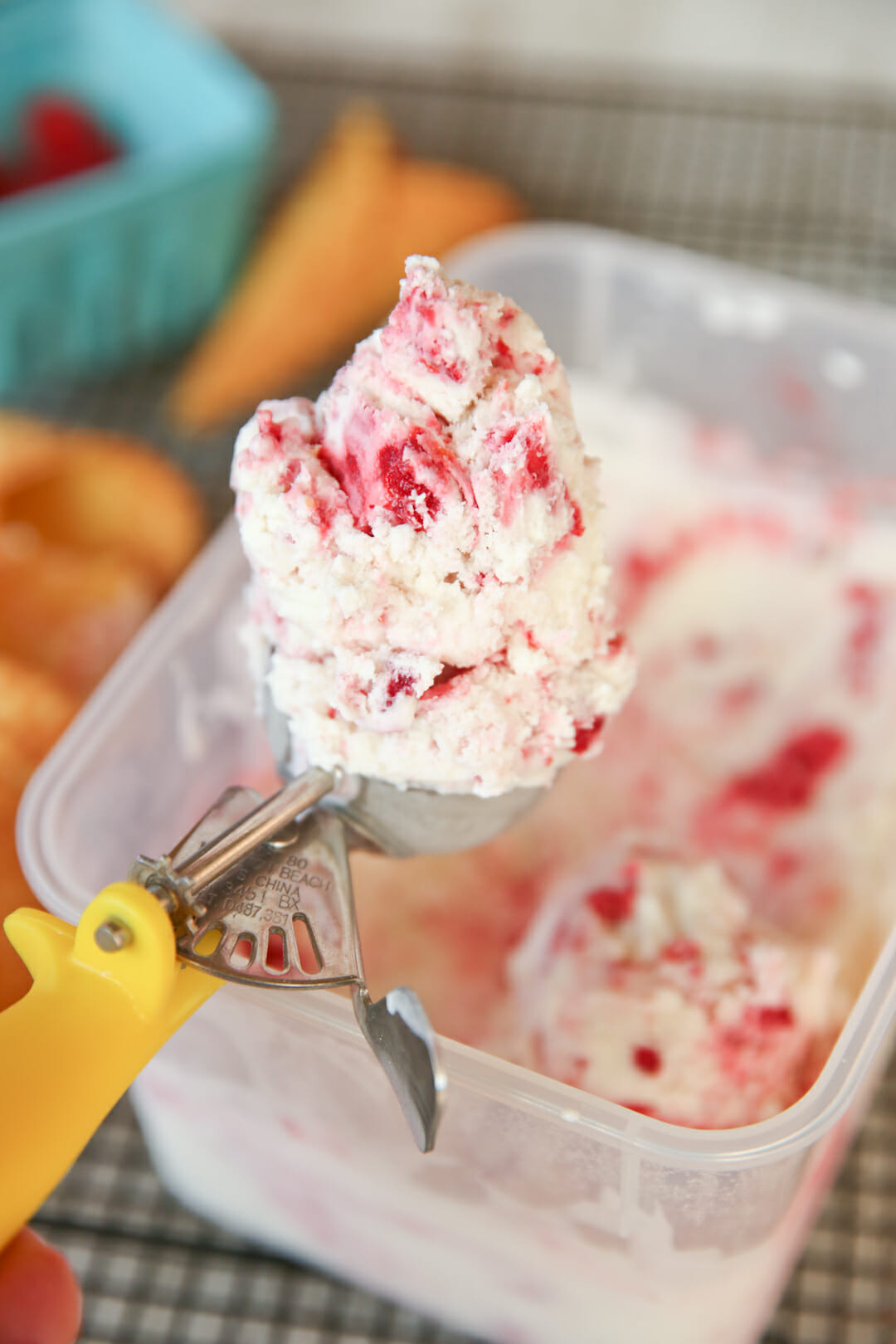 This is the most perfectly flavored, rich, creamy, sweet cream ice cream.  You guys, I honestly don't know if there's anything better than homemade ice cream with fresh fruit.  Actually, there is.  Homemade ice cream in a buttery homemade waffle cone.  You can get my recipe and tutorial for waffle cones by clicking here!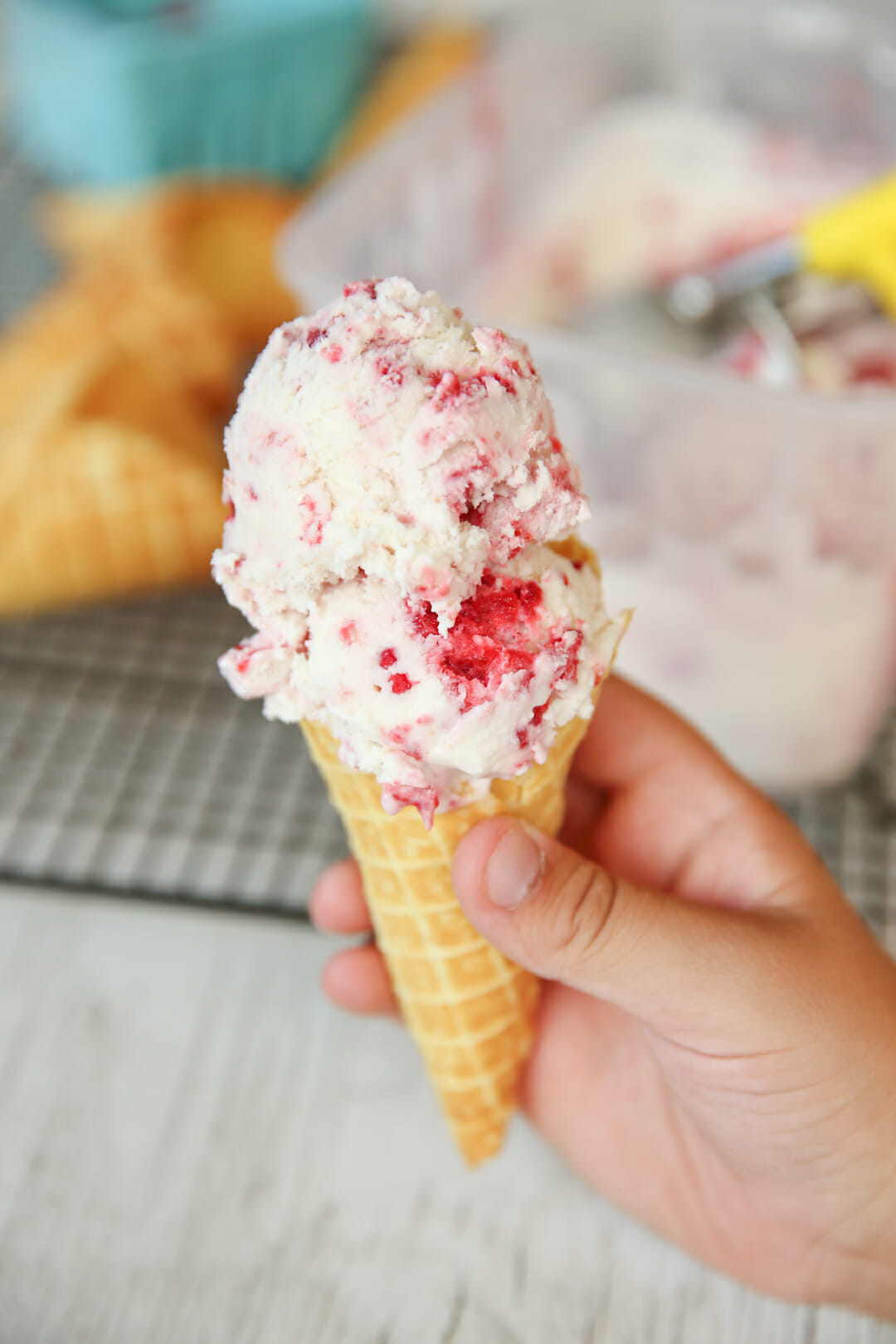 Ice cream is obviously associated with summertime but it's definitely a year-round regular at our house.  As we move into fall, this unadorned vanilla is the perfect thing to serve with warm fruit crisps and autumn pies.
When it comes to ice cream makers, don't think this recipe is out of reach if you don't have one!  There are so many great options for affordable machines.  Here's our three favorites, priced low to high.
 Cuisinart Basic Ice Cream Maker
This is a terrific moderately-priced machine that churns out 1 1/2 quarts of great ice cream. You freeze the insulated bowl and no ice is required.  I used this machine for years until I upgraded and passed this beauty, on.  It comes in a few fun colors, too.
2. Cuisinart Pure Indulgence Ice Cream Maker
This is the next step up in Cuisinart's line.  With a little bit larger 2 quart capacity and sleek stainless steel body, this machine is a nice step up and works great.  As with the previous machine, you just freeze the inner bowl.  Both Kate and I have one of these and love them!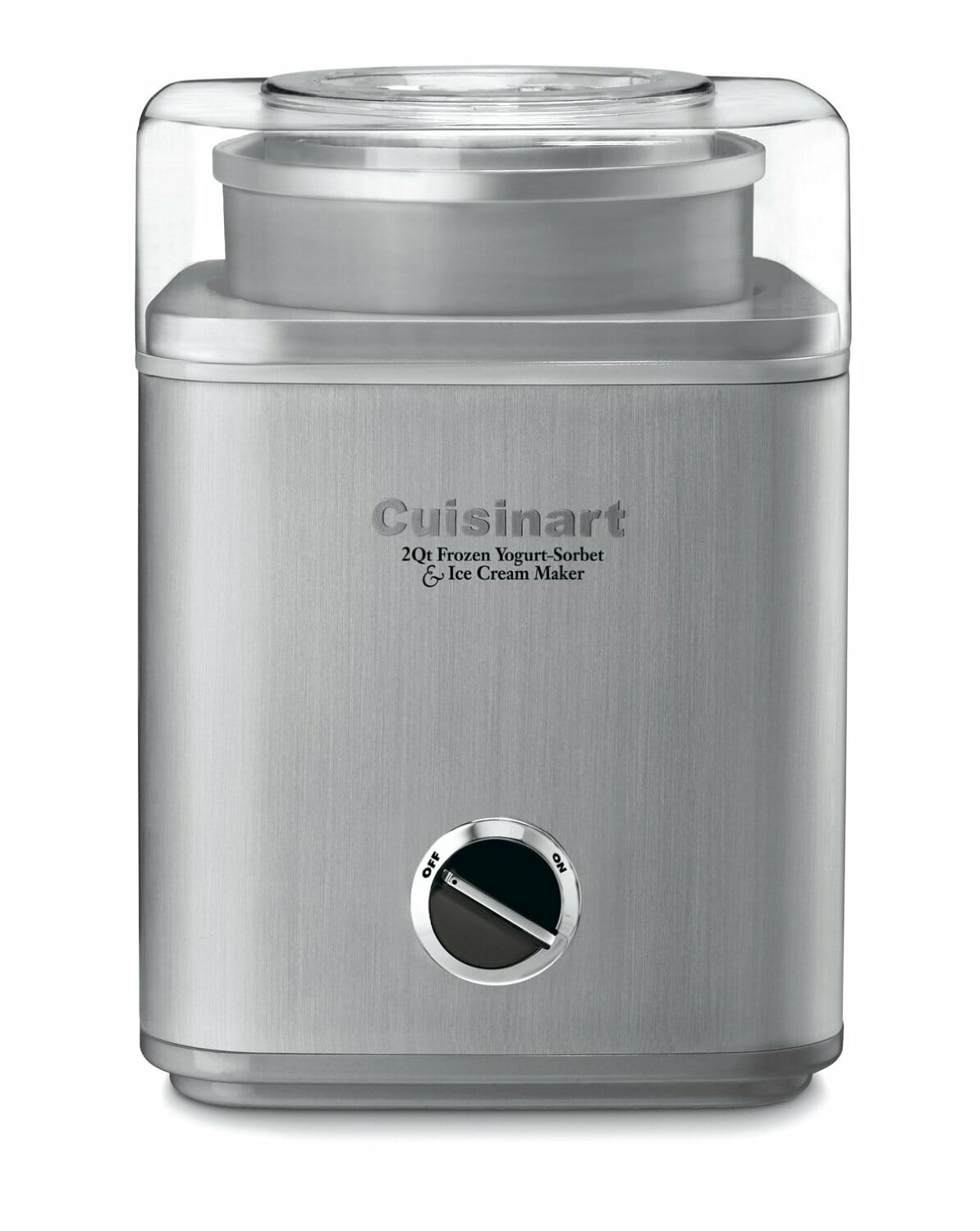 3. Breville Ice Cream Compressor 
The machine I currently use is this Breville.  It's a machine that carries a price tag for the serious ice cream connoisseur.  It's actually a compressor, which means you never have to freeze a bowl, you just turn it on and it instantly cools the machine to -40 degrees and you can crank out batch after batch.  It has 12 hardness settings, fully automatic or manual settings, the ability to keep your ice cream frozen for 3 hours and more.  It even plays music when your ice cream is done.  Cuisinart also makes a compressor version, but I've only used my Breville.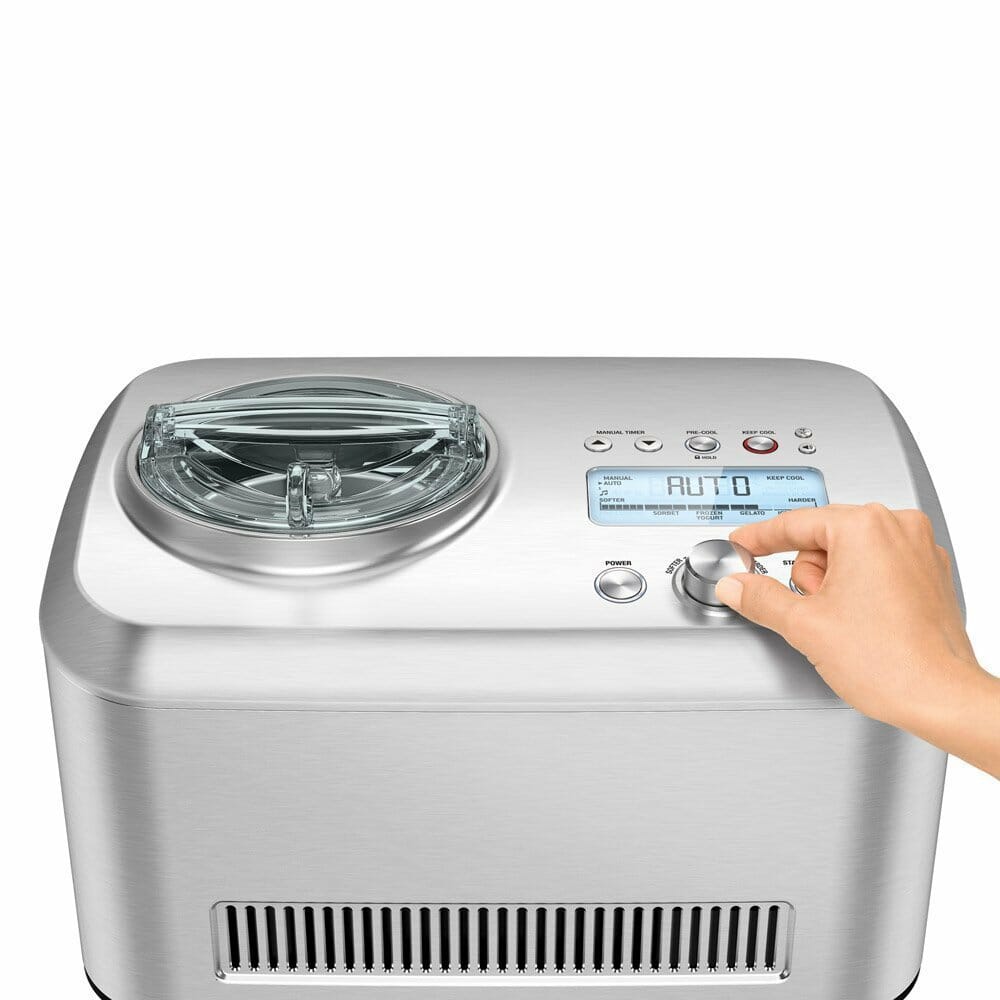 4.  Kitchenaid
I thought I would include this one even though I don't have one nor have ever used it.  If you own a KitchenAid mixer, you can buy this ice cream bowl attachment that just pops right on your mixer.  Does anyone have this one? I've heard good things!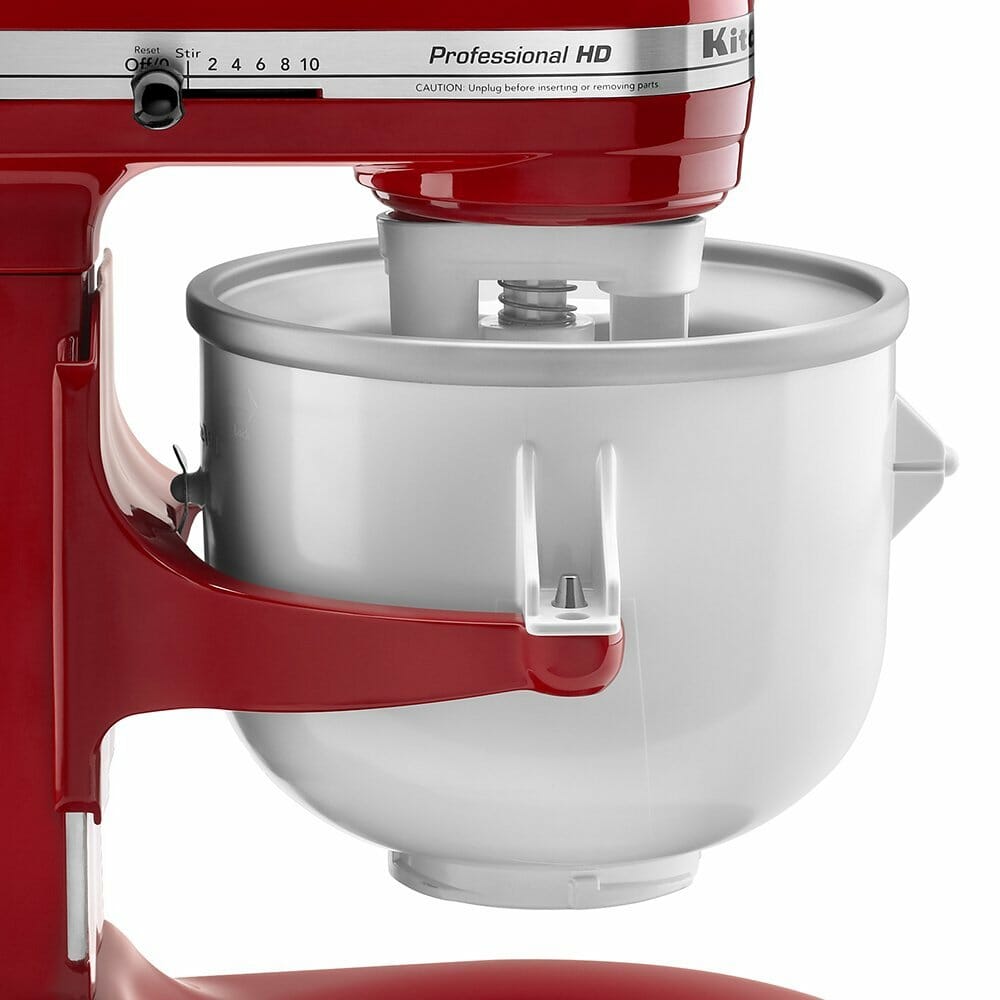 If you don't have an ice cream machine and have always wanted one, there's a few to put on your wish-lish.  In the mean time, you could try this no-churn ice cream (no machine required!)  If you do have one, definitely make this vanilla and tell me how you like it!
Print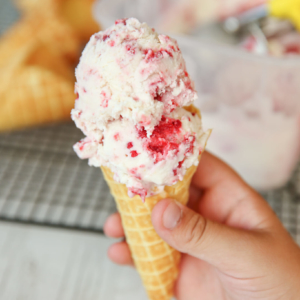 Easy Homemade Vanilla Ice Cream
---
Description
An incredibly quick and easy homemade ice cream with very few ingredients!
---
2 cups

heavy cream (or regular cream)

1 cup

whole milk

1/2

–

3/4

cups sugar (see note)

1 tablespoon

vanilla extract
Add-in options of your choice
---
Instructions
Whisk all ingredients together and process according to your ice cream machine directions. If desired, add toppings or add-ins in the last minute of churning, mix in by hand, or layer in by hand. Freeze in freezer until firm.
---
Notes
Adjust sugar content to your liking. I add more or less sugar depending on what I'm adding in.
-Hand mix in crushed cookies, sprinkles, nuts, cheesecake crumbles, fruits, etc.
-Mash fresh fruit in a bowl with a little sugar or a spoonful of coordinating fruit jam and then layer in swirls in the freezer container.
-Layer in swirls of caramel, chocolate, or fruit sauce in freezer container.
– Add extracts to your liking.
a