As you probably know from following any social media outlet at all over the weekend, it's National Ice Cream month! Sunday the 19th was National Ice Cream Day and it should come as no surprise that it's a holiday we wholeheartedly endorse. I am such a huge fan of homemade ice cream, so today seemed like the perfect day to share a recipe for a simple and delicious buttermilk ice cream. If that sounds strange to you, imagine cheesecake. This ice cream has a slight tang and mild sweetness reminiscent of the perfect creamy cheesecake, which makes it perfect along side fresh fruit.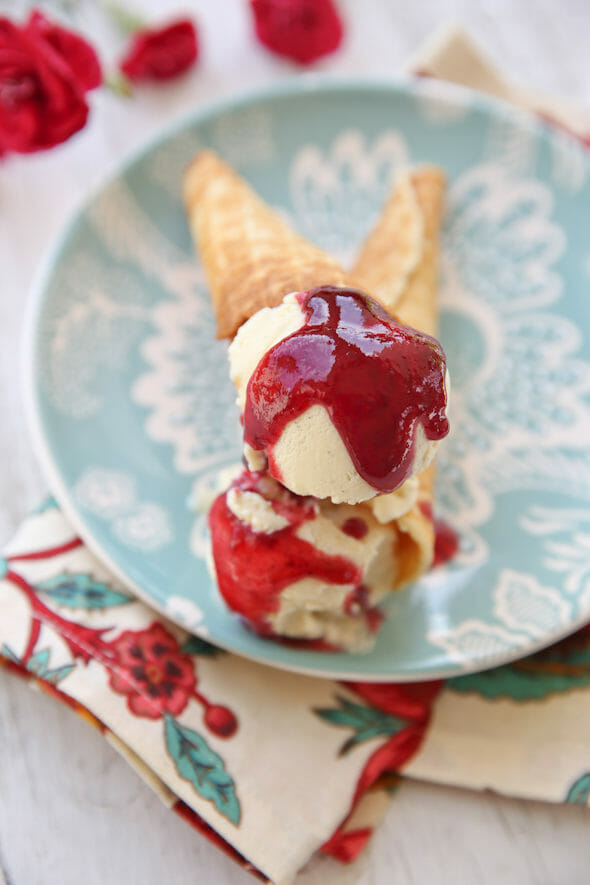 I find that quite often I buy buttermilk for one recipe or another and end up with an unused portion in my fridge that ends up getting thrown away eventually. Don't do that. make ice cream instead.
This is a custard based ice cream, which means it has a cooked egg base. Like any normal custard-based ice cream recipe, you'll heat up your milk (or buttermilk) cream, and sugar, and then temper your eggs. This recipe uses turbinado sugar, also called "raw sugar" and it gives it a beautiful warm color and flavor. Turbinado sugar is coarse and caramel color and you can find it in the baking aisle of the store. I put it on top of most of my baked goods because it gives them a sparkly crunch!
Once the eggs are cooked through you chill the mixture before you pop it into your ice cream maker.
Now, every time we post about ice cream we get questions about ice cream makers. If you don't have one yet, it really is a fun thing to have at home and there are a lot of reasonable options for different budgets. This is a great, inexpensive basic ice cream machine. If you're ready for a step-up from that, Kate and I have both had this one, and it's fantastic. If you have a Kitchenaid Stand Mixer, they make an ice cream bowl attachment. And if you're really serious about ice cream like I am, I recently saved up my pennies and bought the Breville ice cream compressor, and it's pretty amazing.
There are honestly few things in this world that compare to a creamy homemade ice cream in a buttery homemade waffle cone. You can get the recipe and tutorial for homemade cones, here!
This ice cream is so simple, yet so perfectly distinctly unique. I added a couple of fresh vanilla beans as well and I love the little speckles they add.
We topped this batch with a fresh fruit sauce made from some pureed berries and a heaping spoonful of our favorite fresh berry jam and I might say, it was perfection.
Speaking of perfection, has anyone seen my Huckleberry Pie Ice Cream in stores still? I am dying to find some but I think it's all sold out in Idaho and I'm so sad! I wanted so badly to stock up last fall and instead I had a baby and forgot about pretty much everything else, including ice cream. Which is okay. But I still wish I had some of that!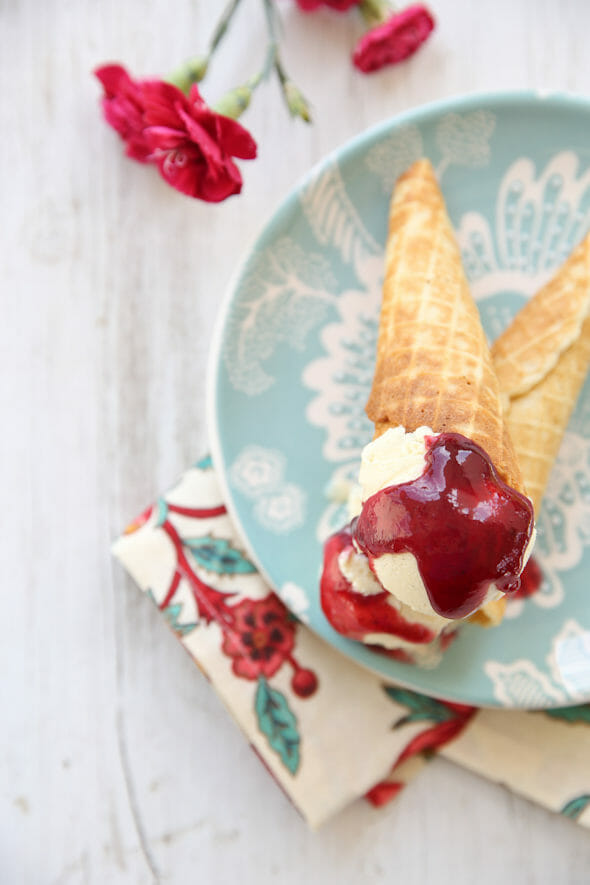 What's your favorite flavor of homemade ice cream? We have quite the collection ourselves, check them out, here!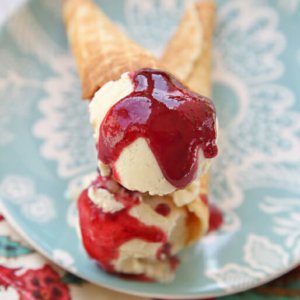 Buttermilk Ice Cream
---
Description
A rich and creamy ice cream with a flavor similar to cheesecake. This pairs beautifully with fruit!
---
6

large egg yolks

2 cups

heavy whipping cream

2/3 cup

raw/turbinado sugar
pinch of salt

1 cup

chilled buttermilk

1 teaspoon

vanilla extract
Equipment needed: Ice Cream Maker
---
Instructions
Chill medium size metal bowl in freezer until cold, about 1 hour (optional, but helpful.)
Whisk yolks in another medium metal bowl. Combine cream, sugar, and salt in large saucepan. Bring to simmer over medium heat, stirring until sugar dissolves. Gradually whisk half of hot cream into egg yolks, then return mixture to saucepan. Stir constantly over medium-low heat until custard thickens and coasts back of spoon when finger is drawn across, 2-3 minutes (do not boil). Remove from heat.
Pour cold buttermilk into reserved chilled bowl. Strain custard into buttermilk; whisk. Whisk in vanilla. Chill mixture uncovered until cold, stirring occasionally, about 2 hours.
Process custard in ice cream maker according to manufacturer's instructions. Transfer ice cream to freezer container. Cover and freeze until firm, at least 6 hours or overnight.
---
Notes
Grocer Tip: Raw sugar, or turbinado sugar, is coarse in texture and caramel in color. It adds a beautiful tan color to this ice cream and adds a warm hint similar to brown sugar. Find it in the baking aisle of the grocery store.