In continuing my focus on easy weeknight dinners this month (you guys set my Sheet Pan Fajitas completely viral!)  I'm bringing you another one of our family favorites: Homemade Crunch Wraps!  If you've never heard of a crunch wrap, it was made famous by fast food, but so easy to whip up a more wholesome (and just as fun to eat) version at home.  In this version, flavorful beef, melty cheese and creamy avocado are wrapped up in a fun to eat oragami-folded (not really but looks just as fun haha) tortillas and then toasted until crispy on the outside and so soft in the middle.)   Read below this photo to see all the reasons I love them!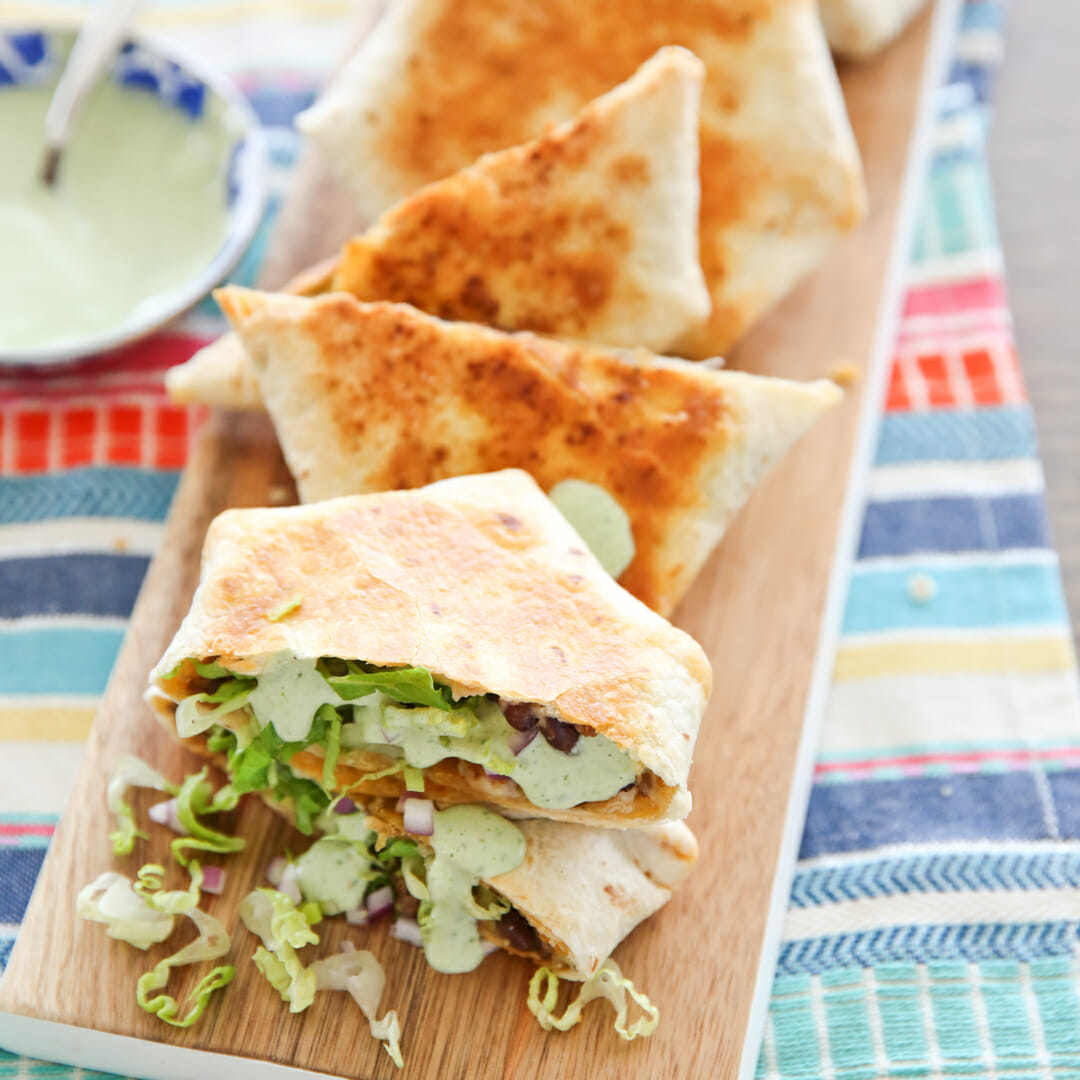 Here are a few of the things I love about Homemade Crunch Wraps:
1. With a quick side dish they can easily be transformed into an easy weeknight dinner.

2. They make a great grab-and-go snack or mini-meal
3. Unlike the same ingredients cooked like a burrito, you can stuff cold toppings into these after they come out of the oven.
4.  They're easier for kids to eat because everything is totally contained and can be hand-held.
5.  They're FREEZER FRIENDLY.  Make extra and stash in the freezer- they can go right into the oven frozen and bake up pretty quick!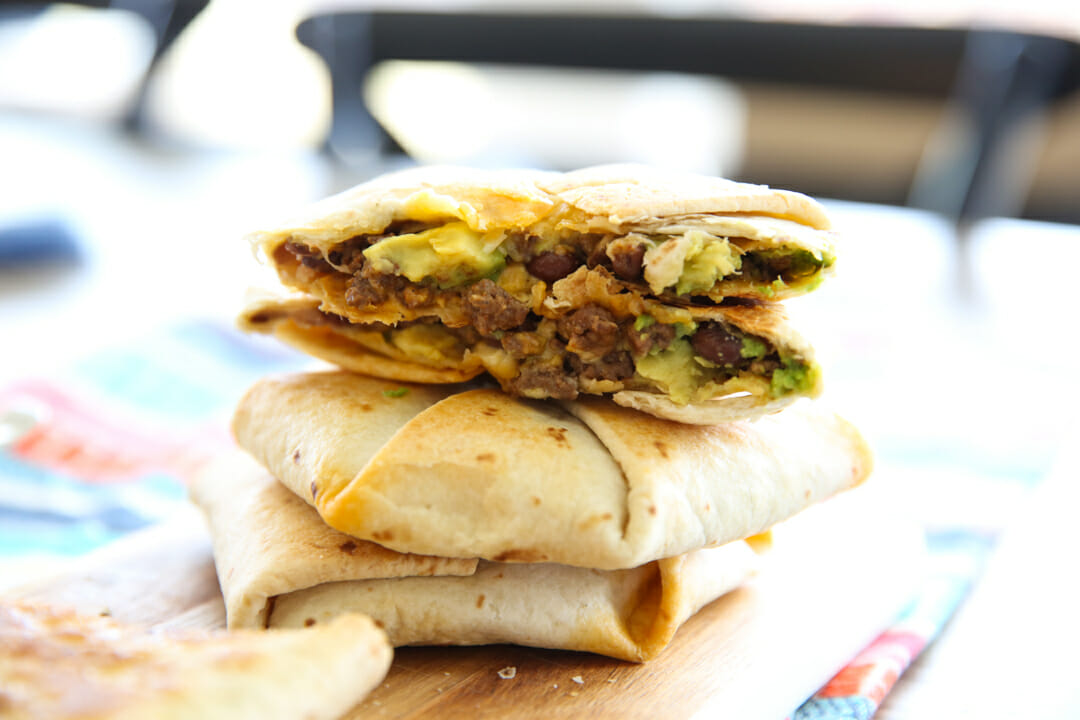 Prep the Crunch Wrap Filling
This is intentionally really simple: seasoned ground beef and canned black beans.  There's no dicing onions or mincing garlic and you don't even have to measure spices.  I simply brown the ground beef and throw in either a packet of store-bought taco seasoning, or this easy Homemade Taco Seasoning.  TIP:  This is something I often prep ahead and freeze, or keep in my fridge for the week.  Having a beef and bean mix ready to go makes it really easy to make this recipe, or toss in quesadillas, or over nachos or whatever.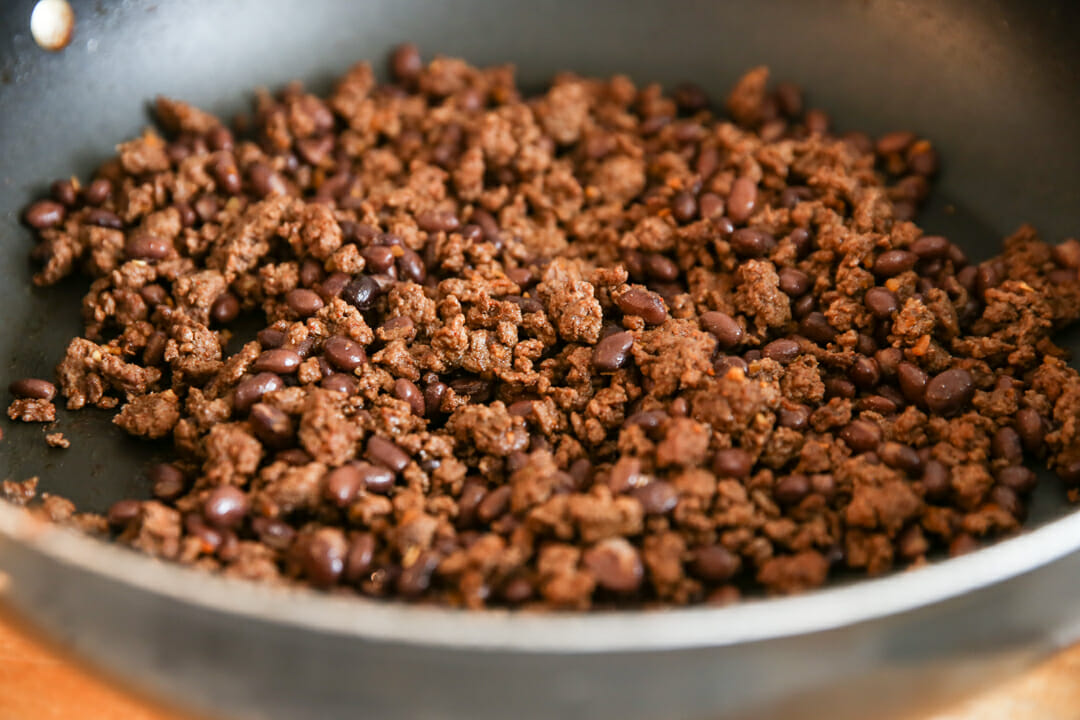 Assemble the Crunch Wraps
Assembling is easy, you just keep your filling in a circle in the center of the tortilla.  I like to put cheese on both the top and bottom of the filling so there's melty cheese touching all sides of the tortilla.  So put a sprinkle of cheese down, then some of your meat filling.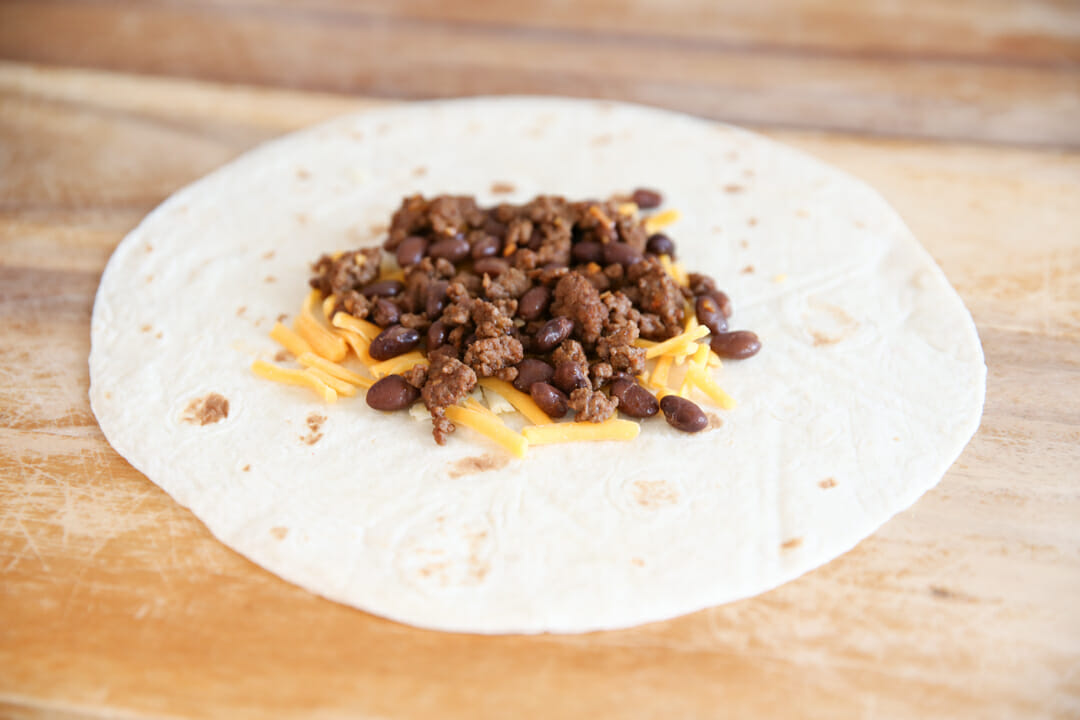 Next comes the avocados.  Now you can use fresh avocados, or if you don't have any, or the store doesn't have ripe ones that day, or they cost as much as a new pair of shoes, you can always use guac.  We buy these little individual packs of guac at Costco and have them in the fridge at all times (tip: they freeze well!) so I use those sometimes if I don't have avocados. If you're thinking it sounds weird to actually cook avocados (or guac for that matter) think again!  It is AWESOME.  They don't turn mushy or brown or weird.  Avocado adds a delicious creamy bite to Crunch Wraps that you'll love.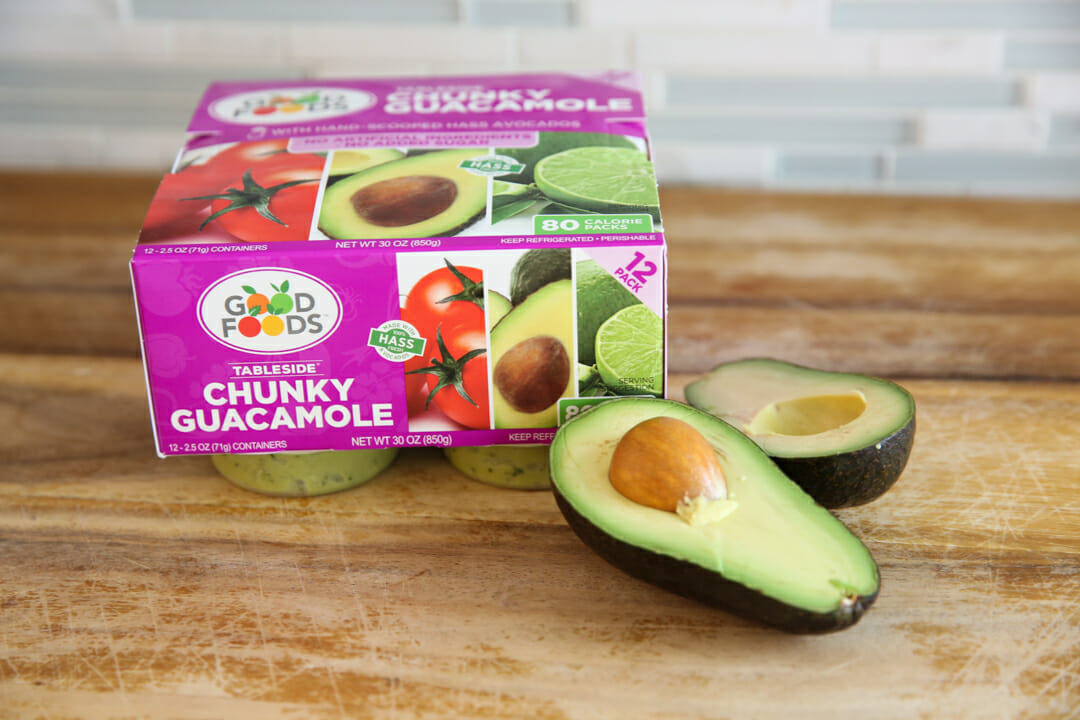 So add some slices or dices or whatever and then another sprinkle of cheese.  I'm using both cheddar and pepper jack in mine but you can use whatever you like.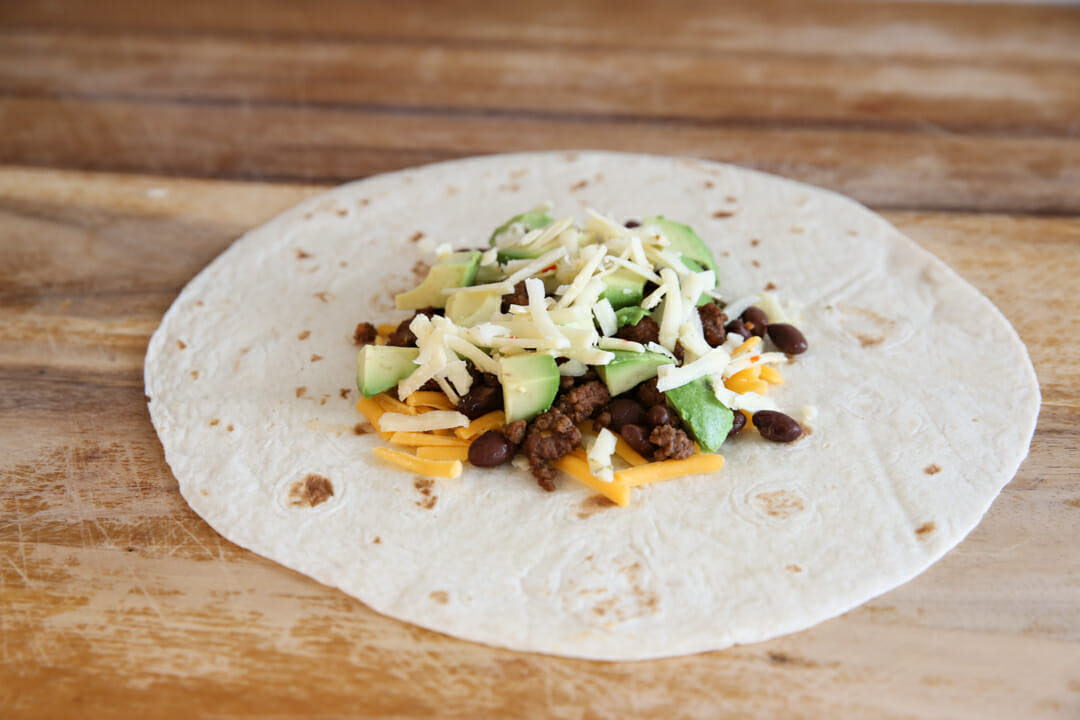 How to Wrap a Crunch Wrap
Now it's time to wrap those up.  This is the most integral part of a crunch wrap!  I'm mad that I snapped these pictures really quick trying to wrap with one hand and shoot with the other and they're burry but I'm going to post them anyway so you guys get it!  Fold one side into the center And then move around the crunch wrap continuing until it's all pinwheeled up and closed in the center.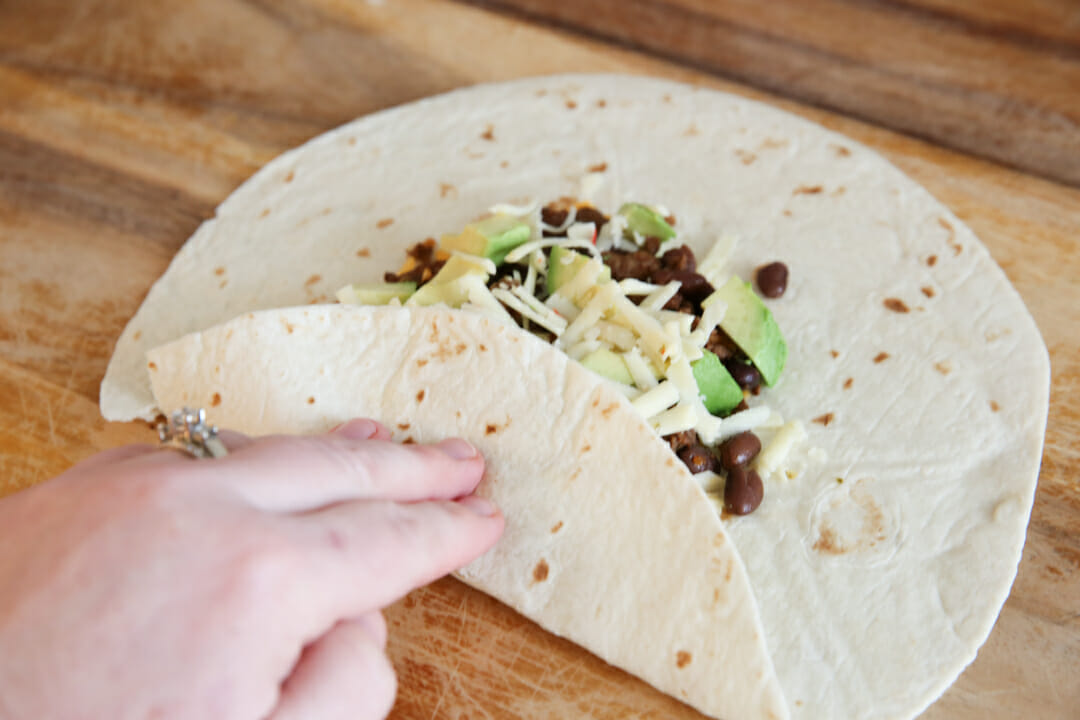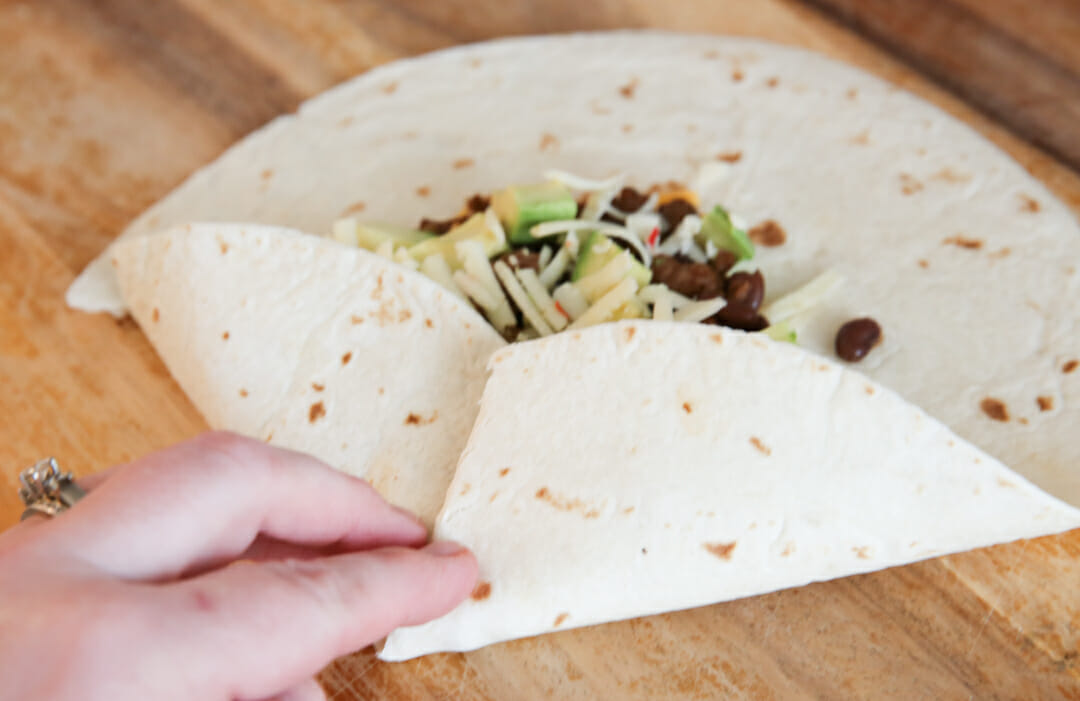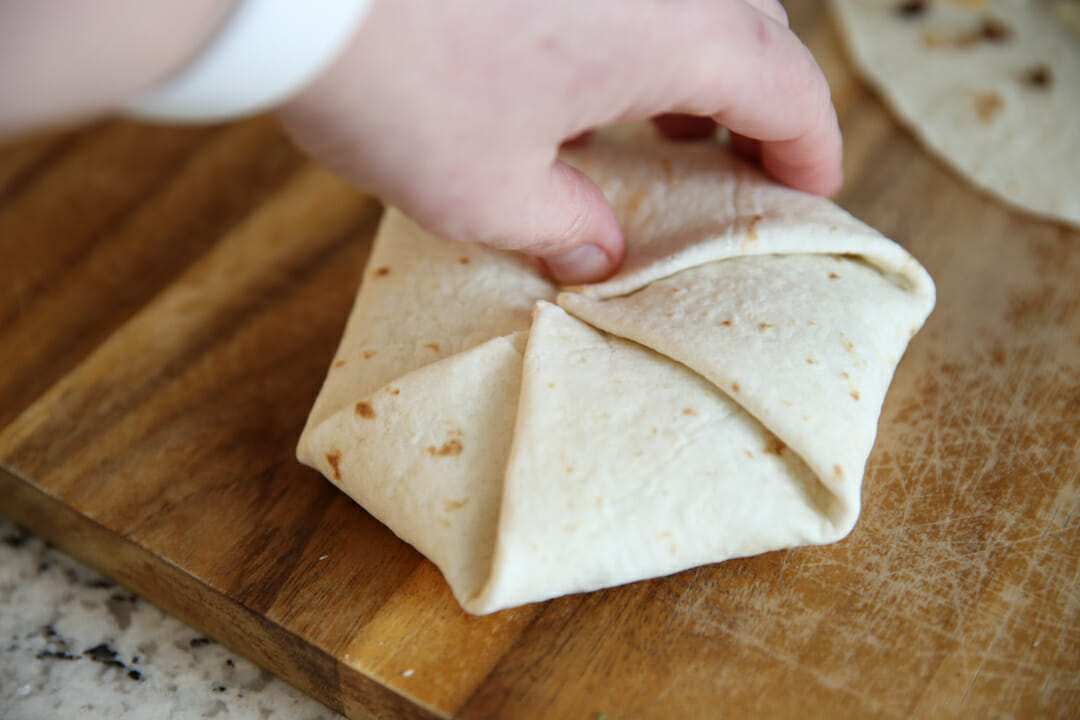 You'll want to flip it over and place seam-side down so they stay shut.
There's a couple ways to cook these but I'll show you how I cook a whole batch at once, like for my family.  TIP:  You'll see in the recipe we preheat our baking sheet.  It's piping hot so that when you pop these on the sheet it sizzles and crisps the outsides!  In order to do that you'll need a little oil on the outsides of the tortilla.
Baking the Crunch Wraps
After a quick brush of oil, they'll just bake until golden.  TIP:  Did you buy a giant bottle of True Lime because I have told you to a million times and now you're looking for other ways to use it??  After brushing with oil, sprinkle some on the outsides of these.  Just trust me.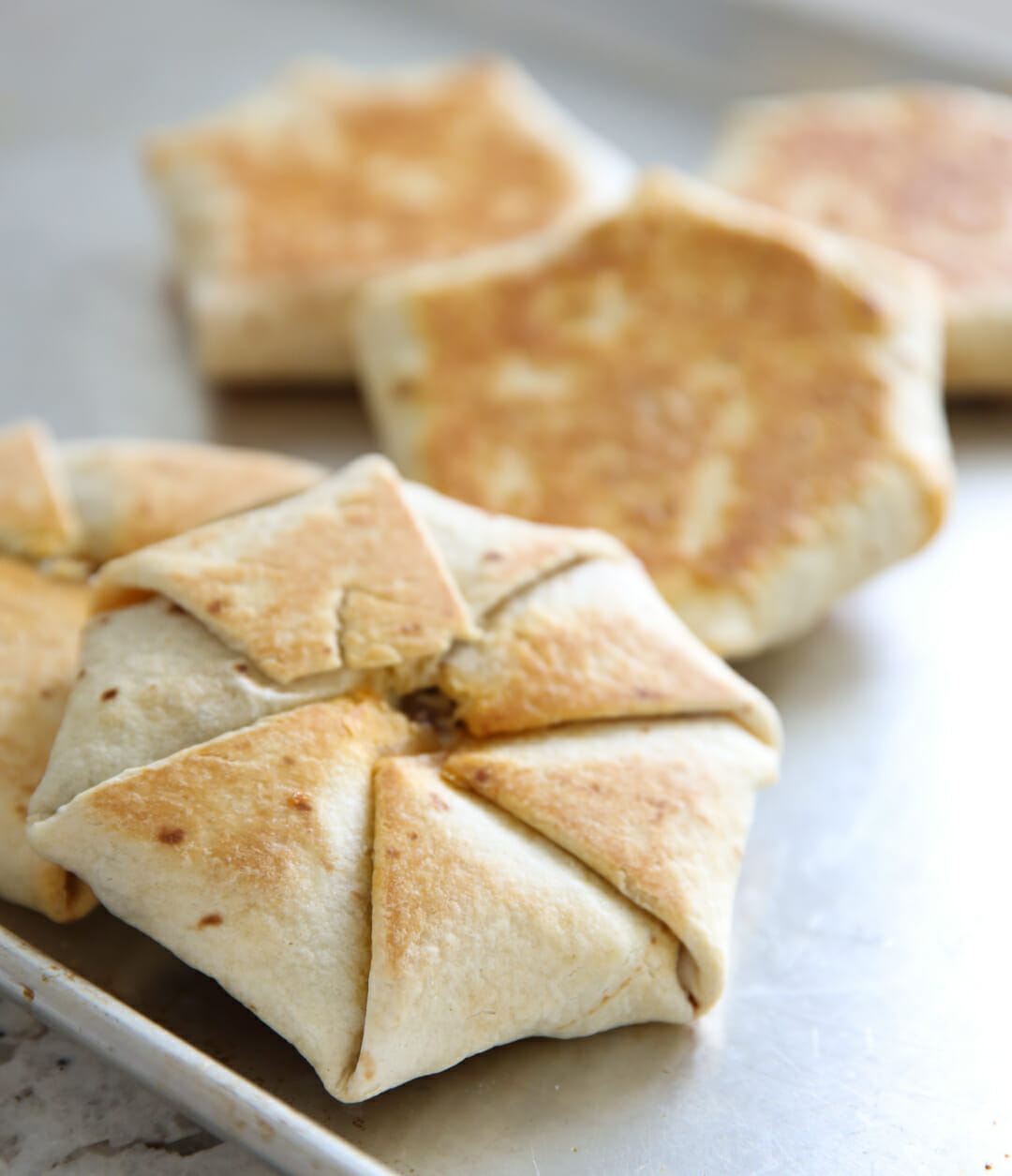 The outsides are crispy, but when you break into them you'll get the melty cheese and creamy avocado and it's such a great combo of flavors and textures.
How to Serve your Crunch Wraps
Now you can eat them just like this.  And these work just as well for a grab-and-go snack as they do for dinner.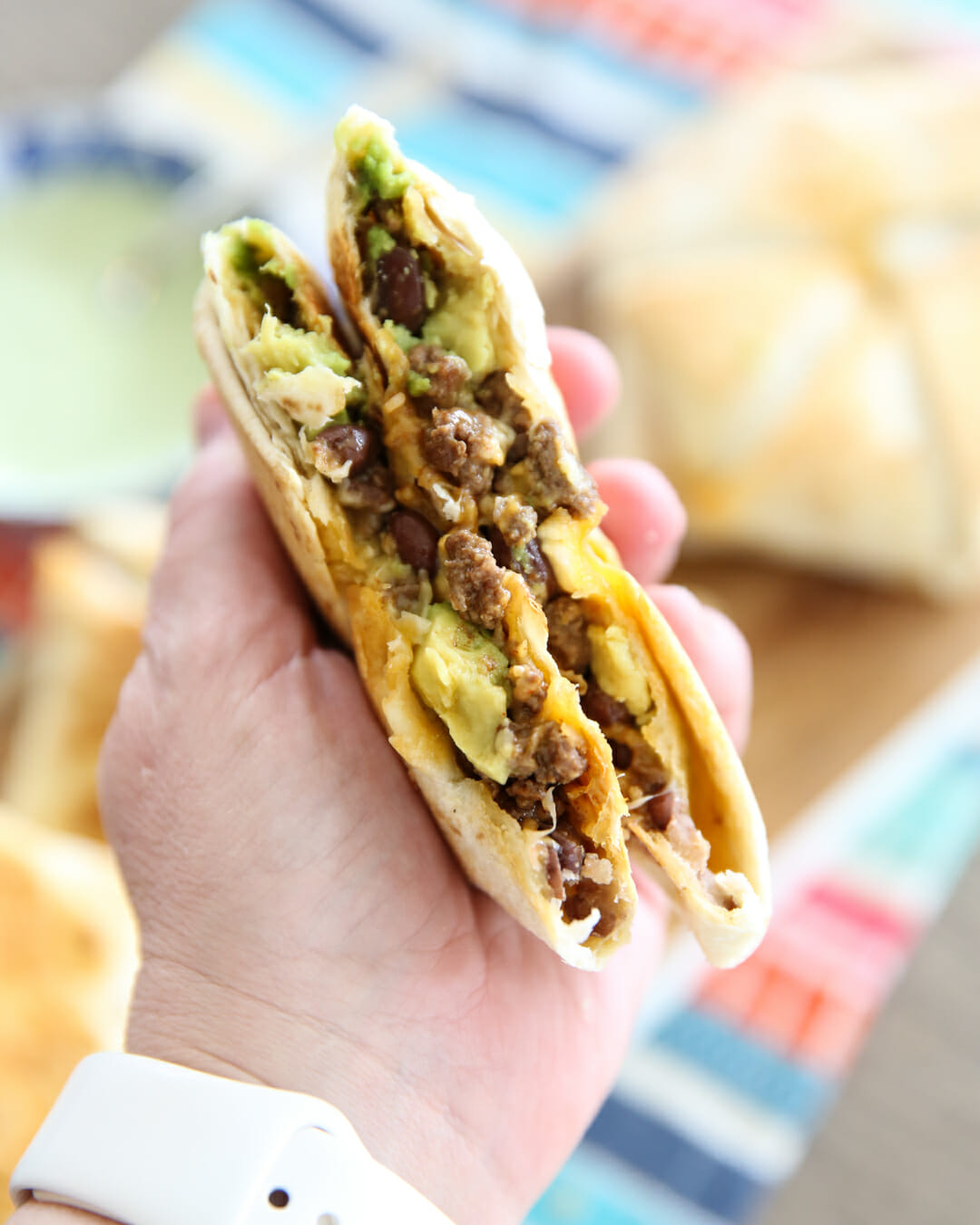 Or you can cut them in half and stuff some toppings in there.  We like shredded lettuce, diced or sliced onion, and a slice of fresh tomato.  You can serve them with some sour cream, or our favorites, either my Lime-Cilantro Ranch or Homemade Ranch.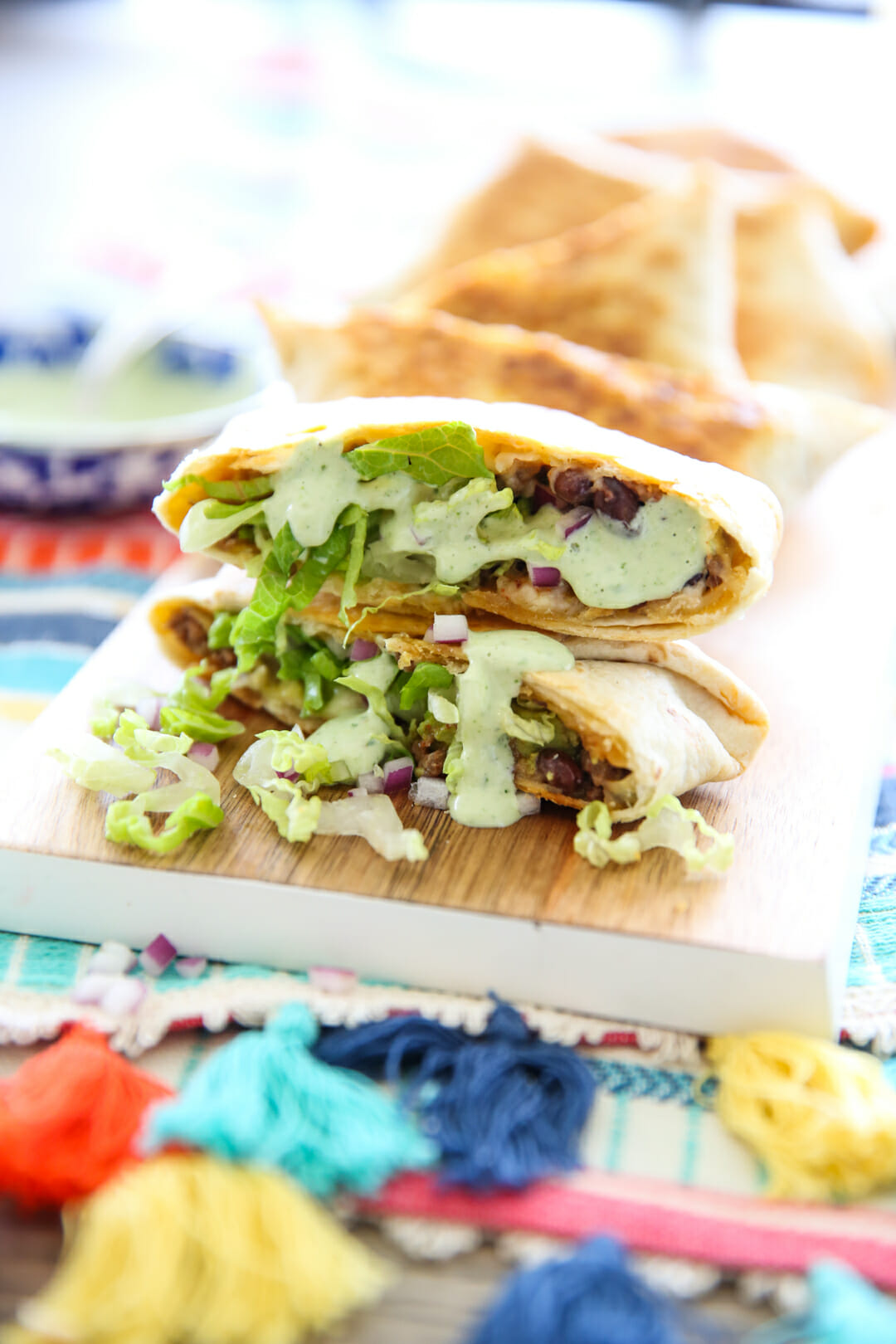 My kids all love them plain and dipped!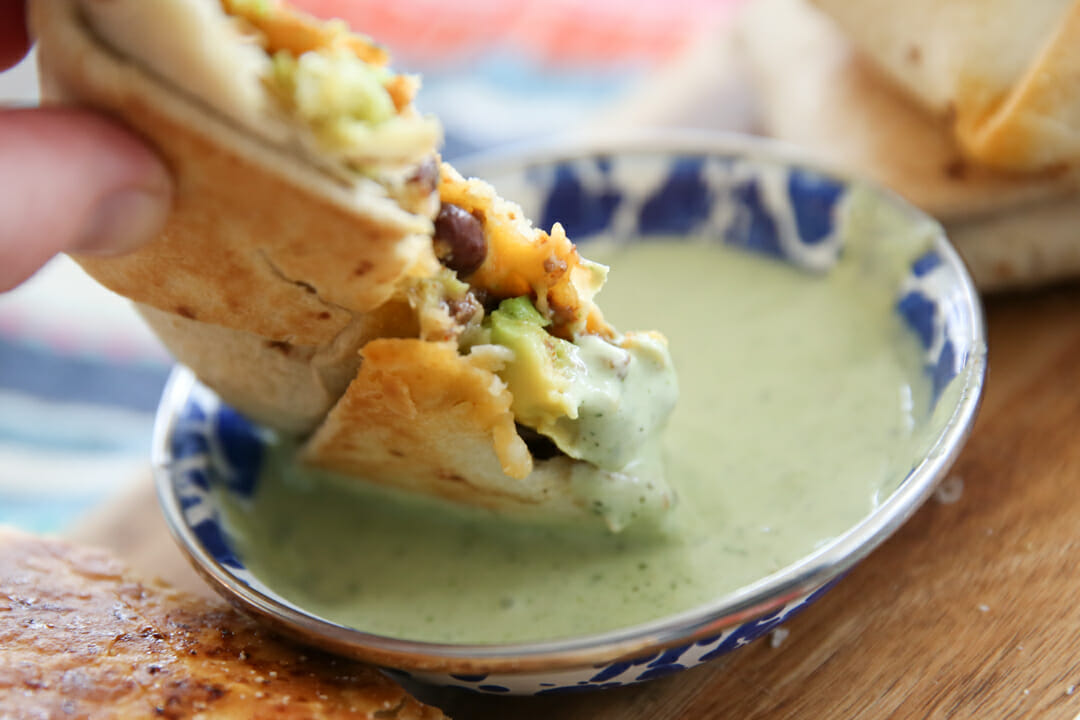 Anyway you do it, these are sure to be a hit and it's a handy thing to keep in the freezer, too!  See the recipe notes for full freezer instructions and make a big batch to store away for an easy bite!
Follow and Tag Me on Instagram!
If you make these, tag me on Insta, or leave a comment so I can see!  My FAVORITE thing is to see you guys enjoying these recipes in your own homes!  You can find me by clicking here!
Print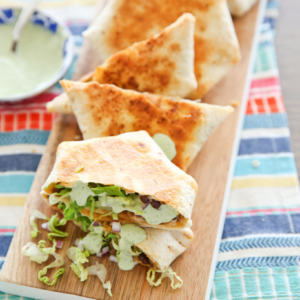 Beef and Cheese Crunch Wraps
---
Description
These hand-held crunch wraps crispy on the outside and soft, tender, and flavorful inside.  They're filled with flavorful ground beef, cheese, and creamy avocado.  They're freezer friendly and great for both a quick dinner, or a grab-and-go snack!
---
1 lb ground beef
1 packet taco seasoning, OR homemade taco seasoning
1 can black beans, drained and rinsed
2 cups shredded Pepperjack cheese (or Jack or Cheddar), more if desired!
2 medium-large avocados (or you can sub store-bought guac)
8 burrito-size tortillas
oil or cooking spray (our favorite is Lime Olive Oil)
---
Instructions
Place a sheet pan in the oven and preheat oven to 400 degrees.
Preheat large skillet to medium heat.  Brown ground beef and drain fat if necessary (shouldn't be necessary if using lean ground beef).  Add taco seasoning and stir to combine . If you're using store-bought taco seasoning sometimes it requires a little water in the pan as well, just make it according to the packet instructions.
Add black beans and stir to combine.
Lay out 8 tortillas on large work surface.  Place a small handful of cheese in the center of each tortilla, spreading it out in about a 3-inch circle in the center.  *You can make these as cheesy as you like!  At minimum, use about 1/4 cup shredded cheese on each crunch wrap.  You'll use half of that amount on the bottom layer of the filling, and place the other half on top.  My kids all like a little more than that though!
Divide the beef and bean mixture between the tortillas, spooning it on top of the cheese.  Slice or dice your avocado and place on top of the beef mixture. (*I sometimes sub store-bought guac since we usually have the individual packs from Costco.  If you're buying it at the grocery store, Wholly Guacamole is a great choice.)   
Top with another little handful of cheese.
Wrap each crunch wrap referring to the photos in this blog post and place them seam-side down to keep them closed.  

Drizzle oil of choice (we love Lime Olive Oil for this use!) on each one and use clean hands to gently massage on both sides of wraps.
Remove sheet pan from oven and place crunch wraps seam-side down on pan. (Be careful, it's hot!).  Bake for 10 minutes and then flip wraps over and cook for another 10 minutes or until toasty and golden on the outside.
If desired, cut in half and add toppings before eating (shredded lettuce, onions, fresh tomatoes, etc.) . Or simply eat as-is!  These are also amazing dipped in Lime-Cilantro Ranch, or Homemade Ranch or simply sour cream.
---
Notes
Skillet Directions:  Simply heat a large skillet or griddle to medium heat.  Instead of brushing crunch wraps with oil, simply add some to the pan (or non-stick spray works great here as well) and cook on both sides until toasted and golden.
FREEZER INSTRUCTIONS:  After brushing with oil, place Crunch Wraps on a parchment-lined pan in a single layer and freeze until solid.  After frozen, they can be stacked in a container or zip top bag.  You can separate the crunch wraps with parchment to ensure they don't stick together.  To bake from frozen, don't worry about preheating your pan, simply preheat the oven to 400 and bake for about 15 minutes on first side (check to see if they're browned before you flip) and 10-15 on the second.  You can eyeball it, you just want them toasted on both sides!