When I was pregnant with my oldest, I had this recipe for beef tips and gravy that I kind of became obsessed with. I was craving red meat and it really hit the spot, plus it was so easy (beef, onion soup mix, cream of mushroom soup, crock pot, done.) So I decided to remake it awhile back. Turns out it was not as delicious as I remembered it. I don't know if it was the pregnancy talking or if my tastes have changed, but it tasted kind of like cafeteria food. And not those delicious peanut butter bars.
I set out to make a beef tips and gravy recipe that was almost as easy, but I wanted to do it without condensed soup. This ended up being an unnecessarily stressful element–I was all prepared to add stuff at the end to help bolster up the gravy, but it turns out that because of the flouring/searing/slow-cooking, we had just the magical amount of liquid and thickening agents for tender pieces of beef with flavorful mushrooms and then this perfect gravy. With literally no work after it was done. Totally my kind of dinner–the older my kids (heck, the older I) get, the more I hate the hour right before dinner.
So to get started, take out 2 pounds of beef stew meat (or cut up 2 pounds of something like London Broil). If you have any really large pieces, cut them into pieces that are a little more bite-sized.
Heat 2 tablespoons of extra-virgin olive oil in a large skillet or Dutch oven (I used our garlic olive oil). Heat the olive oil over medium-high heat.
While the oil is heating, take 1/4 cup all-purpose flour and 1 teaspoon steak seasoning (I used McCormick Steak Mates Montreal seasoning)…
and combine them.
Shake the flour and seasoning together in a large Ziploc bag, then add the beef pieces, seal the bag, and shake it until they're evenly coated.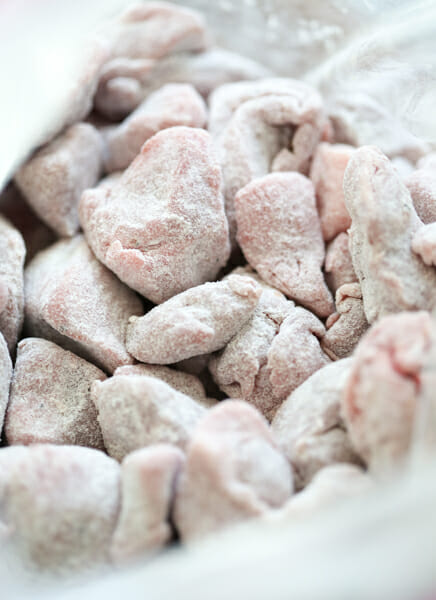 When the oil is very hot, turn the heat all the way up to high. Add the floured beef pieces to the hot oil and sear them until they're (mostly) well browned. You don't want to cook the beef through, just get a nice sear on the edges of the meat, but because you're dealing with a whole bunch of little pieces, that's obviously not going to happen to every piece on every side. So just sear it for about 3-4 minutes.
Transfer the beef and scrape everything from the pan into your Crock Pot.
Take a medium onion and 4-5 cloves of garlic…
Chop the onion in half and peel it. Thinly slice it, then chop the garlic and toss them into the pot. Sprinkle with a packet of onion soup mix.
Add an 8-ounce package of sliced mushrooms (I'm using baby portobellos.)
Add in 1 cup beef broth…
and cook on low for 7-8 hours or high for 5-6 hours or until the beef is very tender. Stir in the red wine vinegar.
Serve over hot rice or egg noodles (homemade egg noodles, anyone?). Makes 6-8 servings.
Also. In case you didn't see, there was a problem recording the entries with our MightyNest giveaway, so it's re-opened with even better prizes–$250 worth of baking awesomeness for you, plus a $250 donation to the school of your choice! So be sure to head over to that post and enter!
Beef Tips with Onion & Mushroom Gravy
Recipe by Our Best Bites
Ingredients:
2 pounds lean beef stew meat
1/4 cup all-purpose flour
1 teaspoon steak seasoning (like McCormick Steak Mates Montreal Steak Seasoning)
2 tablespoons extra-virgin olive oil
1 medium yellow onion, cut in half and sliced
1 8-ounce package sliced baby mushrooms (I used baby portobello mushrooms)
4-5 cloves garlic, minced
1 1-ounce package onion soup mix
1 cup beef broth
2 teaspoons red wine vinegar
kosher salt and freshly ground black pepper to taste
3-4 cups hot cooked rice or egg noodles
Instructions:
Heat the oil in a large skillet or stockpot over medium-high heat. While the oil is heating, toss the flour and steak seasoning together in a bag (like a roasting bag or a large zip-top bag). Add the beef and toss until evenly coated.
When the oil is hot, add the seasoned beef and cook for 3-4 minutes or until browned on all sides. Transfer the beef to a slow cooker. Add the onion, mushrooms, garlic, onion soup mix, and beef broth. Cook on low for 7-8 hours or until the beef is very tender. Add the vinegar and season to taste with salt and pepper. Serve over hot rice or egg noodles. Makes 6-8 servings.