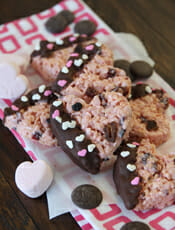 Guess what?  It's February!  Every January we dedicate our posts to healthy recipes and everyone is gung-ho about it until about the last week or so and then people stop commenting and the angry emails start rolling in demanding we bring back sugar. We get it.  We feel the same way without our treats so we're happy to be bringing them back from hiding!
I've had an obsession with berries and chocolate ever since I was a kid and my Mom introduced me to her favorite DQ Bizzard flavor: chocolate covered cherry.  Even though now, when it comes to desserts I'm usually a chocolate mint or chocolate peanut butter, or chocolate chocolate kinda girl, when I hit up DQ I almost always go for chocolate cherry.  There's something about berries and chocolate that's nostalgically comforting to me, and strawberries and chocolate are such a perfectly Valentine-y combination.  I also have a little obsession with rice krispie treats.  I'm thinking one day I could write a book with 101 variations, because that's about how many I have up my sleeve.  When I saw these last year: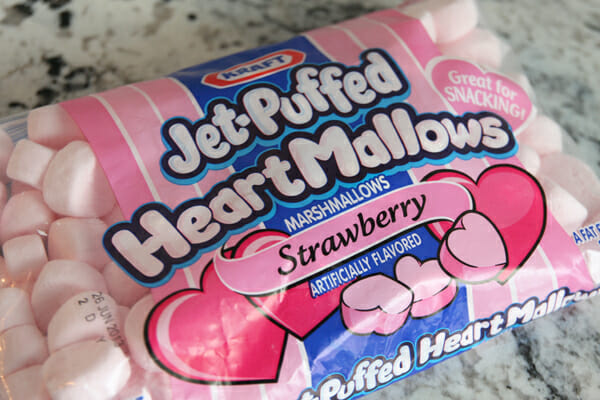 I knew exactly what I'd do with them: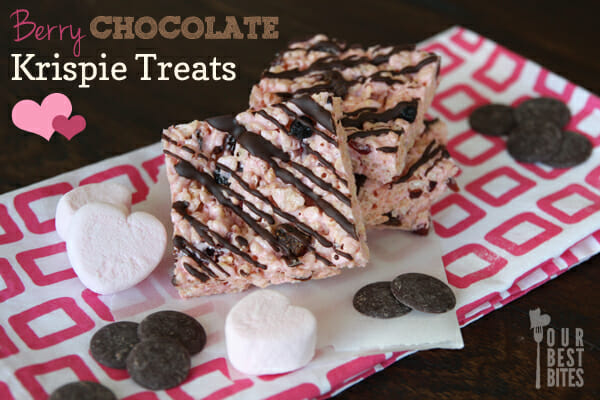 If you can't find these cute heart-shaped, strawberry flavored marshmallows, just use regular ol' marshmallows and add a little strawberry flavoring (either oil or extract, raspberry would be good, too) to taste and a few drops of food coloring if you want the pale pink color.
Melt the marshmallows with a little butter in the microwave.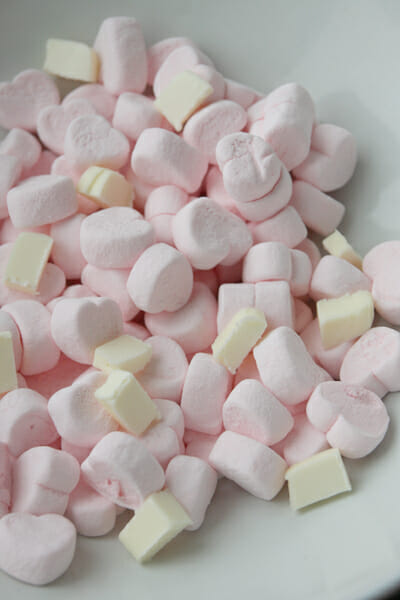 When it's melted and smooth, add a little almond extract.  If that seems funny, almond is a flavor that really enhances berry flavors.  I use it in most things I make that are strawberry or cherry flavored.
I'm also adding some dried berries.  I love dried strawberries here, but they can sometimes be hard to find.  Surprisingly, Walmart seems to always have them.  I like dried berries better than freeze-dried berries here, and while you can certainly dry your own strawberries that's way too much work for me for a quick treat like this.  So if you can't find dried strawberries, you should be able to find dried mixed-berries: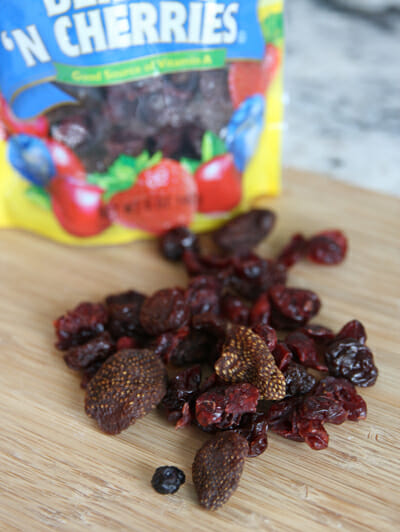 They usually have strawberries, blueberries, cherries, and sometimes cranberries in there.  I'm not a huge fan of cranberries here because I feel like the tartness overpowers the mild strawberry flavor (I actually went so far as to pick the cranberries out of my bag!)  But cherries work well if you have those.  Give them a rough chop and then toss them in with some rice krispie cereal.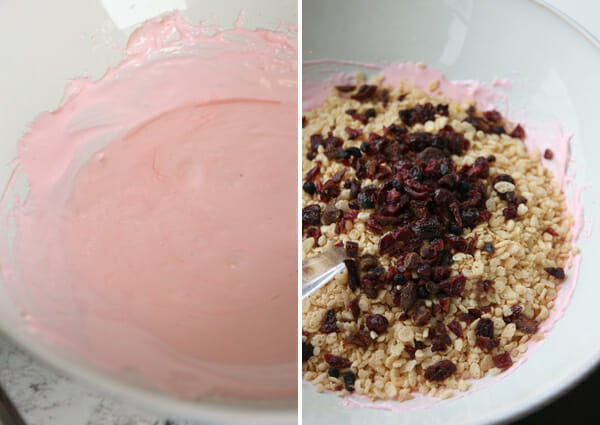 You know the drill; mix 'em up and pat 'em down.  I like to line my pan with buttered waxed paper, and if you butter your hands, they're way easier to pat down.  I pressed in a few extra berries on top, too.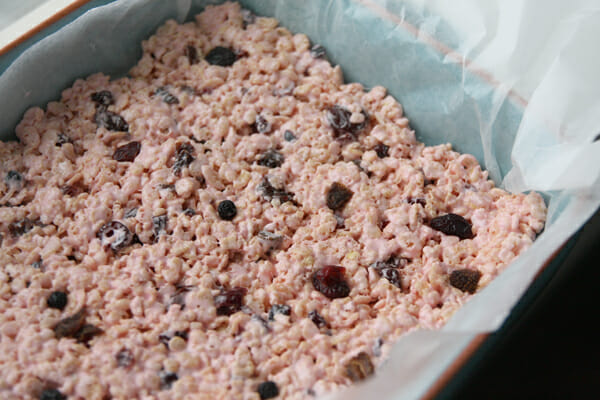 Because berries and chocolate are better than berries and berries, we're going to give them a little drizzle.  I'm using some extra dark baking chips from Santa Barbara Chocolate Company because I have 6 pounds of them (yes SIX) in my pantry right now and since I can't stop eating them straight from the bag, I figure the logical thing to do is bake more treats.  They have a really great flavor, and when I'm using chocolate to top a sweet dessert, I really like to use a darker chocolate for balance.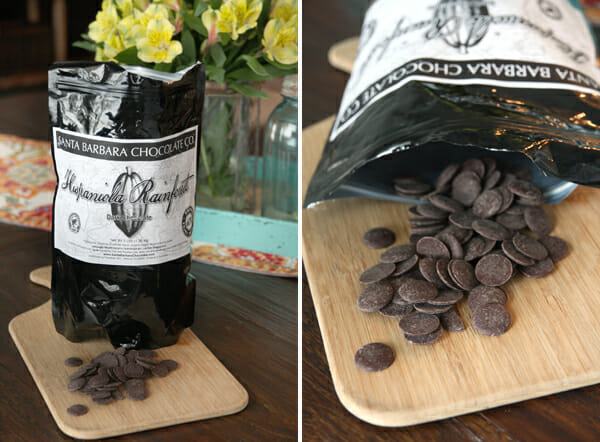 I just use a little so the berry flavors still come through; drizzle it right on top.  I also prefer a darker chocolate (like, at least semi-sweet) since you have so much sweetness from the marshmallows, but that's me.  I like my chocolate as dark as I can get it.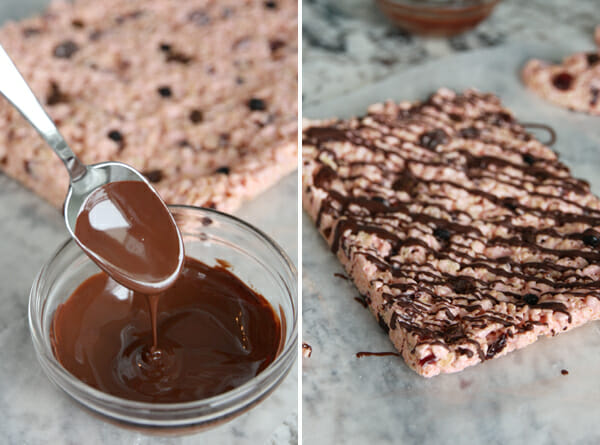 You get sweet gooey marshmallows, with little bits of chewy berries, an undertone of almond, and a decadent bite of creamy chocolate.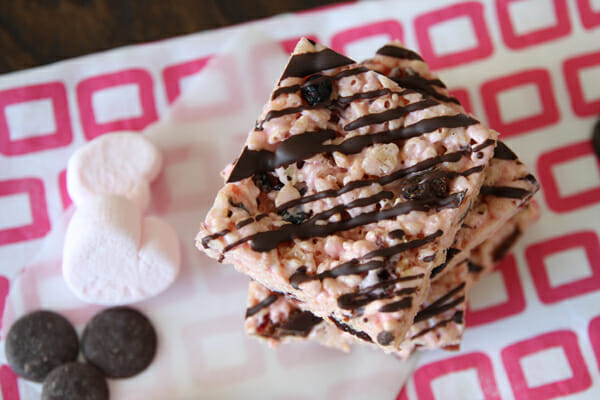 Keep in mind that with rice krispie treats, if you want to cut them with cookie cutters, it helps to make them thinner than normal.  I can't tell you how many times I've made big, thick ones and then I go to stick a cookie cutter in there and it only reaches half way through them and gets stuck.  Please tell me I'm not the only one.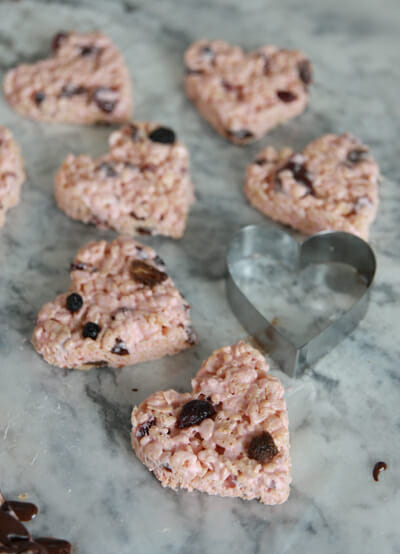 I made this batch in an in-between pan that is larger than an 8×8, but just a bit smaller than a 9×13.  If you're just cutting squares, I'd do an 8×8.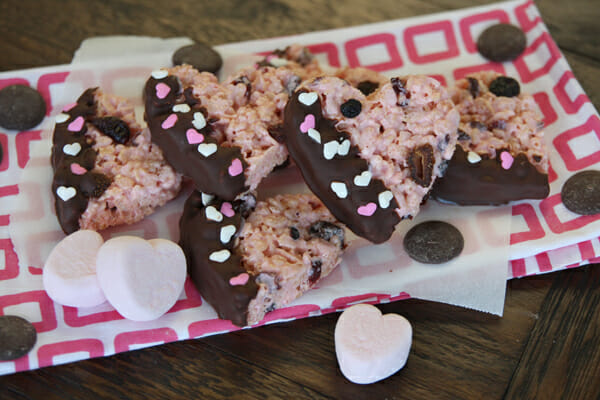 Give hearts a little dip and sprinkle and they're all dressed up for Valentine's Day.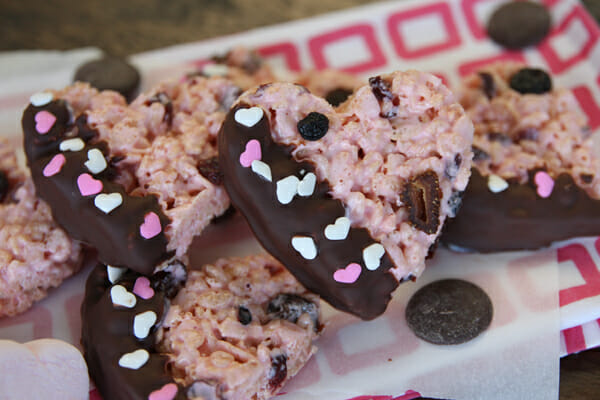 Berry-Chocolate Rice Krispie Treats
Recipe by Our Best Bites
1 8-ounce bag Strawberry flavored marshmallows (or 5 cups regular mini marshmallows plus strawberry or raspberry flavoring to taste)
2 1/2 tablespoons butter, chopped in small pieces
1/2 teaspoon almond extract
3 cups Rice Krispie cereal
1/2 cup dried strawberries or mixed berries, roughly chopped
1/3-1/4 chocolate chips (I prefer semi-sweet or dark)
Lightly butter an 8×8 or slightly larger pan with butter (or line with lightly buttered waxed paper).  Place marshmallows and butter in a large microwave-safe bowl.  Heat in 30 second intervals, stirring in-between until melted and smooth.  Stir in almond extract and immediately add cereal and dried fruit.  Press mixture into prepared pan.
Place chocolate in a microwave safe bowl and heat until melted and smooth.  Drizzle over treats and refrigerate until set.  Cut into squares.
Alternately, cut bars with cookie cutters into shapes and dip in chocolate.