So I've lived in Louisiana for almost 9 years and one of the most consistent requests I get is more information about New Orleans–where to go, where to eat, is it safe. The truth is that I'm not that close to New Orleans (by the way, it's New OR-lunz, just in case you've ever wondered), but I'm close enough to go for a weekend (or fly out of the airport if I need to). If you've never been, if you've ever wondered, this post's for you–last weekend, my best friend flew in for a few days and we basically ate, laughed, and walked our way through the city. We barely scratched the surface, especially when it comes to the food (it's pretty much the most delicious city in the world), but I can always go back for more.
Just a side note–I didn't bring my big fancy camera with me because I really wanted to just enjoy my trip, so everything is from my iPhone–I could have more beautiful pictures, but I don't regret not bringing my camera for a second. Also, this trip was in no way sponsored. I paid for my hotel, I paid for my food, I paid for my ghost tour, I paid for my Ubers (except for the ones I got for free from sharing codes–more about that below.) This is a 100% genuine, honest review not influenced by any sponsorships, discounts, or freebies.

New Orleans (you'll probably hear it called NOLA) is old and beautiful and it's come back from fires and floods and utter devastation. It's loud and smelly and dirty and I absolutely love it.
First of all, this is a very walkable city, so I recommend parking your car and leaving it alone the whole time you're there (or not renting a car if you're flying.) Don't even try driving in the French Quarter (if you can help it)–the streets are super narrow and often one-way and full of people. There are places where you can't/shouldn't walk (more about that in a second), but there are streetcars and Uber to help you get around.
Speeeeaking of Uber. I've always been terrified (remember when I went to New Hampshire and was sure I was going to be murdered on my Uber ride? Well, I was sure I was going to be murdered here as well. I'm great at jumping to the worst possible conclusion.) But. It's amazing. We used it four times and it was a quick, super affordable, safe way to get from places that were too far to walk (or where it would have been unsafe…or both.) One great thing about it, especially if you're a beginner Uber-er, is that it's easy to get free rides. So if you use this code when you sign up for Uber, you'll get a $15 ride credit from me, and I will also get a $15 credit. Then you'll get a code and if you share that with a friend, they'll get a $15 ride credit and you'll get another $15 credit, which means you already have two free rides. If you're traveling in a group and everyone shares their codes, it's possible to get a good number of those rides for free.
Here's a map of the city, so you have some idea of what I'm talking about–the yellow, green, purple, and pink areas are what you're probably going to encounter as a tourist.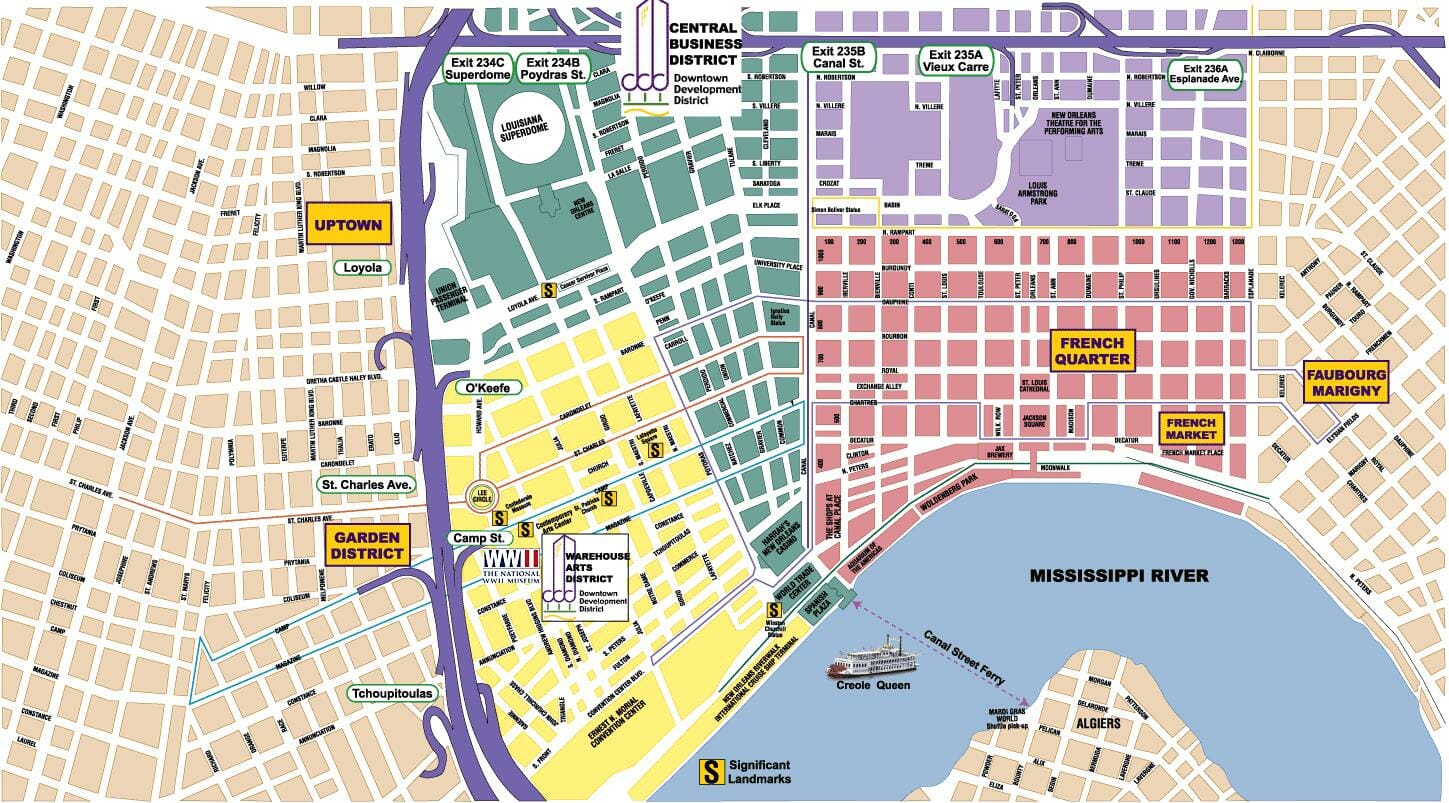 You can click on it to enlarge it and there are also more very useful maps like it here.
The pink area is the French Quarter, which is probably what you think of when you think of New Orleans. On our first day there, we ate breakfast and then just spent the whole day wandering through the French Quarter. It's full of shops, restaurants, bars, music, and art galleries. This is where famous places like Jackson Square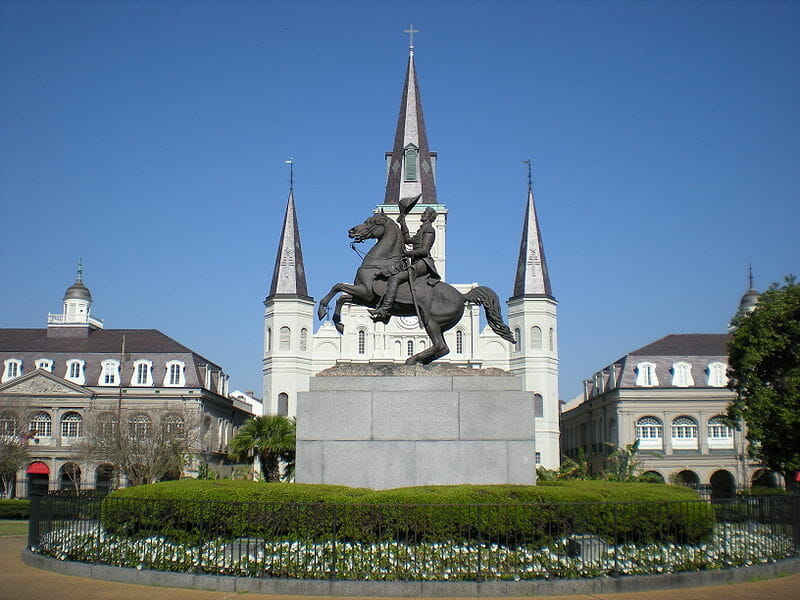 (photo courtesy of Wikipedia Commons)
Bourbon Street, and Cafe Du Monde. If you've seen a movie filmed in New Orleans, it was probably here.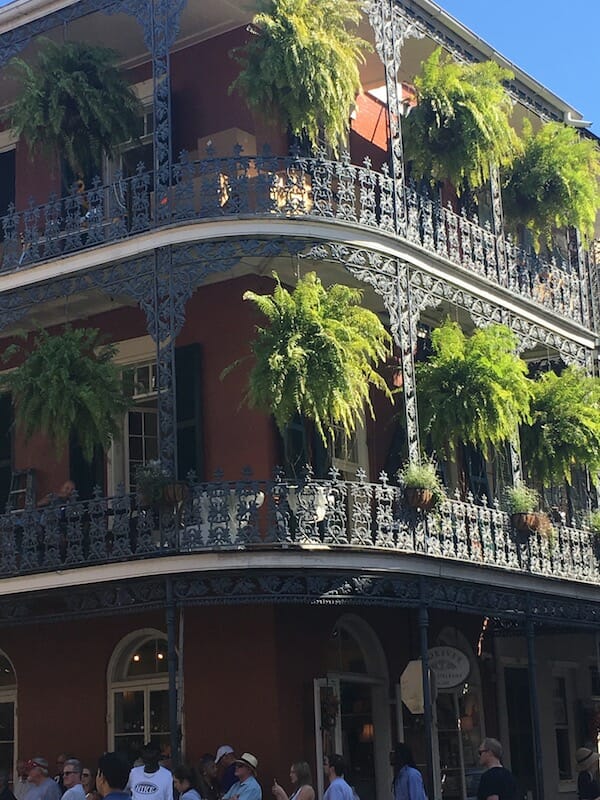 It's hundreds of years old, widely considered to be haunted, and the most amazing place for people watching. There are parades. All the time. We saw four and heard more while we were there.
https://www.instagram.com/p/BMaN-FgBsiy/?taken-by=kate_ourbestbites
Now. Scroll back up to the map and look for the purple area. Then come back.
Ready? Okay, don't walk in the purple parts. Especially after dark. There are some cool old cemeteries there–if you go, be careful, bring minimal belongings, and consider going with a tour group. My husband and I went to Wicked in the theater there a few years ago and we got multiple warnings from locals about how to stay safe in that area.
The yellow area of the map is The Garden District. It's artsy and hipster-ish and way more chill than the French Quarter. It's full of amazing houses (if you're into stalking or Sandra Bullock or both, apparently she lives here), boutiques, and incredible restaurants (more about that in a minute.) The National World War II Museum is also here, so if you love history, you might want to put it on your itinerary.
The green part of the map is the Business District. The streets are huge and easy to navigate (for the most part). Depending on where you are, it's adjacent to both the French Quarter and the Garden District, plus it's clean and quiet(er). Having stayed in various locations throughout the city, I recommend finding a hotel in the Business District (plus, it gives you a chance to walk off all those beignets.) You think it's going to be fun to stay in the French Quarter (or at least I did once)…really, it wasn't. Which brings me to my next part…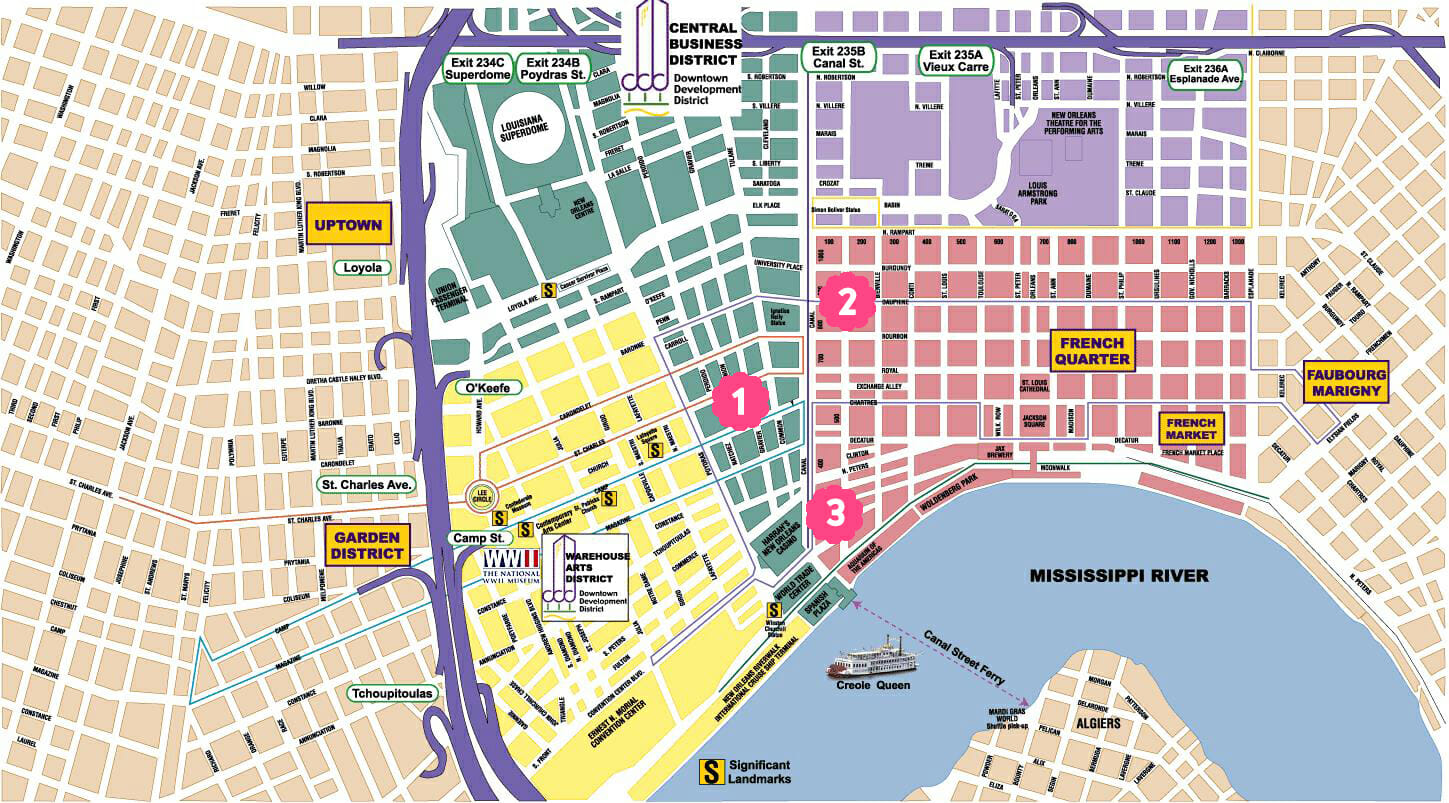 In the past, I've stayed in The Westin New Orleans (#3 on this map) and The Courtyard Marriott French Quarter/Iberville  (#2). The Westin looks like it's in the French Quarter, and it's very close, but it feels more like the Business District (also, I felt closer to the French Quarter in #1). You get into the hotel by going through a mall–like, you have to go to the top floor of the mall and then you find another set of elevators and go to the hotel lobby, then you go to another set of elevators to get to the rooms. It's pretty typical for big cities, but it's kind of a pain, especially if you have kids. It's a nice hotel; if you get a room with two beds, they'll be double beds, so prepare to snuggle.
The Courtyard French Quarter is my least favorite of the three. It had the same elevator arrangement as the Westin (minus the mall). I felt like it was loud and more party-ish than what I really wanted and that the room was small and dark.
For this trip, I found an amazing deal on Groupon for the InterContinental New Orleans. For some reason that I haven't totally figured out yet, the city was packed that weekend and hotel rates were crazy high, but we got this room for a steal. I loved everything about it–the location was perfect, the staff was super friendly and helpful, the hotel itself was very nice and very clean. Plus, we showed up a little late and didn't have the room we reserved, so they gave us the honeymoon suite ?.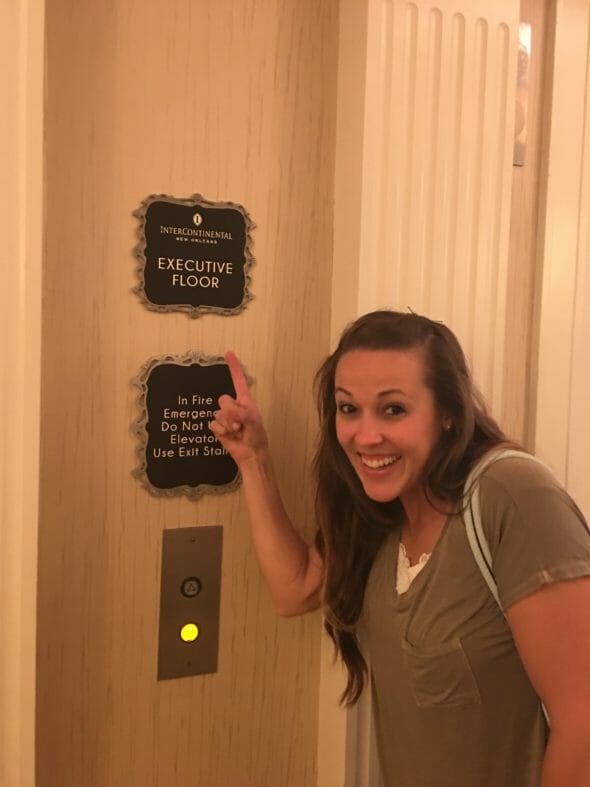 I seriously don't think I ever want to stay anywhere else when I go back–it was perfect.

The biggest reason why we met up in NOLA in the first place was to go to the Ingrid Michaelson concert on Saturday night.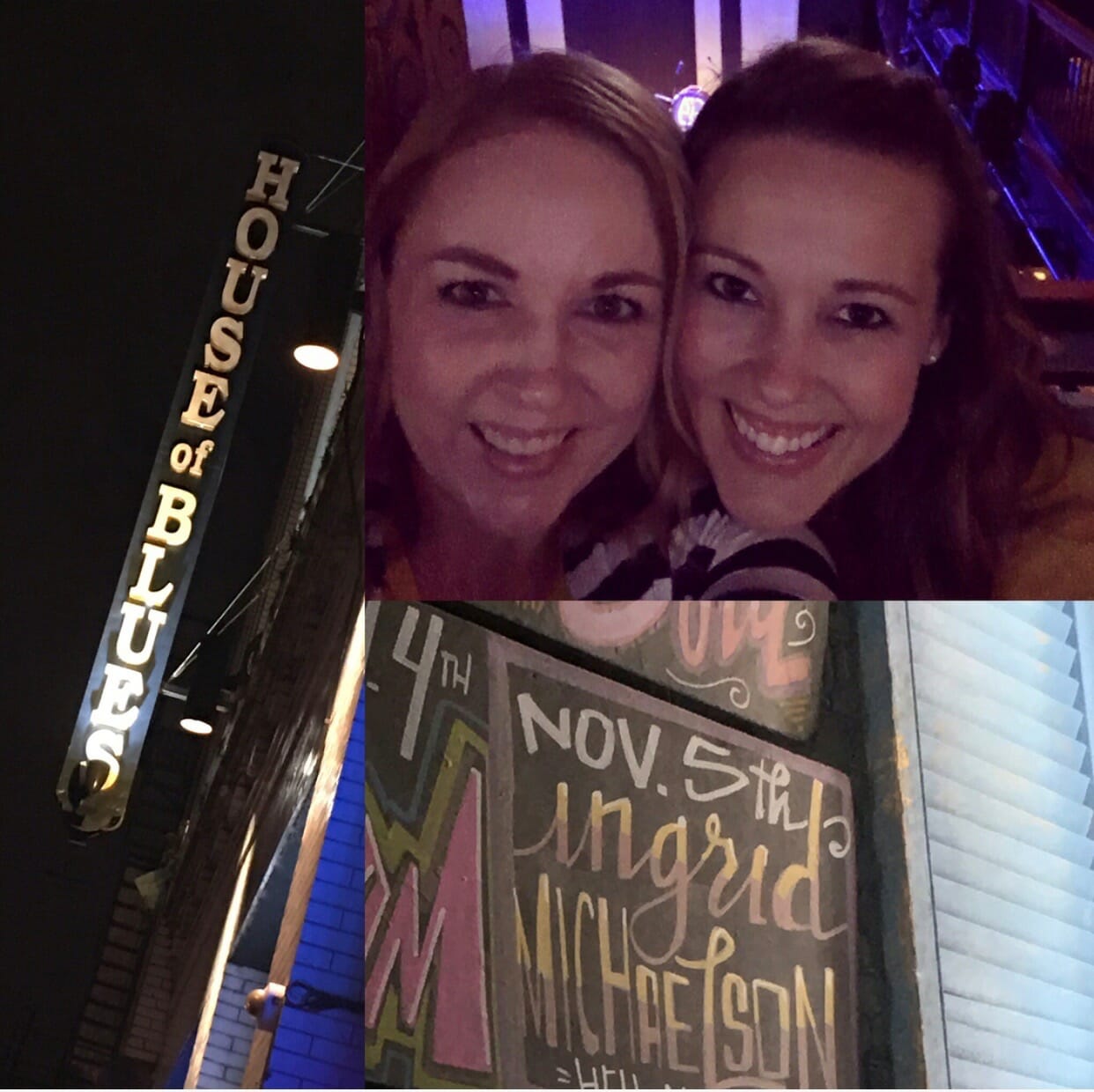 If you love Ingrid and have a chance to see her, I highly recommend you go. It was amazing. She was amazing. You know how you hear some people perform live and they don't sound great and it's kind of disappointing? Not her–if anything, she was even better in person.
https://www.instagram.com/p/BMmLj8nBz9Z/?taken-by=kate_ourbestbites
Plus, I'm pretty sure she made eye contact with me and that now she wants to be my BFF.
In addition to the whole day walking through the French Quarter, we got pedicures at Riverside Day Spa & Nails, did a ghost tour (it was okay–I've done better tours in other cities and I suspect there were better tours in NOLA, but the history was fascinating and I don't regret doing it) saw a movie at the Theatres at Canal Place, people watched, ate, used those masks we bought at Lush (we got Cupcake and Love Lettuce and I would put Love Lettuce on my face every day if it wouldn't make me broke in the process),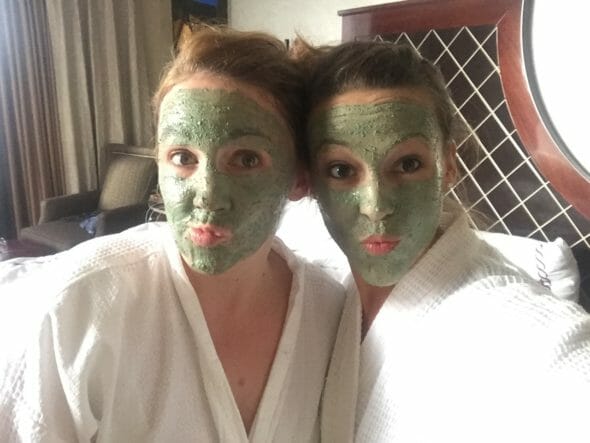 accidentally dressed matchy twice (and used that selfie stick I begrudgingly purchased),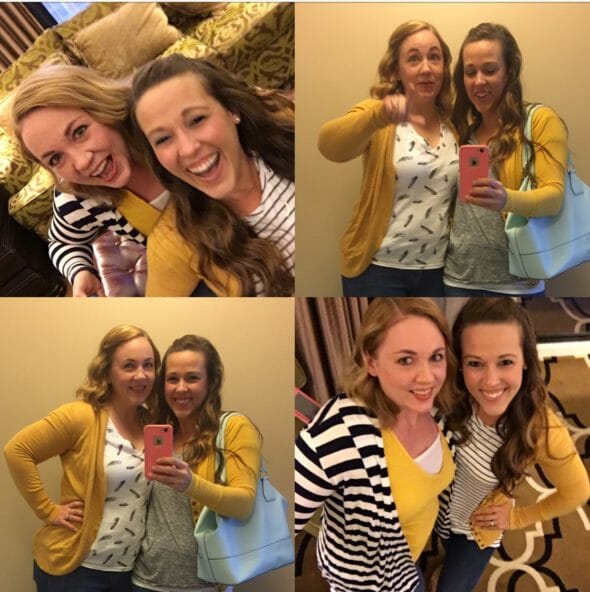 We took a lot of embarrassing pictures with Snapchat filters, stayed up all night talking and laughing, and basically had the most fun ever.

Oh…my…gosh. Where to eat. This is the greatest question of them all. There are so many amazing options (and some pretty mediocre and terrible options as well.) We got so many recommendations and we wish we could have eaten more, but I'm pretty sure it would have not been physically possible. We were like hobbits, walking on a long journey, eating the entire time.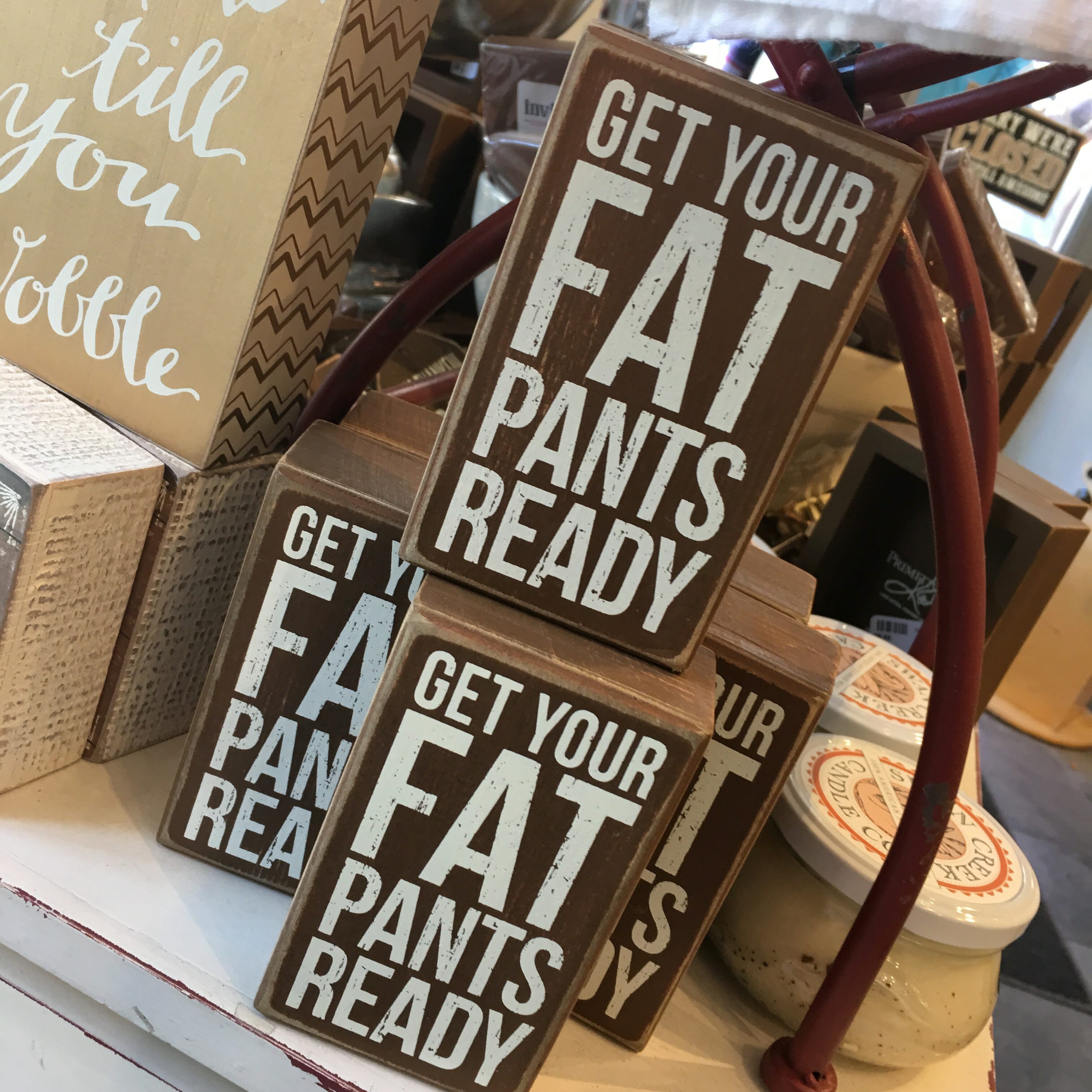 The night we got to our hotel, we ordered room service, a) because it's a fun splurge, and it's less of a splurge if you're sharing it with someone, and b) because we were tired and it was late. One great thing about the InterContinental is that they had 24-hour room service, which has not been the case in any hotel I've ever stayed in (except, I think, for the Omni in New York), even in big cities.
The next morning, we went to the Ruby Slipper Café on Canal Street. There was a little bit of a wait, but it wasn't terrible and there are apps like NoWait can help with that. We ordered The Peacemaker (two different Eggs Benedict) and chose the Eggs Blackstone and Chicken St. Charles as well as the Cheesecake Stuffed French Toast with Blueberry Compote. All of it was delicious, but I think the Chicken St. Charles Eggs Benedict was our favorite.
https://www.instagram.com/p/BMZVth2hSOj/?taken-by=kate_ourbestbites
That afternoon, we had a little "snack" before we went on our ghost tour, so we went to Cafe Beignet on Royal Street. We shared the Cajun Hashbrowns and 3 beignets. I felt like I needed to compare and contrast my beignet options–like, it was my personal responsibility–so this was stop #1. The beignets here were light and crispy, but they were a little skimpy on the powdered sugar.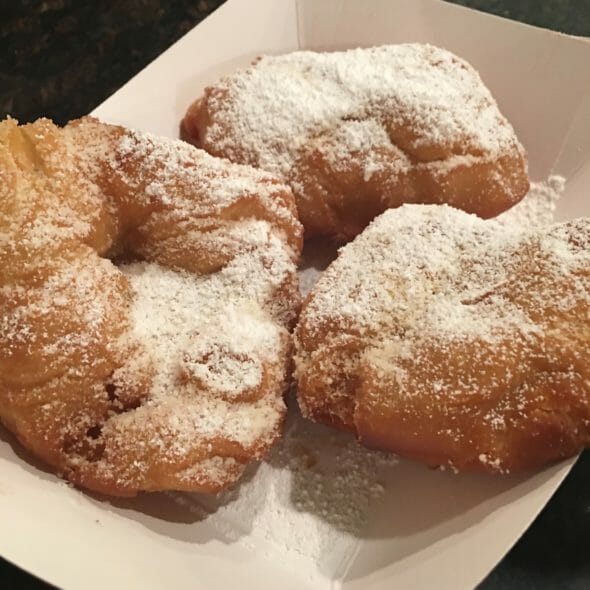 That night, after the ghost tour, we took an Uber to Shaya in the Garden District. If you want to go here, you definitely need to make reservations–Open Table makes that super, super easy. To be honest, if it weren't for the rave reviews, I probably wouldn't have gone to Shaya because in a city full of delicious food, I probably wouldn't have picked Modern Israeli Cuisine, but I'm SO GLAD I went. It was maybe the most delicious food I've ever eaten. I didn't take any pictures because it felt kind of weird and I also didn't want to take away from the experience, but I promise, it was as gorgeous as it was delicious. We ordered the Soft Cooked Egg Hummus (I've always heard that harissa was spicy and that made me nervous, but it turns out it was just "spicy flavorful" not "spicy burn my mouth off"), which came with this never-ending supply of fresh pita bread from the brick oven in the back, Lamb Kebab (maybe the most amazing thing I've ever eaten and I don't really love lamb), falafel, and mixed green salad. It was a little spendy–probably the most expensive restaurant we ate at–but really, not that bad for that caliber of restaurant or the amount of food that we ordered.
The next morning, we took another Uber to Surrey's Juice Bar in the Garden District. Guys…I've eaten a lot of french toast in my life and the pain perdu was the best. Ever. Just, the best French toast ever. It was made with po' boy bread, which is light and crispy, so it was big and airy and then had this kind of broiled sugar thing going on on the outside. We also got the Croque Madame, which is a savory French toast grilled cheese sandwich kind of thing with ham and gruyere inside and a kind of creamy Dijon sauce and then fried eggs on top (are you kind of seeing that I could eat brunch for all the meals?) They were both so good. Definitely my favorite breakfast.
https://www.instagram.com/p/BMbyPpgB2jB/?taken-by=kate_ourbestbites
Before the concert, we needed to find a place to eat that wasn't super crowded, so we went to Chartres House Cafe. I've been there before and have gotten the gumbo and red beans and rice in the past, but it was too warm, so we shared the Roast Beef Po' Boy and the Spinach Artichoke Dip appetizer (with fried bowtie pasta). The po' boy was okay–I mean, it was good, but in a city full of deliciousness, I know we could have done better. The appetizer, though, is totally worth it–it would be a great mid-afternoon or late night snack (can you call something that probably has, like, 2,000 calories a snack?? Maybe in New Orleans).
After the concert, we hit up Cafe du Monde in the middle of the night for their famous beignets.
https://www.instagram.com/p/BMdNNZxBWSX/?taken-by=kate_ourbestbites
Okay. Cafe du Monde. Everyone will tell you to go there. It's open 24 hours. It feels kind of like Disneyland (for better or worse). It's efficient–you're in and out in not a lot of time, even if you eat your beignets there. They only take cash. And, I mean, it's fried dough covered in powdered sugar, so it's hard to go wrong. That said, I think, had the powdered sugar situation been remedied at Cafe Beignet, I preferred their beignets–they were light and crispy and Cafe du Monde's were kind of heavy and dense. But my friend preferred Cafe du Monde's, so…basically…you should just try all the beignets and come to your own conclusions.

So this is turning into the longest blog post ever, but I wanted to answer a few questions/misconceptions before I wrap it up. Like…
Question: Are there lots of people flashing for beads?
Answer: No. I've been to New Orleans a lot and I've never seen any shirtless ladies. Now, I've never been at Mardi Gras, but even then, I've heard that flashing really only happens at certain parades. The closer you get to Bourbon Street, the more racy stuff you're going to see (like on and in bars and clubs), and there are, um, interesting things in the gift shops. But it's not like nudity is running rampant.
Question: There's liquid on the ground. Should I step in it?
Answer: Unless you see water gushing from a fire hydrant, don't step in/on any liquid in New Orleans.
Question: Should I wear my favorite shoes to walk around in?
Answer: I would wear shoes that you wouldn't be devastated if you had to throw away.
Question: Will I be murdered if I go to New Orleans?
Answer: You will most likely not be murdered in New Orleans. Just like any big city, be aware of your surroundings, don't walk down any dark, empty streets, have a buddy, don't make eye contact with strangers, keep your belongings close, and don't bring anything extremely valuable. The great thing about NOLA is that there are always people around all the time, so it's not like you're wandering down an abandoned street in the middle of the night trying to get back to your hotel. And if you do see a dark, abandoned street, maybe find another street–there are lots of them.
Question: What should I bring?
Answer: Good walking shoes, socks, hand sanitizing wipes (you know…just in case),  cash for tips and restaurants that don't take cards, a phone charger (you'll probably use your phone for maps), and a water bottle.

Where to Stay:
InterContinental Hotel (check Groupon for deals)
Here's a list of apps that were super helpful on our trip:
NoWait
Groupon
Yelp
Venmo
Uber
Open Table
Things to Do:
Ghost Tour (we weren't totally sold on this particular tour, so if you're interested, try researching different tours)
National World War II Museum
Audubon Zoo, Insectarium, and Aquarium (good with kids)
New Orleans Maps
Free Tours by Foot
Where We Ate:
Ruby Slipper Café
Royal Street Cafe Beignet
Shaya
Surrey's Cafe and Juice Bar
Chartres House
Cafe Du Monde