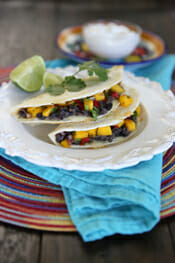 A few weeks ago some friends invited us over for dinner and they made these carnitas. I love sweet fruity stuff with Latin style pork so I brought some mango salsa to go with them.  We ate to our heart's content and then afterwards we had a bonfire and came up with the most amazing s'mores concoctions you've ever (or never) imagined.  The crowning glory was the Berry-mallow-ella.  Giant hulled strawberries filled with nutella and then dunked in marshmallow fluff and roasted over an open flame.  The fluff gets all toasty, golden, and warm, and the strawberry stays cold and crisp, and then Nutella gushes out as you eat it.  Oh. My. Gosh.  But I digress.  Back to the mango salsa.  The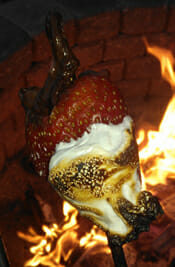 next day we had leftover mango salsa and I had about 20 minutes to get my family fed before heading off somewhere and this recipe was born.  It was a total throw-together thing, but they were so good we ended up making them again just a few days later, annnd one more time the next day.  My kids love black beans, and this is a super-duper short cut version, that packs flavor with minimal effort.  Because the beans are flavorful and filling, you can get away with this being a meatless meal, although you could easily add some shredded chicken, beef, or pork to bulk them up.  The contrast of the sweet juicy mango, complimented by ooey-gooey melted cheese and a golden brown toasted tortilla is perfection.  They make great party food or appetizers, too!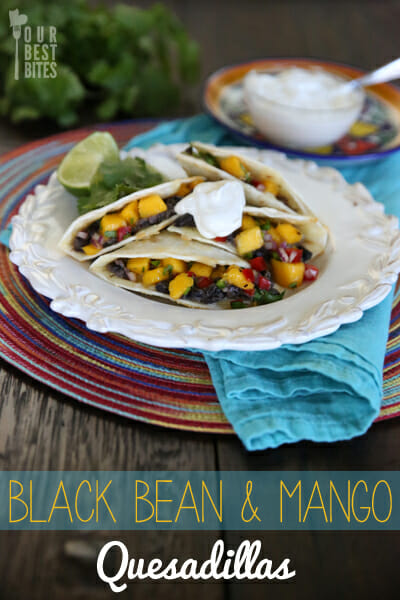 Some of my most favorite (and most used, as you probably already know) ingredients.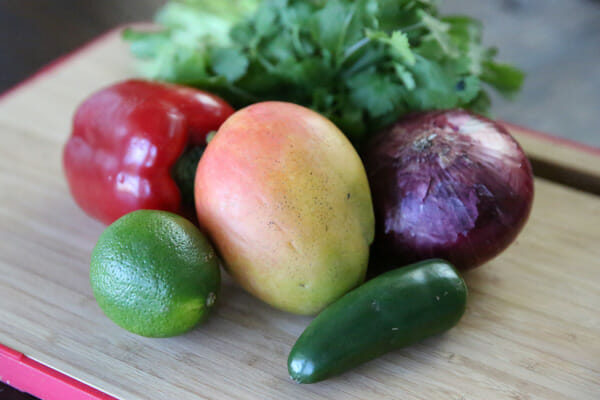 Chop up some red bell pepper (you could sub yellow or orange if you need to, but not green), red onion, a little jalapeno, and a fresh juicy mango.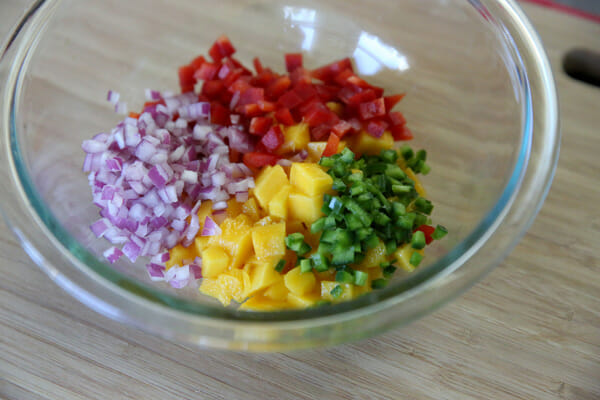 I like to chop everything pretty finely, with the mangoes slightly larger.  Give that a quick mix,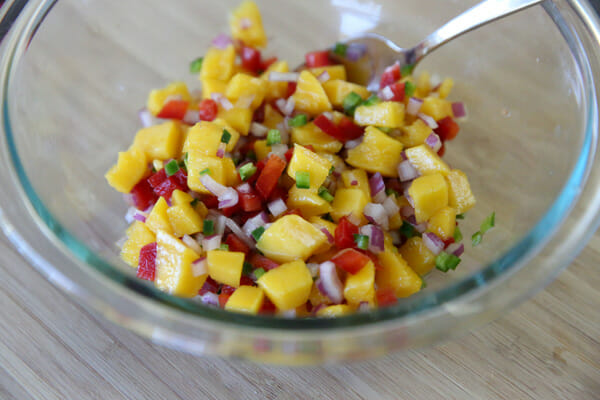 and then add some chopped fresh cilantro,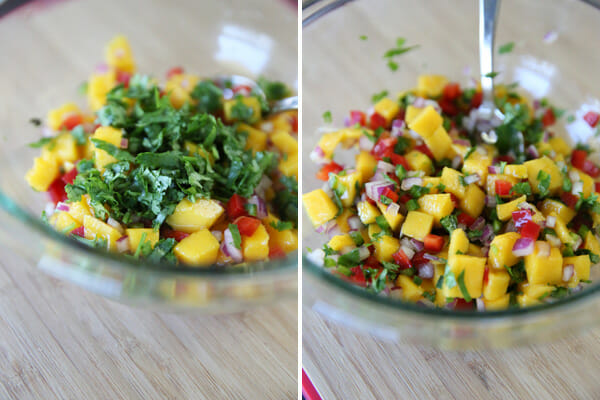 and a squeeze of fresh lime juice.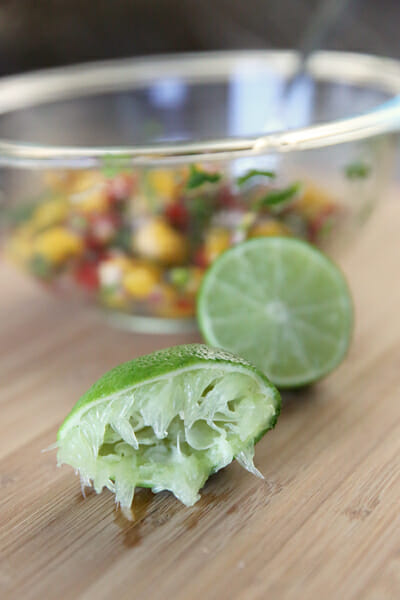 Pop that in the fridge for a few minutes while you prepare the rest.  Now I love black beans, and I especially love slow-cooked black beans that soak in flavors as they simmer all day.  My my quick and easy version on the stove top is hard to beat, but we're going even easier than that!  Canned black beans are already nice and soft, so we're going to let the microwave to the work here, and it only takes a minute or two.
Just place a can of black beans (that has been rinsed and drained) in a microwavable dish.  Add a little water or broth and a few seasonings, like garlic and onion powders, cumin and coriander, and give them a quick cook in the microwave.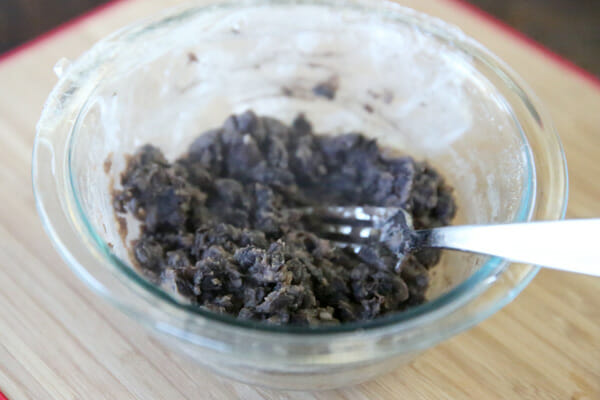 When they come out, use a fork to just mash them up part way.
Heat up some flour tortillas and toss on some pepperjack cheese.  If you want your tortillas to get nice, golden, and crisp on the outside, brush them with a little canola or olive oil first.  Non-stick spray will even do the trick.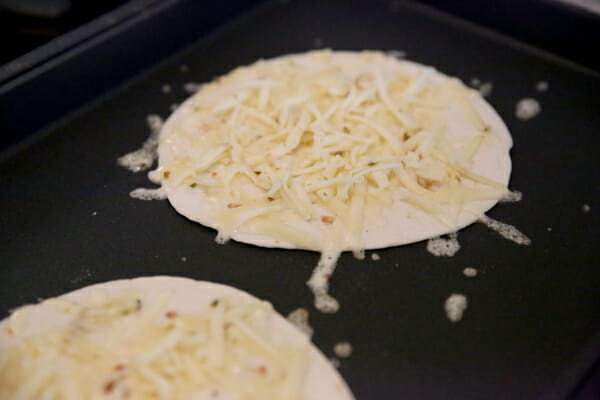 When the cheese is melted, remove the tortillas from the heat and spread black beans on one half.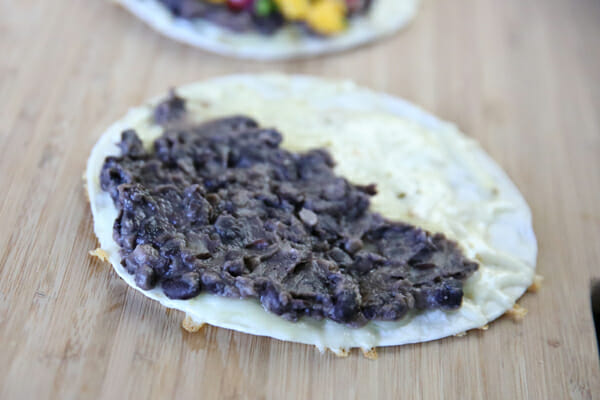 Top with the mango mixture,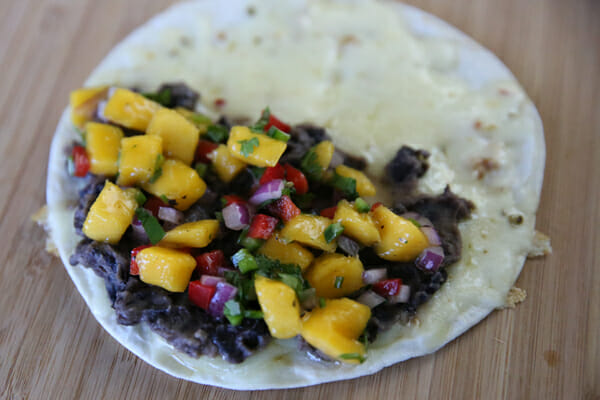 and fold 'em up.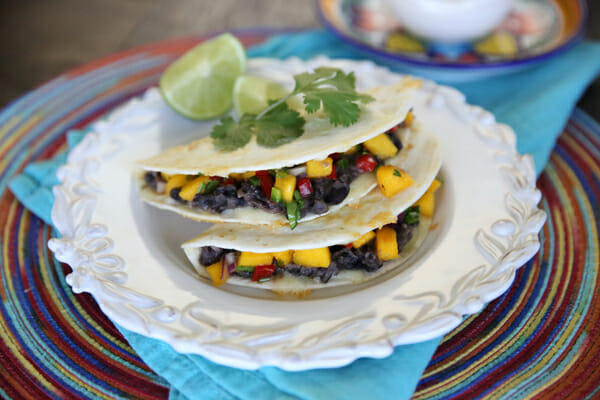 That seriously took, like, less than 20 minutes start to finish.  Top with a little sour cream if you want (and why wouldn't you want?) and serve.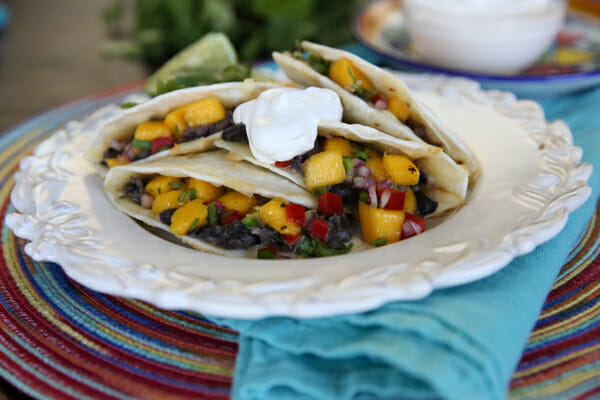 These make awesome appetizers too.
Black Bean and Mango Quesadillas
Recipe by Our Best Bites
Ingredients
1  cup diced mango (about 1 medium/large mango, 2 small ones)
1/4 cup diced red onion
1/4 cup diced red pepper
1-2 tablespoons finely minced jalapeno pepper
2 tablespoons chopped cilantro
1 tablespoon fresh lime juice
1 can black beans, rinsed and drained
1/4 teaspoon ground cumin
1/4 teaspoon coriander
1/4 teaspoon onion powder
1/4 teaspoon garlic powder
salt and pepper
1 1/2 tablespoon water
1-2 cups shredded pepper jack cheese
4-6 small/med flour tortillas
Instructions
Preheat a non-stick griddle or skillet to medium high heat.
Combine mango, red onion, bell pepper, jalapeno, cilantro, and lime juice in a bowl.  Sprinkle with a couple pinches of salt and a few cracks of pepper.  Gently stir to combine and place in fridge to chill.
Place beans, water, cumin, coriander, onion and garlic in a microwave-safe bowl and stir.  Cover with plastic wrap and prick plastic with a fork to vent.  Microwave for about 1 1/2 minutes (microwaves vary) until beans are hot.  Use a fork to lightly mash beans, leaving some beans still in tact.  Season with salt and pepper to taste.
Lightly brush pan with a little oil and place tortillas on it.  Sprinkle tortillas with pepper jack cheese (I use a generous 1/4 cup on 6-inch tortillas) and cook until cheese is melted and tortillas are toasted and golden brown.
Remove from heat and divide bean mixture between tortillas, top with mango salsa and fold tortillas in half.  Use a pizza cutter to cut into wedges.  Serve with sour cream if desired.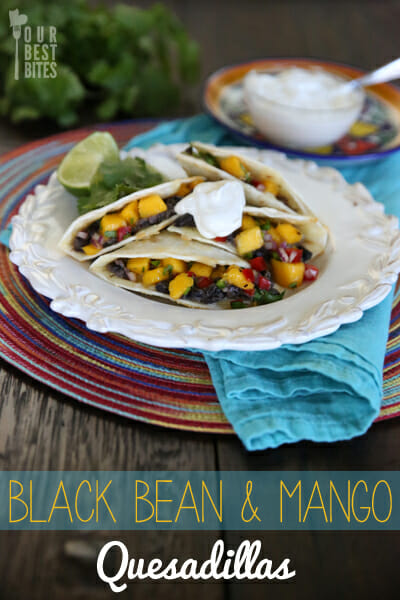 Has everyone entered our current giveaway??  We went on a shopping spree and we're giving it all away! –> Click Here <– to check it out and enter (don't enter here on this quesadilla post or your comment will be deleted, and we don't want that!)