You guys asked for more salad jars, so here's my latest favorite.  (You can see my last version, here, with more info on the idea.) It's no secret that I could Latin food pretty much every day of the week and sweet, juicy mangoes combined with hearty black beans is one of my favorite combos.  I especially love the protein and fiber powerhouse you get when you combine beans with chicken. Since these have some "wet" ingredients like chopped tomatoes and mangoes, I usually just make a few at a time (like, 3) so they don't get mushy.  I could seriously eat this combination of ingredients, in any form, every day of the week.
Since these have hearty beans in there, I put in a little less chicken, (3 ounces instead of 4).  I put each jar directly on my kitchen scale and drop the chicken in.  You can roast or grill your own chicken (here's a post with our favorite instructions) or grab a rotisserie chicken and use that.  If you want these to be extra yummy, make some of our Taco Chicken or Slow Cooker Taco Chicken.   I will say that how you prepare your chicken does make a huge difference on the outcome of your salads.  If you drop a bunch of unseasoned chicken breasts into a pot of boiling water and call it good, it's not going to taste very good.  Take the time to make great meat and your salads will be extra delish!
Layer all of your ingredients into your jars in a beautiful rainbow of deliciousness.
Stuff the rest with your favorite greens.  Spinach works really well because it's pretty hearty.  Kale is also a great choice (if you don't mind eating kale.)  The really important thing with jar salads is that your greens are dry.
Many greens come already washed and ready to go.  I know many of you like to re-wash them anyway, but honestly I just go with it. If you're going to wash them, you'll want to lay them out and let them dry all the way before you put them in your jars.  I just stuff whatever will fit reasonably in there, which is usually about 1 1/2-2 cups.
I prefer to dress my salads in a bowl when I eat them (as opposed to putting dressing on the bottom of the jar) because I use a super simple olive oil and vinegar combo.  For this salad I loooooove using both our Chili and Lime Olive Oil, and also a generous splash of rice vinegar.  I actually found this Mango rice vinegar recently and it's perfect!
Don't forget my advice of salt and peppering your salads, it makes SUCH a difference in flavor.  And since I just eat these at home, I just keep avocados on hand and add them when I'm ready to eat.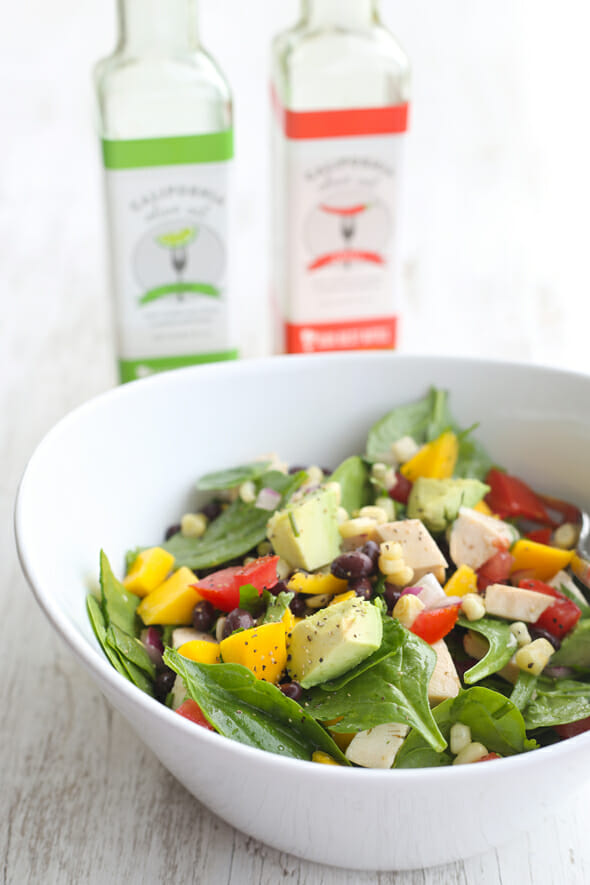 This is seriously delish, and so filling.  Make a few and let me know what you think!  If you want to grab the flavored olive oils I use for this, you can grab a 2-pack bundle, here (they're on sale right now).  Just pick Chili and Lime.
Black Bean and Mango Salad Jars
Recipe by Our Best Bites
Per each quart salad jar:
3 ounces cooked chicken breast
1/4 cup canned black beans that have been drained and rinsed
1/4 cup frozen sweet corn (you can put it in frozen)
2 tablespoons chopped or sliced red onion
1/4 cup diced tomato (you could sub whole cherry tomatoes)
1/2 cup diced fresh mango
3 tablespoons chopped cilantro
salad greens of your choice
optional: diced avocado
Dressing
1 1/2 teaspoons Extra Virgin Olive Oil (I use half Chili, half Lime)
1-2 tablespoons rice vinegar
kosher salt and black pepper
Layer ingredients into quart jars and secure with lid.  When ready to eat, pour contents into bowl, add avocado, and toss with olive oil and vinegar and sprinkle with salt and pepper.