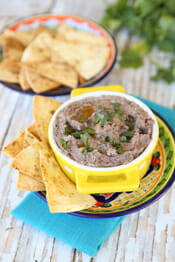 Not long ago I shared some of my experience with fitness and weight-loss.  One of the reasons I finally bit the bullet and published that post after hanging onto it for a while, was that I was carrying a little secret.  When I took those after photos and wrote that post, I was a couple of months pregnant.  I figured it was then or never since I would probably just start getting bigger from that point on!  I had really great intentions going into this pregnancy.  I was sure I would be awesome and fit and amazing and continue to eat healthy foods and fuel my body the right way and everything would be magical.  And then a little someone came along and reminded me who was boss.
Don't get me wrong, it hasn't been disastrous.  I've actually kept up working out and weight training and that part of me feels fantastic and strong.  Even for the first 3 months when I was completely wiped out and feeling sick, I dragged myself to the gym every single day and I'm so glad I've kept up those habits.  But my nutrition?  That's another story.  You see, my babies don't like quinoa, fresh spinach, and lean proteins (go figure).  They're more of the peanut butter, oreos, ice cream and nutella-straight-from-the-jar types.  And since we're being honest, we could add onions rings, bbq ribs, melted cheese, and Sour Patch Kids to that list.  And ranch dressing.  And Mexican food.  Lots and lots of Mexican food.  Soooo my latest goal has to been to get a handle back on my nutrition because I have been plumping up way too fast after a first trimester where I literally lived off a diet of straight-up carbs (preferably the fried or sugared kind.)  And since I've been craving Latin food like crazy, I started by coming up with some healthier snacking alternatives and this has been one of my favorites.
Start with a can of black beans (that have been drained and rinsed) and add them to a food processor.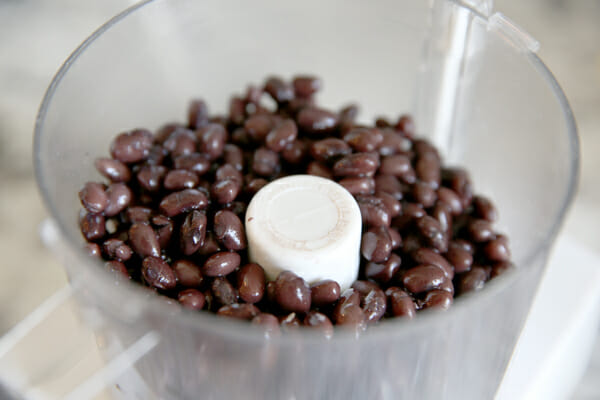 Then we'll add a little tahini.  This combo might sound weird, but trust me, I've never led you astray before.   (And if you're not familiar with tahini, it's a paste that looks, and even tastes similar to peanut butter, but it's made from sesame seeds.  You can usually find it in the foreign food aisle of the grocery store, near the Indian foods.)

Add the juice from a big juicy lime

and you'll need a little olive oil.  I developed this recipe specifically with our Chili Olive Oil in mind- it's perfection here, but if you don't have any, you can certainly sub any extra virgin, or our Garlic!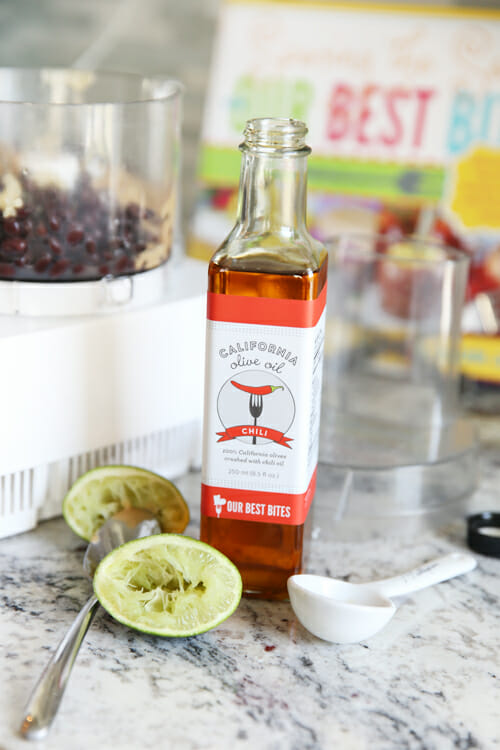 The Chili Oil adds just the right amount of flavor and heat.

Add some minced garlic, ground cumin, and kosher salt and blend it up.

I recommend adding the zest from your lime, too.

After it's pureed (you can leave it as chunky as you like), add water, or additional lime juice, until it's the consistency you like.  I usually ad 1-2 tablespoons, and then pop it in the fridge to let all of those flavors develop.
While your hummus is chilling, whip up the baked tortilla chips.  Brush some 6-inch flour tortillas with olive oil (I prefer garlic olive oil, like ours)
and sprinkle with a mixture of ground cumin and a couple pinches of salt.  I mix it up right in my palm and then sprinkle on with my fingers.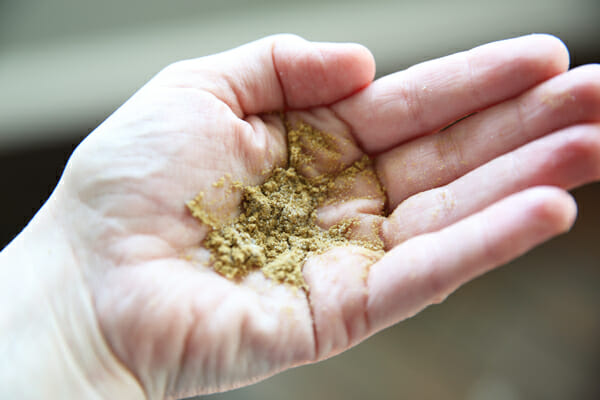 Now, I've mentioned this in blog posts before, but it's worth mentioning again.  This is one of my all-time favorite pantry staples.  Any regular reader of this blog knows how much we LOVE our limes and lemons.  And we've told you over and over again to never use the bottled stuff.  But there will always be times when you're in a pinch and you don't have fresh limes, which is why I always, always have this in my cupboard.  It's called True Lime  It's actual crystallized limes (comes in lemon, orange, and grapefruit too.)  You can buy it in these little packets, which is what you most often see in the grocery store,
or do what I do and get a big ol' shaker jar.  I love the convenience of just spooning in however much I need to into recipes.  You can use it in anything you would use fresh limes for.  Just last night I added it to our fresh pico de gallo, and our Fajita marinade.

Bottled lime juice is bitter and lacks flavor, but this stuff?  It tastes just like real, fresh limes (because that's what it is).  Every time.  I buy mine on Amazon, but you can sometimes find it near the bottled citrus juice, or in the baking aisle of the grocery store.  The reason I'm mentioning it here is because it's one of the few occasions where it shines in its crystallized form.  Sprinkling it on tortilla chips (either homemade, like this, or warmed store-bought tortilla chips) gives them that awesome lime-dusted flavor that some restaurants and commercial brands use.  It's kind of a secret ingredient and it's soooo good.  You can of course skip this part of the chips and it's fine, but if you grab some it knocks these out of the park.

That's not sponsored- just honestly something I love and use and I thought you'd love it too!  Now, back to cooking.  Cut up those tortillas into wedges and baked them for 10-12 minutes until they're light and crispy.

When the hummus is ready, drizzle it with some additional chili oil and sprinkle with some chopped cilantro.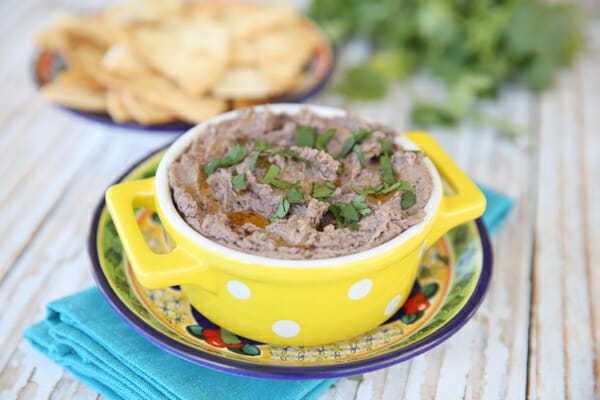 Serve it with your baked chips (or pita chips, veggies, tortilla chips, etc.)

Or I even love it on a wrap with grilled chicken and roasted peppers.  Healthy, with a good dose of protein and fiber and it tastes amaaazing.
Black Bean hummus with Baked Cumin-Lime Chips
Recipe by Our Best Bites
1 14.5 ounce can black beans, drained and rinsed
2 tablespoons tahini
1 tablespoon extra virgin olive oil (preferably our Chili Olive Oil)
optional but recommended: zest from 1 lime
juice from 1 lime (at least 2 tablespoons)
1/2 teaspoon minced garlic (jarred is fine)
1/2 teaspoon ground cumin
1/2 teaspoon kosher salt
1-2 tablespoons water
2 tablespoons chopped fresh cilantro
additional olive oil (about 1 teaspoon)
Baked Cumin-Lime Chips
4 6-inch flour tortillas (feel free to make more!)
1/2 tablespoon olive oil (Garlic olive oil, if you have it)
1/2 teaspoon cumin
1-2 pinches table salt
optional but recommended: True Lime*
*If you don't have True Lime, or can't find it at your store, you could sprinkle on some finely grated and then chopped lime zest, or quickly run a 1/2 a cut lime over tortillas before sprinkling on seasonings.
Place black beans, tahini, 1 tablespoon chili oil, lime zest and juice, garlic, 1/2 teaspoon cumin, and kosher salt in a food processor.  Pulse until relatively smooth. Add 1-2 tablespoons water until desired consistency is reached.  Can be eaten immediately, but for best results, place in fridge to chill for at least an hour.  Note:  If you're not using chili olive oil, feel free to add a few splashes of hot sauce if you'd like a kick.)
To prepare chips, preheat oven to 400 degrees and line a baking sheet with foil (for easy clean up).  Brush tortillas with olive oil.  Combine cumin and salt in palm of hand and sprinkle evenly over tortillas.  If using True Lime, sprinkle on a little to taste.  Use a pizza cutter to slice tortillas into 6 wedges each and place in a single layer on baking sheet.  Bake for 10-12 minutes, or until lightly golden brown.  Let cool completely and serve with hummus.
Makes about 1 1/2 cups hummus.
Nutritional Info per 1/4 cup Hummus: Cal: 124 Fat:6g Pro:5g Carb: 13g Fiber: 5.5g
Have you all entered our Epiphanie Giveaway??  Hurry over to The Scoop for your chance to win one of these amazing bags (some valued at over $250!)