When we do pancakes at our house, I usually ask my kids if they want fruity or syrupy.  I'll do butter and jam, fresh fruit, or a fruit sauce, OR go traditional with butter and maple syrup.  I have one kid that when given choices, almost always says "both!"  Because why choose one when you can slather everything on?  He also usually wants to keep up with his big brothers and have about twice as big of a serving size as I know he can handle, but I usually go with it because I secretly want to have an excuse to finish off a giant plate of everything-0n-it-pancakes when I have told myself ten times I was going to stick only to my protein shake.
I always finish the pancakes.
The other day I as I mopped up the pools of maple syrup with giant berries, I realized he was onto something.  The warm maple notes combined with bright fresh berries was uniquely delicious.  We love making fruit sauces around here, and really a good fruit sauce is mostly fruit and sugar, so I decided to use maple syrup instead.
You'll need 12 ounces of blackberries- which is 2 of those little clamshells, or a heaping two cups if you're lucky enough to live somewhere like the northwest where no one in their right mind actually purchases blackberries at the store, but instead pulls over to the side of the road and picks them.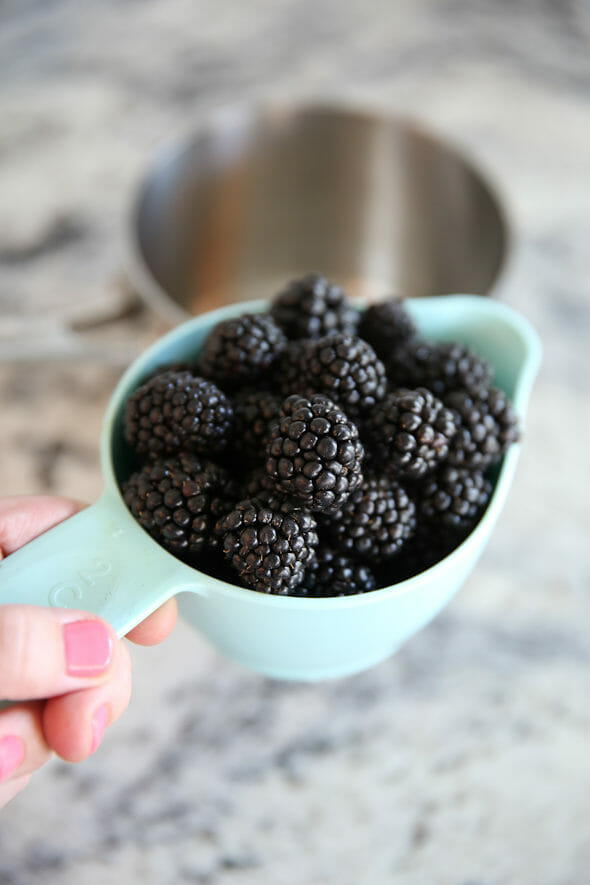 Put them in a small sauce pan and add about a cup of maple syrup.  I'm using 100% pure maple syrup, the good stuff.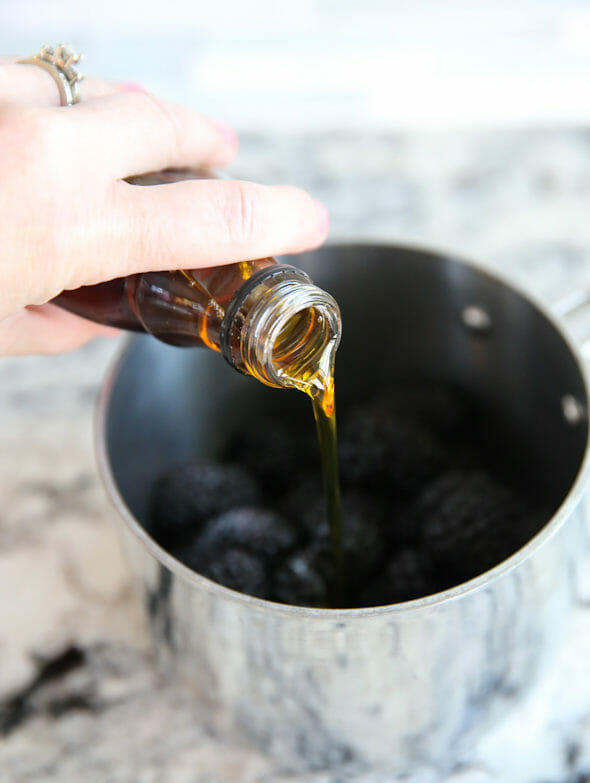 Let it simmer away on the stove for about 15 minutes.  The berries will let out a lot of moisture, so we're letting some of that evaporate to thicken the sauce.  While it's simmering, use a fork or the back of a spoon to smash the berries around a bit.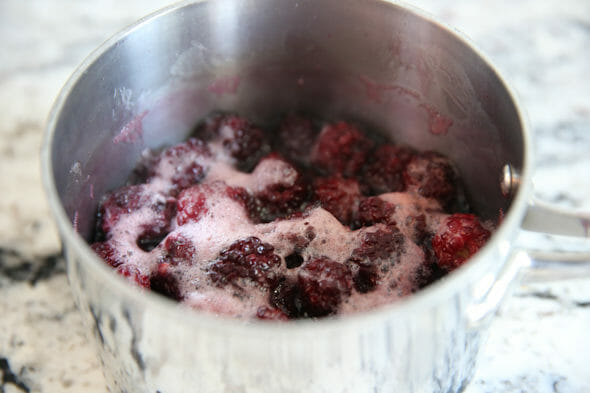 This part is optional, but I also add a hit of our Blackberry Balsamic Vinegar.  ANY of our four balsamics would be fabulous here.  It deepens the flavor and adds a little tang that balances out the sweet syrup.
I find I need to thicken it up a little bit as well, so I add a little cornstarch slurry right at the end to thicken to a good syrup consistency.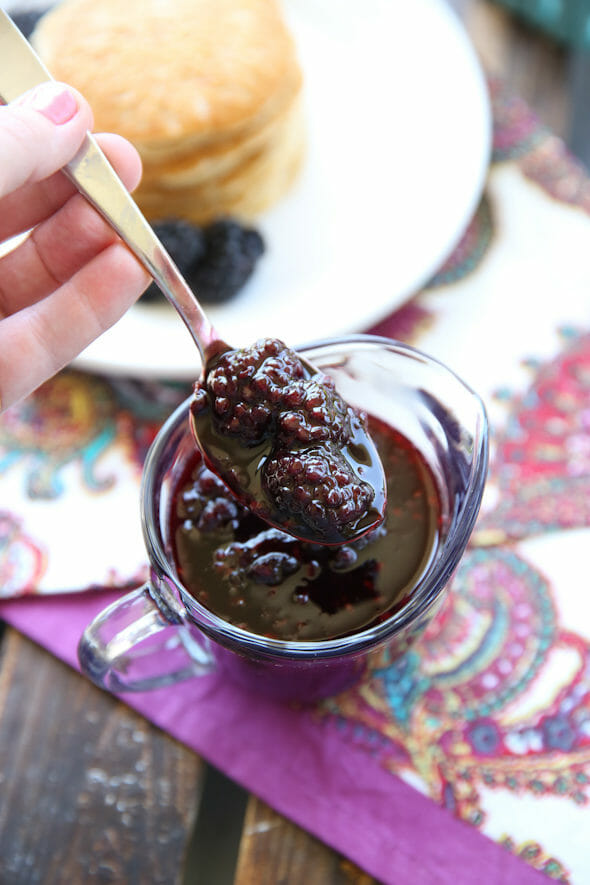 This is awesome on french toast, but I was too lazy to make french toast for this post (not too lazy to combine pancake mix + water) but also great on pancakes, waffles, and definitely ice cream!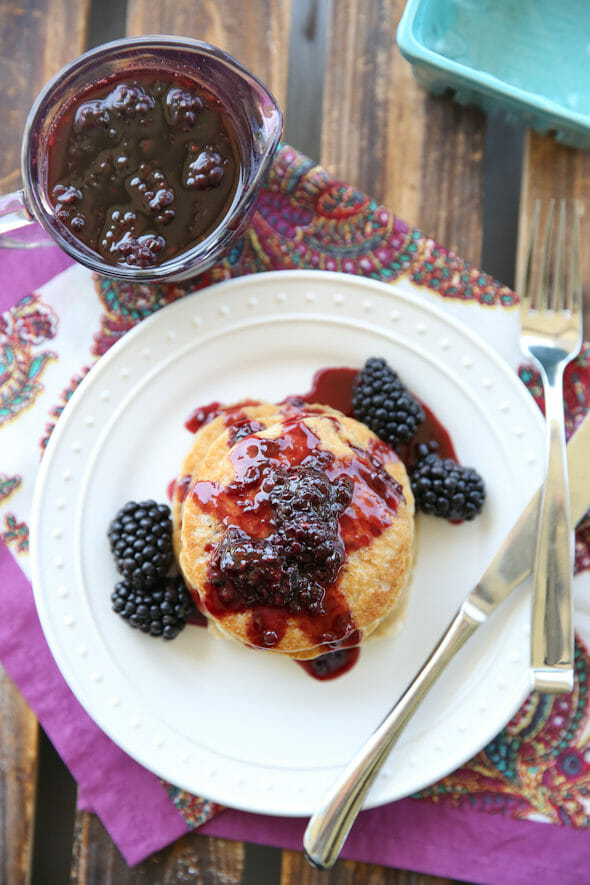 In fact, we took this left over sauce and popped it in the blender with some vanilla bean ice cream and made the most amazing milkshake.  Pin this one so next time you end up with some juicy fresh berries, you can whip it up!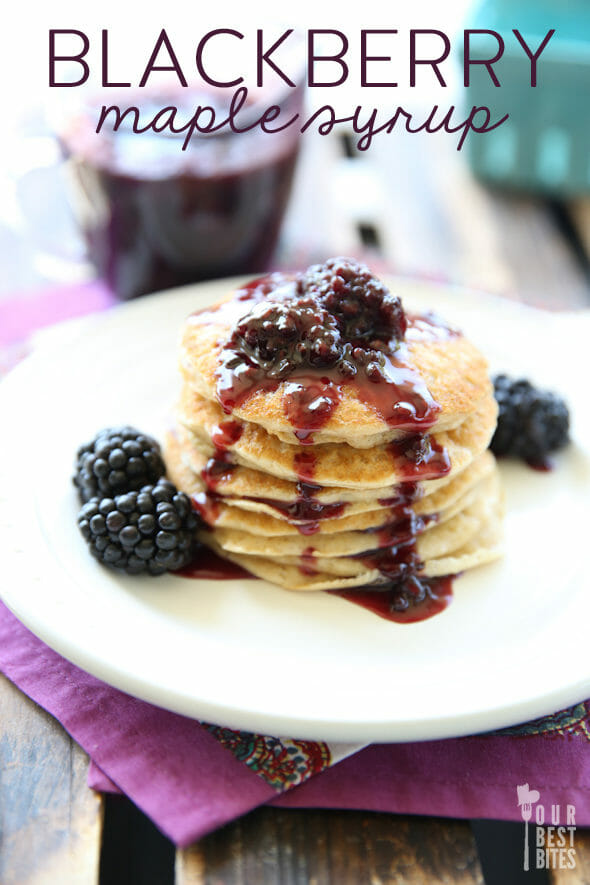 Print
---
Description
A fruity twist on classic maple syrup, perfect on french toast, waffles, pancakes, and ice cream!
---
12 ounces

blackberries (heaping

2 cups

)

1 cup

pure maple syrup

2 teaspoons

Blackberry Balsamic (optional)

3 teaspoons

cornstarch
---
Instructions
Place blackberries and maple syrup in a small sauce pan and bring to a boil. Reduce heat to simmer and cook for about 15 minutes, occasionally breaking up berries with the back of a fork.
Combine cornstarch with 2 teaspoons cold water and stir to dissolve. Add cornstarch slurry to pot, along with balsamic, and simmer for about a minute to thicken. Remove from heat and cool to luke warm and serve.
---