I remember when I first moved to Idaho and heard friends talking about planting blackberries in their yards.  I was taken aback, because where I'm from in the Pacific Northwest no one actually plants blackberries.  That's ridiculous.  In fact, they're kind of invasive and some people even go to great lengths to get rid of them.  If you want blackberries, you do what everyone else does and just stop on the side of the road with a bucket, because they grow wildly everywhere!  I have such fond memories of my childhood summers, walking across the street from my house to the giant ditch where blackberries were abundant and free for the picking all summer long.  We'd put them in a bowl, sprinkle on sugar, and pour on cream and it was so dreamy.  The last slurps at the end were my favorite when it was just purple-stained milk spiked with sweet sugar.  A friend gave me some gorgeous, sweet, plump berries the other day and I wanted to make something yummy with them.
Most of the recipes we post here on Our Best Bites feed quite a crew, but we get lots of requests for things scaled down for couples, families with just one or two little kids, or singles, who don't really need a 9×13 pan of everything.  When it comes to fresh fruit, sometimes you don't have a whole bushel laying around so I sometimes like to make mini-recipes.  This particular day I had a couple of ripe peaches sitting on my counter so I just wanted to make a little something for me and the only kiddo who was at home with me at the time.  You can certainly do the math and make a big ol' pan of this, but I scaled this recipes down for just 2.  Mind you, these are two generous servings so you could easily feed a spouse and a kiddo or two if you can manage to share.
Dice up a couple of ripe peaches, then toss in about  3/4 cup blackberries. It's not a big deal to be exact here; crisps are very forgiving.  You honestly can't mess this up.
Toss in a little sugar
and a little flour, which will help thicken the juices.  I also like to add a dash of cinnamon and ginger.  Sometimes lemon zest if I have some.
Toss that all together and pile them in ramekins, or similar size baking dishes.
Then you'll cover them generously with a mixture of butter, flour, sugar, brown sugar, and chopped pecans for crunch.
It may seem like a lot of topping but just trust me.  Pile it on.  I also like to sprinkle mine with coarse sugar (like Sugar in the Raw) because it creates an awesome sugary-crisp texture on top.
Bake them for about 30 minutes.  Honestly, I watch them and I know when they're done when they look like this:
Those spilled over edges are not a disaster, they're glorious.  I love the rustic charm it adds and color is insanely gorgeous.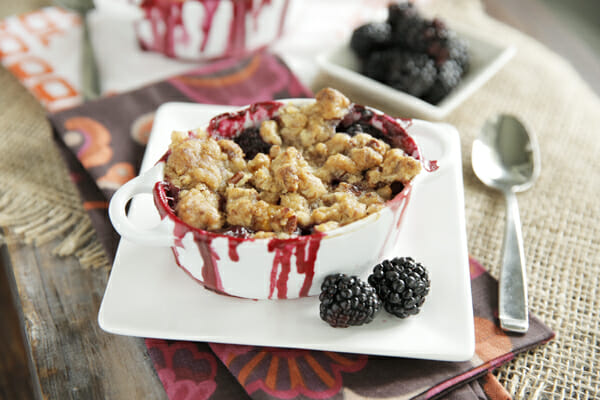 After you let them cool for a few minutes, the juices will thicken a little bit
which makes it perfect for spooning over ice cream.  You get fruit, syrup, and toppings, all in one.
You can also just spoon a scoop of ice cream right into your dish.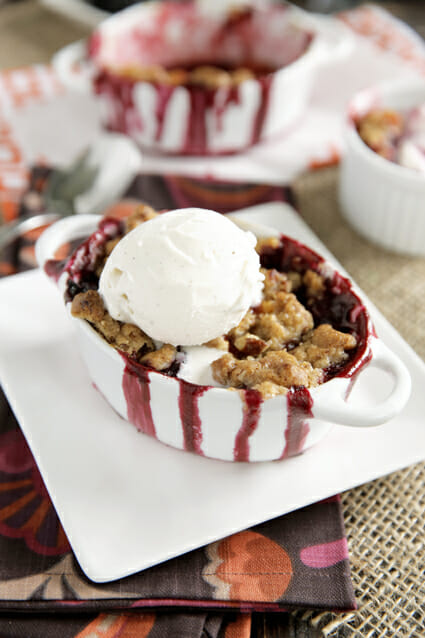 The combination of flavors with both the peaches and the blackberries is so amazing here, and this topping is craaaazy good.  This is one of my most favorite summer dishes.  Make a little mini batch today and share it with someone special!
Small Batch Blackberry Peach Crisp
Recipe by Our Best Bites
Ingredients
1 cup peeled ripe peaches (about 2 medium)
3/4 cup blackberries
1 tablespoon flour
1 tablespoon sugar
couple dashes ground cinnamon
couple dashes ground ginger
Topping
3 tablespoons flour
2 tablespoons sugar
2 tablespoons brown sugar
4 tablespoons chopped pecans
1/8 teaspoon ground cinnamon
2 tablespoons cold butter (if using unsalted, also add a pinch of salt)
optional: coarse sugar
Additional Ingredients
vanilla ice cream
Instructions
Preheat oven to 375 degrees.  Line a small baking sheet with foil and set aside.
Combine peaches and blackberries in a bowl.  Add in flour, sugar, cinnamon, and ginger and toss to combine.  Divide fruit mixture between 2 ramekins or other small baking dishes (if your ramekins are extra small, you may fill 3 or even 4).
In a separate bowl for topping, combine flour, sugar, brown sugar, nuts, and cinnamon.  Add butter and use clean hands to break up pieces in flour mixture until it resembles coarse crumbs with some small pebbles.   Divide topping mixture between ramekins.
Place ramekins on foil-lined baking sheet and bake for 30-35 minutes, until topping is browned and crisp.  Cool for at least 10 minutes before serving.  If desired serve with ice cream (and you really should desire.)