I'm finally starting a feature I've been wanting to do for a long time, and one that I've had a lot of requests for. I was born and raised in Seattle, but have lived in Boise, Idaho for the past 10 years. I often get requests from locals, visitors, new move-ins, people here on business, etc. about great places to eat in the Boise area (which includes downtown, the suburbs in Meridian and Eagle, and out in Nampa. I realize these posts will have little interest outside of my local area, but even then, maybe some of you will have fun reading it anyway, or share with friends or family coming my way. I'd love to add other reviews from different cities when we travel, so hopefully this section of our blog will build out nicely over the coming months and years.
I'll be honest- when my family eats out, 90% of the time we're heading to Red Robin or Costa Vida or somewhere else where I can have a relatively painless experience with 4 children in tow. However when I have the chance to really enjoy a night out, my husband and I (two people who REALLY love good food) love trying out new places. So as I explore my city, I'm going to share my reviews here on The Scoop. I'll do an extended post for each new restaurant (which is what you are seeing here), and then add a quick summary to one single post that can act as a quick reference guide if you're looking for good eats in this area! I'm going to add a bunch of my favorites to that reference guide over the next week or two so it has some info on it, but for today, I'm just going to start with a review for the restaurant we ate at over the weekend for our Valentine's date. Enough with the intro- here we go!
———————-
When I was interviewed recently by the Idaho Statesman, before I hung up the phone I had to ask the writer, who happens to also be a professional chef and the author of the restaurant review section, for his top picks in Boise. The Dish was one of his top two recommendations so I've been dying to try it out. Note that none of my reviews involve complimentary meals. I'm just enjoying dinner as an everyday customer and sharing my experiences with you.
Restaurant: The Dish
Location: Downtown Boise, 205 N 10th St
The Dish sits in a great spot on 10th street. Take a little walk before or after your meal and you can pop into The Chocolate Bar or The City Peanut Shop, two of my favorite sweet stops downtown. It's also right around the corner from Freak Alley, a hot spot for local graffiti artists and a fun stop for pictures.
Style: Upscale, bistro-style food with a neighborhood feel. (Their words. But I agree!) I loved the cool light fixtures and eclectic decor and styling.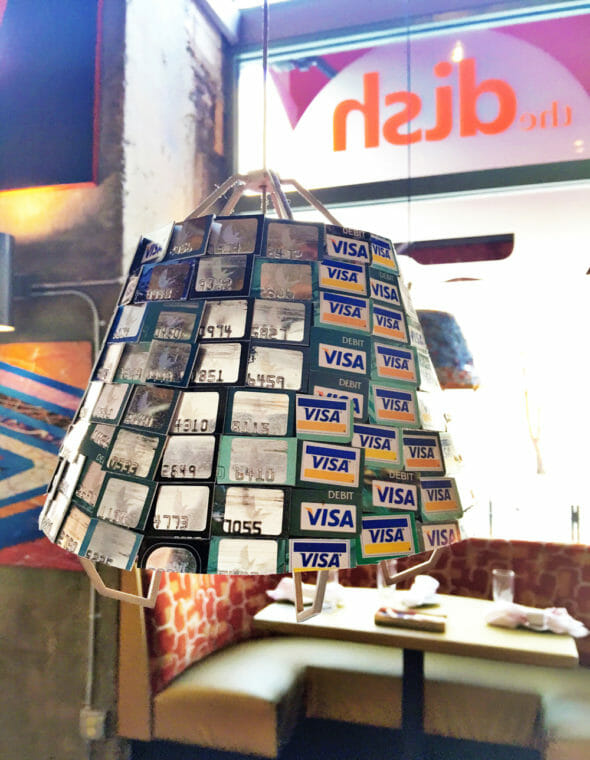 Kid Friendly Factor: I would leave the little ones at home and save this one for a date.
What we ate: Browse the entire menu, here– although note that it is a changing menu (always a great sign of a good restaurant in my book) and this is not entirely current. I don't see either of our entrees on there. We started with the Pita Nachos (Grilled Pita Chips, Smothered Black Bean Hummus, Crushed Falafel, Pico de Gallo, Spicy Tahini Sauce, Herbs) and it was killer. I could have had another plate of that for dinner. I didn't decide to write this review until after we had left, otherwise I would have taken notes or grabbed a menu for the entrees! I had an awesome steak with grilled butternut squash and mole sauce and my husband had the most amazing buttermilk fried chicken I've ever tasted. We nicknamed it doughnut chicken because the batter was slightly sweet and reminded us eating both fried chicken and doughnuts and how can anything be better than that?? Speaking of doughnuts, for dessert we shared the Sweet Potato-Ricotta Beignets, which I would recommend 5 million times over. They come with a little scoop of maple 5-spice ice cream and caramel sauce for dipping. The shared serving was perfect for the two of us after a big meal.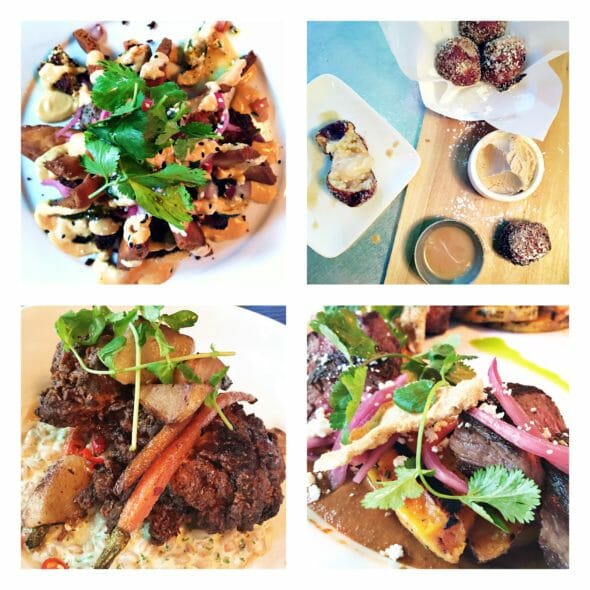 Service: Outstanding. Our waiter was friendly and helpful, and we appreciated his opinions on the menu. Staff members walked by often and never passed without a smile or a hello. They replaced silverware, removed dishes, and filled up water and beverages often.
Would we eat there again? Definitely.
Have a recommendation of somewhere I should eat? Would you like me to test out a restaurant before you try it? Let me know!