If there was one word to sum up the last few days it would be- whew!  We had SO much fun, but we're also glad to be back in our own homes with our sweet families.  The absolute best part of our trip was getting to meet so many of you wonderful readers!  Thank you so much for coming to see us- seeing your smiling faces was the highlight of this event!
We started out with a book signing , and after showing up to the wrong store, we were thrilled to see there were actually people excited to see us at the right store!  After a long day of traveling and not too much to eat, I was beyond excited when this dude walked in with a pan of warm Pao de Queijo– be still my heart!  It was baked to perfection too, loved it!
Food or not, we loved seeing everyone who stopped by that night- thank you!
The next morning was a big day.  Kate and I woke up way earlier than should be legal and headed over to Orson Gygi.  This place is a-maz-ing.  Besides having a design center for amazing custom kitchens, they have anything and everything you could possibly need and/or want.
Pans in every size
cupcake liner anyone?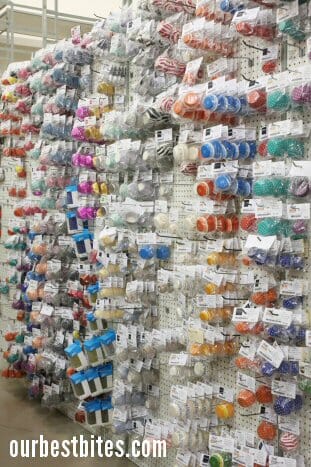 Plus tons and tons of beautiful things.  I could spend an entire post on Orson Gygi.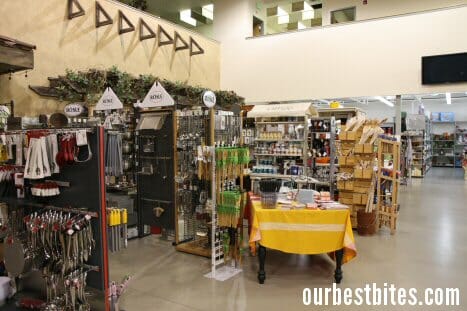 They have several demo kitchens- check out this one, where we did some of our food prep:
The best part about them is that they are stocked with 872 of everything.  Take measuring cups for example:
or kitchenaids
We got right to work and started prepping food for 120 people!  We couldn't have done it without lots of help, like Cindy (L) who made tons and tons of chocolate mousse, and Leigh and Michelle (R), who chopped their hearts out.  Well Michelle chopped her heart out.  Leigh, what were you doing? 😉
Our amazing publicist Ashley (below, R) made all of our cheesecakes, provided breakfast, and hooked me up with eye drops so I didn't look drugged.  She's the greatest.  Seriously.  She's also a good chocolate taster apparently, along with Roberta (middle, who plans special events at DB) and Leigh, another publicist for DB.
In fact, speaking of help- do you know what happens if you show up early to attend our event and you find us still in the kitchen in our pj's running around like crazy women trying to get everything done in time??  We put you to work.  Here's the proof.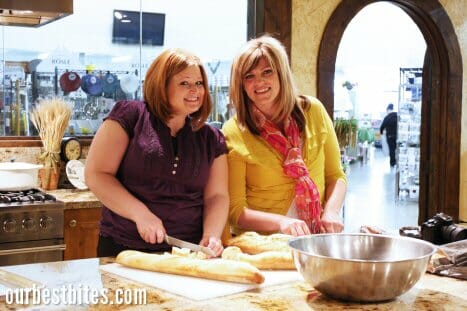 Yes I really did that.  These cute girls cut all of the bread for the Panzanella- thank you cute girls!
We had a blast cooking and chatting, and giving away prizes.  It was sort of like Oprah except people got spatulas instead of cars.  Okay, so nothing like Oprah.
One of the best moments of the whole day?  Seriously, I still can't believe this happened.  I joke so much about my kitchen-klutz moments but never thought one would actually happen while cooking in front of people.  Oh ya, never assume such things. Let me just say that the knives at Orson Gygi are sharp.  Very sharp.  And apparently I have trouble multi-tasking, you know like cutting and speaking.
I totally sliced my finger! hahaha  I can laugh now.  Fortunately it wasn't until the afternoon class, and we had these beautiful latex gloves so the show could go on.  Awesome.
We had lots of adventures signing books too.
Kate actually signed one "Happy Birthday" and it so wasn't the person's birthday.  And me?  I signed not one, but two books, "Love Kate"  Apparently we lose brain cells every time we open one of those covers.
This is Brent.  He makes us feel cool by following us around taking pictures.  Not in an I'm-a-crazy-stalker kind of way, but rather an It's-my-job-to-take-your-pictures-so-I-have-no-choice kind of way.  We'll take what we can get.  Since he's always behind the camera, I thought it was only fair to put him in front of it at least once!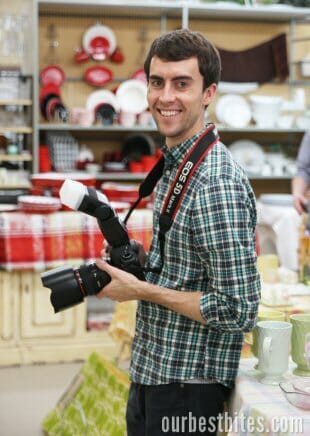 At our last signing of the night, a sweet woman brought us 2 freshly baked loaves of sourdough  bread.  Really good sourdough bread.  It was the end of a very long, very exhausting day and as we headed back to our hotel late at night I could think of nothing else but ripping open one of those loaves.  So right before we went to our rooms (at about 10pm mind you), we stopped by the hotel restaurant and asked for… butter.  The sweet hostess replied, "um, wait- what?  You want butter?"  Yes.  Butter.  She totally hooked us up with a bowl of flavored herb butter and some diet coke.  She's our new best friend.  Okay, the woman who baked the bread is our new best friend, but the butter lady comes in a close second.  And the awesome girls who brought us doughnuts at Orson Gygi are right up there too.  As well as the Brazilian Cheese Roll guy.  If you haven't guessed yet- all you need to do to be our best friend is feed us.
The last book signing of the trip was a relaxing one, partially because we were heading straight to the airport afterward!  Thanks to everyone who came to see us there- it was so fun meeting all of you.  We were thrilled to meet one of our favorite bloggers, Amy, from The Idea Room.  She's actually doing a giveaway right now for one of our cook books so click here to head on over and enter!  Also, one of our other fave bloggers, Maria- from Two Peas and Their Pod is doing a giveaway right now too.  Click here to enter hers!
As Kate and I made it through security at the airport, bought some trinkets to take home to the kiddos, and said our goodbyes, we were surprised to turn and see this window display at the airport bookstore- how fitting!  A quick cell phone pic from a passer-by and we were on our way.
If you didn't get a chance to see us this time around, we'll be back in SLC the first weekend of April for Deseret Book's "Ladies Night" and then at BYU for Women's Conference at the end of April.  We also have events in both Boise and Seattle coming up.  We hope to see more of you then!
Lastly- congrats to the winners of our own cook book giveaway!  Random.org picked lucky numbers  1063 (Katie) and 1814 (Carolyn Stock) winners have been contacted!
And yes- we're actually going to post a recipe this week, so stay tuned!