Brigadeiros. Probably one of the most iconic Brazilian foods and part of a whole food classification they enjoy there called "Docinhos" or "Little Sweets". Bite-sized confections that make appearances at almost every party! Of all the "little sweets" Brigadeiros are the most beloved. They involve only 3 main ingredients and are basically little balls of chewy soft chocolate fudge, kind of like a really soft taffy. This Brazilian Brigadeiro recipe couldn't be easier, and it's especially appropriate because Brazilian Independence day is this week. But you don't have to have any interest in Brazil, or their holidays or traditions, to enjoy this easy-to-make chocolate confection!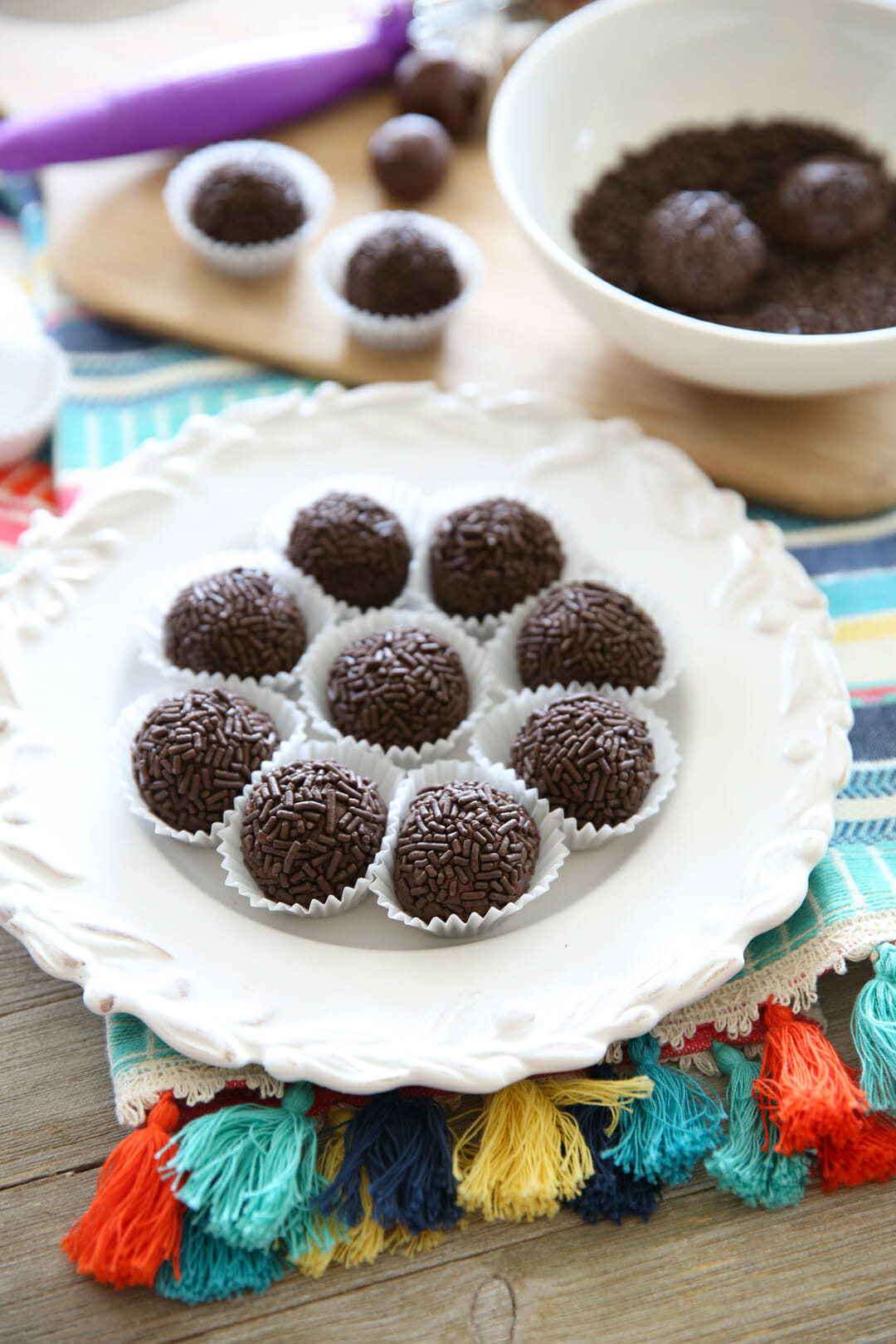 Brigadeiros start with one of Brazil's most used kitchen ingredients: Sweetened condensed milk. Just pour one whole can into a small-ish pot or sauce pan.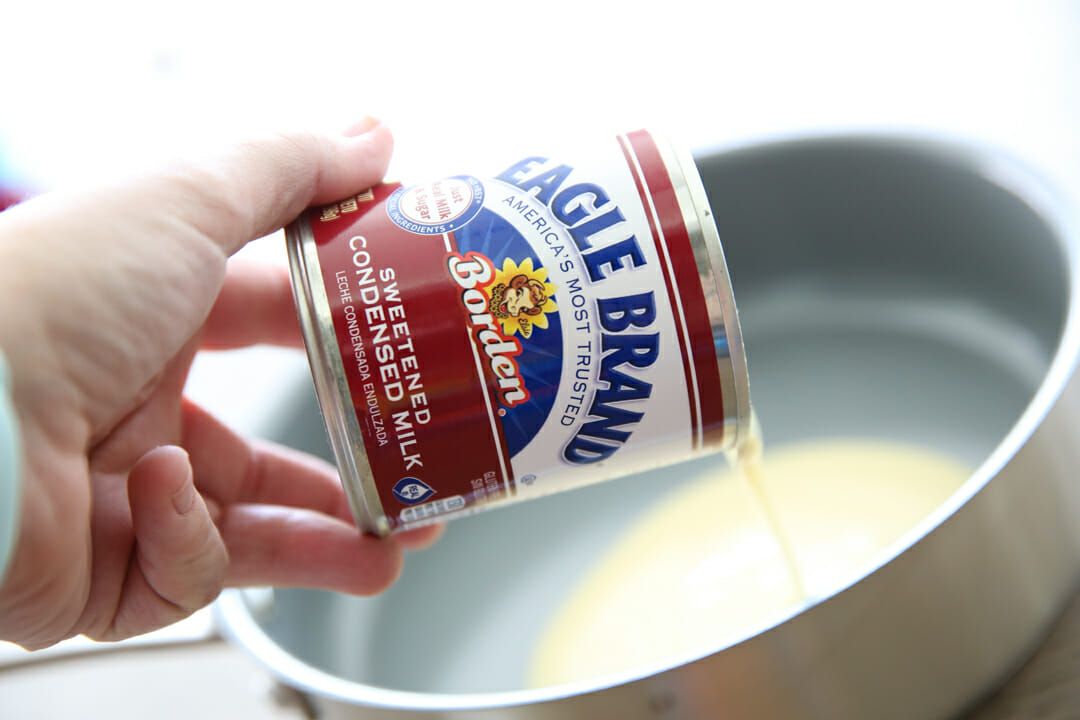 Then add a couple tablespoons butter and some unsweetened cocoa powder. In Brazil, almost everyone uses Nesquik powder- like the instant chocolate milk powder. But I prefer using unsweetened cocoa powder. You certainly don't need the added sweetness of the drink mix and cocoa powder adds a much cleaner flavor profile. I do suggest always running the cocoa powder through a fine mesh strainer as you sprinkle it in your pan to avoid clumps.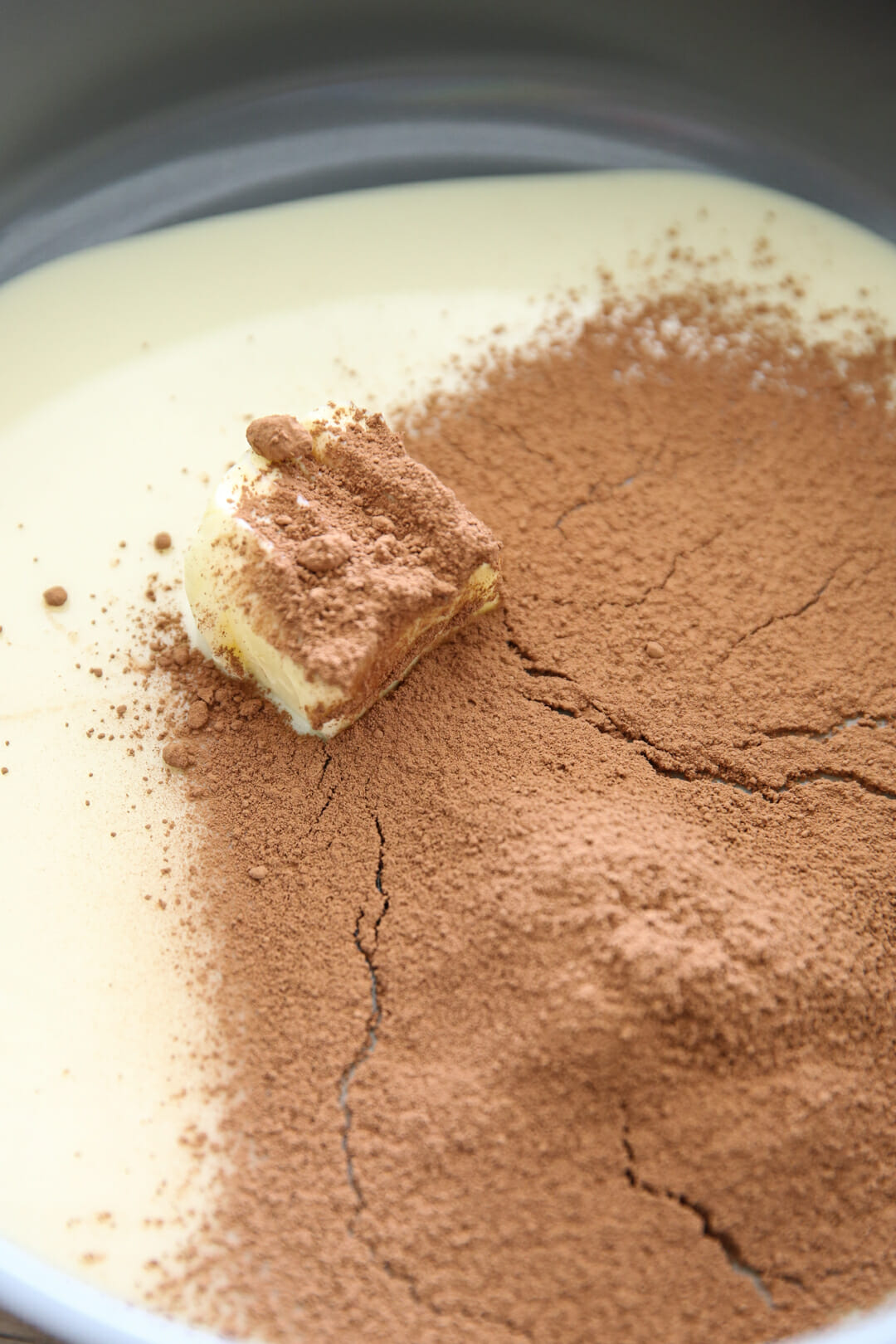 That's it! Just 3 ingredients. You'll heat them and whisk together until you have a smooth chocolate sauce and then simmer to thicken it into what will feel like kind of a soft fudge consistency. You'll know it's done when you run a spatula over the bottom of the pan and the line clearly stays put like this photo below: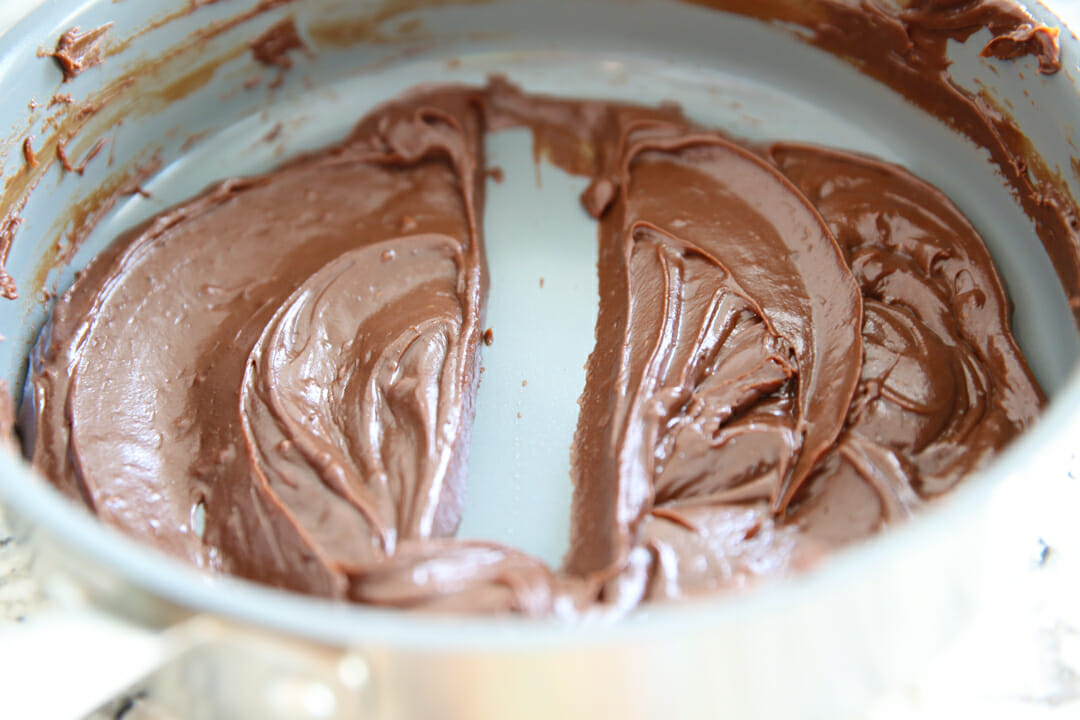 After it's done cooking, I always scrape the mixture out onto a silicone baking mat to cool off to room temperature. You can also just place it on a buttered plate. Once it's cooled enough to touch, you'll just roll little balls and dunk them in sprinkles.
I can't tell you how many times I sat around a table chit-chatting with Brazilian ladies as we rolled brigadeiros. It helps to have a stick of butter out so you can rub a little on your fingers to avoid them getting sticky. The traditional size is about a 1/2 tablespoon, I would guess. Small enough that you could pop the whole thing in your mouth. A mini cookie scoop works well to get uniform shapes.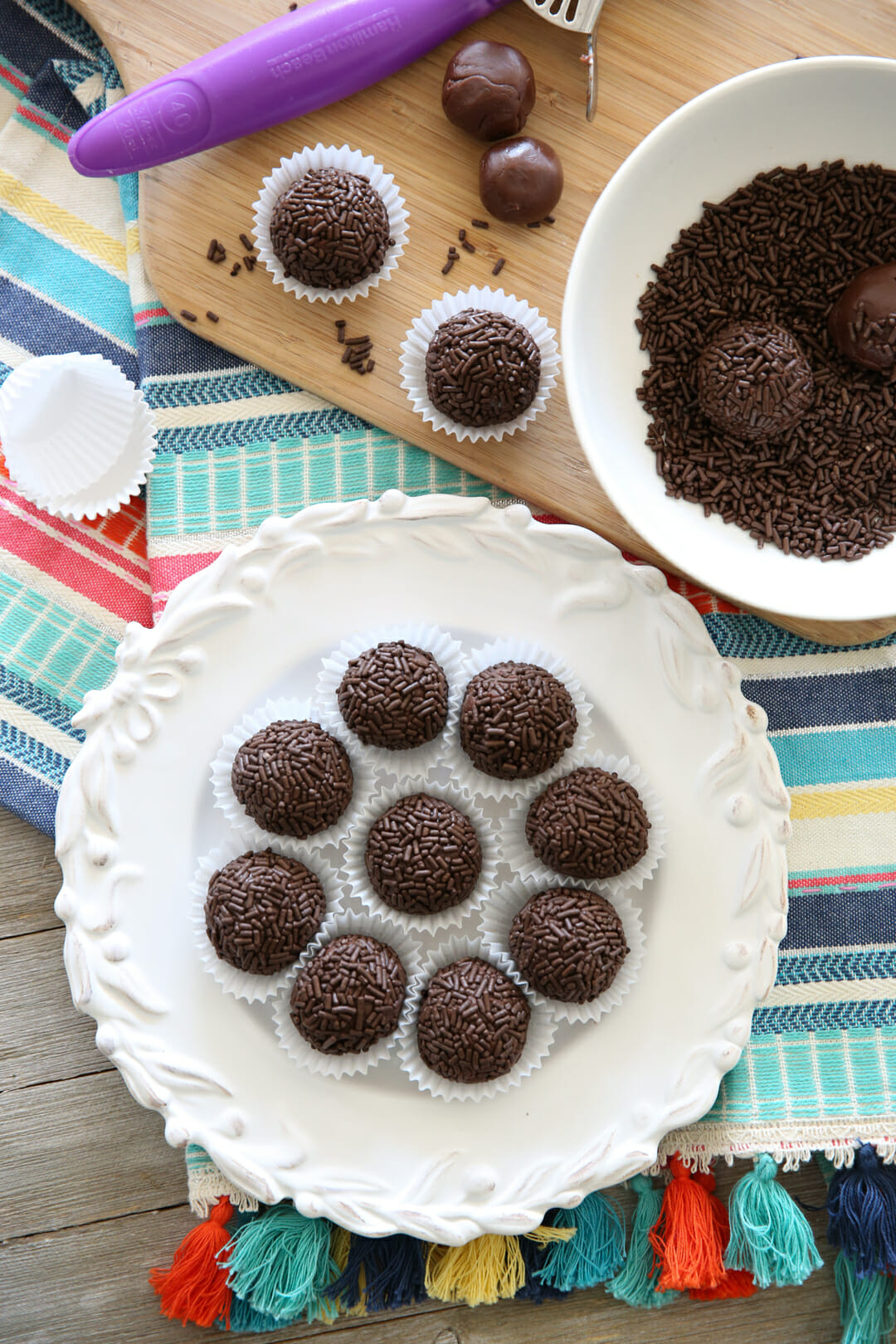 Traditionally these are rolled in chocolate sprinkles/jimmies, or sometimes rainbow ones, but you can be creative and use any color you like. Little mini muffin pan liners work great for holding them, or you can buy small candy cups at party supply stores.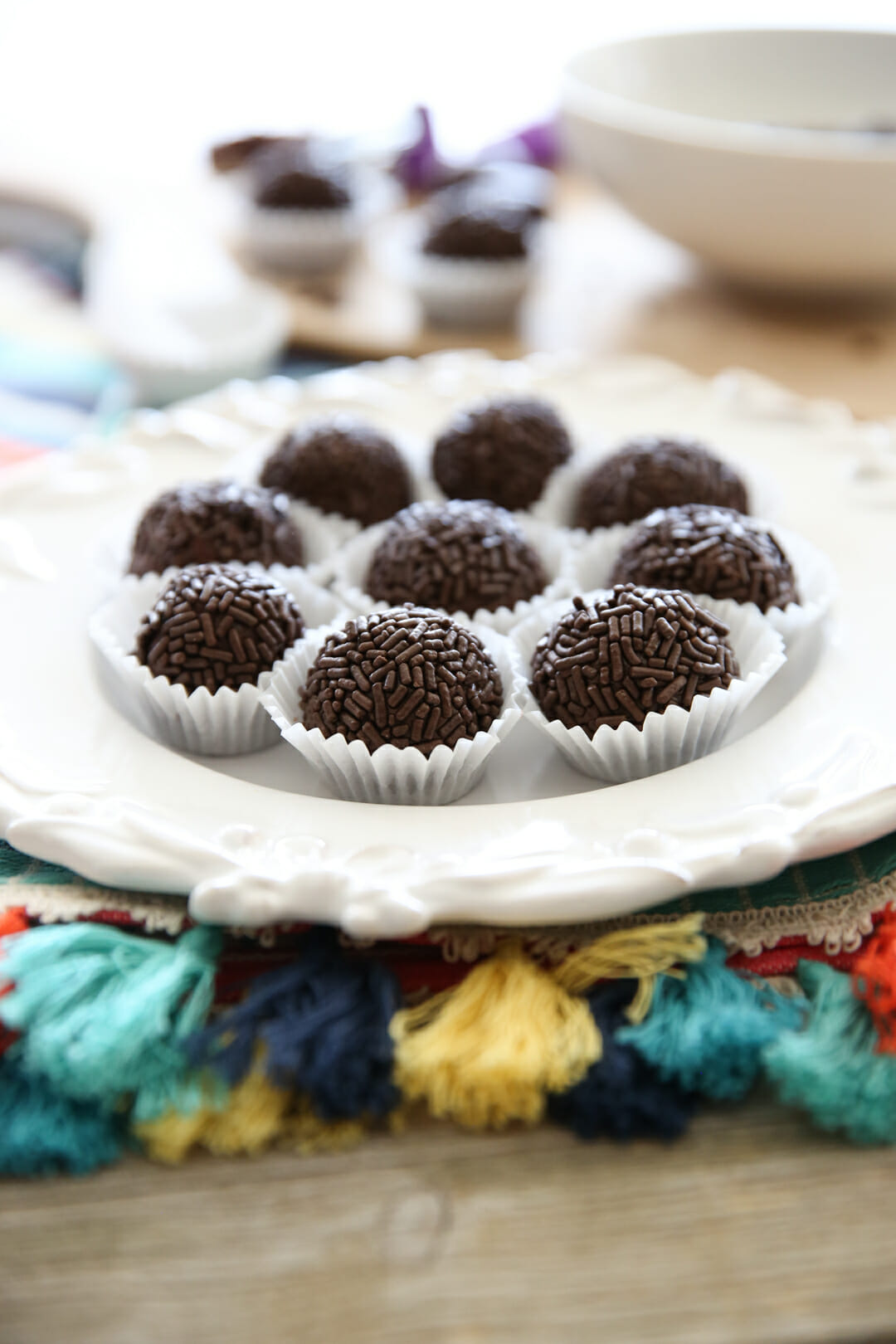 Que gostoso! I hope you make and enjoy these easy chocolate fudge balls!
Print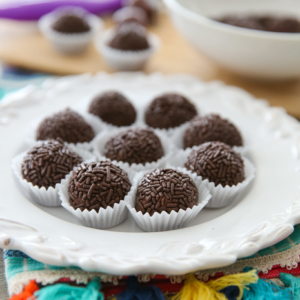 Brazilian Brigadeiros (Brazilian Fudge Balls)
---
Description
Easy little soft chocolate balls perfect for a treat or snack.
---
1 14oz can Sweetened condensed milk
2 tablespoons butter
4 tablespoons unsweetened cocoa powder
1/8 teaspoon salt
chocolate sprinkles/jimmies
Small paper cups for serving
---
Instructions
Empty can of sweetened condensed milk into sauce pan. Add butter and sift cocoa powder in. Turn heat to medium-low and whisk to combine all ingredients.
Bring mixture to a low simmer and cook until a rubber spatula leaves a clear streak on bottom of pan when scraped with the spatula (usually about 5 minutes, but varies depending on your pan, could be 5-10 mins)
Place mixture on a silicone baking mat or a plate to cool to room temperature, or just barely warm so you can roll it in your hands.
Rub a little butter on your hands and then roll into small balls (1/2-1 tablespoon is normal size, a mini cookie scoop works great) and then roll in sprinkles. Place in mini muffin liners/candy cups for serving.
---