When I shared food pictures from my recent trip to Brazil, the most requested recipe was for my favorite Brazilian dessert: Pudim!  Brazilian Pudim, short for Pudim de Leite Condensado,  is similar to a classic flan recipe, only so much better.  It only requires 4 main ingredients!  Instead of being made with just eggs and milk, this creamy Brazilian dessert is made with sweetened condensed milk (leite condensado).  Along with eggs, whole milk, a little vanilla and a quick caramel sauce that basically makes itself, this is one impressive dessert that feels both comforting and decadent to eat!  If you like Creme Brûlée, this is a similar flavor profile.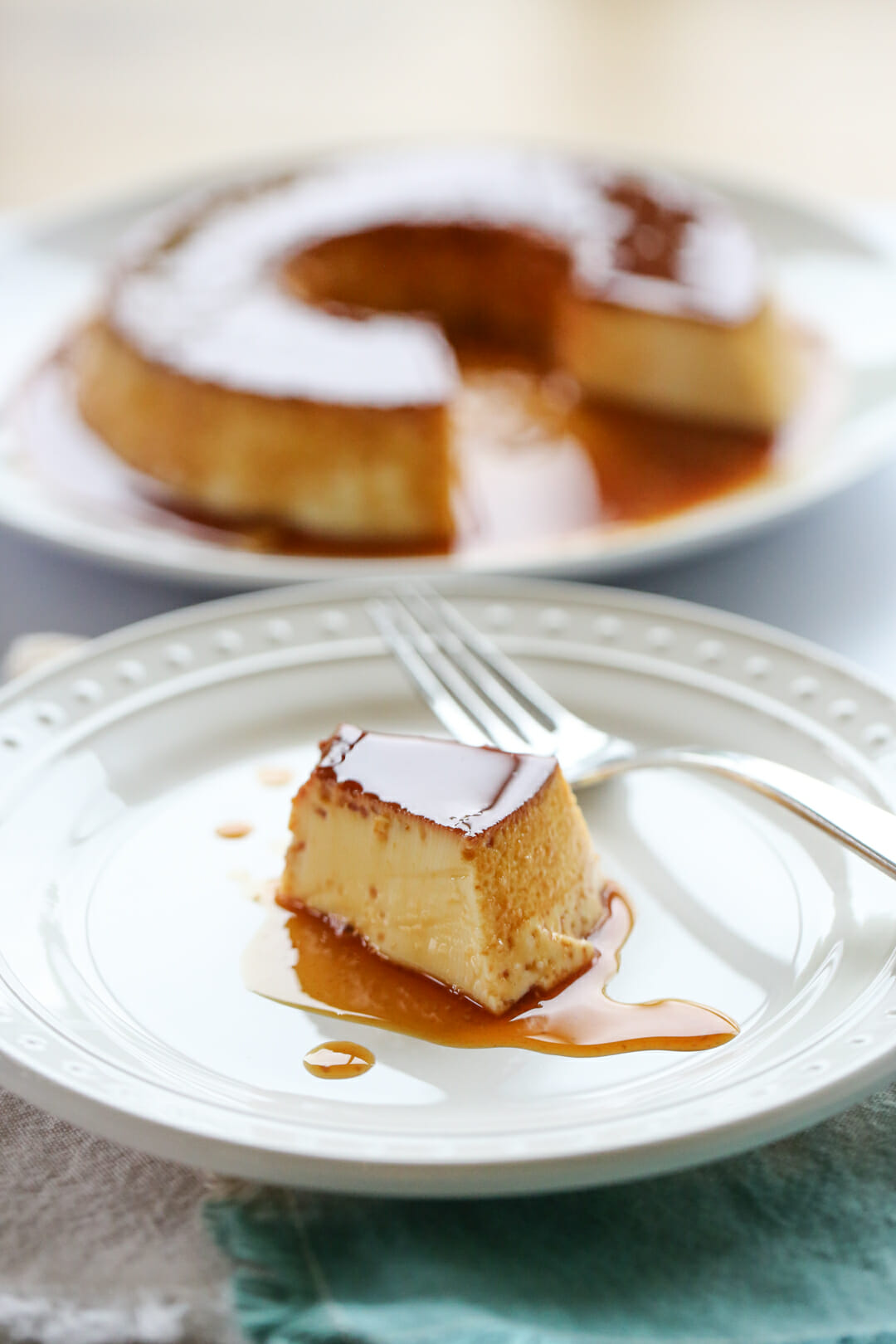 How to Caramelize Sugar
The first step in this recipe is to caramelize some sugar.  I mix a little water into regular granulated sugar to make it easier.  This part is seriously so simple- just simmer until it turns a golden caramel color.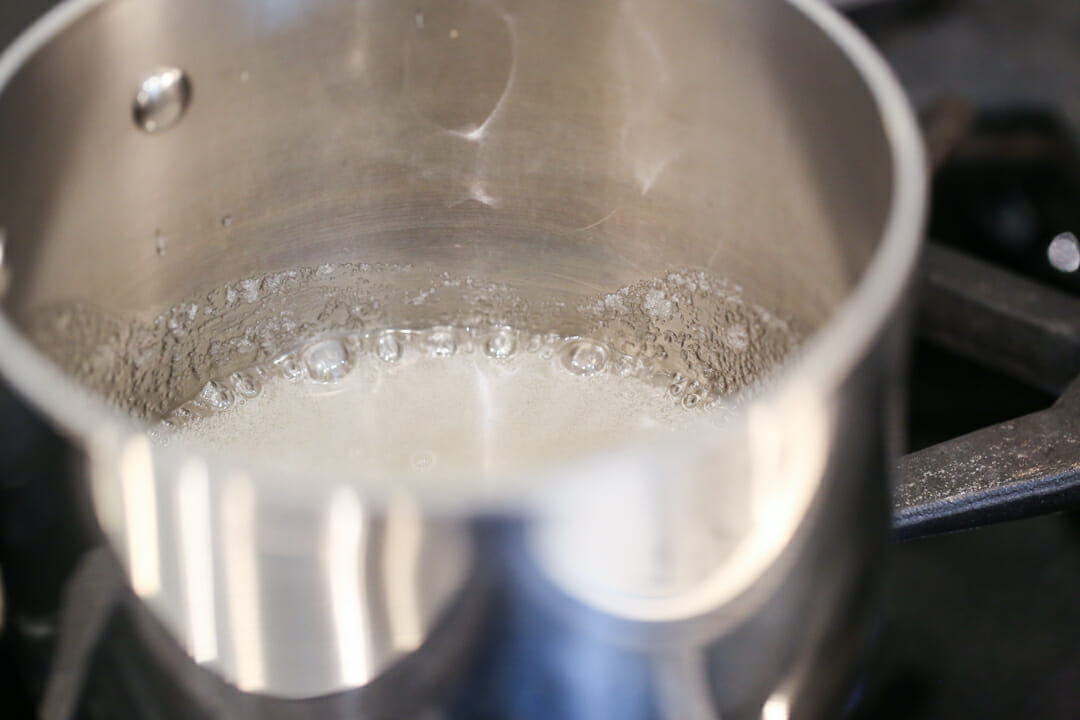 To be honest, this caramel in my photo is a tad bit overcooked- I'd take it off the heat when it's a little lighter than this or your sugar can have a bitter burned taste.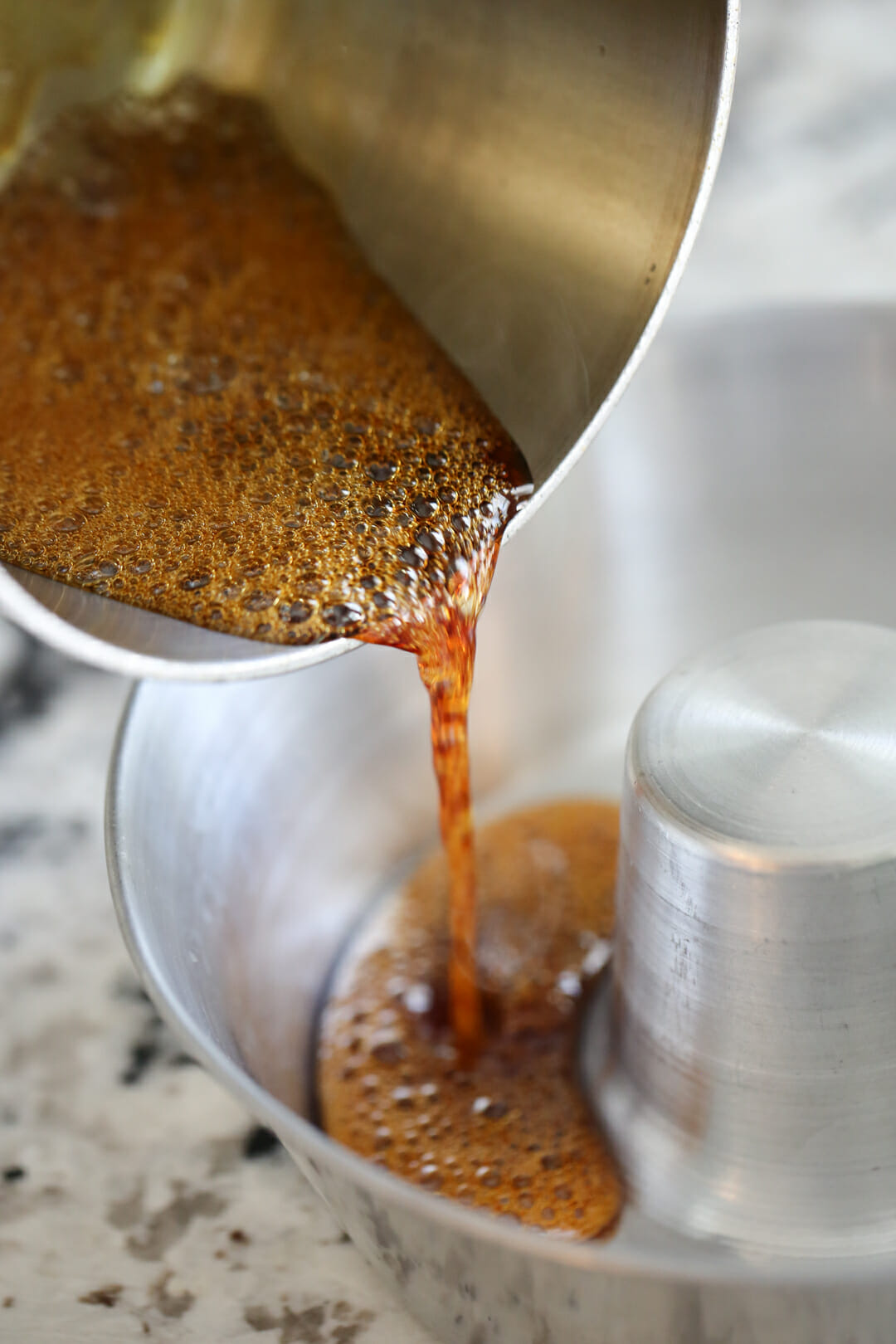 Carefully pour that boiling sugar into your pan and swirl the pan around so the caramel coats the bottom and goes about an inch up the sides.  For this dessert you'll want to use a tube pan, like an angel food cake pan, but make sure it's one-piece, not the style with a removable bottom. This is a great option.  In these photos I'm actually using a small 6″ pan that I brought home from Brazil with me.  If you have this size, just half the recipe and it works perfect!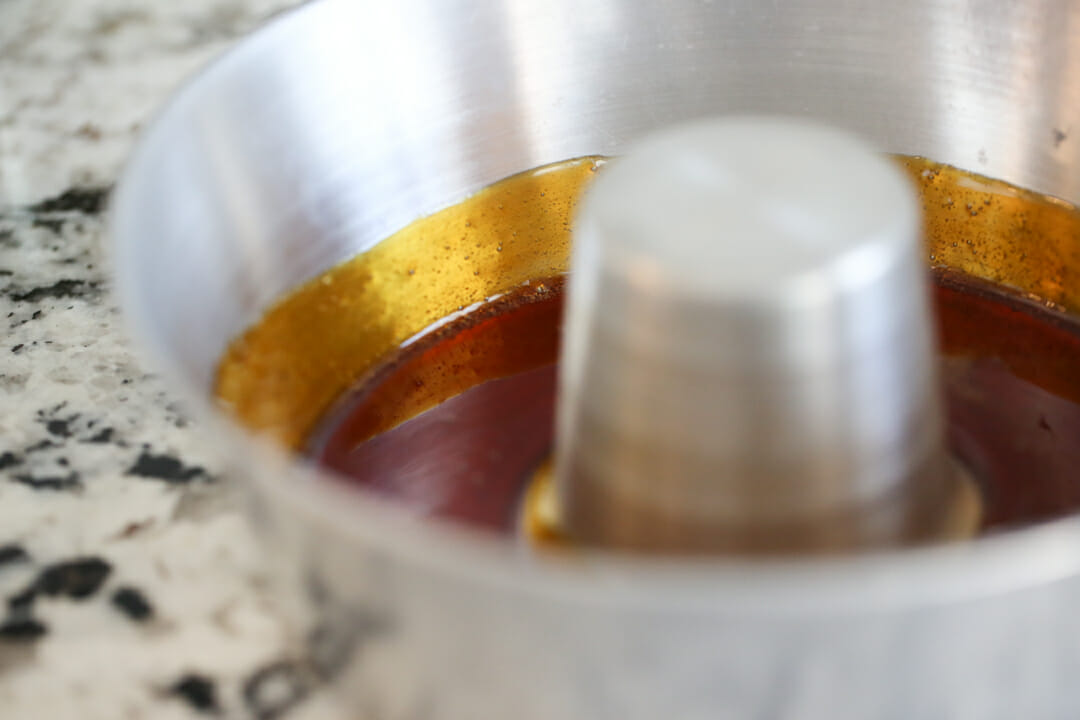 Making Brazilian Pudim Batter (so simple!)
Next you'll pour your batter in.  This could not be more simple.  Four ingredients!  Sweetened condensed milk, whole milk, eggs, and vanilla.  That's it.  We're using equal parts sweetened condensed milk and whole milk so you can literally just pour in your sweetened condensed milk and then fill up the empty cans with whole milk instead of dirtying a measuring cup! Buzz it all up in the blender and pour it gently over your caramel mixture.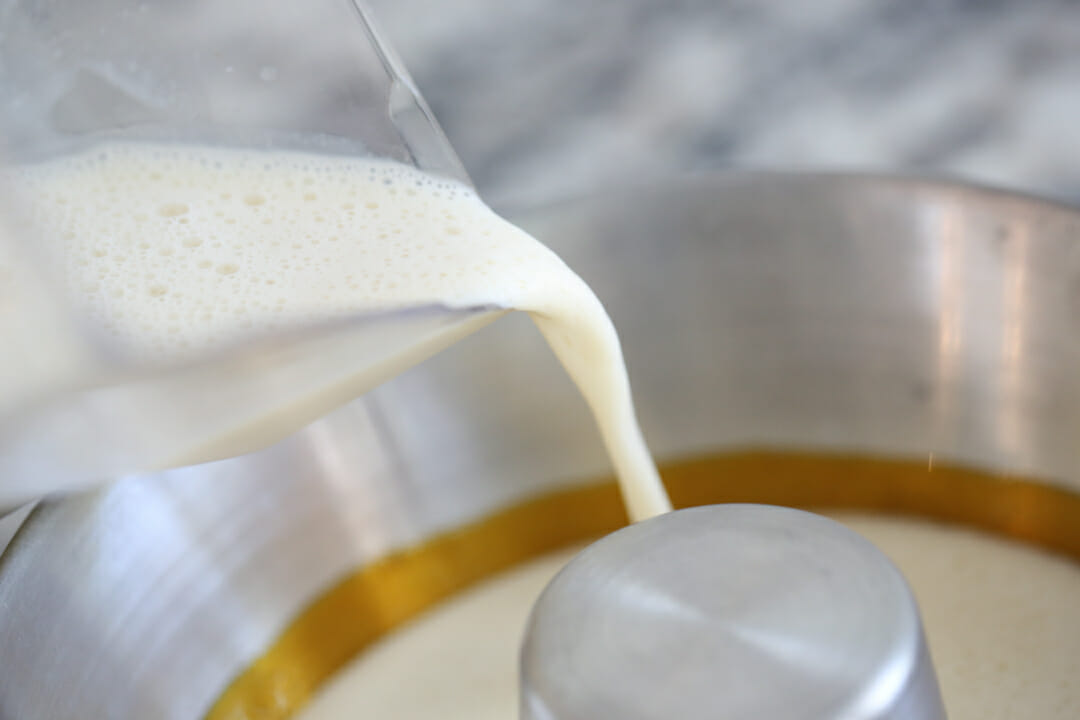 How to Bake in a Water Bath
You'll then cover your pan with foil and place it in a water bath.  Basically you want it inside a larger pan and then you'll fill up the larger pan with water so the water goes at least half way up your baking pan.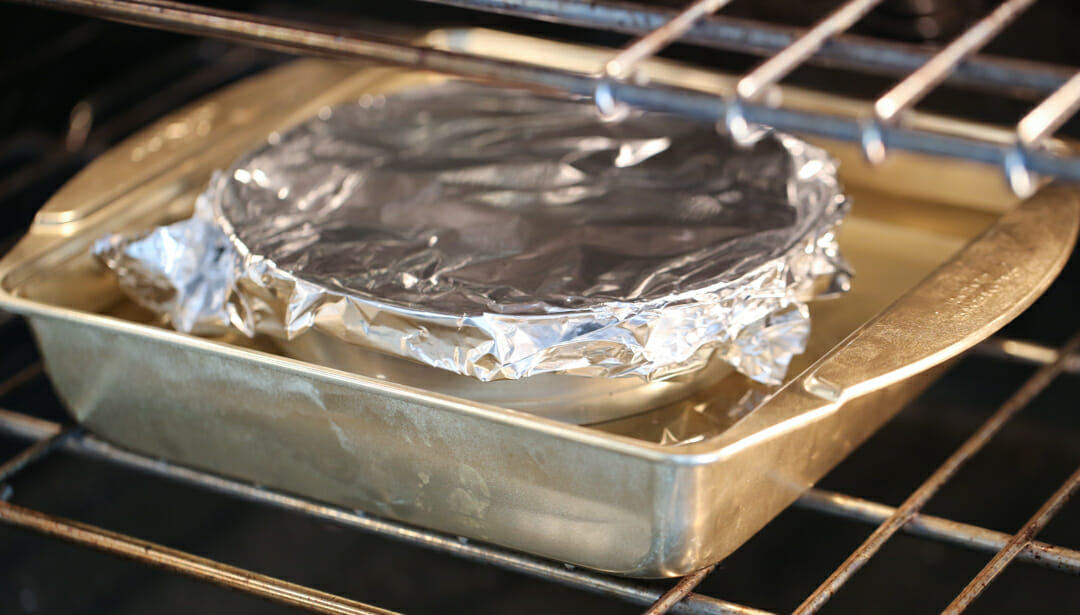 After it's done baking it needs to cool completely and then be refrigerated.  Don't try to rush this one.  It's best may a day ahead of time, but if you're going to make it the day of, it needs to chill for at least 8 hours for best results.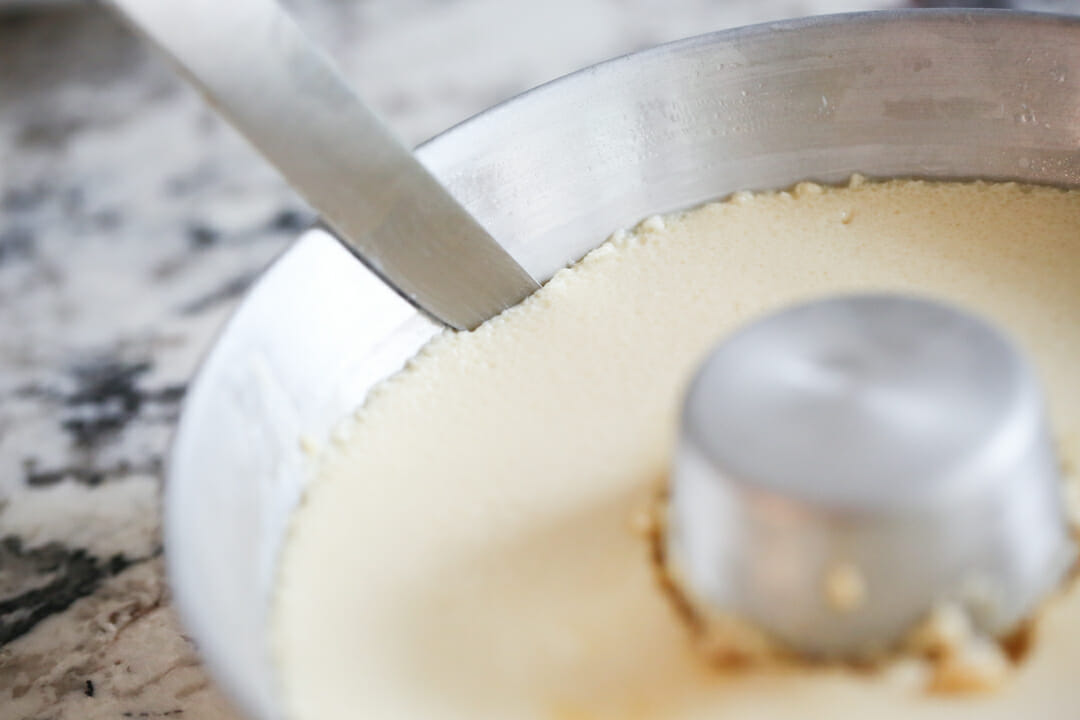 How to Serve Brazilian Pudim
After running a knife around the edge of your pan, invert it over a plate to release.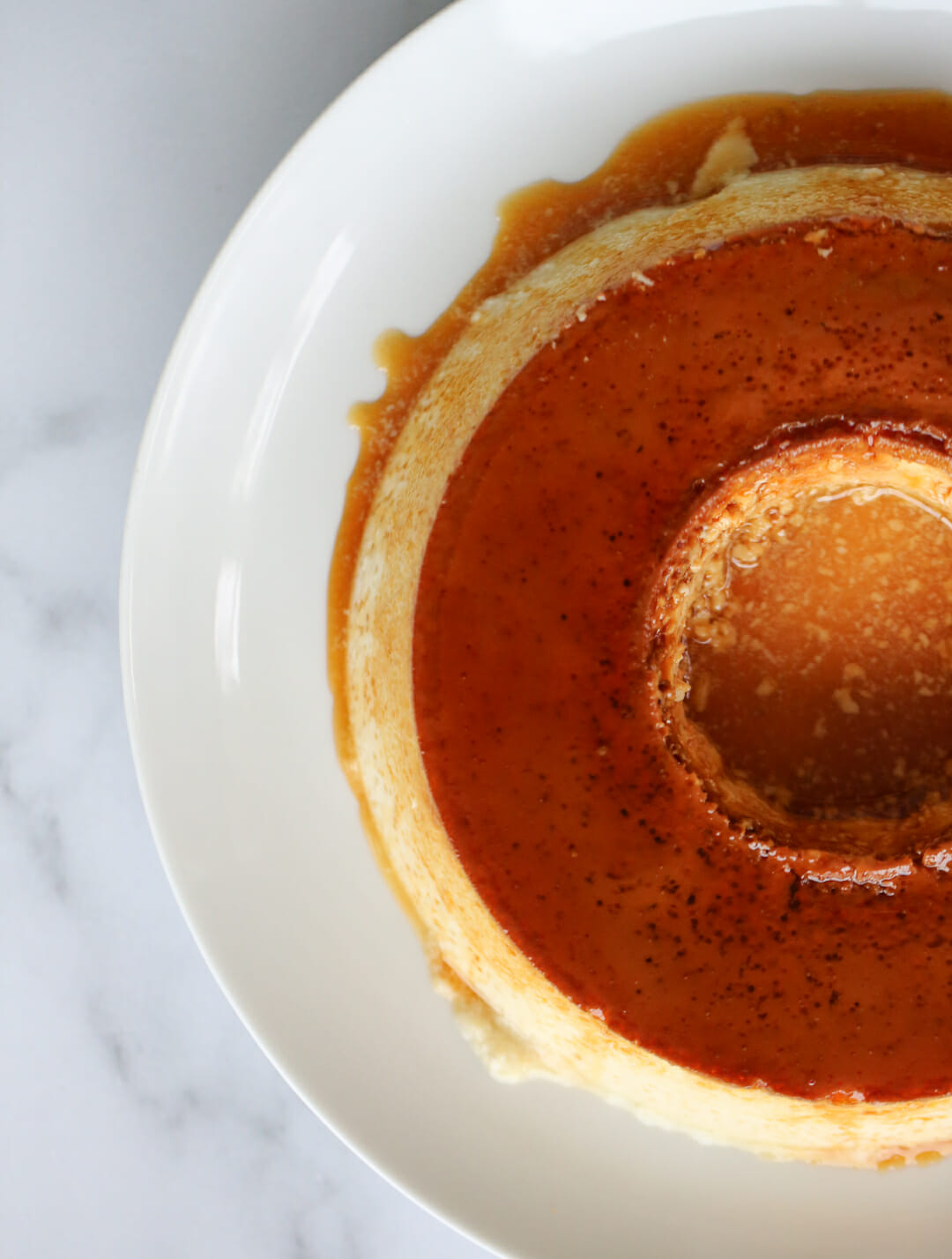 You should have a beautiful ring of custardy, caramelly, goodness.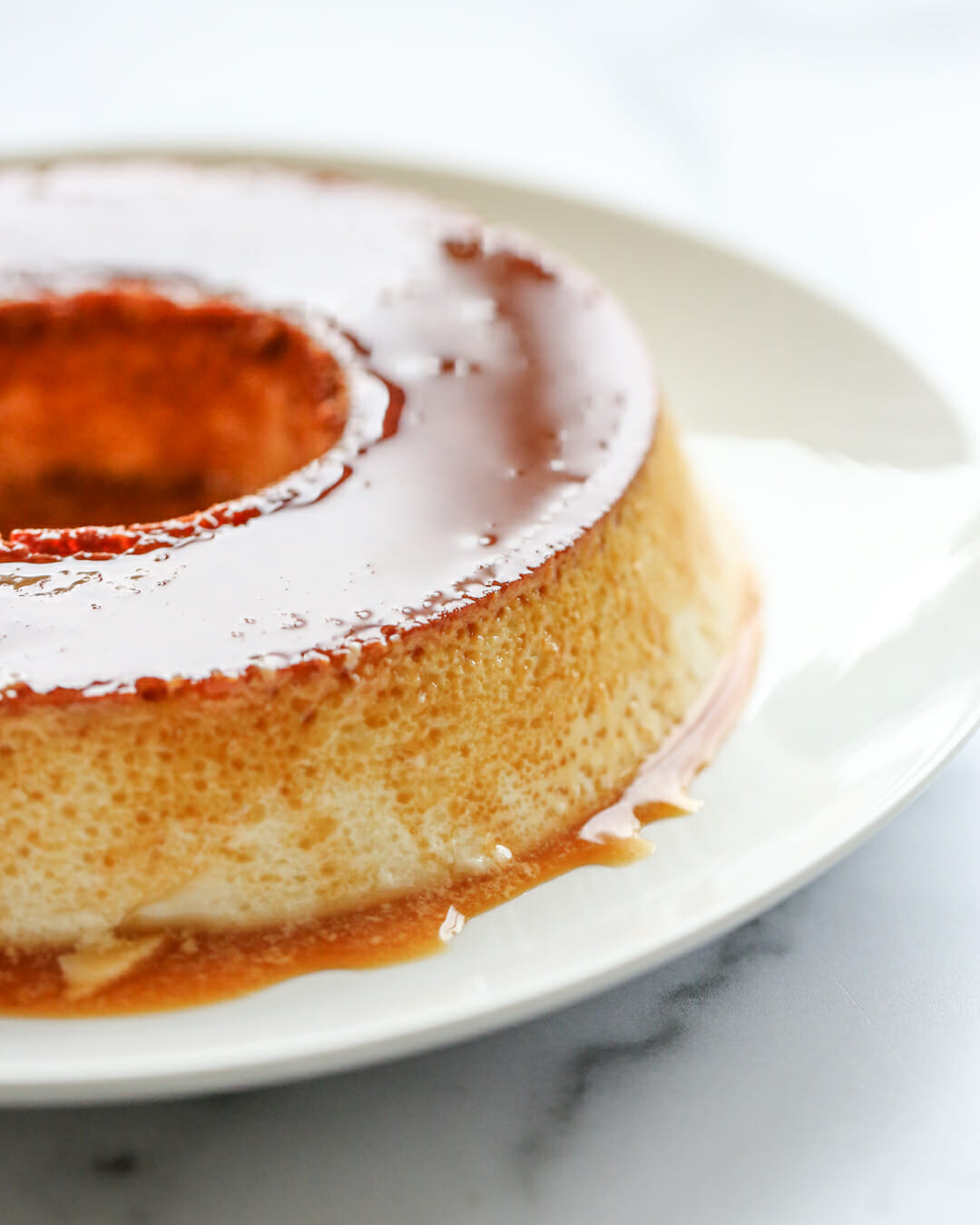 There will be caramel liquid left in the pan, scrape out as much as you can and drizzle on top.  (Then fill the empty pan with hot water in your sink to melt off the remaining sugar.)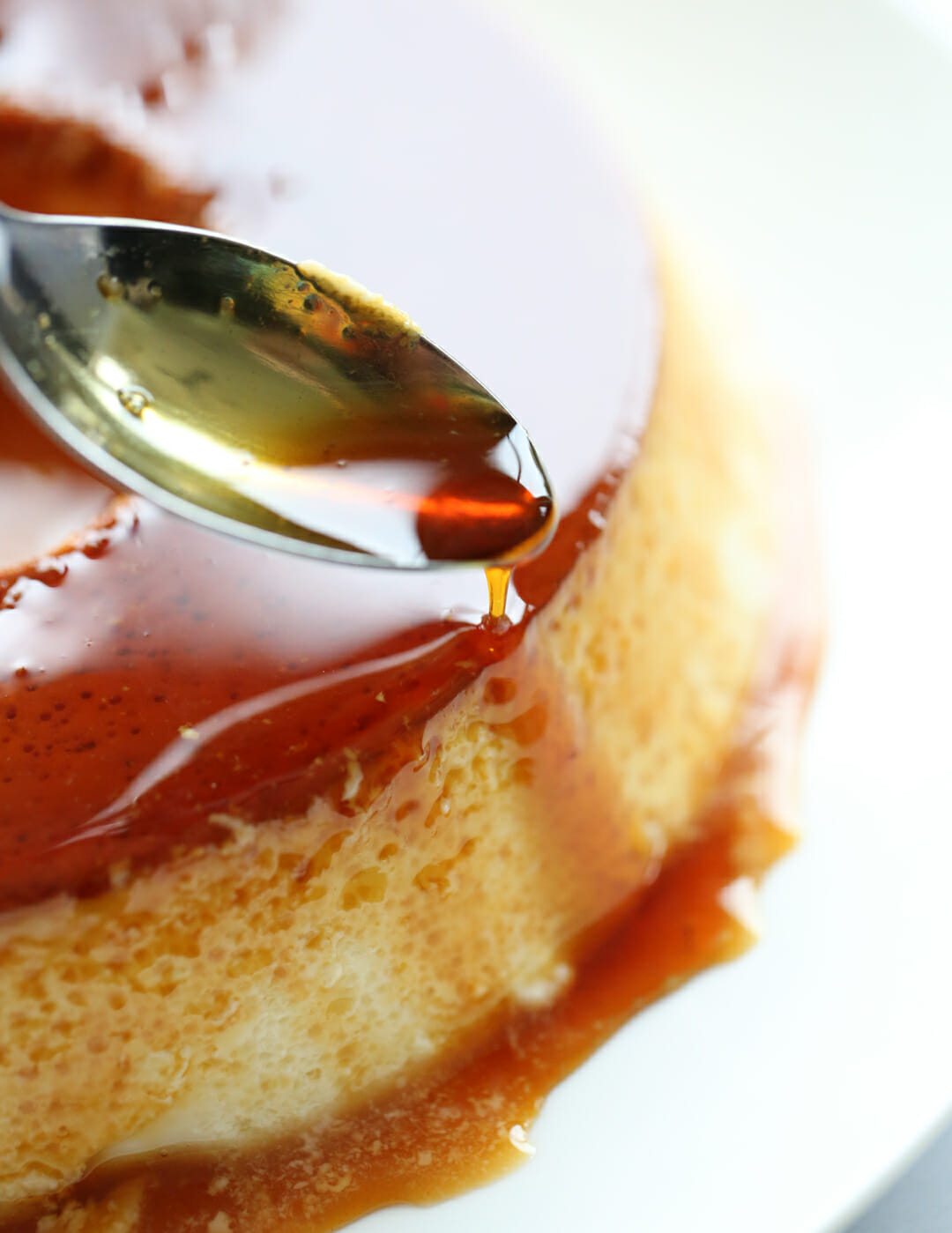 Cut into slices and enjoy!  The texture of Brazilian Pudim is smooth and creamy, but the eggs help it set up so it's almost like it has a bit of gelatin in it.  Some people dislike this texture (my husband and one of my kids, for example) but I can't get enough of it.  I could eat this entire ring myself.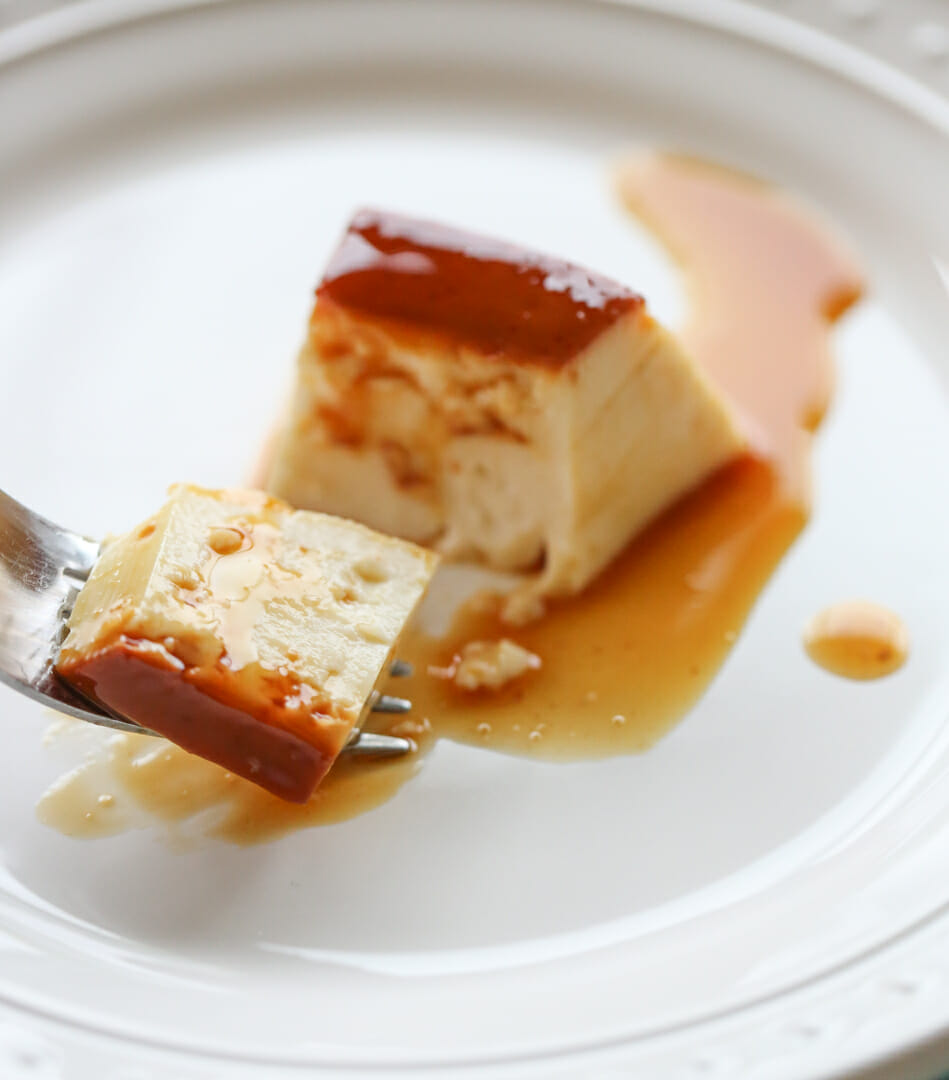 Helpful Tools for This Recipe:
Print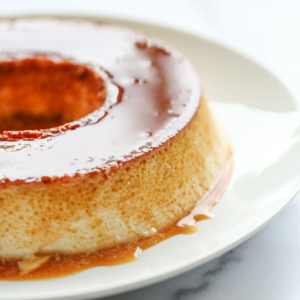 Brazilian Pudim de Leite – Brazilian Caramel Flan
---
Description
A classic Brazilian dessert made with simple, inexpensive ingredients!  Decadently creamy with an easy caramel sauce.  This recipe is for a standard size tube pan (similar to the size of angel food cake) but a smaller 6″ works great with the recipe halved.
---
1 cup granulated sugar
1/4 cup water
2 14oz cans sweetened condensed
2 1/2 cups whole milk (just fill up the empty cans of sweetened condensed milk with whole milk- it's that same amount!)
4 eggs
1 tablespoon vanilla extract
---
Instructions
Preheat oven to 350.
Place sugar and water in a small, light-colored sauce pan and stir to combine.  (The light color will make it easier to see the color/doneness of the caramel). Turn heat to medium and bring to a simmer.  Stir occasionally or gently swirl pan.  Let mixture simmer gently until it turns a golden caramel color, anywhere from about 5-10 minutes.
Pour hot caramel into a tube pan (like an angelfood cake pan- but make sure it's a one-piece pan, not one with a removable bottom) and tilt pan so it covers the bottom and moves up the sides about 1 inch.
Place sweetened condensed milk, whole milk, eggs, and vanilla in a blender and blend until combined.  Slowly pour mixture into pan over caramel and cover pan with foil.
Place your pan in a larger pan (like a roasting pan) and place in oven.  Pour hot water into the larger pan so it goes up the sides of the tube pan at least 1/2 way.  Bake for about 1 1/2 hours.  When done, it should wiggle about the same amount as set jello and the top should be set to the touch.
Remove and let cool completely and then store in fridge overnight.  To serve, invert over a plate and then scrape as much of the remaining caramel on top as you can.  Place your pan to soak with warm water in the sink and the remaining caramel will melt right off.   Cut into wedges to serve.
---
Keywords: brazilian pudim, brazilian flan, brazilian dessert