As promised, today I'm sharing the Brazilian Rice that goes with the Black Beans I posted on Wednesday.  I'm pretty sure rice is one of the foods that is eaten regularly in every culture on earth.  And it seems every place has a different standard way of cooking it.  We ate rice a lot when I was growing up and my Mom always stirred in a couple big pats of butter right when it was done.  To this day, one of my favorite comfort foods is a bowl of hot rice with liberal amounts of butter and lemon pepper.  I made rice a while back for some Hawaiian friends and they thought it was the weirdest thing that I dumped butter in there!  But really, it's amazing, you should try it.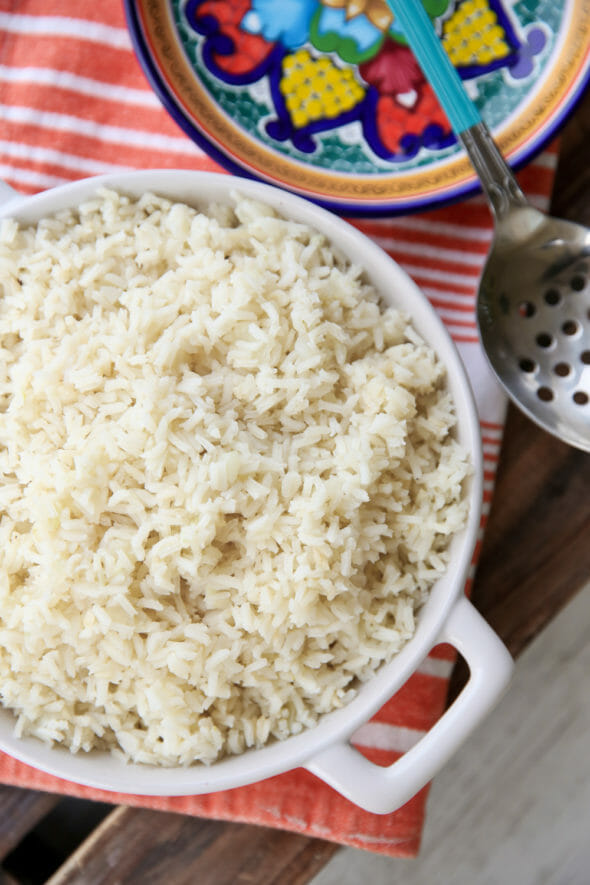 It Brazil, it's not complicated, but a few extra ingredients make it so flavorful.  I actually use this method whenever I cook white rice for anything.  Once you make it this way, you'll have a hard time going back to plain white, bland rice.  This is how most Brazilians make rice, every day.
You'll need some white rice, oil (I'm using our Garlic Olive Oil), onion, and garlic.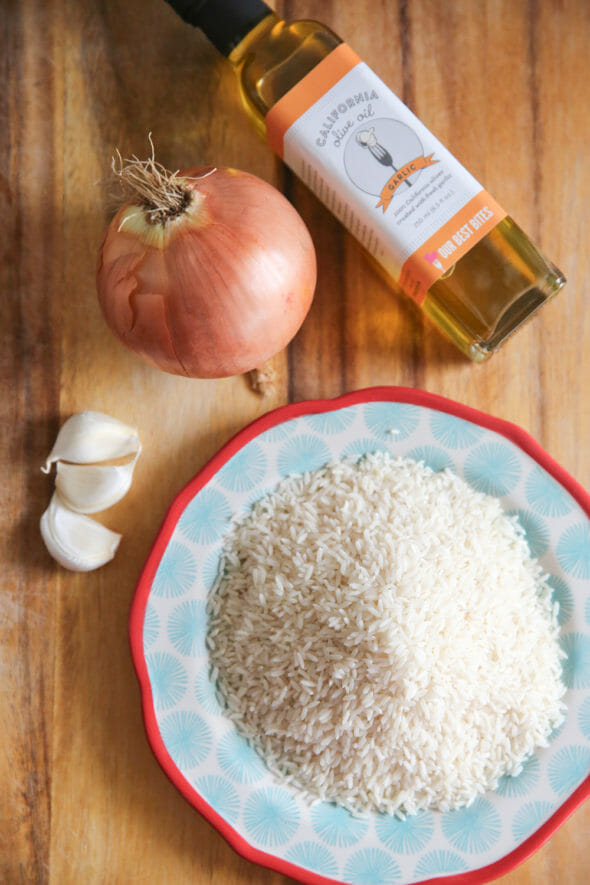 Saute the onion and garlic in the pan with the oil until it's all tender and fragrant.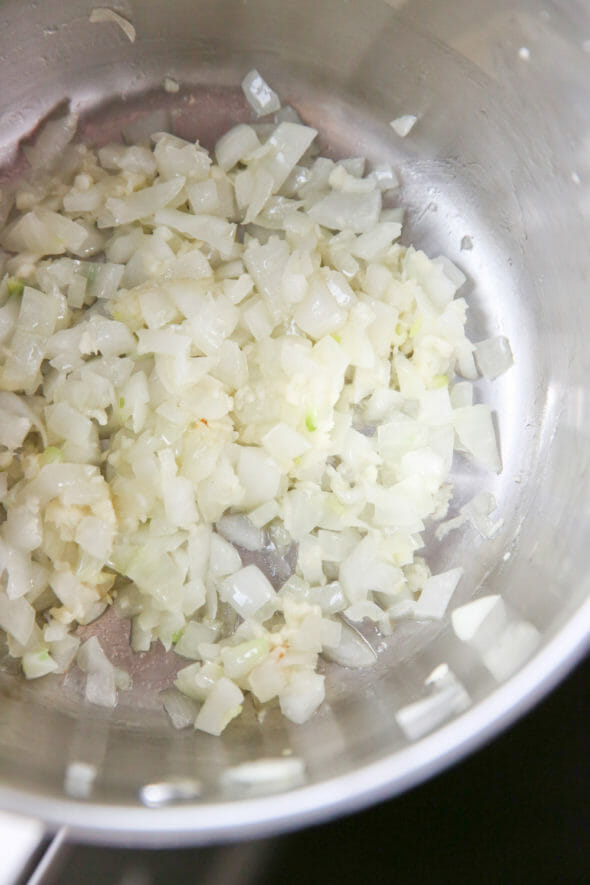 Then dump in the dry rice.  I know a lot of people actually rinse their rice until the water runs clear and then lay it out to dry but sorry, 'aint nobody got time for that.  I actually just use it straight out of the bag without rinsing, but rinse if you like and pat dry.  You're going to saute the dry rice in the pan for a few minutes and it starts to toast.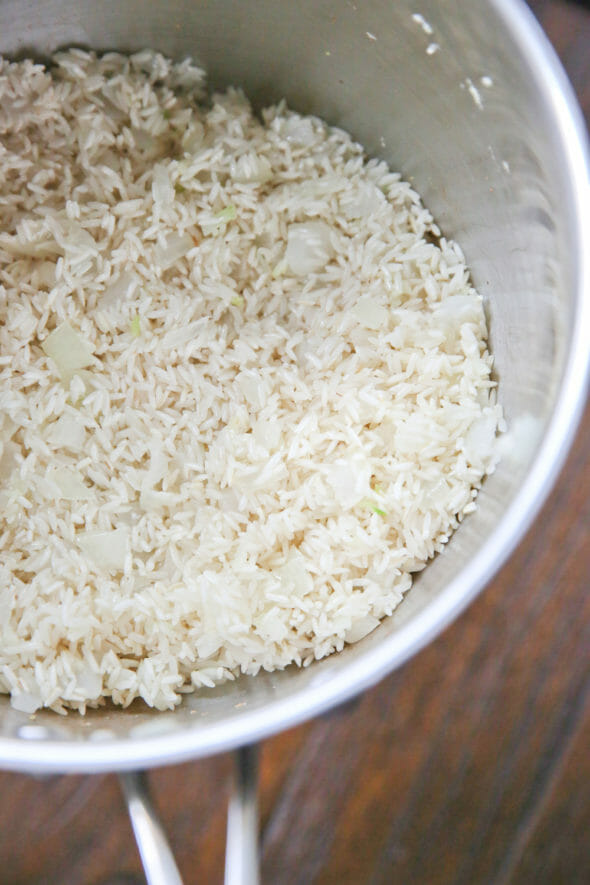 Then add a little salt and pour in boiling water (I just have a tea kettle going while I'm sauteing the onions and stuff, so it's already hot when I need it) and cover the pot and cook as normal. The result is fluffy white rice with the added flavor of the garlic and onions.  And using garlic olive oil makes a big difference, too.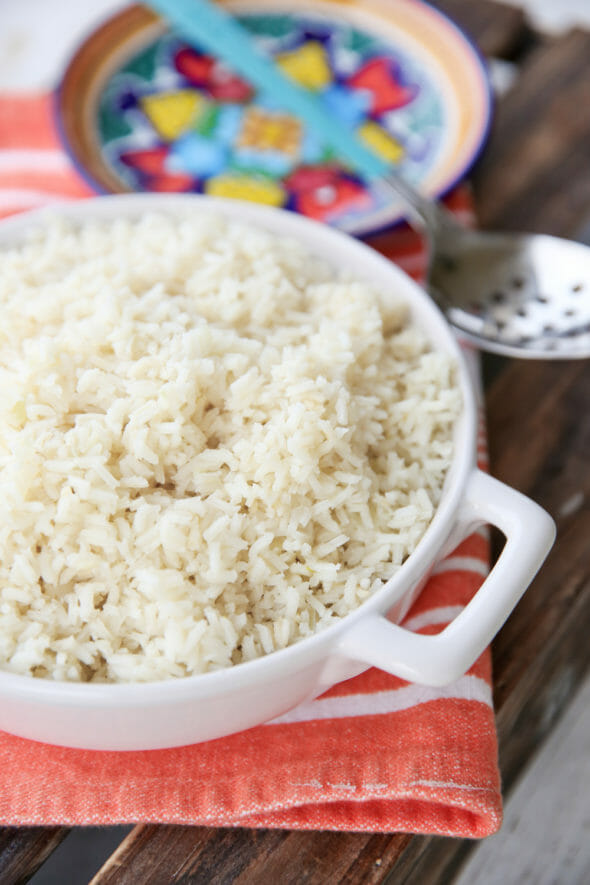 Top this rice with my Brazilian Black Beans, or any thing else you like (butter anyone?)
Print
---
Description
Tender, fluffy white rice with amazing flavor!
---
1 tablespoon

oil (I use garlic olive oil, canola works fine, too)

1

small-medium onion, or

1/2

large onion

3

–

4

large cloves garlic, finely minced or pressed

1 cup

jasmine or basmati rice

2 cups

boiling water

1 teaspoon

kosher salt
---
Instructions
Place water (a little more than 2 cups) in a tea kettle or bot on the stove and heat to boiling.
In the meantime, heat a separate pot to medium heat and add oil and onions. Cook for 3-4 minutes, until tender and fragrant and stir in garlic. Stir for about 20-30 seconds. Add rice and continue to stir often for about 3-5 minutes.
Add 2 cups boiling water, and salt and stir. When mixture comes to a boil, cover pot and reduce heat to simmer. Cook for 20 minutes and remove from heat. Fluff with fork and serve.
Yields about 4 cups of rice.
---