My go-to I-haven't-planned-anything-for-dinner-but-need-something-quick meals involve breakfast food 98% of the time.  We eat some sort of breakfast-for-dinner meal at least once a week and it's almost always my kids' fave.  In fact, here are the remains of last night's dinner.  Notice they didn't even get full-size bowls and it's not even pretend-to-be-healthy cereal.  It's straight up Corn Pops.  That's how we roll sometimes.
If you want to get a little more sophisticated than that, and break away from the bacon and eggs, or boxed pancake mix, here are some of my most favorite family dinners.  These are all things that can really be pulled together quite quickly, and paired with simple sides (or stand alone) to create a nice balanced meal.    Next time you're pining over that infamous "hmmm…what's for dinner…"  dilemma, think of this list!  You'll want to pin this one!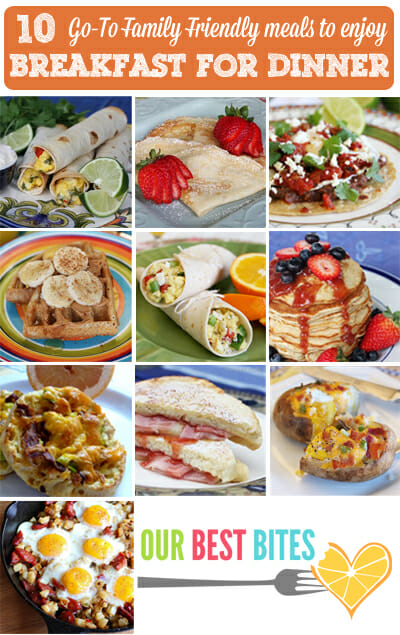 Here's the run-down:

Baked Breakfast Taquitos with Lime-Chipotle Dip
Kate and I both LOVE these.  In fact, my brother just requested them for his birthday dinner recently.  Crisp baked flour tortillas stay soft inside and are filled with a fluffy southwest egg mix.  The lime-chipotle dip takes it over the top (like, you'll lick the bowl.)

Thin-Cakes (Okay, you can call them Crepes)
If you think crepes are just for fancy French bistros, think again.  They're awesome because they're made from super simple ingredients that you probably have in your kitchen right now, and the stuffing options are endless.  Fill them with leftover chicken and cheese, or go for an egg scramble, or eat them sweet with fresh fruit and yogurt.
Huevos Rancheros
This is my version of Mexican style eggs.  It clocks in at only about 250 calories, so it makes a great healthy meal as well.  Pile on the toppings, or just roll them up like burritos for little hands and the whole family is happy.
Healthy Whole Grain Waffles
By the taste of these light and fluffy waffles, you'd have NO idea that they pack protein, fiber, and whole grains in there.  Even better, this post shows how to serve them 3 different ways and includes a calorie count, too.

Mediterranean Egg Scramble 
This is probably one of my all-time favorite recipes that Kate has written, and I've always said it's a little hidden gem on this blog.  If you haven't tried them yet-do it!  All of the yummy flavors of Mediterranean, wrapped up in a tortilla or crepe.  Yummy yummy yummy…

Whole Wheat Buttermilk Pancakes
Just like those healthy waffles, the kids (and even your spouse!) won't have a clue these pancakes have any whole wheat flour in them.  Top them with fresh fruit, or bananas and a swipe of peanut butter for a filling and seemingly naughty meal.

English Muffin Breakfast Pizzas
This is an awesome clean-out-the-fridge meal.  Grab any veggies you have, random varieties of cheese, bits of meat, and somehow it all just comes together- and the family will have a blast doing it since everyone can choose their toppings!

Monte Cristo Sandwiches
Please tell me you've had a Monte Cristo before.  Please.  If not, stop what you're doing right now and put all of the ingredients on your grocery list.   It's like french toast meets turkey sandwich meets strawberry jam.  Okay that makes it sound totally weird, but trust me.  It's amazing.
Egg Stuffed Baked Potatoes
These are a spin on baked potatoes.  Stuffed with cheese, veggies, and then an egg cracked right inside and baked up, it's a one-dish meal that's customizable with what you have in the fridge!
Cajun Style Hashbrown Skillet
Crispy potatoes, savory sausage, and a blend of cajun spices surround fresh cracked eggs in this one-dish skillet meal.  Serve it with a simple salad or fresh fruit to round off your plate.
Check out our Breakfast and Brunch Section for even more recipes- I wanted to keep this list to just 10 so I cut out a bunch of our favorites!
Now it's your turn!  What's your favorite breakfast-for-dinner meal??