Another year over, folks. And another January full of good intentions.  Does anyone else feel like they've been on a caloric free-for-all over the past couple of weeks, or months?  Don't answer that unless your answer is yes, in which case- answer that and make me feel better.  My life has been upside-down crazy for the past 3 months or so while Kate and I finished up our travels (combined we totaled 79 plane rides in 2012), and my family finished building a house, moving into said house, packing old house and unpacking new house, hosting holidays, having Christmas, and now putting away Christmas.  It's been somewhat of a runaway train and I'm excited for this new fresh start to the year to get back into a routine.  My stomach is excited, too.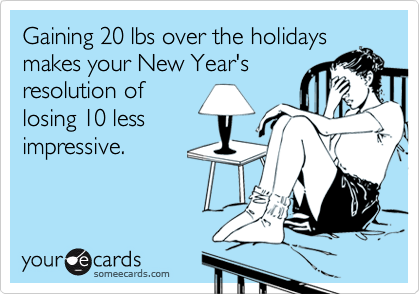 We've started somewhat of a tradition here at Our Best Bites of every January focusing all month long on wholesome eats.  It doesn't mean we post "diet food" and swear off all the good stuff, it just means we pack up our industrial sized bags of chocolate chips for a few weeks and post good, fresh, healthy meals and try to include nutritional info when we can.  We even usually sneak in a reasonable treat or two- and I have an awesome giveaway coming up in the next week or so.  If I can get my house put together all the way I'm also going to take you on a little tour of my new kitchen this month.  See?  So much fun stuff!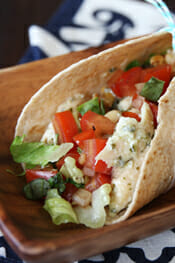 In talking to my friends and readers of this blog, I've noticed that the meal most women my age have trouble with is lunch.  If you are a stay-at-home-Mom, you don't want to spent time in the kitchen really cooking a meal for just yourself, but you want something more substantial than the chicken nuggets and mac n' cheese you make for your kiddos and know you'll snack on if you don't eat something else.  And if you go to work, you struggle with avoiding quick convenience foods, take-out, and work place junk food.   I've mentioned before that my husband is usually home for lunch, and while I don't go all out and cook a meal at noon, the two of us usually whip up a more adult meal while our kiddos are munching on their PB&J's.  It has to be quick, but we want something good.  I've had some success with weight loss over the past few months and I've learned that for me, lunch is an important meal. I had bad habits of snacking all afternoon long, and fixing up a real, substantial little meal has done wonders for me.  Lunch is also often a time when I try to use up the partially eaten vegetables and other ingredients I have stacked in baggies and plastic containers in my fridge.  I almost always have half of an onion, half of a lemon, and half of a tomato.  Don't ask me why, but seriously, I end up throwing all of those things away on a regular basis, so this is a good way to use them up!  When I cook chicken for dinner, I always make extra to have just for stuff like this.  Leftover rotisserie chicken would also work great.
I've written this recipe for 2 so it's easy to make at lunch time, or if you're single or without other family members eating with you.  It's easy to multiply if you want to make a bunch.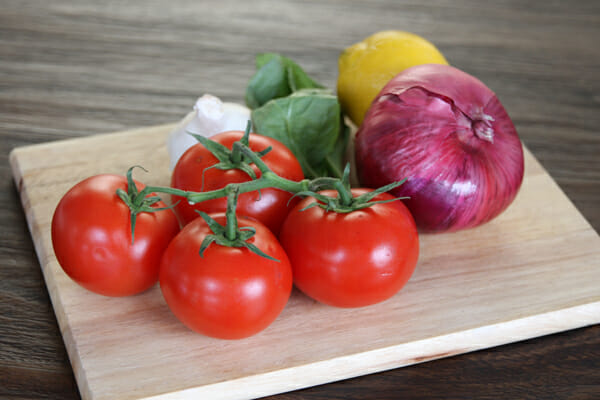 First we're going to make a basic bruschetta mixture.  Diced tomato and onion and some fresh basil if you have it.  In the summer basil should be readily available (maybe even on your windowsill or backyard) but it can be pricey to purchase at the store.  If that's the case, you could sub a bit of dry basil since we'll get more basil flavor in the pesto anyway.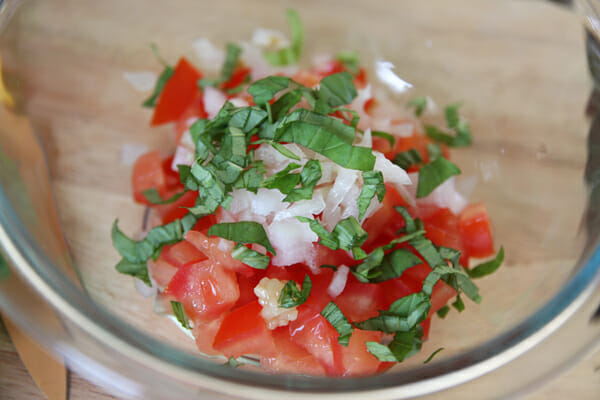 A little drizzle of balsamic vinegar goes in, and we're going to skip the traditional olive oil here since we won't be needing that.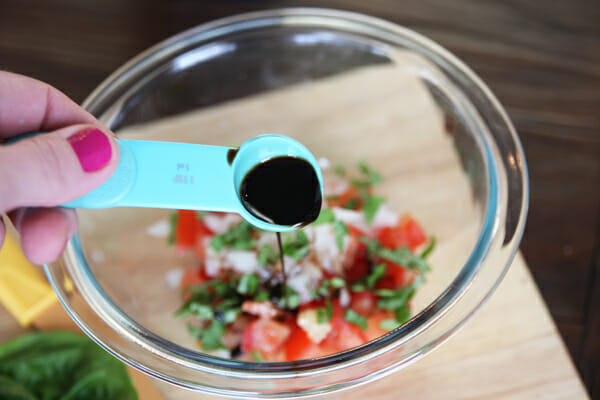 Give that a quick mix and set it aside.  You could make this part ahead of time as well and just store it in the fridge.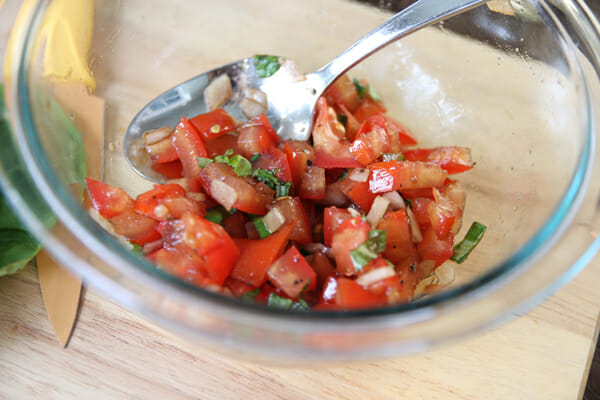 Next we're going to make a little sauce for our shredded chicken.  Store-bought pesto is a great thing to keep in your fridge.  It is caloric, but in reasonable amounts can easily be part of a healthy meal.  What I love most about pesto is how versatile it is in the kitchen.  It's such a quick way to add flavor to so many different types of dishes and it lasts quite a while in the fridge.  Costco sells jars of pesto for a great price, and while we're only using a small amount here, if you buy a container from the grocery store, you can easily use it in all sorts of other recipes.
Combine just a little light mayo, light sour cream, pesto, and a little zest and juice from a lemon.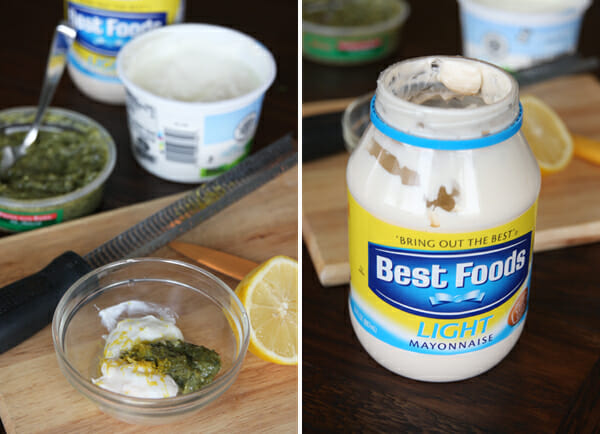 Since we're talking about light ingredients here I thought I'd post a pic of the mayo I use.  I'm super picky about brands of mayo and even more picky when it comes to light mayo.  Some reduced fat/calorie mayonnaise are just horrific tasting and will absolutely ruin recipes.  My favorite brand of light, is the Best Foods (or Hellman's) with the light blue lid.  The other one I use is Kraft with Olive Oil.  I've found both of those have good flavor and texture and work well in recipes.  Just my two cents.
Now we're going to take that quick sauce we made and combine it with some shredded, cooked chicken and a little sprinkle of toasted pine nuts.  I usually have a bag of pinenuts in my freezer, but if you don't, and you don't want to buy them just for this recipe you could leave nuts out entirely, or sub toasted walnuts, pecans, or almonds.  Also, if you're not counting calories, feel free to add more than the small amount called for!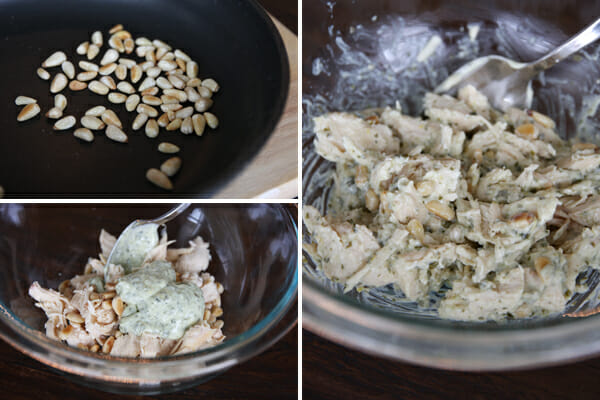 You can assemble this recipe on tortillas, flat bread, a sandwich roll, pitas, or eat it carb-less from a bowl if you wanted to.  I like these 50-Calorie Soft Wrap Mini's from La Tortilla Factory.  I also love these in pita's (and if I'm not counting calories, focaccia all the way.  With melted mozzarella. And extra pesto. And chocolate cake for dessert.  With ice cream on top.)
Throw down some shredded romaine lettuce (spinach is good too), top with the chicken salad mixture, and spoon the bruschetta tomato mixture on top of that.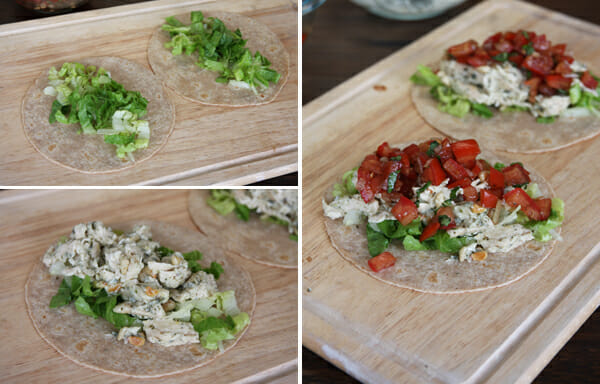 These are good-sized servings, too.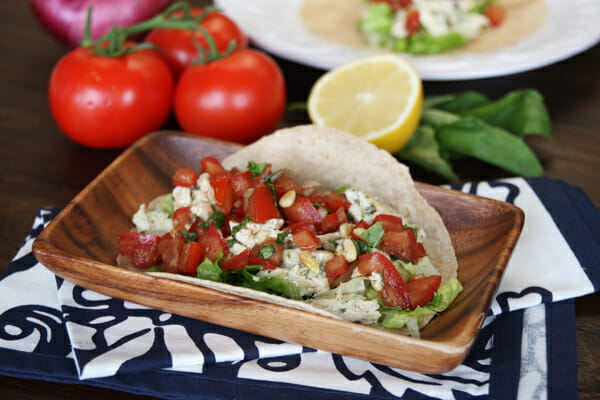 You get crunchy lettuce, flavorful tender chicken, a crunch from the pine nuts, and a  sweet and savory bite from the balsamic bruschetta mixture.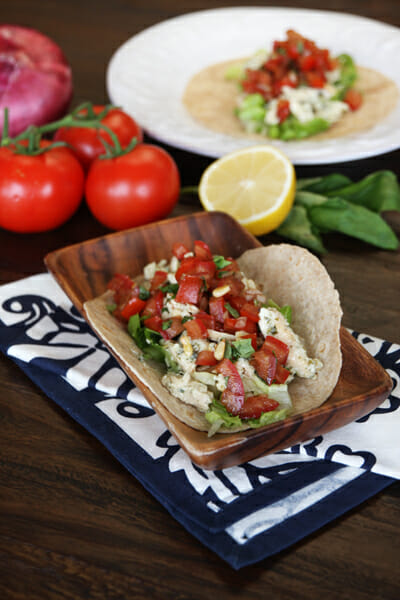 The great thing is, the calorie count is reasonable enough to pair it with a bowl of soup or some fruit, and it seriously took just a few minutes to make.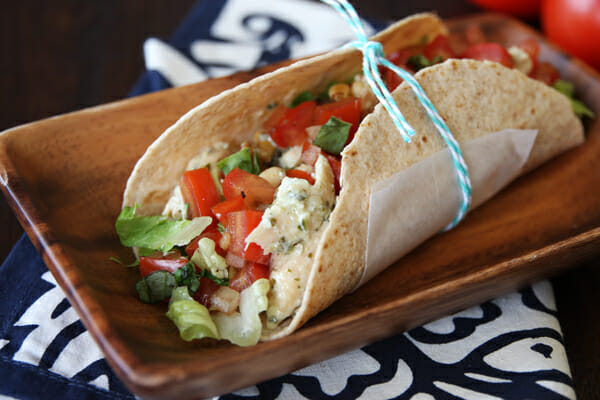 I also love making these in mini pitas.  They work great for lunch, or for party appetizers too.  A sprinkle of Parmesan cheese in yummy in there too.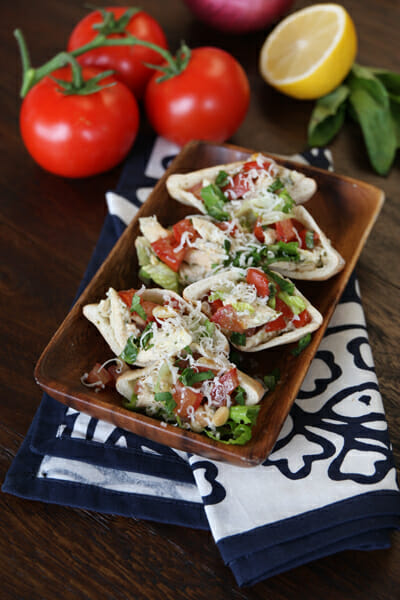 If you're filling pitas, I suggest warming them first so they're soft and pliable.  I love mini pitas because then you get to eat multiples 🙂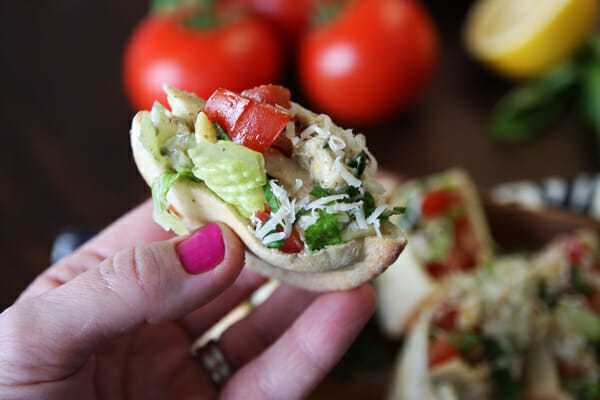 Bruschetta Chicken Pesto Wraps
Recipe by Our Best Bites
1 tomato, diced  (seeds removed)
1 tablespoon minced onion
1-2 tablespoons fresh minced basil or 1 teaspoon dry basil
1 teaspoon balsamic vinegar
kosher salt
black pepper
1 tablespoon light mayo
1 tablespoon light sour cream or plain greek yogurt
2 tablespoons pesto
1 teaspoon fresh lemon juice and a little zest
1 cup shredded or diced cooked chicken breast, about 4 ounces
1 tablespoon pine nuts, toasted
1/2 cup shredded romaine lettuce or spinach leaves
2 torillas, flat breads, rolls, pitas, etc.
Combine diced tomato, onion, basil, and balsamic vinegar.  Add a pinch of salt and pepper to taste.  Set aside.
Combine mayo, sour cream, pesto, lemon juice and a few grates of the lemon zest.  Stir mixture and combine it with chicken and pine nuts, stirring until combined.  Layer lettuce on torillas (or carb of choice), top with chicken mixture, and then bruschetta.
Serves 2 tortillas, or 12 mini pitas.
Nutritional Info (calculated using a 50 calorie tortilla wrap)
calories: 290  protein:23 g  fat:15 g  carbs: 15 g
Here's a few other quick-fix lunch meals I love!
Sweet and Salty Salad Wrap
Flatbread Pizza with Spinach, Caramelized Onions and Feta
Eggs on Toast with Creamy Spinach Sauce