I have both openly admitted to eating Pico de Gallo straight from the bowl with a spoon.  If you're like me, then chances are you'll love Bruschetta, which I like to think of as the Italian version of Pico de Gallo. Bruschetta is simple to make. A mix of fresh tomatoes, basil, and onions, flavored with balsamic vinegar and piled on little garlicky toasts.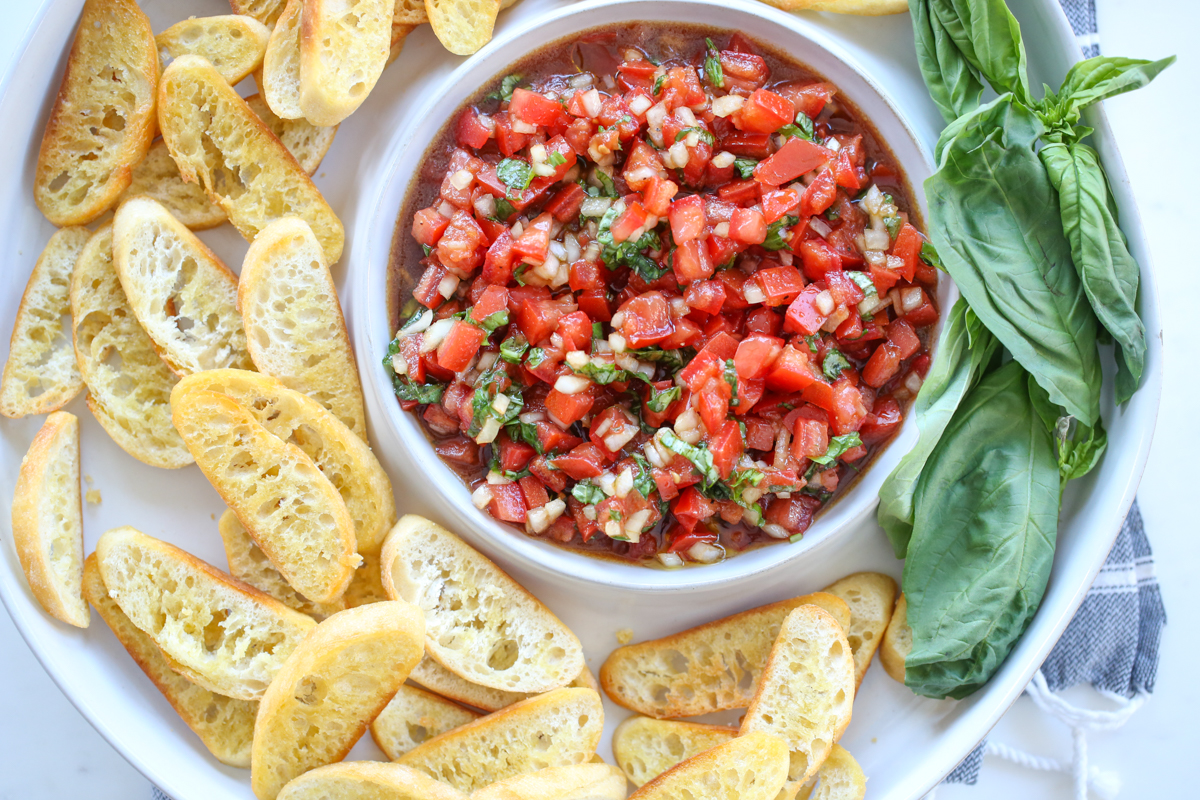 Ingredient Notes
Tomatoes – You can really use any type of tomato.  I like nice plum tomatoes on the vine, romas also work great.

Onion – white, yellow, or red onion is fine.

Basil – fresh basil is best here.

Olive Oil and Balsamic – you'll want to use good extra virgin olive oil and a quality balsamic.
How to make Bruschetta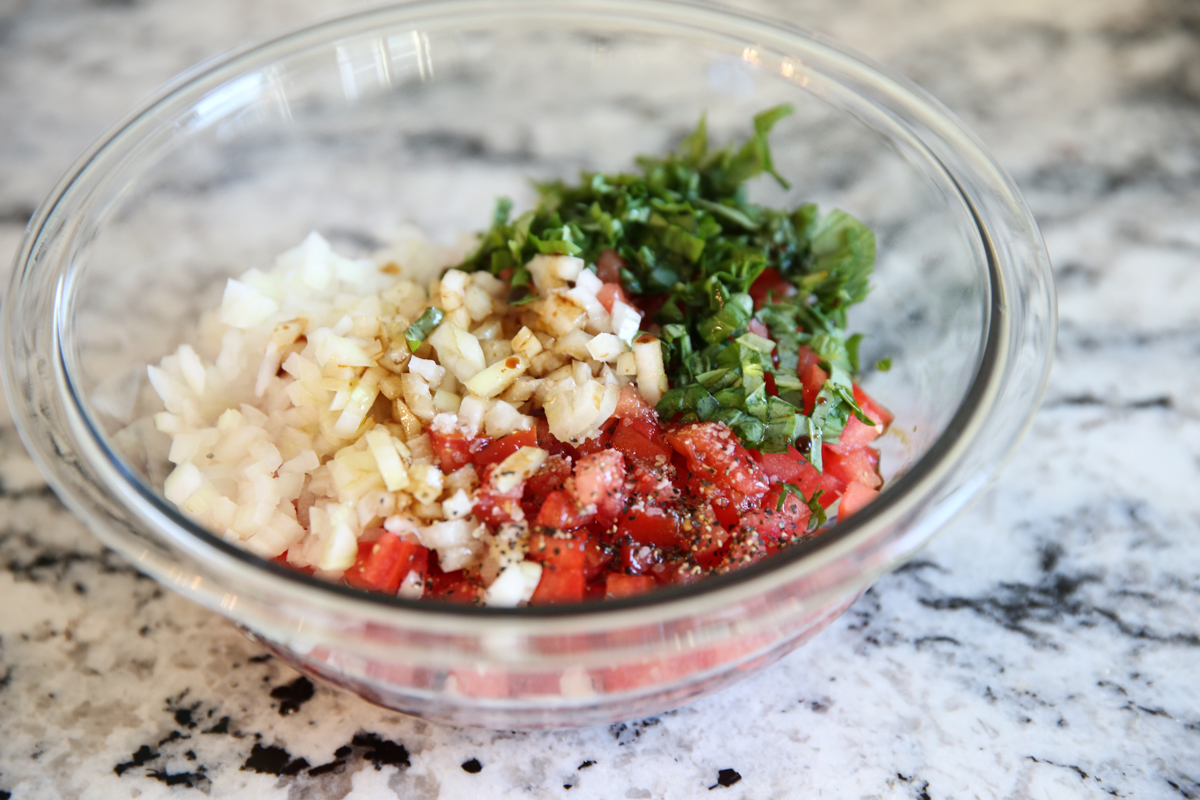 Dice up the tomatoes and onions, toss in the basil and flavor with balsamic vinegar, olive oil, and salt and pepper.

Drizzle baguette slices with olive oil and toast in the oven. For extra garlic flavor, rub a garlic clove on the surface of each toasted bread slice.
*If you want a little twist on flavor, try adding in some Oven Roasted Tomatoes, sun dried tomatoes, or capers.
And if this looks good, then check out this fun variation: Fresh Fruit Bruschetta
That's it! Fresh bruschetta is so simple to make and incredibly delicious. It makes a great appetizer or side dish, especially during the summer months when fresh tomatoes and garden basil are plentiful!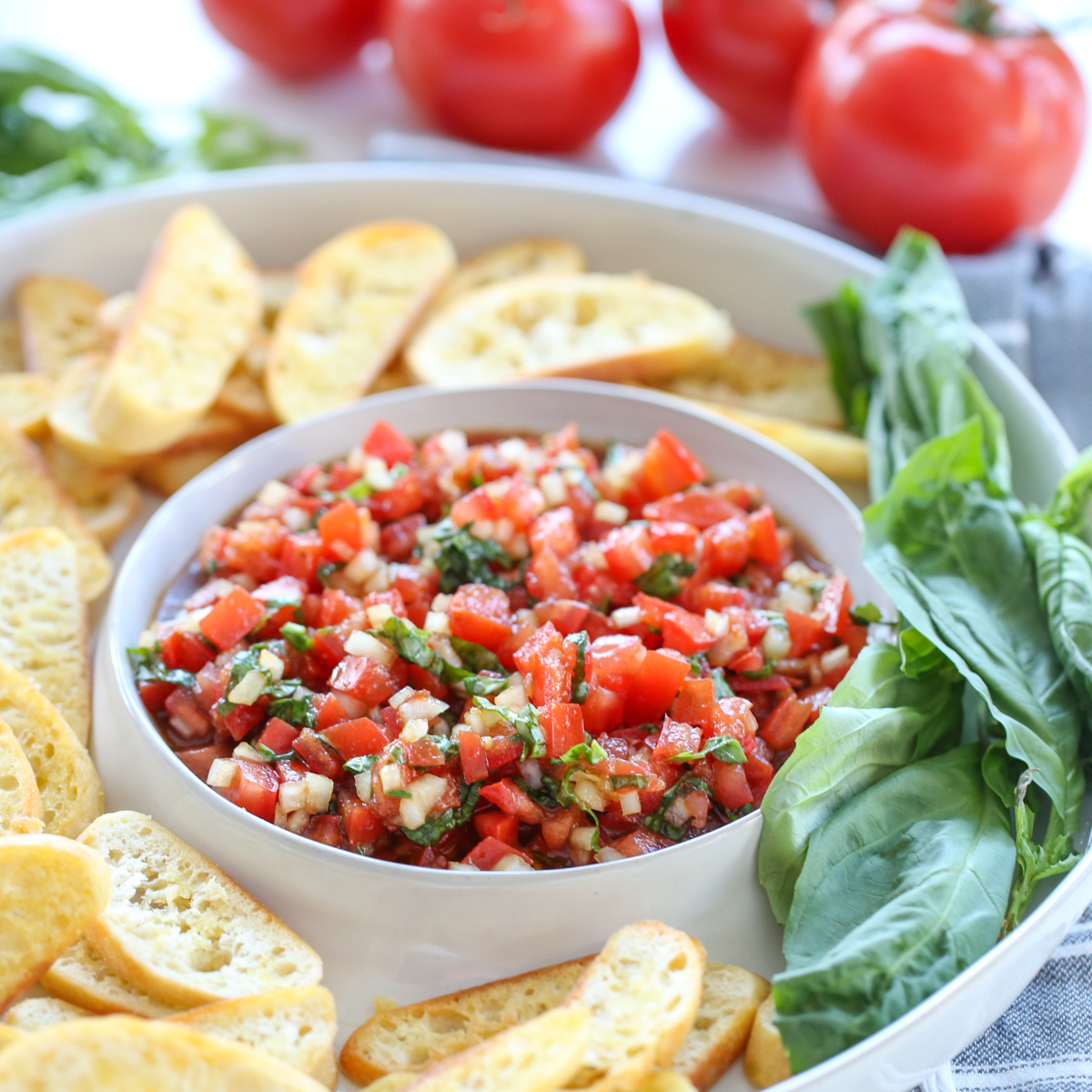 Frequently Asked Questions
Can you make Bruschetta ahead of time? You can definitely make it several hours ahead of time, it's actually better if it can sit for a bit before enjoying.
How do I store Bruschetta? Just keep it in an airtight container in a fridge.
Can I freeze Bruschetta? Bruschetta is best enjoyed fresh.
Print
---
2 cups diced tomatoes (squeeze out seeds before dicing)
1/2 cup diced red onion
2 tablespoon balsamic vinegar
2 tablespoons extra virgin olive oil
1/4 teaspoon kosher salt
a few cracks black pepper
1/4 cup finely minced fresh basil leaves
1 french baguette or bread of your choice
additional olive oil
1 large garlic clove
---
Instructions
Combine tomatoes, onion, balsamic vinegar, olive oil, salt and pepper. Lightly mix and then add basil. Feel free to add more olive oil, balsamic, salt and pepper.  It's very flexible!  Let sit for 30 minutes if you have the time to let flavors develop.
To prep baguette, preheat oven to 400 degrees. Slice bread into 1/4 inch slices and place on a baking sheet and drizzle lightly with oil. Bake for about 10 minutes. Slice large garlic clove in half length wise and gently rub on surface of baguette slices.
Spoon bruschetta mix onto baguette slices.
---