I'd guess that basil is possibly the most popular herb grown at home. So I'm guessing if you have an herb garden, you've got fresh basil. And it would be a complete shame to have fresh basil at your disposal and not make pesto!
Such a quick and easy thing and you can use it so many ways. If you're buying basil at the store, you could always substitute some spinach or arugula for some of the basil to stretch your dollar, but I think all-basil is the best if you've got access to it. Let's do it!


Start with a bunch of fresh basil, and chop it in a food processor with pine nuts, garlic, and parmesan cheese. I love a little squeeze of lemon juice as well.
Slowly pour in olive oil while processor is running* until you reach the consistency you want. It's gorgeous and green and perfectly wonderful! Eat it right away or store in the fridge or freezer (directions included).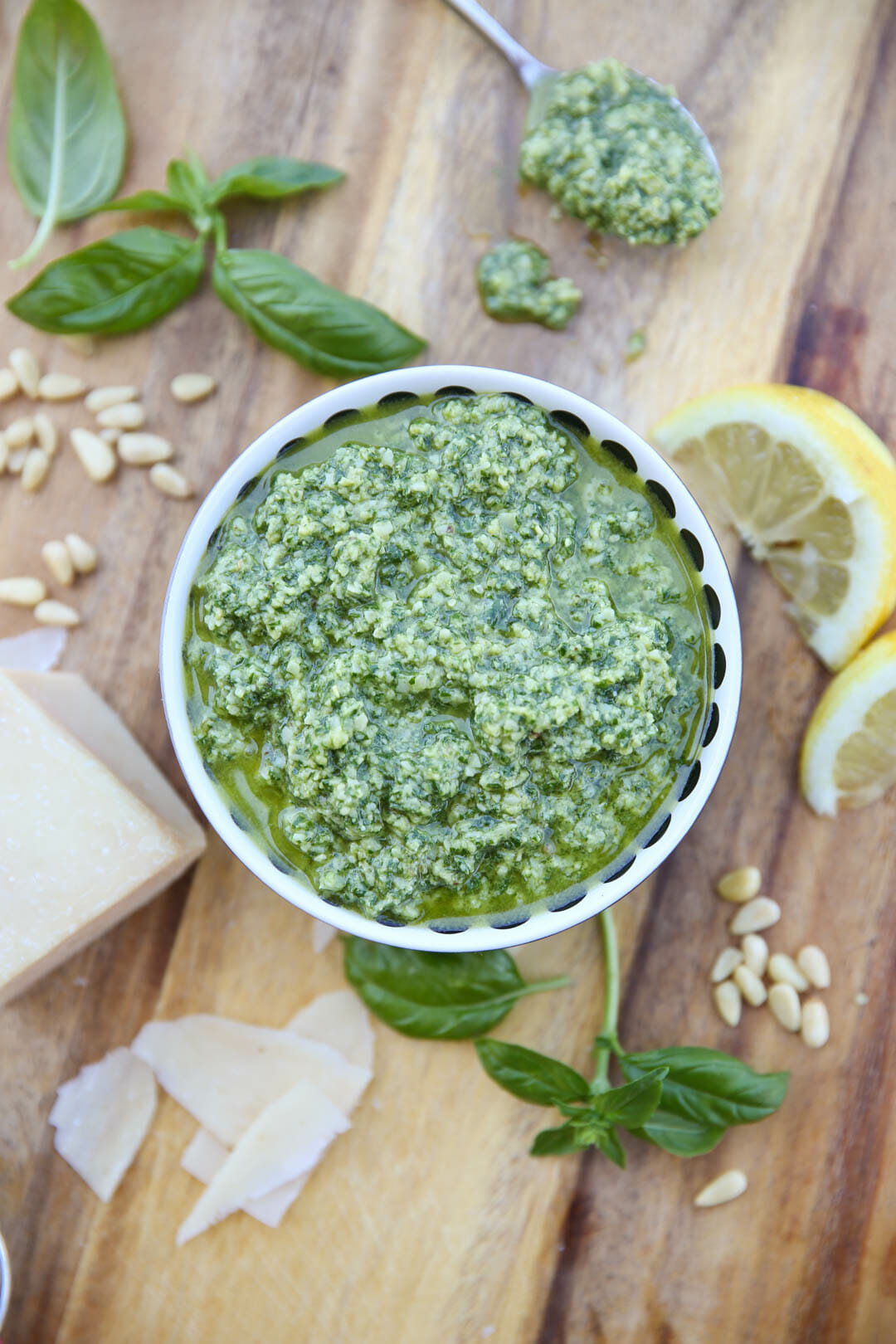 *If you have a extra small food processor, or no food processor at all, you don't have to add the oil while it's running. You can process everything (or hand chop if you're good with a knife!) and add the oil by hand. Processing it in the machine however creates a mixture that holds together a bit better than a hand mixed version.

Now what to do what to do… Here's a few of my favorite ways to eat fresh pesto. First and foremost, you need a fresh loaf of crusty artisan bread. Rip off chunks and dip it right in. No matter what you are eating- this one is a must!

Use it on panini. We made this dinner with a rotisserie chicken, garden tomatoes, mozzerella cheese and lots of fresh pesto (of course!)

Possibly one of my most favorite dinners ever and SO quick and easy. It's like a simplified short-cut variation of this pasta dish. Put some cherry tomatoes on a foil-lined baking sheet and drizzle with olive oil, salt, and pepper. Pop it in a 425 degree oven for about 10 minutes. In the mean time boil some pasta. Toss the hot pasta, tomatoes, and pesto all together for a dinner that's done in 15 minutes flat! Did I mention it's soooo good??
---
Description
Easy recipe for fresh pesto. Great on pasta, pizza, chicken, sandwiches, and more!
---
2 1/2

–

3

 cup basil leaves, gently packed

3/4

 cup shredded fresh Parmesan cheese

1

large garlic clove, minced

1/3 cup

 pine nuts, toasted if desired

1/2

–

3/4

cup extra virgin olive oil
optional but suggested: squeeze of fresh lemon juice (couple teaspoons) plus a little of the grated zest.
kosher salt
a few cracks pepper
---
Instructions
Place everything but olive oil in a food processor. (For the salt, start with 1/4 t and add the rest at the end. The final amount really depends on the saltiness of your cheese, so give it a taste first.) Give it a few pulses until things are chopped up. With processor running, slowing drizzle in oil until desired consistency is reached. Adjust any of the ingredients to taste, this is a great starting point!
---
Notes
Freezer Instructions
One of the great things about pesto is that it freezes well, so you can make it in the peak of summer when your basil is going bonkers and then have it all winter long. Just put it in an ice cube tray and after it's frozen pop all of those cute little cubes in a zip-lock bag or freezer container. Pull them out any time you need a burst of fresh flavor. You can also put the whole batch of pesto in a freezer container, freezer bag, or foodsaver bag.
Here's a few more ways to use pesto:
-Use it as a sauce on homemade pizza. Love it on grilled pizza!
-Toss it with fresh steamed veggies.
-Top a baked potato (it's super yummy mixed in with the sour cream)
-Put some in Kate's Cheesy Garlic Swirls, instead of the butter and garlic seasoning.
-Slather it under the skin of a whole chicken and roast in the oven or crock pot.
-Dollop it in soups (like this one)
-Mix it with mayo for sandwiches
-Drizzle on scrambled eggs
-Combine with cream cheese on a bagel (yum!)
-Mix into salad dressings- it's great with homemade ranch
-Pop it in some homemade hot pockets with mozzerella and pepperoni!
-Drop a frozen cube or two into homemade pasta sauce (both creamy and tomato based) and pizza sauce.