First of all- see these cookies?
They are big and soft and loaded with chocolate and the recipe only requires a spoon and 1 bowl and it makes just 4 perfect, bakery style cookies in about 10 minutes. The recipe is new and it's ONLY going out to newsletter subscribers THIS weekend! That's right, straight to your inbox. Sign up here now so you don't miss it!
Now.
Have you guys noticed the adorable little travel icon in our navigation bar?? Browse through that category and we've got some fun posts from brand trips to family vacations, to favorite local places to play! A few months ago, a trip that got a lot of buzz on social media was our visit to beautiful Burlington, Vermont to check out the home of the iconic ice cream brand, Ben & Jerry's. Kate and I both met up there, which is always fun because if you don't know- we live on opposite sides of the country and rarely get to actually hang out in person. So when we get to hang out AND stuff our faces with premium ice cream for a few days? Talk about dream vacation.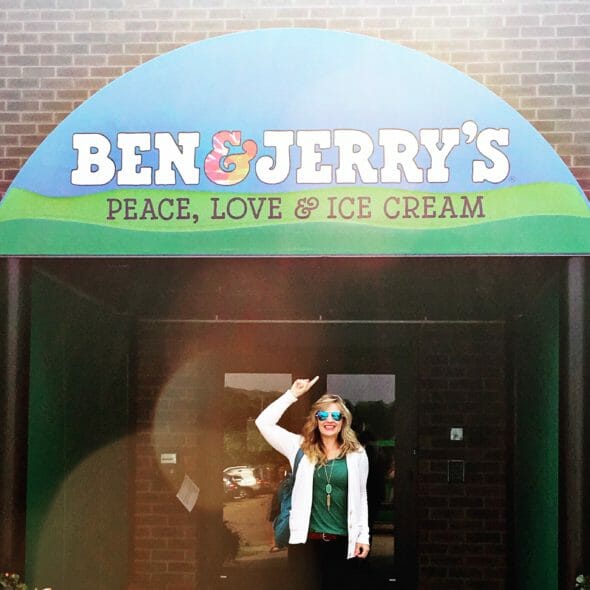 The first night, our small group had a lovely dinner with Ben and Jerry's CEO Jostein Solheim. I've been on a lot of brand trips and every once and a while you get a token 2-minute "hello" from a CEO, or a quick wave in the hallway. I thought it was super awesome that Jostein came to hang out with us and we enjoyed candid dinner conversation about life, business, and ice cream. It was really fun to get the inside scoop (no pun intended) on all the things you wonder about with a big brand like Ben and Jerry's (like who's idea was it to name a product Schweddy Balls??!)
We spent the next day at the Ben and Jerry's corporate offices. From the moment you walk in, you can tell it's a fun place to work!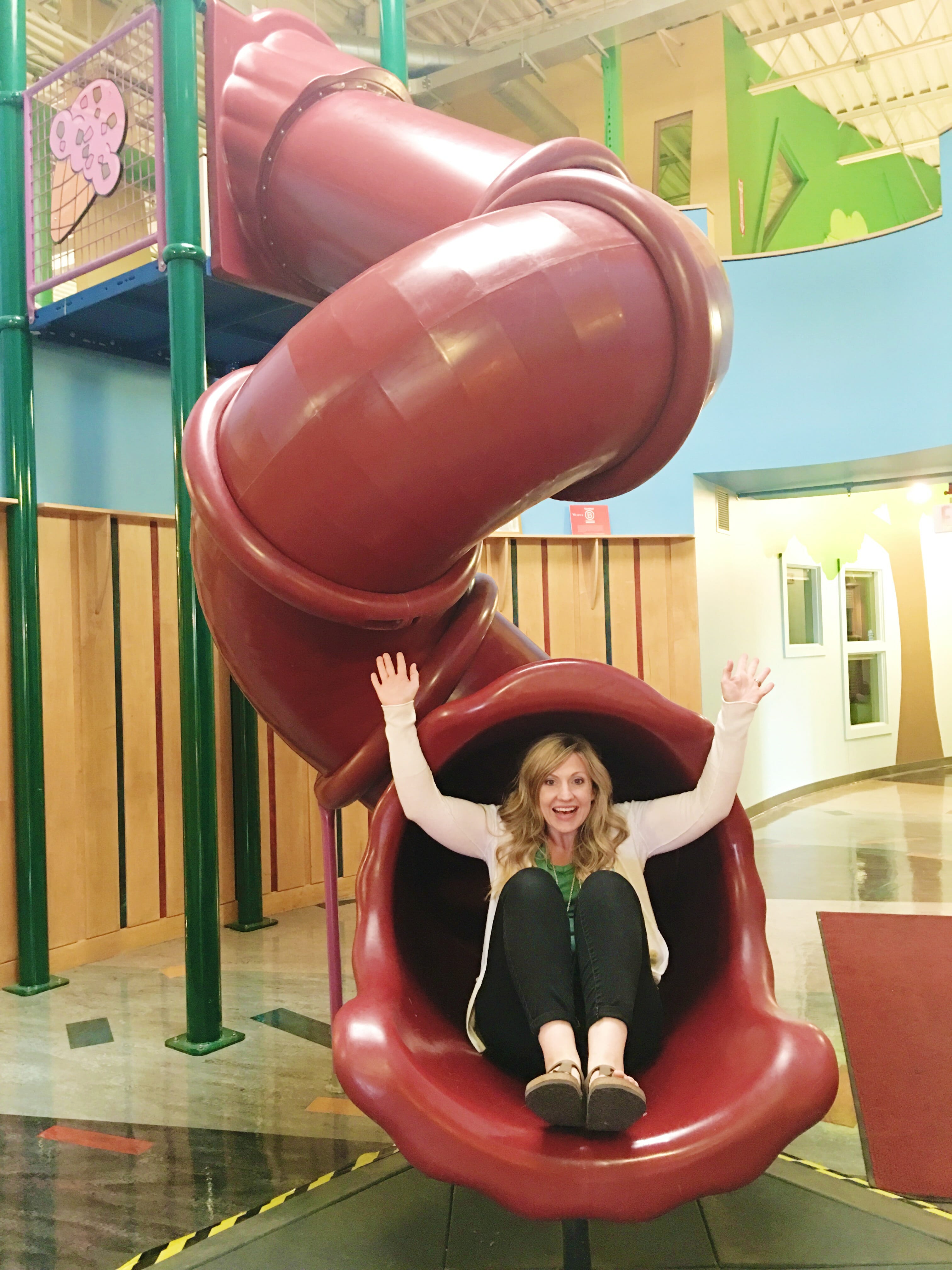 One of the first things you see is a big case of free ice cream, so that's a good start. I'd love for people to enter my house to the greeting of a large freezer full of free ice cream.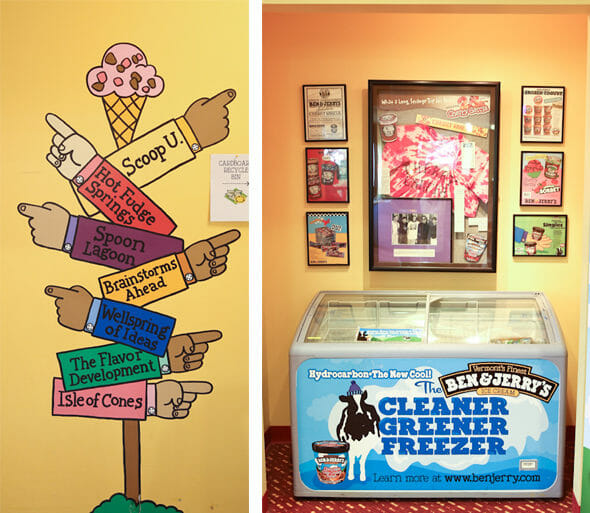 They also named all of their conference rooms after iconic flavors. Kidnappers take note: I will follow ANY sign that says it's leading me to cookie dough.
We had a fun time touring around the offices, and even ran into THE Jerry. Fun fact about Jerry is that he doesn't shake hands, he only hugs. Such a nice guy.
You could spend an entire afternoon just looking in everyone's cubicle around these parts. This one was particularly entertaining!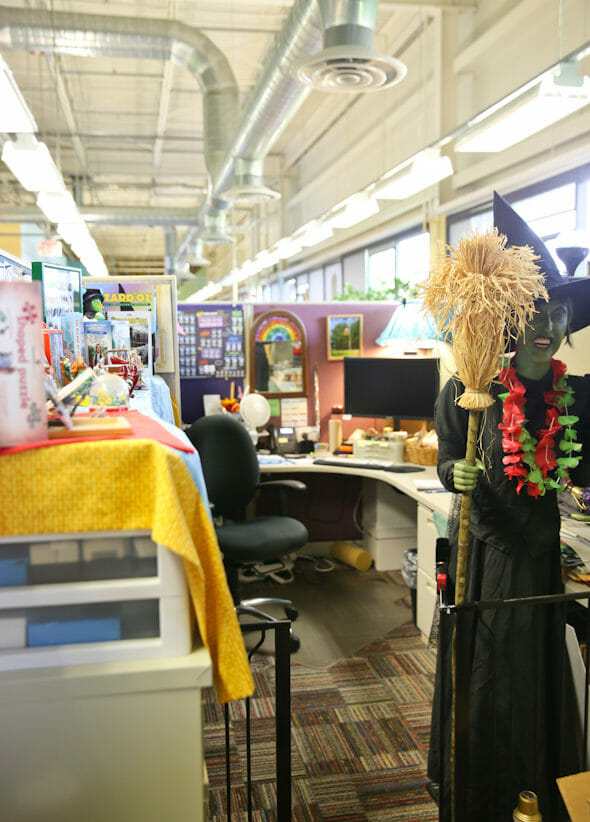 Another fun thing about Ben & Jerry's? Employees can bring their dogs to work. Many of the cubicles have baby gates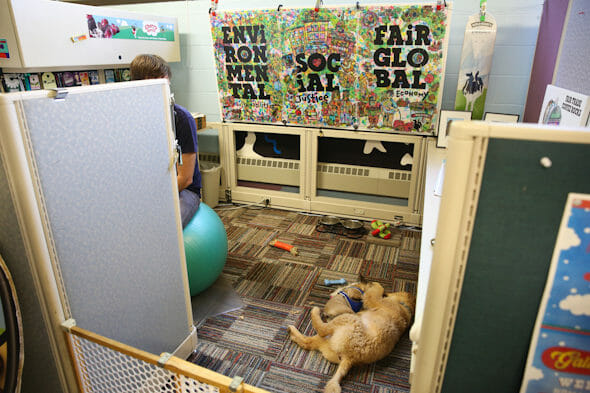 and this one even had a doggy door to connect puppy friends! I'm not really sure how these people get any work done, but somehow they manage.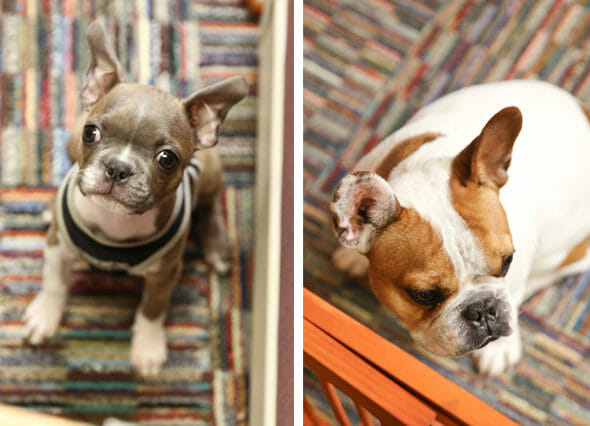 In one of the break rooms we got to peek in this freezer. It's stocked with different flavors every day and every employee gets to take home 3 pints a day.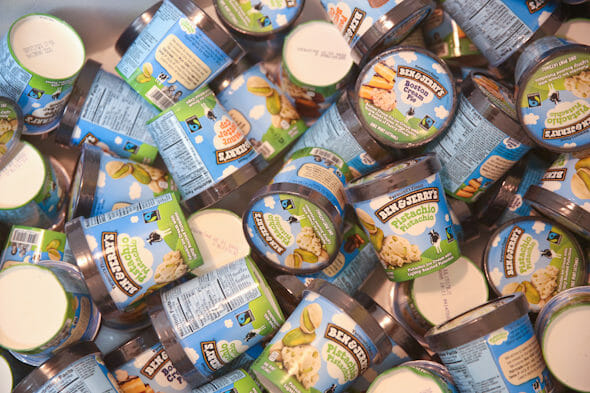 Which brings me to the question employees are constantly asked by outsiders: how are you all not overweight?! Well, there just so happens there is also an in-house fitness facility and yoga room.
One of my favorite parts about this trip was meeting these two "flavor gurus". Eric and Kirsten are the brains behind SO many of your favorite Ben & Jerry's flavors. They have backgrounds in Food Science and Culinary Arts and their job is to experiment with flavor combinations and figure out how to make it all work.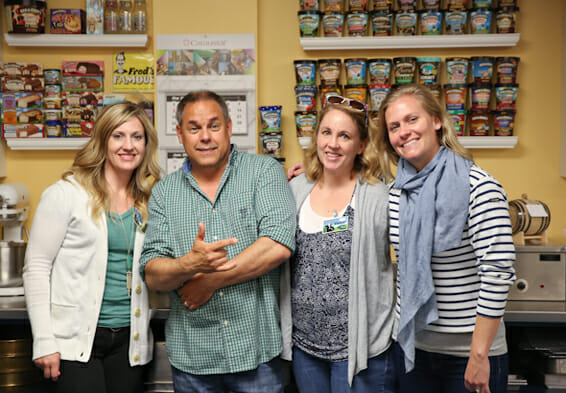 I'm fascinated by the science behind stuff like this so I loved hearing about how they test products (like slicing the pint, to make sure everything was distributed evenly)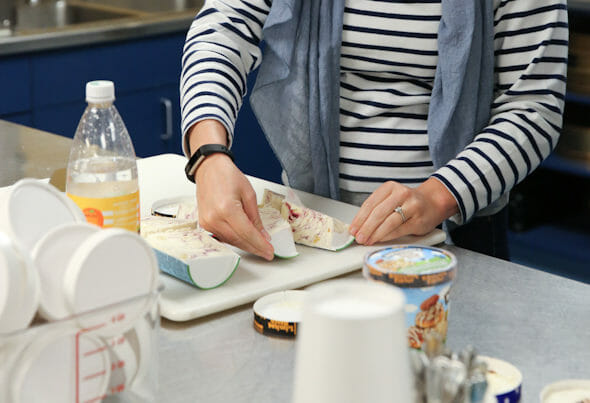 After our little lesson, we got to play flavor-gurus ourselves! We split into teams and came up with our own flavors. They literally have EVERYTHING you could possibly imagine to throw into a pint of ice cream. It was so fun to create something, and SO hard to think of something they hadn't already done!
Then we got to sample a bunch of flavors. One of my favorites was this new-ish Empower Mint.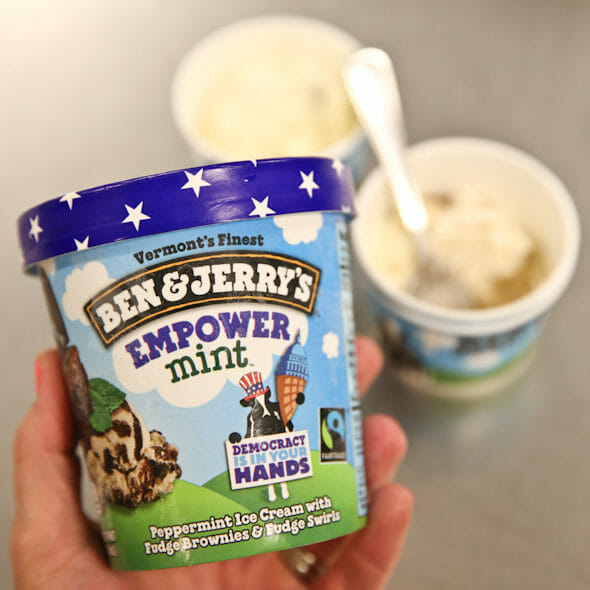 This flavor is a prime example of how Ben and Jerry's uses ice cream to inspire change and support causes they are passionate about. (In this case, voting rights.) We participated in some presentations/discussions about their focus on social change, which I found really interesting. I'm not gonna lie- I felt a little bit like an impostor at first. What would they do if they found out I was a registered Republican?! Would I still be allowed to eat ice cream?? Ha. Their causes and affiliations over the years very clearly align with one side of the political spectrum and Ben and Jerry themselves are very active in politics and social issues. But I have to say, even though my own political and social focus differs a bit, I really enjoyed the discussions about this. I was incredibly impressed at the way they effectively integrate rather controversial issues into their business model and have dedicated countless hours of service doing a tremendous amount of good in the world. I think you see some of the more controversial things in the media, but I loved hearing about the positive influence they've had in so many communities around the globe. They use something that is universally appealing, ice cream!
That night we met at an amazing lake house for a fantastic dinner with Ben and Jerry's executives and PR team members.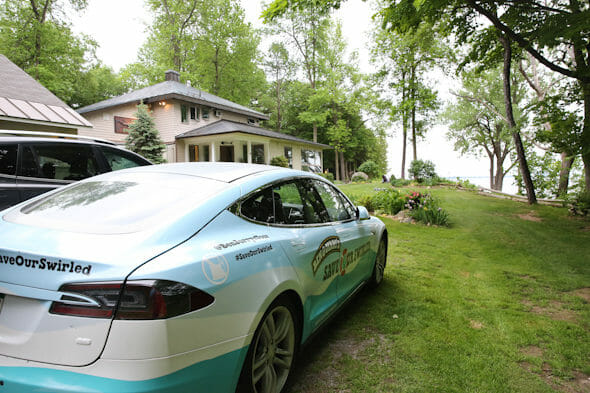 I mean, how dreamy is this (both the location and the Tesla?!)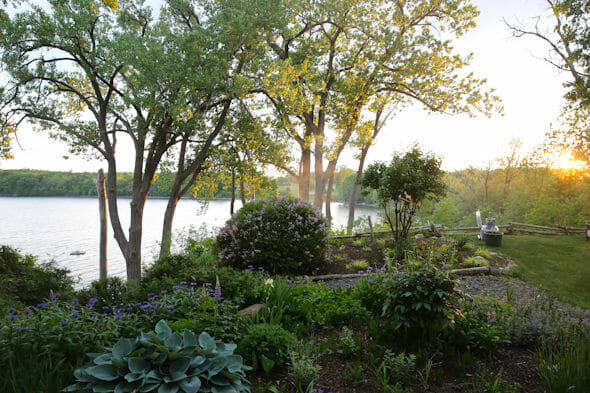 The view was fantastic and the company just as nice.
And the food was on point. 8 or 9 perfectly sized little mini courses. I loved the surprise and suspense of wondering what was coming next.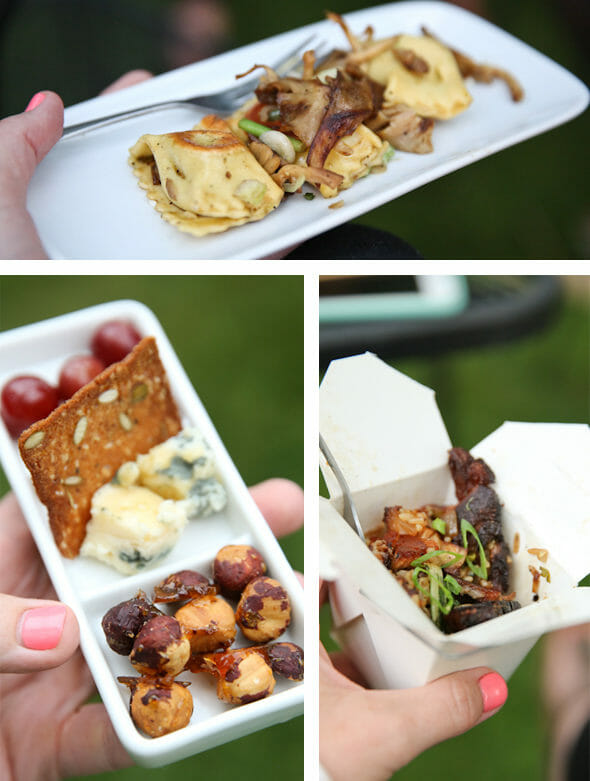 Jerry and his cute wife joined us for dinner as well and I asked him the question he probably gets totally sick of answering: sooo…..what's your favorite flavor? There was zero hesitation: Americone Dream. (I bought that one as soon as I got home from this trip, because how can you not eat Jerry's favorite Ben & Jerry's flavor?!)
The following day we headed over to the factory where they actually produce the ice cream.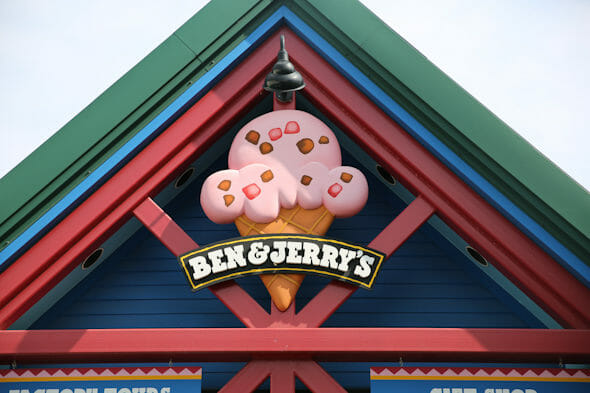 I loved learning about their Caring Dairy program, and all of the many ways they give back to communities across the country. I watched a story about this cool bakery on TV once and didn't realize it is the bakery that produces the brownies for Ben and Jerry's Chocolate Fudge Brownie ice cream.
If you're ever near Burlington, Vermont, the factory is open for tours and it's SO much fun. Lucky for us, we got a VIP tour- which included putting on full gear to hit the factory floor! I know what you're thinking. We look amazing in orange.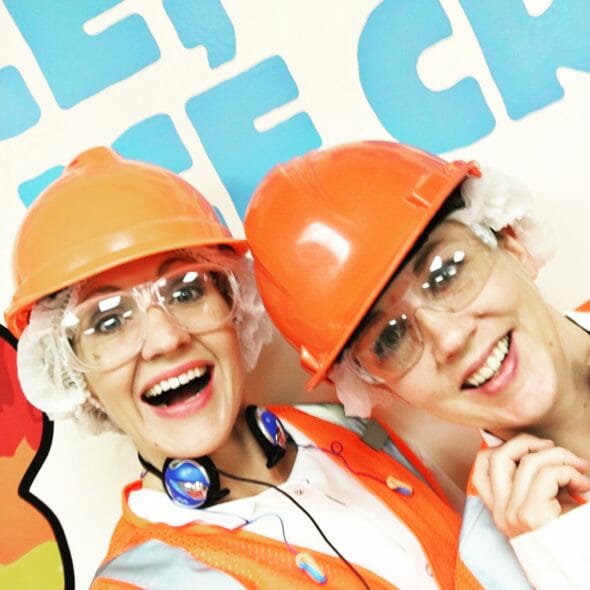 Speaking of amazing, watching this process start-to-finish was fascinating.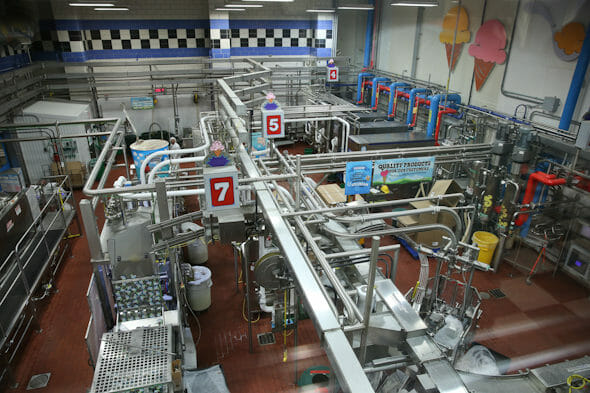 The whole time we were in Vermont people kept asking us if we had tried ice cream "off the line" yet. I heard over and over again how there's nothing like it in the world. "Off the line" is when the ice cream first gets poured into the containers. Before it's frozen to the temperature in which you buy it at the store, it's kind of a milkshake consistency. We got to watch Chocolate Fudge Brownie being made in the factory and they grabbed a couple pints right off the line. Sure enough, there is nothing like it. One of the best things I've ever had.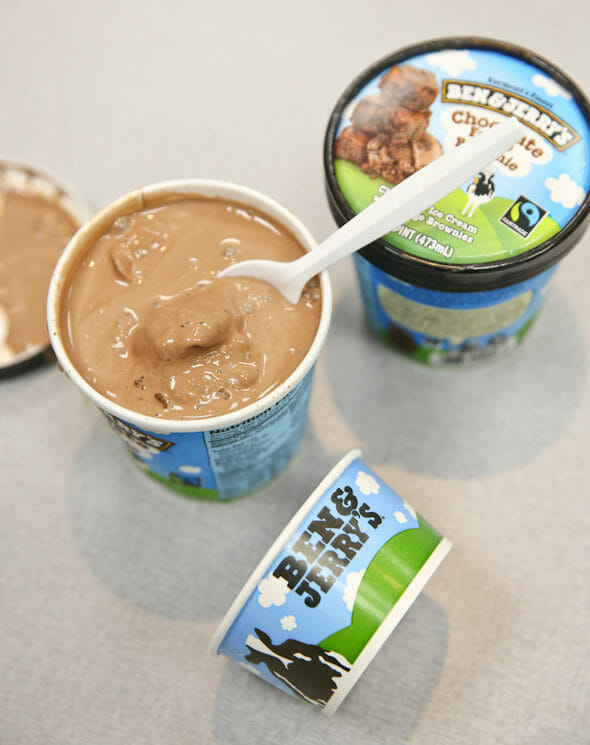 We also sampled their new non-dairy line, which was surprisingly good! A LOT of research and trial-and-error went into crafting their first non-dairy options. They needed it to be good enough to carry their famous name and they did a pretty darn good job. If I was blind-sampling, I wouldn't guess it was non-dairy.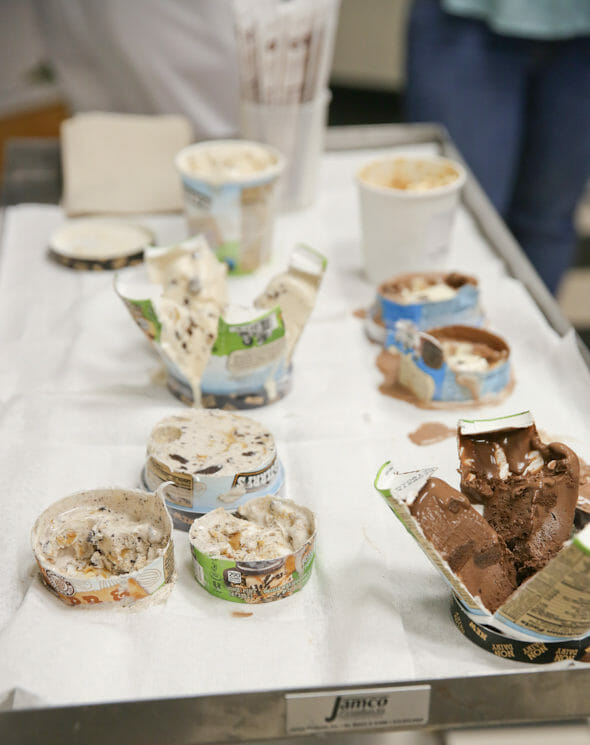 Oh! Here's another fun fact. There's an ACTUAL flavor graveyard. When flavors are retired, they have an actual service and bury a pint here. No joke.
I paid my respects to Chocolate Peanut Butter Cookie Dough. Rest in peace.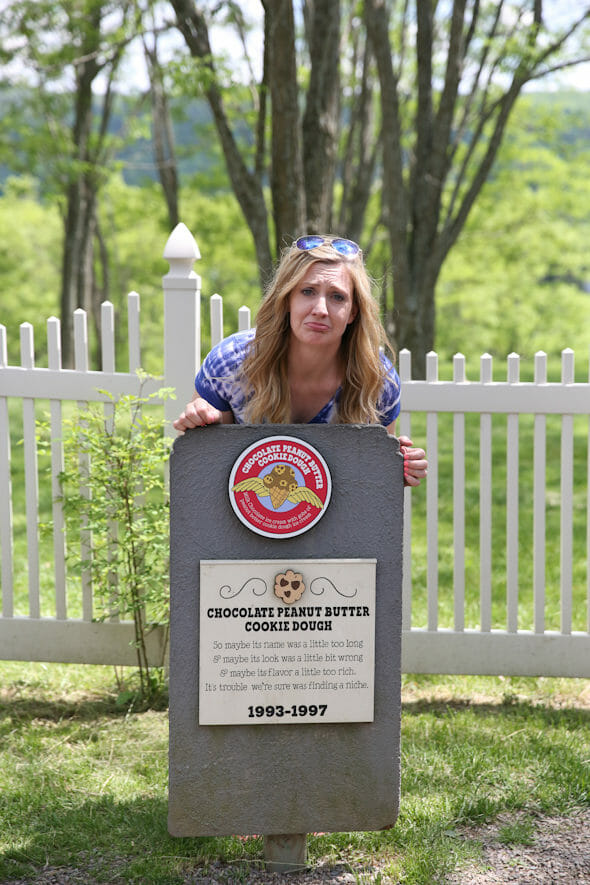 We talked a lot about our favorite flavors on this trip, with pretty much anyone we met. Anyone who knows me knows I'm a chocolate person. I will pick a chocolate ice cream 99% of the time. Chocolate mint and Chocolate peanut butter are my favorites. So it's strange that my favorite Ben and Jerry's flavor is actually Cherry Garcia. It was the first one I ever tried and it blew my mind. It's still my favorite to this day, and it was the very last scoop I picked to munch on during our drive to the airport.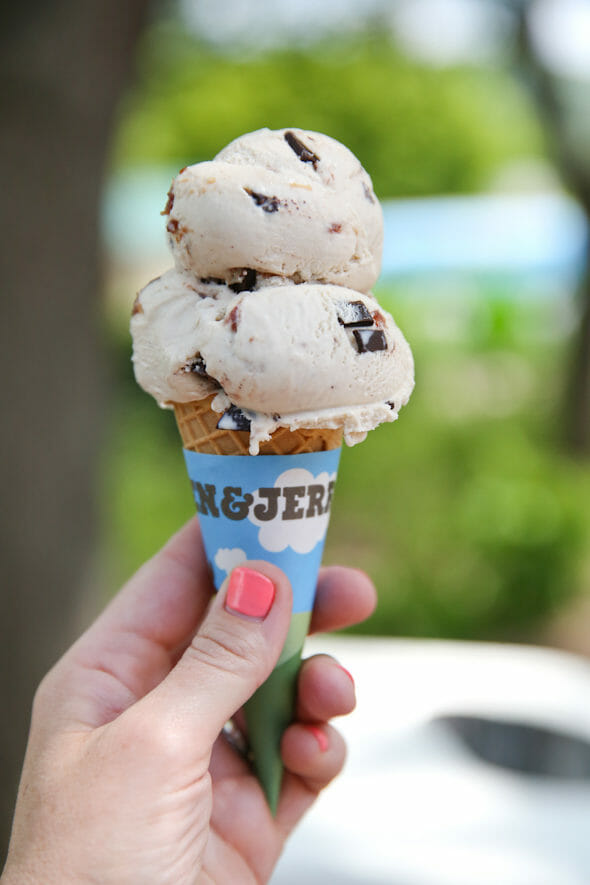 We had an incredible time learning more about one of our favorite brands. The Ben and Jerry's team was top-notch and it was clear they were all incredibly passionate about ice cream and everything their company represents. If you're ever in Vermont, make the trip to see this iconic place, and enjoy the ice cream! What's YOUR favorite flavor??