Caramel Corn is quintessential fall food and this recipe is quick, easy, and can be made in the microwave!  No candy thermometers or complicated instructions, just warm, buttery caramel coated bites.  Now there are generally 2 schools when it comes to caramel corn: those who like it warm and soft, and those who like it crisp and crunchy. This recipe is awesome because 1. It tastes amazing, 2. It's suuuper easy, and 3. You can make it gooey or crunchy. You can even form it into popcorn balls.  Pretty much anyone and everyone who eats this asks for the recipe!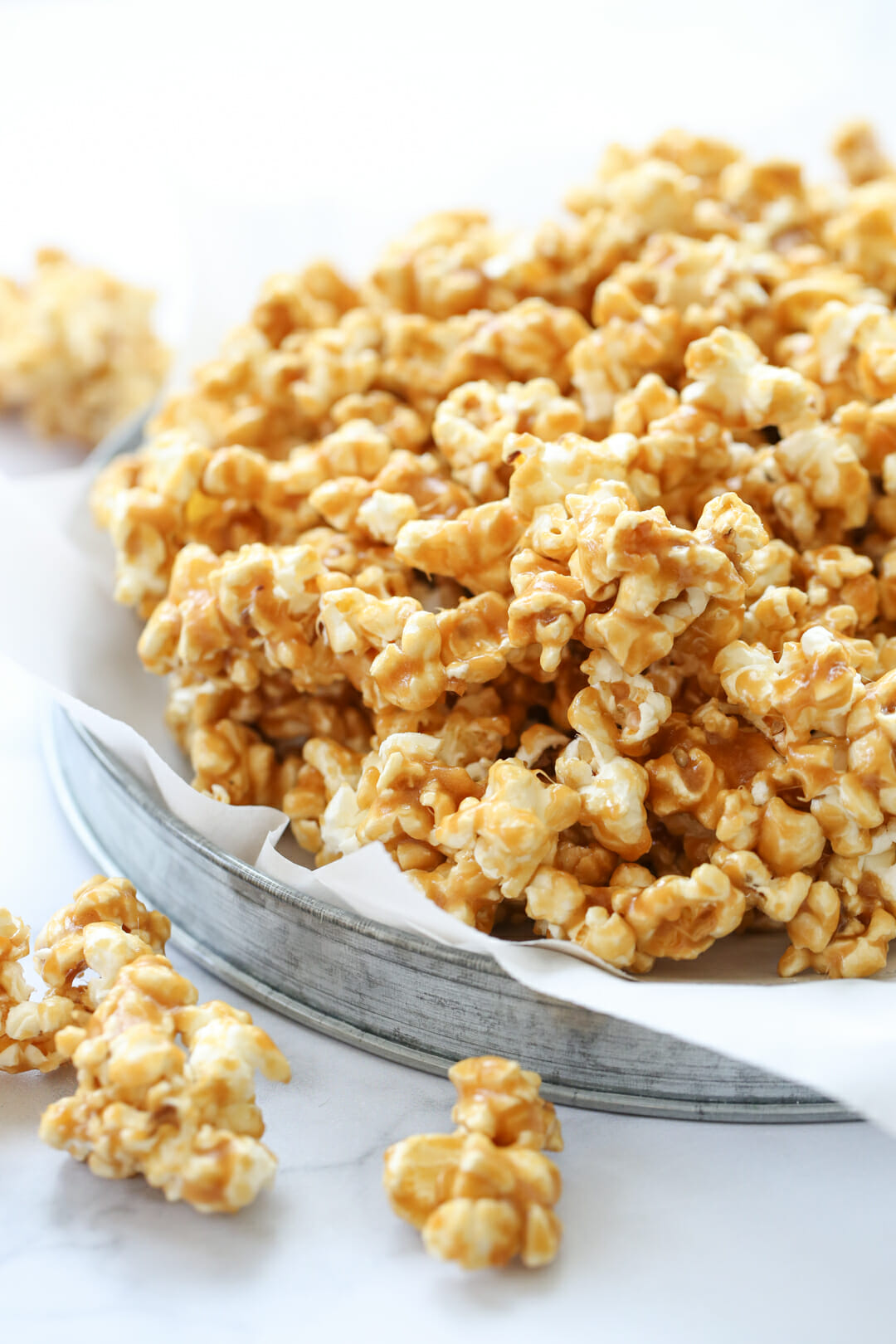 How do you make caramel corn in the microwave?
You'll want a large, microwave save bowl.  I use a large glass mixing bowl.  Use a bowl that's larger than your ingredients to leave room for the mixture boiling and growing in volume as it cooks.  You'll combine brown sugar, butter, and a little corn syrup in the bowl and microwave just until everything melts together and is stirred smooth.
TIP: Cut your butter into small pieces so it melts quicker.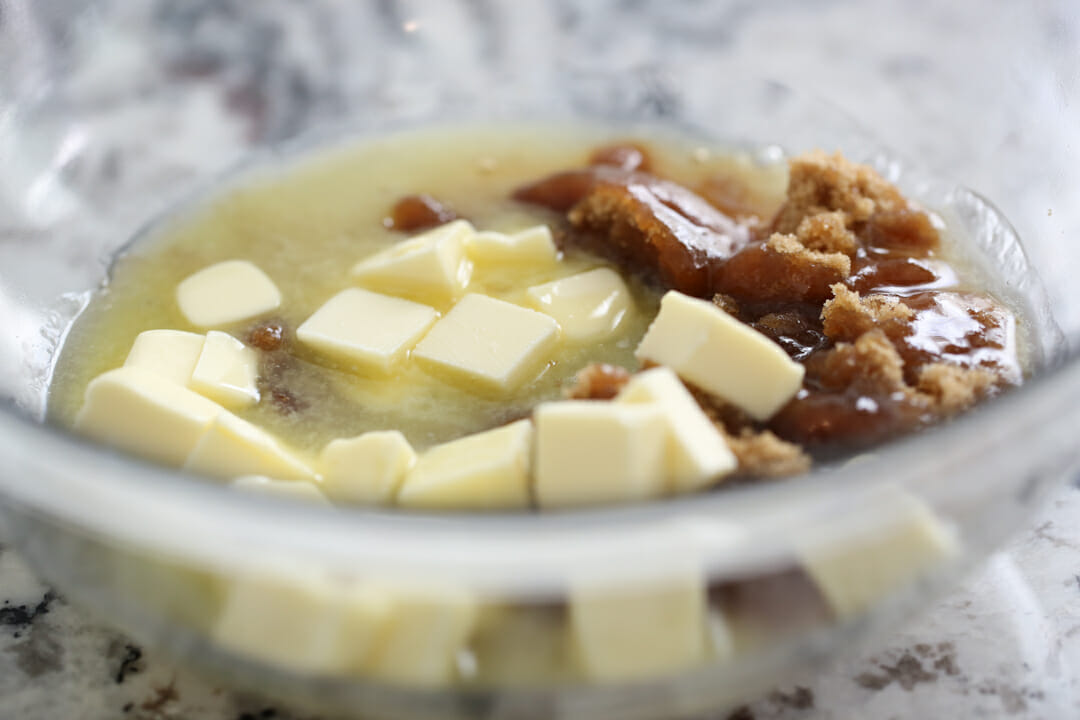 After it's melted and smooth, then you'll cook it for a couple minutes to dissolve the sugar.  It will look like caramel after you pull it out (because it is caramel!)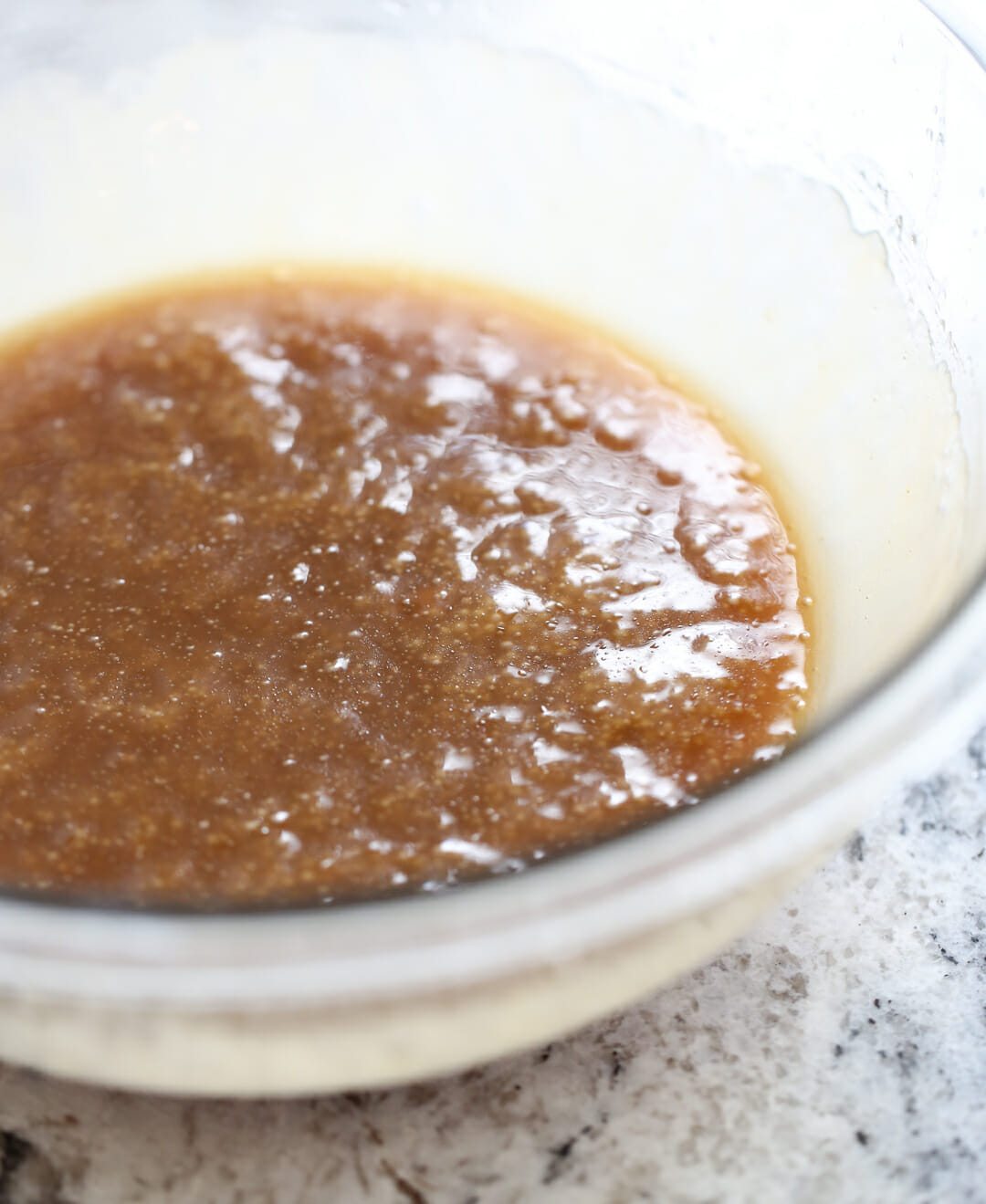 The magic happens when you add the vanilla (watch it sizzle!) and the baking soda.  Stir in the baking soda and you'll see the caramel actually grow and become lighter in caramel and almost….fluffy.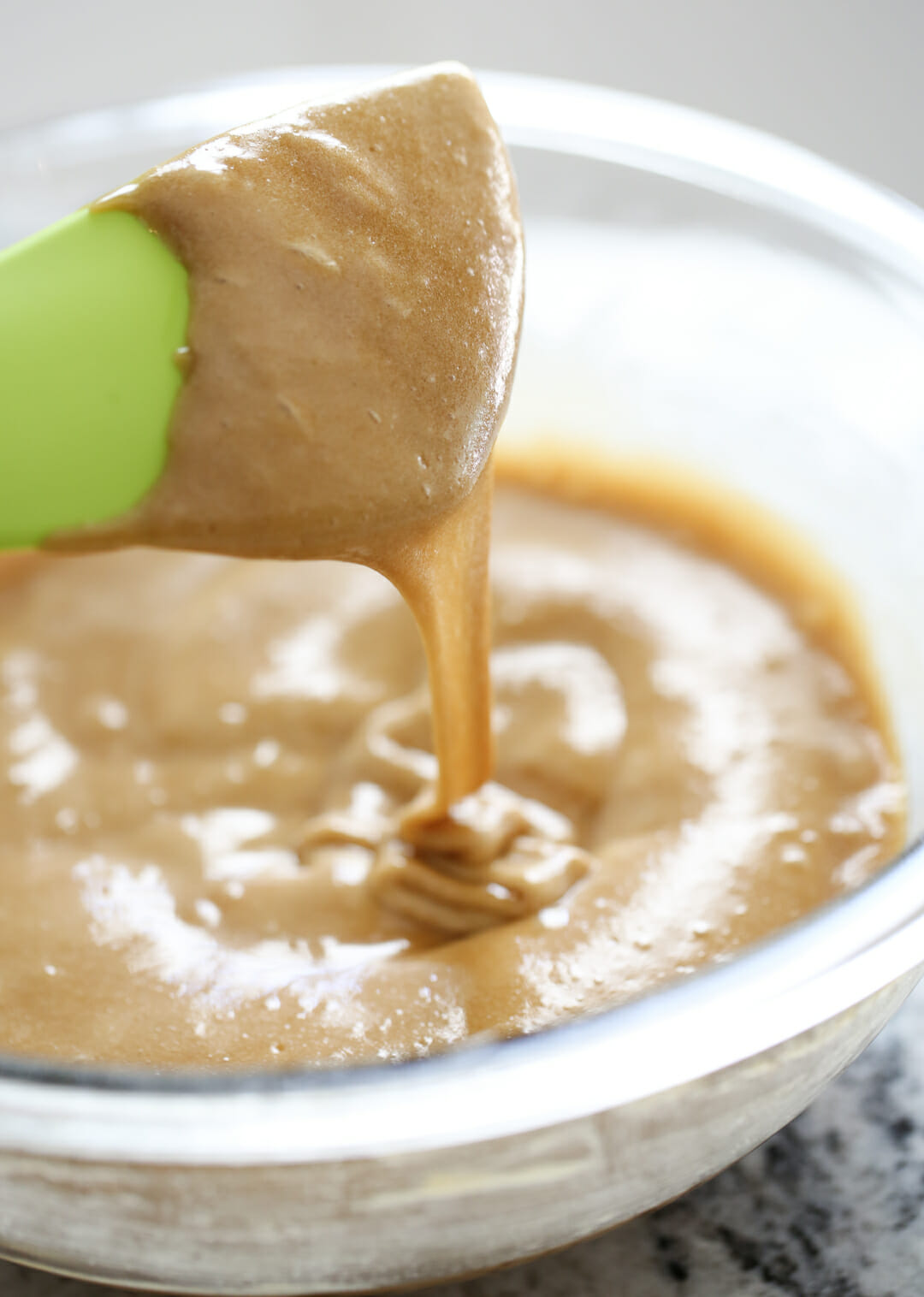 What's the easiest way to mix caramel corn?
At this point, your popcorn should be in a large bowl.  The largest bowl you can find.  Use one that is way bigger than you think you'll need, it just makes it SO much easier to stir.  I use a ridiculously large bowl like this one for my caramel corn, and also rice krispy treats.  It's one of my most favorite kitchen tools!
You'll also want to make sure you carefully remove ALL unpopped kernels from the bowl so you don't break a tooth.
Mix it up well with a big spoon.  The longer it sits out, the firmer it will get, but it won't ever get crunchy-hard unless you bake it.
How do I make crunchy caramel corn?
If you'd like to turn your soft caramel corn into crunchy caramel corn, all you need to do is bake it! Just spread it all out on a foil-lined baking sheet and bake at 300 degrees for about 30 minutes, stirring every 10-15 minutes.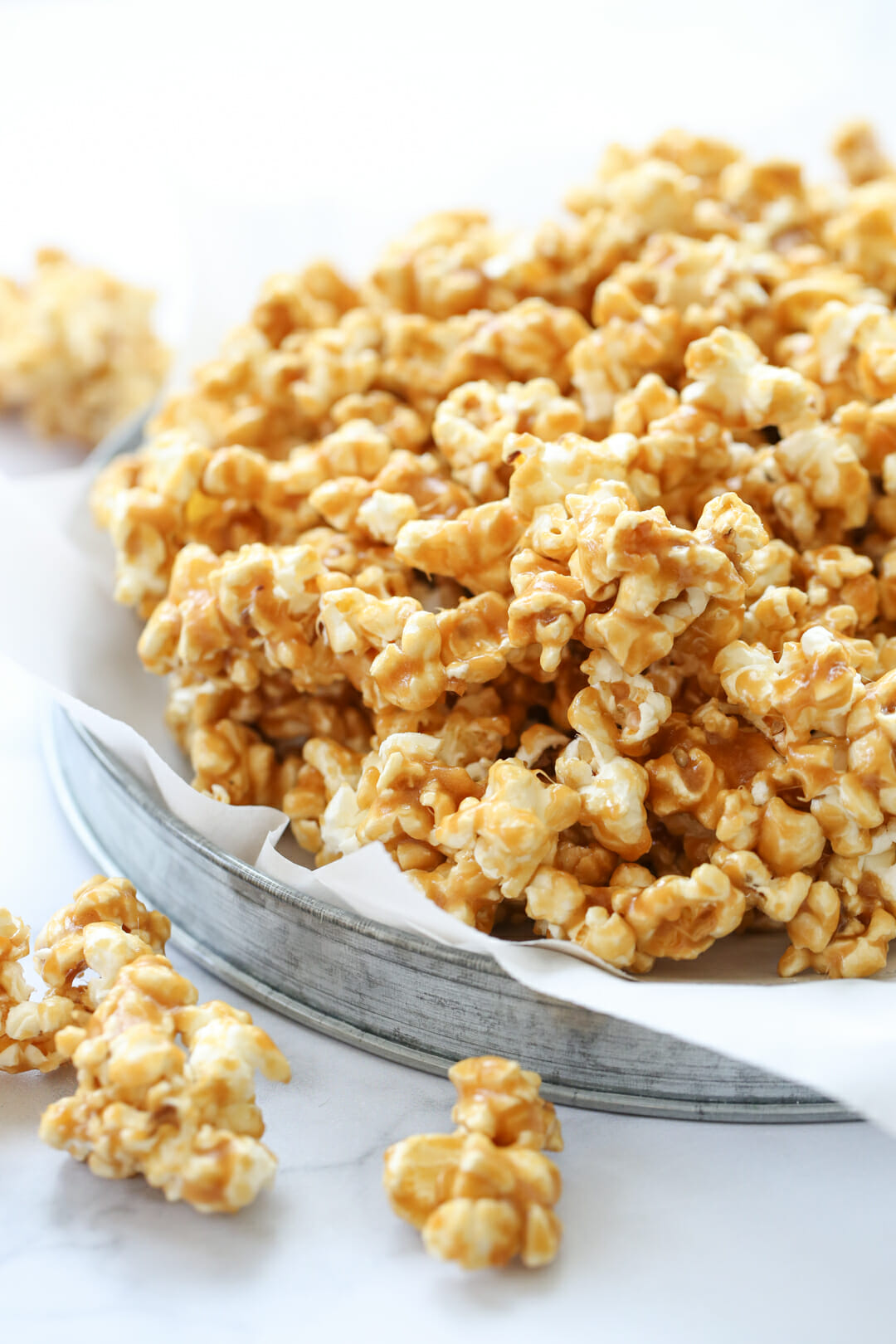 For a variation try this reader favorite: Cinnamon Bun Popcorn
Print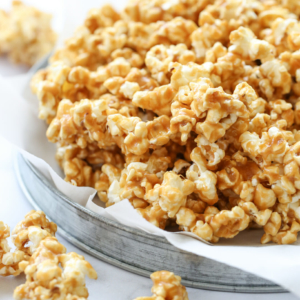 ---
Description
The easiest buttery-soft caramel corn recipe made with pantry ingredients and in the microwave, with instructions on making it gooey OR crunchy!
---
12 cups popped popcorn (about 1/2 C kernels)
1 cup brown sugar
1/4 cup Karo syrup (light or dark is fine)
1/8 teaspoon salt (if you are using salted microwave popcorn then omit salt here)
1/2 cup real butter (1 stick)
1/2 teaspoon baking soda
1 teaspoon vanilla
---
Instructions
Pop popcorn and set aside. Place brown sugar, Karo syrup, salt, and butter in a microwave safe dish. Microwave for 30 seconds. That should be enough to melt the butter at least half way. Stir it all to combine. No microwave on high for 2 minutes. Take it out and stir. Microwave for 2 more minutes.
While the caramel is cooking, put the popcorn in a big bowl. Use one that is way bigger than you think you'll need.  Also, remove any un-popped kernels.  When the caramel is done cooking, take out of microwave and add baking soda and vanilla.  Stir well and then pour over popcorn and stir up popcorn immediately to coat.
Eat warm straight out of the bowl, or spread out onto waxed paper or foil and let cool to room temperature (for soft, gooey popcorn).
For crunchy caramel corn: spread out on a cookie sheet (you might need 2) and bake at 300 degrees for about 20-30 minutes, stirring every 10-15 minutes.  Pull out a piece and pop it in the fridge to let it cool quickly to test crunchiness!
---