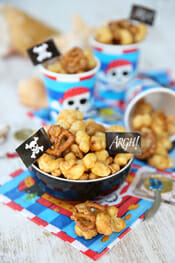 When my Grandfather was younger, he spent some time living in Austria, Switzerland, and Germany.  When I was a little girl, he and my grandmother lived in Switzerland, and hence that culture became a big part of our lives.  My brothers had tiny lederhosen and I spent many a day in little wool sweaters embroidered with edelweiss and in dresses like the one below (with my Aunt Barbara, don't we look smashing?)  I also developed an affinity for Lindor Balls at a very young age.  I named all of my girl stuffed animals Greta and all of my boy stuffed animals Hans.  (Don't ask how I knew which ones were girls and which were boys. )  And I still have vivid memories of my Mom, sitting on the family room couch with me fresh out of the bath and in my warm pajamas, turning the pages of my favorite book, "Heidi."  I loved that book.  I wanted to be Heidi.  I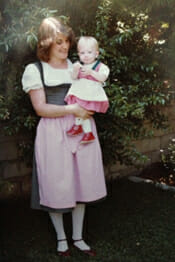 fell in love with that magical place and dreamed of running through the Alps with long braided hair.  That dream became a reality one summer when I was in high school and my grandparents, who no longer lived in Switzerland, took me back there with them.  We spent weeks riding trains, exploring rugged mountain sides, visiting quaint villages, and eating lots and lots of chocolate.  To experience in real life, what I had imagined for so many years in my favorite book, was truly a dream come true.
Books have this magical ability of transporting you to another time and place. I love the feeling of getting lost in a story.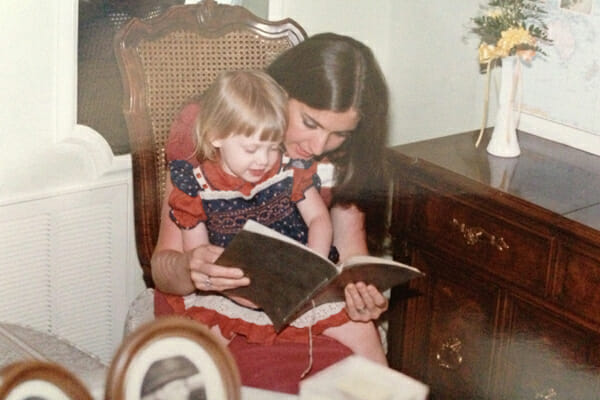 While looking for some photos of my Switzerland trip, I came across this one of my mother reading me a story when I was probably about two.  I don't think I'd ever seen this photo before and the moment made me smile!
In attempts to limit screen-time in our house, we've started reading longer books to our kids.  Our older two boys are at a good age now where they can actually sit and listen so our bedtime routine these days involves me taking care of the crazy three year old so the big boys can listen to their Dad.  Listening to Dad read isn't difficult because he is the best story teller.  He's got the gift of accents and has a special voice for every character.  After falling in love with Harry Potter, we're starting the classic Treasure Island with a theme my kids never tire of: Pirates.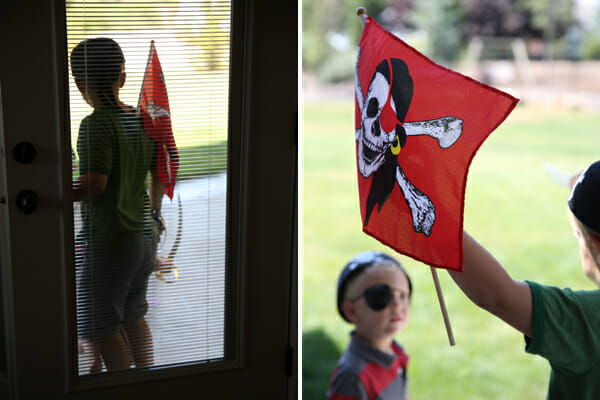 Some other trends have come and go in our house, but swash-buckling pirates is one that sticks around.  I see my boys on a regular basis running by with eye patches on and fake swords in their pants.  It's a make-believe world I hope they take a long time to grow out of.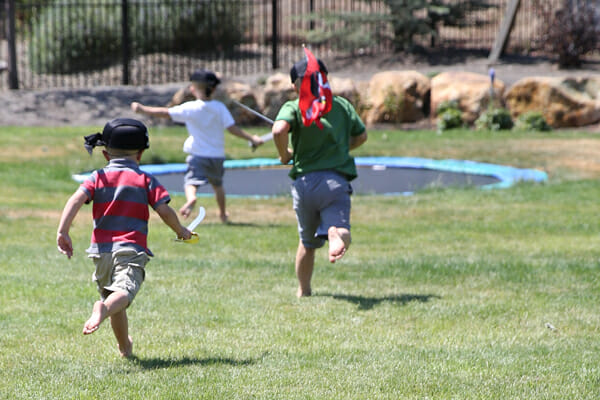 With a love of all things pirates, Pirate's Booty is a family favorite.  Those yummy cheddar-dusted puffs are crazy addicting, which is why we buy them in bulk from Costco and I hide one bag for myself.  Don't judge.  I've had a recipe idea in my head for literally years, and I finally tried it out the other day, and then promptly kicked my own behind for not doing it sooner.
You'll need some Pirate's Booty (or something similar, see my notes in the recipe), and some pretzels, rice chex, and roasted peanuts.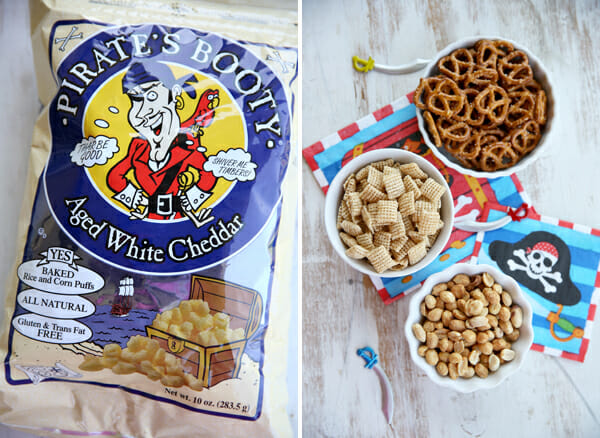 All good snacky things, yes?  We've got airy, cheesy puffs, the light and crispy chex, the crunchy, salty pretzels, and little hints of peanutty goodness.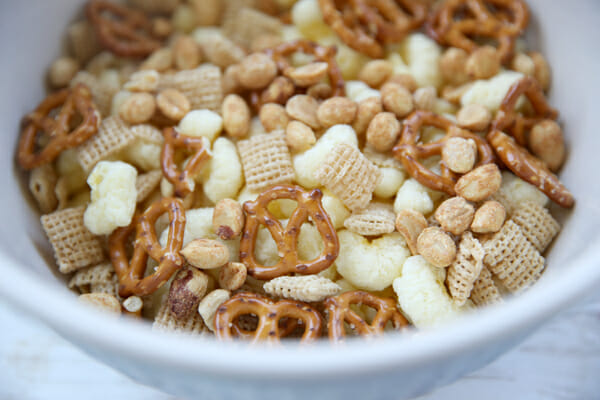 Wanna see how I'm going to make it amazing?  Yes, we're totally doing this.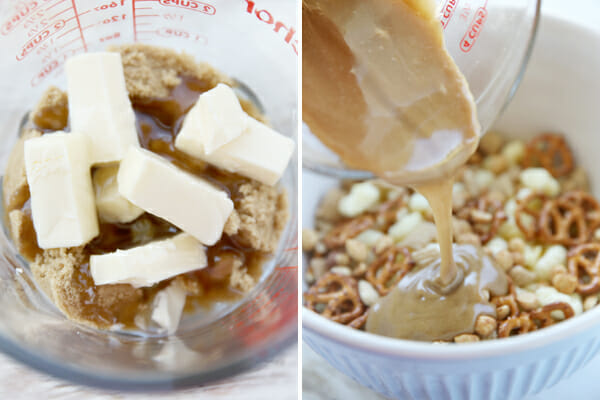 A quick homemade caramel in the microwave takes all those amazing snacky things and makes them go c-r-a-z-y with deliciousness.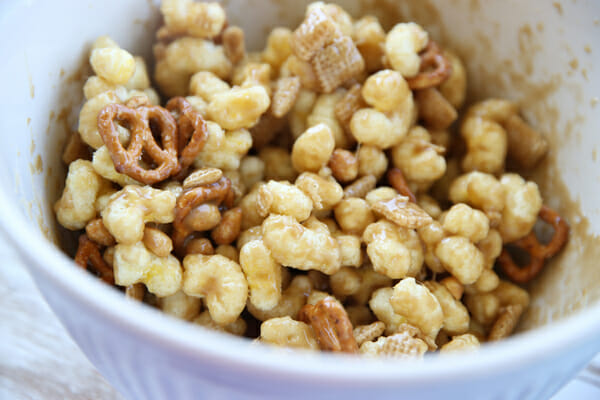 When it's all mixed up, I bake it in the oven for just a few minutes to set the caramel.  When it cools, it's crunchy and sweet.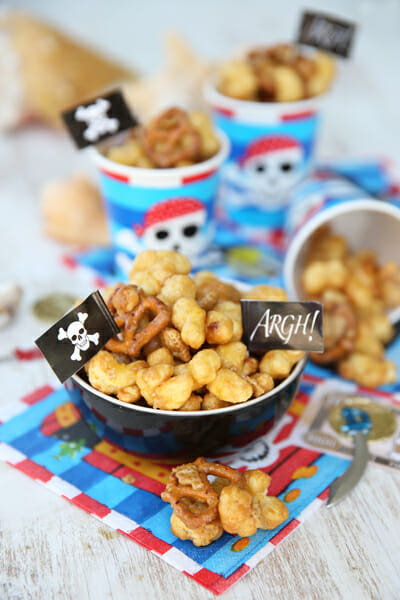 If you've ever had those popcorn mixes that combine cheesy popcorn and caramel popcorn, you get a little of that same thing going on here.  It's a sweet and savory party in your mouth.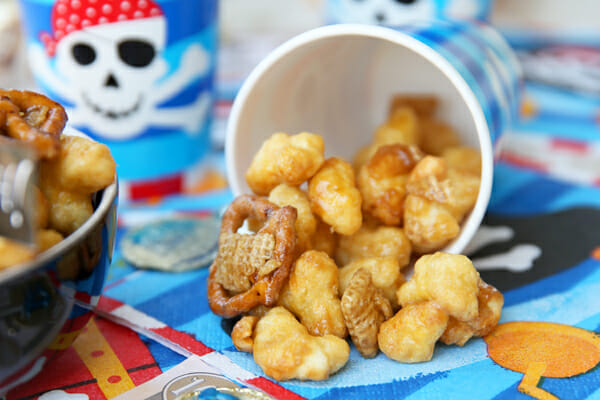 And guess what?  Kids sit even longer listening to stories if they're eating something yummy.  True story.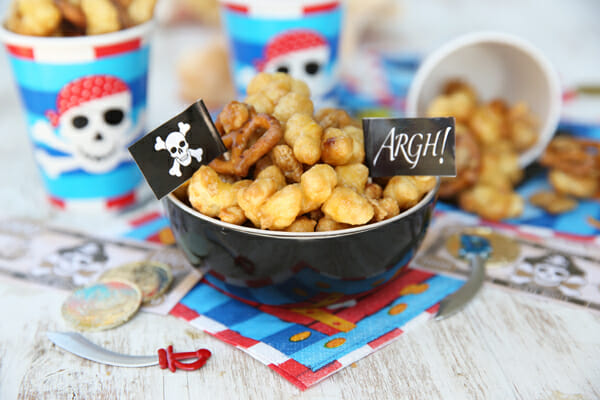 Make some for your next party, or bbq, or family movie night, or reading time snack.  You'll be the most popular person in the room- Our Best Bites Promise!
As part of Soar with Reading, JetBlue and Random House are asking children – what magical places would you like to travel to with Jack, Annie and JetBlue this summer? Kids can create their own adventure and then ask their parents to share their story here. Participants will be entered for a chance to win a $5,000 college scholarship or other great prizes.
And the most important part of the mission is to get $500,000 worth of books into the hands of children everywhere! For every sweepstakes entry, JetBlue will donate one book, up to $500,000 worth of books, to Mary Pope Osborne's Classroom Adventures Program.  Check out the link here, and enter your adventure today!
Caramel Covered Pirate's Bootie
Recipe by Our Best Bites
Ingredients
4 cups Pirate's Bootie*
1/2 cups Chex cereal
1/2 cups pretzels
1/4 cup dry roasted peanuts
1/2 cup brown sugar
4 tablespoons butter
2 tablespoons light corn syrup
1/8 teaspoon baking soda
Preheat oven to 300 degrees.  In a large mixing bowl, combine Pirate's Booty, Chex, pretzels, and peanuts and set aside.
In a large glass measuring cup (or large microwave safe bowl- I use a 4C Pyrex measuring glass) combine brown sugar, butter, and corn syrup.  Microwave for one minute and stir to combine.  Heat again for 1 minute on highest power level and remove and stir.  Stir in baking soda and mix well.  Pour caramel over snack mix and stir to coat everything.  Place mixture on prepared baking sheet and bake for 15 minutes, stirring half way through.  Let cool completely and then break into pieces.
*Pirate's Booty is a snack puff made of corn and rice and dusted with white cheddar.  It's sold in the snack aisle of most major grocers.  I can always find it at Target.   If you aren't able to find it, there are several similar products that would work, including even white cheddar popcorn.

If you missed note about our new Pin-it feature, it's so cool!  Just hover your mouse over the image below (or any image in this post) and the pin button will pop up to pin that specific image.  Pin away!