I've been making this dip for years and recently a friend of mine couldn't find the copy I had given her, so I sent her here to Our Best Bites to look up the recipe.  It wasn't until after some heavy searching, I realized I've never posted it here before.  We're to that point.  The point where I have no idea what's on here and what's not, what's in each book, and which book it's in.  When people ask where certain recipes are located, my general response is, "I honestly have no idea."  So, with that being said- this is one of my favorite dips!  Caramelizing onions takes a little effort, but the flip side is that this dip really needs to chill overnight to reach its full potential (and who would want to deny a dip its full potential??) so you can take the time one day and eat easy the next.
First you'll need to caramelize your onions.  This part is definitely time-consuming, but we're going to do it in the oven so you at least don't have to stand at the stove-top babysitting your saute pan.  The oven method is super duper easy and the pan does all the work for you.  You just have to open up the oven and stir them onions a few times.  Start with 4 cups diced onion in a heavy dutch oven (one with a lid).  Two big, sweet onions should do it.  If you're buying smaller onions (small-medium) you'll want to get 3.  I toss them with a little melted butter, and a little olive oil.
Cover your pot and place it in a 400 degree oven.  These will take anywhere from 1-1 1/2 hours, but you'll need to stir them about every 20 minutes.  They'll start to wilt and turn golden,
and by the end they'll be caramelly brown.  After about an hour I usually turn my oven down from 400 to 350 and push the onions to the middle of the pot to avoid burned pieces on those extra hot edges.  After the onions are done, set them aside to cool.
In the mean time, mix up the base to the dip, a little low-fat mayo, some low-fat sour cream, and some low-fat (not fat free) cream cheese.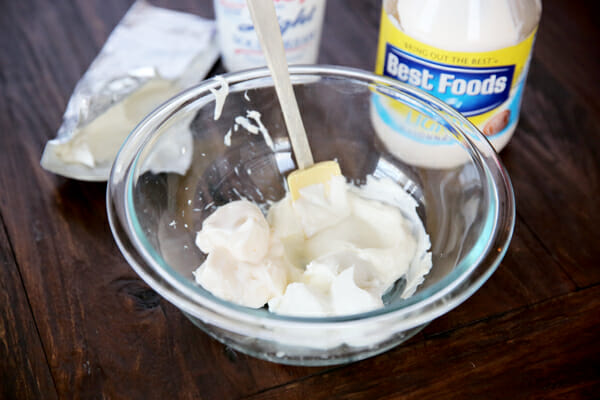 Add in a douse of Worcestershire sauce,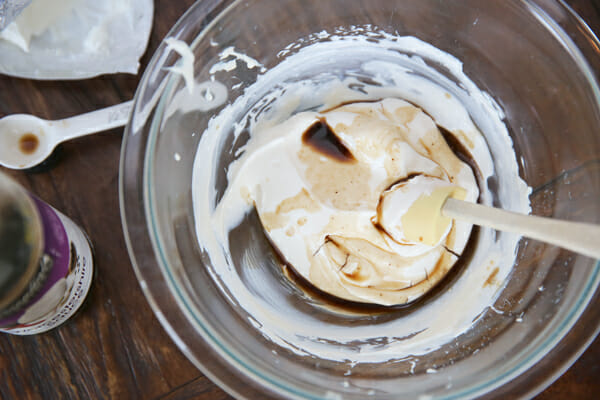 some salt, thyme, and garlic powder.  Easy breasy.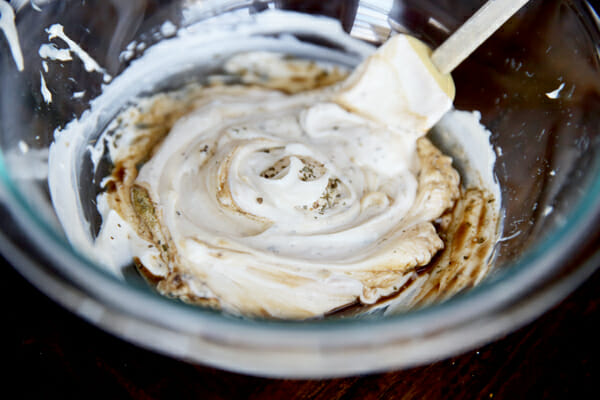 When that's mixed up, add in those caramelized onions.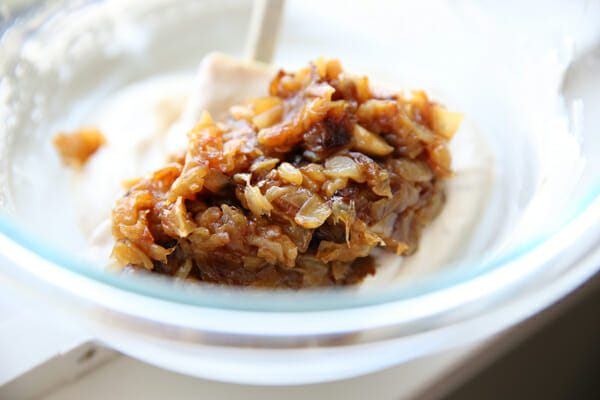 You'll taste it now and it will taste alright, but this dip really needs to be made in advance (preferably a day ahead of time) for the flavors to really shine.  When you taste it the next day, there will be a noticeable difference.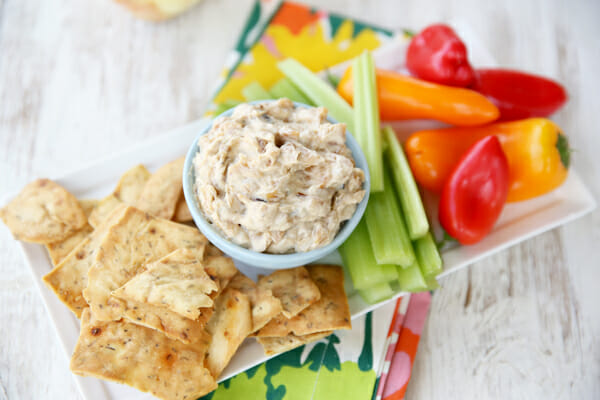 Those sweet, tender onions are definitely the star, and they're balanced out by the tang and acidity of the Worcestershire and the creaminess of the sour cream, cream cheese, and mayo.  It's perfect with your favorite pita chips, crackers, and veggies!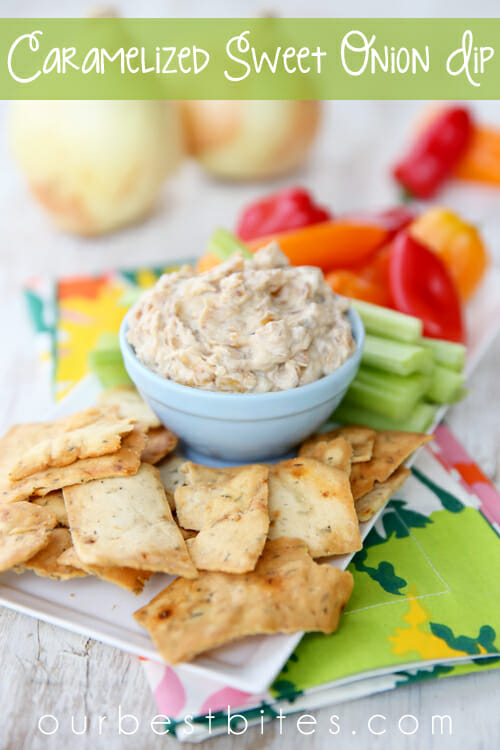 Caramelized Sweet Onion Dip
Recipe from Our Best Bites, adapted from Cooking Light
4 cups chopped onion (2 large sweet onions should do it)
1/2 tablespoon butter, melted
1/2 tablespoon olive oil
3 tablespoons low-fat cream cheese
4 tablespoons low fat sour cream
3 tablespoons low fat mayo
1/2 teaspoons Worcestershire
1/8 teaspoon kosher salt
1/8 teaspoon dried thyme
1/8 teaspoon garlic powder
Preheat oven to 400 degrees.  Place onion in a heavy dutch oven and toss with butter and olive oil.  Cover pot and cook for 1-1 1/2 hours, stirring every 20 minutes, until a caramel brown color.  Tip: You might want to decrease oven temperature after about 45-60 minutes to 350 degrees, and start stirring every 15 minutes to avoid burnt edge bits.  Remove from oven and set aside to cool.
Place cream cheese in a microwave-safe mixing bowl and heat for 15-ish seconds until warmed enough to be easily stir-able.  Add sour cream, mayo, Worcestershire, salt, thyme, and garlic.  Stir to combine and then mix in caramelized onions.  Chill overnight before serving.  Yields about 1 1/4 cups dip.
Nutritional Info per Tablespoon:
Cal: 26, Fat: 1.8 g, Carbs: 2g , Fiber: .3 g, Protein: .6 g
Utah Friends- check out this home tour!