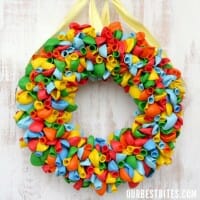 Today's post seems fitting because we have so much to celebrate this week!  In honor of Kate, we're partying for Mardi Gras (ya know, good girl style, with fried carbs instead of inappropriate flashing and public drunkenness) which also coincides with Brazilian Carnival, something dear to my heart (again, make some Brazilian Lemonade don't wake up in a gutter somewhere in Rio…) PLUS, in the next day or two we're hopping on planes to Salt Lake City for the launch of our cookbook and we hope to meet many of YOU at our signings! (Details at the end of this post.) To top it all off, yesterday marked the 3rd year from the day we started this little recipe blog.  See?  So many reasons to celebrate!
I first saw this fun wreath on How Does She and I fell in love with it immediately.  Why?  For starters, I'm pretty sure I recently developed an obsession with wreaths.  You may have noticed.  Kate has.  It also looked so easy, and didn't take a lot of materials.  Lastly, how fun is it?  I just look at it and smile.  At our house we pull it out any time it's someone's birthday.  Use it to celebrate whatever the heck it is you're celebrating!
Materials:
Straw Wreath– the kind wrapped in plastic, they're super cheap at craft stores.  I think I paid $2 for a 14″ wreath.  Foam or styrofoam could work also, but the straw works really well and it looks better if you don't end up covering every last inch.
Floral Pins– you don't need a gigantic pack like I have.  I'm sort of addicted to buying in bulk.  I need more projects with floral pins.
Latex Balloons– lots of them.  You can really stretch the amount you have, or you can really pack them in tight.  I used about 275 Balloons.  Remember, balloons are cheap, buy in bulk, try the party store or dollar store.  I bought a bunch of mine at Walmart. I covered enough that you can't see the wreath unless you get close up and look at the very side.
Take a floral pin and place a balloon right in the middle of the opening
Then just push the pin right into the wreath. Note you leave the plastic covering on your wreath.  The pins go right in, easily.
See?  Adorable little balloon. But lonely.  He won't be lonely for long.  Grab another pin and just keep repeating the process.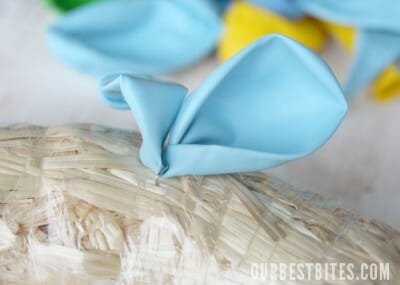 You'll get a feel for how close to place the balloons as you go along.  I found after a while I could spread them out more than I originally thought because the balloons are propped up and floppy so they fill in the space.  I probably placed the pins about an inch, or maybe a little less than an inch, apart.
Make sure your tv is turned on at this point.  This actually goes really fast.  I made mine start to finish while catching up on 2 episodes of 30 Rock.  And that's with fast forwarding the commercials!
When I got all the way around and there was just a little space left, I wrapped a big ribbon around the wreath.  I then placed the remaining floral pins and balloons right through the ribbon which secured it in place.
Then you're all ready to go.  Hang 'er up and party!
Seriously cute, right??  I love.