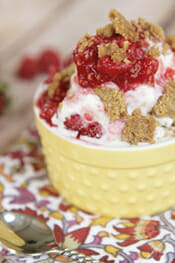 It's September.  How did that happen??  Leaves are already changing at my house, I've been burning my Autumn candles for weeks, and I'm so ready for fall.  Kate has already jumped into fall baking (and can we just say YUM, I want to make those) but I'm going to squeeze out a little more summer in the recipe department.  I know that in most places around the country, the temps are still screaming summer, and this was one of my favorite homemade ice creams this year.  My old ice cream maker bit the dust half way through the summer, so I did a major upgrade and got this bad boy and WOW.  It's amazing.   Combine that with the fact that I am very pregnant right now and it should come as no surprise that we ate a lot of ice cream over the past few months.   The cool thing about this machine is that it's actually a compressor, so there's no freezer container to worry about.  It goes from nothing to -25 degrees in about 10 minutes and can do multiple batches in a row.  Plus it plays a jig when it's all done , so ya know, that's also a major selling point.
For this ice cream, start with a little whole milk and some cream cheese.  Blend them in the blender until they're nice and smooth.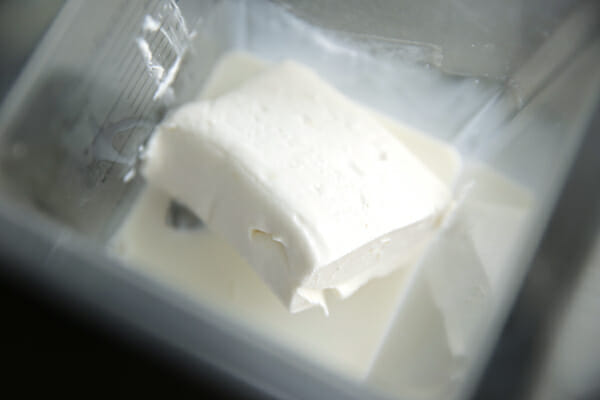 Add them to a mixing bowl and whisk in some cream, sugar,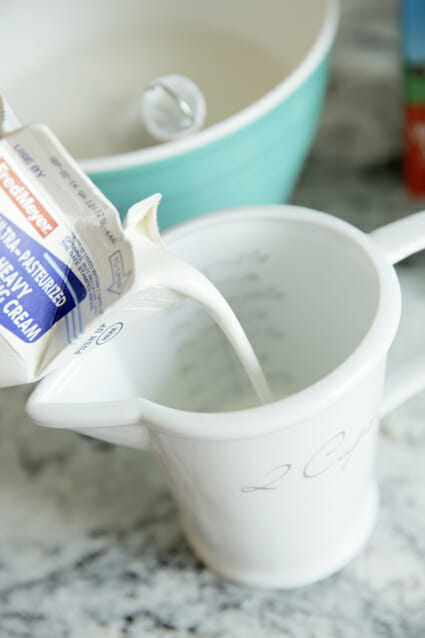 and vanilla.  That's it.  Easy-peasy.
I'll show you a couple of different ways you can fix this- both are amazing.  One way is to bake up a graham cracker crust.  Just as you would a pie crust, only you can bake it in any pan, free form.
Freeze your ice cream
and then as you're transferring it into a freezer container, layer it with chunks of the crust.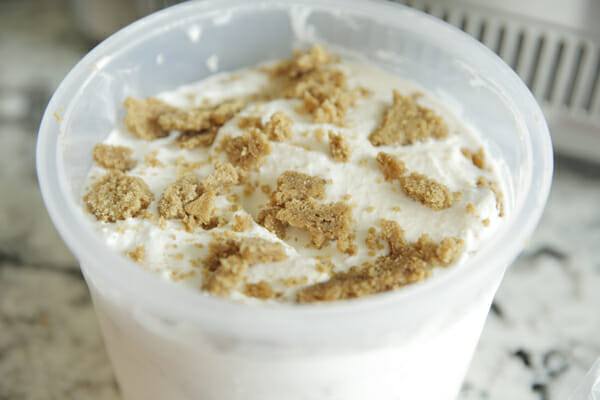 This makes a creamy, flavorful, cheesecake flavored ice cream base that you can then top with your fave cheesecake toppings, like fresh berry sauce, caramel, etc.  Makes a great dessert for guests when you let everyone put on their own toppings. (Also, let it be known that I photographed this bowl outside on a day that was 102 degrees.  Probably not the best idea.)
Another way you could make this is to toss in actual chunks of cheesecake.  You don't have to bake up an entire cheesecake- you can buy a ready made one at the store, or what works perfectly are the little slices you can often find in the grocery store deli/bakery.  Two slices is perfect.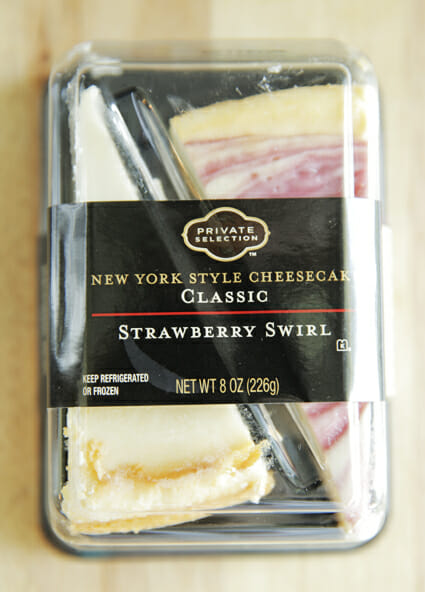 Just chop them up into chunks and layer them right in with the ice cream.
Along with each layer, add a swirl of your favorite high quality berry jam or fruit filling.  I used a low-sugar marionberry spread that was amazing.  I wish I got a photo of a finished scoop of this batch but it went SO fast it was ridiculous.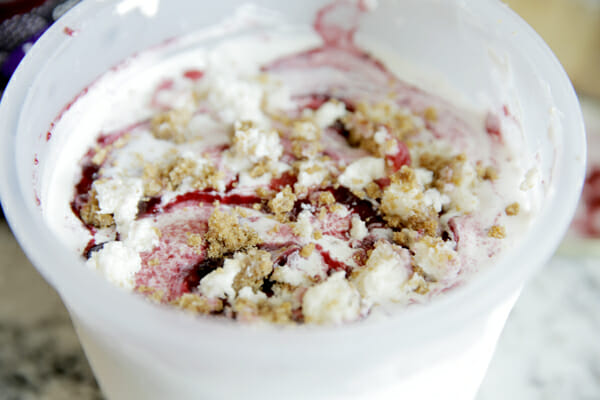 Either way, this is a great homemade cheesecake flavor that's so versatile.  It's one of my family's favorites and I bet it will be for you too!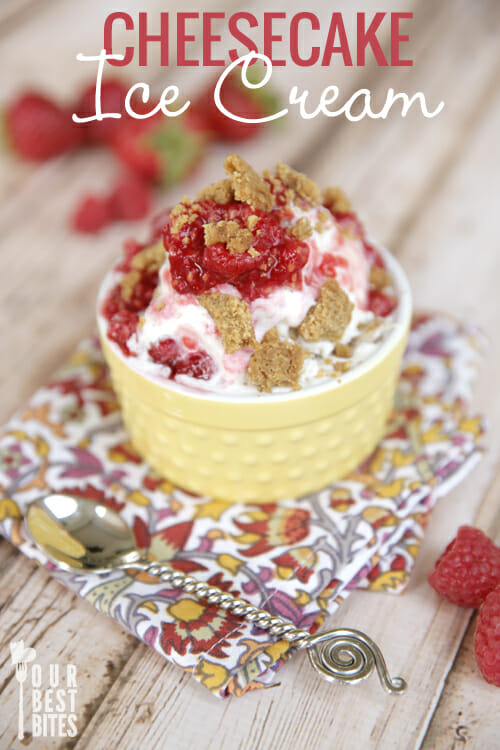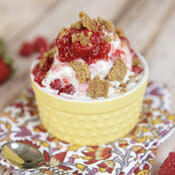 Cheesecake Ice Cream
Recipe by Our Best Bites
Makes 1 1/2 quarts
Ingredients
6 ounces cream cheese (low fat is fine, avoid non-fat)
1/2 cup whole milk
2 cups cream
3/4 cup sugar
2 teaspoons vanilla
Graham Cracker Crust
9 full sheets graham crackers (about 1 1/2 cups crumbs)
1/4 cup brown sugar
1/4-1/2 teaspoon cinnamon
7 tablespoons melted butter
Place cream cheese and whole milk in a blender and process until smooth.  Pour into a mixing bowl and whisk in cream, sugar, and vanilla.  Refrigerate until well chilled, several hours.
To prepare graham cracker crust, place crackers in a food processor and process until crumbs form.  Add brown sugar and cinnamon and pulse to combine.  With processor running, drizzle in melted butter.  Spread crust onto a foil lined baking sheet, pressing down with hands into a free form rectangle (it doesn't need to cover the whole sheet.  Bake for 10-12 minutes until it golden and set.  Cool completely.
Pour ice cream batter into an ice cream machine and process according to manufacturers instructions.  Transfer to a freezer safe container, working in layers of a little bit of ice cream, and then chunks of the cooled crust, repeating until all ice cream is used.  If you have extra crust, save for sprinkling on top.   Serve with favorite cheesecake toppings like berry sauce, caramel, chocolate, fresh fruit, etc.
Alternate method:  Make plain cheesecake ice cream and omit crust.  When layering into freezer safe container, layer in chopped cheesecake slices and fruit jam in swirls.