This Cheesy Italian Sausage bread is insanely good.  There are similar things you can do with pre-made, frozen bread dough, tossing in cheese and pepperoni etc. but this homemade recipe is such an elevated version and making it from scratch totally pays off here.  The bread is so soft and tender, and beautifully flavored with herbs and spices. It's dotted with sausage and melted cheese and bonus:  This makes two loaves, and it freezes pre-baking beautifully.  So eat one for dinner and put one in the freezer for another night if you like.  You could easily pair this with a salad for a light dinner, or use this loaf as a side dish with soup.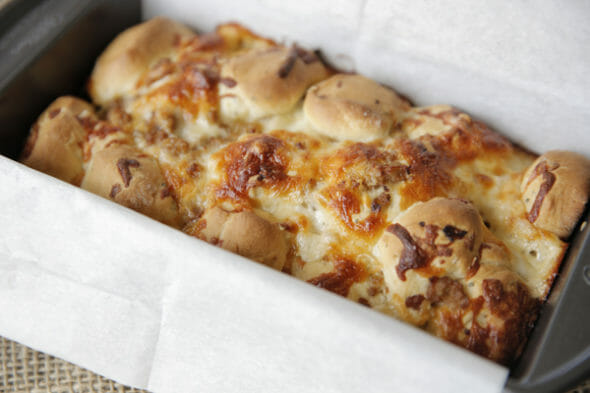 Start by stirring together some flour, yeast, and Italian seasoning. Add in melted butter, warm milk, with a
little salt and sugar, and also an egg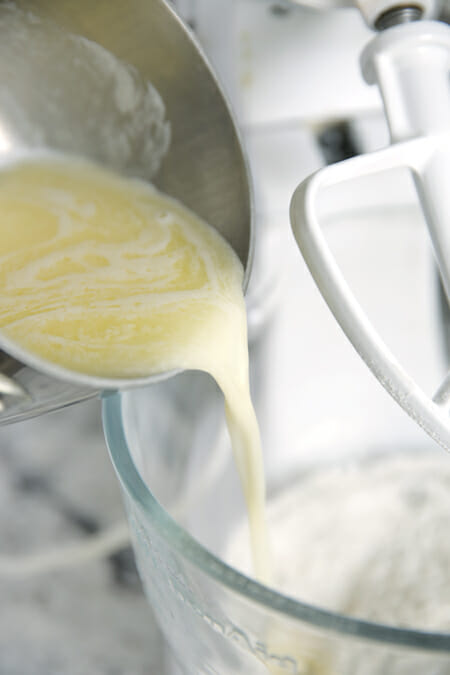 Until you have a nice soft dough.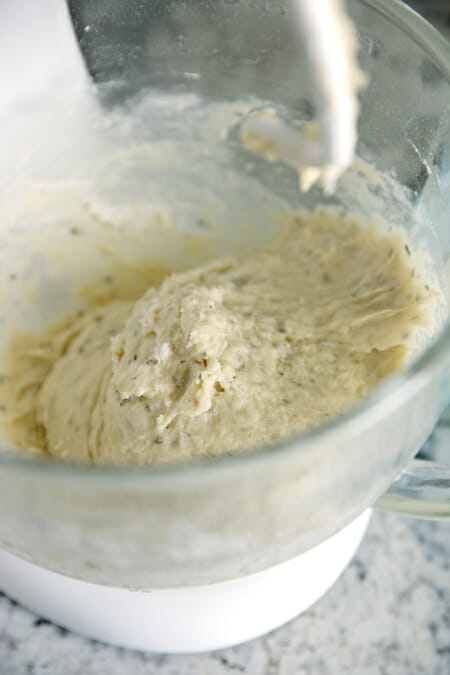 After your dough comes together and gets kneaded, place it in an oiled bowl to rise.   After it's risen, divide it into 3 balls,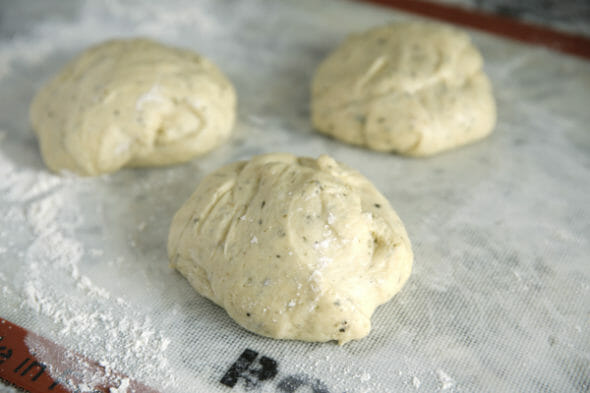 and then take each ball and roll it into a long snake and snip it into little pieces.
These little dough balls will get layered into the bread pan along with some cooked, crumbled Italian sausage (I use Italian turkey sausage)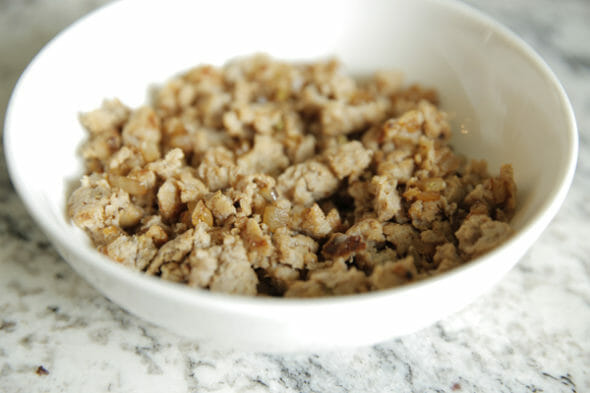 A variety of cheeses (Fontina, Mozarella, and Parmesan) gives this recipe so much flavor.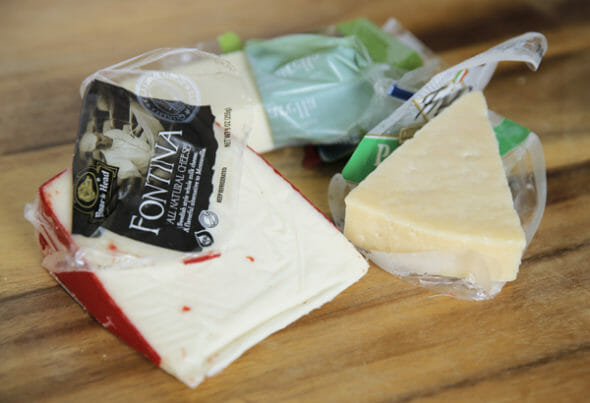 Layer all of that in there in alternating layers.  It seems like a ridiculous amount of cheese.  Just go with it.
When it bakes up, the bread and the sausage and the cheese all become one beautiful piece of deliciousness.
You can slice it into slices
Or pull it apart into chunks.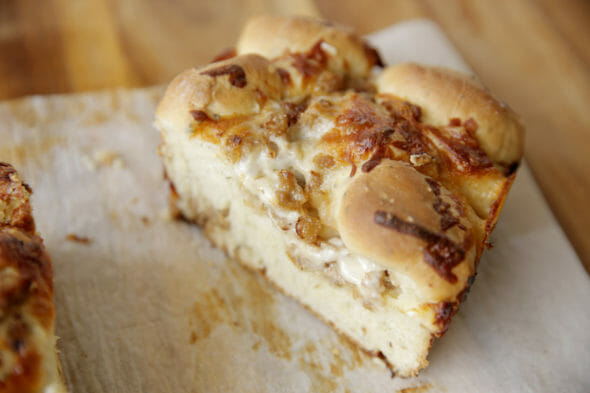 Serve it with pesto for dipping (it just keeps getting better!)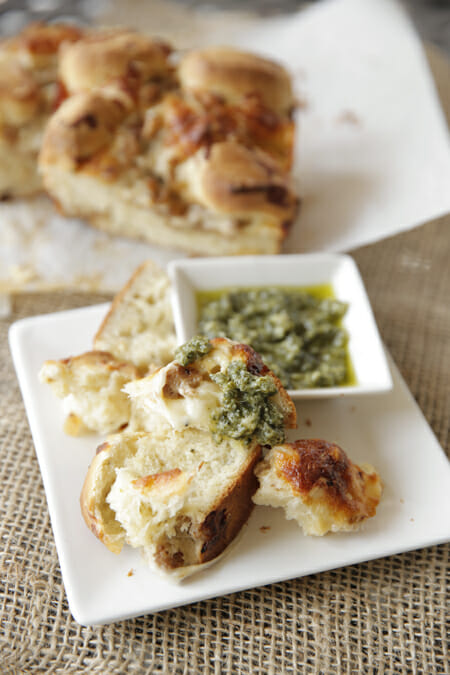 And instantly become the most popular person in the room.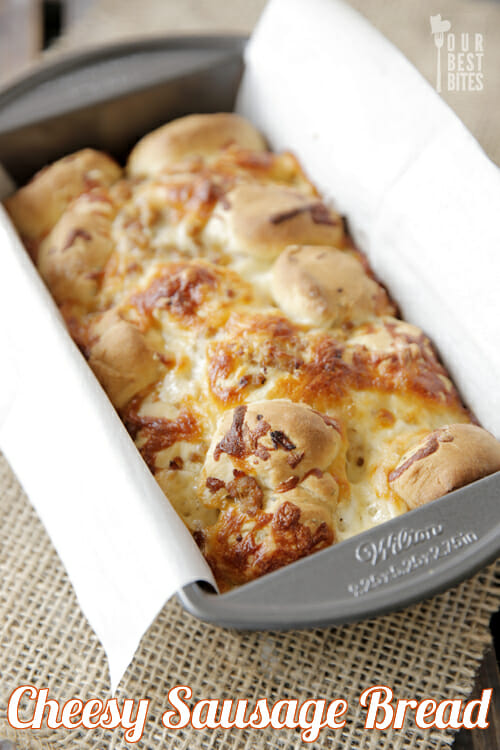 Print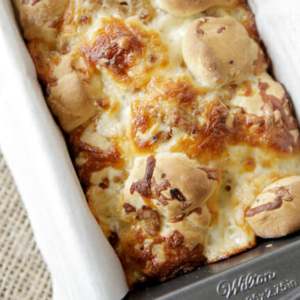 Cheesy Italian Sausage Bread
---
Description
Soft bread folded with a variety of cheeses and Italian Sausage. Makes 2 loaves!
---
8-oz bulk Italian sausage (I use Italian turkey sausage)
1/4 cup finely chopped onion
3 1/4–3 3/4 cups all-purpose flour
1 packet active dry yeast
2 teaspoons dry Italian seasoning
1 cup milk
1/3 cup butter
1/4 cup sugar
3/4 teaspoon salt
1 egg
1 1/2 cups shredded Fontina cheese (6 oz)
1 1/2 cups shredded mozzarella cheese (6 oz)
1/2 cup shredded Parmesan cheese (2 oz)
1 cup purchased basil pesto (or make your own, here)
---
Instructions
In a large skillet cook sausage and onion over medium-high heat until meat is brown, using a wooden spoon to break up meat as it cooks. Drain off fat. Cover and chill sausage mixture until needed.
In a large mixing bowl, stir together 1 1/4 cups of the flour, the yeast, and Italian seasoning. In a medium saucepan heat and stir milk, butter, sugar, and salt just until warm (120 degrees F to 130 degrees F) and butter almost melts. Add milk mixture to flour mixture; add egg. Beat with an electric mixer on low to medium speed for 30 seconds, scraping sides of bowl constantly. Beat on high speed for 3 minutes. Using a wooden spoon, stir in as much of the remaining flour as you can.
Turn dough out onto a lightly floured surface. Knead in enough of the remaining flour to make a moderately stiff dough that is smooth and elastic (6 to 8 minutes total). Shape dough into a ball. Place in a lightly greased bowl, turning once to grease surface of dough.  Cover and let rise in a warm place until double in size. (about 1 hour).
Punch dough down. Turn out onto a lightly floured surface. Divide dough in thirds. Cover and let rest for 10 minutes. Meanwhile, preheat oven to 350 degrees F. Line two 9x5x3-inch loaf pans with parchment paper; set aside. In a medium bowl combine sausage mixture, fontina cheese, mozzarella cheese, and Parmesan cheese.  Set aside.
Roll each portion of dough into a 30-inch-long rope. Cut ropes into 1-inch pieces. Divide one-third of the pieces between the prepared loaf pans. Divide one-third of the cheese mixture between pans. Repeat layers two more times.
Bake for 35 to 40 minutes or until golden. Cool in pans on wire racks for 5 minutes. Remove loaves from pans; peel off parchment paper. Serve warm with pesto.
Freezer Instructions: Before baking, place prepared loaf in freezer.  When frozen solid, you can remove the bread mass using the parchment the pan is lined in.  Wrap well in plastic and/or foil and seal in a zip top bag.  When ready to bake, unwrap and return parchment lined bread to pan.  Let sit at room temp for 3-5 hours, until thawed and then bake as directed.
---