This creamy, fluffy, flavorful breakfast casserole is made with basic ingredients and no bread.  Chili Cheese Souffle Squares require no overnight sitting so this dish can be on the table in just about an hour!  Perfect for breakfast, brunch, or even a make-ahead prep for the week.  Scroll past the recipe to find step-by-step photo instructions. *Note:  Readers have reported success when using gluten free flour in this recipe.  It's tagged gluten free for this reason- feel free to make that substitution as needed for your dietary restrictions.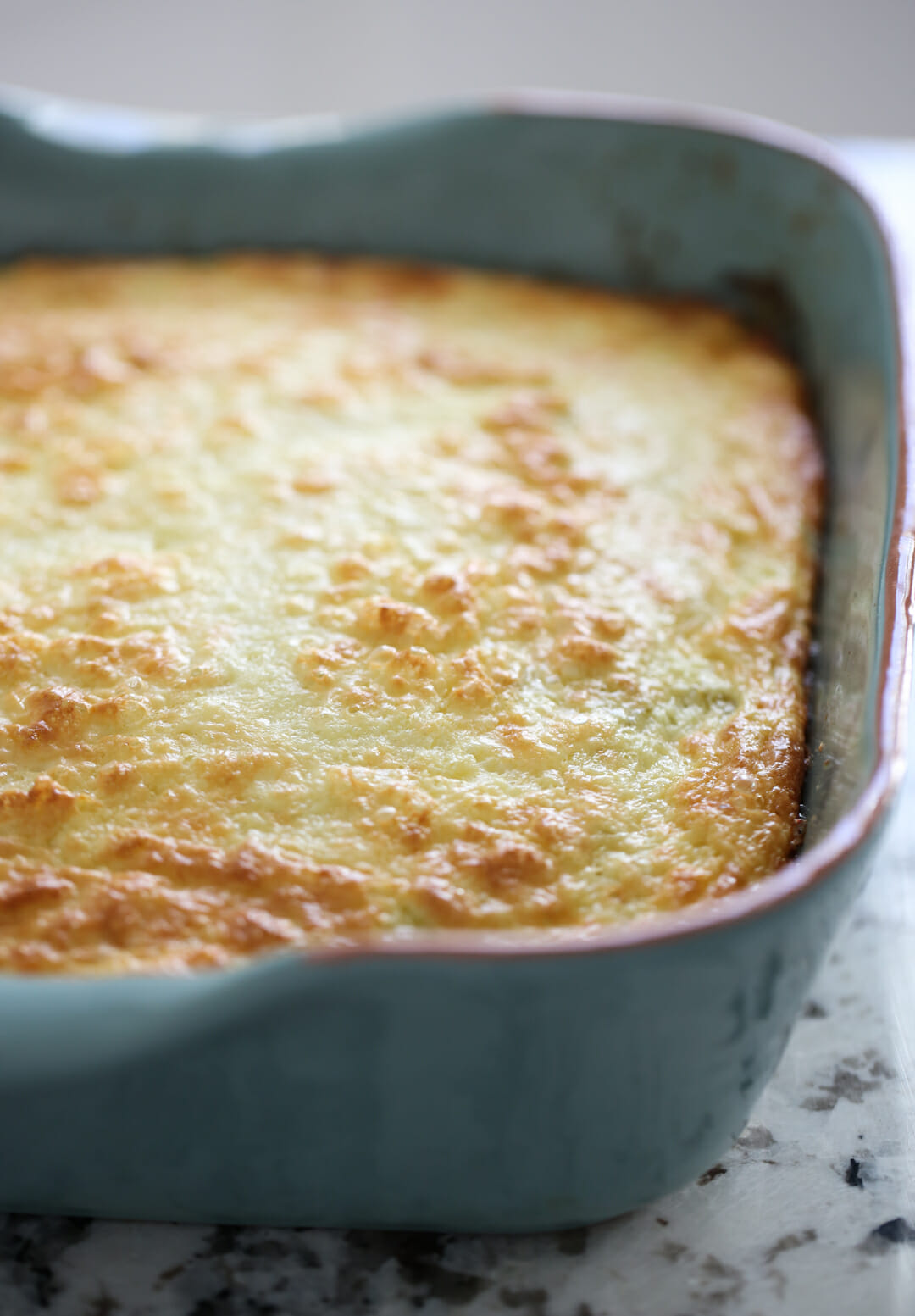 My First Homemade Cook Book
Have I ever showed you guys my very first cook book?  Long before our bestselling hardback, and before the days of easily-generated hardback photo books, and food blogs where you could store your favorites.  This was back in the day where you formatted documents in Word, then printed them out one by one, sliced each page by hand, and took everything to your local Kinkos to copy and bind.  Talk about labor of love! For Christmas one year I gathered all of my family's favorite recipes.  We are definitely a family bonded through food, and my Mother was notorious for her scraps and paper clippings organized in file folders and old cook books and lots and lots of post-its.  I wanted to have them all in one place to pass on to my siblings who were all in pivotal life stages (one going off to college for the first time, one a newlywed, etc) so we'd all have a little piece of home to take along with us.
The Best Kind of Treasure
This proved to be even more of a treasure as my Mom started getting sick around this time, and none of us could have predicted what would evolve in the years to come, as she lost the ability to cook, and all memories of these simple things that were such a big part of my family's growing up years quickly faded away.  I'm so happy I took the time back then to collect everything so we can all still have that part of her that we treasure so much.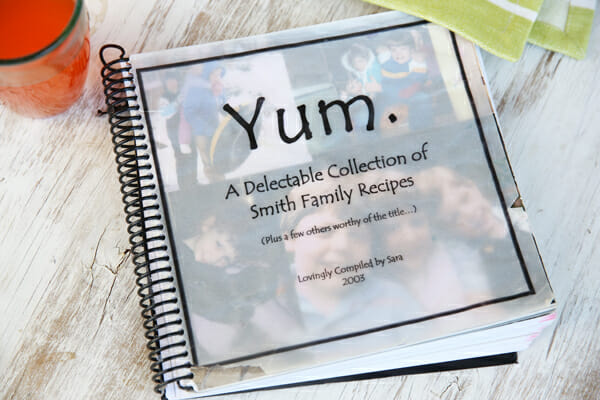 I interspersed photos of everyone throughout the book, so it's kind of like a food scrapbook.  I noticed the other day, that while many of these recipes are now here on this blog, like my Mom's Mint Brownies, or her beloved Peanut Butter and Jam Bars, and now that I have actual published cook books of my own, not to mention hundreds of other awesome cook books written by well known chefs, this book is still the one I turn to more than any other.  For holidays, for inspiration, when I'm feeling in a cooking slump.  It's the book that takes me back to my roots and reminds me where I fell in love with cooking.  It was at home.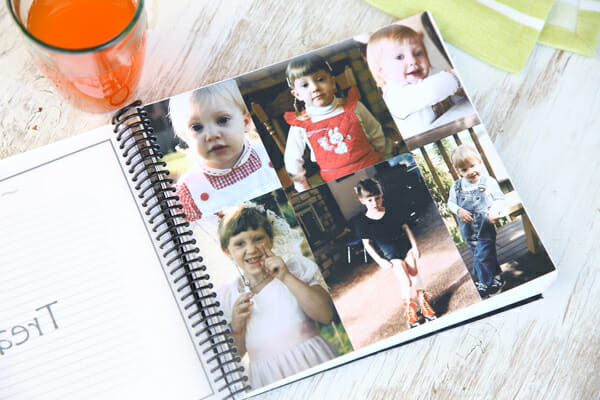 I've been cooking and eating these Chile Cheese Souffle Squares since I was a little girl; it's on tattered page 90 of this book, and you know which recipes are the most loved by how dirty the page is.  This page is splattered in all sorts of things.  It was one of my Mom's go-to's for and it's become one of mine, too, and let me tell you why.  My Mom called these "Appetizers" and would often cut them into little bite sized squares for parties, where for me, this falls into the breakfast casserole category.
How to Make Chili Cheese Souffle Squares Breakfast Casserole
Almost all breakfast casseroles require sitting overnight.  This one doesn't.  It literally takes 5 minutes or less to prepare, and uses really common ingredients.  Which means you can decide in the morning that you want a fluffy, creamy, cheesy dish, and be eating it an hour later.  It also doesn't contain bread, and many of you have let me know it worked great for you with a gluten free flour blend (which is why I've included that tag.  Let me know if you have success with that.)  It's nice paired with another type of bread dish, like our Overnight Baked French Toast, or one of our many Sweet Roll recipes, but this one is just creamy and cheesy and it's amazing what happens with such few ingredients.  This is one of those great retro dishes that I bet a lot of your Mom's made as well!
I realize the ingredient list isn't all that impressive.  And it almost seems weird.  And when you mix it all together it won't look appetizing.  But trust me!  The cottage cheese will be completely unrecognizable, you won't even know it's in there when this is all done.  It just melts into everything and adds body and flavor, I promise.  It's magical.  And this is really, really good.  It's one of my favorite things and it's perfect for the Christmas, Easter, or Mother's Day brunch- or simply a weekend treat.
The first thing you'll do is slice up your butter and place it in your pan, then pop your pan in the oven and turn it on to preheat.  By the time you're ready for the butter, it will be nice and melted.
In the mean time,  you'll mix up the rest of the ingredients all in one bowl- this is seriously easy.  It looks weird.  I know.
But something magical happens in the oven and what comes out is puffed, gloriously creamy, cheesy and flavorful.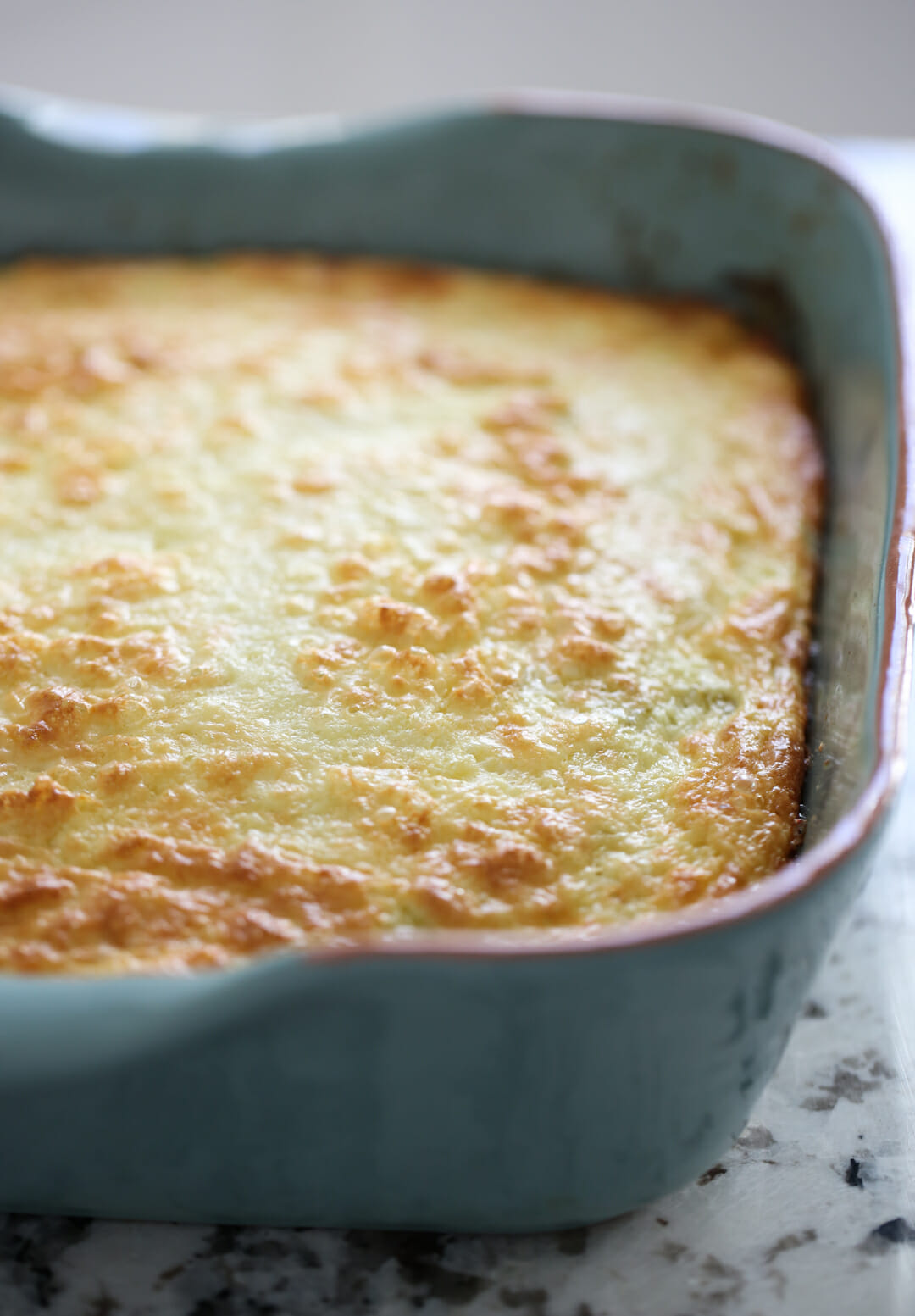 Let it sit for a few minutes and then cut into squares to serve.
And the center is so soft and cheesy.  It's a magical consistency, and so flavorful with so few ingredients!  It's the perfect quick-fix breakfast or brunch, and I've even made it for dinner on several occasions.  Pair it with some toast and fresh fruit and you're good to go.
Looking for more savory Breakfast dishes?  Check out our index full of recipes, here!
Print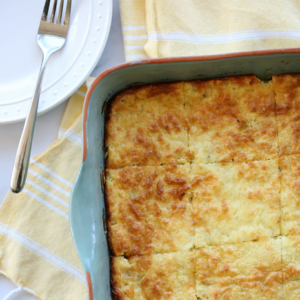 Chile Cheese Souffle Squares
---
Description
A creamy, fluffy egg dish using pantry ingredients.  Perfect for a breakfast, brunch!
---
8 tablespoons real butter (1 stick)
1/2 cup flour
1 teaspoon baking powder
dash of salt

10 eggs
7 oz can fire roasted green chiles, drained (if you love chiles, add more!)
1 pint (2 cups) cottage cheese
1 lb monterey jack cheese, shredded (don't use pre-shredded, bagged cheese.  Shred your own.)
---
Instructions
Slice butter into large chunks and place in a 9×13 pan.  Place pan in oven and preheat to 400 degrees. (Keep an eye on this if you get delayed in the following steps so your butter doesn't burn!)
Whisk together flour, baking powder and salt in a large mixing bowl.  Add 1-2 eggs and whisk mixture until there are no lumps.  Add in remaining eggs and whisk until smooth.  Stir in green chiles, cottage cheese, and jack cheese and stir until just combined.
Remove pan from oven and tilt pan so the butter coats all over then carefully pour butter into egg mixture and stir to combine.  Pour mixture back into warm pan.
When oven is preheated place pan in oven and cook for 15 minutes.  Reduce heat to 350 and cook for an additional 35-40 minutes, or until top is golden and slightly browned.  Let cool for 10 minutes before slicing into squares and serve.
---
Notes
For an extra kick, feel free to use pepper jack cheese!