We featured these Chili-Lime Mango Chicken Skewers recipe years ago at one of our first live cooking demos at Macy's, in Utah! These sweet and spicy skewers feature tender chicken and sweet juicy mango all grilled up with a sweet and tangy fresh lime marinade.  We love it with lime-cilantro rice or sweet and savory coconut rice.  While we do prefer the smokiness from a traditional outdoor grill, feel free to use an indoor grill pan, or pop them under a broiler  if you need to.   TIP: Look for large mangos so there is enough fruit to cut a big enough chunk for the grill, and opt for ripe but slightly firm fruit so it will hold up in the heat.  I also suggest buying an extra mango or 2 because sometimes there's a learning curve to cutting it effectively.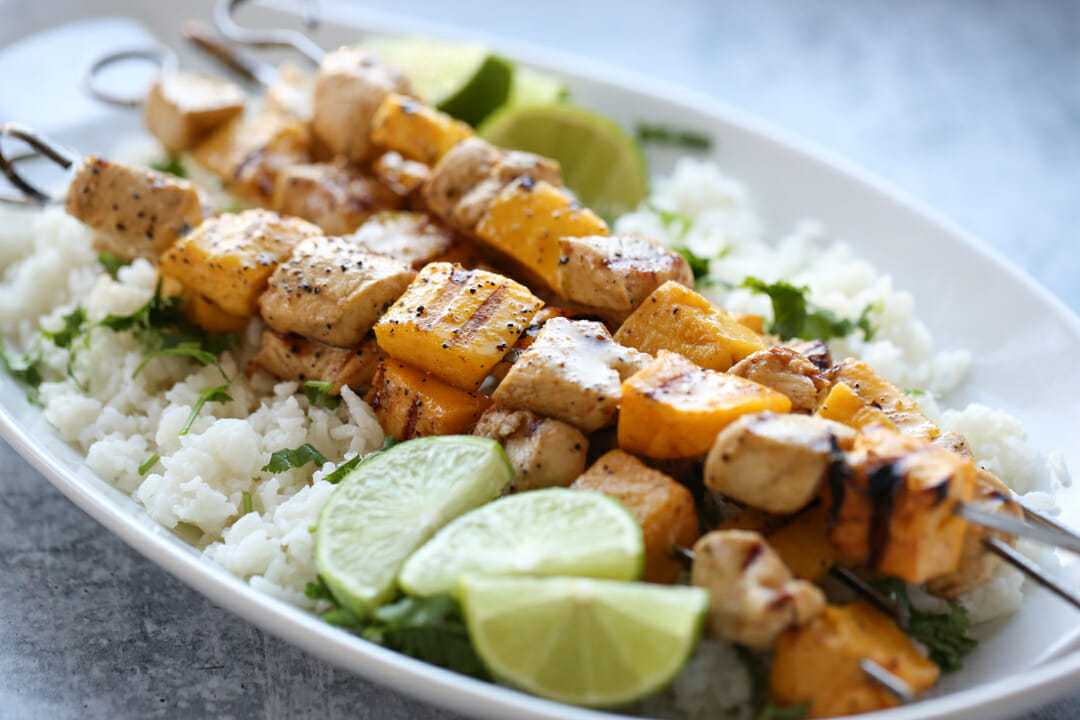 Prep your Mango
If you've never cut a fresh mango, there's a little bit of a learning curve, but it's not hard!  Click here for a little tutorial. My best tip is to look for LARGE mangos because you'll need larger chunks.  The little yellow varieties simply don't have enough flesh on them to get large enough pieces.  Look for the red/green ones as pictured here. Also use them before they get too soft.  A ripe, but slighty firmer mango will hold up better on the grill.
Marinate your Chicken in Chili-Lime Marindade
The chicken chunks (and the mango) get a little dip in a sweet and savor mix of fresh lime juice, olive oil, chili powder, and a touch of sugar (don't leave that part out, it helps caramelize the mango!)
Thread your Skewers
Thread everything onto skewers, while being careful to not overcrowd things. Your chicken chunks should be the same size, or slightly smaller than your mango to help facilitate everything cooking at the same time.
Grill your Chili-Lime Mango Chicken Skewers
Pop them on the grill, turning once or twice until done.  We love these with one of our sweet and savory rice combos:  Coconut Rice, or Lime-Cilantro Rice with pineapple.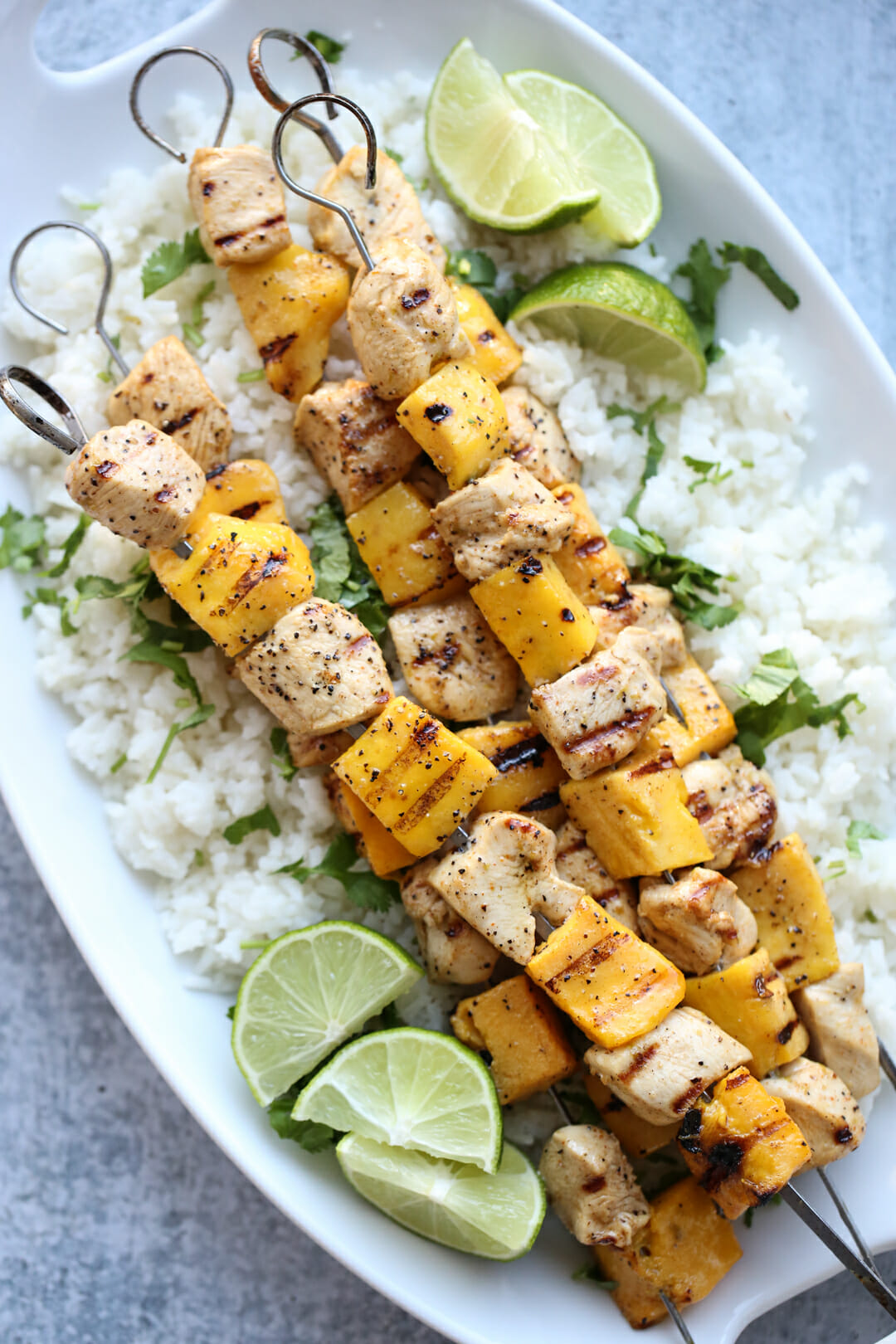 Print
Chili-lime Mango Chicken Skewers
---
---
6 tablespoons olive oil
Zest of 1 lime
¼ cup fresh lime juice (about 2–3 large limes)
1 teaspoon chili powder
¼ teaspoon cayenne pepper (double that if you like spicy things!)
½ teaspoon kosher salt
1 Tablespoon sugar
4 boneless, skinless chicken breast halves, cut into 1-inch cubes
3–4 ripe but firm *large* mangoes, peeled and cut into 1 1/2-inch cubes
---
Instructions
If you're using wooden/bamboo skewers, make sure to soak them in water for 20-30 minutes before you use them.
In a large bowl, whisk together the olive oil, lime juice, lime zest, chili powder, cayenne, salt and sugar. Place in a bowl, or zip-top bag  and add the chicken and mangoes, stirring gently to coat with marinade. Cover and refrigerate for 2-4 hours. Prepare grill (or indoor grill pan) to medium heat.
Remove the chicken and mangoes from the marinade and thread onto skewers, alternating the pieces and dividing them evenly.
*When you're making any type of skewer, make sure not to smash everything together tightly. In order for the food to cook thoroughly and evenly, it needs a little room! The pieces threaded on should just barely touch each other.
Arrange the skewers on the grill and cook, turning until the chicken is nicely charred and cooked through, 6-10 minutes. Serve immediately.
---
Keywords: chicken and mango skewer