This Lime-Cilantro Rice with Pineapple is one of my most favorite personal creations.  There's something about hot buttery rice that makes me feel warm and cozy inside, and with the addition of some of my favorite flavors, this has become a regular on our menu. It's both sweet and savory- and if adding pineapple to rice sounds weird to you, I dare you to try it.  This simple rice dish pairs perfectly with both Polynesian and Latin style dishes, and even a lot of Asian recipes, like Teriyaki Chicken.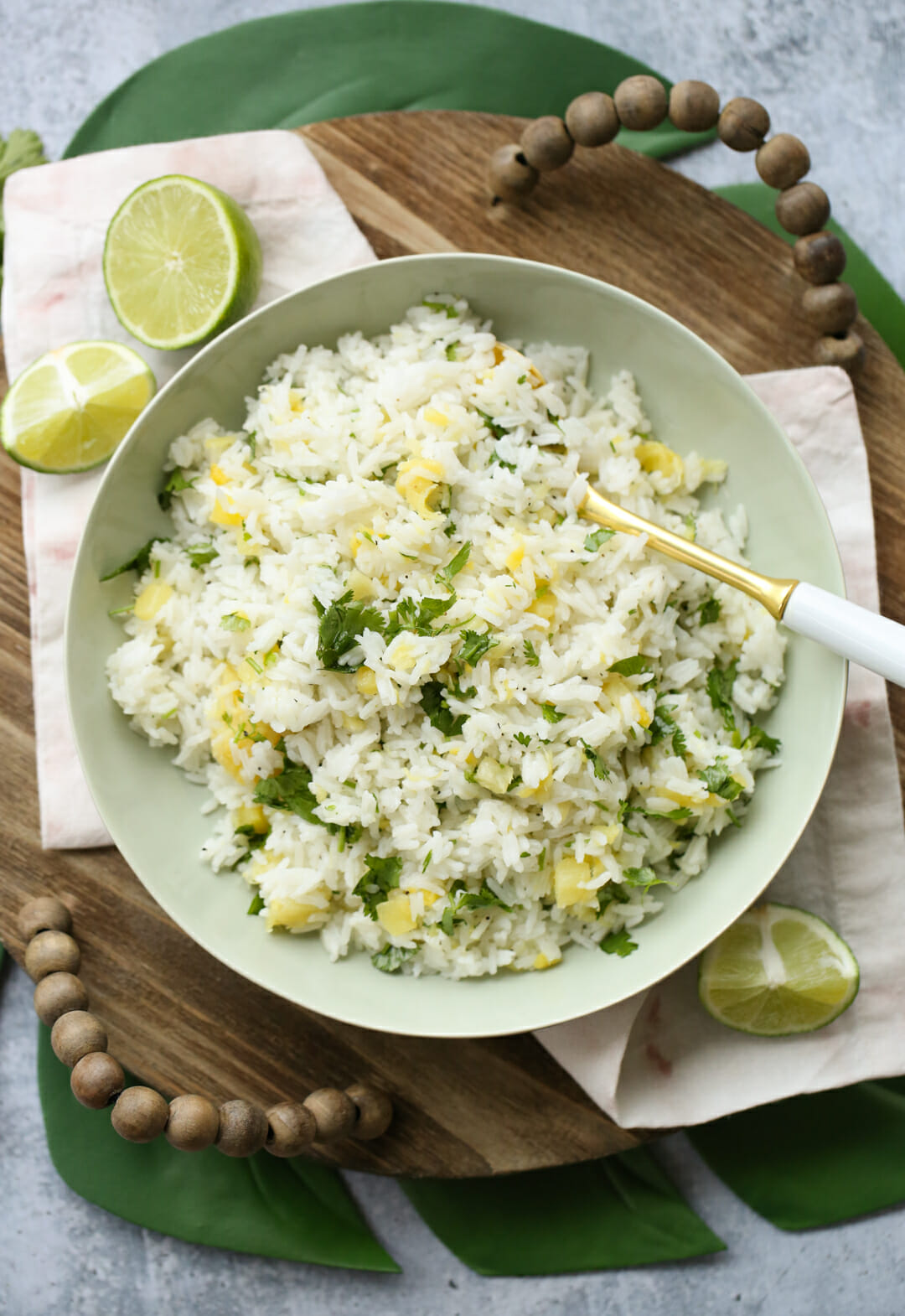 What kind of pineapple do you use for Lime Cilantro Rice with Pineapple?
I originally always made this recipe with a can of pineapple tidbits, but after so many of our readers commented they loved the crushed pineapple, I switched over and agree!  It just kind of melts into the finished dish and adds sweetness and flavor without big chunks.  People often ask if they can use fresh pineapple, and you certainly can, if you have one, but I actually prefer the canned.  Sometimes I leave out the pineapple (often for Latin style dishes- I just go with lime and cilantro), and throw in a can of black beans, or use it for fajita stuffing. It's a really quick side dish to toss together and a nice change from your every day white rice.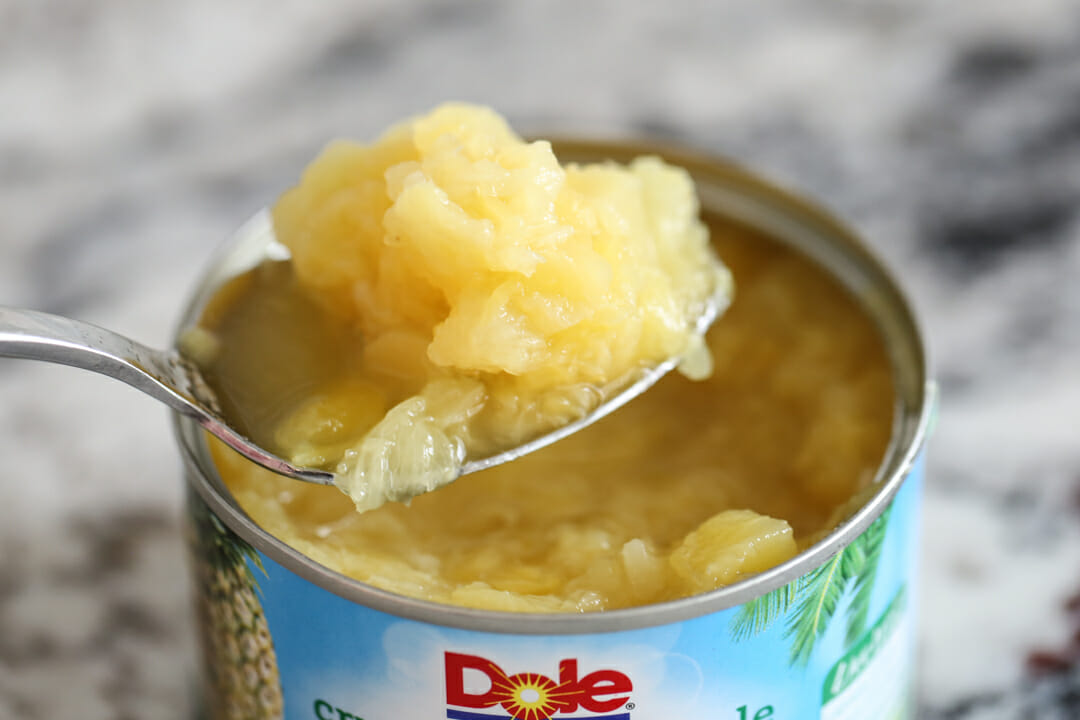 How do you make Lime Cilantro Rice?
You don't need to do anything special with the rice- just make white rice as normal.  When it's all done, you'll throw some butter in there to melt all over and make things delicious.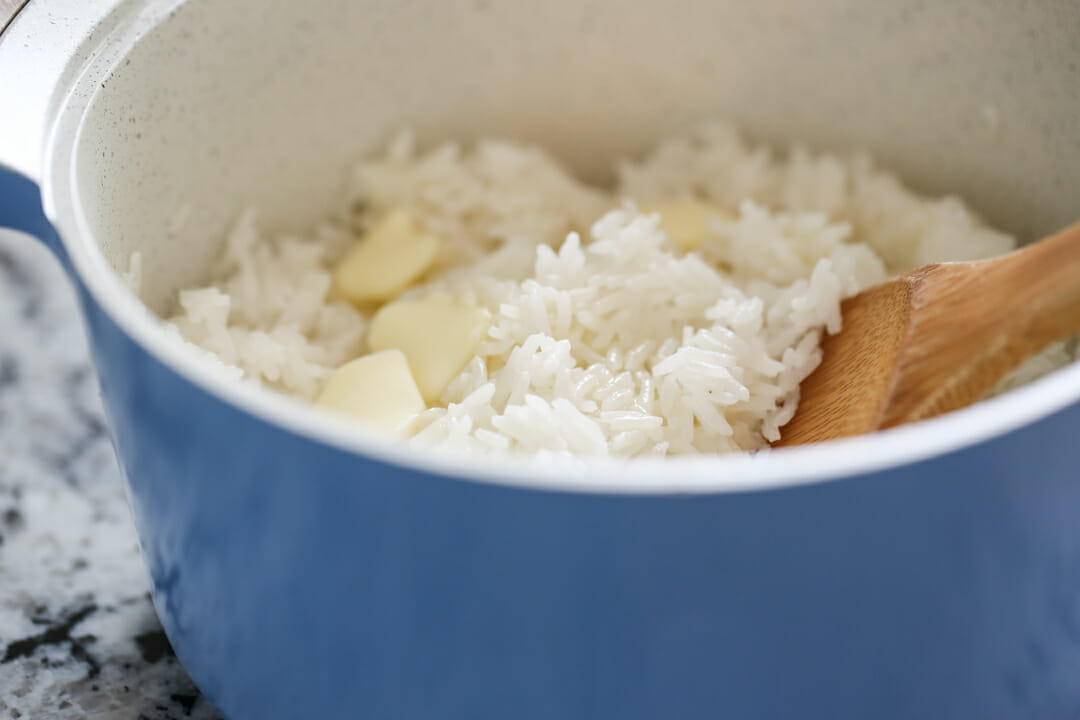 And then just toss in your pineapple, some chopped cilantro, a big squeeze of lime juice, and salt and pepper to taste.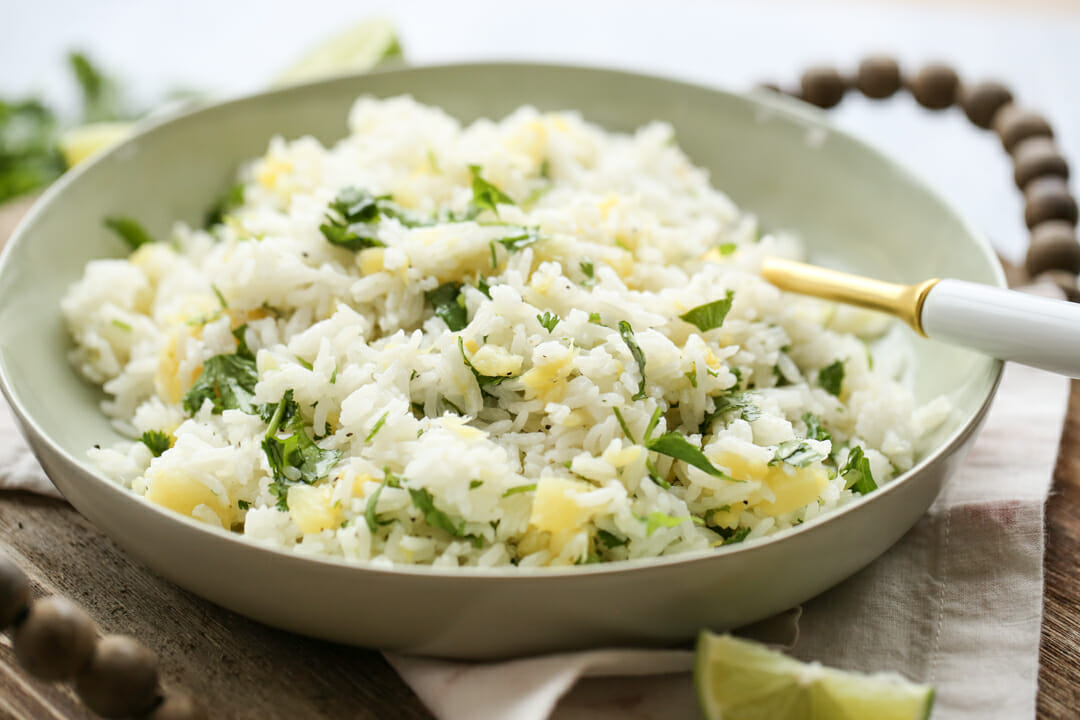 It's so quick and easy and SO good.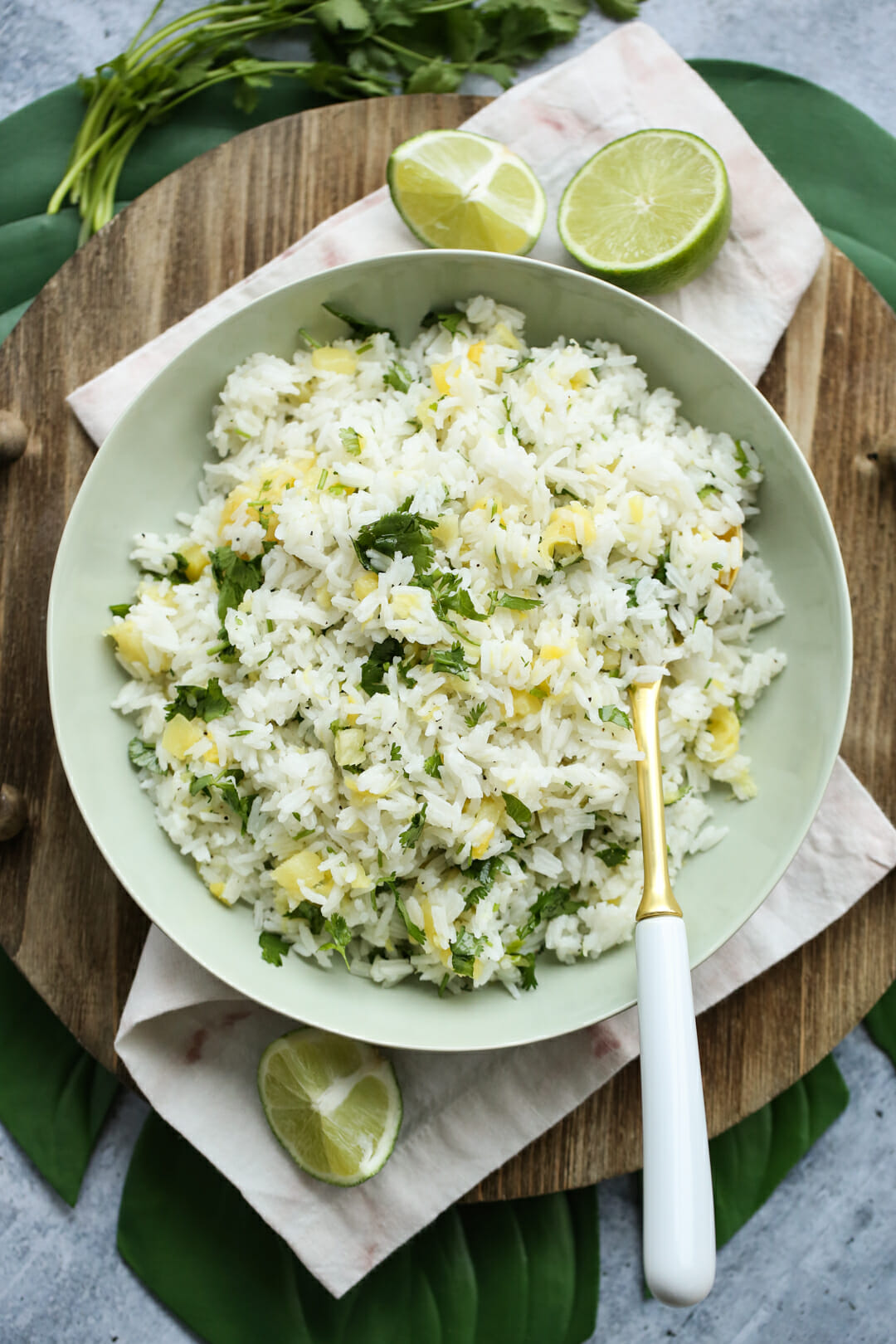 What do I serve with Lime-Cilantro Rice:
Try it with:
Asian BBQ Chicken
Sweet and Savory Flank Steak
Rosemary Pineapple Flank Steak
Teriyaki Bacon Wrapped Chicken Skewers
Hawaiian Flanken Style Ribs
Print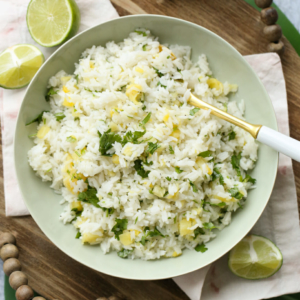 Lime-Cilantro Rice with Pineapple
---
Description
This sweet and savory rice pairs perfectly with nearly any meal, but especially Asian and Island inspired flavors. Definitely double if feeding a family or larger group!
---
1 cup dry white rice, cooked according to directions
2 tablespoons real butter
Juice from 1 large lime, or two smaller ones (taste as you go, I add a lot!)
1 small can crushed pineapple, drained (You may want 2 small cans)
½ – ¾ cups chopped fresh cilantro
Salt and pepper to taste
---
Instructions
Cook rice. As soon as it's done, toss in the butter and stir to melt. Add lime juice, pineapple, and cilantro. Stir to combine, and then add salt and pepper to taste. Serve immediately.
---
Notes
You'll want to serve this right away, if you don't, the flavors tend to mellow a bit and you'll probably need to add more lime juice because the rice kind of sucks it up.If you're not quite ready to eat when your rice finishes cooking, just toss in the butter and keep a lid on it so it stays warm.Then right before you serve it, toss it all together.
Depending on your preference, you can substitute the crushed pineapple with canned pineapple chunks or even fresh pineapple cut or diced to your liking.
This is especially amazing with :
—Chili-Lime Mango Chicken Skewers
—Bacon-Wrapped Teriyaki Chicken Skewers