I know I'm known for being pumpin-obsessed during this time of year, and we also give apples a lot of love. But you know what the most overlooked flavor of fall is? The pear. Make something with apple and it's homey, casual, and nostolgic. Make that same thing with pears and it's fancy, decadant, and refined.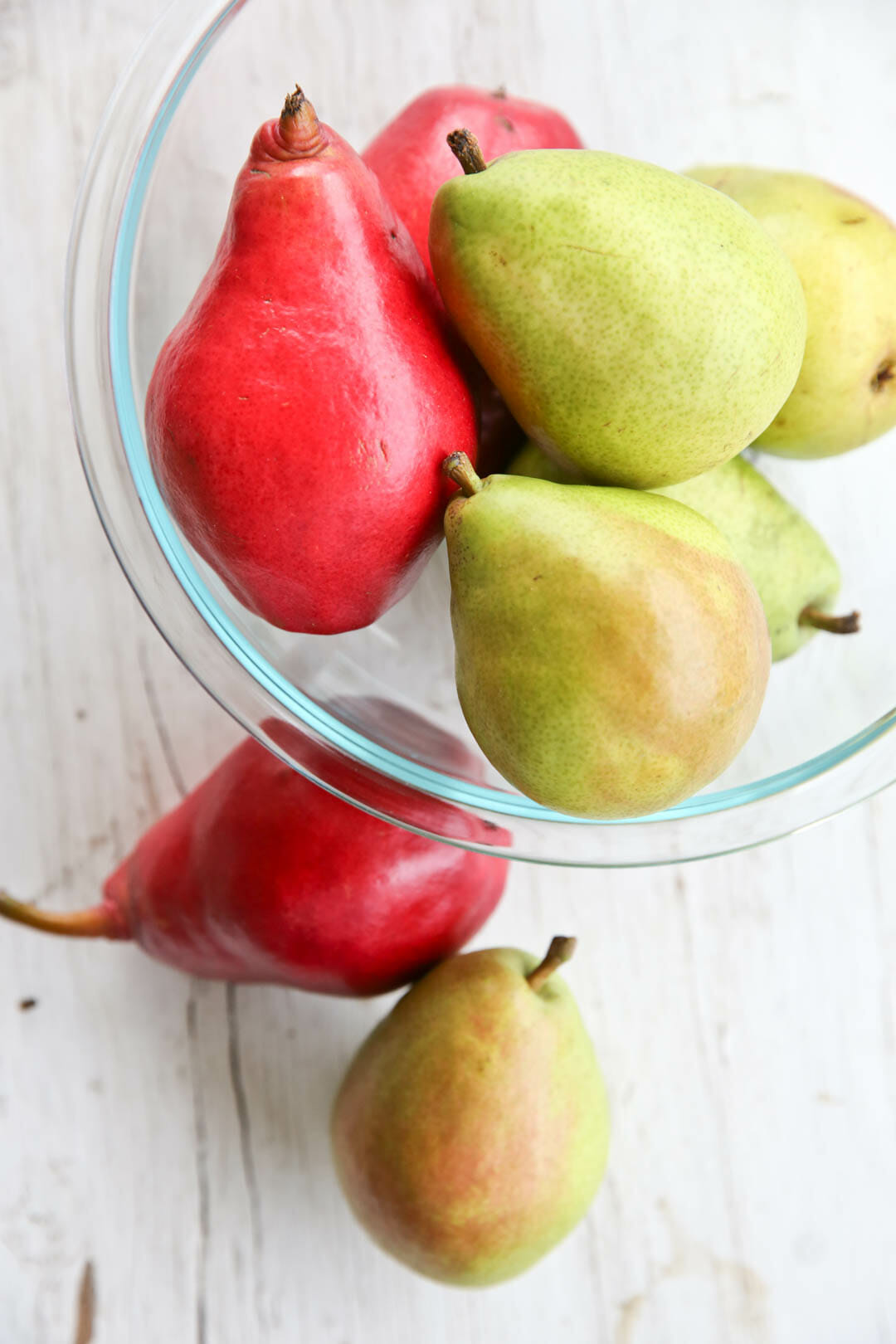 In terms of dessert, pies get all the glory during the holiday season, but I love a great tart because not only are they a little more elegant for a holiday table, they're not quite as heavy, either, and I feel like it's the perfect ending to a special-occasion meal, or any meal, really! I ate a pear tart like this at a restaurant once, and I've wanted to recreate it ever since. It has a sweet cookie-like crust, a layer of chocolate on the bottom, a beautiful layer of fresh pears over that, and then a sweet custard fills in the spaces. I love drizzling mine with more chocolate, because well, drizzling with chocolate is always a good idea. This tart is the perfect use for AMERICAN HERITAGE ® chocolate as well. I love that not only does it have the perfect flavor profile, but its historic ties make it so fitting for Thanksgiving season! (You can read more about that, here, and also see our trip to historic Philadelphia where we learned all about it, here!) If you want something different, and so amazingly delicious people will be talking about it long after dinner, this is it.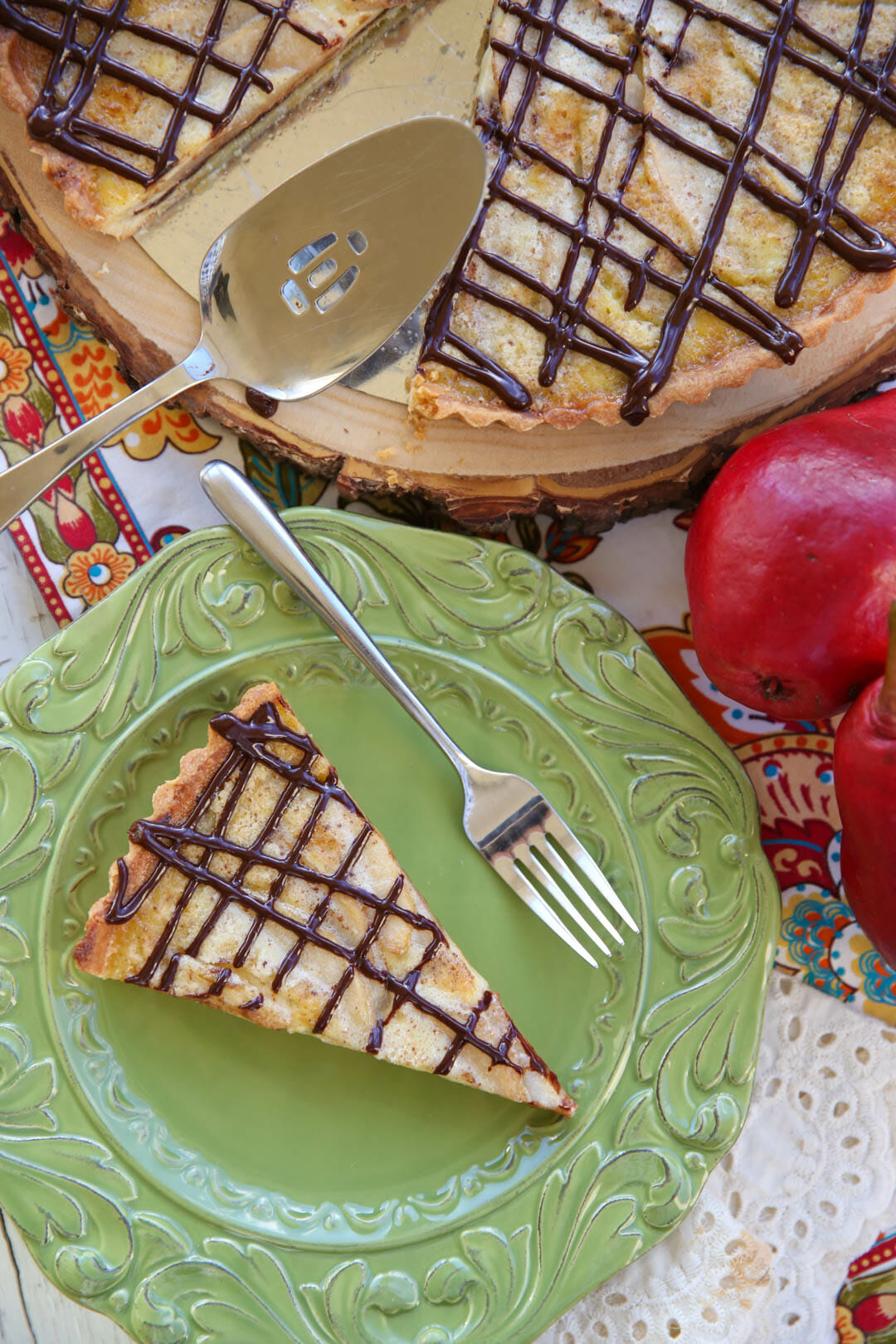 The crust I'm using is a French pastry dough called "pâte sucrée." Don't let the fancy name fool you- this is actually easier than pie crust! The flavor and texture is similar to a sugar cookie and it's the perfect base for the delicate pears and rich chocolate. Instead of using cold butter, like a pie crust, you actually beat softened butter, with egg, sugar, and flour, into a quick sweet dough.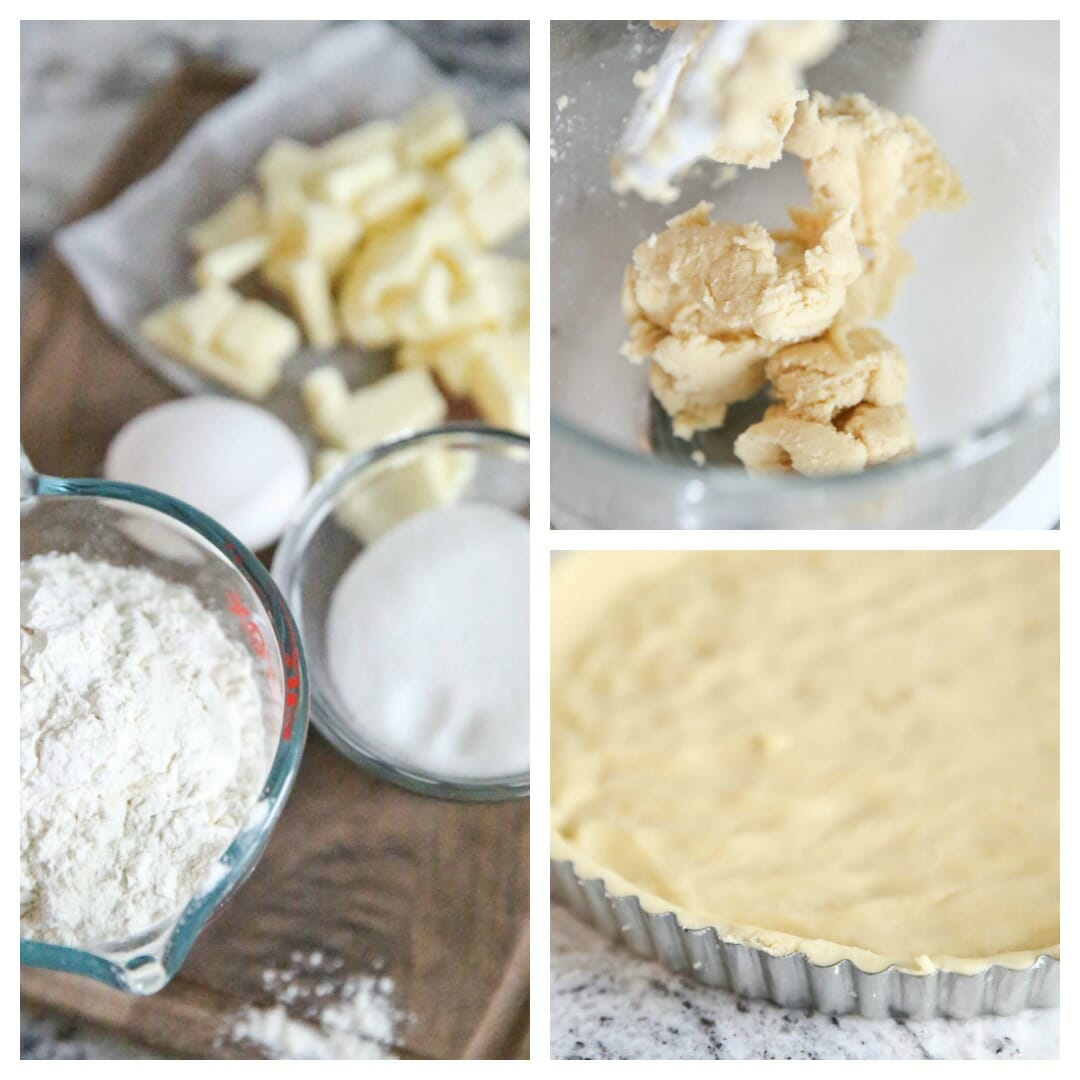 Most tart recipes that use this type of dough call for 2 chilling periods, and rolling out the dough like a pie to drape over the pan. I skip all of that and just press the soft dough with my fingers into the tart pan and up the sides. You'll want it no thicker than 1/4 inch. Once your pan is filled and ready, place parchment over the dough and top with pie weights or dry beans. (This is to hold the crust down and keep it from puffing up while baking.) If you don't have a tart pan with a removeable bottom, they are super handy, grab one or two on Amazon! This recipe can make 1 large or there's plenty of filling to make 2 smaller tarts.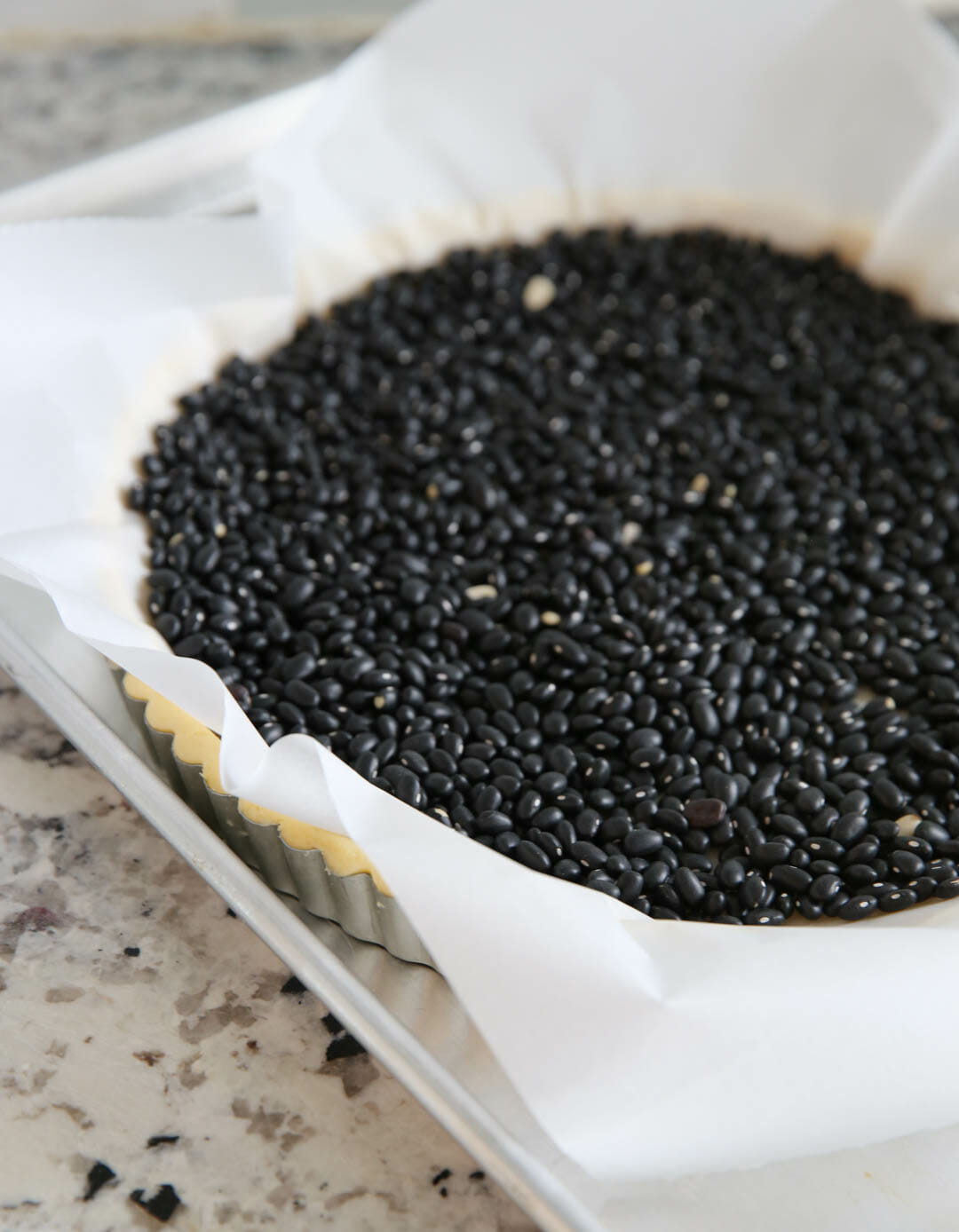 You'll pre-bake it part way and then it will finish baking once filled. So while the crust is in the oven, start prepping the filling, which starts with the best place to start: chocolate. You can certainly use any type of chocolate you like here, although I would recommend sticking to dark or semi-sweet. I'm using this particular Chocolate. If you're not familiar with it, it's made using a historic recipe, utilizing only ingredients available in the 17th Century. It has an incredibly unique flavor profile that is perfect for this recipe. With hints of cinnamon, vanilla, orange, and even chili, it compliments the pears and custard while adding an interesting tasting element of its own.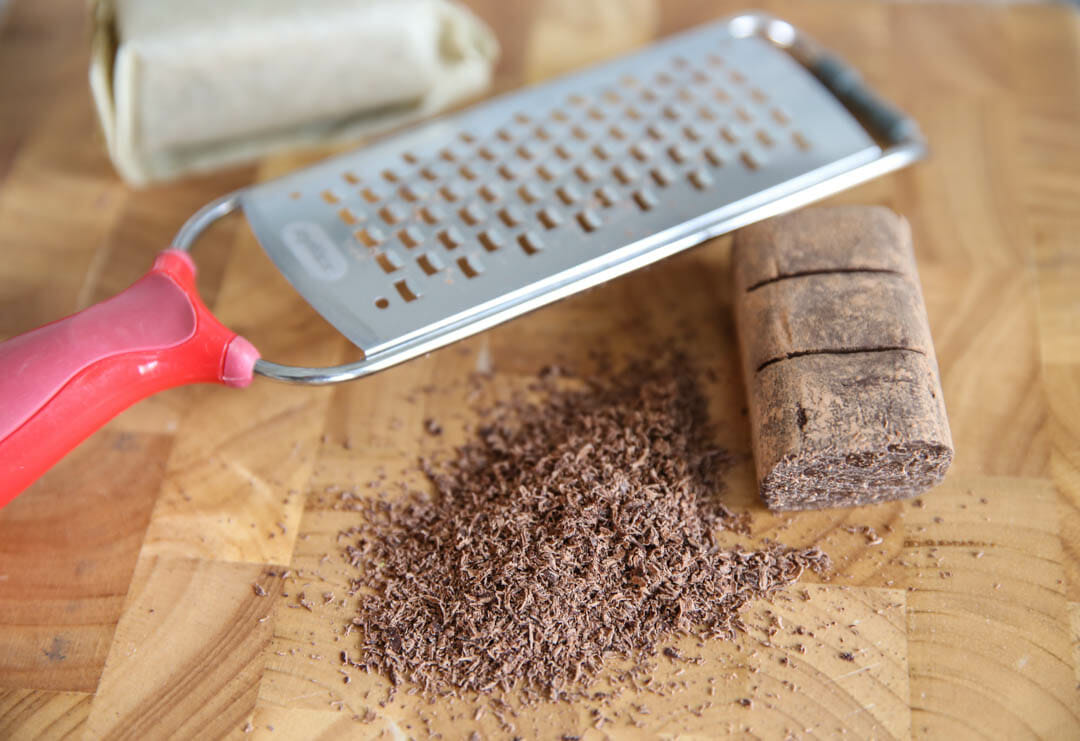 You'll want finely chopped or grated chocolate. These Chocolate Blocks are perfect for grating, or if you've ever bought their Drinking Chocolate, it's actually just finely ground pure chocolate, so you could even use that!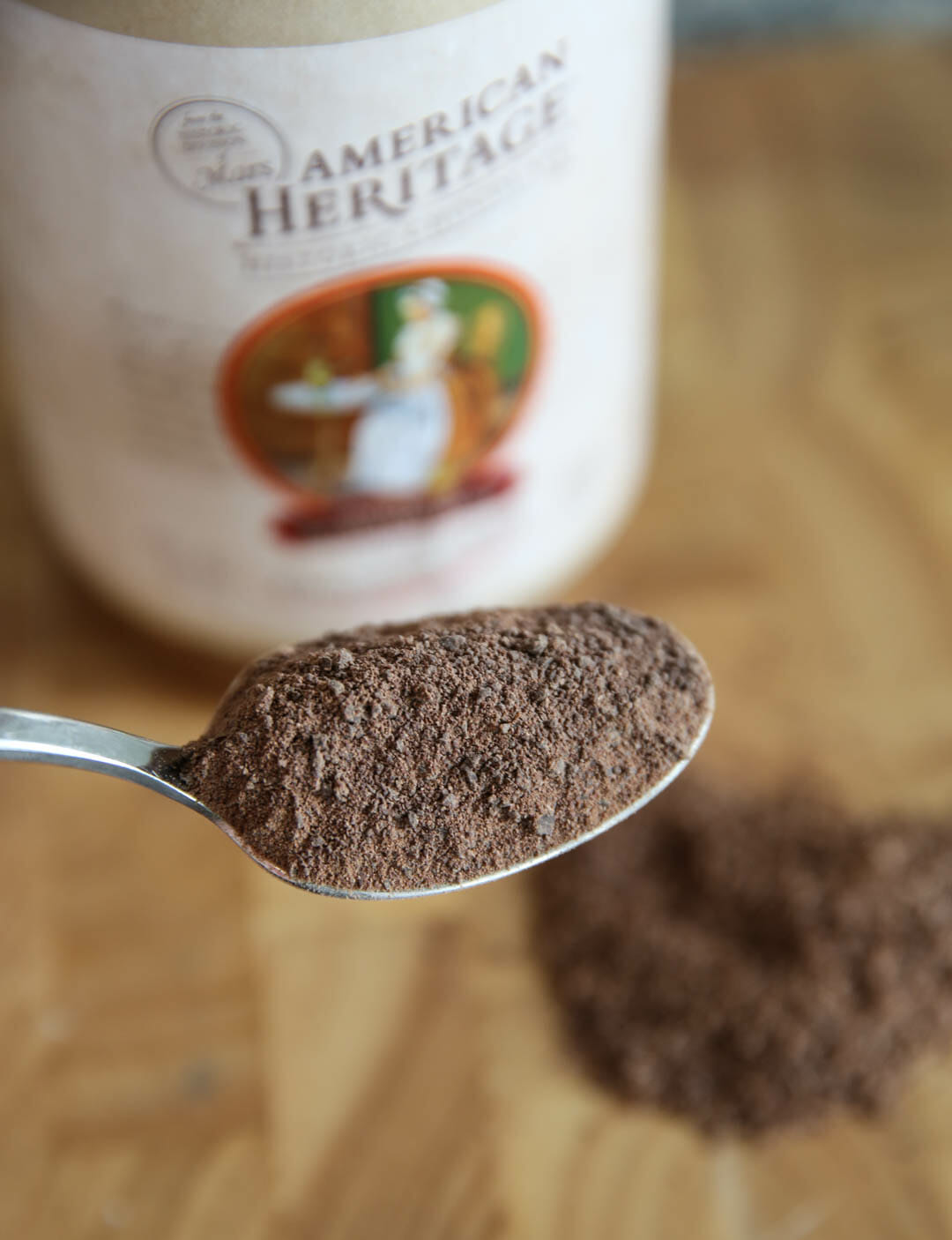 When the tart comes out of the oven, you'll sprinkle a layer of chocolate over it. The small pieces of chocolate will melt quickly and you can then spread them around in an even layer accross the bottom of the tart.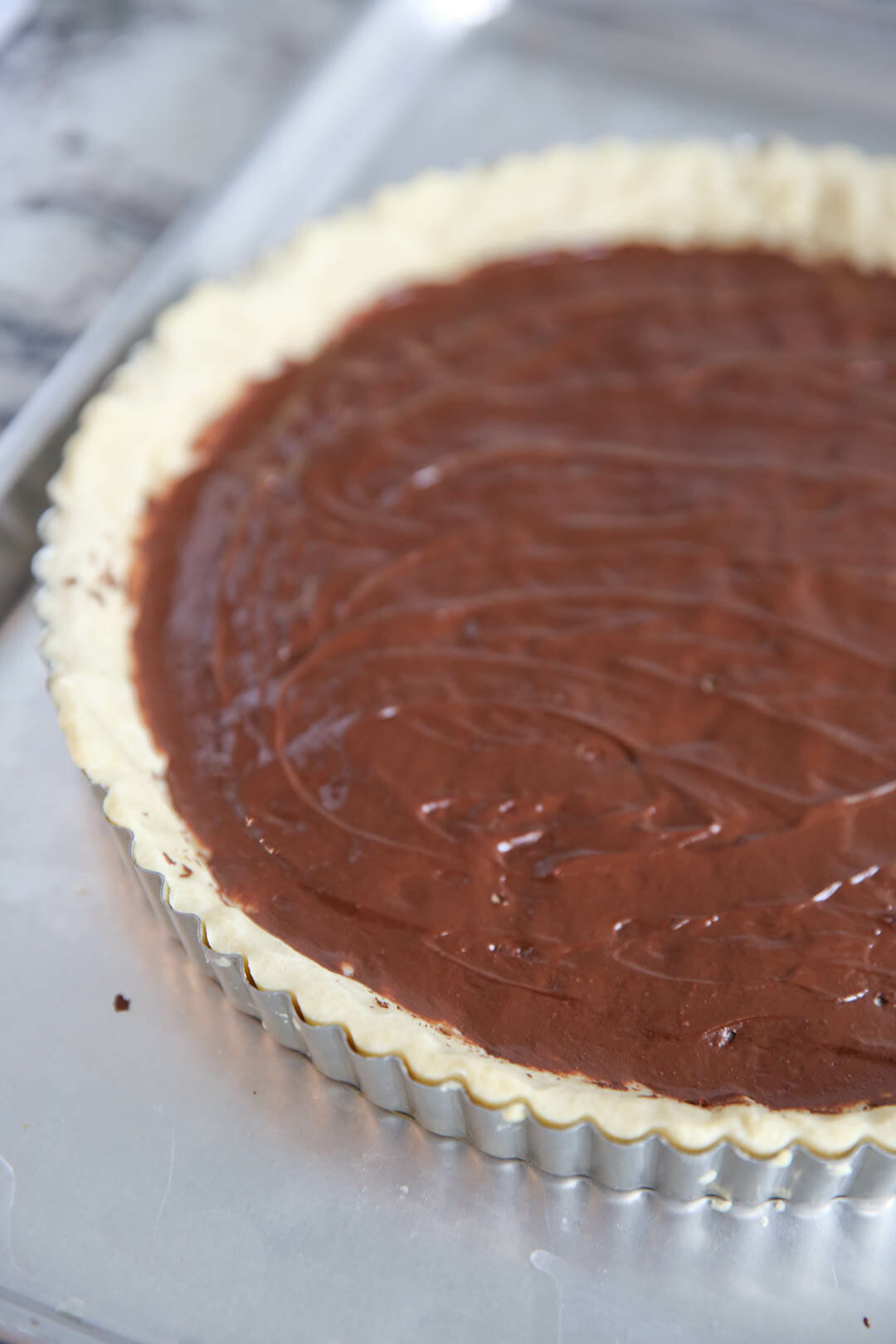 Then arrange sliced pears over the top of the chocolate.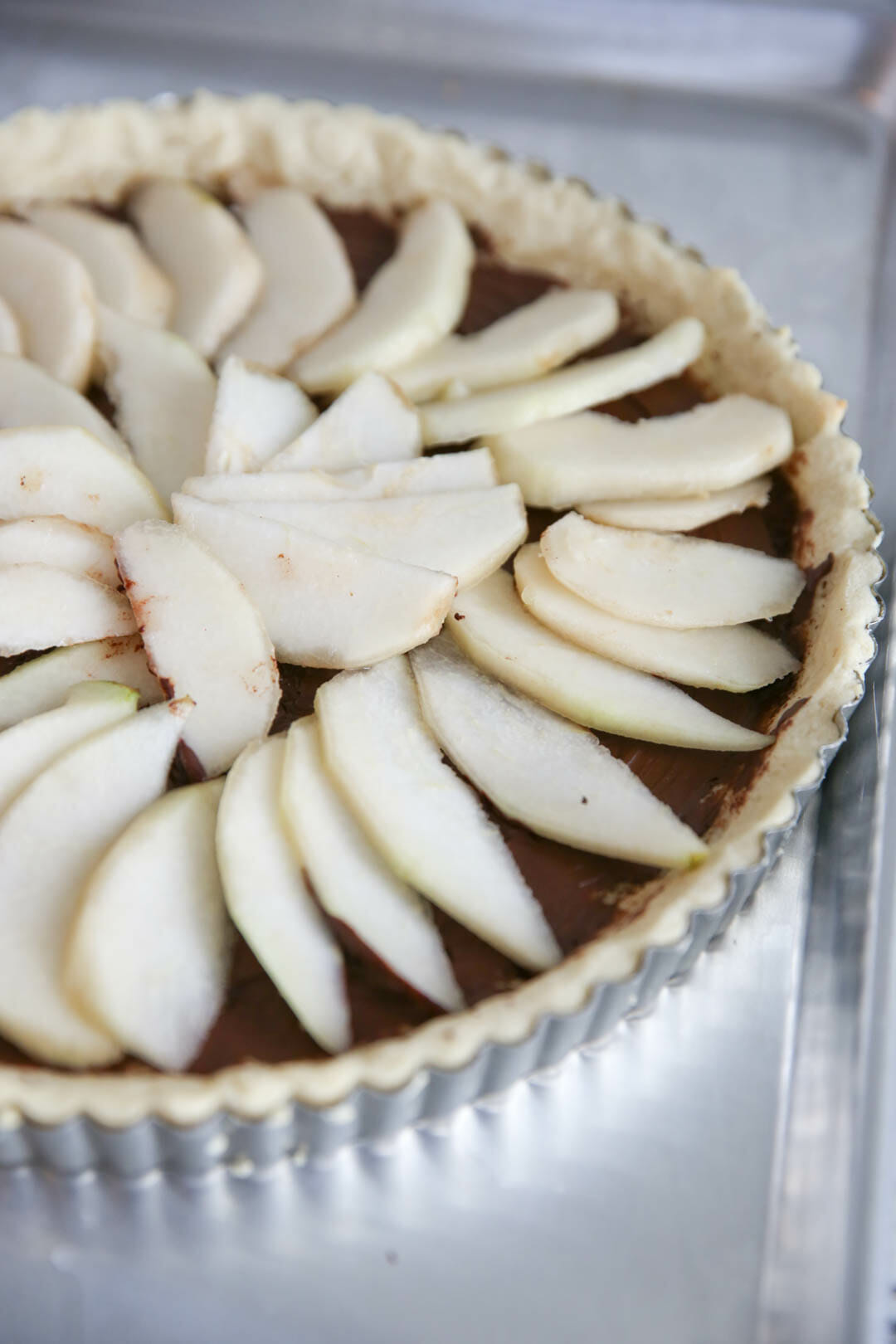 And lastly you'll pour a creamy cinnamon-spiked custard over the top.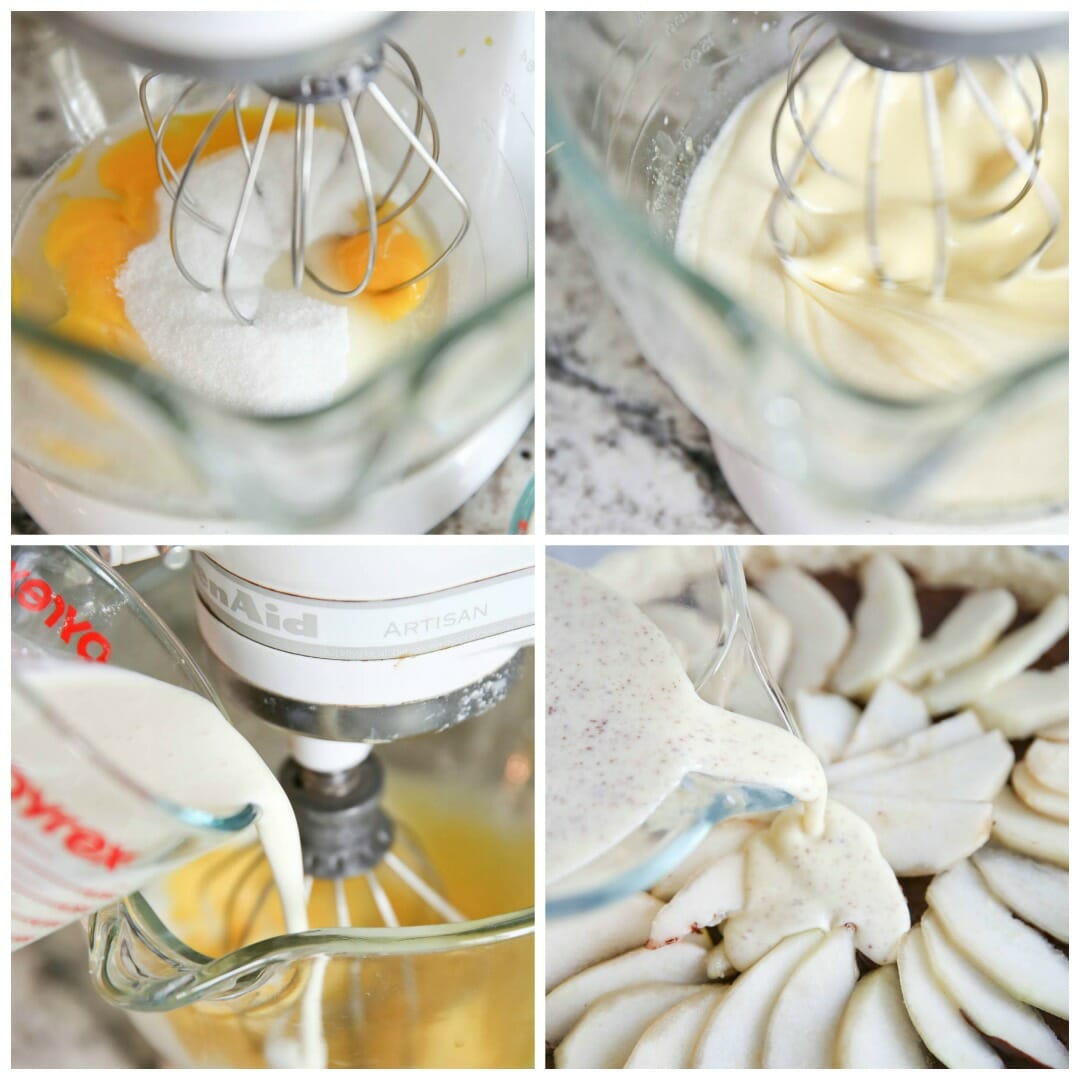 You'll want the custard to reach pretty close to the top of the pan. Keep in mind that it won't rise, so you can fill it up fairly full.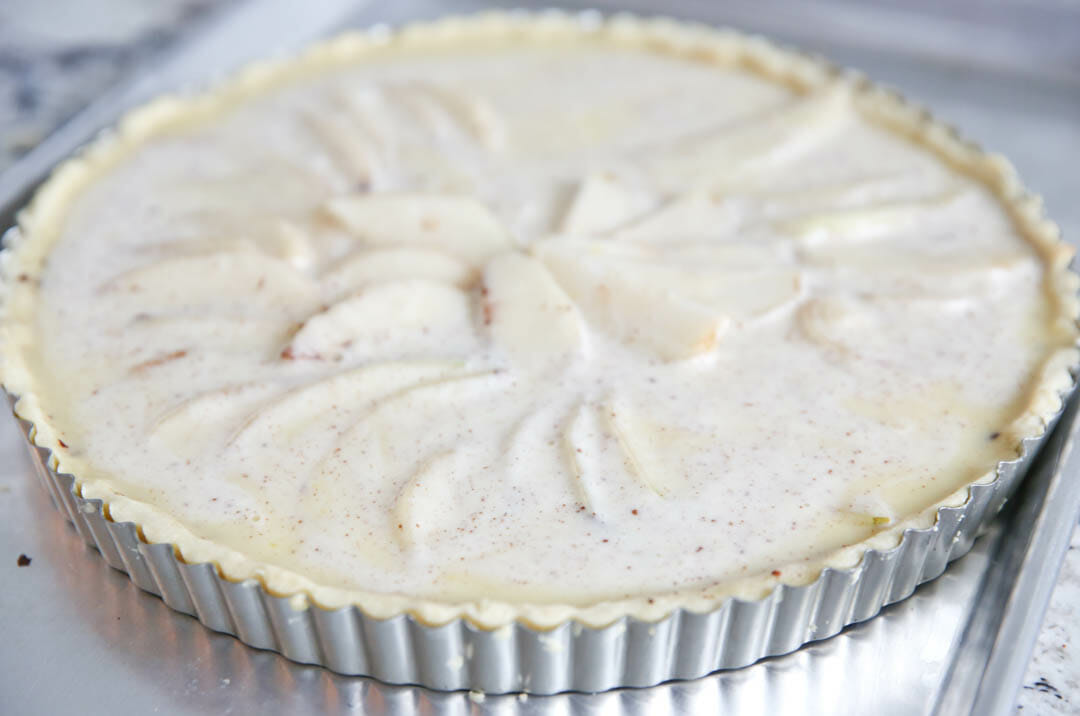 You'll want the custard to reach pretty close to the top of the pan. Keep in mind that it won't rise, so you can fill it up fairly full. I still always place my tart pans on a baking sheet because it makes them much easier to handle, prevents you from accidentally popping out the bottom, and catches any spills or drips.
As the tart bakes, the custard cooks, the pears soften, and it kind of caramelizes on top.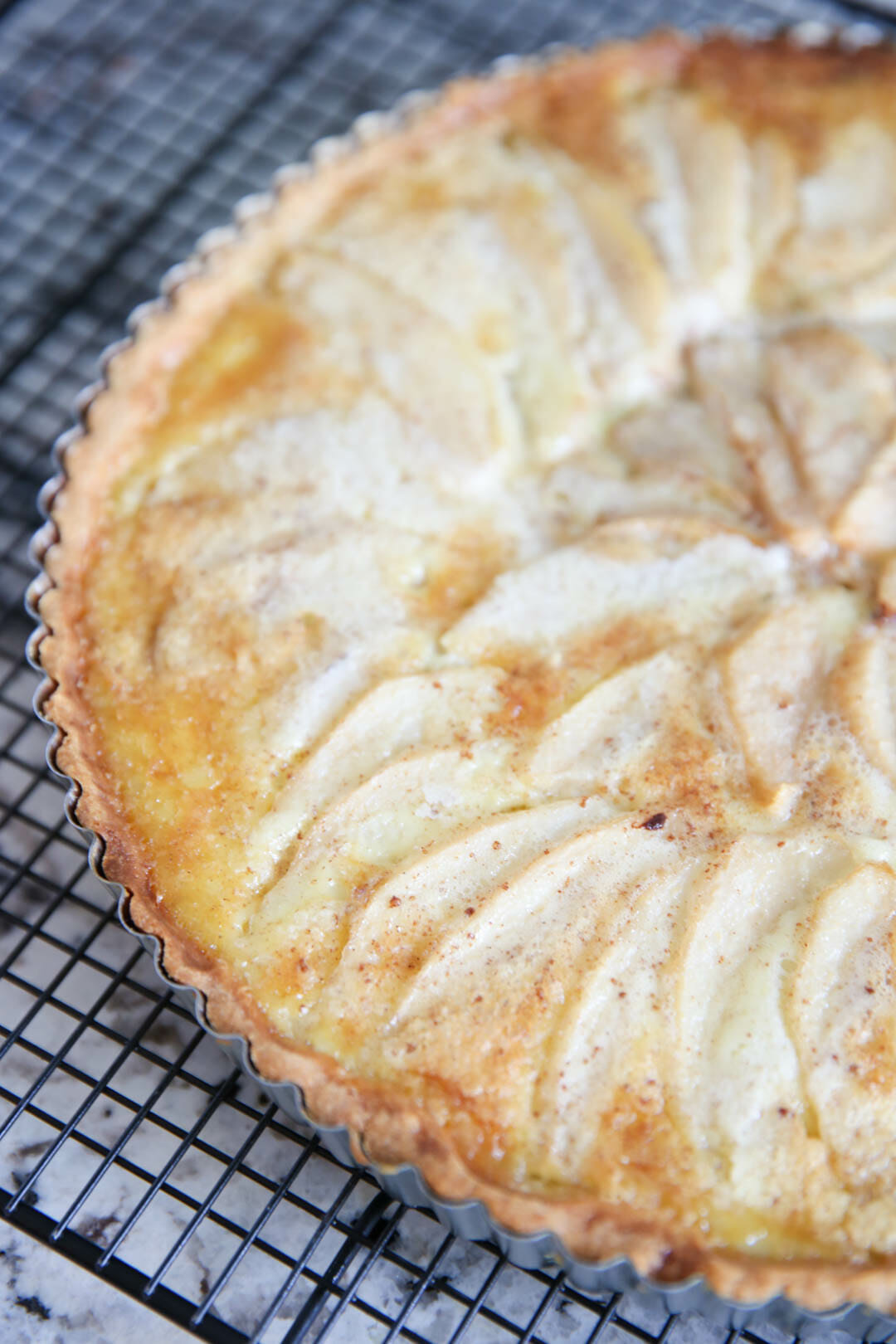 I take a little extra chocolate and heat it with some cream for a quick ganache to drizzle on top.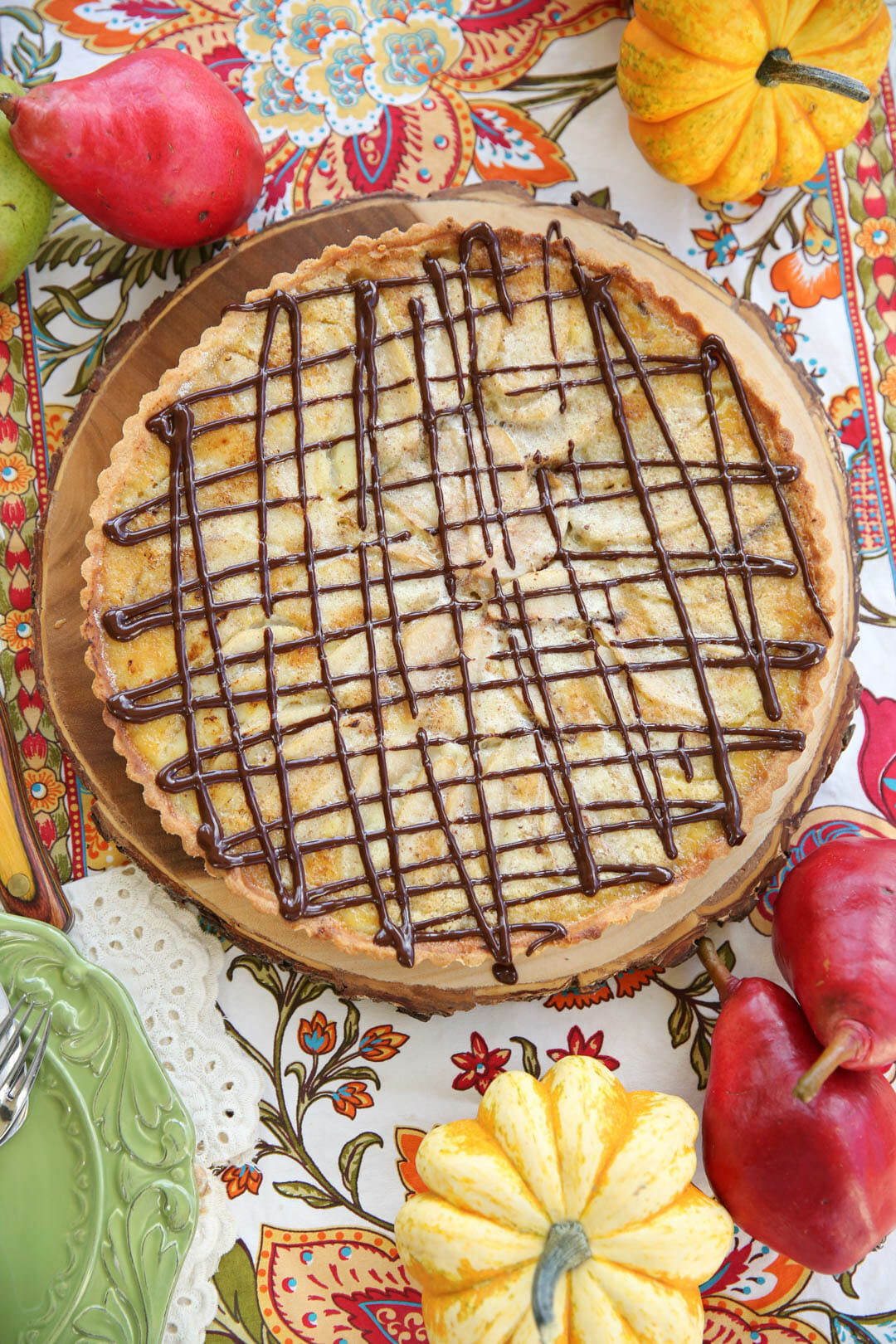 I love the presentation of a chocolate topping, and it adds that perfect extra touch of decadance.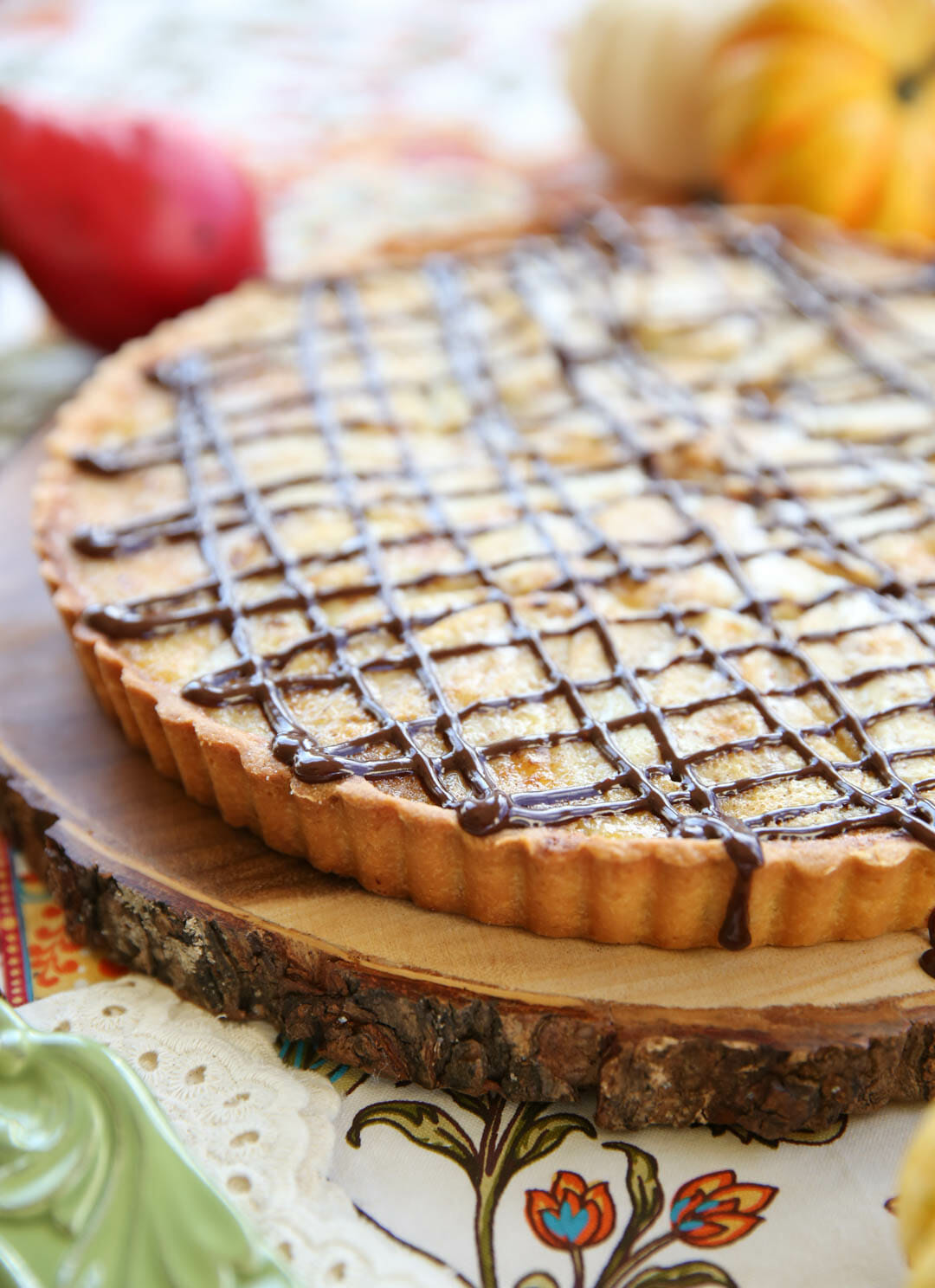 You'll want to serve this at room temperature, when it will slice beautifully.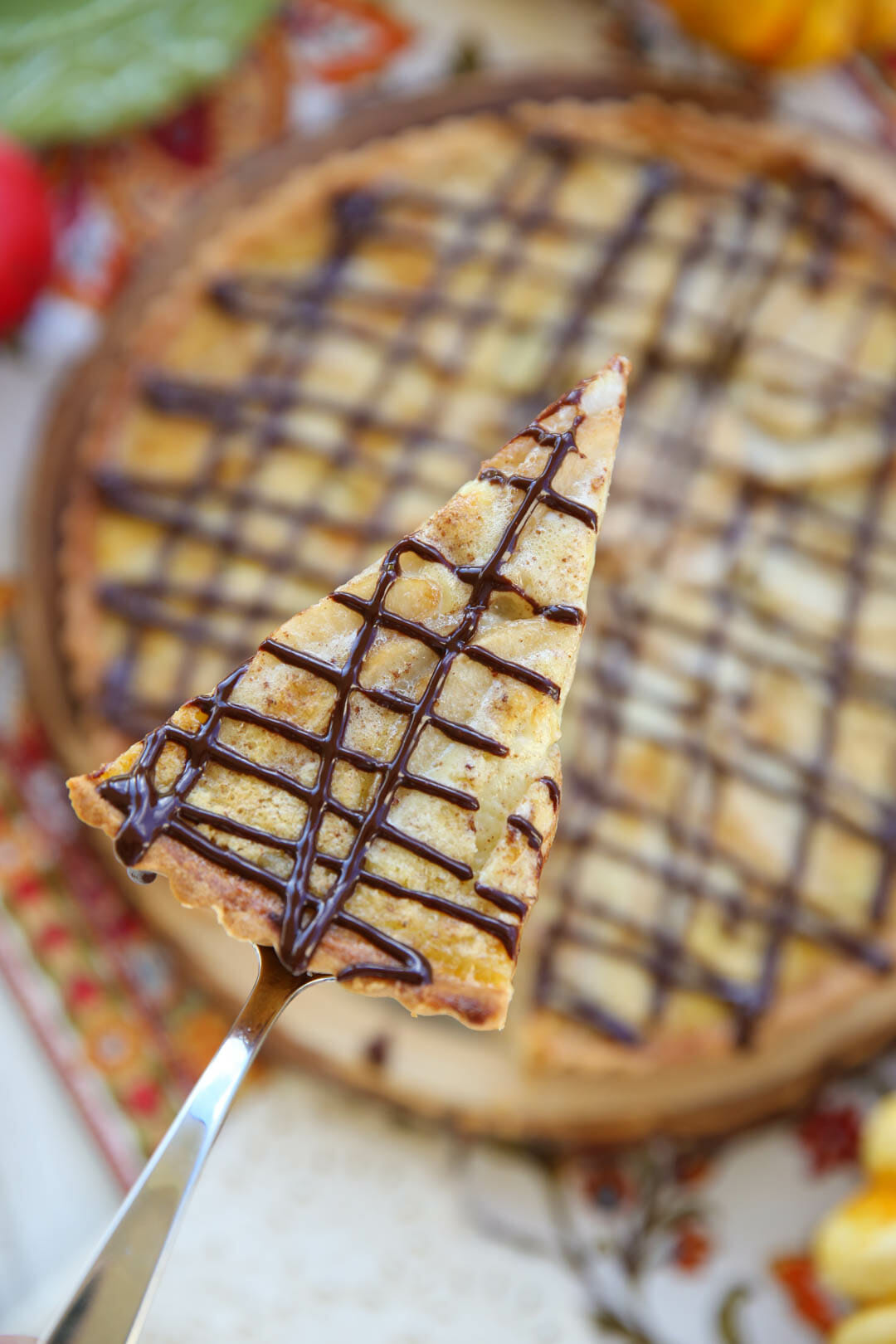 You get 4 layers of flavor and texture: a cookie crust, melted chocolate, tender pears, and sweet creamy custard.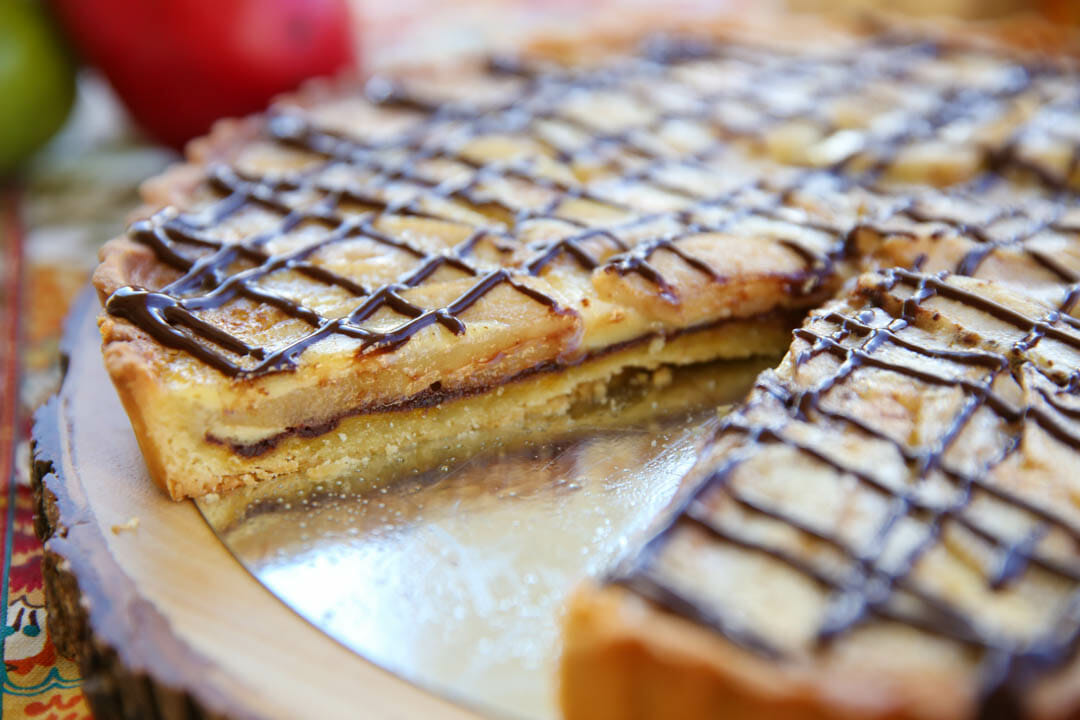 I love that it's super indulgent, but light enough that it's easy to have room for even after a big holiday dinner. I've also made this with other fruit, like raspberries, and it's pretty much amazing any way you do it!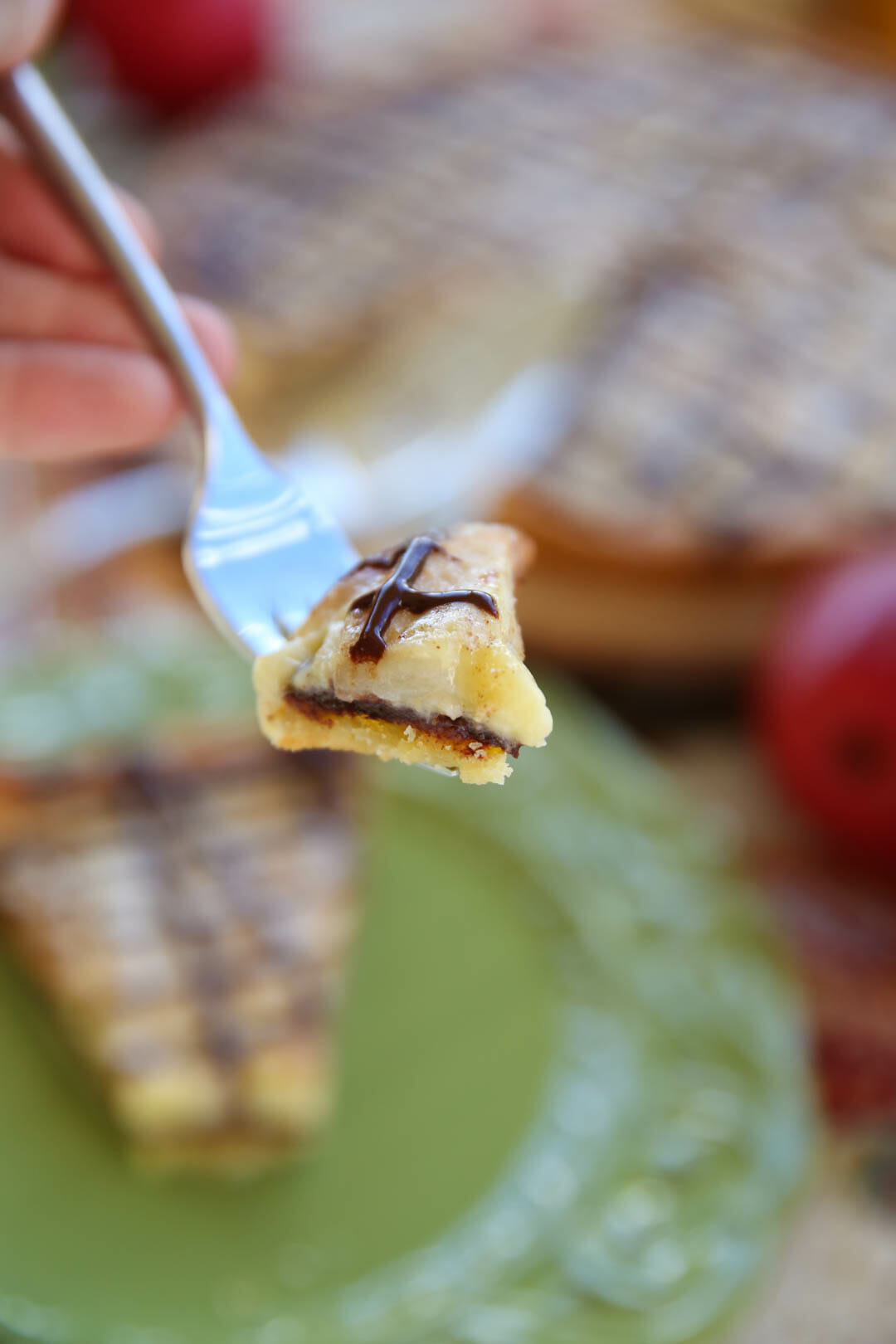 If you'd like to purchase American Heritage Chocolate to try in this recipe, you can find it on-line, here, or in person at one of their historic partners. It's sold exclusively by living history sites, museums, and specialty gift shops that support the mission of education, which I think is really cool!
A buttery cookie crust is layered in chocolate, pears, and a spiced custard and baked to perfection.
Ingredients
1

cup (2 sticks) butter, at room temperature

1/2

cup sugar

1

egg

1

egg yolk

2

2/3 cups all purpose flour

1-2

tablespoons heavy cream

3

ounces AMERICAN HERITAGE CHOCOLATE®, grated or finely chopped*

4

ripe but firm pears

2

eggs

2

egg yolks

3/4

cup sugar

1

teaspoon vanilla extract

1/4

teaspoon cinnamon

1

1/2 cups heavy cream

1

ounce AMERICAN HERITAGE CHOCOLATE® grated or finely chopped

2

tablespoons heavy cream
Instructions
Preheat oven to 375 degrees.
To make crust, combine butter and sugar in a stand mixer and beat until well mixed. Add egg and egg yolk and stir until combined. Add flour and as the mixer is running on low, add cream. Beat until everything is incorporated. Press dough into a tart pan (see note about sizes) and up sides. Keep dough to about ¼ inch thick or just a little less. Remove any excess dough hanging over edge. Place tart pan on a baking sheet and place in freezer for 10-15 minutes. Place a sheet of parchment paper over crust surface and fill with pie weights or dry beans. Bake for 15 minutes. Remove parchment and pie weights, prick several times on the bottom of crust, and cook for 10 minutes longer. If crust puffs up, simply prick with fork, to release steam.
Prepare filling. Peel and half pears, remove cores, and thinly slice. Beat together eggs, egg yolks, sugar, vanilla, cinnamon, and cream until combined.
When crust comes out of oven, sprinkle chocolate over the bottom and let it sit to melt. Spread evenly across crust. Place pears in a fan shape around the entire tart. Gently pour filling over pears until it reaches near the top of the tart pan. Bake for about 45 minutes or until custard is set and slightly golden brown on top.
Place tart on a rack to cool and prepare topping when it is luke warm or room temperature. Heat cream until steaming and then pour over the 1 ounce chocolate. Whisk until smooth and then drizzle over tart. (Tip: Place chocolate in a zip-top bag and cut off the tip for clean looking drizzles). Let tart cool completely and serve at room temperature.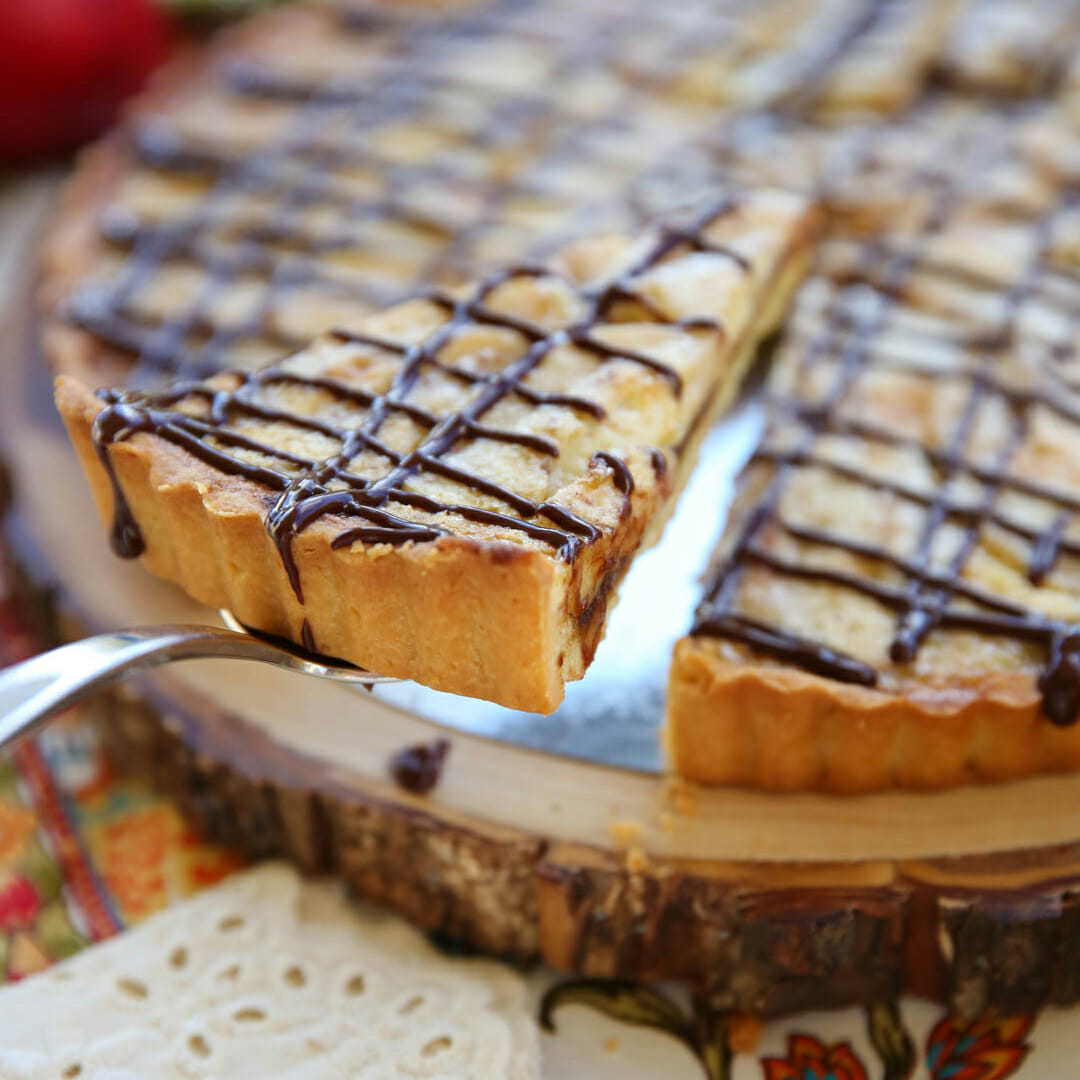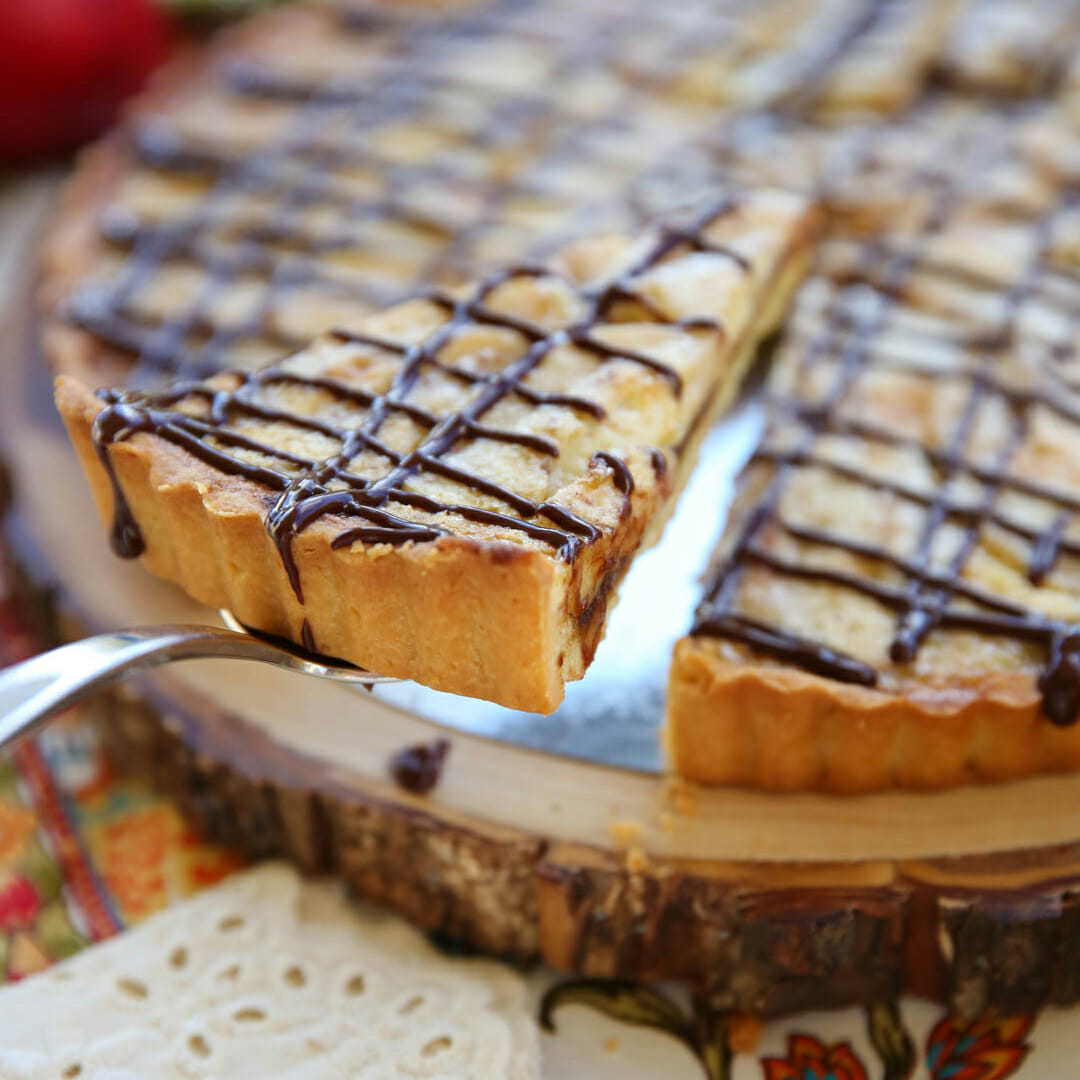 Hover your mouse over the below image to Pin this Recipe!
This recipe was developed in partnership with AMERICAN HERITAGE® chocolate, a brand we love and use in our own kitchens!