I can't believe March is already upon us this week! I basically keep track of time via Instagram, and the onslaught of St Patrick's Day fare is already in full swing, so that tells me I'm supposed to be busting out something green, or mint, or creative, or…something. I'm going with cookies. With chocolate. Annnnnd, mint. One of my favorite flavor combinations, ever. These cookies are awesome; they're fudgy with super soft centers and lightly crisp-chewy edges, just how I like them. And the topping is genius.
This cookie batter starts off a little differently than normal. You'll melt butter, brown sugar, and a little water in a sauce pan until it's smooth and caramelly.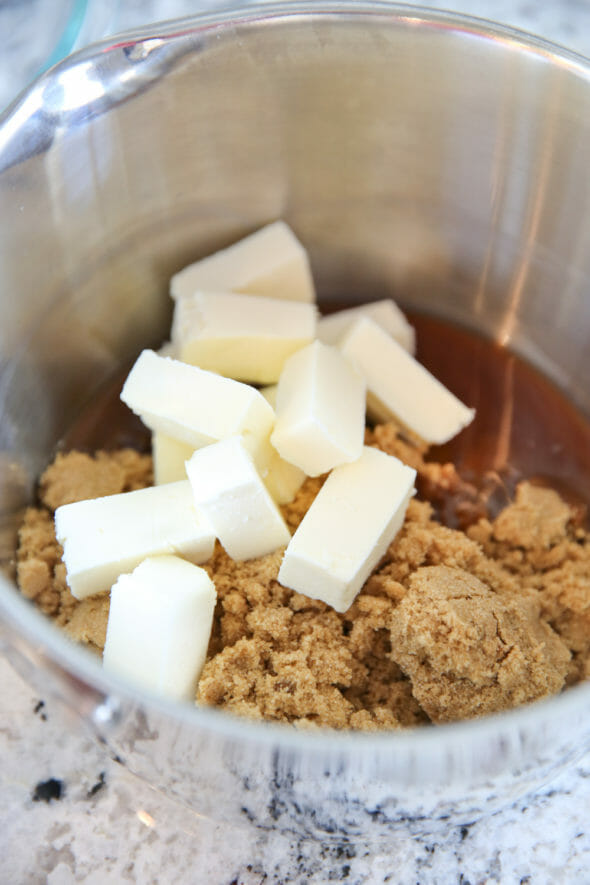 When it's melted, you'll add chocolate, which melts right into the brown sugar and butter.
Transfer this mixture to your stand mixer, or mixing bowl, and it will look kind of strange and granular at this point.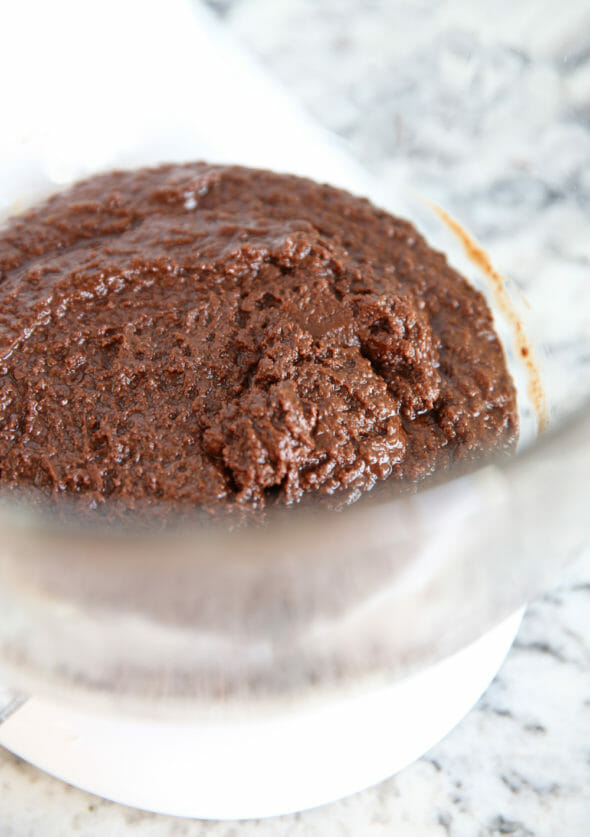 But once you beat in the dry ingredients, it turns glossy and velvety smooth.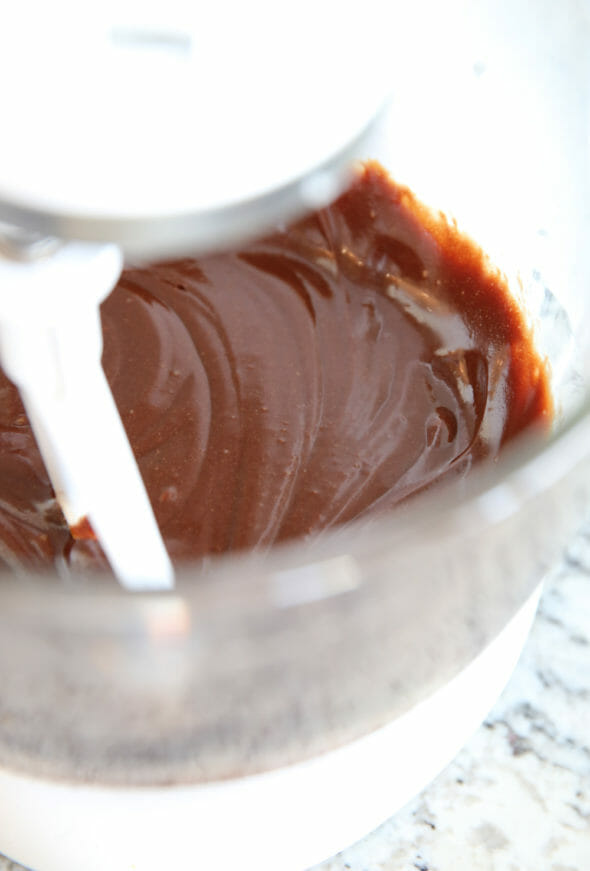 The finished cookie batter will look similar to a thick brownie batter, so it needs to chill in the fridge for at least an hour. While that's going on, you can unwrap all of those candies.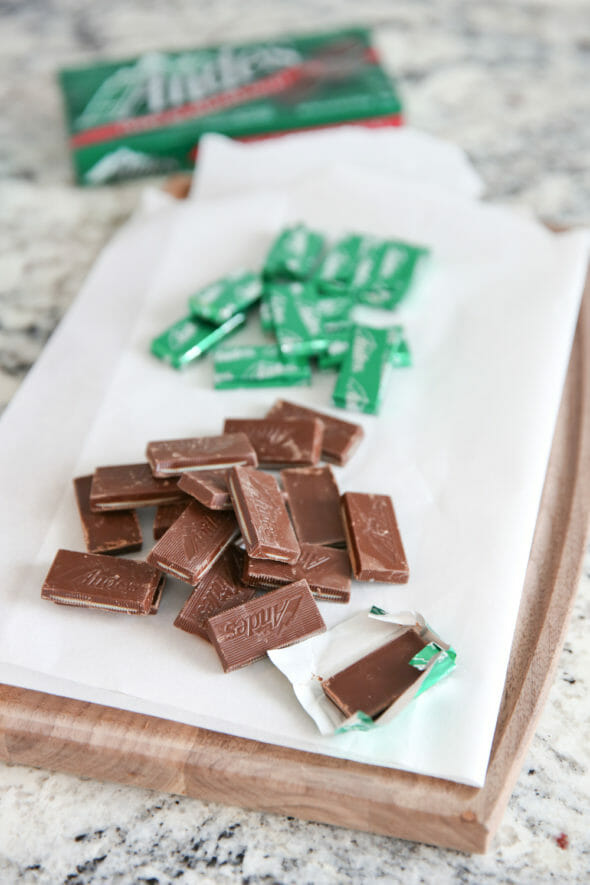 As soon as your cookies come out of the oven, just set a single Andes Mint on top. The heat from the cookie will melt the mint in just a few minutes. I should add that I was SO tempted to add some mint extract to the dough, and I'm glad I resisted. The mint from the cookies is plenty and the flavor combination is perfect.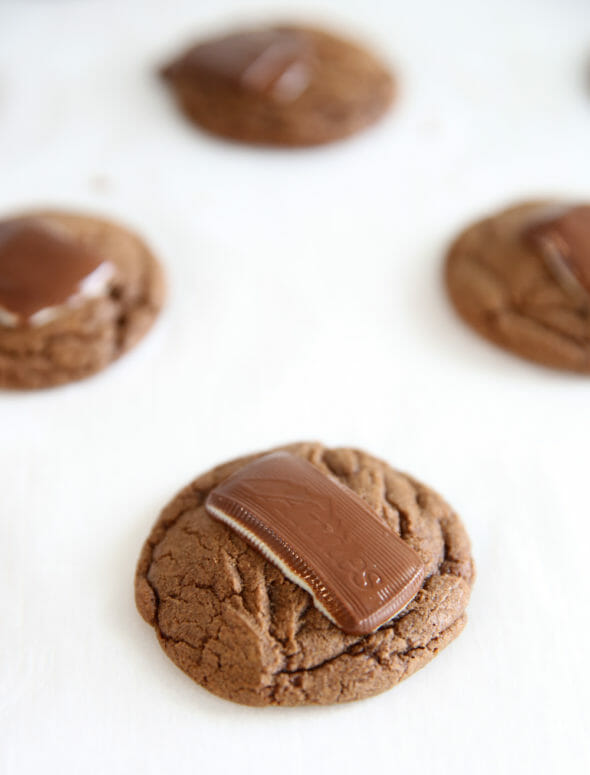 Once it's melted, just take a spoon and gently swirl it around for the easiest frosting ever.
These are preeeety good still gooey and warm.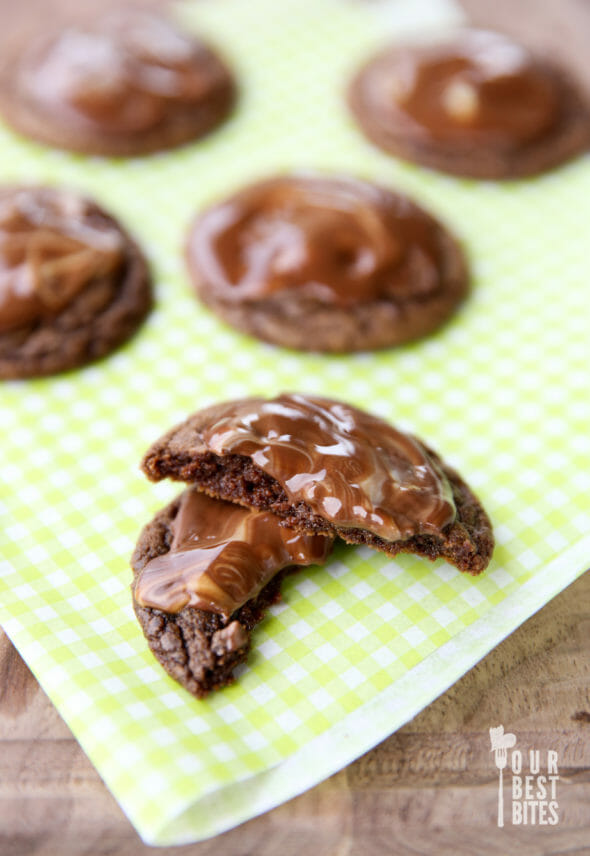 If you want to dress them up for St. Patrick's day, they look quite festive with a little green and white sprinkle action. (And let's not talk about how I meticulously made this Shamrock mix by picking out all of the teeny tiny red sprinkles from my Christmas jar.)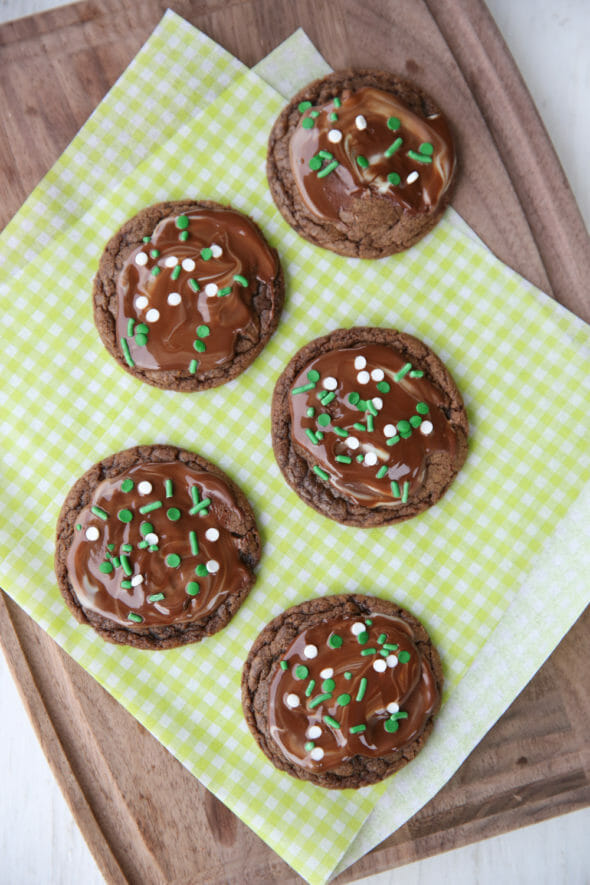 Once the cookies cool completely, the chocolate will be set so you can stack them up or put them in bags or just eat 10 at a time on your couch and not worry about getting melted chocolate everywhere.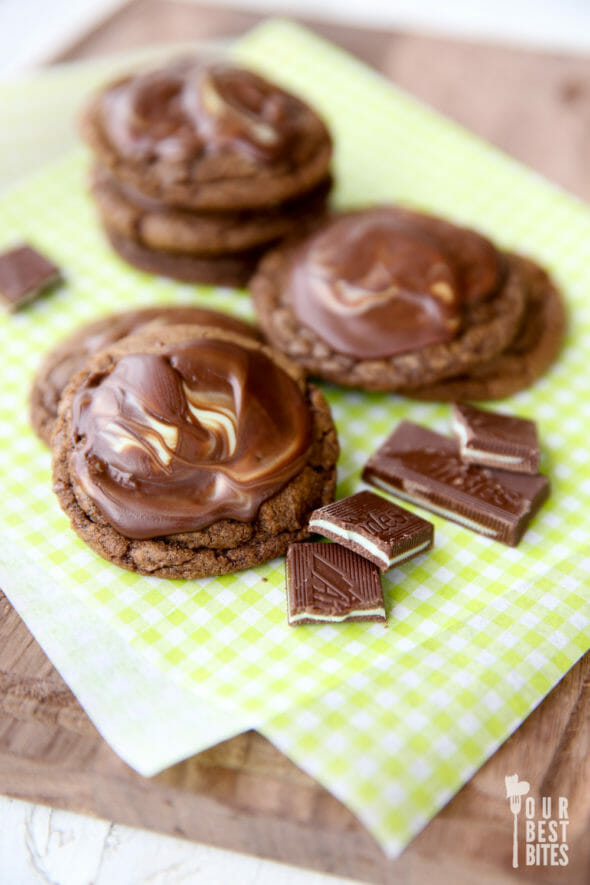 Perfection. Hope these get you through the week! Speeeaking of cookies and chocolate and stuffing our faces….we have another DietBet starting at the end of THIS WEEK! Hurry up and enter so you can be eligible for early-entry prizes we're giving away this week. It's such a fun way to join a group challenge and stay motivated to get healthy! Read a little more about it here, or sign up, HERE!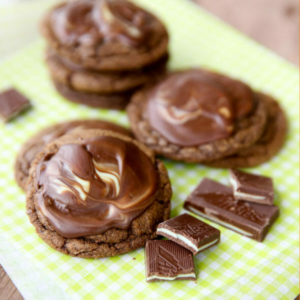 ---
Description
A decadent fudgy cookie with melted Andes Mint icing. It's the perfect balance of chocolate and mint.
---
12 tablespoons

unsalted butter

1 1/2 cups

(

10.5 ounces

) packed brown sugar

2 tablespoons

water

2 cups

(

12 oz

) semisweet chocolate chips

2 1/2 cups

(

12.5 oz

) all purpose flour

1 1/4 teaspoon

baking soda

1/2 teaspoon

salt

2

large eggs

45

–

47

Andes Mints, unwrapped
---
Instructions
Combine butter, sugar, and water in a medium saucepan and cook over low heat, stirring occasionally, until butter is melted, about 3 minutes. Add chocolate chips and stir constantly until chips are melted. Transfer mixture to bowl of stand mixer fitted with paddle and let cool for 10 minutes.
Whisk flour, baking soda, and salt together in second bowl. Add eggs to bowl with chocolate mixture and beat on medium-high speed until smooth, about 2 minutes. Reduce speed to low, add flour mixture in 3 additions, and mix until just combined. Cover bowl with plastic wrap and refrigerate dough for 1 hour.
Adjust oven racks to upper-middle and lower-middle positions and hat oven to 350 degrees. Line 2 baking seets with parchment paper. Working with 1 heaping tablespoon dough at a time, roll into balls; space balls 2 inches apart of prepared sheets. Bake until just set, 7-9 minutes, switching and rotating sheets halfway through baking. immediately place 1 minute in center of each cookie; let stand until mint is softened, about 5 minutes, then spread melted mint over tops of cookies. Transfer cookies to wire rack. Repeat with remaining dough and mints. Let cookies cool completely.
---