This Chocolate Mousse Crunch Cake is my all-time favorite special occasion cake. Not only does it wow people presentation-wise, but it's pretty knock-your-socks-off tasty as well. As long as you like chocolate. Because if you're a chocolate hater, this recipe isn't for you.  It's got 2 layers of rich chocolate cake, sandwiched with decadent chocolate mousse, drizzled with ganache and sprinkled with chopped toffee bits.  If you like, you can even top it with a cloud of whipped cream like I did in these photos.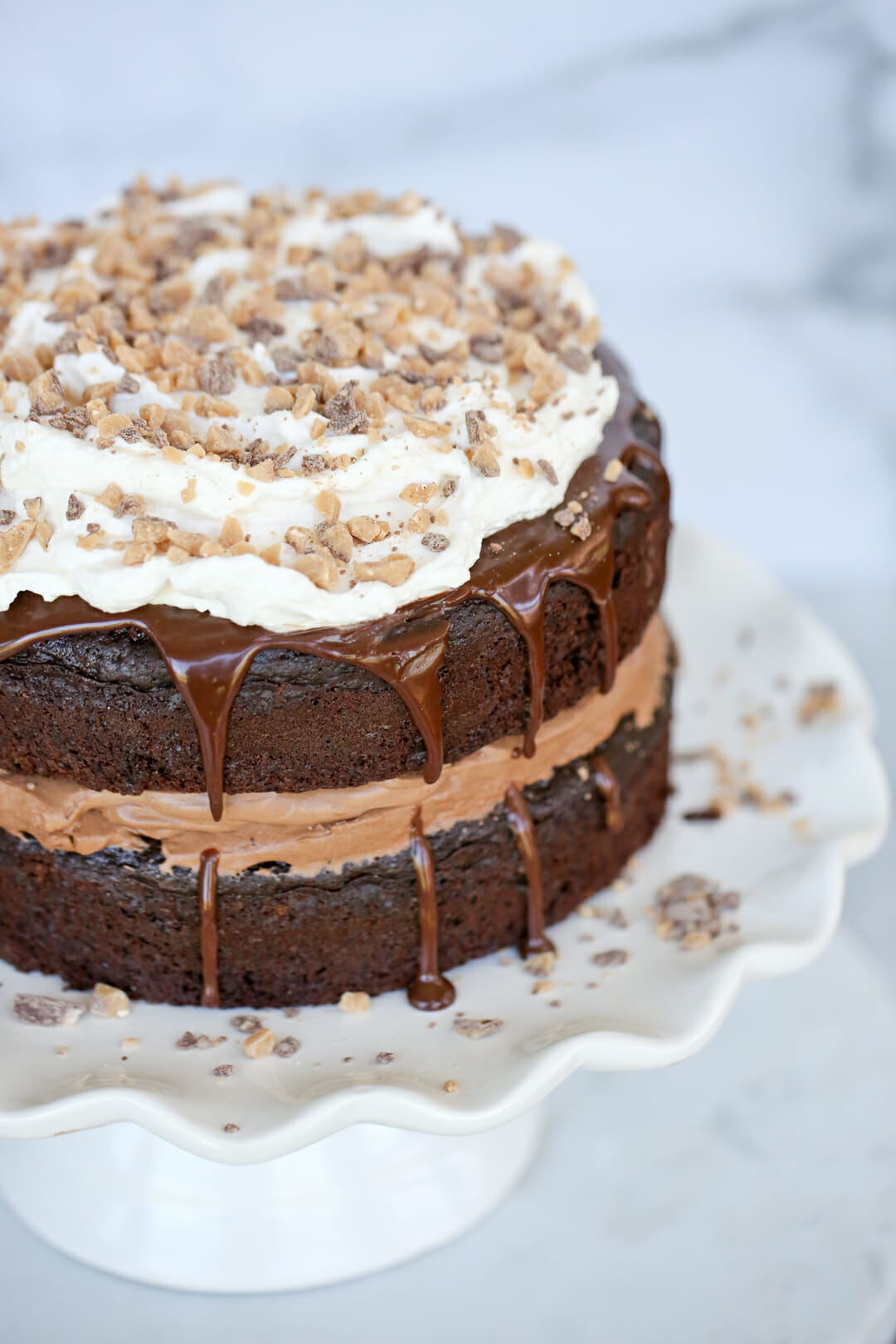 Make-Ahead Options
One of the great things about this easy chocolate cake recipe is that you can just use a boxed cake mix. I figure that there's so much going on here that you don't need to bother with a from-scratch chocolate cake, you know? And if you make the ganache ahead of time and just heat it up, and make the cake ahead of time, by a few hours or a day or even a few days (just wrap the layers in plastic wrap and freeze them), the rest comes together in no time.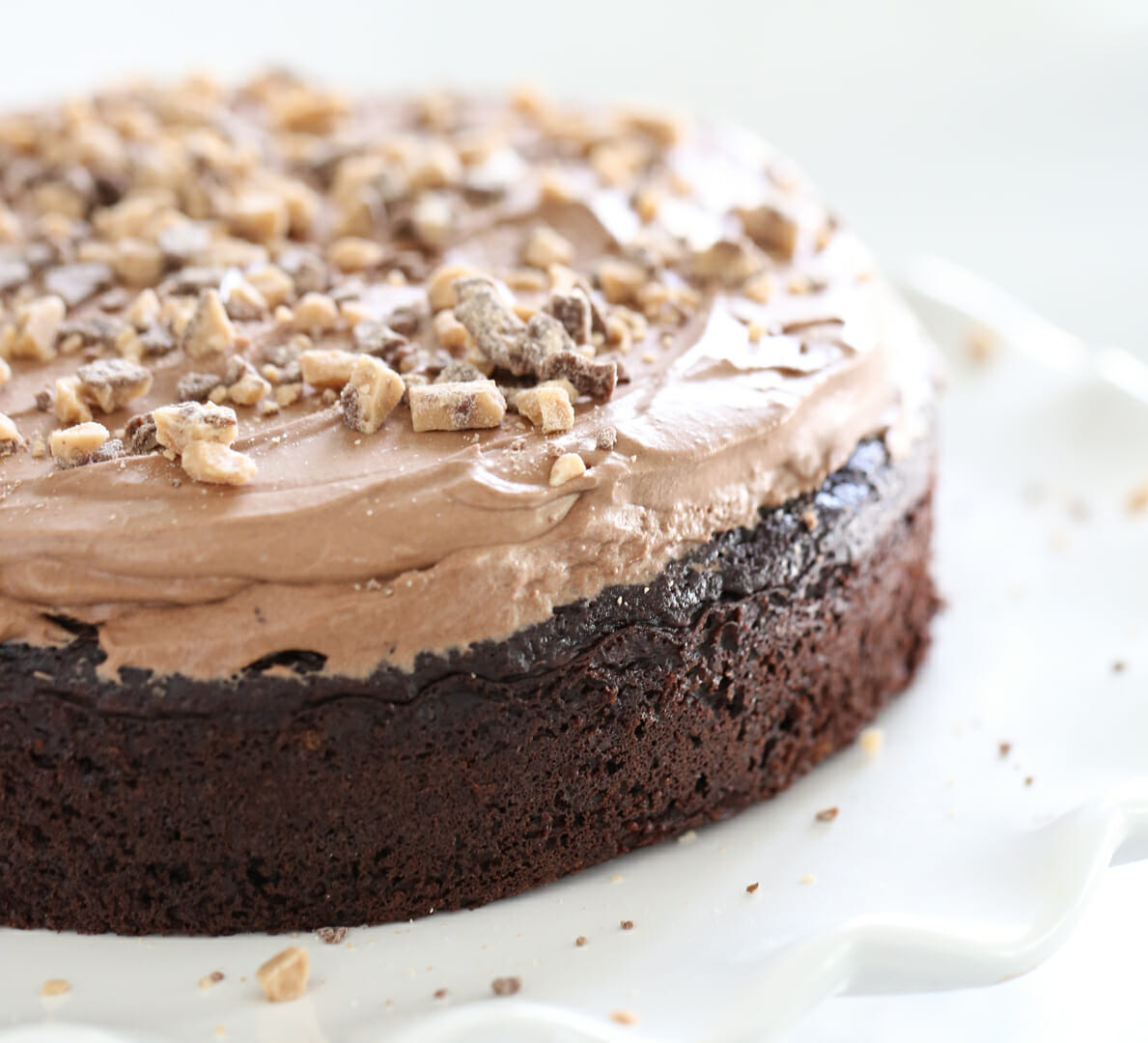 You can bake the cake layers ahead of time if you like and store them in the freezer until ready to use.  Our favorite cake pans to use are the kind with straight sides like these ones. The filling for this cake is a rich chocolate mousse that's incredibly easy to make.  It actually makes more mousse than you probably need, so feel free to fill it as thick or as thin as you like and snack on the rest- because you made the cake so you get the extra mousse!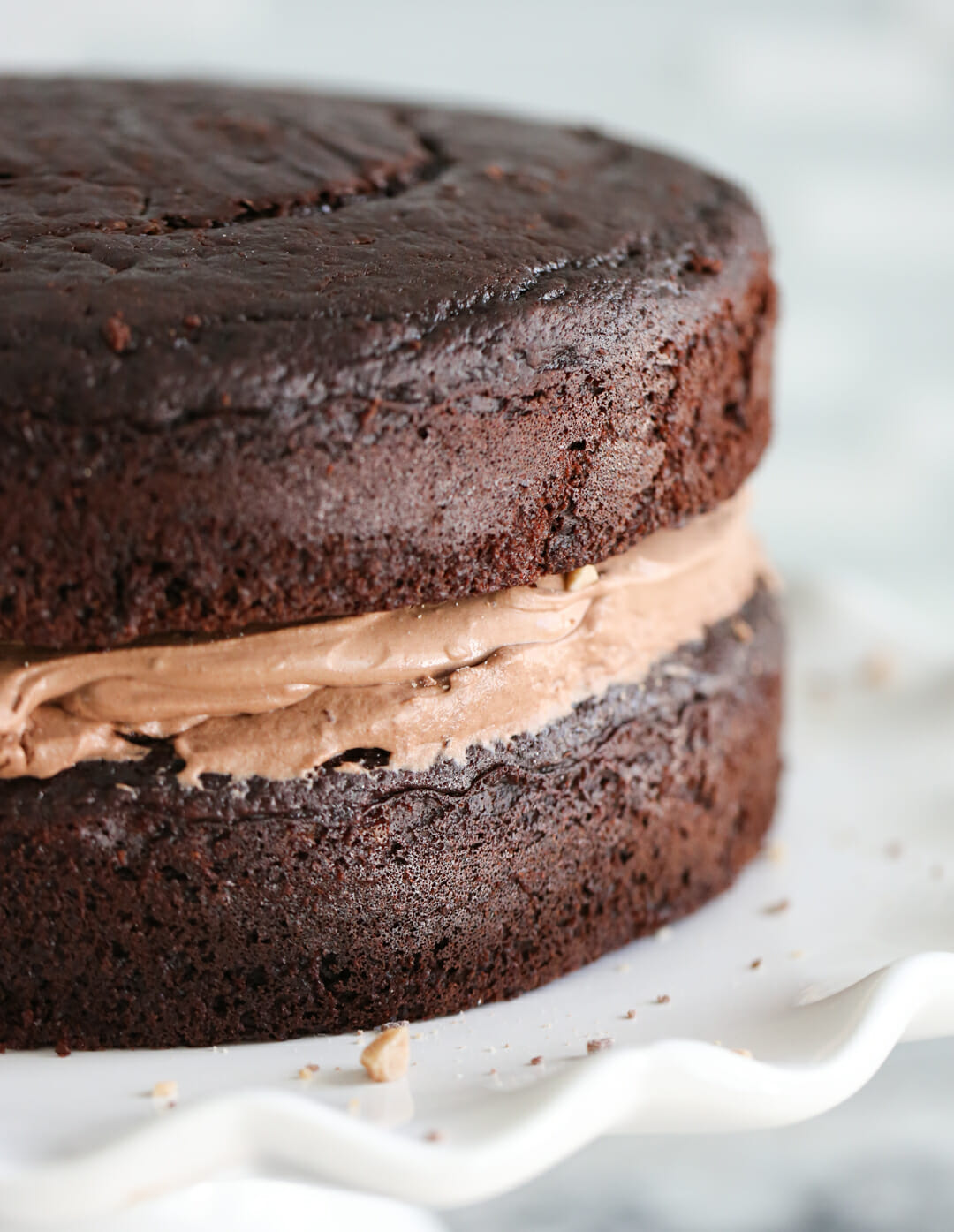 Fill and Top the Cake
This chocolate cake is topped with…you guessed it- more chocolate. To get nice drips down the sides, avoid trying to actually spoon ganache down the side of your cake.  Spread a nice even layer right on top.  Then use a spoon to gently start spreading toward the edges.  You just need to nudge a little and you'll see the chocolate wave start moving toward the side and down the edge.  Let gravity do the work!  That way you get nice pretty drips without overdoing it.  You can sprinkle some toffee bits on top and you are ready to serve!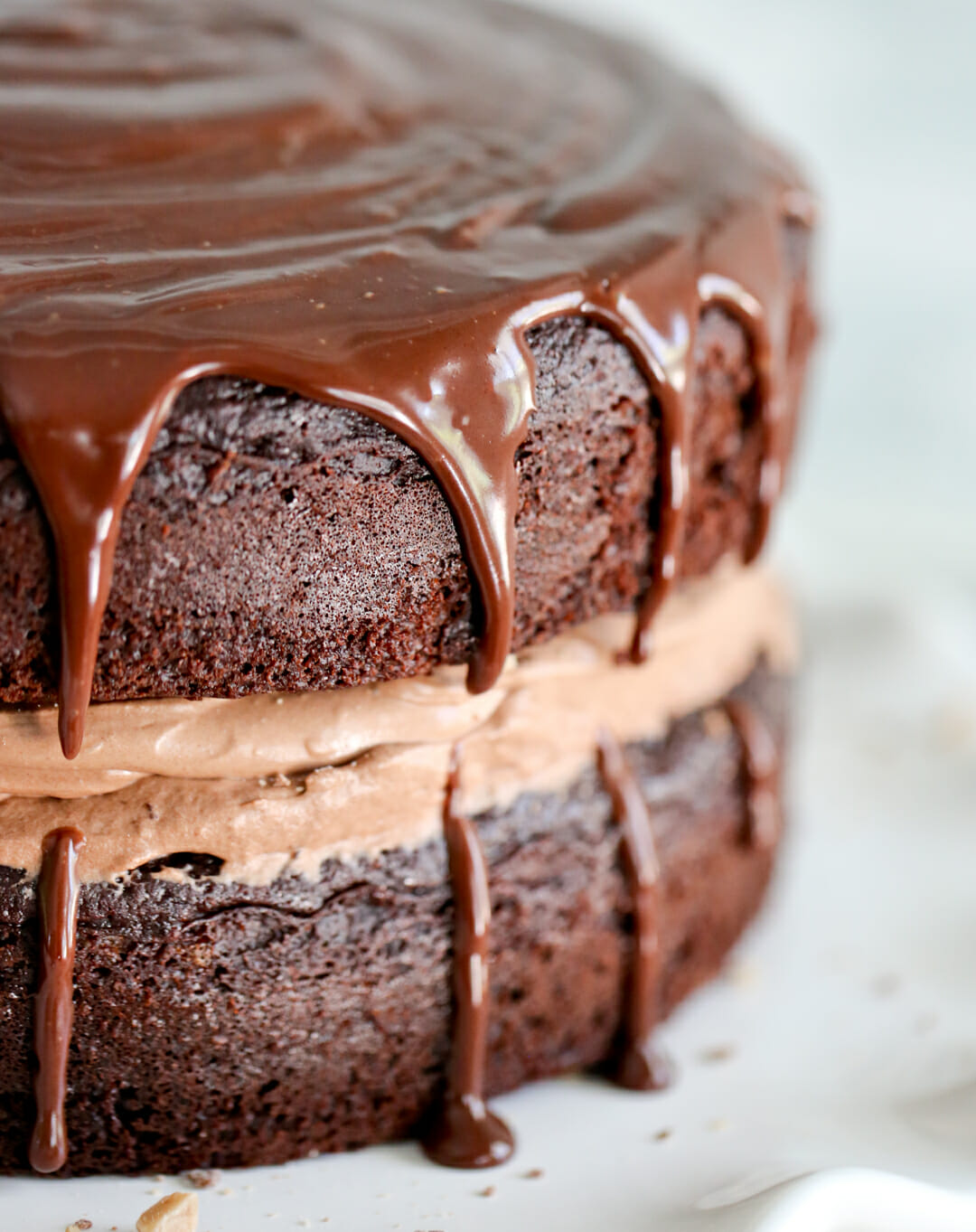 OR, if you like, I sometimes like to top it with a fluffy cloud of sweetened whipped cream as well.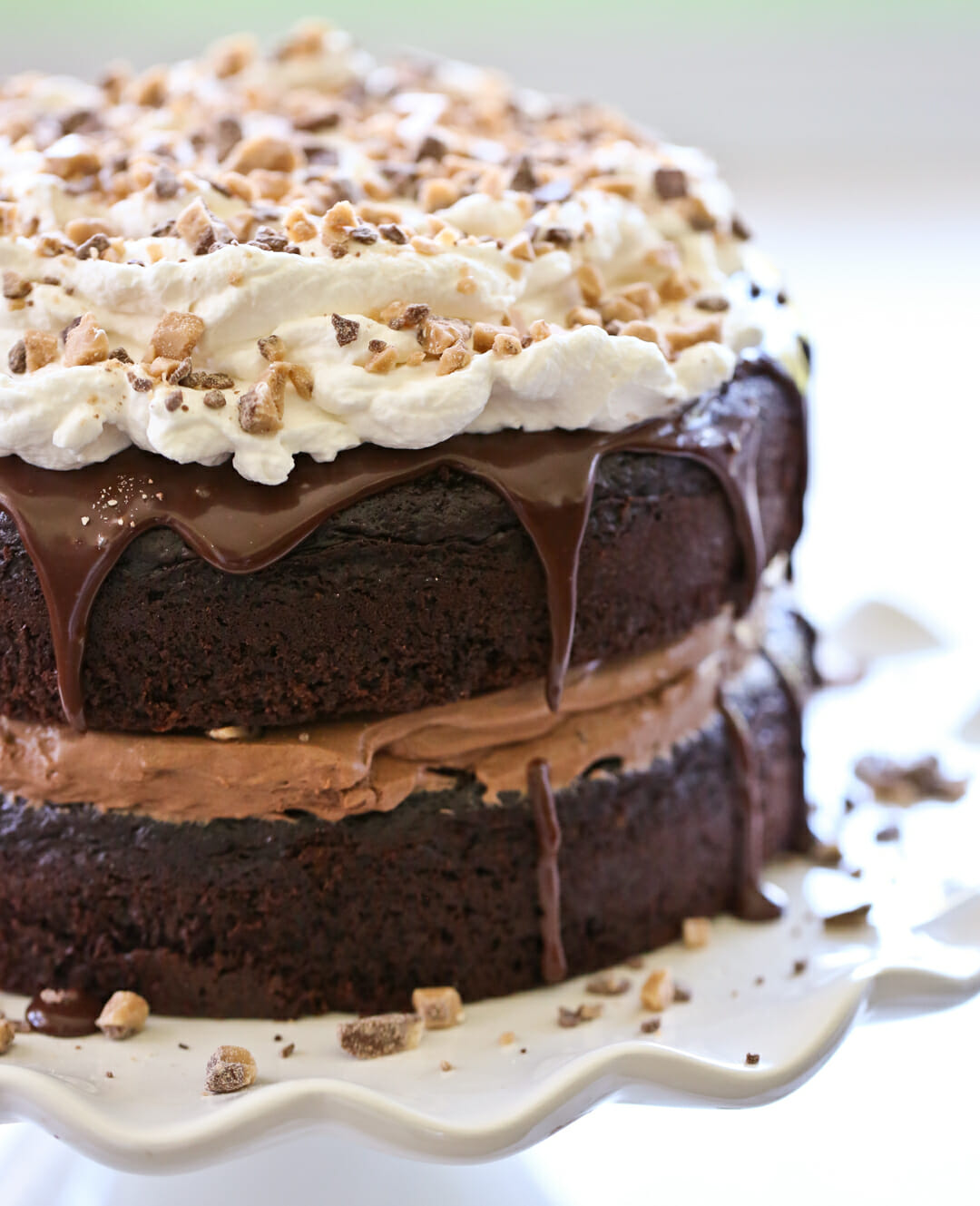 Helpful Tools for this Recipe
Print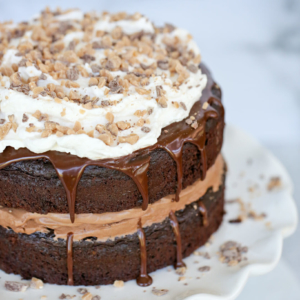 Chocolate Mousse Crunch Cake
---
Description
An easy chocolate mousse and toffee filling is sandwiched between moist layers of chocolate cake and finished off with rich, gooey ganache and more toffee bits.
---
1 package Duncan Hines Devil's Food Cake
Crushed Heath bars or a bag of chocolate-covered Heath bits
1 teaspoon unflavored gelatin
1 tablespoon cold water
2 tablespoons boiling water (just heat it in a small bowl in your microwave)
1/2 cup sugar
1/4 cup unsweetened cocoa powder
1 cup whipping cream
1 teaspoon vanilla
Optional: extra sweetened whipped cream for serving
---
Instructions
Bake cake according to cake mix instructions in 2 8″ round pans. Allow to cool and set aside. This can be done several days in advance; just freeze the cakes when you're done.
In a small bowl, combine gelatin and cold water and allow to stand for about 1 minute. While gelatin is softening, bring about 1 cup of water to a boil in the microwave and measure out 2 tablespoons. Discard the rest. Whisk the 2 tablespoons of boiling water into the softened gelatin and allow to cool slightly.
In a medium mixing bowl, combine sugar, cocoa powder, whipping cream, and vanilla. Beat with an electric mixer until medium-stiff peaks form. Mix in gelatin mixture and refrigerate for 30 minutes.
Prepare 
ganache 
(if you haven't already) according to directions.
With a serrated knife, carefully slice the dome-iest part of each cake layer off so the layers are level. Place one layer on the serving plate and spread chocolate mousse over the cake (see note below). Sprinkle with Heath bits.
Place second layer on top of Heath bits.
Spoon ganache over the top layer, allowing it to drip down the sides.  Sprinkle with additional Heath bits and refrigerate until ready to serve. If desired, top with sweetened whipped cream before serving.
---
Notes
This recipe makes more mousse than you will probably need. Feel free to use as much or as little as you desire in the filling and snack on the rest!
Keywords: Chocolate Cake, Chocolate Mousse, Chocolate Crunch Cake, Occasion cake