If you guys didn't know, aside from my main Instagram account, I also share health and fitness related content on @ourbestbites_fitclub. I've talked a lot about my go-to morning protein shake and people are always asking me for the "recipe", which I never have because I just eyeball stuff, so I figured I'd put it in writing! This Chocolate Peanut Butter Protein Shake is smooth and slushy with a mild chocolate flavor, a hit of peanut butter (without the fat!) and just the right amount of banana. It's packed with protein and makes a great start to the day. My kids love to drink this one, too.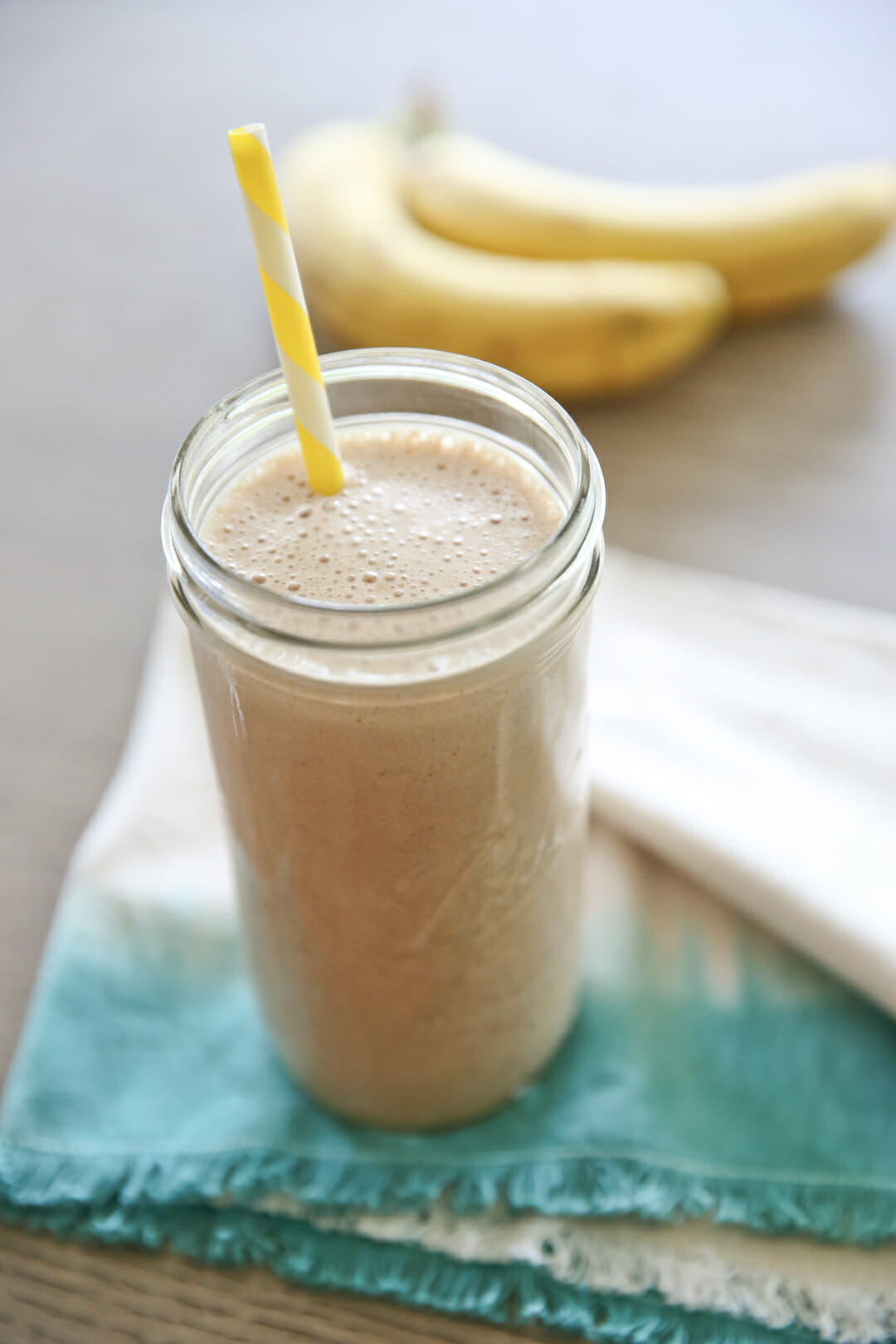 You can use any kind of milk you like- I usually use low-fat cow's milk, but almond milk works great too, if you're into that. I suggest filling up the measuring cup with ice first and then filling in the space with milk.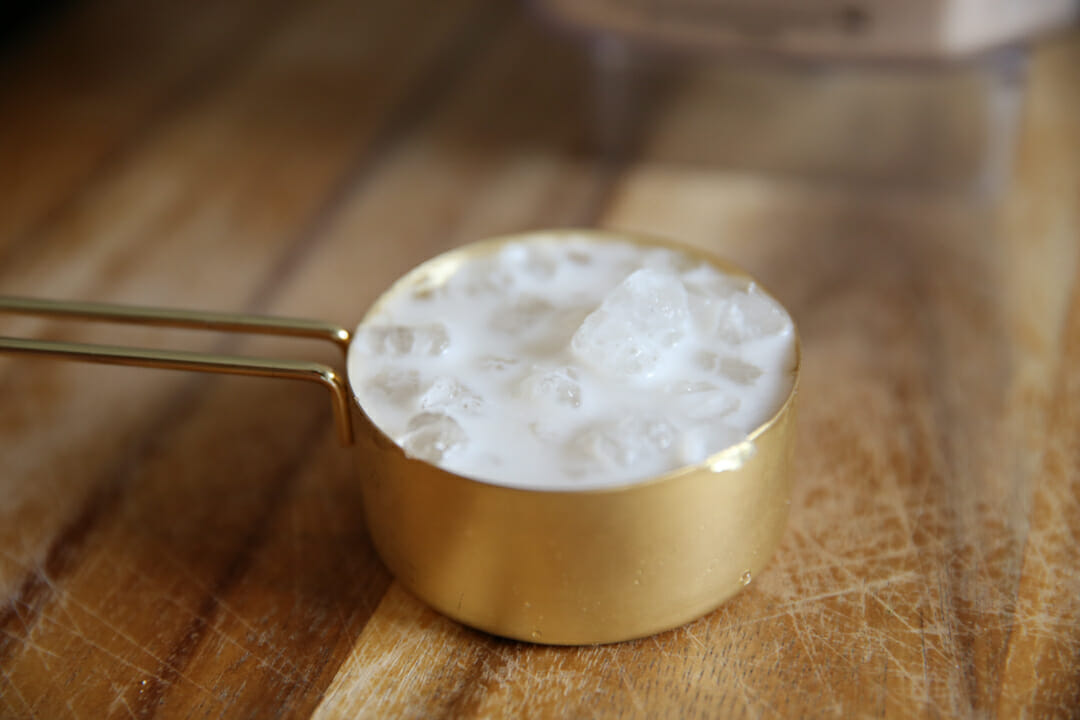 Then I add in frozen banana. I keep bananas frozen in chunks, in my freezer for this very purpose. We buy a lot of bananas and my toddler is constantly eating halves and leaving the rest on the counter, so this is an easy solution, haha. Just break them into chunks and pop them in a ziplock bag. You can even pop them in there whole. Frozen bananas are really easy to break apart. The key here is only adding a little bit of banana. It adds creaminess but too much banana will overpower the flavor of everything else and add quite a bit of calories and carbs. I opt for about 1/3 of a normal sized banana.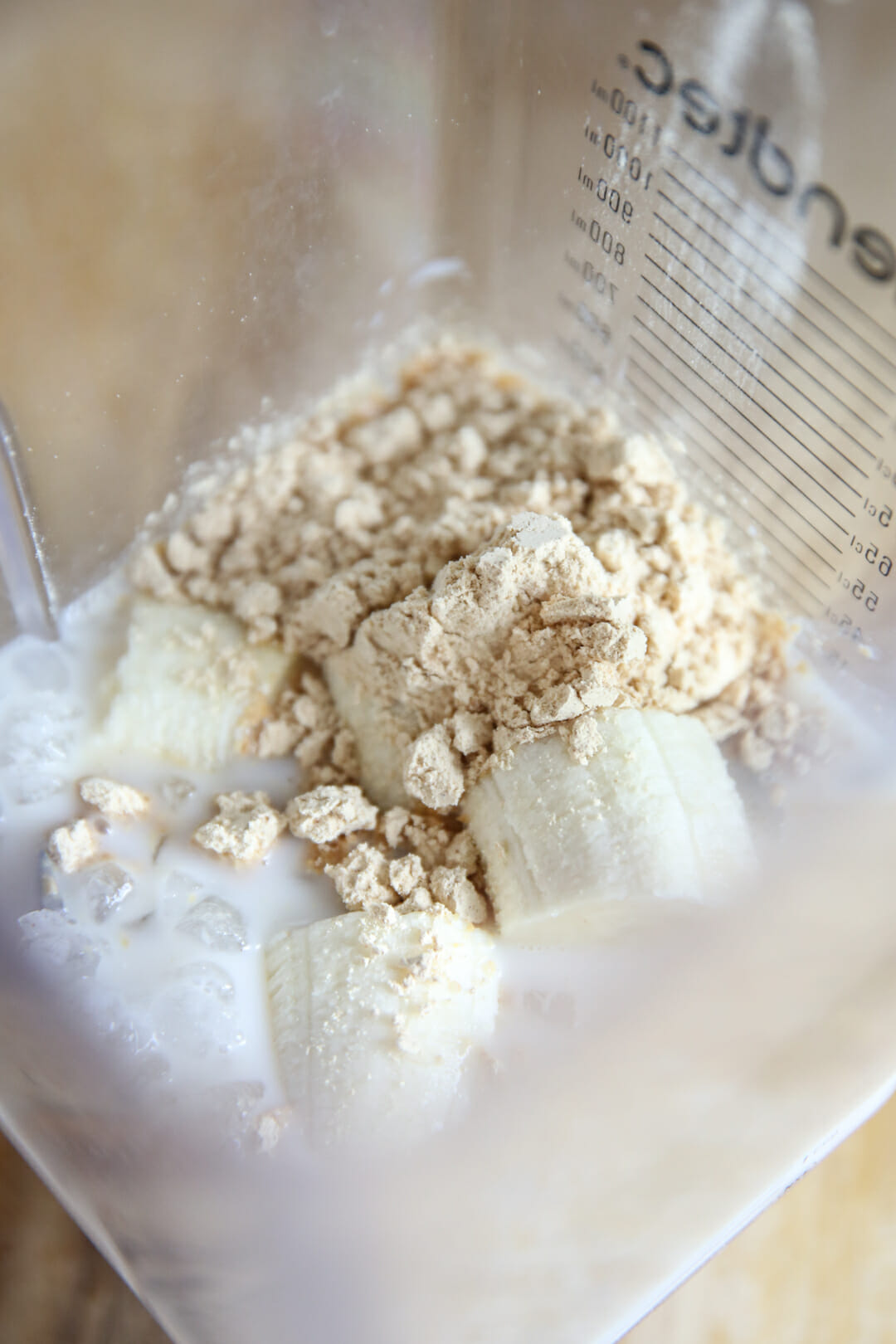 Next up is powdered peanut butter. If you've never tried powdered peanut butter, it's fantastic! It's just 100% peanuts that have been dried and the oils expelled. You're left with just the concentrated powder from the nut. Nut oils and fats are not bad, in fact, they're good for you, but that doesn't mean I want them in my smoothie. I'm adding 3 tablespoons of powdered peanut butter, which comes to 9g protein, 2g fat, and 6g carbs. 3 tablespoons of regular peanut butter will ring in at nearly 300 calories, including 24g of fat- so it's a big difference. I buy this PB Fit brand at Costco and it's only about $10 for that big tub. I've heard they also have it in the bulk bins at Winco. This Ideal Fit brand is more expensive for sure, but when it's on sale and I'm buying other stuff from their website anyway (more on that in a sec) I'll grab it because the flavor is the best I've found. You can get an extra 10% with my code BESTBITES, too.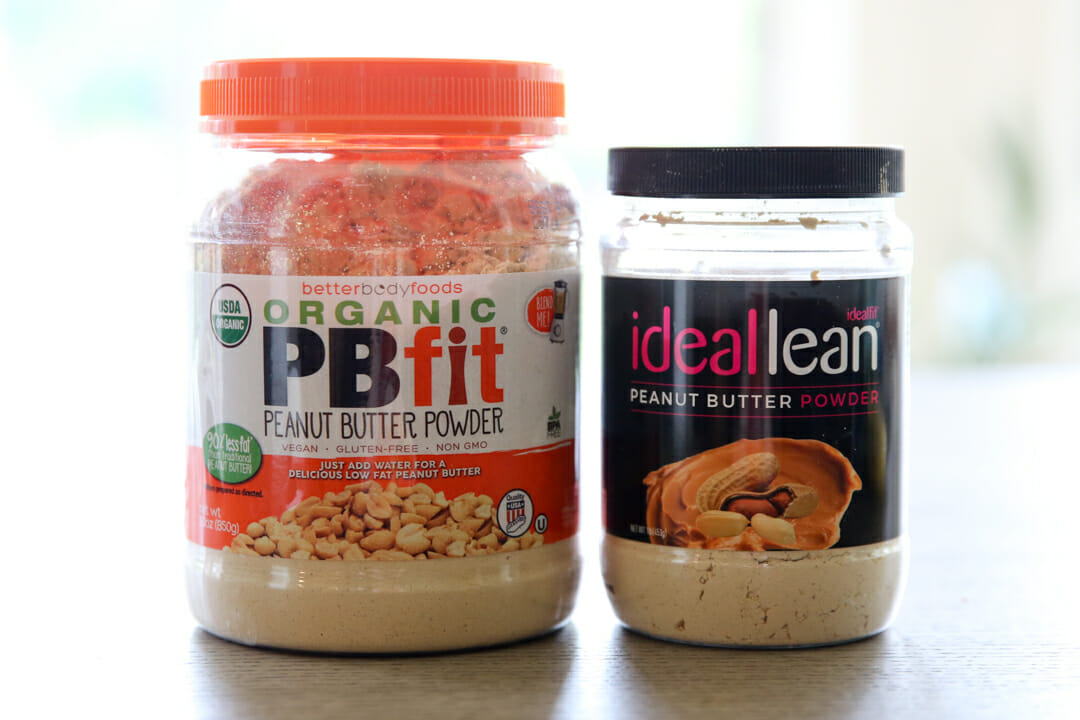 You can use whatever Chocolate protein powder you like. Everyone seems to have a favorite, and if you follow me on Instagram, you know I love Ideal Lean.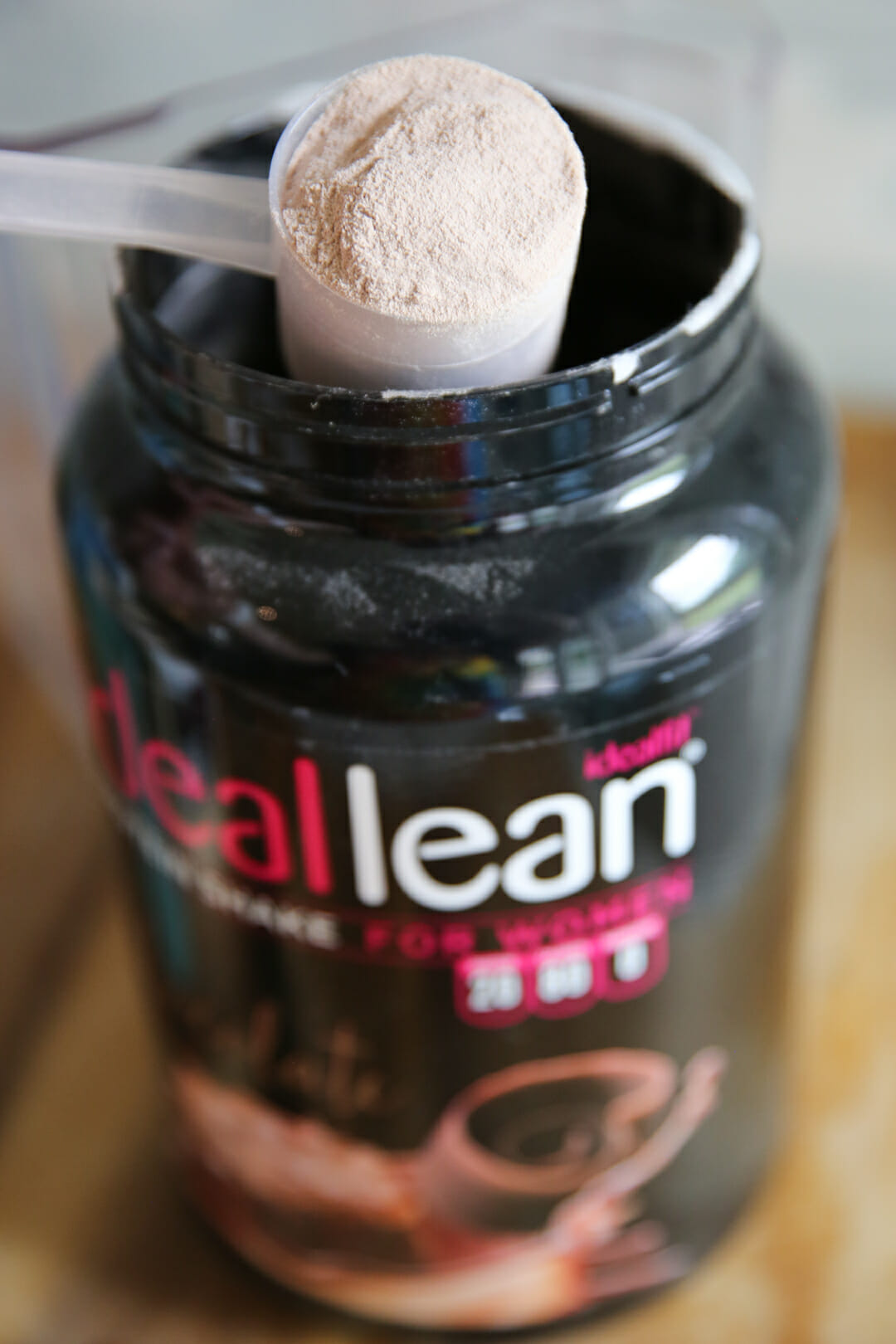 I love the flavors, I love how they blend smooth, and I especially love that they're straight protein- no carbs, no fats, so it's one of the lowest calorie proteins with the most protein. These three are my go-to flavors- Chocolate Brownie (Which I'm using here), Chocolate Coconut, and Chocolate Mint. They're also good warmed up like hot chocolate! Again, if you want to try out anything from their website you can use the code BESTBITES and get and additional 10% off.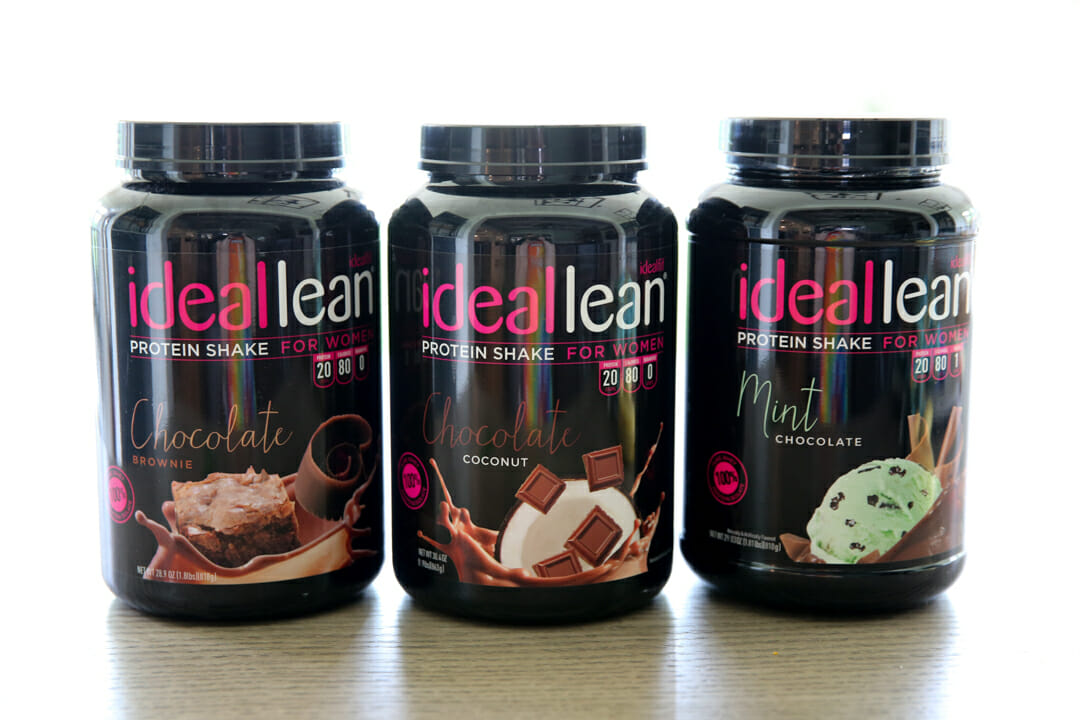 Lastly, an optional ingredient is about 1 1/2 tablespoons of oats. I love the texture and the healthy carbs and it makes it stick to your guts a little longer. I also sometimes add 1 tablespoon of unsweetened cocoa powder if I want to intensify the chocolate a little bit.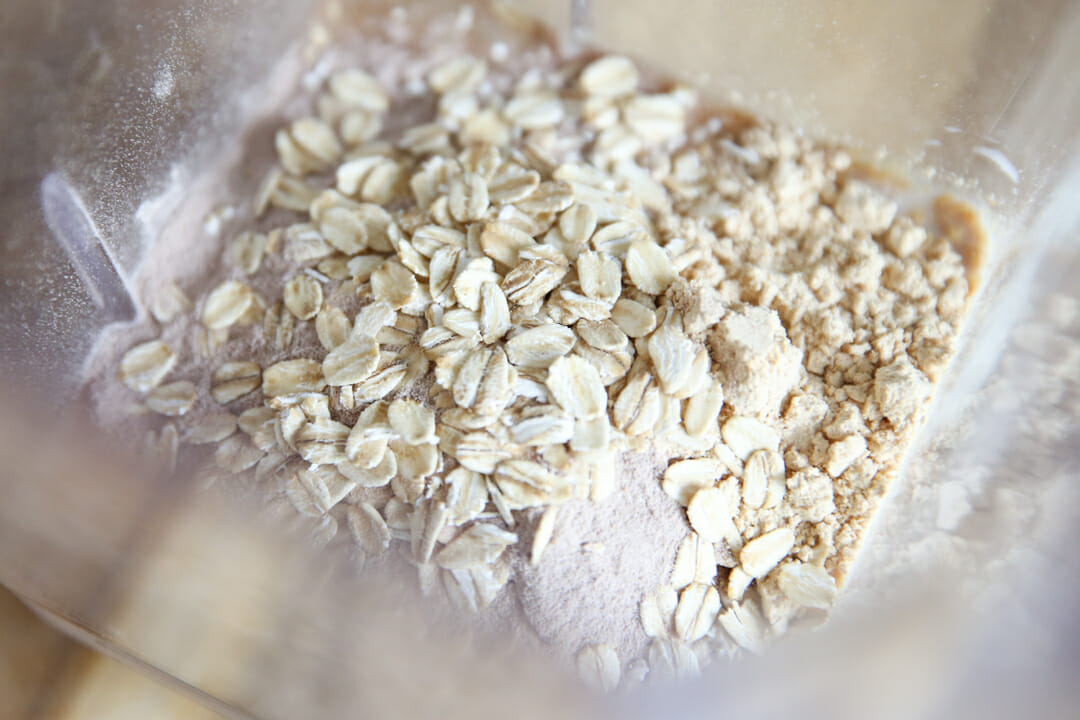 This is so simple to throw together and has all my favorite flavors. Try it out and feel free to play around with the quantities. Maybe you like more peanut butter, maybe less banana, etc. It's super flexible!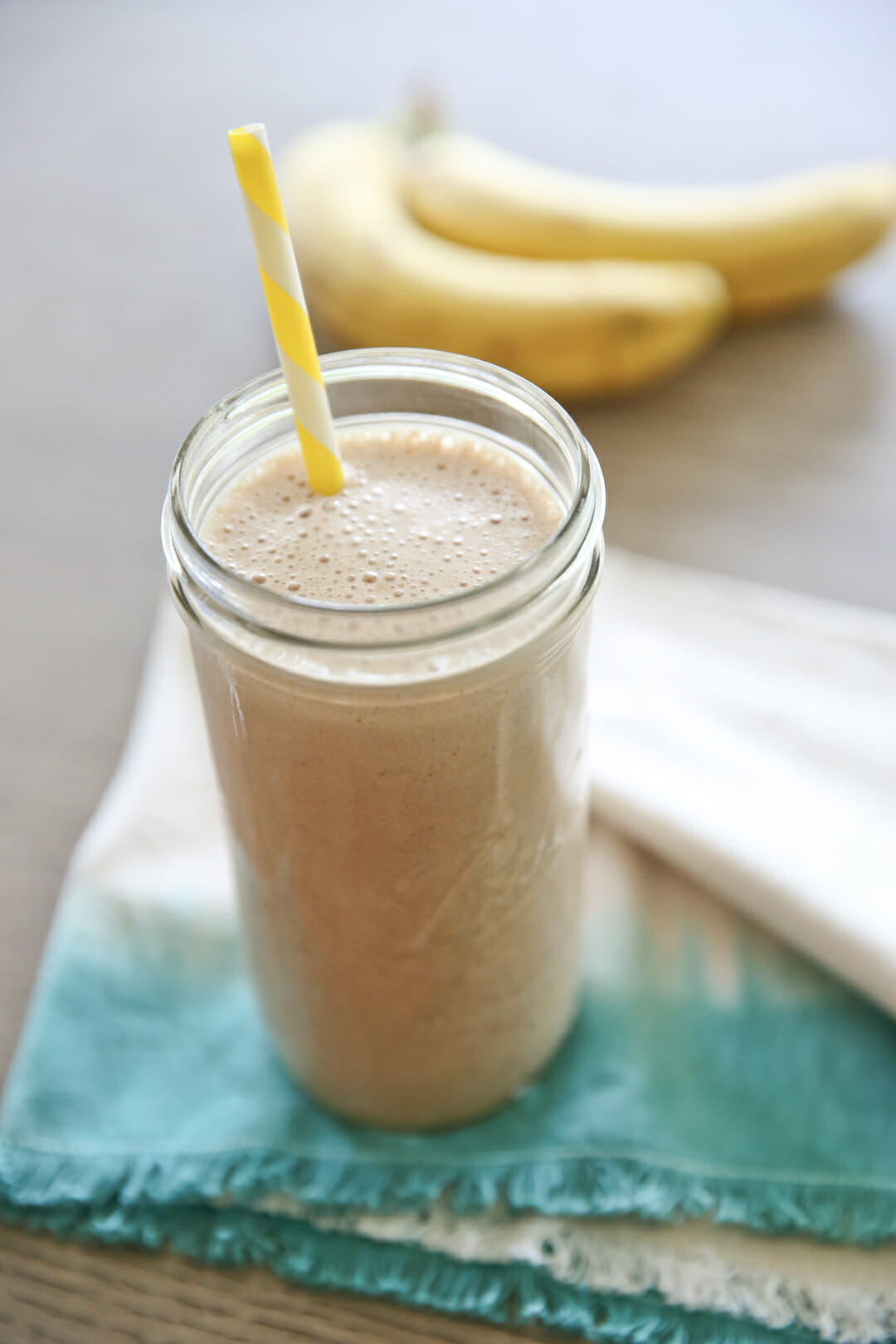 Print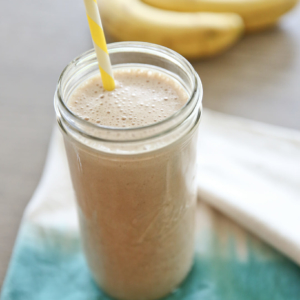 Chocolate Peanut Butter Protein Shake
---
Description
An easy protein shake packed with healthy ingredients to get your day started off right!
---
1 1/2 cups ice plus milk of your choice to fill up the measuring cup
1/4–1/3 of a medium frozen banana
3 tablespoons powdered peanut butter
1 scoop Chocolate Protein Powder (I use Ideal Lean)
optional: 1 1/2 tablespoons oats
optional: 1 tablespoon unsweetened cocoa powder
---
Instructions
Blend everything together until smooth!
---