This holiday twist to a crowd-favorite is hands down one of my favorite treats!  Some people call them Muddy Buddies, some call it Puppy Chow, but everyone agrees that Chocolate Peppermint Chex Mix is a hit.  My version has a cool hit of peppermint and bits of crushed candy cane.  one of the greatest tricks is making candy cane sugar to dust them with. It's literally pulverized candy canes and it's delicious!  Don't be weirded out when you see peppermint and peanut butter together here.  It works.  I promise.  The amount of peanut butter isn't enough that it competes with the peppermint.  It actually enhances everything and rounds out the flavor profile, while at the same time lending itself to the soft chocolate texture.  Just trust me and go with it.  These might change your life (or if nothing else, your pant size.)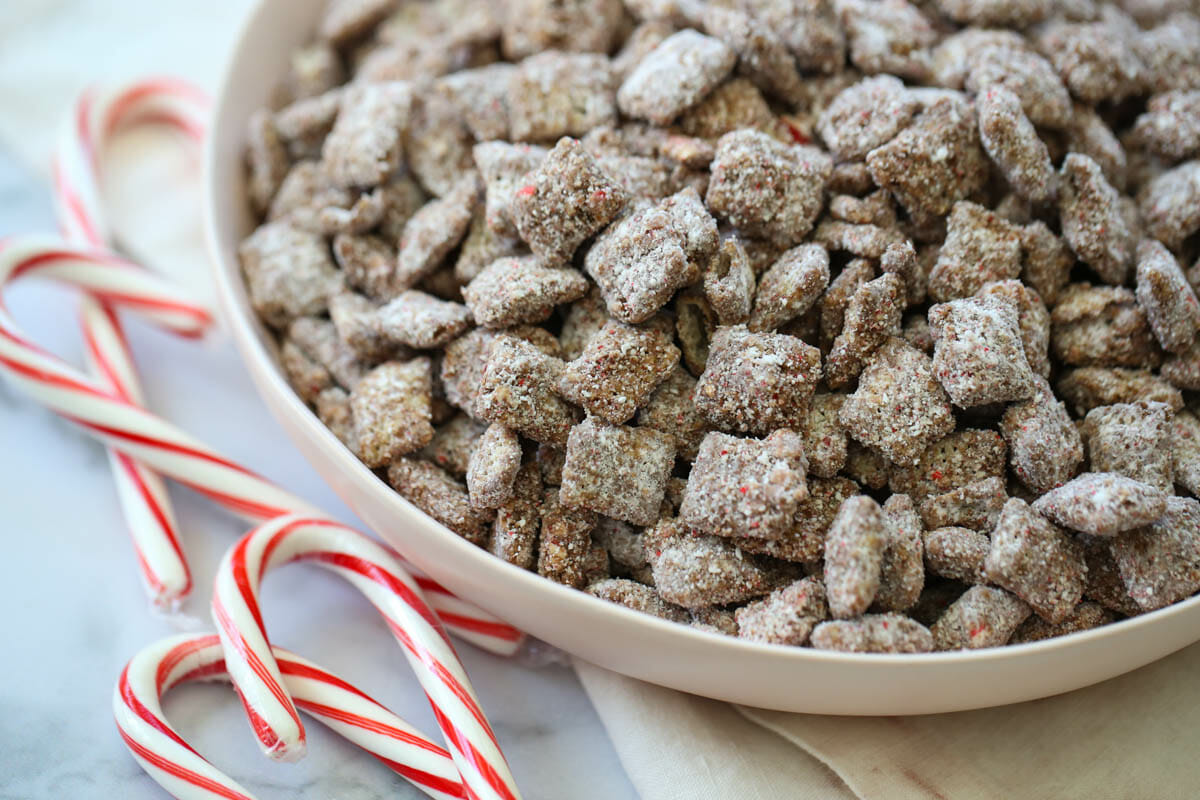 Step 1: Make Candy Cane Sugar
Place some powdered sugar in a food processor, and break up a bunch of candy canes in there with it.  This can also be done in a high-powered blender like I'm using.
Pulse that a few times to break up the candy canes, and then on higher speed until it goes from crunchy to smooth. You can tell when it's done when you open your food processor and you have fluffy white peppermint snow.  It's soft powdered sugar with little teeny crunchy bits of peppermint.
This is great on all sorts of things you would use powdered sugar for.  Try making a buttercream frosting with it or my favorite: Peppermint Whipped Cream.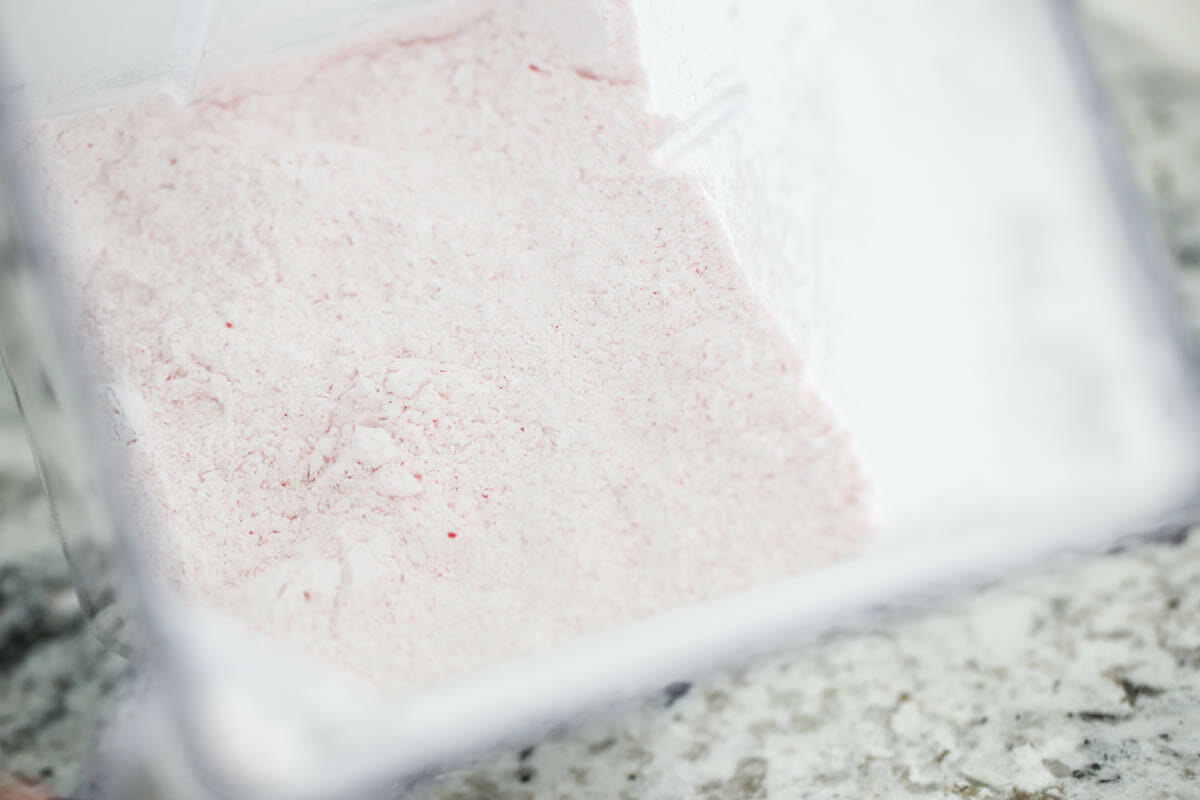 Step 2. Crush some additional Candy Canes.
Take a few more candy canes and put them in a ziplock bag Grab a heavy rolling pin, or a mallet, or the bottom of a heavy cup, or anything that can smash stuff.  And smash them.  You don't need to pulverize them like we did in the food processor.  These little bits are getting tossed in with our cereal mix so you want little bites of peppermint.
Place your Chex cereal in a big (no really, BIG- it will make mixing so much easier) bowl.  I'm showing my crushed candy canes in here, but I actually think it works better if you toss them in after the next step, so you'll see that reflected in my directions, just FYI.
Step 3: Make Melted Chocolate Mixture.
Place chocolate chips, peanut butter and butter in a heat-safe bowl.  I know this sounds strange, seeing as we're using peppermint, but trust me on this one.  If you have peanut allergies, I've been told that Sunbutter works great, or I did experiment with 1/2 the amount of coconut oil.  While my taste testers all agreed that the PB version tasted better, the coconut oil did work as a replacement.  Melt it until it's creamy and smooth and immediately add in some peppermint extract, or peppermint oil.
Step 4: Coat your Cereal Mixture
Pour the melted chocolate mixture over the cereal. The chocolate mix may be slightly thick, and seem like it's not covering everything at first, but just keep stirring and you'll soon see that all of those cereal pieces has a nice chocolatey coating.
Step 5: Dust with Candy Cane Sugar
Once it's coated well, pour in your prepared candy cane sugar.
Quickly toss everything together.  Mix, mix, mix again until it's all dusted snowy white.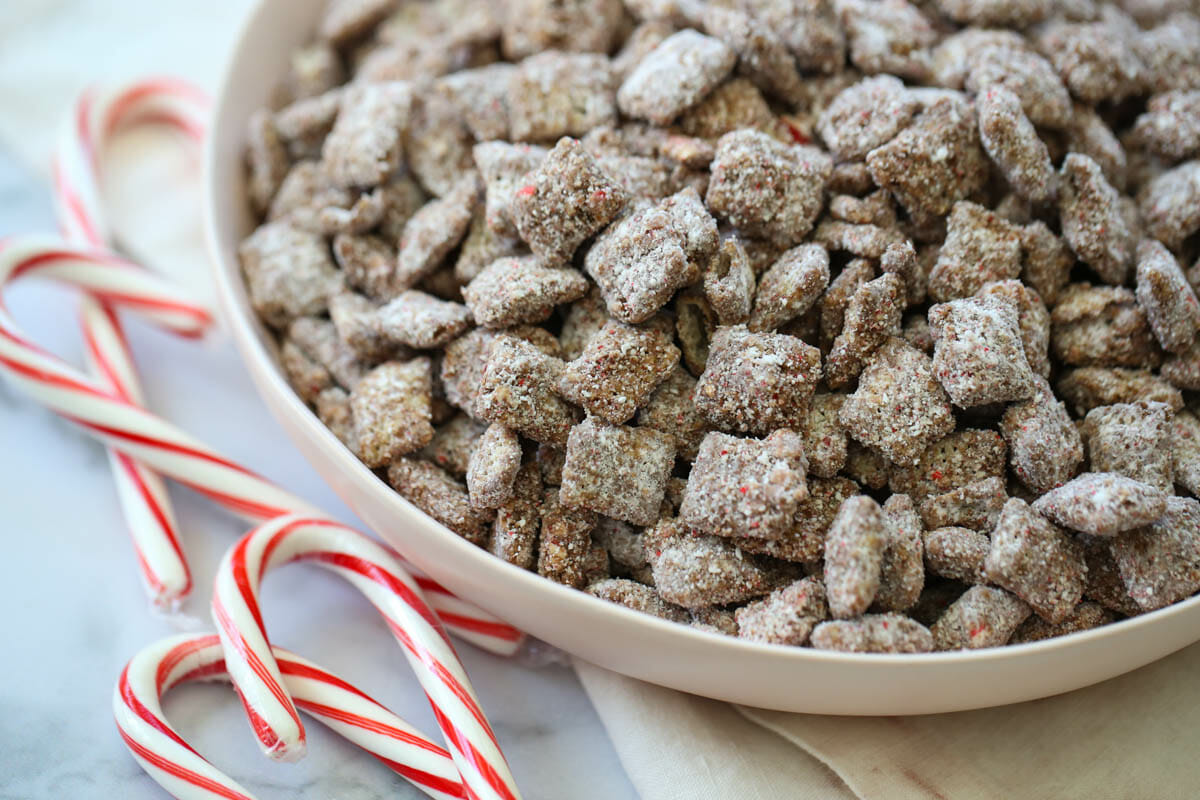 Peppermint Chocolate Chex Mix has a creamy smooth chocolate, with cool burst of peppermint, and cute little pieces of red and white candy.  It's pretty addicting, so consider yourself warned!
Print
Chocolate Peppermint Chex Mix
Author:

Sara Wells

Prep Time:

15-20 minutes

Total Time:

15-20

Yield:

8-9 Cups
---
Ingredients
8 cups Rice Chex Cereal
1 cup dark or semisweet chocolate chips (I've been told Sunbutter works great if you need a nut substitute)
½ cup creamy peanut butter
4 tablespoons real butter
1 1/2 teaspoons peppermint extract, or peppermint oil to taste
16 standard sized (the kind that come in a box) candy canes, divided*
1 cup powdered sugar
*As a candy cane connoisseur, I suggest Bob's or Brach's (they are owned by the same company now) or even the little round starbrite mints.  I would avoid Spangler brand for baking in general because the flavor and texture is far inferior. 
---
Instructions
Instructions:
Place cereal in a large mixing bowl and set aside.  Place 1 cup powdered sugar, and 8 candy canes in a food processor.  Pulse several times to break up candy canes and then process until smooth.  You'll have very tiny bits of candy cane still visible.
Place remaining 8 candy canes in a ziplock bag and use a heavy rolling pin, or meat mallet,  to crush them into little bits.  Set aside.
 Place chocolate chips in a microwave safe bowl with peanut butter and butter.  Heat in 30 second intervals, stirring in between, until melted and smooth.  Stir in extract (or oil) and immediately pour over chex mix.  Quickly pour in the crushed candy canes from the ziplock bag over the chocolate and then stir to coat the cereal.  The chocolate mixture might be slightly thick, but keep stirring and it will coat everything.
Once the cereal mixture is coated with chocolate, dump in the powdered sugar mix and stir until everything is dusted in white.
Eat out of the bowl, or package up for sharing!
---
Notes
Allergy Warning:  I think it's a good reminder, since many of you will be giving this for gifts and sharing at holiday parties, to keep in mind that snacks like this, that don't *appear* to contain peanut butter, can be especially dangerous for those with nut allergies.  Be courteous, and if you are gifting to someone, or are sharing at a party, include a note clearly labeling that it contains peanut butter.
Recipe Change: If you've been around a while, this recipe used to call for Hershey's Mint Chocolate Chips. Since that product is not readily available anymore, I've adjusted the instructions to just call for regular chocolate chips plus extract.  Feel free to adjust extract amount according to your tastes!
Keywords: chocolate peppermint chex mix