Allow me to introduce you to Peppermint Bark Popcorn, your new favorite holiday treat.  Let me tell you why this is my go-to for holiday parties and neighbor gifts! Take a peek!
Why you should make this peppermint bark popcorn
You can make one huge batch and have TONS to share and pack up. I hate slaving over beautiful cookies and only having enough for a couple plates.
It's super quick and easy to make and also inexpensive and requires minimal ingredients.
It lasts for several days, so you can make it early and not be rushed to pass it out if you need some time.
It packs well, so you can put it in bags or cups or a big bowl or any cute container for sharing.
Everyone, and I mean EVERYONE, goes crazy for this stuff.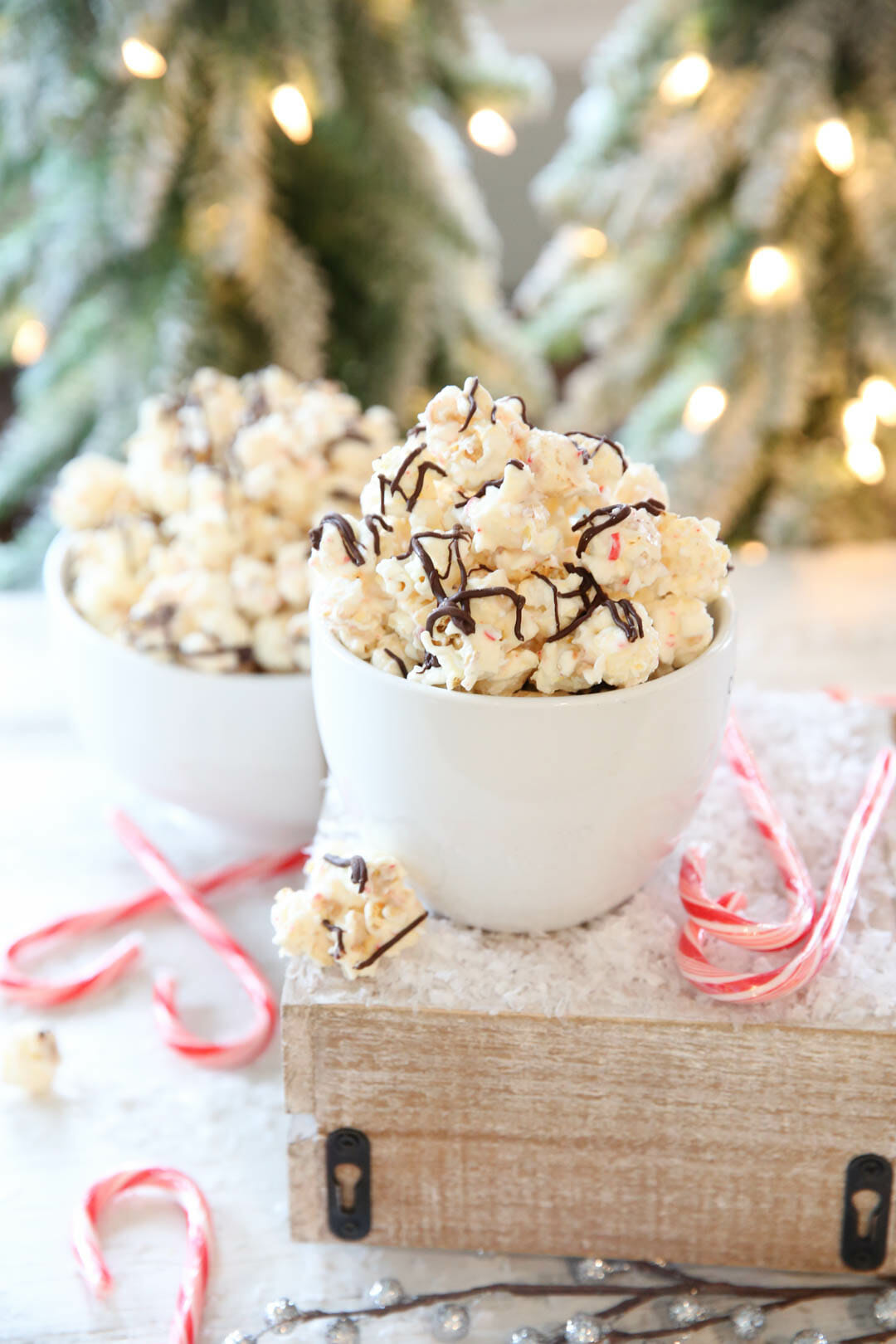 Ingredient Notes
Almond Bark – Also called vanilla candy coating, this smooth melting coating is similar to white chocolate but much easier to work with. It does not contain any almonds.
Candy Canes – I'm a bit of a candy cane snob. While any candy canes will work, I prefer the nicer brands, like Bob's. They are sold in packs of 12 or individually in the buckets by the register at grocery stores. If you aren't making this around the holidays, starlight mints from the candy aisle will also work.
Peppermint Flavoring – You will need a little bit of either peppermint extract or peppermint flavoring oil.
Popcorn – Before I show you how to make this, I'm going to tell you about one of my best kept secrets!  You know how when you buy a gourmet popcorn mix the popcorn itself is huge and puffy and doesn't look anything like the regular popcorn you use?  It's called mushroom popcorn!  It has nothing to do with mushrooms other than the shape.  Check this out: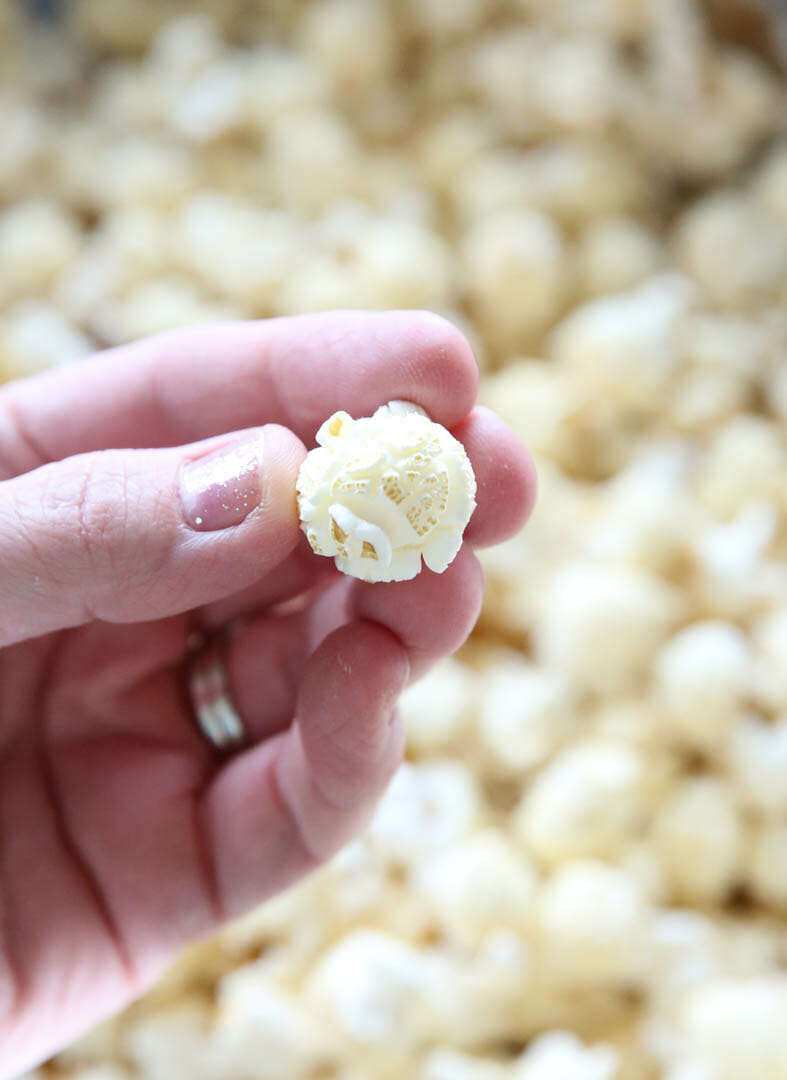 See how perfectly round and HUGE it is??  It is THE best for making caramel corn or popcorn mixes like this one and will make it look super gourmet!  I buy mine from Amazon, this has been my favorite brand so far with the highest ratio of mushroom kernels.  Seriously it's amazing!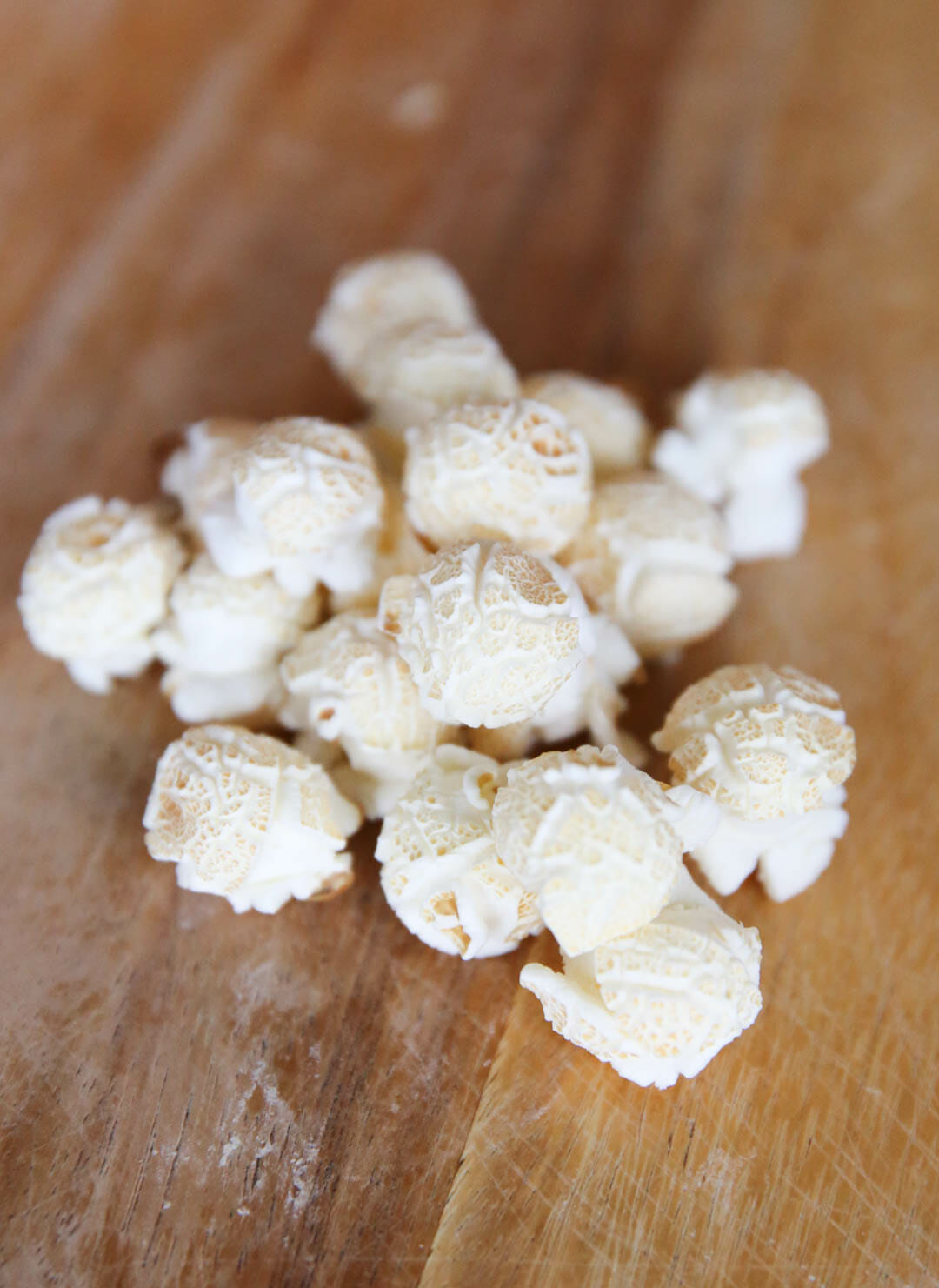 You can also use a bag of microwave popcorn.  If you're doing that I suggest looking for one that's "natural" or just lightly salted so you don't get a weird yellow color.
How To Make Peppermint Bark Popcorn
Once your popcorn is popped and ready, melt some almond bark according to the package directions.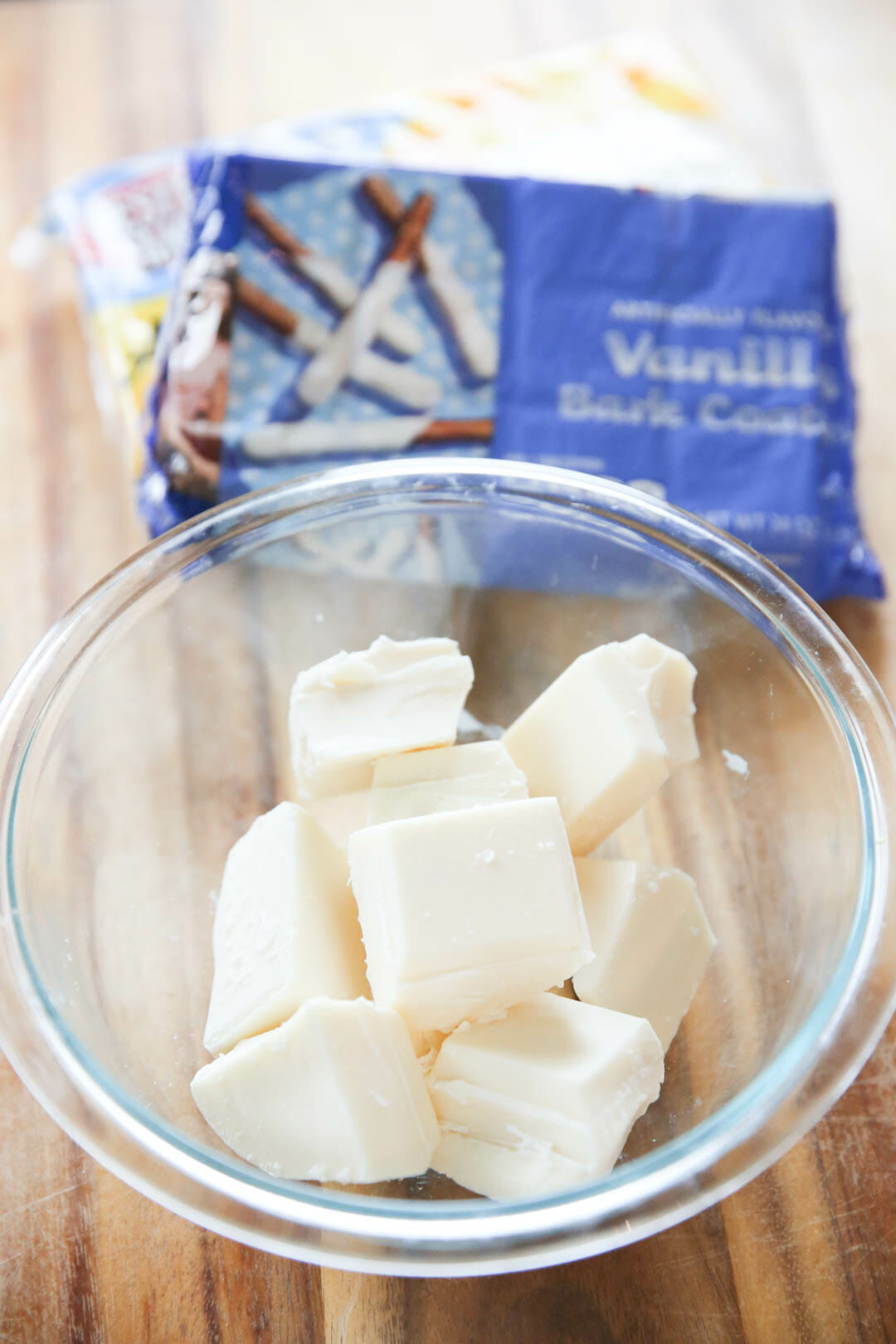 While that's melting, you can smash up some candy canes.  Unwrapping the candy canes to crush them is the most labor intensive step of this easy treat, so you can do that ahead of time if you want to. I put my candy canes in a large zip-lock bag and have a whack with a heavy marble rolling pin or my meat mallet.  Put your bag on top of a kitchen towel to make it easier.  Either dump them in with your popcorn, or I toss them right on top of my melted almond bark.
You'll also add in some peppermint extract, or peppermint oil.  Extract can sometimes seize up the almond bark just a little, but it shouldn't be a problem. Just stir it around quick and pour it over the popcorn and start tossing.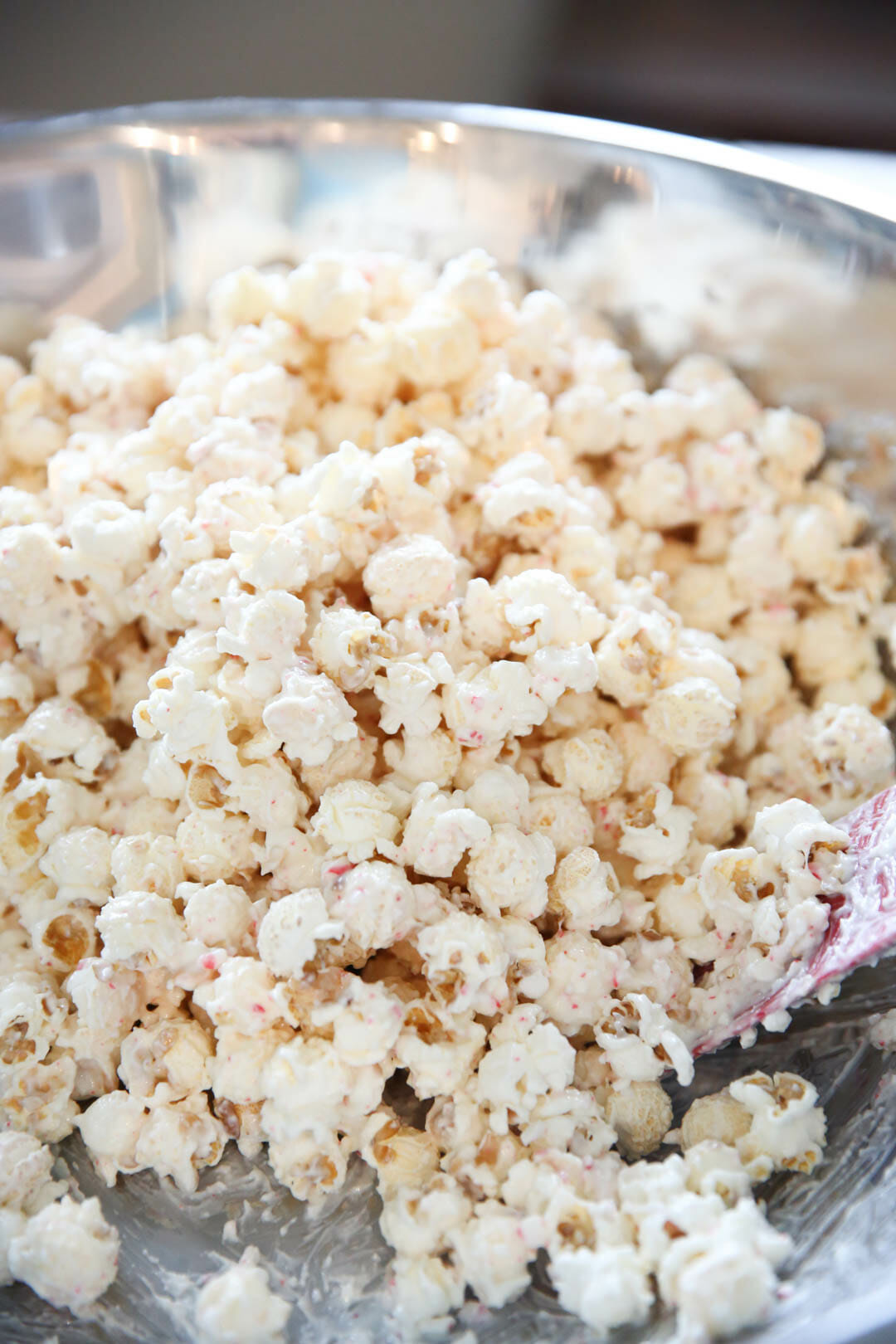 Stir everything until it's well coated and then pour it out onto a piece of waxed paper, parchment, or foil. Spread it out into an even layer.  If it's cold outside, I set this out on my porch to harden up while I mix up the last step.  
While the popcorn is setting, place chocolate chips in a microwave-safe bowl and microwave in 30 second intervals until melted and smooth. I really like dark chocolate to counter-balance the sweetness of the almond bark, but I know there's a lot of dark haters, so do what you want!  Drizzle the melted chocolate over the popcorn. You can use a fork, or put it in a zip-lock bag with the corner cut off.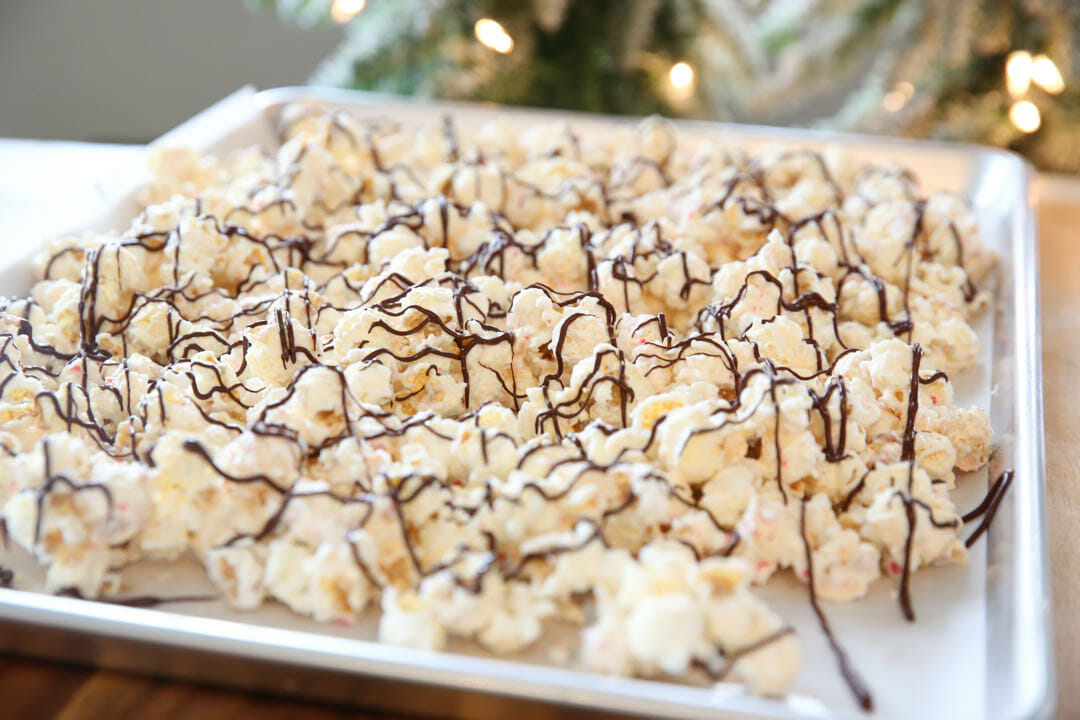 Leave it until the almond bark and the chocolate is hardened. If you need to hurry it up, do this whole process on lined cookie sheets you can pop in the fridge.When chocolate is hardened, use your hands to break up popcorn into chunks. Toss in a bowl, a jar, a cute package, or in your mouth, and done!
FAQs
Can I just use white chocolate instead of candy coating? This recipe is written for candy coating. White chocolate can be temperamental (not to mention pricey!), so I don't recommend it for this particular recipe.
Related Recipes You might Like
Did You Make This?
I'd love to hear from you! Snap a picture and tag me on Instagram, then come back and give this recipe a rating!
Print
---
Description
Makes a deliciously huge batch — perfect to give around the holidays!
---
16

C popped popcorn* (fresh, or about

2

bags microwave popcorn)

1

lb almond bark

1

6 ounce box candy canes, crushed (about

1

generous cups, Bob's brand are best!)

1/4 teaspoon

peppermint oil or

2 teaspoons

peppermint extract**

3/4 cup

semi-sweet or dark chocolate chips
---
Instructions
Place popcorn in a very large mixing bowl.
Melt almond bark according to package instructions. When completely melted, add extract or peppermint oil. If using extract, it's normal for the almond bark to seize (get lumpy) which is okay, just stir very quickly, the more you wait the more it will seize.
Pour melted almond bark mixture over popcorn and pour crushed candy canes on top. Stir to evenly coat. Pour popcorn out onto waxed paper, parchment, or foil and spread out.
Place chocolate chips in a microwave safe bowl and heat in 30 second intervals, stirring in between, until melted and smooth. Drizzle over popcorn mixture. Let mixture dry completely until chocolate and almond bark are hardened. You may place in the fridge to speed process along.
When chocolate is hardened, use your hands to break up popcorn into chunks. Toss in a bowl, a jar, a cute package, or in your mouth!
---
Notes
Notes
If you're using microwave popcorn, try to find an unbuttered or "natural" kind because this looks much prettier if the popcorn isn't bright yellow! Lightly salted is fine, I actually like a little salt in there, but avoid heavy buttered.
Also, if you can find flavored oils, like you would use for candy making, use them as they will best combine with the almond bark. If using extract, it's not unusual for it to cause the almond bark to seize, but just stir quickly and pour immediately on popcorn. Once distributed it will be just fine.
Pin it!