Creme Brûlée. It actually amazes me that after nearly 11 years of blogging we don't have a recipe for creme brûlée posted?? It's one of my favorite fancy desserts to make because despite the high-brow reputation, creme brûlée is deceptively simple to make. One of my favorite tricks for holiday baking is to make candy cane sugar- which is exactly what it sounds like- ground candy canes crushed into sugar and used in your holiday recipes. (Pulverize them even MORE and you get candy cane powdered sugar, also useful.) As I was putting some extra candy cane sugar away recently I had a thought that it would be so great on top of creme brûlée. And not just any creme brûlée, chocolate creme brûlée. So my Chocolate Peppermint Creme Brulee is a creamy rich chocolate-peppermint custard topped with caramelized candy cane sugar. It's gorgeous, it's festive, and it's delicious.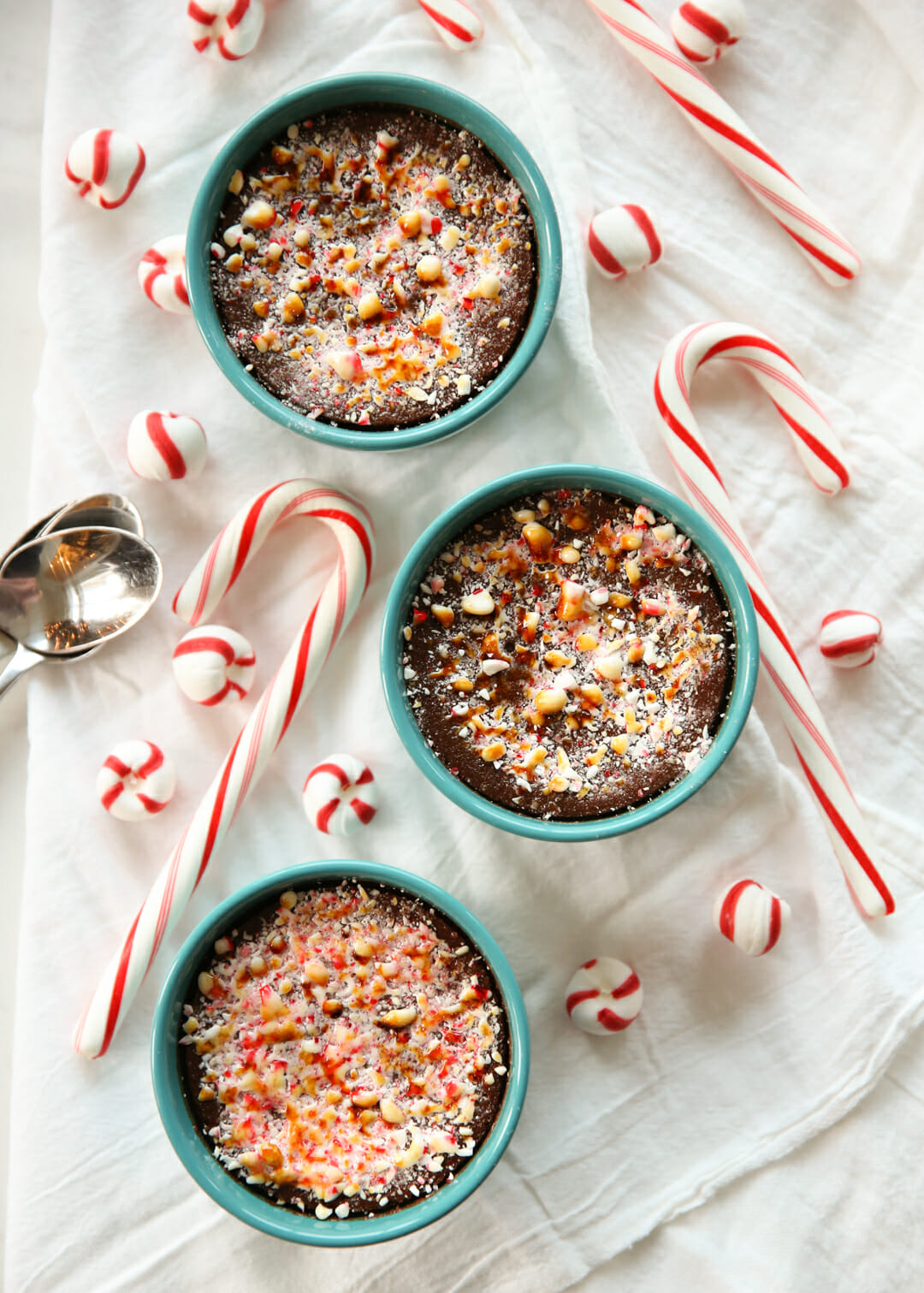 Creme Brûlée is actually made of incredibly simple ingredients. To start, you'll heat some cream on the stovetop and then add in bittersweet chocolate to melt. You can chop up your favorite bar, or do as I do and just grab a bag of bittersweet chips.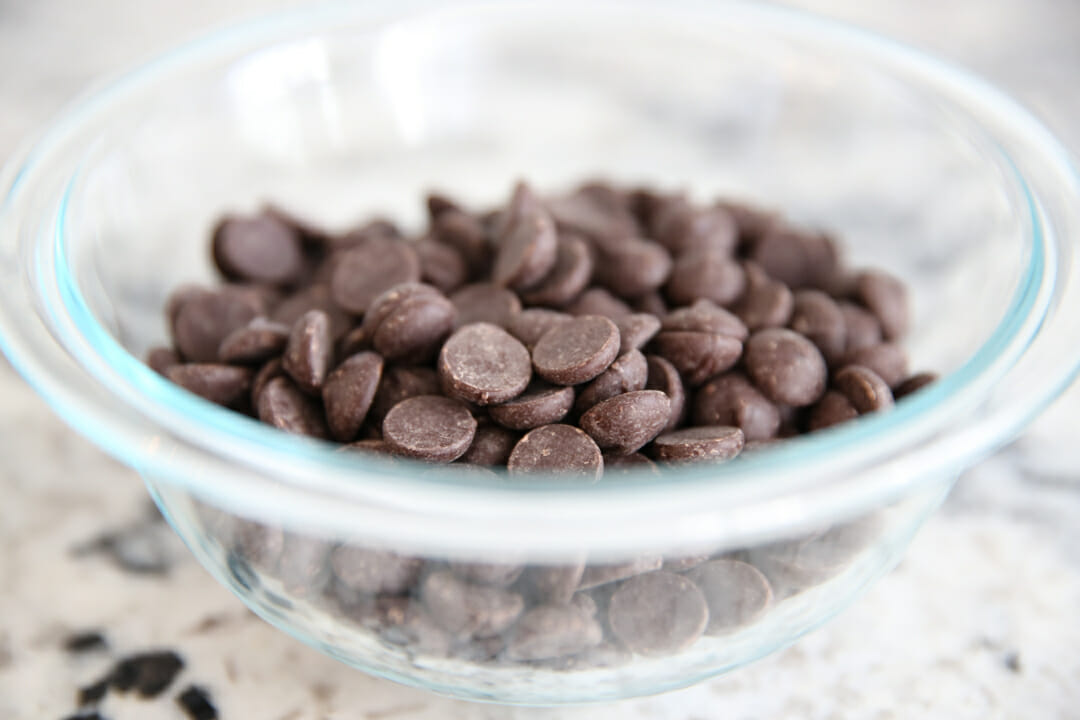 While those are melting you'll mix up some egg yolks and a little bit of sugar. This mixture will transform into this thick, fluffy, pale yellow mixture and you know it's done when it ribbons off a spoon like this.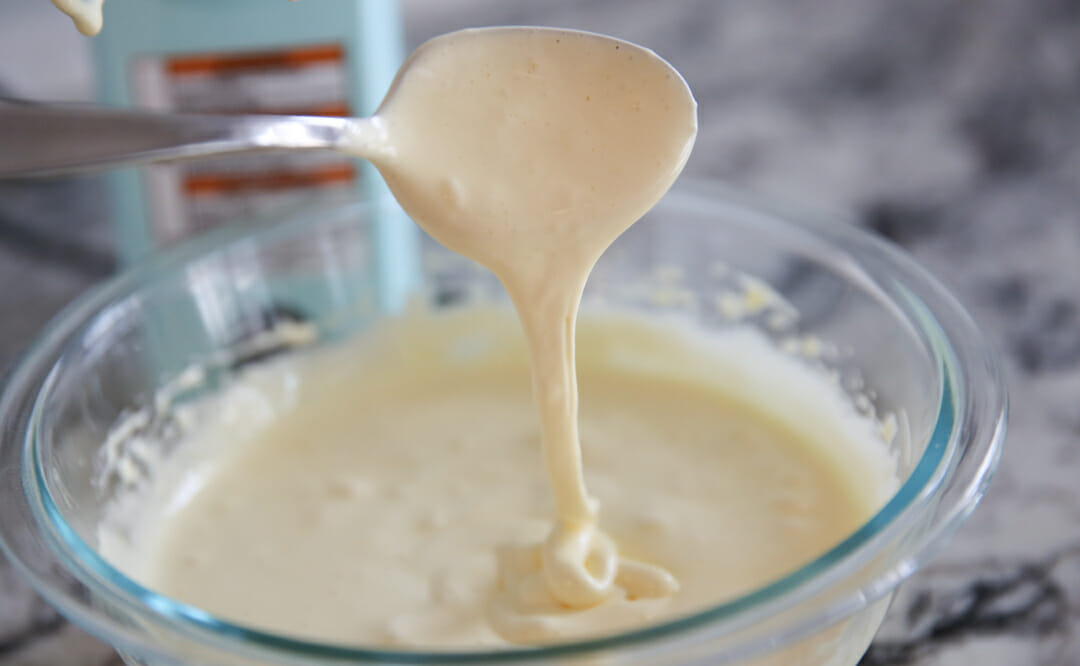 After you've whisked up your chocolate and cream, you'll add it to your egg mixture. Very similar to ice cream batter here, only we're baking instead of chilling!
After it's all mixed up, along with some vanilla and peppermint, you'll fill up ramekins. Now, I really like shallow brûlée dishes for creme brûlée, mostly because I like having a bite of caramelized sugar with every bite, but most people don't own those so ramekins are more practical! This recipe will fill up 4 6-oz ramekins, but honestly these are so rich, I would suggest filling them only half to 2/3 full and making more like 6 from this same recipe. If you need to double like I'm doing in these photographs, this recipe doubles just fine.
You'll notice (just barely) in this photo below that these are sitting in a roasting pan, on top of a dish towel, which helps keep them from sliding around. I've also filled the pan with hot water so it reaches about half way up the ramekins.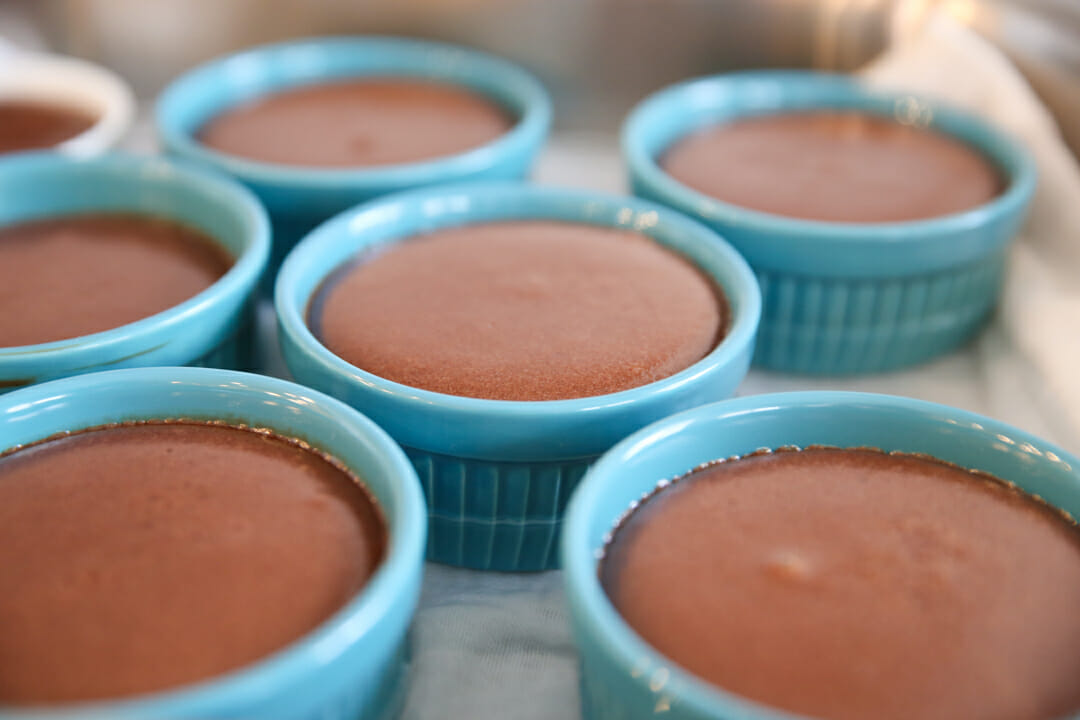 As your ramekins are baking, you can pulverize your candy canes to make this gorgeous candy cane sugar. I popped mine in my Blendtec and just pulsed a couple times, but you could also use a food processor, or place them in a zip top bag and smash with a mallet.
Super fine sugar like the photo above will caramelize the best, but I really like how slightly larger chunks look. The fine sugar disappears on the dark chocolate, while little bits of candy canes stay in tact after caramelizing as you can see in my photos. Totally personal preference. It is a little harder to caramelize the larger chunks and you have to be careful about burning them, but it can be done!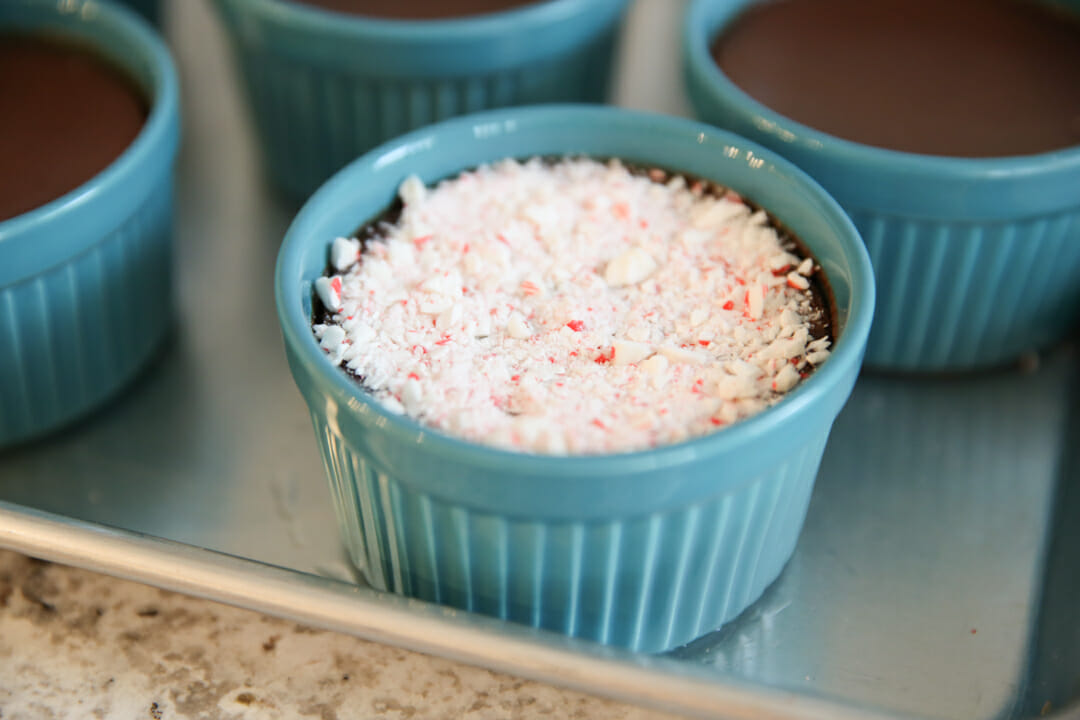 Now, the most useful tool for caramelizing sugar like this is a kitchen torch! Rest assured, if you don't have one you could very carefully put these under a broiler. A kitchen torch is super fun though, and not super expensive so it's a really fun gift for any food-loving people on your gift list this year!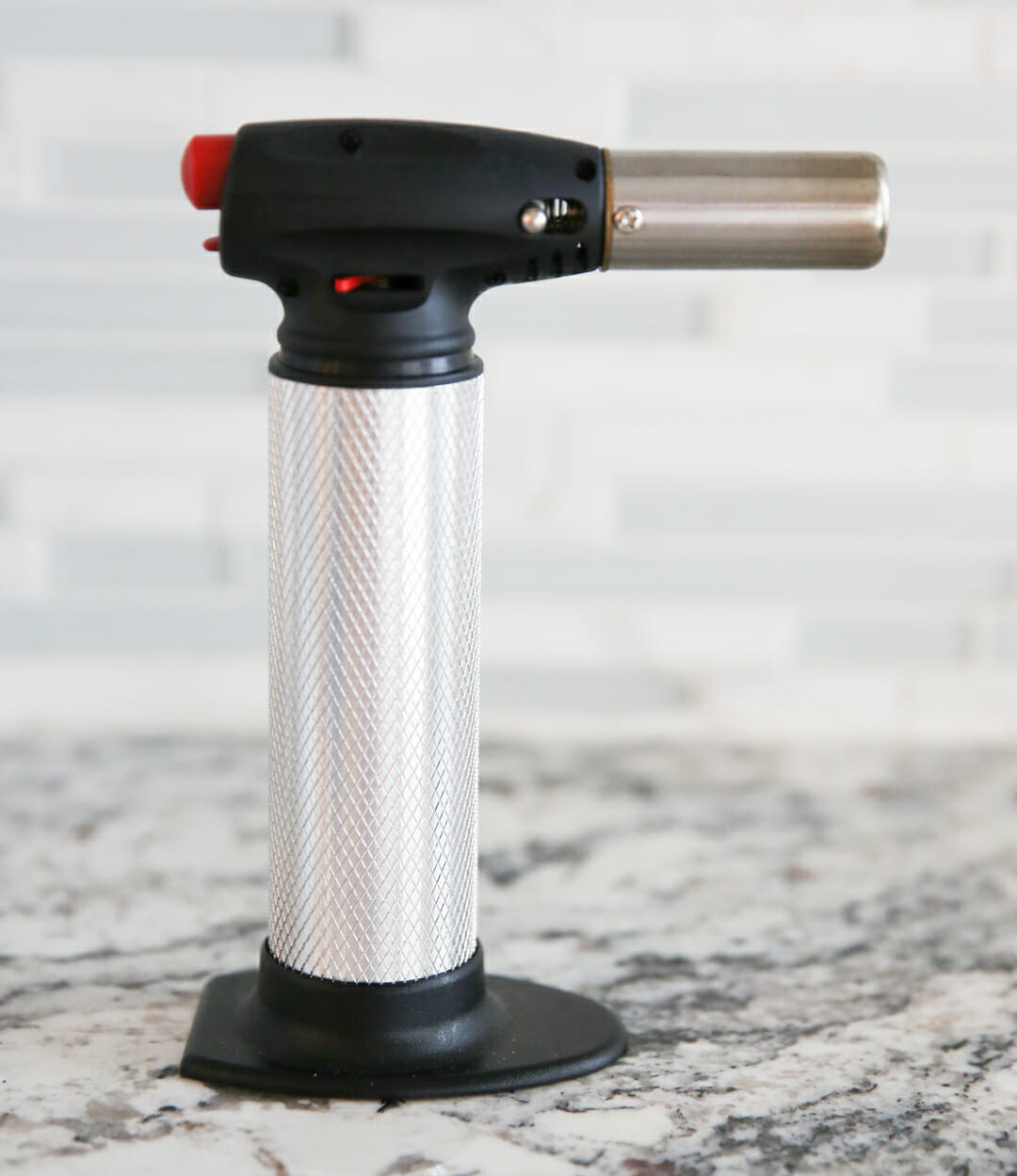 If you have a kitchen torch then you probably already know how to do this, but just gently run it over the sugar and it will melt and turn into a crisp crackly sugar.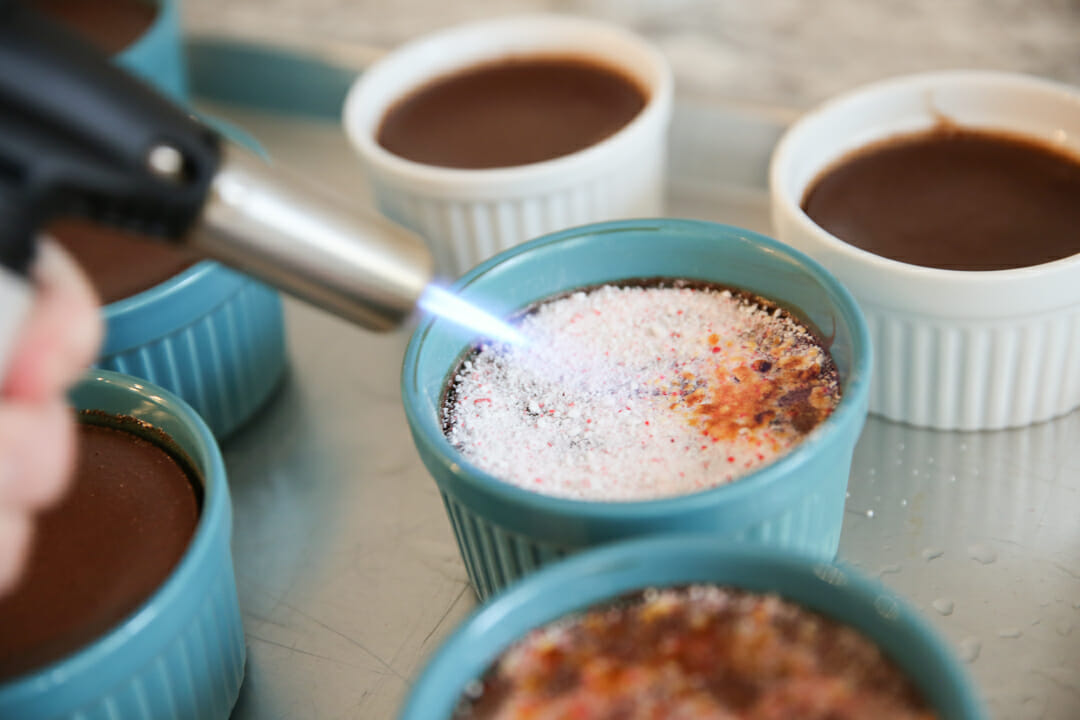 You can see how this one has larger chunks of candy cane. It ends up chewier, but I love how it looks and how you can tell it's candy canes!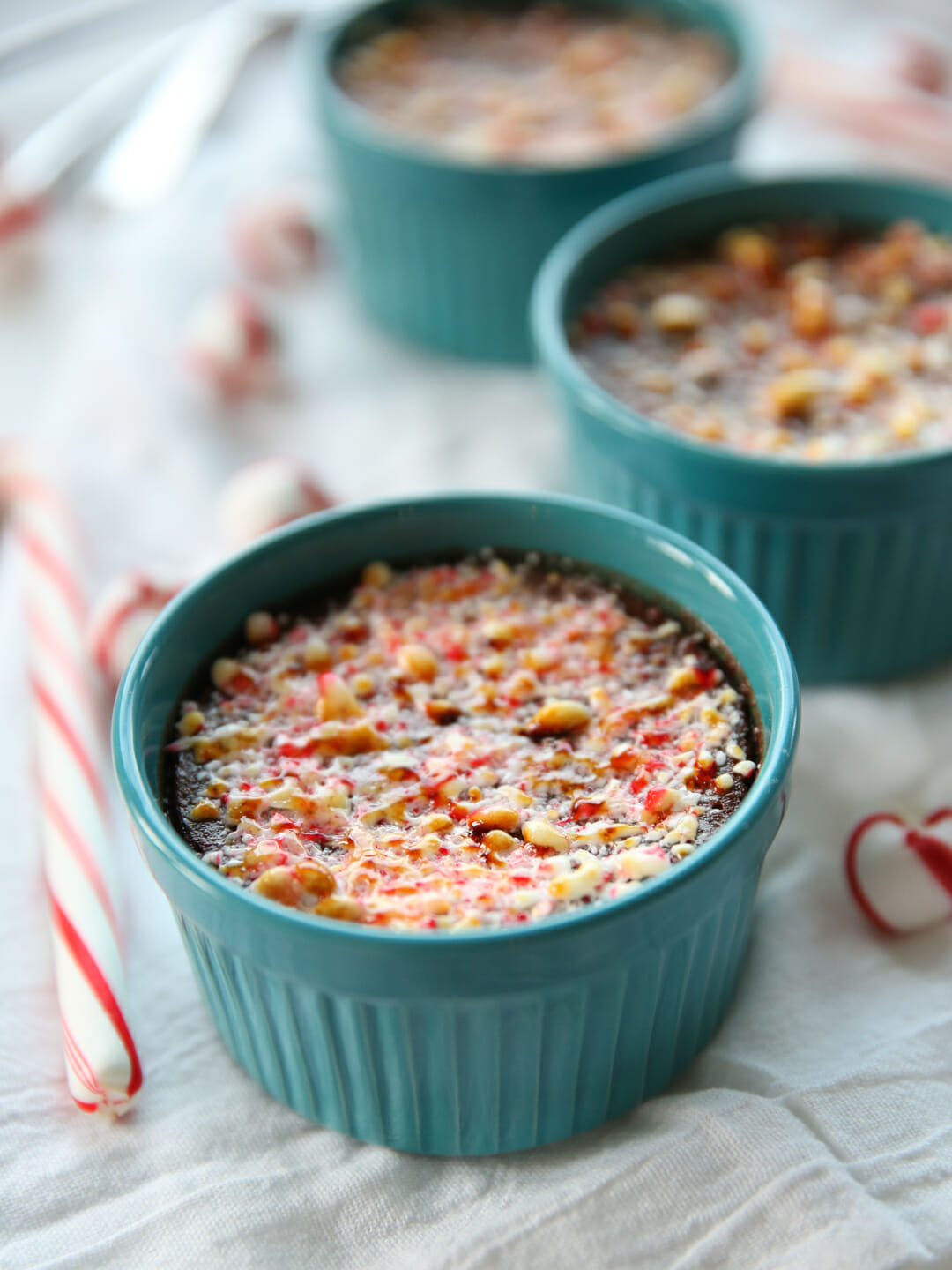 The absolute BEST part of eating creme brûlée is cracking your spoon through that sugar for the first time.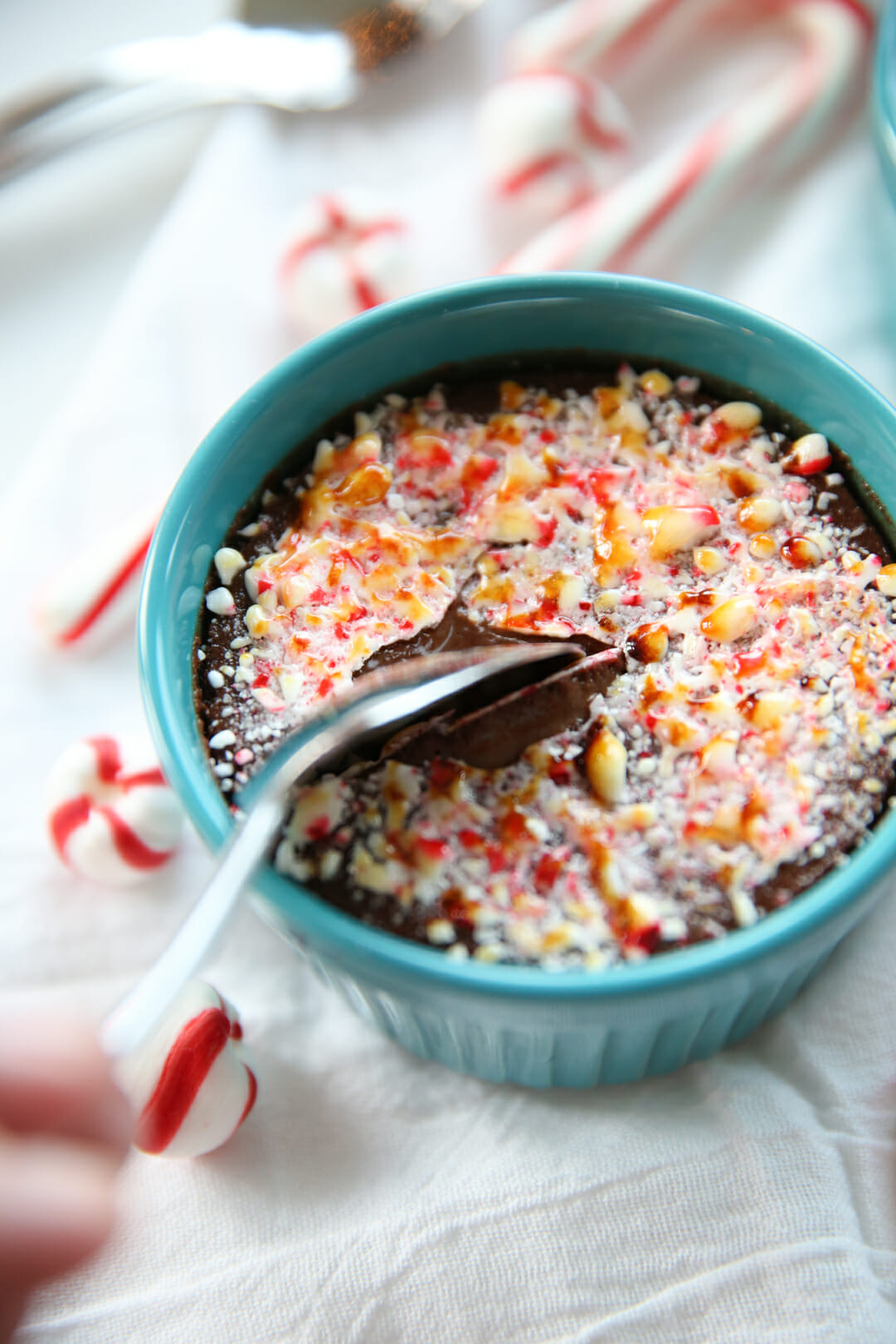 This is a fun, elegant (yet easy!) dessert to make this holiday season. Try it out and let me know what you think!
Print
Chocolate Peppermint Creme Brûlée
---
Description
Creamy decadent chocolate peppermint creme with caramelized crushed candy cane sugar on top. The perfect holiday dessert!
---
2 cups heavy cream
3 oz bittersweet chocolate (chopped bar or chips)
4 egg yolks
2 tablespoons sugar
1 teaspoon vanilla extract
1/2 – 1 teaspoon peppermint extract
1–2 candy canes
---
Instructions
Place oven rack in the center of oven and preheat to 325 degrees. Place a dish towel in a shallow baking pan and set aside. Boil a kettle of water and have on hand.
Heat the cream in a medium sauce pan on the stove until hot and just barely bubbling (don't boil). Turn heat off and add chocolate. Let it rest so chocolate can melt.
Place eggs and sugar in a medium-large mixing bowl. Beat with an electric mixer for 3-4 minutes until mixture is pale yellow in color and thick and fluffy.
Whisk the chocolate and cream until smooth and melted and then slowly drizzle the chocolate mixture into the egg mixture while whisking constantly. Stir until completely smooth and whisk in vanilla and peppermint.
Place ramekins in the pan lined with the dish cloth (see note below about how many ramekins and how full to pour.) Place pan in oven and carefully pour your hot water into the baking pan until it reaches half way up the outside of the ramekins. Gently tent the pan with foil.
Bake for 30-35 minutes, slightly more if your ramekins are filled quite full (like mine in these photos!) . They should be just set around the edges and still jiggle when you gently shake the pan.
Remove ramekins from water bath and place on a cooling rack to cool to room temperature. Cover and chill for at least 4 hours or up to 3 days.
When ready to serve, crush candy canes by pulsing them in a high powered blender, food processor, or a mallet (using a plastic bag.) They should be mostly a fine powder, like granulated sugar, with some larger chunks if you prefer.
Use a torch to caramelize the sugar and serve immediately.
---
Notes
This recipe will fill 4 6-oz ramekins, however it is quite rich and can easily make 6 servings not filled quite so full. It also doubles just fine so feel free to make a large batch if desired!