So, strangely enough one of the cookies I make the most at home isn't postedhere on the blog.  I'm sure many of you are familiar with the beloved "Homemade Oreos" most often made with cake mix cookies (and ohhh my gosh I didn't even remember we had that link up.  Talk about lost old post!  It was written in June of 2008, when our blog was a whopping 3 months old and it's totally old school, I love it)  and a yummy cream cheese frosting, like this.  And my most favorite thing to do is make the Christmas version with peppermint extract.  I've been on the hunt for a long time for a non cake-mix version of the cookie.  There's tons out there and I've tried many and haven't found exactly what I was looking for.  They were often cakey or too crispy, or too whoopie-pie-ish.  I wanted soft, but chewy with a sweetness that wasn't overwhelming when sandwiched with frosting.  I was excited when I spotted this recipe on Cooks's Country this week and made it right then and there.  It's exactly what I was looking for; I love it when that happens. The cookies are not only adorable (I made mini cookies) but they have the perfect almost brownie-like texture and flavor, with a slightly chewy outside and soft center.  Cook with me!
Interestingly enough, these start more like a brownie than a cookie.   You just melt some butter, brown sugar, chocolate chips, and a little water on the stove until it melts.  The recipe calls for unsalted butter, but I'm way too lazy to buy more than one kind of butter at the store so I just use regular salted butter and then cut back on the additional salt called for.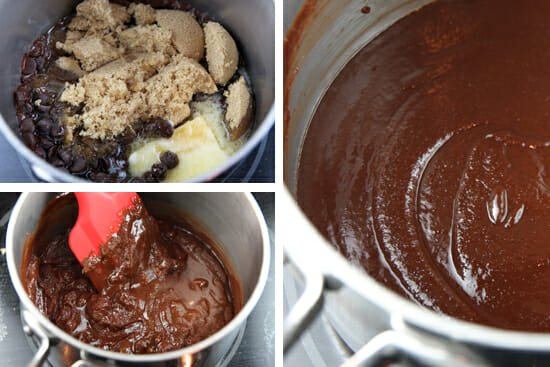 When it gets all melted and smooth (just takes a couple of minutes) beat in an egg, and then add flour, salt, and baking soda.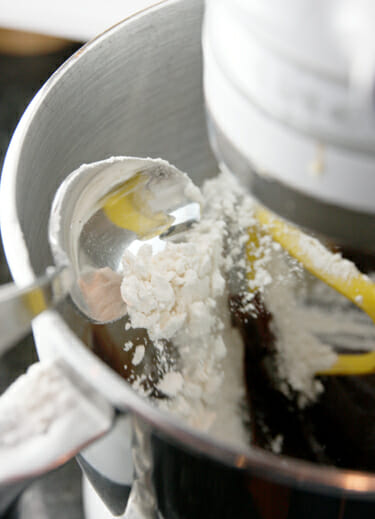 The dough is really soft.  Do not do not do not add more flour.  If it's too soft to work with, just let it sit for a few minutes to set up more (as the butter and chocolate comes to temperature it firms a bit) or even pop it in the fridge for a few.  But you'll probably find like I did that you just need to be gentle and you can drop the dough onto your cookie sheet just fine.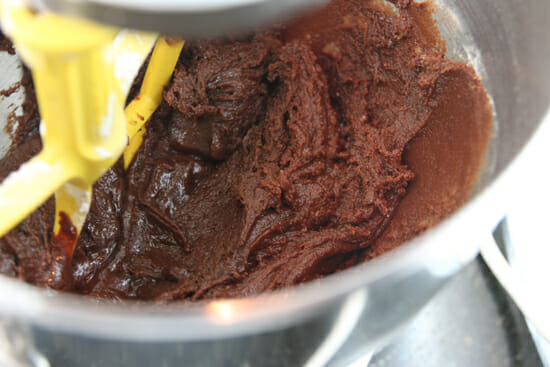 Dough Tip: It's really important when making sandwich cookies to make the cookies a uniform size.  You can measure out the dough, or use a cookie scoop.  When I make sandwich cookies, I like to make them small.  I figure you're already getting 2 cookies in there, so giant ones can be kind of overwhelming.  If I want small cookies, I use my cookie scoop and then just cut the dough so it's even.  For these cookies I cut a scoop from a standard cookie scoop into four.  That's pretty tiny! But the finished cookies were about the size of a silver dollar, which is where I wanted them.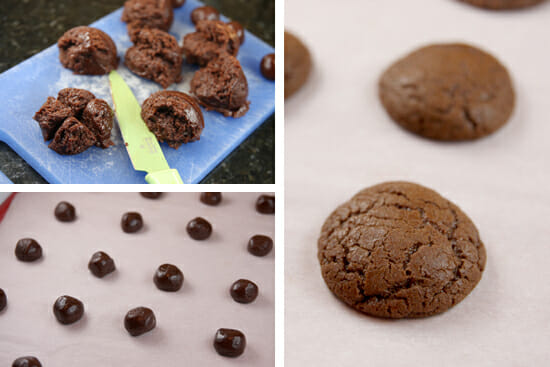 Baking Tip: Now, the most important thing about these cookies is that you don't over-bake them.  In fact, you want to under-bake them.  It can sometimes be hard with chocolate cookies because you can't use color for a visual clue.  Instead look at the texture.  The cookies should be puffed up, and the edges just barely set but the centers still soft.  The cookies in the above picture have been sitting on the pan for a minute cooling so they're starting to crack.  Once they cool completely, they flatten out and crackle like this: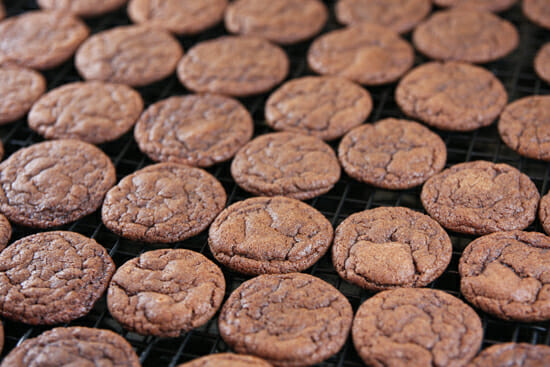 Perfection.
Next step is the frosting.  Now, I'm not sure who exactly wrote this recipe, but we obviously differ when it comes to frosting because I quadrupled the frosting in the recipe to have enough for my liking.  Quadrupled! You can add food coloring if you like or leave it a cool wintery white.
Frosting Tip:  Here's my tip for frosting; keep it on the thick side.  Like, just a little thicker than you think it should be.  With sandwich cookies, you don't want it to smoosh out when you bite into them, so if you keep the cookies extra soft and the filling just a tiny bit firm, then it usually ends up being a pretty good match.  I also go a little strong on the peppermint extract because it mellows out once it's combined with the cookies.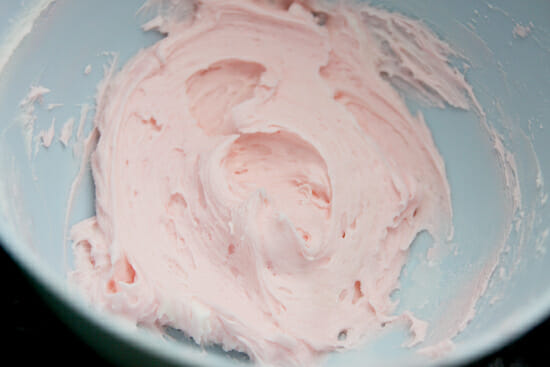 Assembly Tip:  Don't spread frosting on each one.  Put your frosting in a ziplock bag and cut the corner off.  Place cookies that are close in size (because they'll all be a little different) next to each other and pipe on the frosting, staying close to the edge.  It's soooo much faster than spreading it on, especially if you're doing a ton of little cookies like I did.  There should be enough to be generous, but don't go too crazy or it will all just squish out.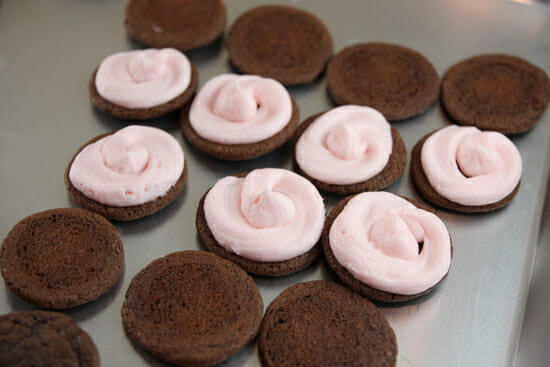 Gently place the the top side of the cookie on, and then you can roll the edges in sprinkles if you want (it's sometimes easiest to pour some sprinkles in the palm of your hand and roll the cookie through them.
You can find so many cute holiday sprinkles this time of year.  I have quite the sprinkle collection because I can't pass them up!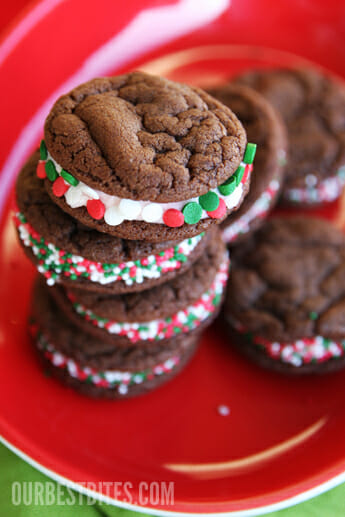 Or try white frosting with cute blue sprinkles for a winter or Hanukkah look.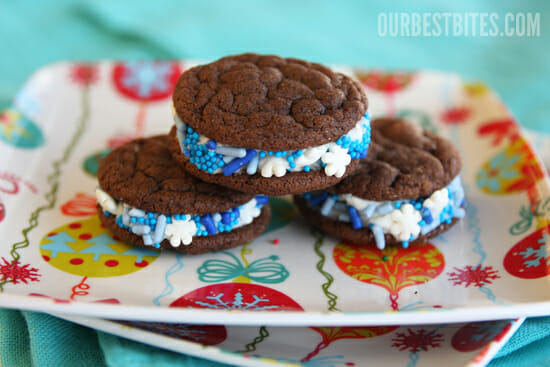 My favorite though, is crushed candy canes.  You only need one or two for a whole batch of cookies.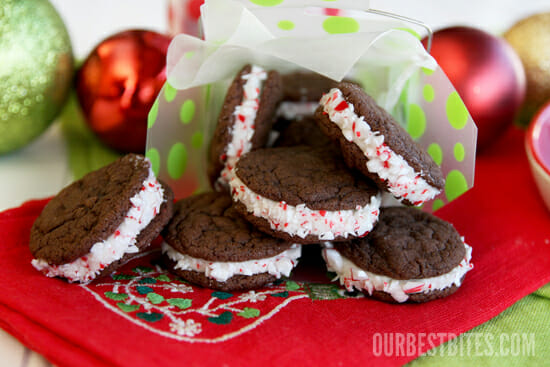 Pop them in some cute containers and you're all set for giving (or munching!)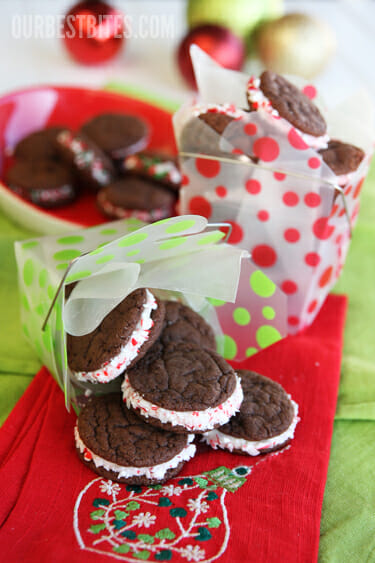 *Edit:  Several readers have asked, so for clarification- the recipe written below is altered from the original and includes all of my modifications, including the increased frosting amount.
Chocolate-Peppermint Sandwich Cookies
Recipe slightly adapted from Cook's Country

Ingredients
1 1/2 cups flour, lightly spooned into measuring cups and leveled (don't scoop!)
3/4 teaspoon baking soda
1/4 teaspoon table salt
1 cup semisweet chocolate chips
3/4 cup packed light brown sugar
5 tablespoons real butter
1 tablespoon water
1 large egg lightly beaten
Frosting Ingredients
1/2 cup real butter (1 stick)
2 cups powdered sugar
1/2 –  1 teaspoon peppermint extract
milk, as needed for consistency
optional: red or green food coloring and sprinkles or crushed candycanes
Instructions
To make cookies, preheat oven to 350 degrees.  Line 2 baking sheets with parchment paper.  Combine flour, baking soda, and salt in a medium bowl.  heat chocolate chips, brown sugar, 5 tablespoons butter and water in a medium saucepan over medium heat, stirring until melted and smooth (there will still be grains of sugar though).  Transfer mixture to a large bowl and beat in egg.  Stir in flour mixture until just combined.  Don't overmix.
If dough is too soft to work with, let it sit at room temp for a few minutes to firm up, or place in the fridge for a few minutes.  Gently roll balls, either 1 tablespoon full for large cookies, or about 1/2 inch balls for silver dollar sized cookies.  Place about 2 inches apart on prepared baking sheets.  Bake cookies until just puffed in teh middle and edges are set but centers are still soft.  About 8-9 minutes for large cookies, and about 5 minutes for small ones.  If using 2 cookie sheets, rotate them half way through baking.  Cool for a couple of minutes on the baking sheets and then transfer to a cooling rack and let cool completely.
To make filling, beat all frosting ingredients together, adding peppermint extract to taste.  Add milk by the teaspoonful until a spreadable, but not too soft consistency is reached.   Add food coloring if desired.  Place frosting in a zip-top bag and cut off a corner.  Pipe onto one side of cookie and place another on top.  Roll edges in sprinkles or crushed candycanes if desired.
Yield:  If you use a tablespoon of dough, it will yield 1 1/2 dozen large sandwiches.  If you use a quarter of a standard cookie scoop (about a rounded teaspoon) it will yield 4-5 dozen.