Good chocolate is one of life's greatest pleasures.  I'm not talking about sugar-laden drug store chocolate candy. I'm talking about high quality, flavorful, good chocolate.  Good chocolate isn't something you mindlessly munch on; it's meant to be savored.  Eaten slowly, and thoughtfully.  Quality chocolate tastes like more than just chocolate.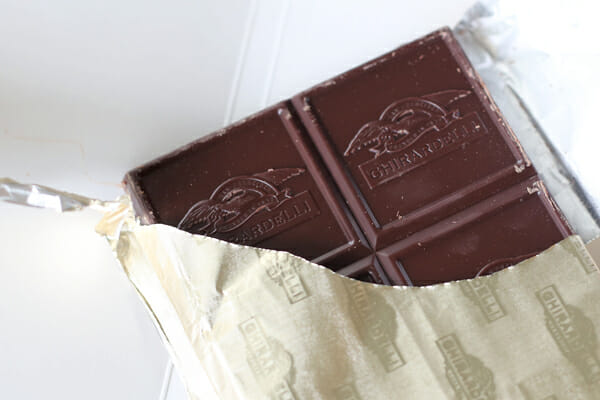 Much like good wine, or different coffee roasts (yes, I do understand the irony of this comparison, considering I do not drink either of those things, but I also understand them from a culinary point of view!) chocolate is greatly enhanced when paired with different food and drinks.  Much like that magical moment at the movie theater, when you take a handful of buttered popcorn and toss it in your mouth with red licorice, or when you combine salted peanuts and candy corn at Halloween, flavors do magical things when they're combined in just the right way.  When you eat dark chocolate, in particular, with different foods and flavors, the nuances of each variety shine through in the most unique ways.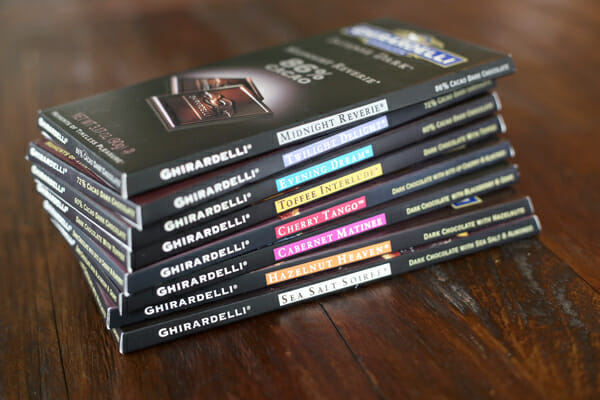 Kate and I have used these Ghirardelli Intense Dark bars in recipes many times around here.  The high-cacao content makes them deliciously intense, and perfect for pairing.  What I'm going to show you today is a fun method of discovering great chocolate pairings.  You could make a variety of these and do a sampling after dinner with guests, or pick your favorite to eat after a long day when you finally get a moment to relax and indulge.  Instead of simply eating the flavor combinations together, I put them together almost like an easy chocolate bark for easy serving.  Packaged up, these would make an sophisticated gourmet foodie gift, too!
To get started, turn on your oven very low, to 200 degrees.  We're just creating a warm environment to slightly soften the chocolate, not melt it completely. Place a chocolate bar on a sheet of parchment paper, on a baking sheet.
Place the pan in the oven and keep an eye on it.  We're not aiming to melt the chocolate, but simply warm it just enough to be able to stick some toppings on it.  I like to keep the Ghirardelli logos visible, so just watch for the top to look glossy, but it should still hold its shape.  It should only take a minute or two.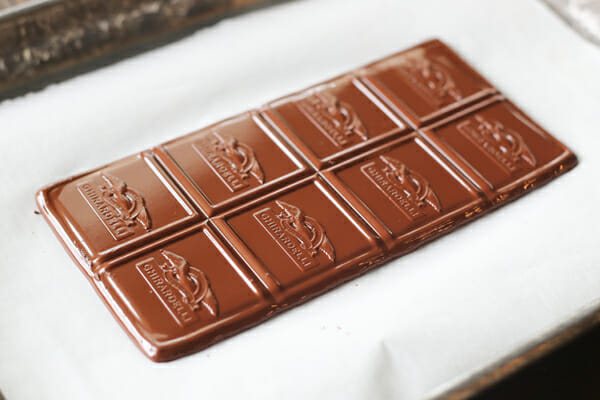 Once you remove the chocolate, have some pairings ready to place on top.  For this 60% Cacao, "Evening Dream" bar, I paired it with toasted coconut and pieces of dried mango, papaya, and pineapple (heavenly!).  Let the bars solidify again; I suggest popping them in the fridge for a few minutes to firm up.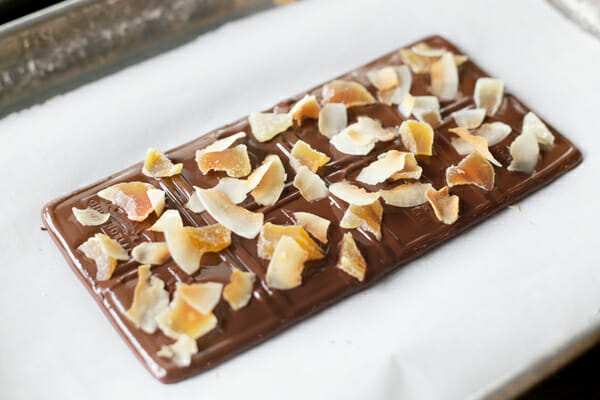 Once they do, you can break them into pieces and taste the flavor combinations.
I played around with all of the varieties of Ghirardelli Intense Dark Chocolate bars, and I'm going to show you my favorite flavor pairings!
Toffee Interlude is tied for my favorite Ghirardelli Intense Dark Bar.  I have to literally hide these from my oldest son because he's just as obsessed.  This particular variety is especially delicious paired with salty snacks, so I knew immediately I wanted to pair it with bacon.
Bacon with sweets isn't an unheard of combination these days, but it doesn't always work, either.  This one does.  The salty crunch of the bacon pieces balances out the sweet toffee bits and melts in your mouth along with the chocolate.  I sprinkled a little extra toffee on top as well to really enhance the sweet and savory combo and it was perfection.
Next up was Twilight Delight, which is rather dark at 72% cacao (the higher the cacao content, the "darker" the chocolate.)  I knew this paired well with toasted nuts and dried fruits so I combined sweet dried blueberries and chopped roasted pistachios.
Besides the beautiful color of the pistachios, the flavor and crunch lends well to to the simple dark chocolate canvas.  Dried blueberries are particularly sweet, so the flavor really enhances a rather dark chocolate and the chewy texture is a nice contrast in your mouth with the smooth texture of the chocolate.  It's almost like eating a really fancy chocolate covered raisin (that tastes 5 million times better than an actual chocolate covered raisin.)
Okay.  Evening Dream.  60% cacao is a great balance for people who aren't sure how keen they are on dark, dark chocolate.  It still has a subtle sweetness to it, but not enough to make you forget it is indeed, dark.
This combination was declared the family favorite.  I paired it with sweet caramel popcorn, crunchy pretzel chunks, and then sprinkled it with coarse sea salt.  The combination of flavors that combine in your mouth is amazing.  You have the sweetness from caramelized sugar on the popcorn, and the flavor and texture of those crunchy pretzels with coarse salt on them, and as it all melts in your mouth surrounded with chocolate, little hints of salt peek through.  It's fun and kid-friendly, but completely sophisticated for an adult palate.
Finally, my other favorite variety of Ghirardelli Intense Dark: Sea Salt Soiree.  I knew I wanted to pair this one with plump, sweet dried cherries, and I decided to add some additional toasted almonds to the top as well.  If you're serving something like this to guests, I think it's important to clearly show things that contain nuts (like this chocolate bar) when it might not otherwise be obvious.
You'll also notice I'm demonstrating an alternate preparation method here.  Instead of preparing the entire par and breaking into chunks, I separated the chocolate bar into squares before warming.  I love the salty undertones in this dark chocolate and they pair perfectly with those sweet and tart cherries.
We've saved the darkest for last.  Midnight Reverie: 86% Cacao.  This is serious business, folks.  I love chocolate this dark.  Since it's so dark, and will have the least amount of sweetness to it, you can really load on sweeter toppings and it all balances out.
For a fun take on a classic combo, I took some marshmallows and toasted them under my broiler for just a few seconds before adding them to the chocolate bar.  A little crumbled graham cracker was the perfect finishing touch.  I actually think this pairing would taste amazing with any of the Intense Dark varieties, and it would make a beautiful, gourmet custom gift if packaged up in a cute box.
These really are fun to experiment with.  You can buy these bars at most regular grocery stores, so pick up a few on your next trip and grab a few items to pair them with so you can experiment with the flavor combinations yourselves.  You'll be amazed and surprised at how different things bring out the different flavors.  It's a fun and indulgent way to decompress after a long day, or a sophisticated treat to share with guests after a dinner.  Let us know if you come up with any great pairings of your own!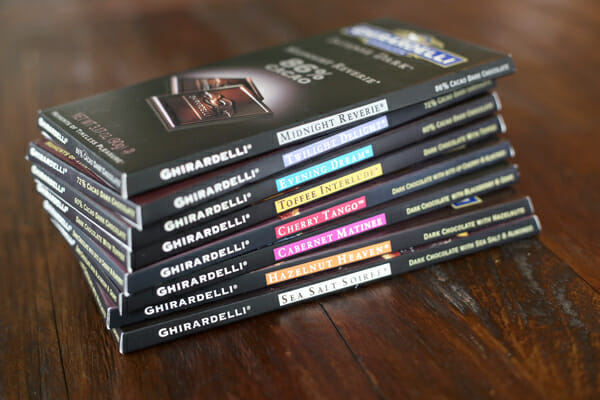 Easy Gourmet Chocolate Bark
Tutorial by Our Best Bites
Instructions:
Preheat oven to 200 degrees.  Unwrap a Ghirardelli Intense Dark bar and place on a sheet of parchment paper on a baking sheet.  Warm in oven until just barely soft and slightly glossy on top.  Remove from oven and immediately sprinkle desired toppings on.  Let set again to room temperature, or place in fridge to speed up process.
Note: These are best made and consumed fresh.  If left to sit for longer than a day or so, chocolate still tastes amazing, but might take on some discoloration.