First of all, we have some super, super exciting news. After nearly a year of planning, planning, testing, cooking, writing, photographing, agonizing, organizing, not sleeping, and stressing, we are officially done with the manuscript for our second book! There's lots and lots of work ahead for us, but this is such a huge, monumental milestone and we're so grateful to all of you who have stuck with us, been patient through weeks of sweet treats (because we were busy writing actual dinner recipes for the book), and have given us hope that someone will buy the next book. We love you guys and can't ever thank you enough for being the best blog readers ever.
In the last year or so, I've kind of been having a love affair with quinoa. It's so versatile and delicious and healthy. It's quicker-cooking than brown rice, but you can use it in so many of the same ways that we've started using it quite a bit instead of rice.
One of my favorite ways to eat quinoa is in salads (like this one or this one). I love this particular salad because it has pomegranate arils, which I love, but I can only eat in small quantities because the juice hurts my teeth (yes, I'm 90 years old) and smooth, creamy bites of avocado. You'll need cooked quinoa, seeds from 1 pomegranate, about 1/2 of a red onion, 1/2 of a cucumber, 1-2 avocados, a can of drained and rinsed garbanzo or great northern beans, about 1/4 cup chopped cilantro or parsley, and kosher salt and freshly ground black pepper. For the dressing, you'll need juice from an orange, lemon, and lime, a clove of garlic, a little bit of pure olive oil (extra-virgin is a little too strong here, at least for my taste), a bit of sugar or other sweetener, and a little more kosher salt.
Place the beans, peeled/seeded/diced cucumber, minced red onion, cilantro or parsley, and pomegranate arils in a large bowl…
and toss with your hands until combined.
Add the chilled quinoa and toss to combine. To make the dressing, whisk together some freshly squeezed orange juice, lemon juice, lime juice, 2-3 teaspoons of sugar (or honey, agave, or Splenda if you prefer), 2 tablespoons oil, and about 1/2 heaping teaspoon of kosher salt. Drizzle it over the salad and chill until ready to serve. When you're ready to serve, add 1-2 diced avocados (depending on the size of and love for avocados) and serve. This can either be a light meal or served as a side dish.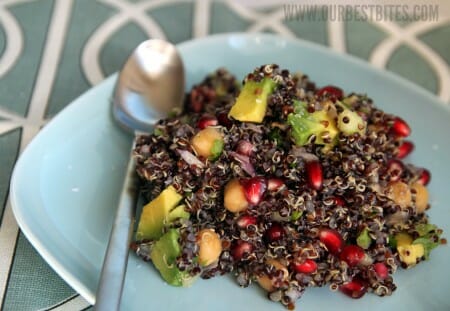 Citrus-Pomegranate Quinoa Salad
Recipe by Our Best Bites
Ingredients:

1/2 medium cucumber, peeled, seeded, and diced
1/2 medium red onion, minced
1/4 cup fresh minced cilantro or parsley
1 cup pomegranate arils
1 can garbanzo beans or great northern beans, rinsed and drained
1 cup quinoa
2 cups water or chicken (or vegetable) broth
1-2 avocados, cut into small cubes (depending on how much you love avocado and how big the avocados are)
kosher salt and freshly ground black pepper
Dressing:
1/2 cup freshly squeezed orange juice (about 1 medium orange)
1 1/2 tablespoons freshly squeezed lemon juice (about 1/2 medium juicy lemon)
1 1/2 tablespoons freshly squeezed lime juice (about 1/2 medium juicy lime)
2-3 teaspoons sugar, honey, agave, or Splenda (just add it to taste)
2 tablespoons pure olive oil
1/2 heaping teaspoon kosher salt
A few cracks of freshly ground black pepper
1 clove minced garlic
Instructions:
Whisk together dressing ingredients and set aside.
Combine diced cucumber, minced onion, chopped cilantro, pomegranate seeds, and drained and rinsed beans in a large salad bowl. Toss with quinoa. Drizzle the dressing over the mixture and toss to combine, then chill until ready to serve. Before serving, add diced avocado and eat immediately. Makes 6-8 main dish servings and 10-12 side dish servings.