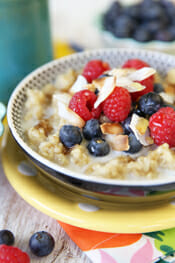 Now that summer is here, one thing I'm really enjoying is not having my mornings so rushed. No more racing to make school lunches, getting kids dressed, and hurrying to the bus stop. While I still have lots to do every morning, I have a little more time for things like breakfast. A couple of years ago, Kate and I went to the Thermador headquarters and there we spent a day with Chef Brad, the king of grains. We had a fabulous breakfast and one of the things Chef Brad made was a hot whole-grain cereal. I looked at the recipe later and it contained like, 9 different grains, half of which I hadn't heard of before, but it was so good. He served up hot bowls and then we could top it with different types of milk, fresh berries, and almonds. That dish, which I still remember after all this time, was the inspiration here, but I wanted to make it a quick and easy recipe, and with ingredients that were a bit more accessible. I really like steel cut oats, but I hate how long they take to cook, and my kids aren't too keen on the crunchy texture. Quinoa has a texture much closer to oatmeal, so it works exceptionally well in sweet dishes. As a legitimate "super food" quinoa packs a punch with a higher protein content than any other grain, and it's complete protein, meaning that it provides 9 essential amino acids. It's also rich in fiber, and low on the glycemic index. Sounds like a good thing to have for breakfast, right?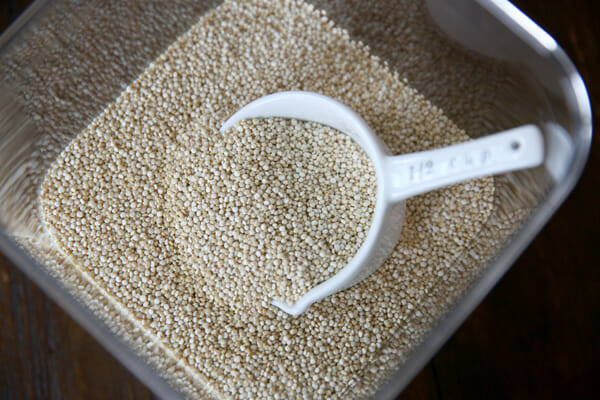 Quinoa, like rice and pasta, absorbs liquid as it cooks, allowing you to actually flavor the grain during the cooking process. Just like we sometimes use broth and seasonings to cook rice and pasta, here I'm using coconut milk. For recipes like this, I always use coconut milk from a carton, which you can find in the dairy section of the grocery store. It has a thinner consistency than even light canned coconut milk, and is generally lower in fat and calories as well. If you're concerned about buying a whole carton, it's actually about the same price as a can, and it's yummy on cereal and in smoothies. You can also use it to make coconut rice to go along with this recipe!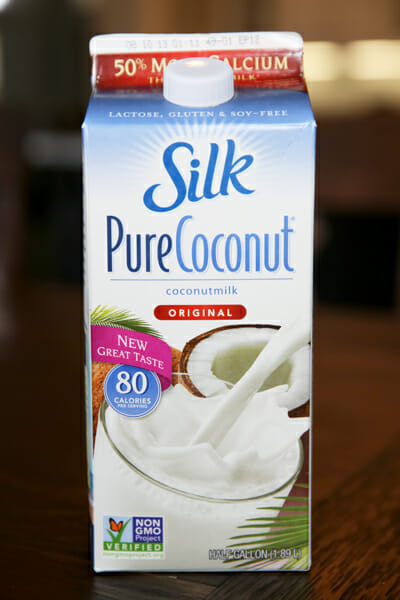 Just place your rinsed and drained quinoa in a pot and add in the coconut milk in place of water. I recommend using a pot that's slightly larger than you think you need because the coconut milk bubbles up quite a bit during cooking.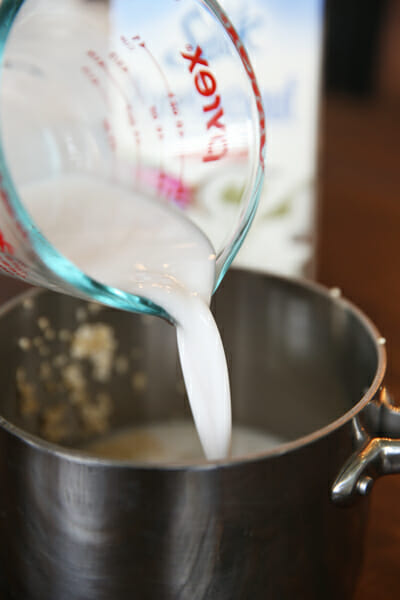 I also add a touch of brown sugar for sweetness and a little almond extract. The extract doesn't give a huge amount of flavor (you can add more, or add it later in the cooking process for a stronger flavor) but I find it enhances the other flavors in this dish and adds a mellow sweetness.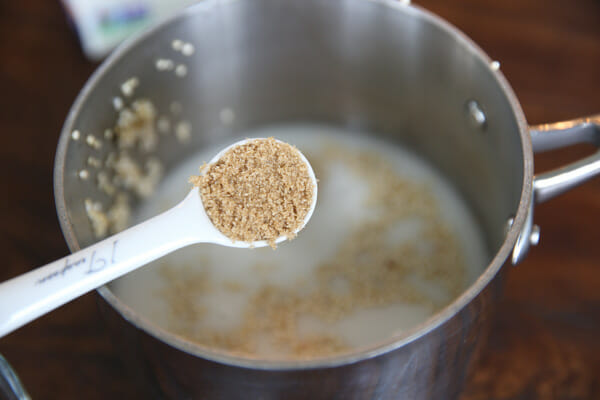 After the mixture comes to a boil, reduce it to a low simmer and cover the pot. Since coconut milk has a thicker consistency than water, you'll want to stir it a few times during the cooking process, and if you find that as I mentioned- the coconut milk is bubbling up too much (and out of your pot) you can crack the lid. PS – ignore my dirty stove top.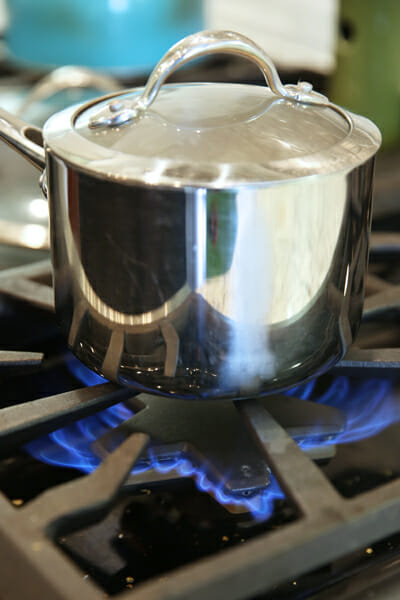 You'll want to cook the quinoa until most of the liquid is absorbed and the quinoa is soft. Because this is a breakfast cereal, it's okay to play around with it and add more liquid if you need it. Since we stir the mixture during cooking, we'll lose a little of our moisture and toward the end, I sometimes add a little extra water or coconut milk to keep it nice and soft. I like mine to be a little porridge-like, so you can customize yours the way you like it as well.
When it's done cooking, serve it up hot. Add fresh berries, some toasted coconut, and a splash of cold coconut milk.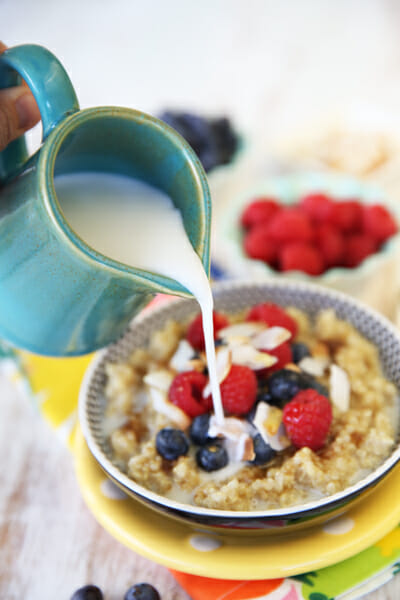 I also like a little drizzle of agave syrup (or you could use honey) and a tiny bit of brown sugar (I use this Splenda brown sugar mix).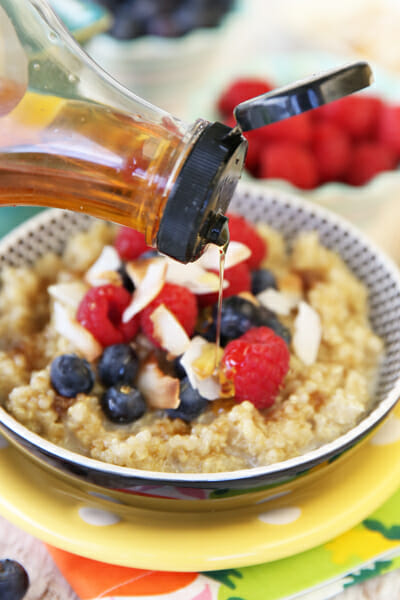 It's packed with good-for-you nutrients, and disguised as a sweet morning treat.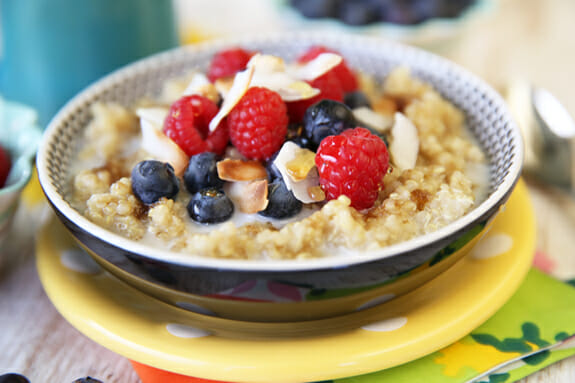 I love the crunch from large flake coconut. You get nuttiness without putting actual nuts in there. And the fresh berries add a pop of both color and flavor along with all of those healthy anti-oxidants.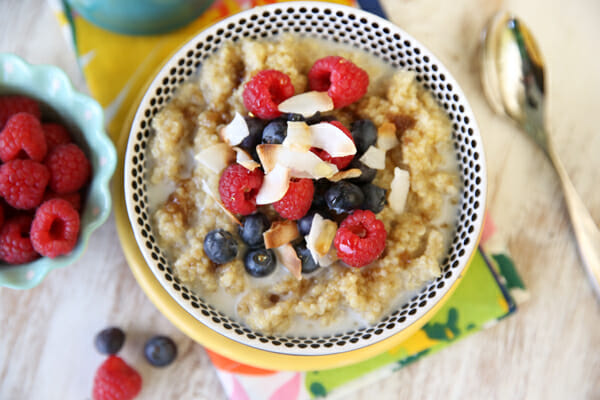 Another thing you can do to save time is cook a big batch of the quinoa and keep it in the fridge. You can pull out a single serving in the morning and just heat it up in the microwave and then add all of y our toppings which you can have all ready to go.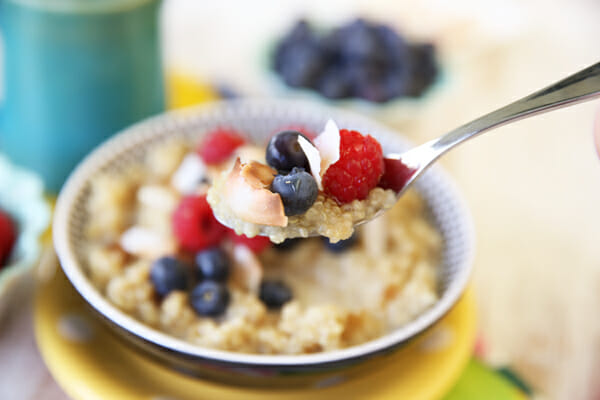 I do that for myself so I won't run straight for the Golden Grahams. Beautiful to look at, delicious to eat, and good for you inside and out.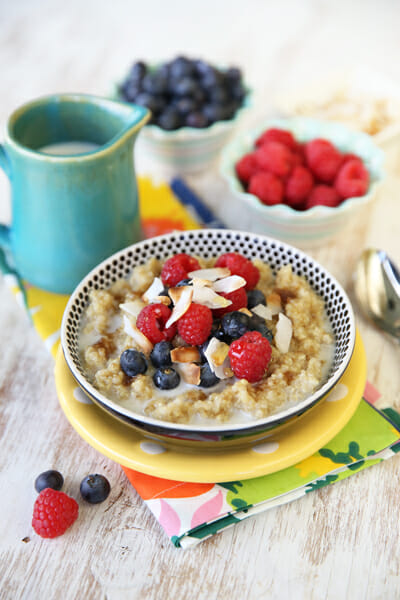 Print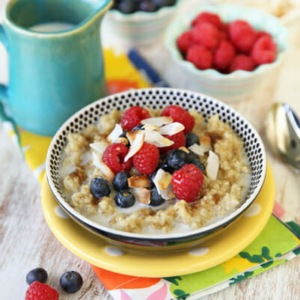 Coconut-Almond Breakfast Quinoa
---
Description
This yummy Breakfast Quinoa is sure to please everyone in the morning! Rave reviews on this one!
---
For the Quinoa
1/2 cup

quinoa, rinsed well and drained

1 cup

light coconut milk (from a carton, such as Silk brand)

2 teaspoons

brown sugar

1/4 teaspoon

almond extract
For Serving
fresh berries
toasted coconut
additional coconut milk
honey or agave syrup
additional brown sugar if desired
---
Instructions
Place rinsed and drained quinoa, coconut milk, brown sugar, and almond extract in a medium-sized pot. Stir ingredients and bring to a boil. Reduce heat to a low simmer and cover pot, preferably with a clear lid (so you can see through it and keep an eye on the quinoa). Stir a few times during cooking. If mixture seems to be boiling out, crack the lid to release steam, otherwise, keep covered. Cook for 10-15 minutes, until liquid is absorbed. In the last few minutes of cooking, feel free to add a little more liquid (water is fine, or additional coconut milk) until desired consistency is reached. I prefer my breakfast quinoa on the soft side with enough liquid to make it more of a porridge.
Divide quinoa into bowls and top with fresh berries, toasted coconut and a splash of additional coconut milk. If desired, add a drizzle of honey or agave or a sprinkle of brown sugar for sweetness.
Yields, about 4, 1/2 cup servings.
---
Notes
Important Note
This recipe is how much I make for myself and 3 kiddos. I get a little more than the 1/2 cup and the littlest guy gets a little less, seems to be the perfect amount for us
Disclaimer: This post contains affiliate links.