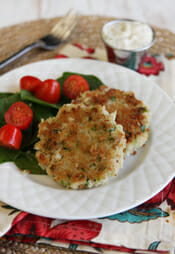 When I was young, many of my favorite childhood comfort foods involved things from the sea.  My Mom's classic Creamed Tuna on Toast, for example, crispy fried halibut on the pier in my hometown of Seattle, and cheesy casseroles with flaky fish.  Everything was wonderful until one frightful day in 6th grade.  Biology was my favorite class; I've always loved science (went on to get my degree in a science field) and felt quite comfortable at a lab table.  So I wasn't too grossed out when I walked into class one rainy day and found slimy, slippery, squid on our tables.  We carefully followed our worksheets, using little scalpels to dissect the squid and identify all of their parts, making note of significant organs, etc.  Then we were instructed to pick up our mangled sea creatures and put them on paper plates.  We grabbed our plates, squid and all, and walked out of the classroom.  Having no idea where we were going, I was surprised when we turned down a particular hallway and entered the Home Ec. room. "Hmm…this is strange." I thought.  "Why would we be carrying our nasty science projects into a room with stoves and frying pans?"  Surely we wouldn't be…
Yes, we would be.  It was called "Incredible Edible Day" and not only did we have to fry up the little slimy guys we had just dissected, we then had to eat them (along with some other interesting things, like octopus tentacles, earth worms and fried crickets- pretty sure that wouldn't fly now days, I'm not even allowed to bring cupcakes to my son's school!)  Needless to say, I didn't touch squid-or anything else from the ocean again for about ten years.  It wasn't until my mid 20's that I realized I possibly didn't have an aversion to seafood– I had an aversion to 6th grade dissected sea creatures in science labs.  When I started to tackle my fears and return to my Pacific Northwest roots, I realized when seafood is actually prepared with great ingredients (as opposed to, say, salt, a frying pan, and prepped by 12 year olds)  it can be quite delicious.  I'm happy to say things like Crispy Baked Fish Sticks and Tartar Sauce, Orange Teriyaki Salmon, Fish Tacos and Creamy Tuna Noodle Casserole make regular appearances at our house now and I love playing around with new recipes and discovering seafood dishes my family enjoys.  I already know I'm a fan of crab cakes; especially with a tangy remoulade.  I spotted this recipe in last month's Cooking Light and loved that it was in the speedy dinner category.  Can't beat a 30 minute meal!
No, this little guy didn't turn into a crab cake 😉  I just thought he was cute. 
I snapped that pic on a beach vay cay last fall.
The remoulade is easy to whip up and most of it is probably already in your fridge.  You might not have capers, but they're a good thing to have around so go get some!  You could serve these crab cakes with this dipping sauce as well (one of my favorites) and it involves capers too.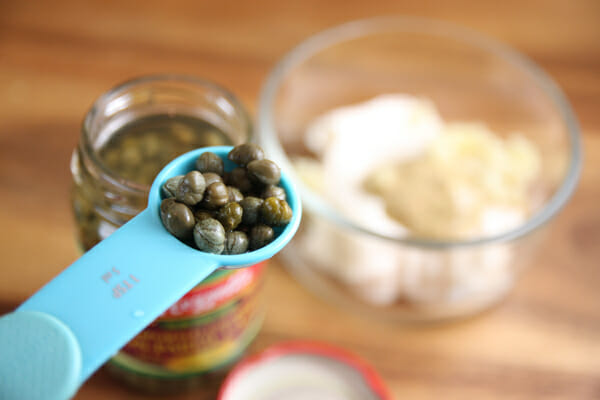 Just whisk the sauce together and pop it in the fridge until you're ready to eat.  You can definitely make it ahead of time as well.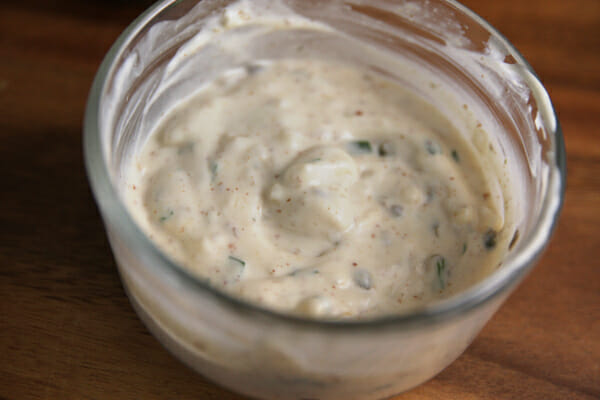 For the crab cakes, combine crabmeat with just a couple tablespoons of mayonnaise, some chopped green bell pepper and green onion and black pepper.  I tweaked this recipe to include some lemon as well, because it goes so naturally with these flavors and brightens the whole dish.  You'll add the zest in the crab cakes and use some juice in the remoulade.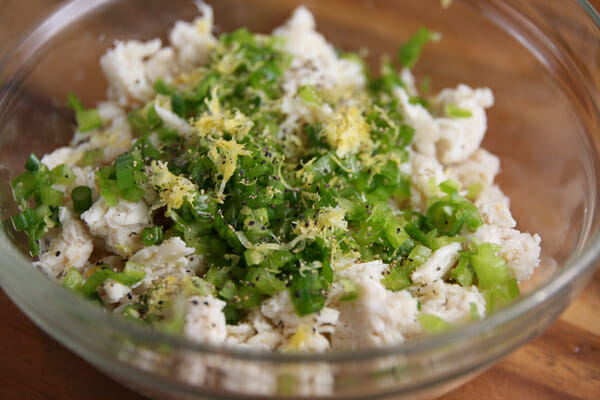 Add a beaten egg and some panko bread crumbs.  These two things act as binders to hold the cakes together.
Form the mixture into 8 patties.  This is a really tender mixture, so work very gently so they stay together.
Dredge each patty in panko, covering both sides.  I like to set the patty down in a shallow bowl of panko and press a little extra onto the tops.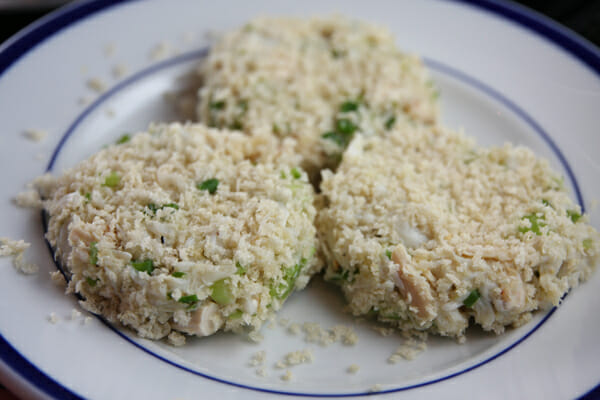 Heat a large skillet to medium high heat.  Here's a few tips when you're browning things like this; whether it be a breaded cake, veggie fritter, or piece of meat.  These are especially helpful if you're using stainless steel and have a problem with things sticking.  Heat up your pan before adding oil.  Once it's nice and hot, drizzle in enough oil to lightly coat the bottom of the pan.  Since your pan is already hot, the oil will heat up immediately.  Place your crab cakes (or whatever you are cooking) in the pan and don't touch it!
One of the most common problems comes when you try to flip something too early and the bottom sticks to the pan and you're left with a huge mess.  The great thing about breaded items like this, or even plain chicken or steak, is that it will form it's own crust and let you know when it's ready to be flipped.  Once it's sufficiently browned, it will release from the bottom of the pan.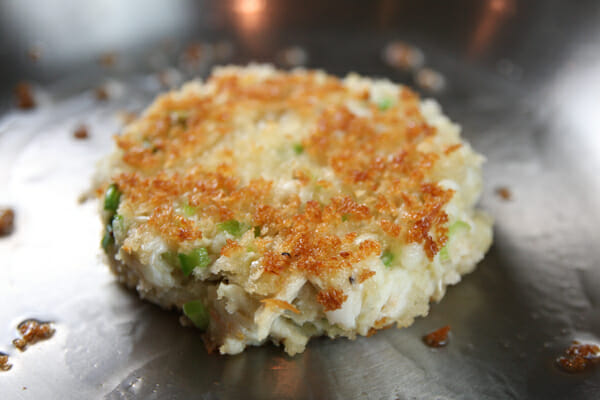 These crab cakes should cook for about 3 minutes, then flip them and cook the other side for about 3 minutes, or until golden brown.  Keep cooked crab cakes in a warm oven and repeat process until all cakes are cooked.  Serve with the prepared remoulade.
You get a nice crispy exterior, with a soft, flavorful interior.  When eaten with the remoulade, it's bursting with flavor (and in under 30 minutes!)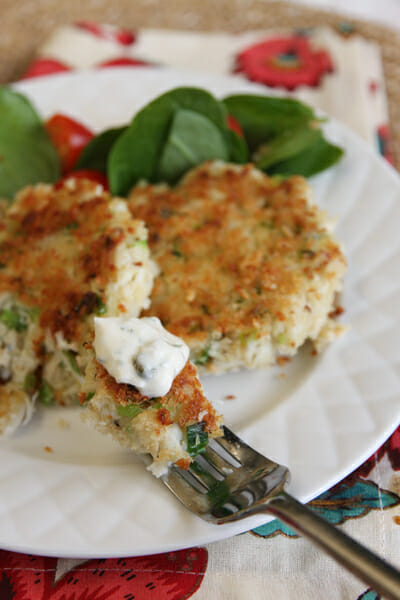 Simple Crab Cakes with Remoulade
Lightly adapted from Cooking Light, April 2012
Crab Cakes
1 pound jumbo lump crabmeat, shell pieces removed
2 tablespoons finely chopped green bell pepper
2 tablespoons mayonnaise
1/4 teaspoon black pepper
2 green onions, finely chopped
zest from one lemon
1 large egg, lightly beaten
1 cup panko bread crumbs, divided (more if needed)
olive or canola oil for pan
Remoulade
1/4 cup mayonnaise
2 teaspoons minced onion
2 teaspoons chopped fresh parsley
1 1/2 teaspoons Dijon mustard
3/4 teaspoon capers, chopped
3/4 teaspoons white wine vinegar
1/2-1 teaspoon fresh lemon juice
pinch of ground red pepper
Mix all remoulade ingredients except lemon juice and red pepper.  Add lemon juice and red pepper to taste.  Store in fridge until ready to use.
To prepare crab cakes, drain crabmeat on several  layers of paper towels.  Place crab meat in mixing bowl.  Add bell pepper, mayonnaise, pepper, onion, lemon zest and egg.  Toss very gently until combined and all ingredients are well distributed.  Add 1/4 cup panko and toss again.  Place remaining panko in a shallow dish.
Divide crab mixture into 8 equal portions.  Form each portion into a patty about 3/4 inches high.  Dredge each patty in panko, on both sides, pressing bread crumbs in gently.
Heat a large skillet to medium-high heat.  When hot, add a drizzle of oil to lightly coat bottom of pan.  Place a few patties in the pan (spaced so that none of them touch each other) and cook for about 3 minutes.  Let patty cook for a full 3 minutes before flipping.  Flip patties and cook for another 3 minutes, until both sides are golden brown.  Repeat with remaining crab cakes and serve with remoulade.  Yields:  4 servings of 2 crab cakes each, and about 2 tablespoons remoulade.