If you haven't noticed yet, we have a thing for salads and dressings around here. I especially love eating at restaurants with great house-made dressings.  When we go out to eat and the server asks which dressing I want, I feel like the adult thing to do is ask for the vinaigrette, but honestly, what always sounds the best is ranch.  One of my favorite things in the world is a great, homemade Ranch dressing.  I'm convinced someone came up with the term "House" dressing because there's no way to not sound like a 5-year old when asking for Ranch in a public dining establishment. One of my favorite local restaurants is Fork, in downtown Boise.  They have a fantastic House dressing that's basically a great buttermilk Ranch infused with fresh basil.  The last time I ate there I told my husband I needed to go home and make some myself, so here we are.
 I started with my favorite homemade Ranch Dressing.  I could drink that stuff it's so good. Everything can be whipped up in literally 3 minutes or less in a blender.  Once that's mixed, Just add about a cup of loosely packed basil and a small clove of fresh garlic.
You'll process it until the basil is broken up into little pieces and the dressing takes on a pale green color.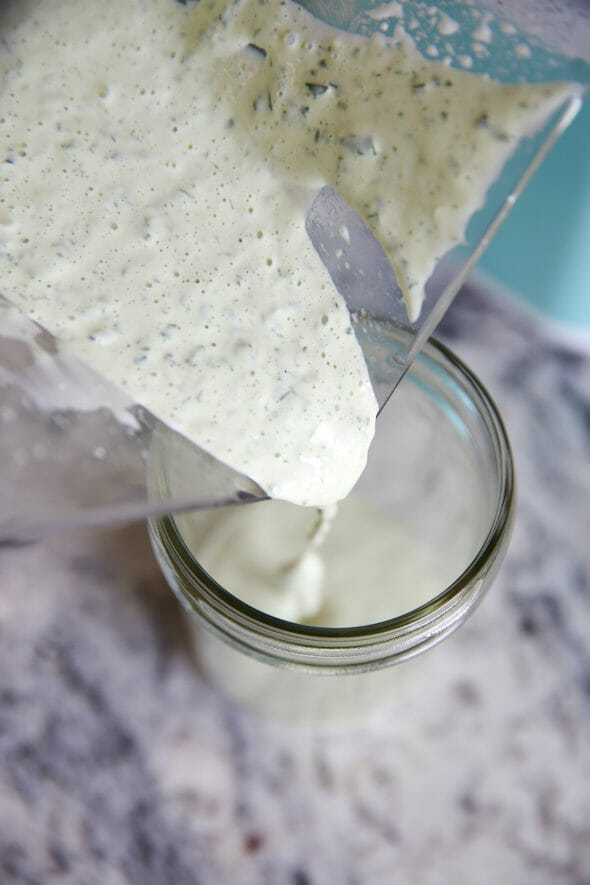 You can definitely eat it immediately, but let it sit for an hour or so in the fridge and the flavors really come out.  It has the perfect little tang with just the right amount of garlicky herbs.
Obviously it's great on salads, but think outside the box on this one.  This is awesome drizzled over a big sandwich or even pizza.  I grilled up a mini flatbread (brushed with Lemon Olive Oil first) and layered fresh spinach, grilled chicken and cherry tomatoes on top and then drizzled this Creamy Basil Ranch over the top and it was amaaazing.
Then I went rummaging through my fridge and pantry literally looking for anything I could dip.  And I dipped it all.  This is such a great twist on classic ranch; hope you try it out!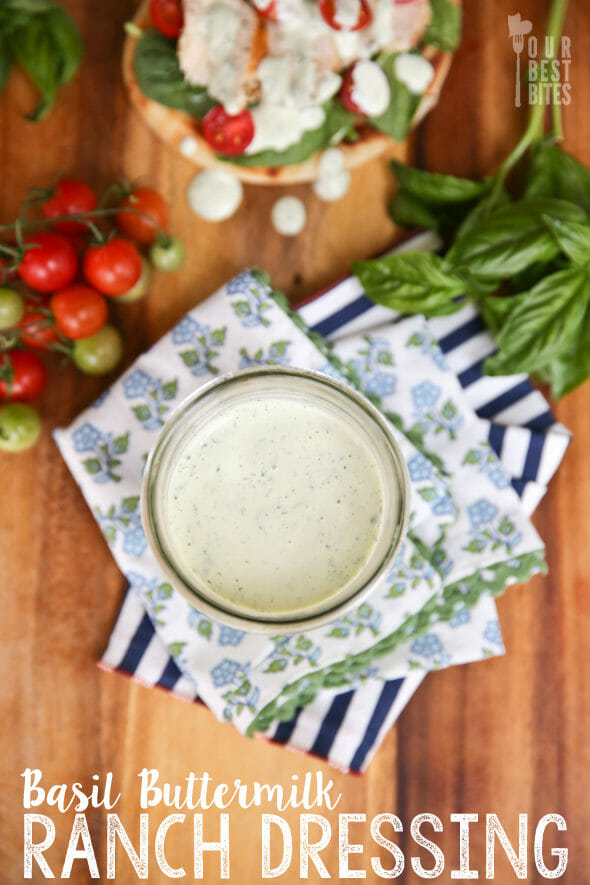 Print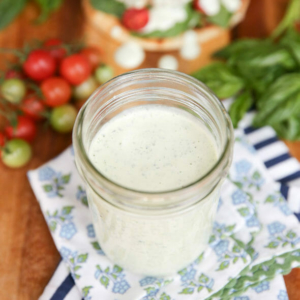 Creamy Basil Buttermilk Ranch Dressing
---
Description
A delicious fresh-basil infused salad dressing with fresh herbs and tangy buttermilk. Great for not only salads, but drizzled on sandwiches and used as a dip! NOTE: This recipe calls for dry parsley, dill and onion. If using fresh, increase amount by 3x. (1 part dry = 3 parts fresh).
---
1

C mayonnaise

2/3

C buttermilk

1/4

–

1/2

teaspoon white vinegar

1 teaspoon

dried parsley

1/4 teaspoon

dried dill

1

small clove garlic, chopped

1/4 teaspoon

onion powder

1 1/2 teaspoon

dried chives

1/8 teaspoon

black pepper

1/4 teaspoon

seasoned salt

1/8 teaspoon

dry mustard

1 cup

loosely packed basil leaves
---
Instructions
Place everything except basil in a blender and process until smooth. Add basil and pulse until basil is broken up and dressing is pale green in color. Store in a glass jar or other airtight container in fridge. Can be used immediately, but for best results chill for at least an hour or so before serving.
---
Notes
Think beyond the salad! This is great as a salad dressing, but also drizzled over sandwiches and wraps, pizza and flatbreads, and used as a dip.
Less than a week before our DietBet Starts!!  September 1st.  Come crush some goals with us and make some cash in the process.  Click Here to Sign-up, it's easy-peasy!