When the fall and winter months roll around, people inevitably start searching our recipe archives for the same things.  Obviously pumpkin, pumpkin, and more pumpkin- also butternut squash and apple recipes, which then morphs into gingerbread and peppermint-chocolate. But you know what else we can see you're going crazy for? Soup.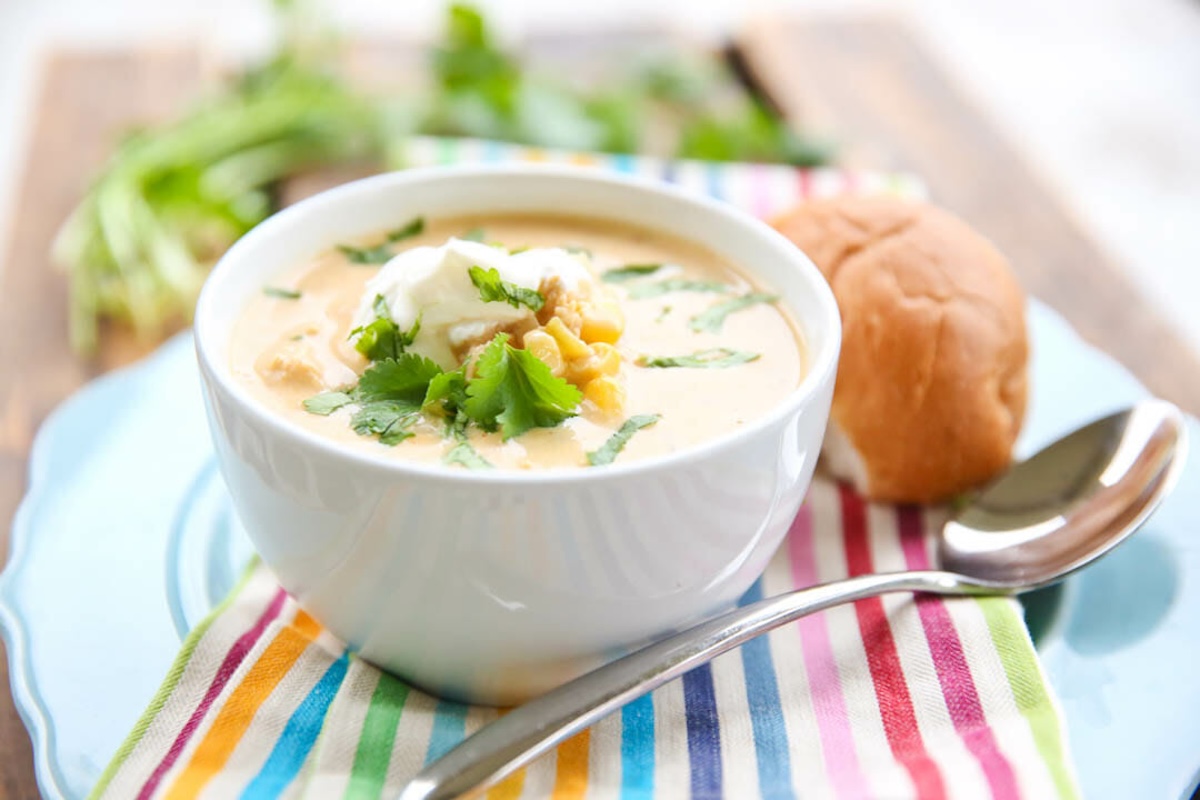 With the advent of sweater and boot weather, you-just like us, yearn for hearty, warm pots of soup, simmering away on the stove top.  There's something about it that's something about it that's just as comforting for the soul as it is for your taste buds.   In fact, a good soup is often my go-to when I take dinner to a friend or neighbor.  It's so easy to turn into a meal by pairing it with a simple salad and a good loaf of bread.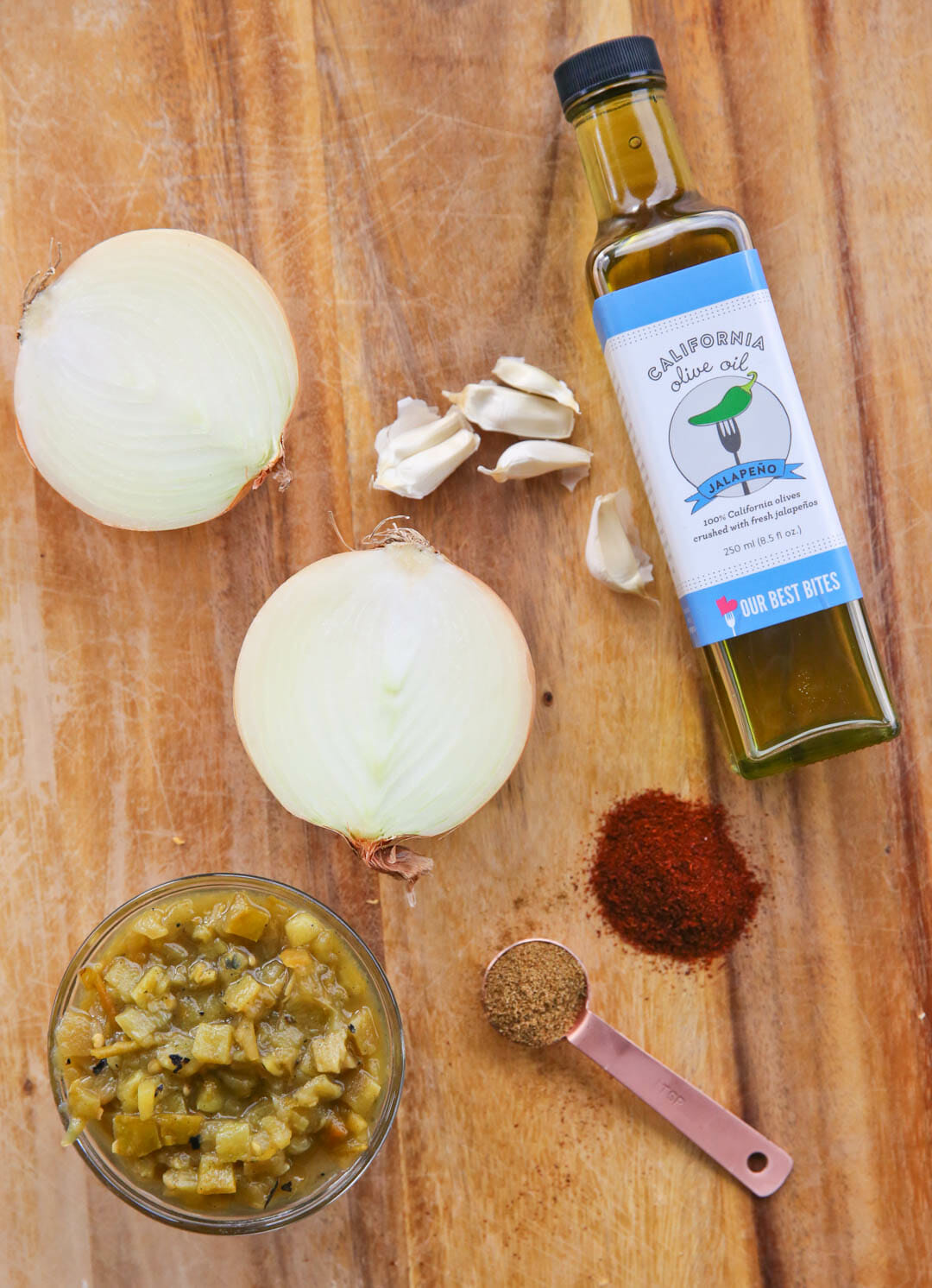 When I started out making this Creamy Chicken and Rice Taco Soup  I wanted something rich, creamy, and hearty, while keeping it healthy enough for an every-day kind of soup.  That can be a tricky combination, but let me tell you guys, I knocked it out of the park with this one.  My family loved it so much I made it twice in one week!  It's cheesy and flavorful with the bright flavor of mild green chilies, and hearty thanks to the rice, chicken and vegetables. It's almost like chicken and rice chowder meets taco soup – the ultimate combination.  And I have a secret ingredient that gives it that richness.  Read on!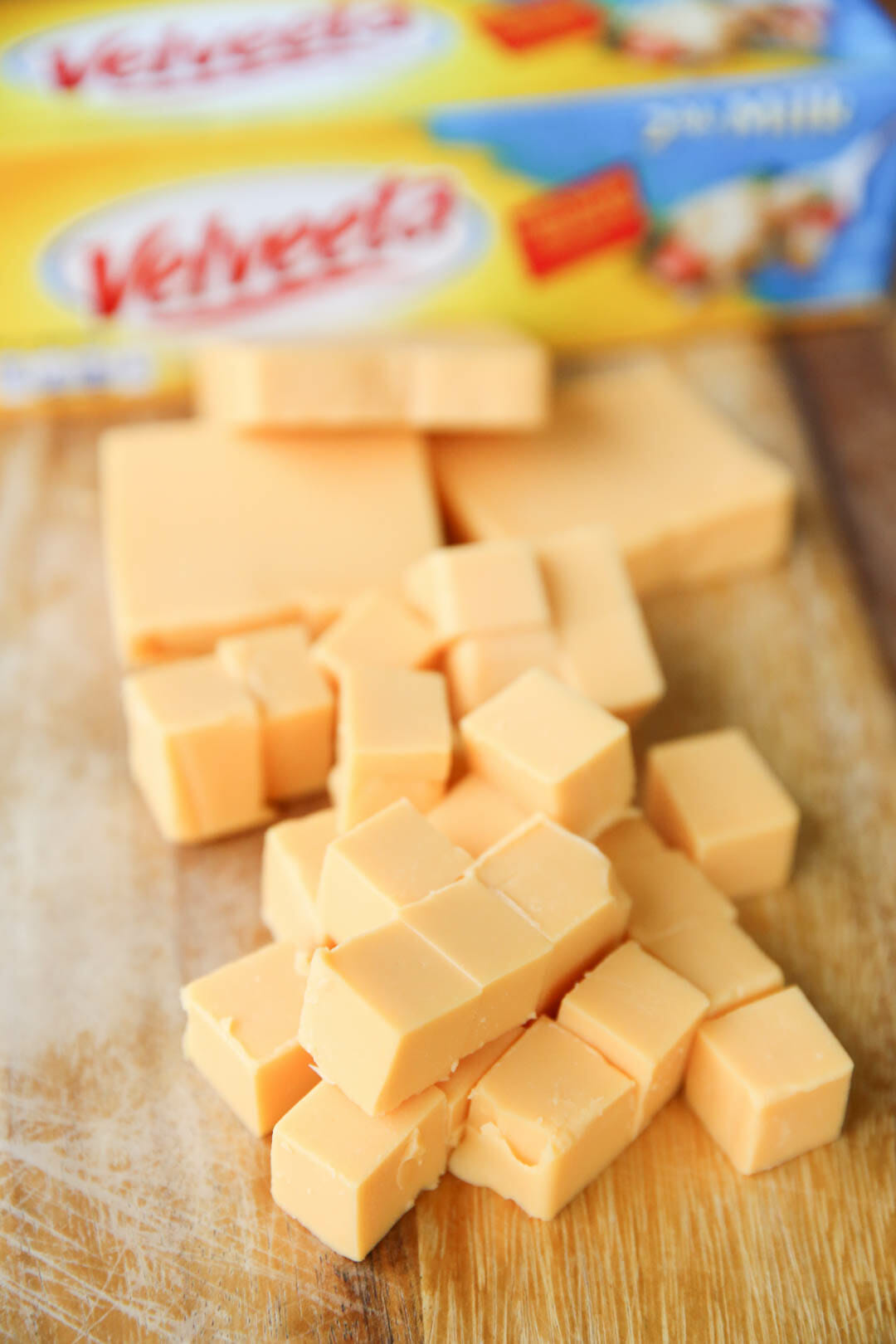 Start by sautéing onions and garlic in a little olive oil.   Although it doesn't look like it, this soup is actually broth-based, so you'll add chicken broth, along with flavorful Latin seasonings: cumin and chili powder.   Add a can of mild green chilies, one of my favorite cooking ingredients.  They add a fire-roasted undertone and pleasant chili taste to the finished soup.  Also add a little uncooked rice, which cooks up as the soup simmers, absorbing all of the flavors and really adding a heartiness to the soup.  Lastly, toss in some sweet corn, which adds a great contrasting texture and great flavor.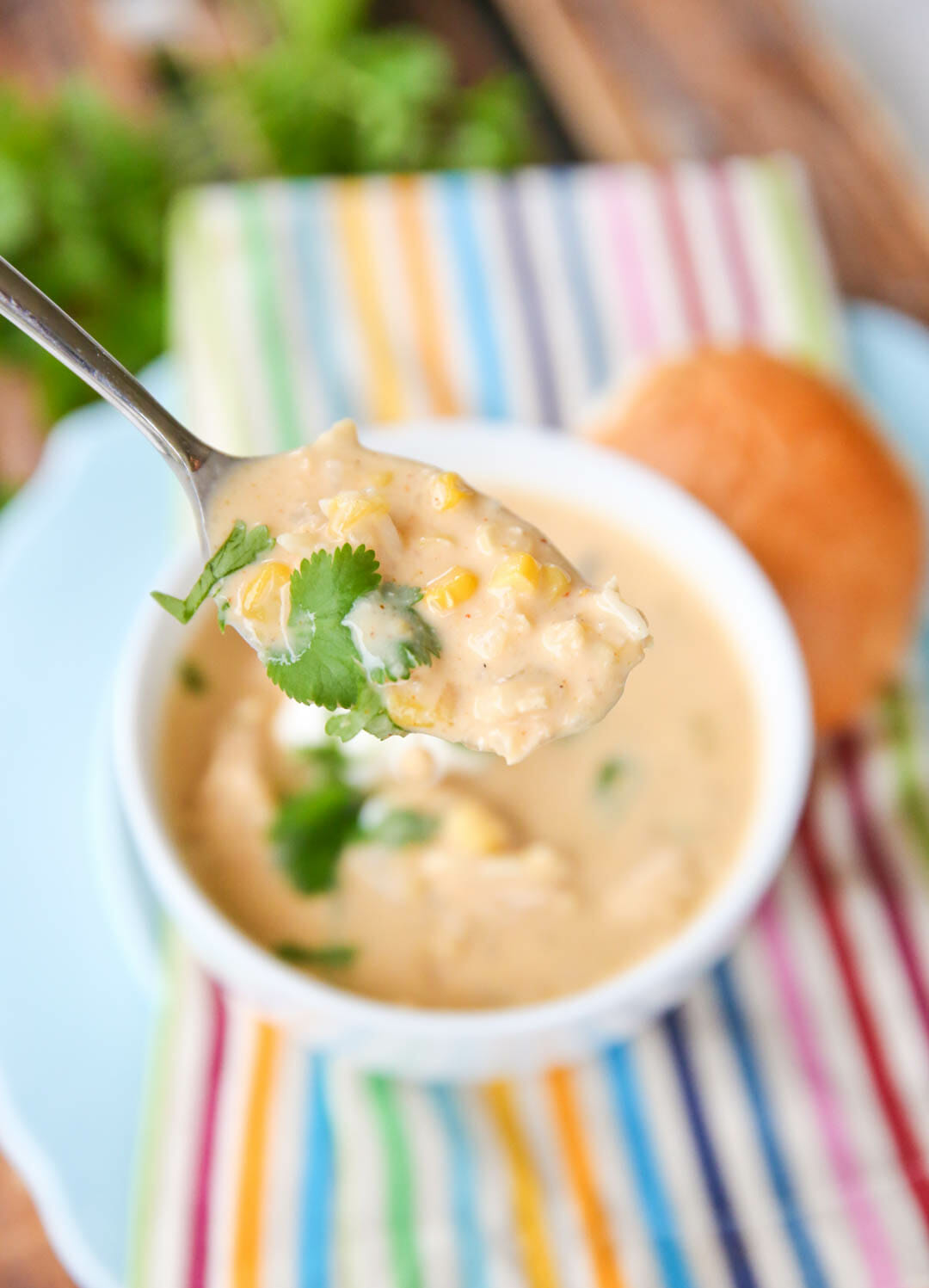 Now for the secret ingredient.  Guys, I haven't cooked soup (or anything) with velveeta, like, ever, so I wasn't really sure how this addition would turn out, but I liked the idea that it might be able to give me the richness and creaminess I was looking for.  Sure enough, it melted beautifully into the hot soup and added the perfect flavor and texture.   Don't knock it until you've tried it!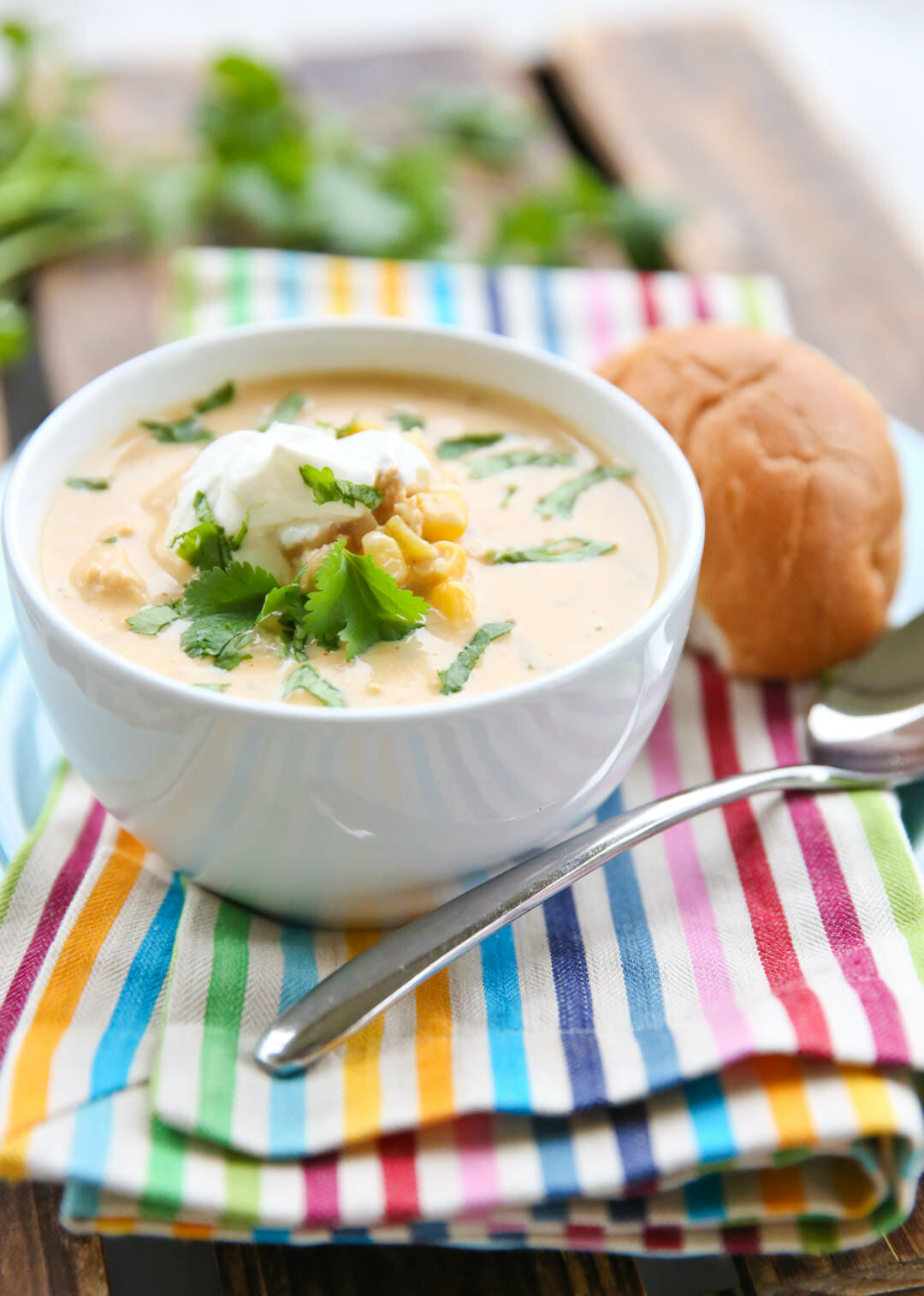 This soup has already entered into my family's regular dinnertime rotation.  We love it with a roll, small sandwich, or even half of a quesadilla on the side. Put it on your menu this week as you're enjoying time with friends and family over the holiday break and cozy up inside with a hot cup of soup!


Print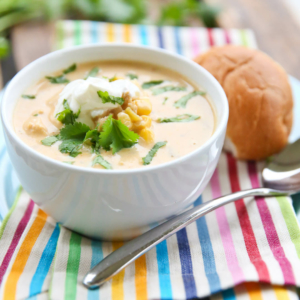 Creamy Chicken and Rice Taco Soup
---
---
2 teaspoons

olive oil

1

medium onion, diced

4

cloves garlic, minced

8 cups

chicken broth (

2

cartons)

1

7oz can mild green chilies

1/2 cup

long-grain white rice, uncooked

1 teaspoon

ground cumiin

1 teaspoon

chili powder

2 cups

cooked, shredded chicken breast

1 1/2 cups

fresh, frozen corn

1

16oz package 2% milk Velveeta, diced

1 cup

sour cream

1/2 cup

chopped fresh cilantro
---
Instructions
Heat olive oil in a large soup pot. Add onion and sauté 4-5 minutes, until tender. Add garlic and cook for about 30 seconds, until fragrant. Add chicken broth, green chilies, rice, cumin, chili powder. Bring to a boil and then reduce to a simmer until rice is cooked, about 20 minutes. Turn heat to low and add corn and chicken. Add Velveeta and stir until melted and smooth. Season to taste.

Remove pot from heat and stir in 1/2 cup sour cream. Serve into bowls and top with remaining sour cream and cilantro. Serves 12.
---